I'm sharing the fast and easy way to paint rocking chairs for indoor or outdoor use including how to deal with chipping paint, tips for getting a smooth finish, and a full video tutorial.
I've painted a lot of furniture over the years and I can pretty confidently say that the absolute worst thing you can do is paint a traditional wooden rocking chair with a paint brush.
Not because it won't work or the paint won't last, but because it will take you a million hours to complete and afterwards you will never want to pick up a paint brush again!
Instead, you have two other options for painting a rocking chair that are both much faster.
Spray Paint
A Paint Sprayer
These two methods sound super similar, but there are some key differences.
This post contains affiliate links which means if you make a purchase after clicking a link I will earn a small commission but it won't cost you a penny more. Click here to see my full disclosure policy.
Painting chairs with spray paint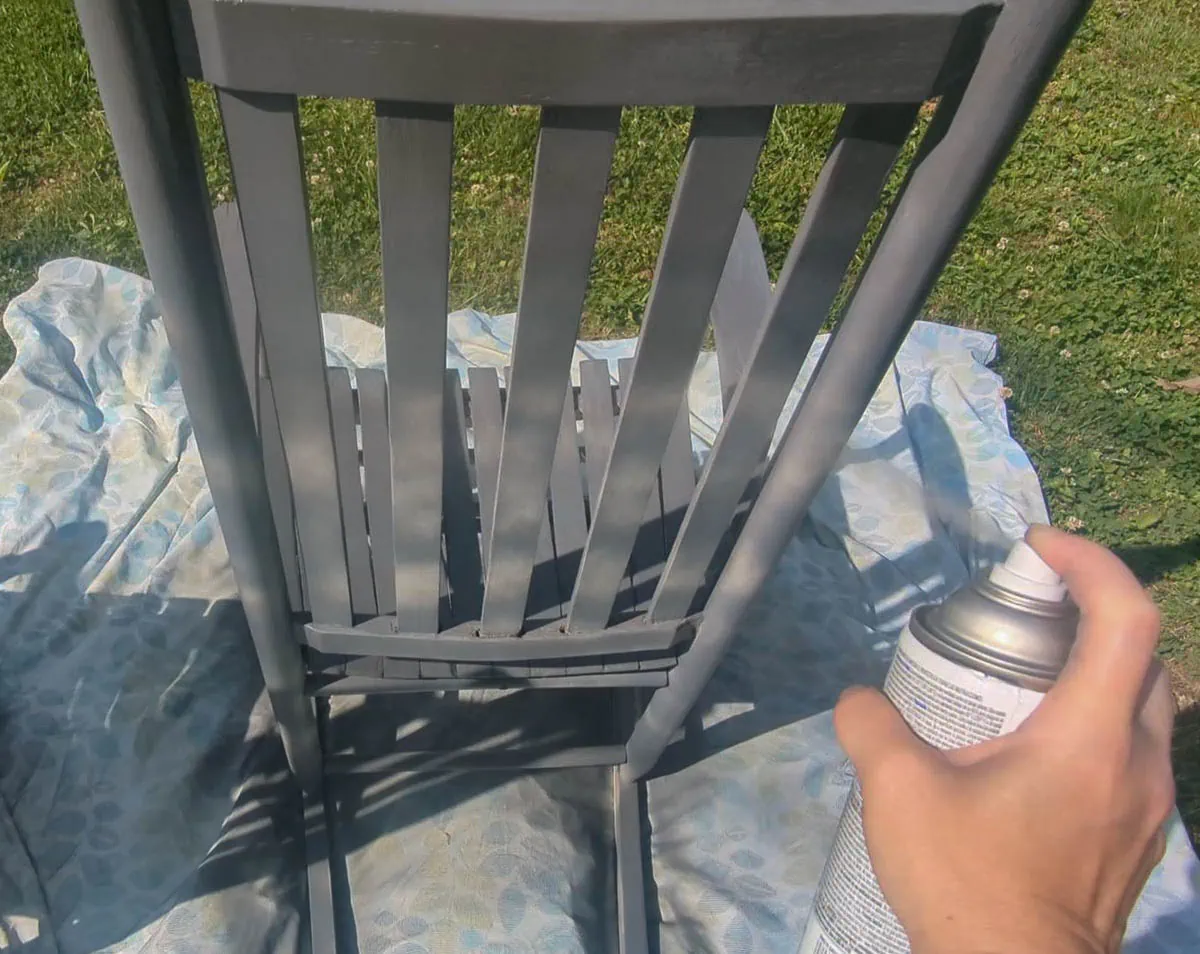 The Good
You can find spray paint in a variety of colors and finishes at pretty much any big box store. It only costs a few dollars per can and you don't need any special equipment to use it.
Since you spray on the finish, it's much faster to paint things with lots of curves and details.
Spray paint also has a pretty quick dry time so you can do multiple coats of paint in just a few hours.
The Bad
I'm not usually a huge fan of using spray paint to paint wood furniture. It is incredibly difficult to get an even finish, particularly on any large, flat surfaces like tabletops. This is much less of a problem when painting wooden chairs though, since there aren't really any large surfaces.
Also, spray paint does come in a pretty limited range of colors.
Painting chairs with a paint sprayer
The Good
A paint sprayer is another way to paint your furniture with a fast, sprayed finish.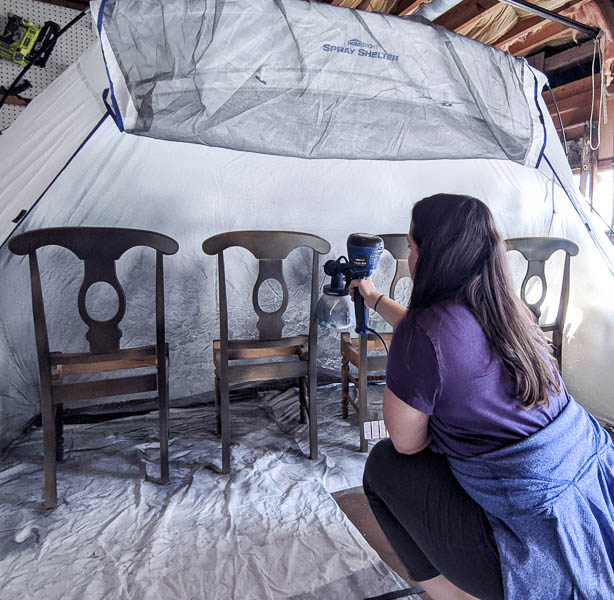 Instead of buying paint in a disposable spray can, you can use whatever furniture paint you like best in your paint sprayer. That means that you can use any paint color from any paint line, rather than the limited spray paint colors available at the store.
Since it is reusable, a paint sprayer is also a lot more environmentally friendly than buying multiple cans of spray paint for every project.
A paint sprayer works really well for painting all kinds of things that spray paint isn't so great for including cabinets, trim, and other types of wood furniture.
The Bad
The biggest downside to using a paint sprayer is the cost. You can find paint sprayers at a range of price points between $50 and $200+. (I have this midrange model and love it!)
If you are only going to paint one or two pieces of furniture, buying a paint sprayer doesn't really make sense, especially because you still need to factor in the cost of the paint itself.
There is also a little more set up and clean up involved with a paint sprayer, although cleaning a paint sprayer between projects usually only takes a few minutes.
Which is better: spray paint or paint sprayer?
Both spray paint and a paint sprayer can work really well for painting rocking chairs and other chairs.
If you aren't much of a DIYer and don't plan to tackle many future DIY projects, spray paint is probably your best bet.
If you do lots of painting projects, you may want to consider getting a paint sprayer.
I chose to use spray paint to paint my rocking chairs this time. But I also have a tutorial for painting wooden chairs with a paint sprayer if you are more interested in that option.
My Rocking Chairs Before Paint
I'm painting a pair of wooden rocking chairs that have definitely seen better days.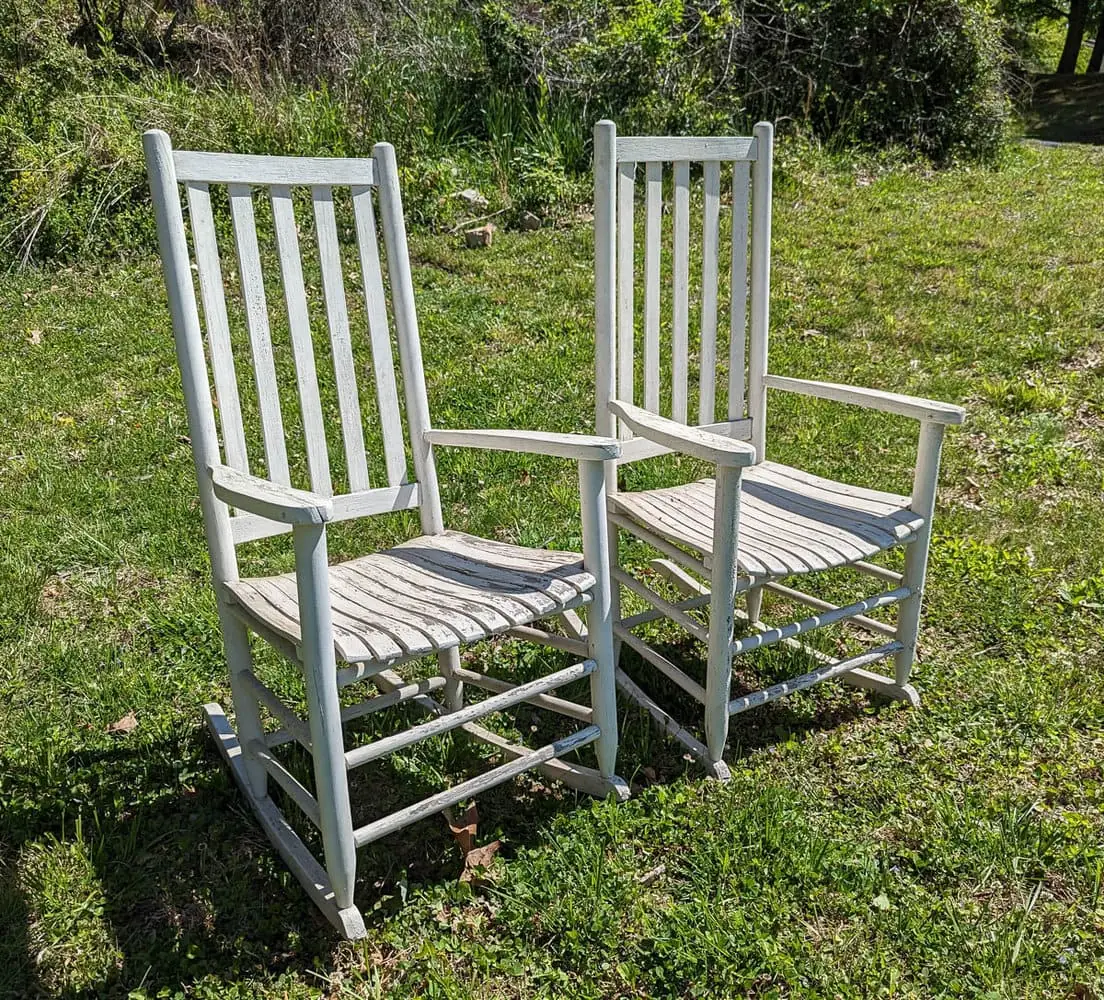 These rocking chairs live on our front porch and they have been pretty neglected. In fact, it's been over fifteen years since I last painted these chairs, and they are definitely due for some fresh paint!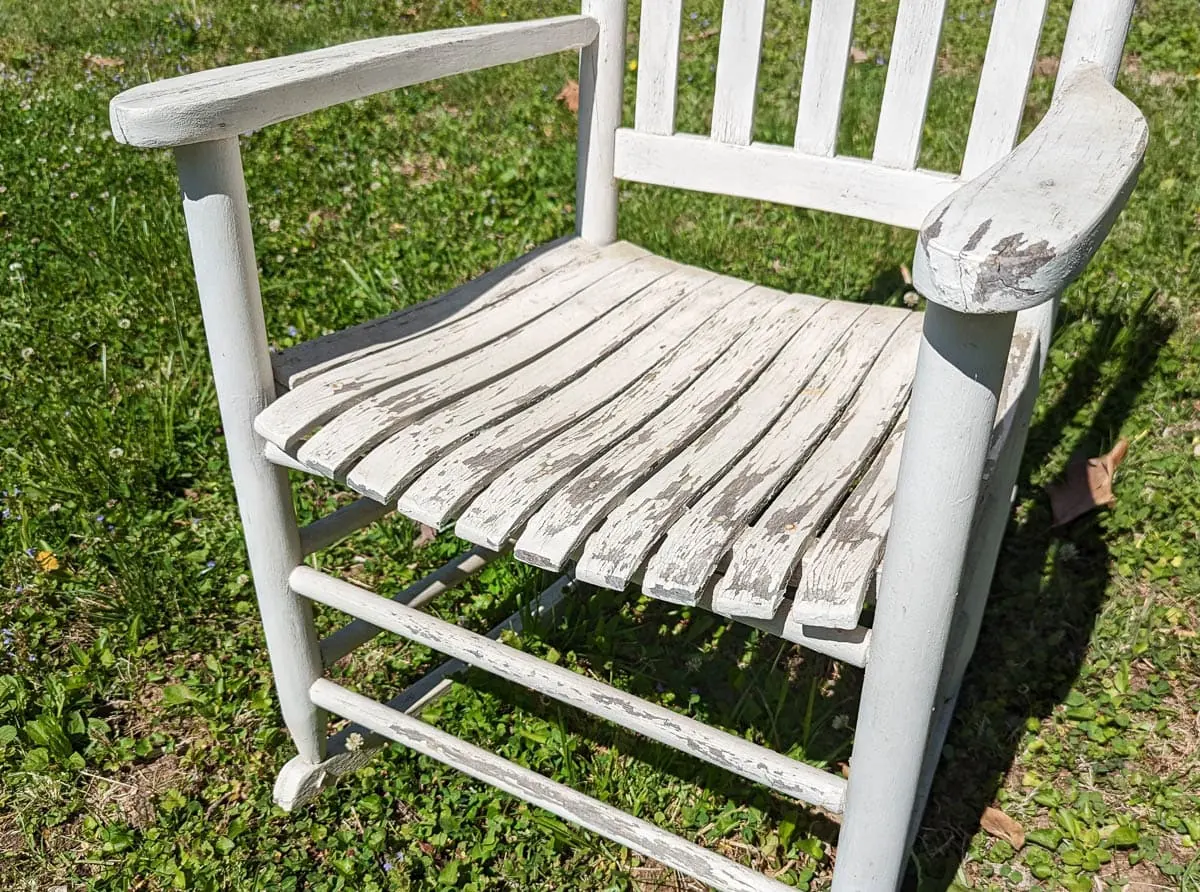 Supplies
How to paint a rocking chair
Protect your work area and yourself
Lay out a drop cloth beneath your rocking chairs. Since we are going to be spray painting, you want to make sure your drop cloth covers a pretty large area around your rocking chair to catch any overspray.
It's best to work outside if possible, to avoid breathing in the paint fumes. If you need to paint indoors, be sure to work in a well-ventilated area and wear a protective mask while removing old paint and spray painting.
Remove any old, chipping paint
If you are repainting a rocking chair that was previously painted, there's a very good chance you have some peeling, chipping paint that needs to be dealt with.
You don't want to paint directly over peeling paint. If you do, your new paint finish is also very likely to peel right along with the paint beneath it. Plus, all of the uneven, chippy texture of the old paint will show right through your fresh new paint making it look immediately messy.
You can completely strip off the old paint using paint stripper, but that is a messy, time-consuming process. And since we are going to be repainting the chairs, stripping the old paint really isn't necessary.
Instead, you want to make sure to remove any loose bits of paint and then sand smooth uneven areas.
For your safety, if you are working on chairs that may have been previously painted prior to 1978, be sure to check that they weren't painted with lead paint before doing any scraping or sanding. An inexpensive lead paint test kit will immediately alert you if any lead paint is present.
I like to start by using a paint scraper to scrape off the loose paint. You can usually get off larger chunks of paint this way.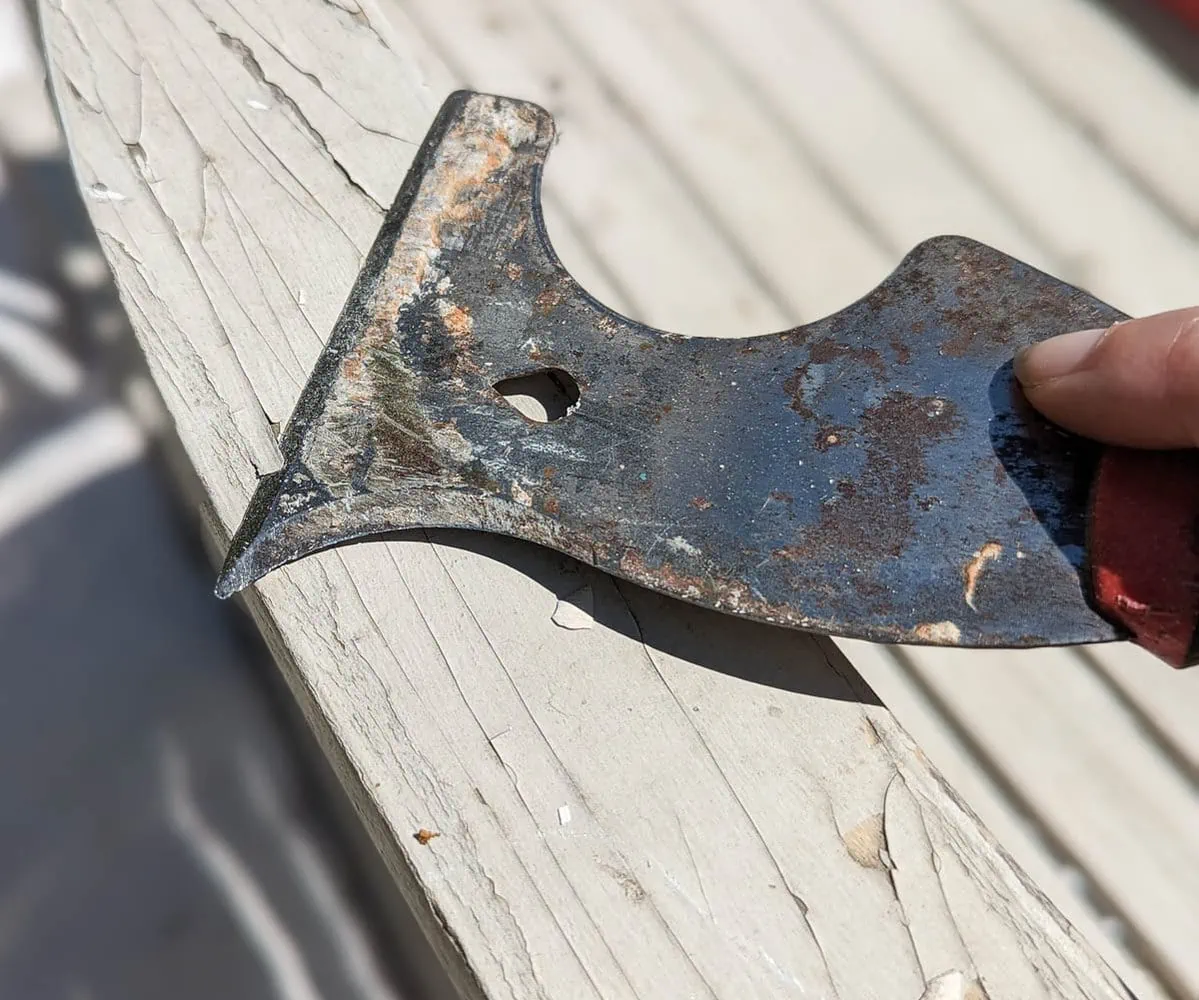 For really rough finishes, I follow the scraper with a wire brush to remove smaller flakes of loose paint.
Sand everything smooth
Once I've scraped off everything possible, I sand the remaining paint smooth. If you have a small sander, this goes much, much faster. But if not, you can also do it by hand.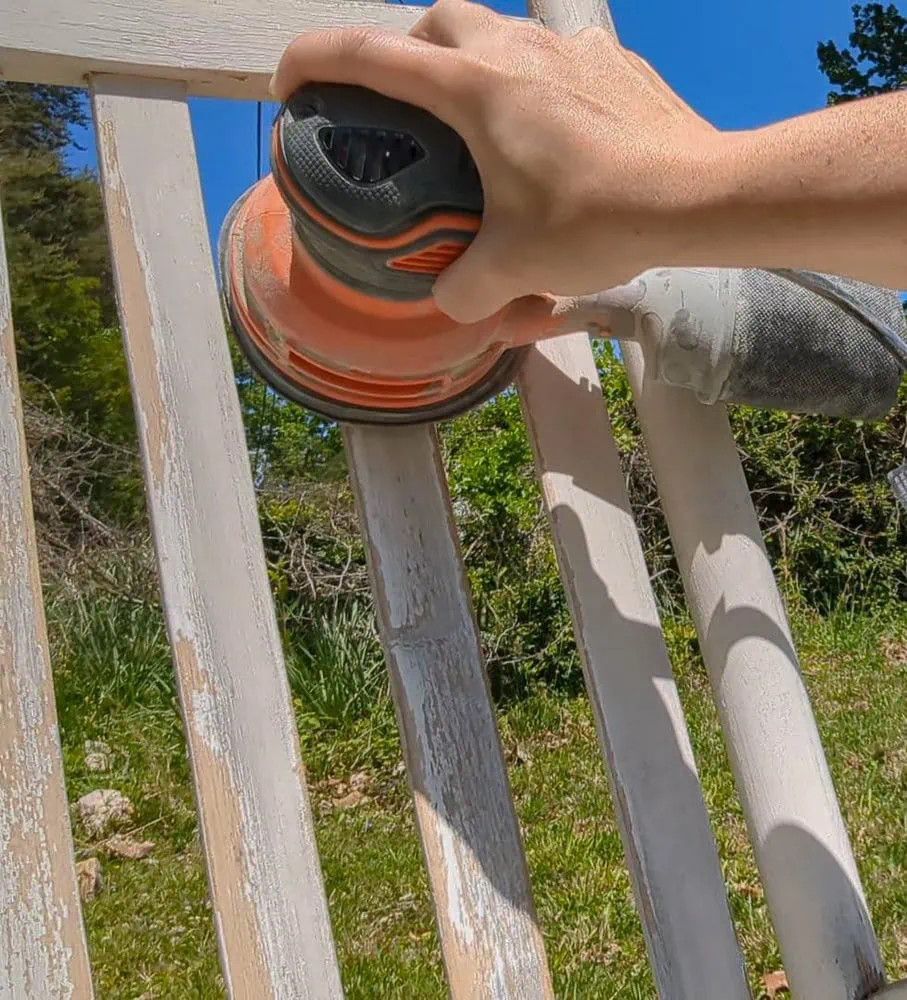 To get a really smooth finish, start with 100 grit sandpaper to remove the roughest areas. Then follow with 150 grit and then 220 grit sandpaper.
It's up to you how much time and effort you want to put into getting a perfectly smooth finish. My own rocking chairs were in pretty rough shape so I decided it would take way too much time to try to get them looking brand new again. Instead I sanded until all the rough, peeling paint was gone and then moved on to the next step.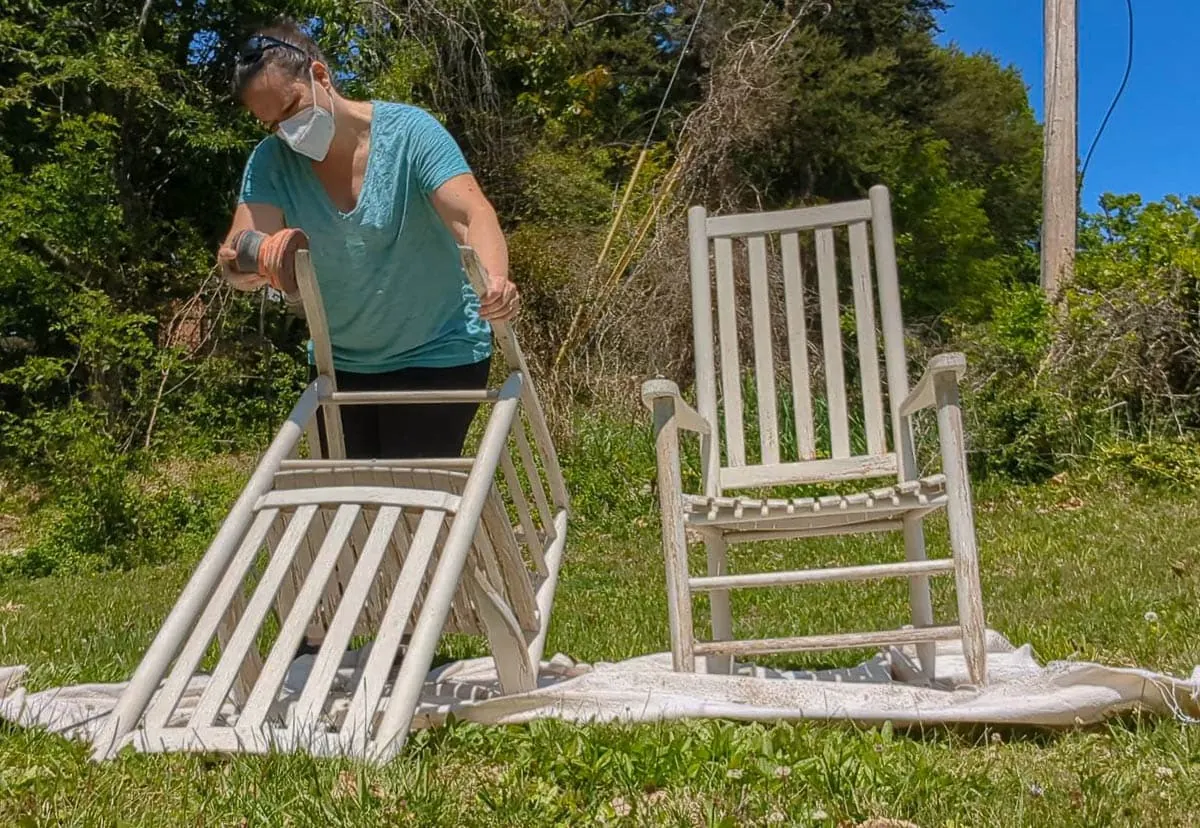 If your rocking chair already had a nice smooth finish, you can skip the sanding altogether.
Clean your chair
It's important to always clean your furniture before painting. Even if you didn't scrape or sand your chairs, you want to make sure to remove any dust, dirt, or grease because paint doesn't stick well to any of those.
Prime with spray primer
You don't always have to use primer every time you paint furniture, but if you are painting over unpainted wood, painting a chair that previously had chipping paint or if you are unsure what type of paint your chair was previously painted with, primer is a good idea.
Plus, spray primer is super quick anyway. I'd rather take a few extra minutes spray a coat of primer now that deal with problems in my finished paint job later.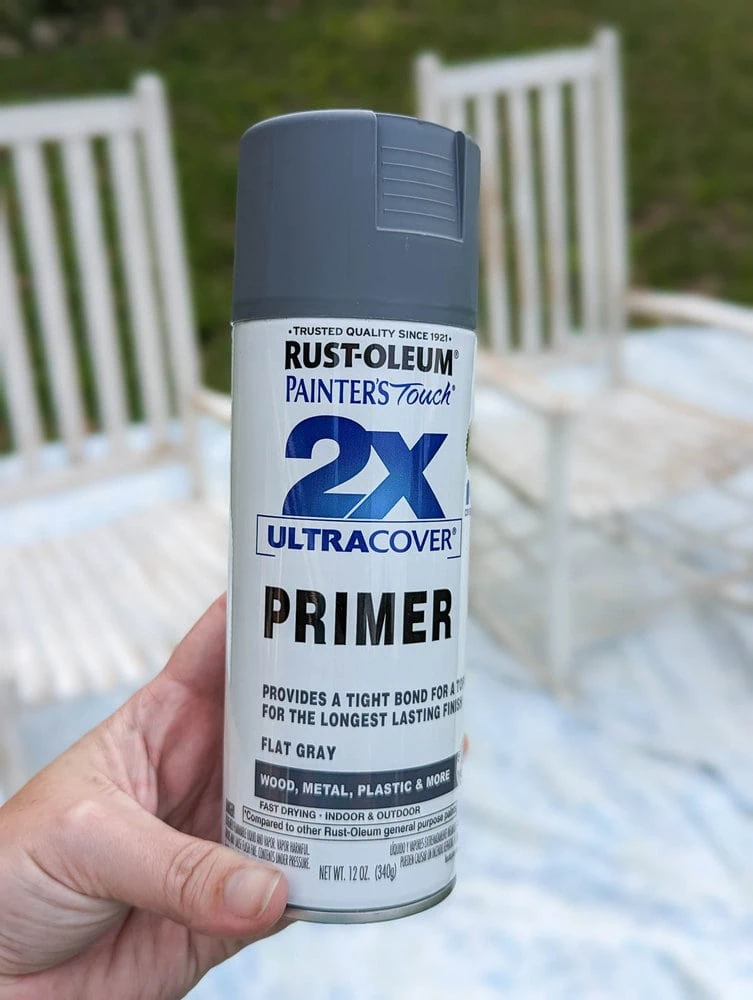 Since I am painting my chair a dark color, I used gray spray primer rather than white. This should help get even coverage with fewer coats of paint.
Paint with Spray Paint
After the primer, you are finally ready to paint.
Spray paint is a super fast and easy way to paint chairs, but there are a few things you really need to keep in mind to get great results.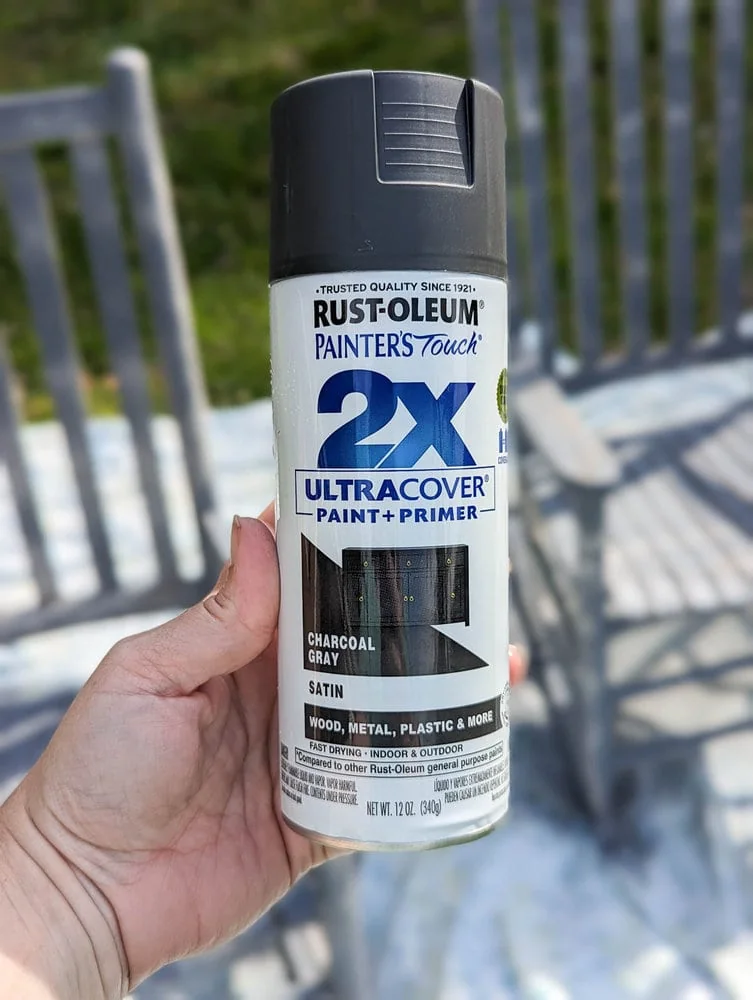 Tips for Perfect Spray Painting
Always read the instructions before you begin.
I'll be the first to admit I don't always read the instructions when I'm painting with furniture paint or wall paint.
But spray paint is different.
Each type of spray paint has very specific instructions as far as how far away to hold the spray paint, what temperature you can use the paint in, and how long to let each coat of paint dry.
Pay particular attention to the recoat time. For most spray paints, you can spray the next coat after only a few minutes, but if you wait longer than an hour, you can't add more coats of paint until 24 hours later.
It is confusing and specific and slightly different for different types of spray paint, so be sure to read the instructions on your paint.
Shake your paint well.
Before you start painting, shake your can of spray paint really well for at least a minute. This will help mix everything well so the paint comes out evenly.
You'll also need to stop and shake the can every few minutes during the painting process.
Keep the spray paint can moving.
As you are spray painting, it's really important to keep the spray paint can moving and not pause too long in one spot. Holding the spray paint in one spot can cause a build up of paint along with drips.
Start by pointing the spray paint right beside the furniture you are painting. Press the trigger button and then start slowly moving the paint across your furniture piece.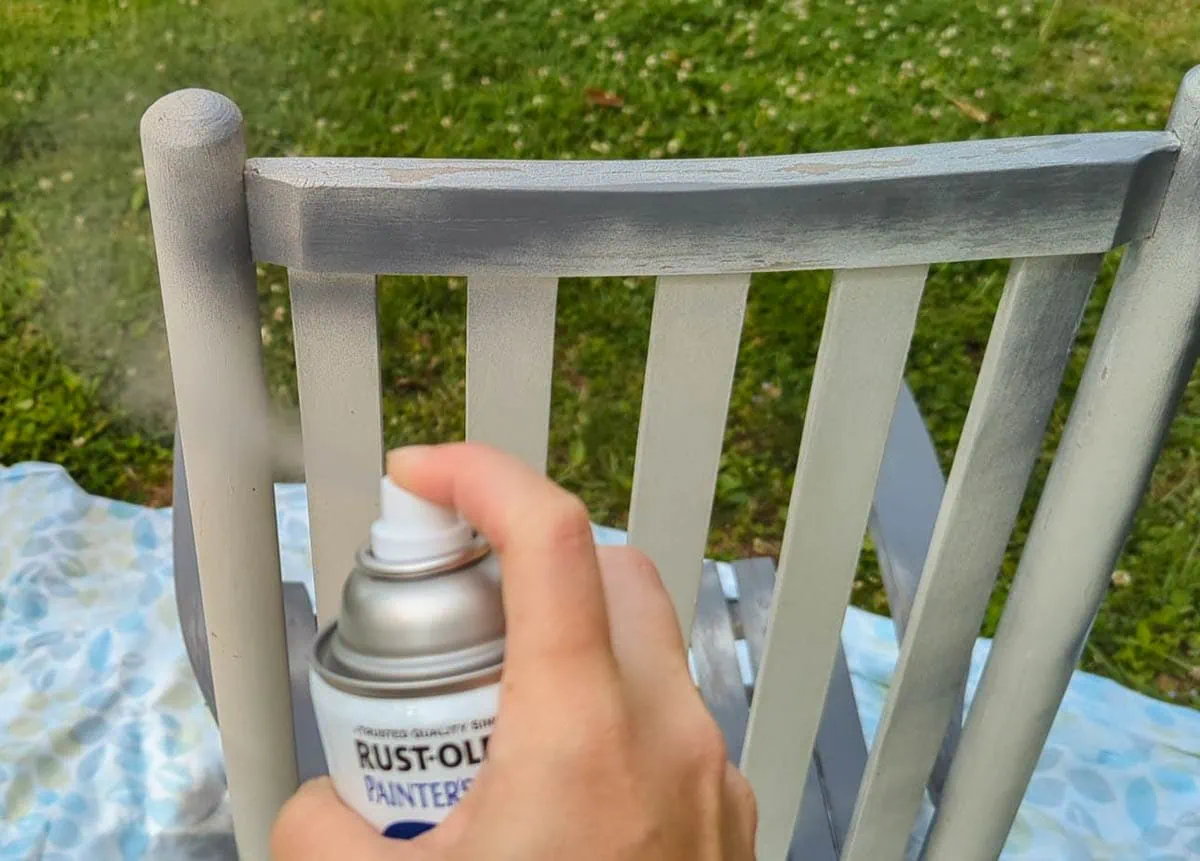 Move the paint from one side to the other, slightly overlapping each 'stripe' of paint you add.
Use several thin coats of paint.
When using spray paint, it is really important to paint several thin coats of paint. It can be tempting to try to speed up the process by painting one thick coat, but that will only lead to lumpy thick paint and drips.
Instead, start with a thin coat of paint. This first coat will look very uneven with lots of areas where the paint doesn't cover much. That is what you want.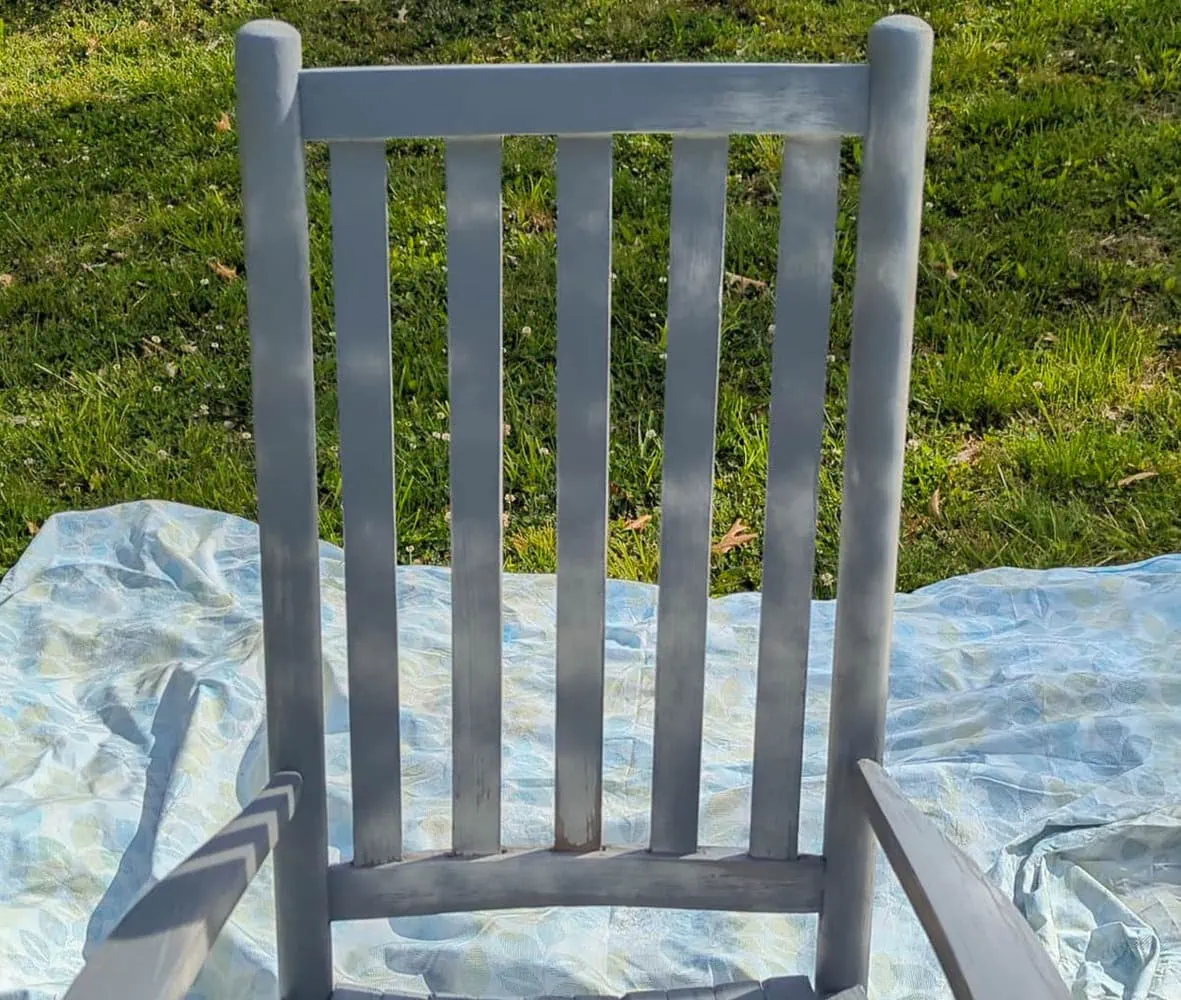 Building up several thin coats like that will give you a beautiful finish in the end and actually still goes very quickly.
Don't hold the spray paint too close.
Remember not to hold the spray paint can too close to the piece you are painting. Your spray paint will have specific instructions for how far away to hold it, but in general 6-12 inches is a good distance.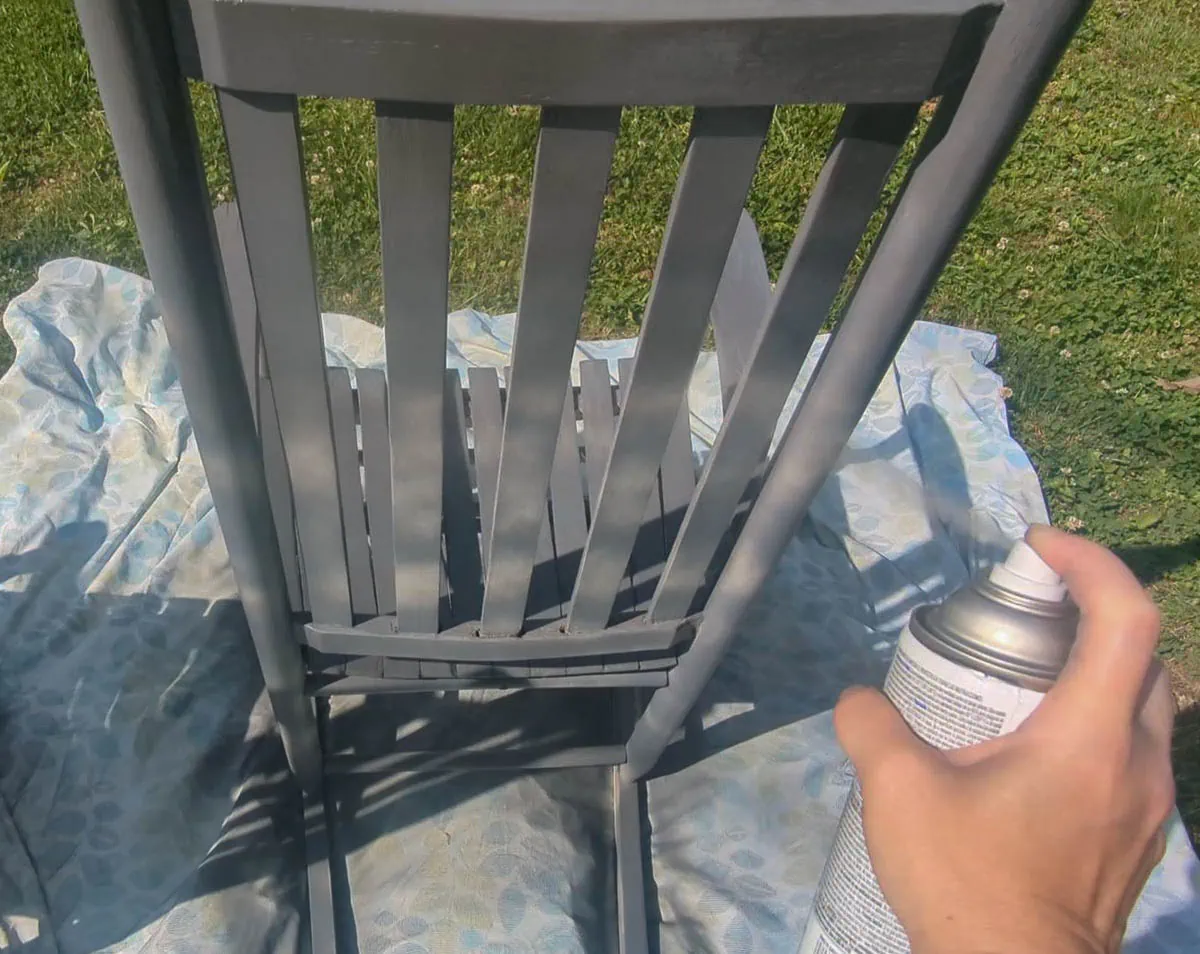 Don't forget to paint underneath.
As you are painting, you want to make sure you evenly cover all the different sides of your chair with paint, including underneath.
Move around your chairs as you paint, painting each slat and rung from all sides.
Once the first coat of paint is dry to the touch, you can flip the chairs over and paint the underneath.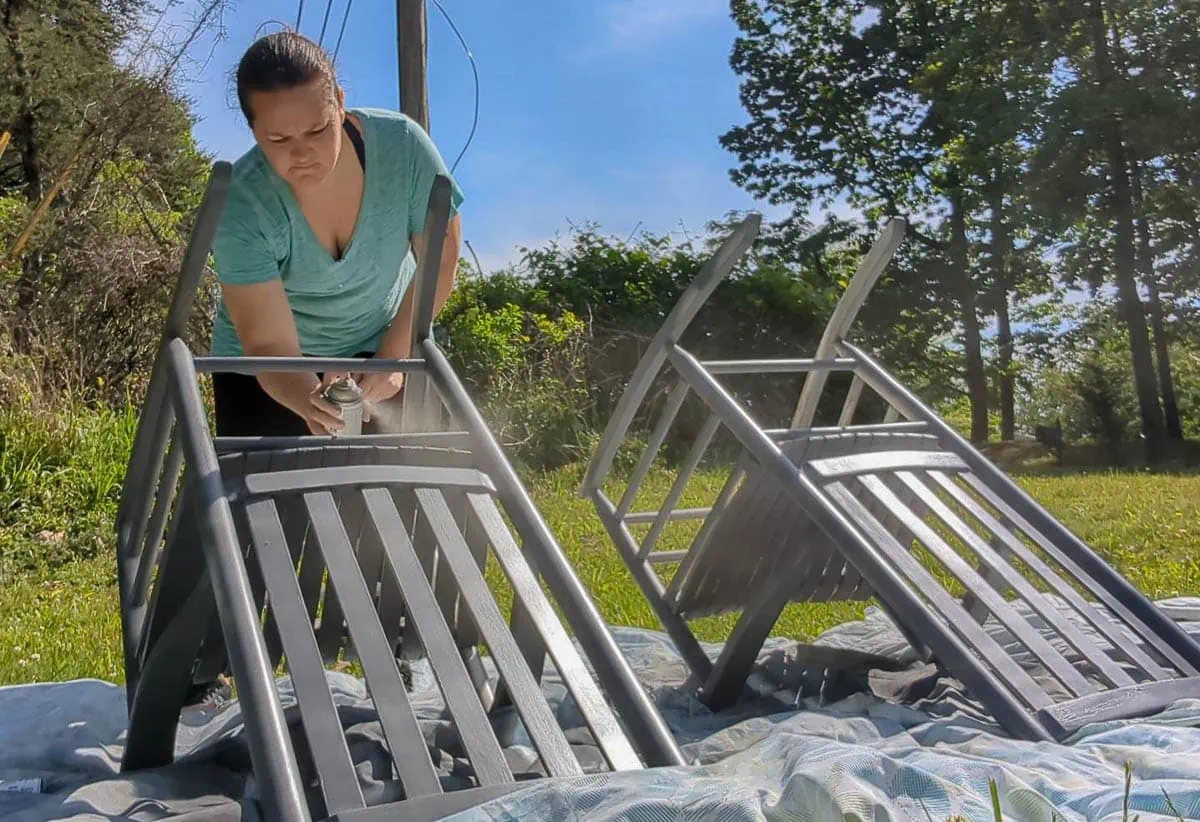 When that is dry, flip them back up for the second coat. You can continue alternating painting from above and below until your chairs are finished.
Painted Rocking Chairs
Here are my finished chairs:
I love how they turned out and only wish I had given them a fresh coat of paint sooner!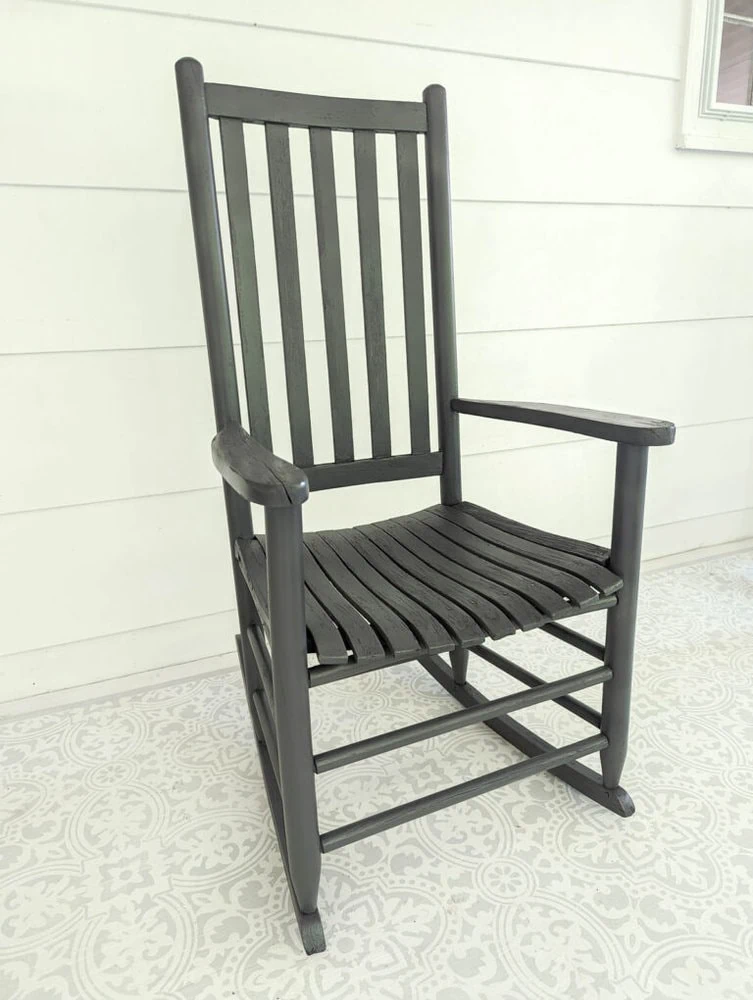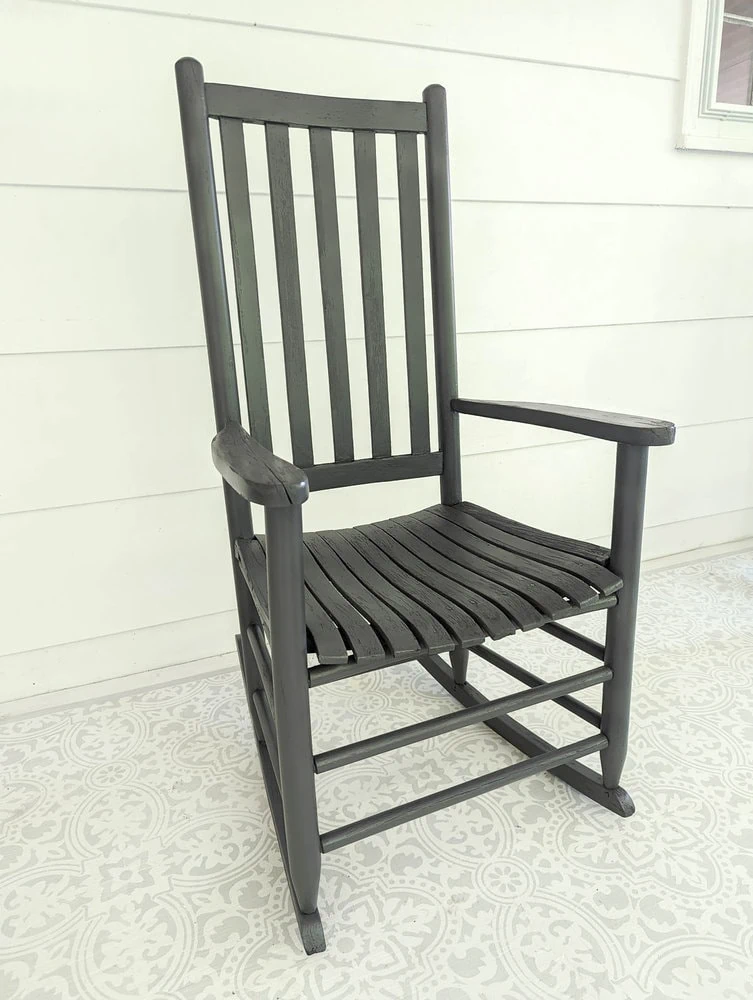 As you can see, my painted chairs still don't look brand new. These are old chairs and I am okay with them showing their age a bit. But even though the wood is split and worn in places, I still think the new paint job makes a world of difference and really gives these rocking chairs new life!
Video Tutorial
I'd love for you to subscribe to my Youtube channel!
Check out these other helpful furniture painting posts:
I'd love for you to pin this on Pinterest!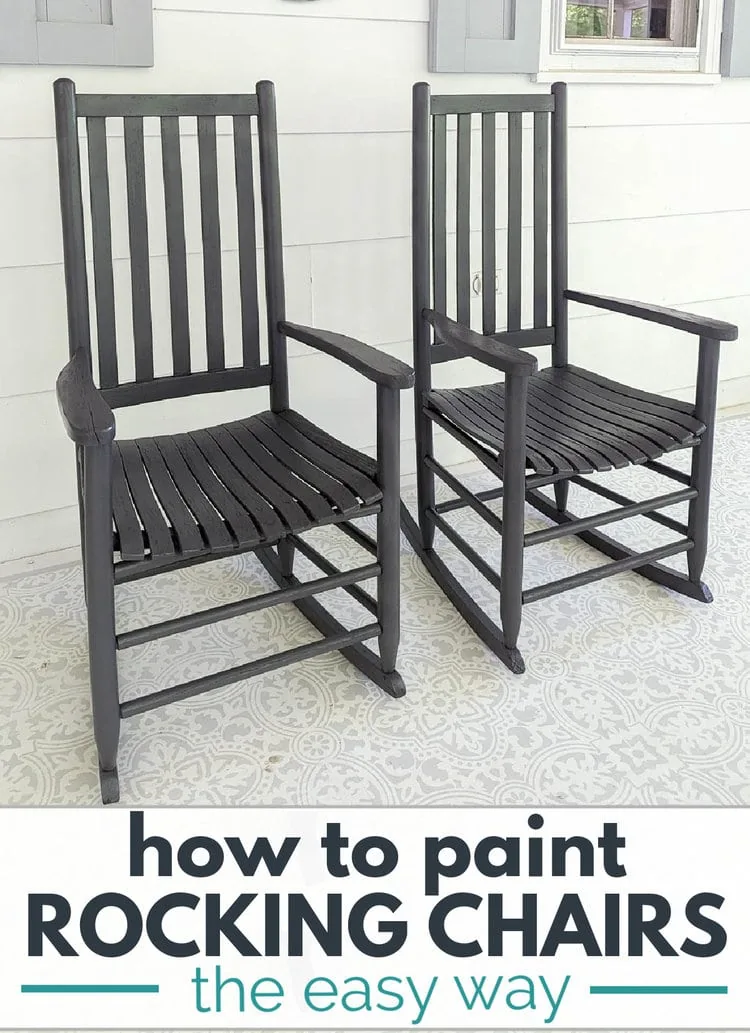 Google Web Story: Easy Way to Paint a Rocking Chair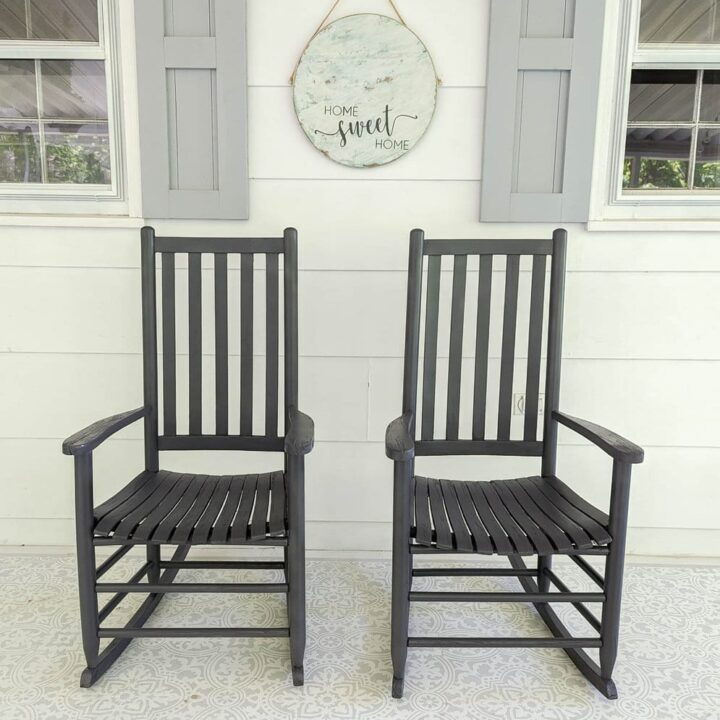 How to Paint a Rocking Chair the Easy Way
I'm sharing my best tips for painting a rocking chair to get the best finish that will last!
Materials
Wooden rocking chair
Spray primer
Spray paint
Dropcloth
Tools
Paint Sprayer
Paint scraper
Wire brush
Sandpaper and Sander
Instructions
Lay out a drop cloth beneath your rocking chairs.
Remove any loose bits of paint by using a paint scraper to scrape off the loose paint.
Follow with a wire brush to remove smaller flakes of loose paint if needed.
Sand smooth uneven areas with your sander.
Make sure to remove any dust, dirt, or grease because paint doesn't stick well to any of those.
Prime your chair with spray primer.
Shake your can of spray paint really well for at least a minute.
Keep the spray paint can moving and slowly spray the paint across your furniture piece.
Use several thin coats of paint. Hold the can about 6-12" away from the chair.
Don't forget to paint underneath.