I'm sharing a free printable advent calendar that can be used in all kinds of ways along with a look at how I'm using it to create a custom photo advent calendar.
A few years ago, I made a reusable advent calendar for my kids from a vintage frame. Every year I fill the little bags with candy and Christmas activities for us to do together and they absolutely love it.
Before Halloween even ends, they start asking when we'll get out the Christmas calendar!
Well this year I decided I could use a bit more of that joy and excitement as well so I decided to make myself my own advent calendar.
I actually looked at a bunch of different premade advent calendar options, but none of them felt just right so I came up with a different idea instead.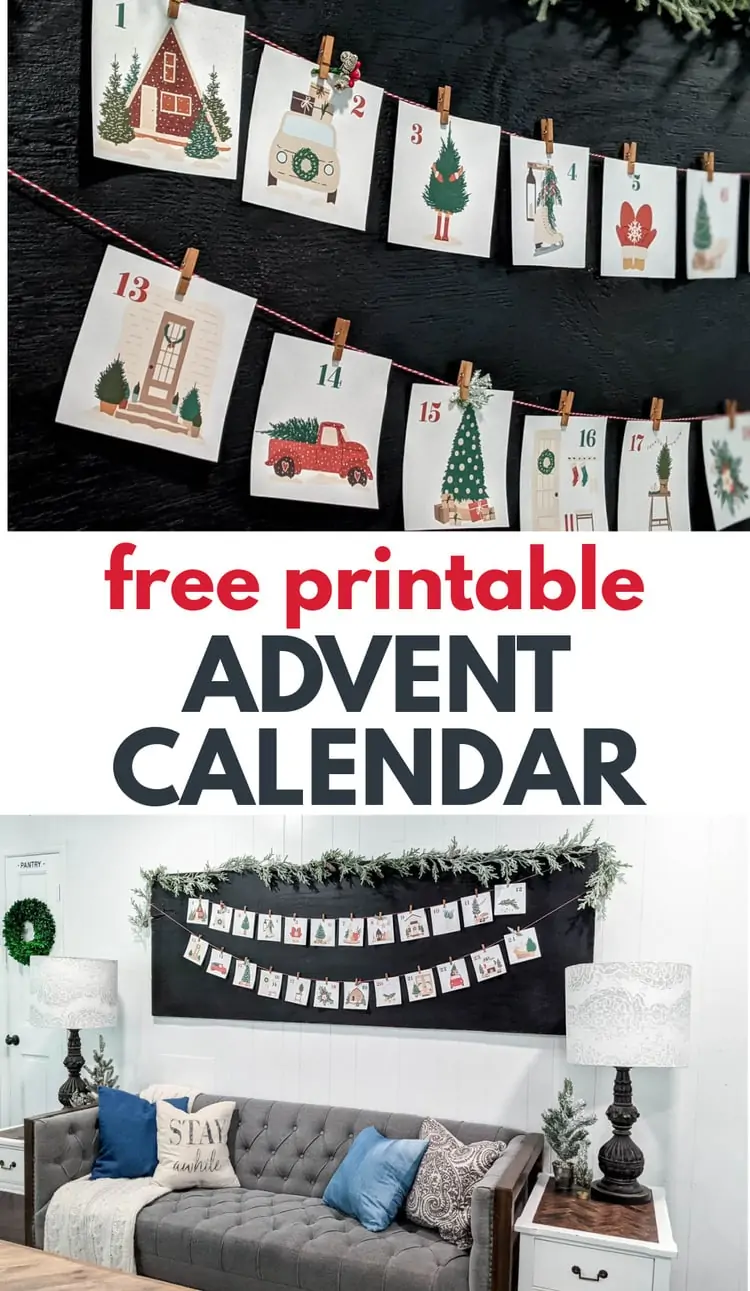 I started by putting together a really cute printable Christmas countdown filled with cozy Christmas scenes.
There are snowy Christmas houses and Christmas trees and stockings and red trucks – basically all kinds of cheerful Christmas things.
You can see all 24 scenes below.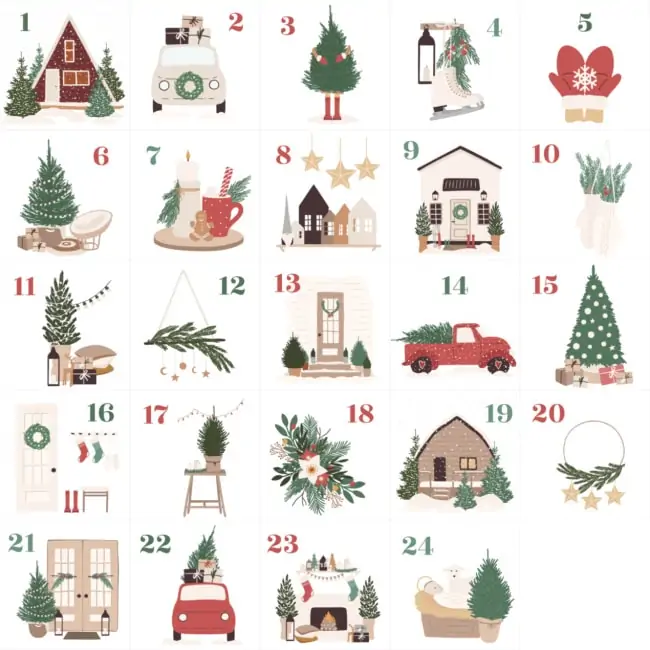 This post contains affiliate links which means if you make a purchase after clicking a link I will earn a small commission but it won't cost you a penny more. Click here to see my full disclosure policy.
Printing your Advent Calendar
This advent calendar is formatted for easy printing. Each day has it's own jpg file so it can be printed in any size you need from very small to pretty large.
Each scene also has a faint gray border so you can see exactly where to cut out each square.
I recommend printing your advent calendar on cardstock. I printed my own cards to be 5″x5″.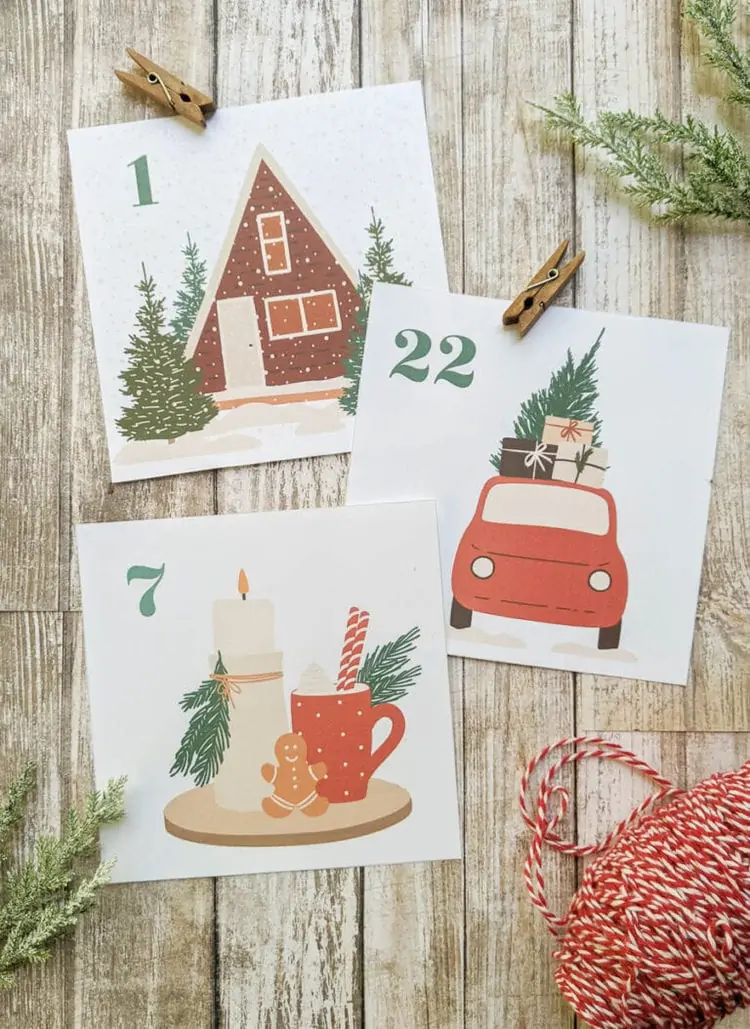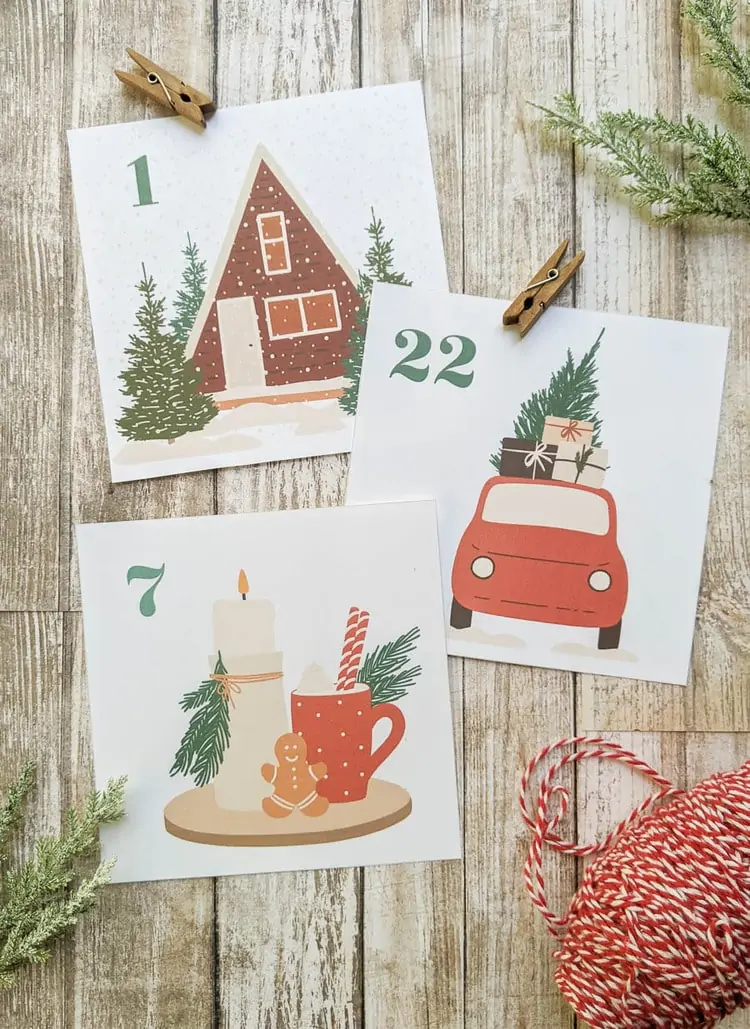 Every printer deals with printing square photos a bit differently, but I'll share my own settings in case it helps. (I printed these using a Windows computer and Cannon printer.)
In the print settings for each photo, I chose the 5″x7″ size and then chose 'shrink to fit' rather than full page. Once they were printed, I cut each image out along the gray outline.
How to Display your printable advent calendar
Once you print each picture on card stock, you can display them in all sorts of ways.
Tape them to the wall with washi tape.
Hang them from a string with clothespins.
Keep them tucked away and just display one card in a special spot each day.
I hung my own advent calendar from baker's twine using mini clothespins.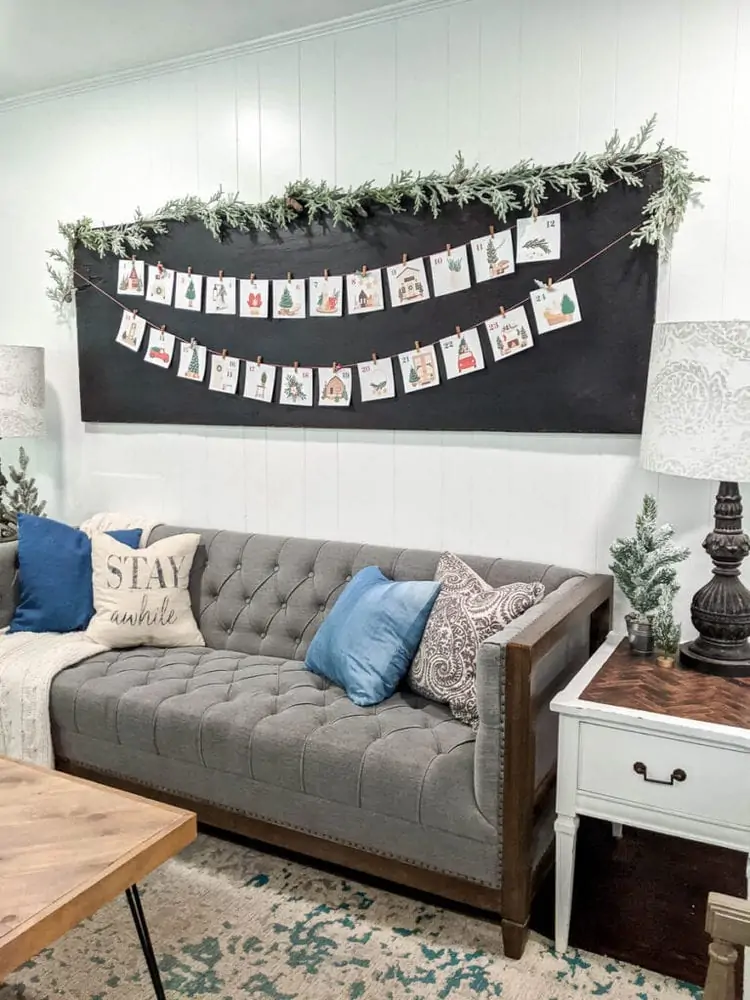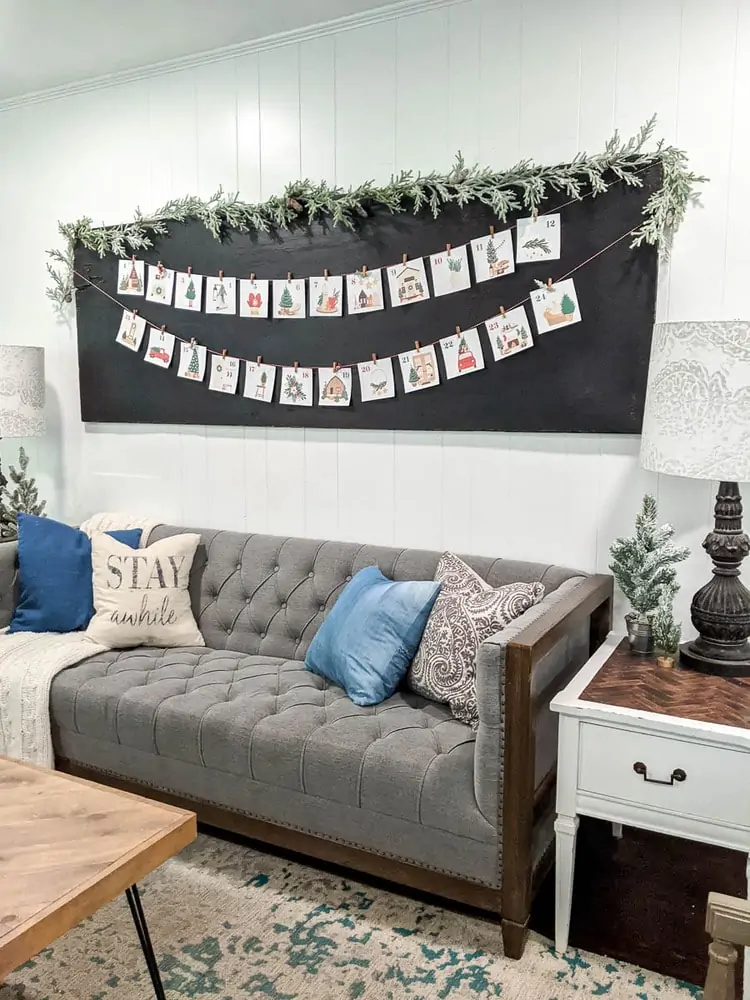 This huge sign is always hanging over our couch – I just turned it around so the back was showing for a more neutral background.
How to use your printable advent calendar
You can use this as a simple visual Christmas countdown, but you can also use it in all kinds of other fun ways.
Write a fun Christmas activity on the back of each card.
Write one Bible verse from the Christmas story on the back of each card.
Write a favorite Christmas memory on the back of each card.
If you like to wrap up Christmas books for your kids to read each Christmas, you could print these out to use as gift tags.
Or wrap other small gifts and use these as tags.
I decided to make mine into a photo advent calendar.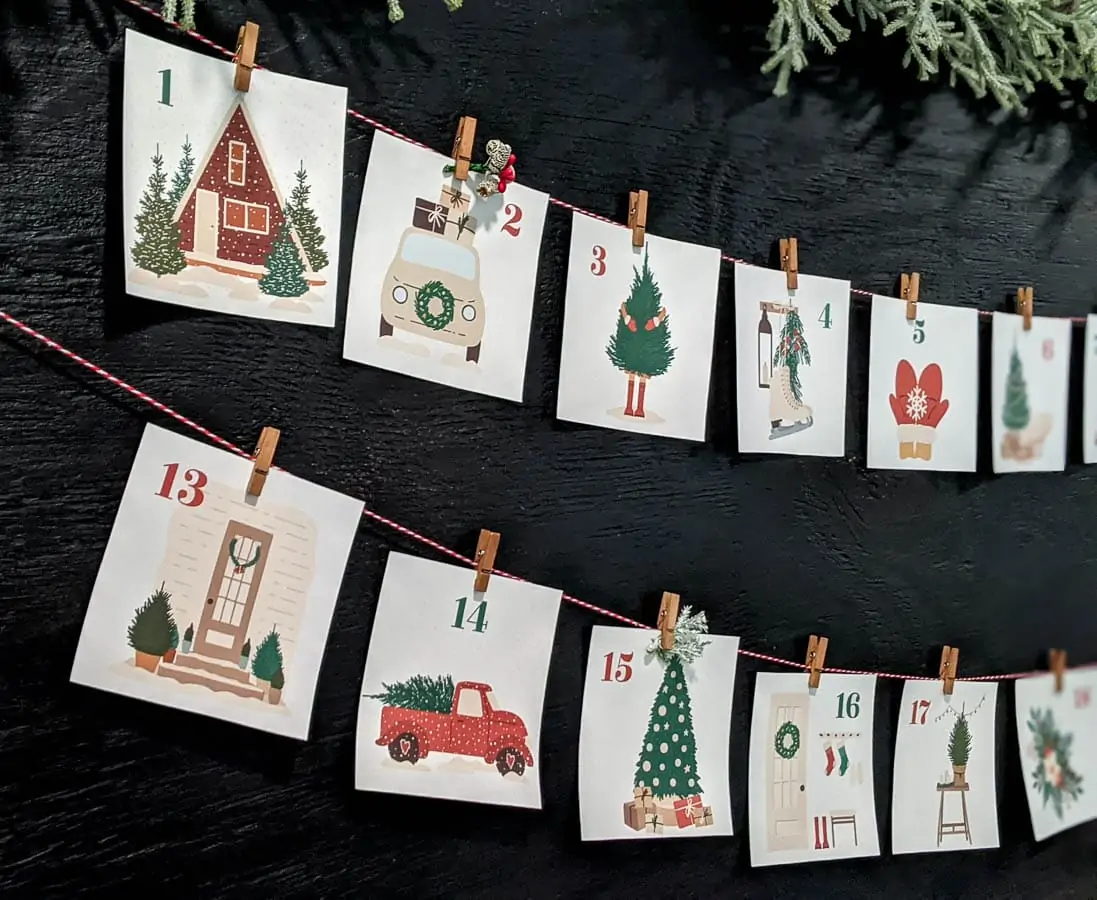 Making a Photo Advent Calendar
One of my favorite parts of the holidays is looking back at photos from past Christmases.
I try to take lots of photos every year, especially now while my boys are little. And I'm always looking for new ways to display my favorite Christmas photos.
I've used them to wrap presents, I've made photo ornaments with them, and I've made a Christmas photo book.
And this year, I decided to make myself a photo advent calendar.
I chose twenty-four of my favorite Christmas photos from years past and printed them on cardstock the same size as my advent calendar.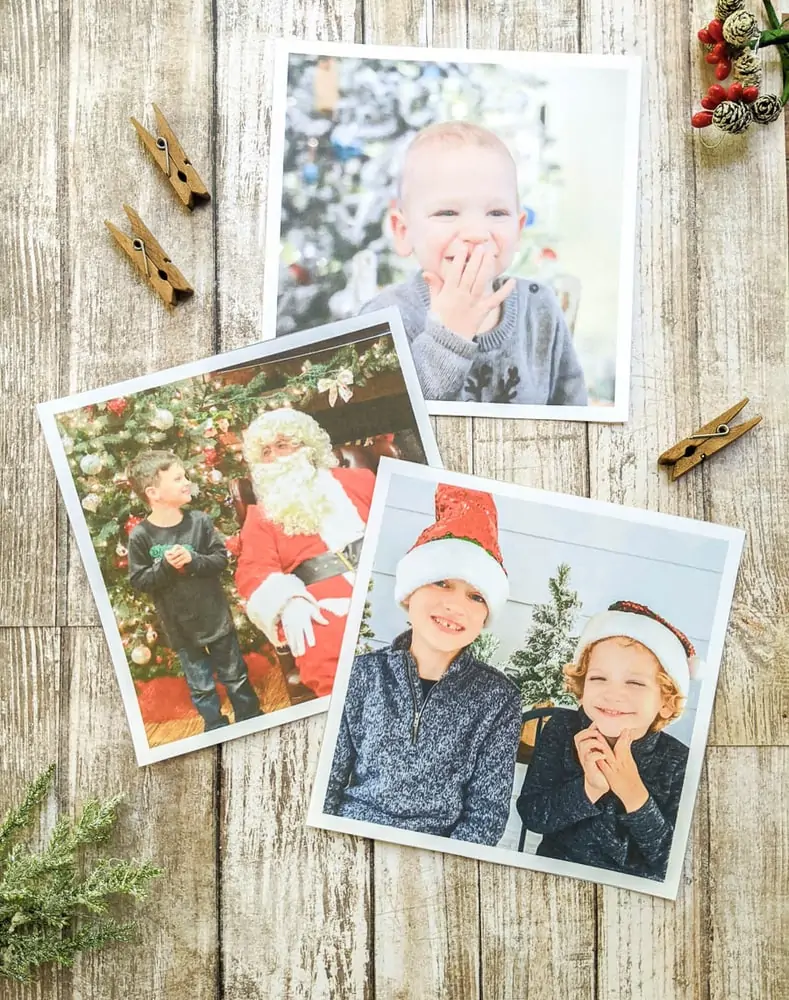 I included a ton of photos of my kids but also some favorite Christmas photos from my own childhood.
Then I clipped up one photo behind each countdown card.
Each day I get to reveal another Christmas photo and I'm so excited about it!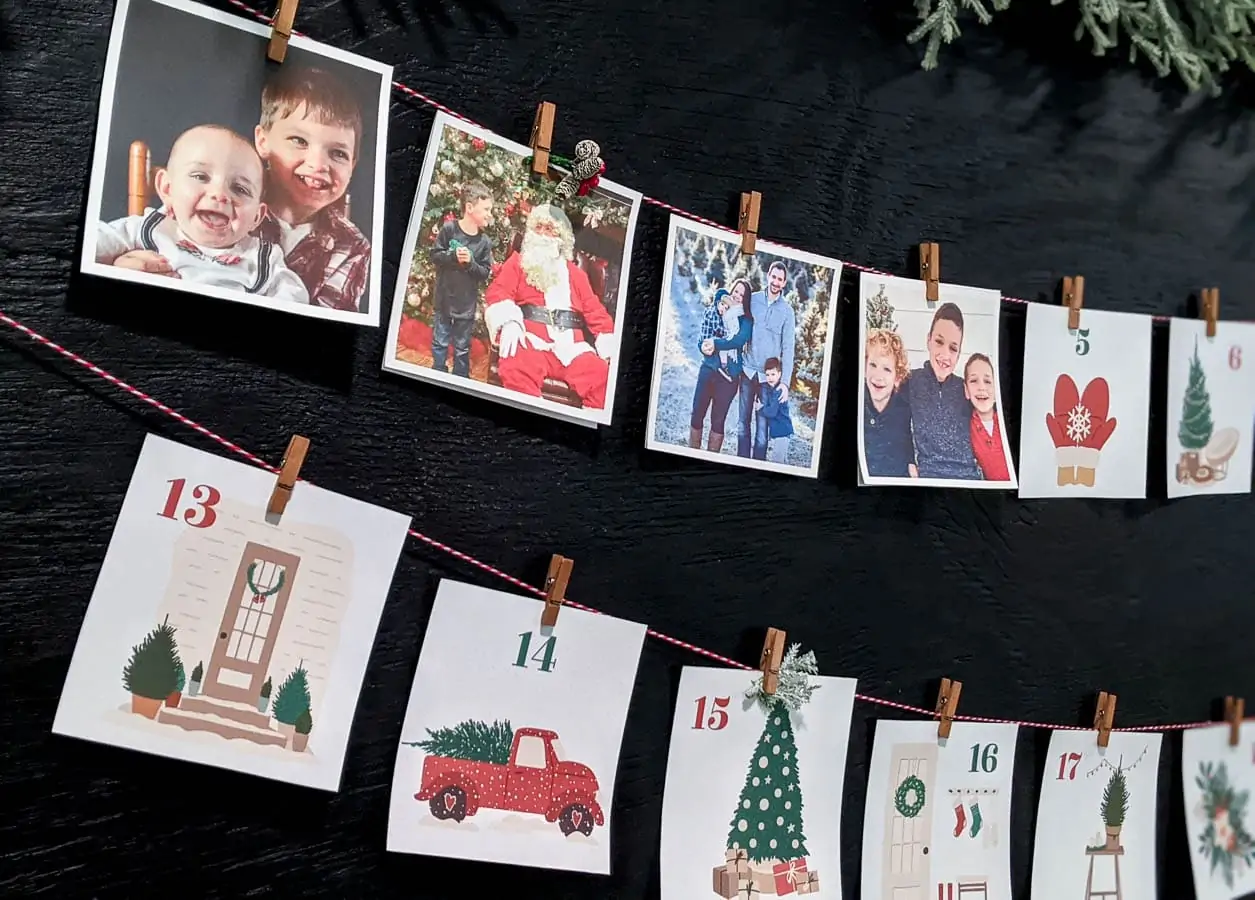 And even though this advent calendar is mostly for me, I know the rest of my family are going to love the ritual of discovering each day's new photo too.
I plan to add a couple of new photos to the mix each Christmas so it will be a little different every year.
And I think this would also make an awesome Christmas gift for a loved one. Especially for parents or grandparents who are notoriously hard to buy for.
Just gather Christmas photos that will bring back great memories for them or include the people they love, package everything together, and send it to them. It's a super inexpensive gift, but also very sentimental.
Download the free printable advent calendar
Whether you want to make a photo advent calendar or use it in a totally different way, I'm offering this printable advent calendar along with all of my other Christmas printables completely free to all of my email subscribers. If you are already a subscriber, you will receive your copy in this week's email.
If not, just subscribe to my email newsletter in the box below to get the printable advent calendar delivered straight to your inbox. The free download will be sent to your email within seconds and you will get access to all of my other free printables as well, along with my weekly email newsletter. (All printables are for personal use only and may not be resold in any form.)
Enjoy!
More Christmas ideas I think you'll like:
I'd love for you to pin this post on Pinterest!