A simple step-by-step guide for making a Christmas photo book. This is a sweet way to remember Christmases past and makes an amazing Christmas gift for your parents and grandparents.
A couple of Christmases ago I was zipping through my Christmas shopping, marking names off my list left and right when I got stuck.
The only person left on my Christmas list was my 87 year old grandmother and I had no idea what to get her.
I've always been close to my grandmother. We lived with her for awhile when I was small and she has always been the first person to drop whatever she's doing and lend a helping hand when needed.
But finding a great gift for a senior who really doesn't need or want anything is tough.
So I started thinking about more meaningful gifts and I came up with the idea of a Christmas photo book.
I'm a huge fan of getting our family photos off the computer or phone and getting them out where we can see and enjoy them.
And at Christmastime, I love pulling out photos from past Christmases to enjoy. It's what led me to create the photo advent calendar I shared a few weeks ago.
I started thinking about how many Christmases my grandmother has enjoyed in her lifetime, as a child, a wife, a mother, a grandmother. And I knew a photo book would be the perfect way to revel in the memories of all those years of Christmas celebrations.
Because older parents and grandparents are always some of the toughest people to find gifts for, I did some research and put together a list of gift ideas for grandparents that's full of both useful and sentimental gifts.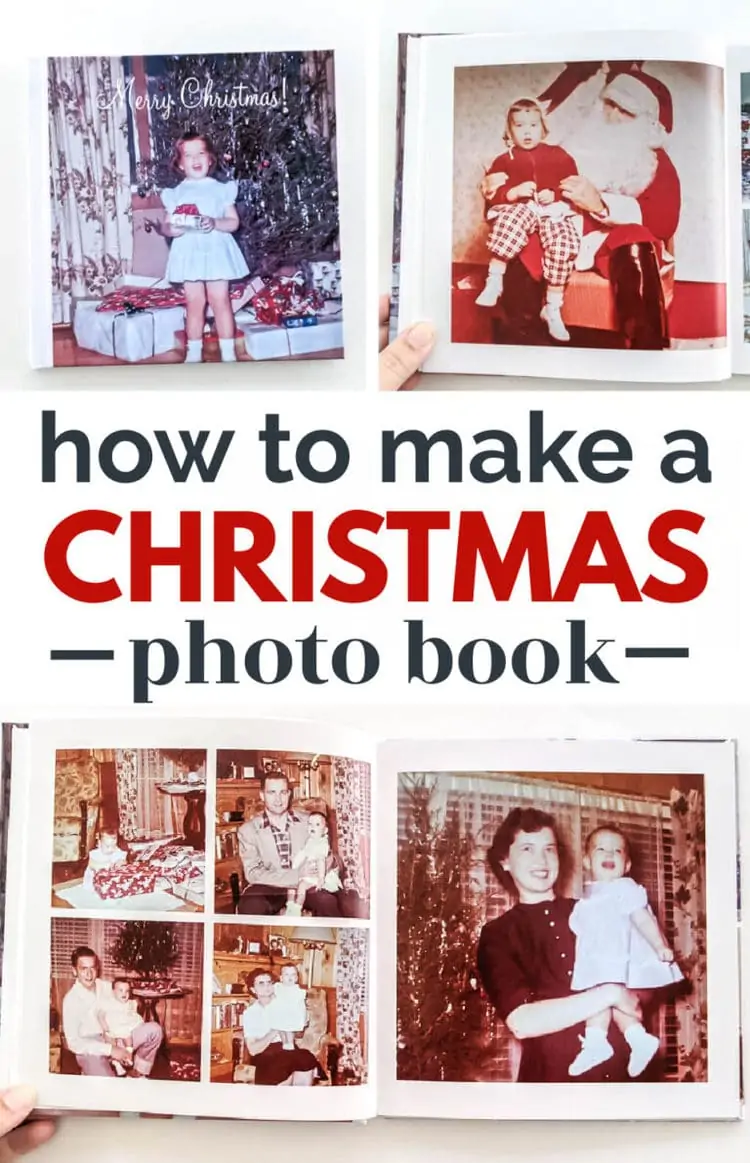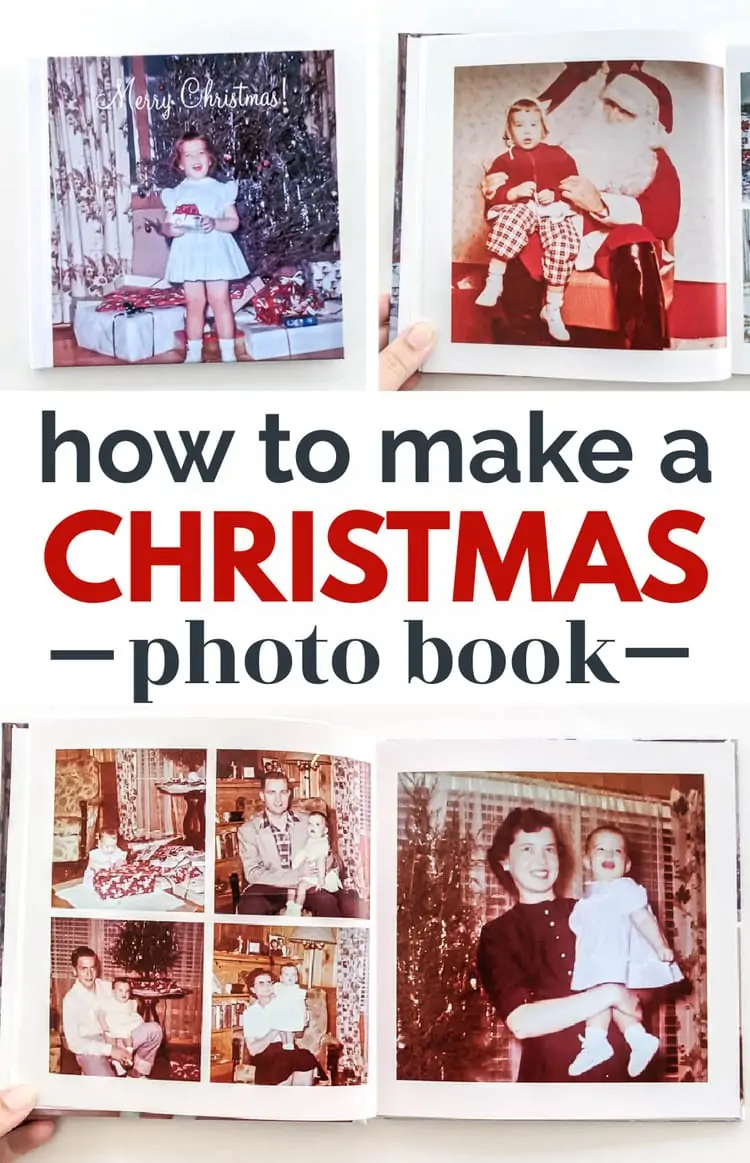 This post contains affiliate links which means if you make a purchase after clicking a link I will earn a small commission but it won't cost you a penny more. Click here to see my full disclosure policy.
How to Make a Christmas Photo Book
Gather photos
I started by gathering as many photos as I could of past Christmases.
I looked through my own photos and pulled out the best photos of recent Christmases.
Then when we were at my mom's house for Thanksgiving, I got out all of her old photo albums and pulled out the best Christmas photos from my own childhood.
And then the next time I was at my grandmother's house, I pulled out her photo albums to look through too. And I grabbed all of the photos I could from Christmases long ago.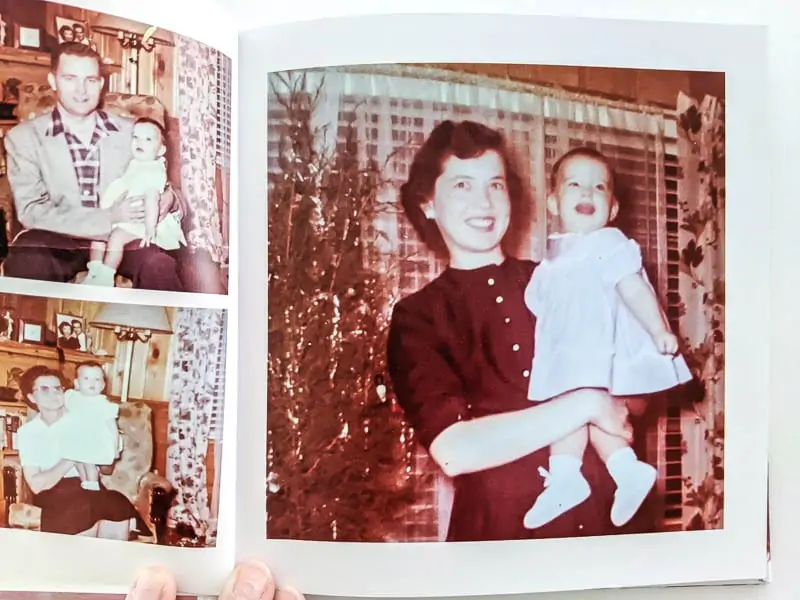 I was lucky because we all live fairly close, but I know gathering older photos may be trickier for some people. You may need to contact relatives and ask them to send you copies of any photos they have.
My mom is an only child so there weren't a whole lot of people I could ask to contribute old photos, but you could always ask any aunts, uncles, cousins, great aunts, great uncles, close family friends, and so forth to send photos as well.
Digitize your photos
Once you've gathered your photos, you need to get them all in digital form.
Some of my most recent photos were already saved to my computer, but most of the photos I was working with were old printed photos.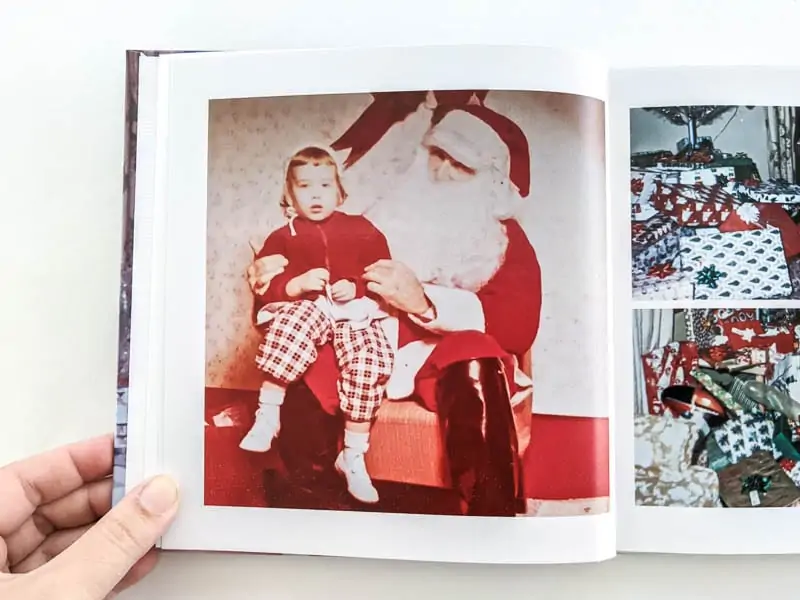 I decided the easiest way to digitize them was simply to take a photo of each photo with my phone camera.
To get nice clean images, I made sure each photo was dust-free. Then I placed it on a table in a space with good natural light and checked that there was no glare.
When taking the photo, I made sure to hold my phone horizontal above the photo to keep the image from becoming distorted.
You could also scan your photos using a scanner. For me, using my phone to take photos was much easier because I could quickly take photos of the pictures I found at other people's houses and then put them back where I found them. It made keeping everything organized much easier.
Organize your photos
Once all of the photos were on my computer, I started sorting them into a loose chronological order.
I made four folders – one folder for photos up through the 1970s, one folder for photos from the 80s and 90s (my childhood), one folder for photos from the early 2000s, and one folder for photos from the 2010s (once my own kids were born).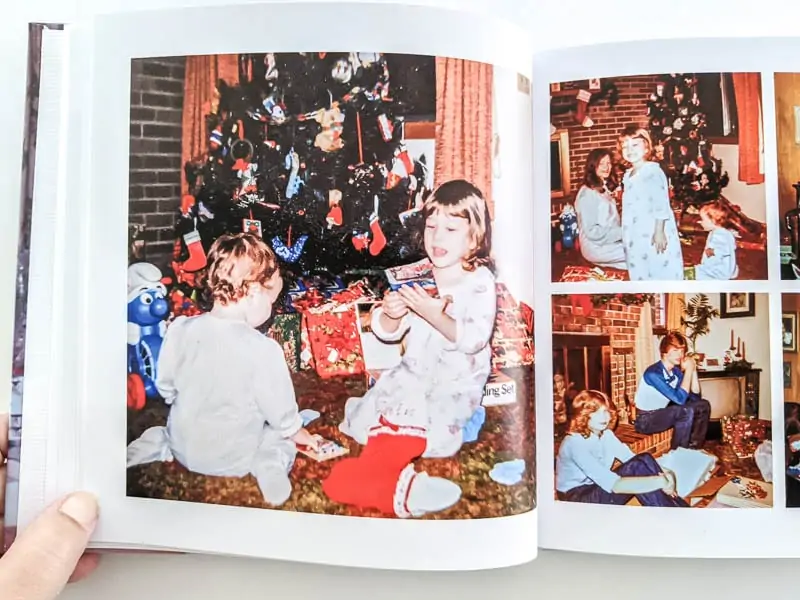 Finally, I went through each folder and selected the best photos to go into the book. I tried to choose a variety of photos that included a wide span of years and made sure to include photos of everyone that was important in my grandmother's life.
Sadly, there were no Christmas photos from when my grandmother was a child, but there were a couple from her young married days and quite a few from when my mom was little.
Creating the photo book
Before making the actual photo book, I edited each photo to help brighten them up and make them a bit clearer. You don't have to do this, but some of the older photos weren't in great condition, so I wanted to make them as clear as possible.
(I use Adobe Lightroom for photo editing, but any photo editing software will work.)
Where to buy your photo book
I made my actual photo book using Shutterfly. I have made many photo books with Shutterfly and I have always been really happy with how they turned out. And I love that they have frequent sales that make their prices super reasonable. (You can find out what promotions they are currently running here.)
I've heard others say that Mpix photo books are even better quality than Shutterfly, so that is also a good option.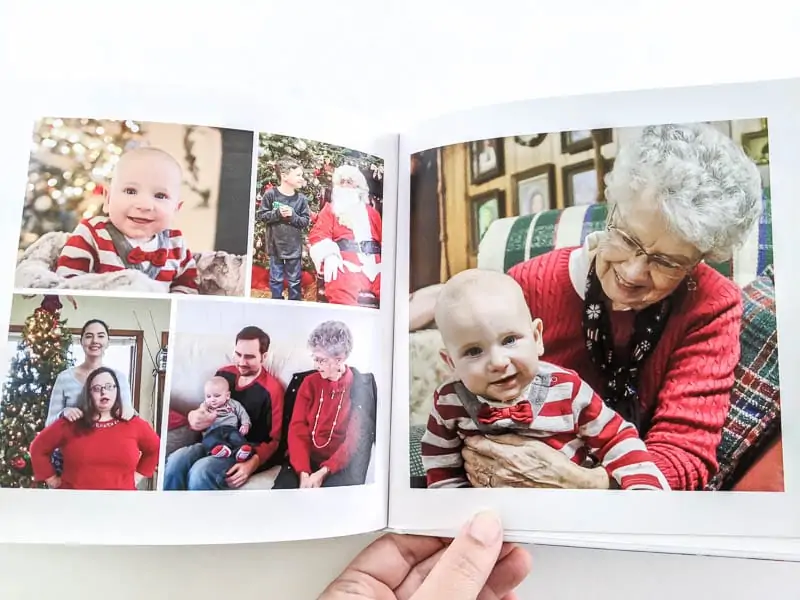 When making a photo book, it's really important to keep the layouts simple. I prefer to just include photos, without text or other embellishments and I never put more than four photos on one page. That way you can easily take everything in without getting overwhelmed.
For the cover, I chose one of my favorites of the photos I gathered – a picture of my mom as a little girl smiling in front of the Christmas tree.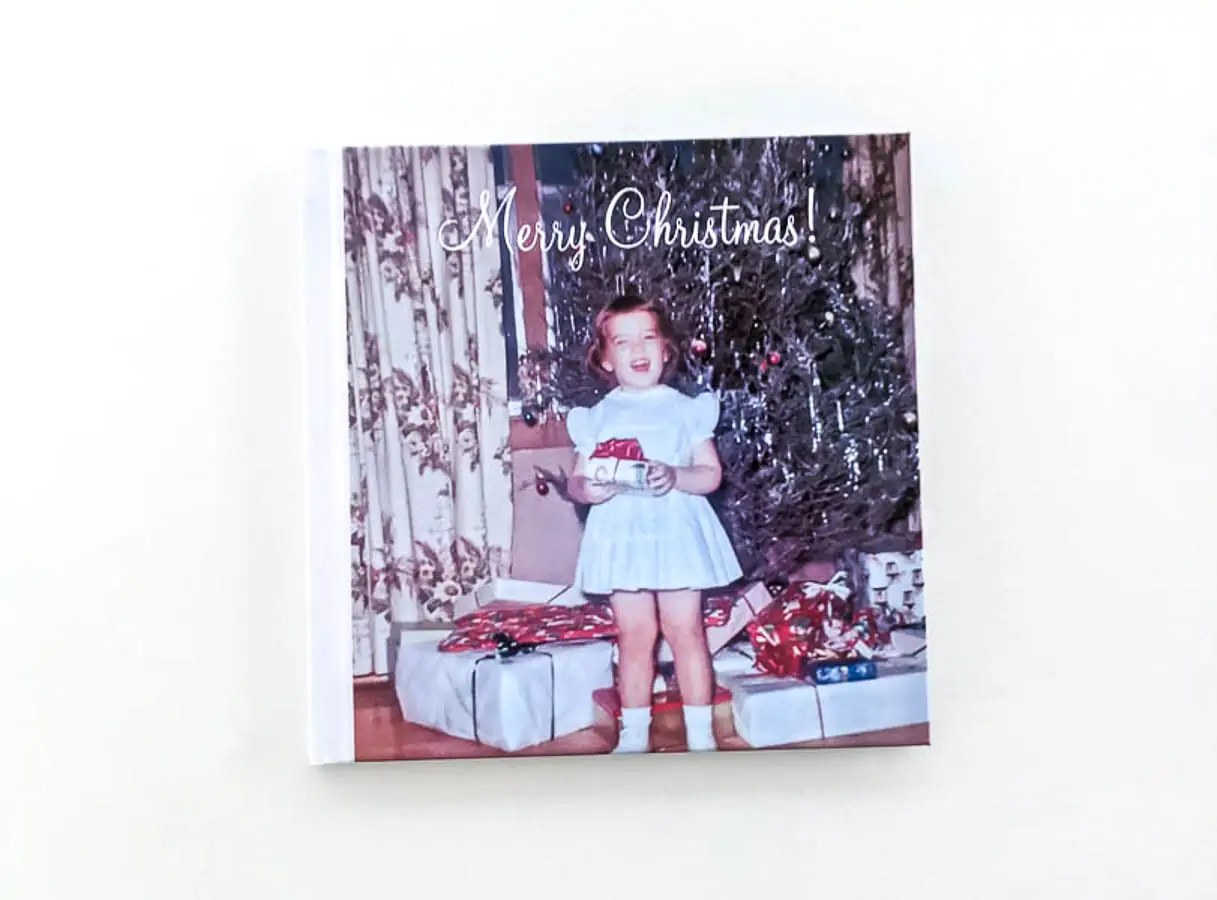 And for the back cover, I made a collage of some of my grandmother's Christmas trees from throughout the years.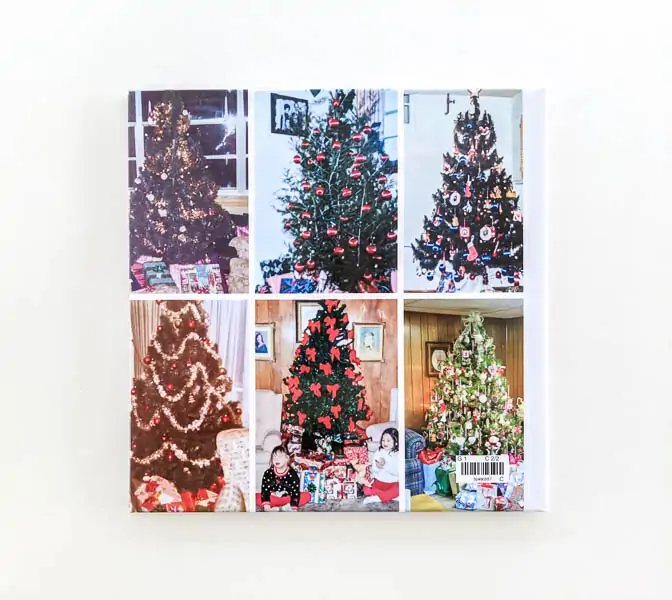 It was actually really fun just seeing how much Christmas tree decorating and gift wrapping has changed over the years!
I was really happy with how the finished book turned out and more importantly, my grandmother was thrilled with it! I ended up giving a copy to my mom as well and she also loved it.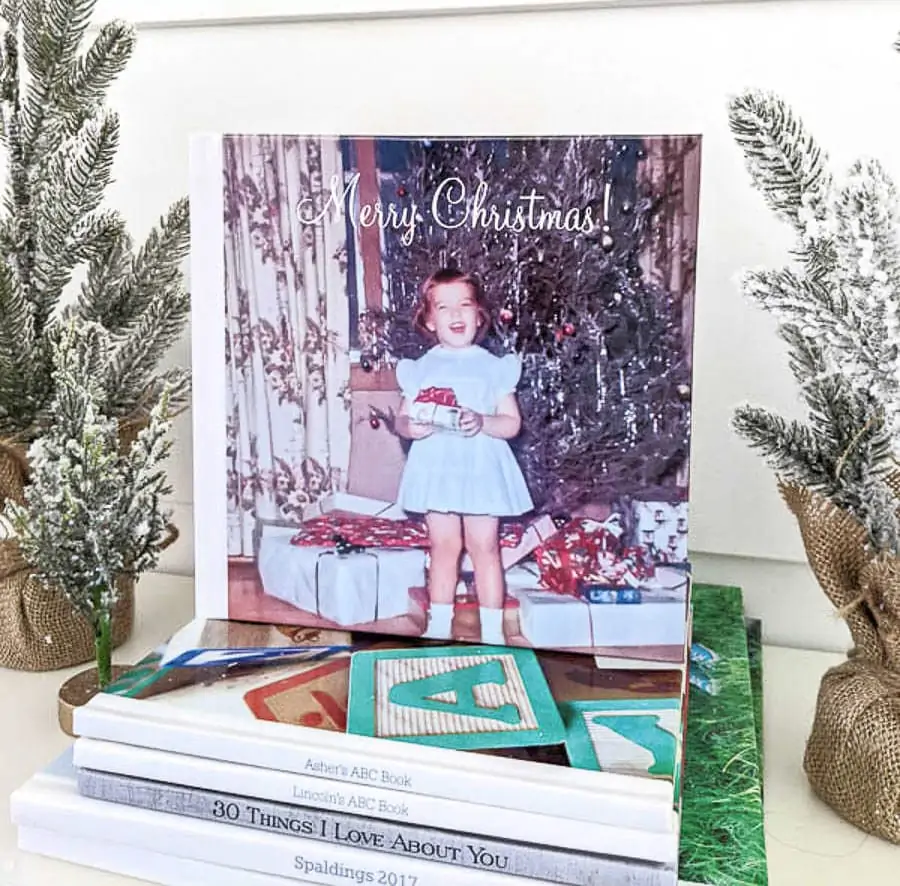 This turned out to be an awesome Christmas gift – my grandmother keeps it out on her coffee table now and it's always fun to flip through it when we're visiting.
And I also think it's a great gift to give yourself. As much as my grandmother enjoys her book, I also really enjoyed choosing what photos to include and putting the whole thing together. One day I would definitely love to make one of these for myself.
Looking for more sentimental gift ideas? Check these out next:
And I also have more photo book ideas for you:
I'd love for you to share this post on Pinterest!