Putting together a personalized photo book is an awesome way to create the perfect baby book for your child.
I knew I wanted to make a baby book for each of my kids right from the get go. I wanted to capture all of those sweet memories and precious firsts and most of all – the wonderful photos.
I'm kind of a control freak so I didn't want to buy something with specific pages to fill out – I wanted to decide what would go in it.
A photo book was the natural solution. Something full of beautiful photos of my squishy little baby along with notes about the best parts of that first year.
With this in mind, I kept notes every month about what new things were happening, what milestones were reached.
And I took lots and lots of photos. Because I believe photos usually unlock memories far better than words.
And when my baby reached his first birthday, I was ready to put it all together. Except I was busy and I never quite seemed to get to it.
Well, you know how that goes – before long that little baby had turned two. And then I was pregnant with baby no. 2. Which meant I was about to get far busier and memories were about to get far more muddled.
So I set myself a deadline of completing no. 1's baby book before no. 2 was born. And as much as I hate deadlines, they really do work – my completed baby book arrived on our doorstep the very day I was in the hospital giving birth!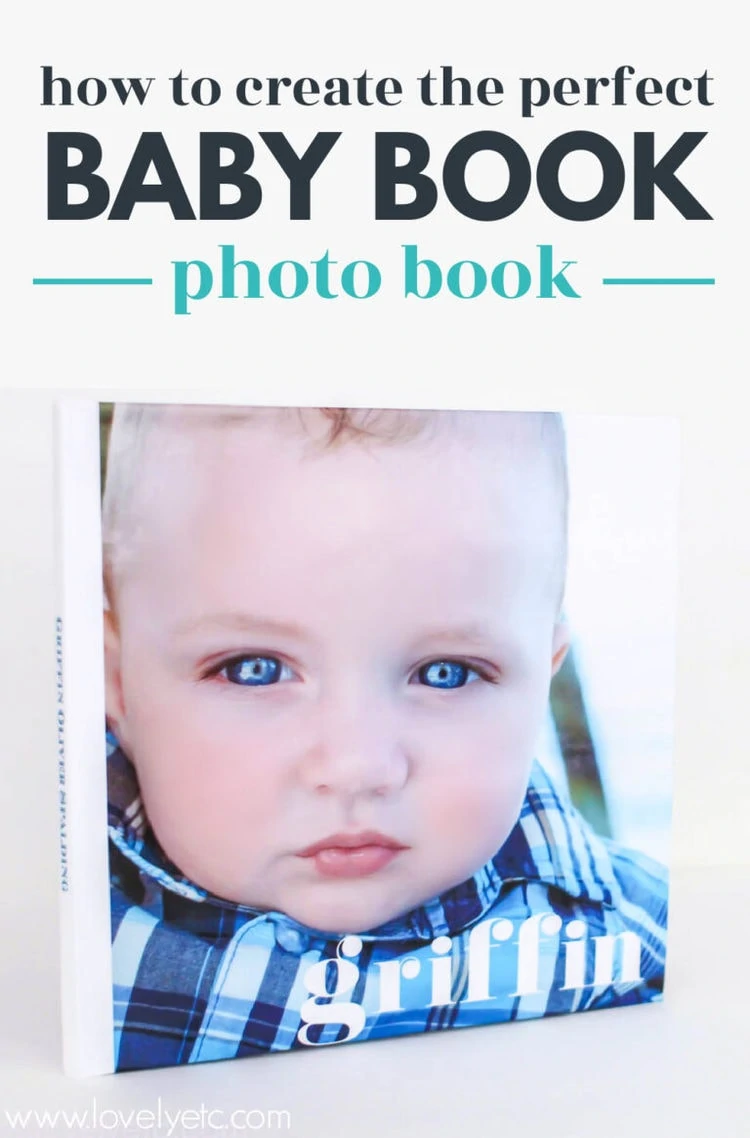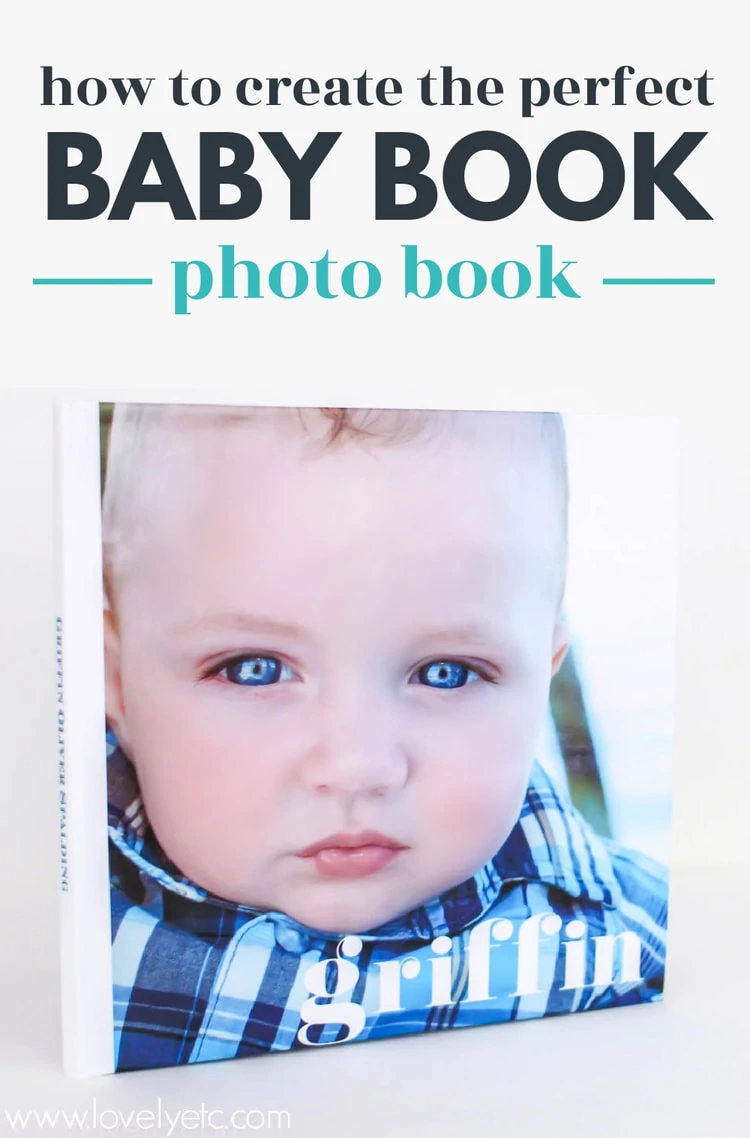 This post contains affiliate links which means if you make a purchase after clicking a link I will earn a small commission but it won't cost you a penny more. Click here to see my full disclosure policy.
How to Make a Photo Book Baby Book
I already had all the notes and all the photos, so I decided the best thing to do was keep it simple. Lots of photos. A few notes. And that is it.
Nothing fancy – just my beautiful little boy front and center. I won't show you every page. I realize nobody wants to see every single picture of someone else's baby.
But I will share enough that you can get a good idea of the layout and style.
I used Shutterfly to create my photo book. I've made quite a few photo books with Shutterfly over the years. I love that there are lots of layouts and designs to choose from and they have great sales pretty regularly.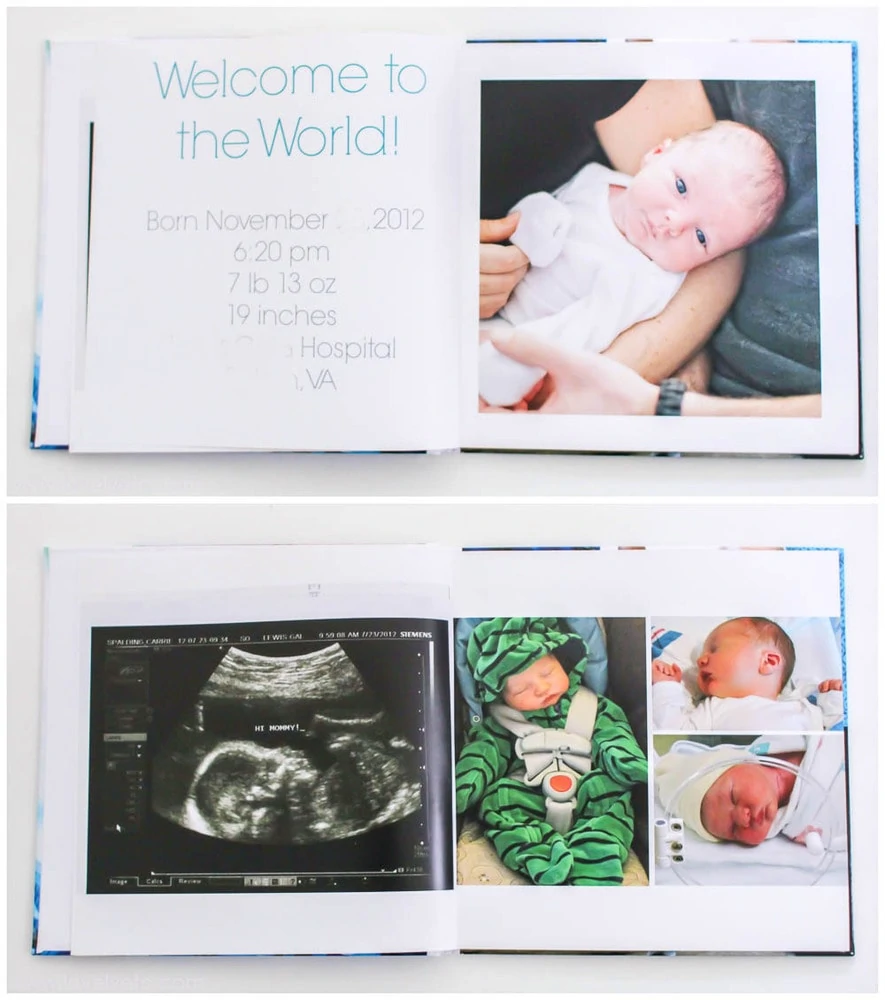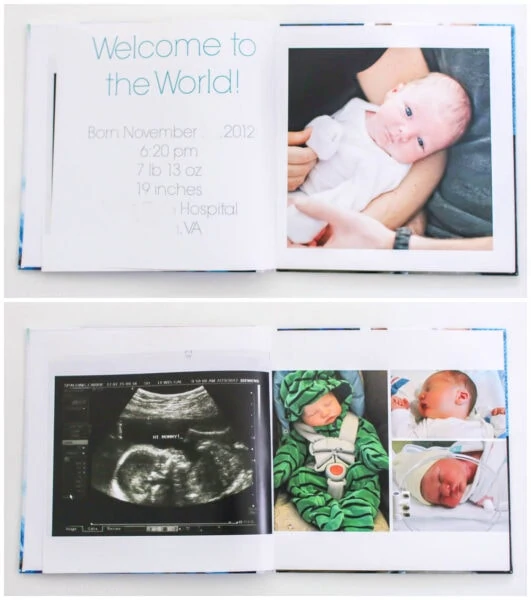 Monthly Summaries
The book is in chronological order. At the start of every month, there is a full page photo and a summary of the happenings of the month.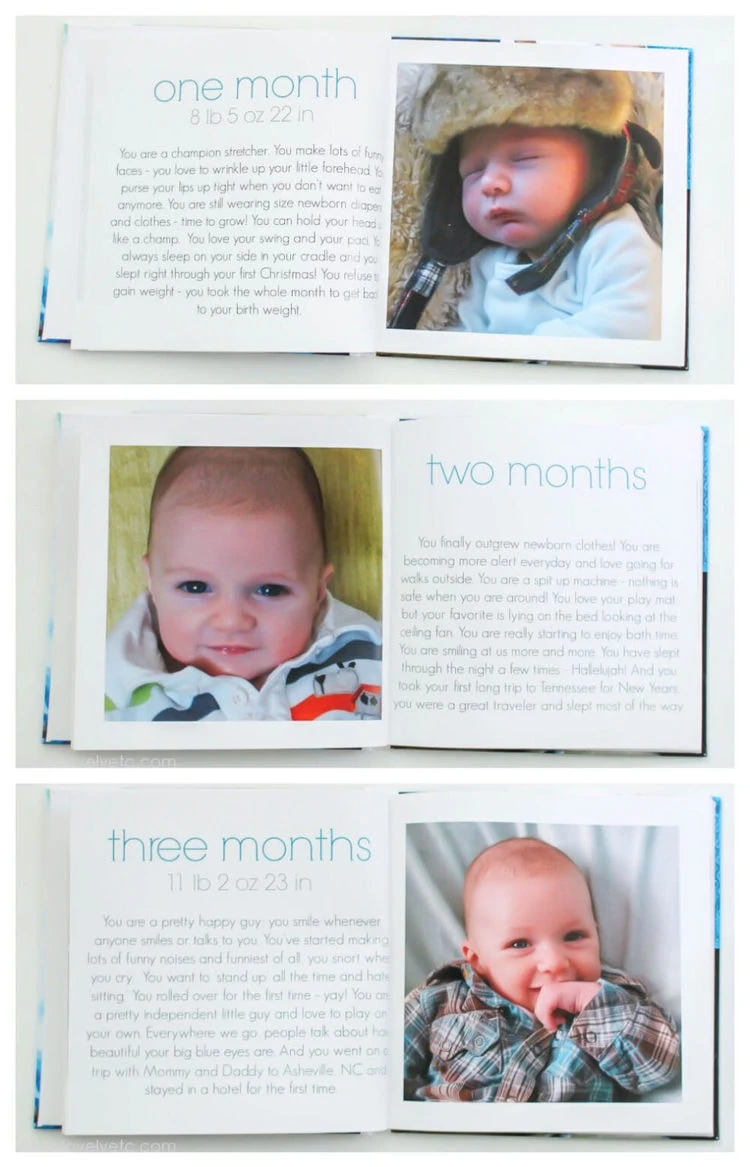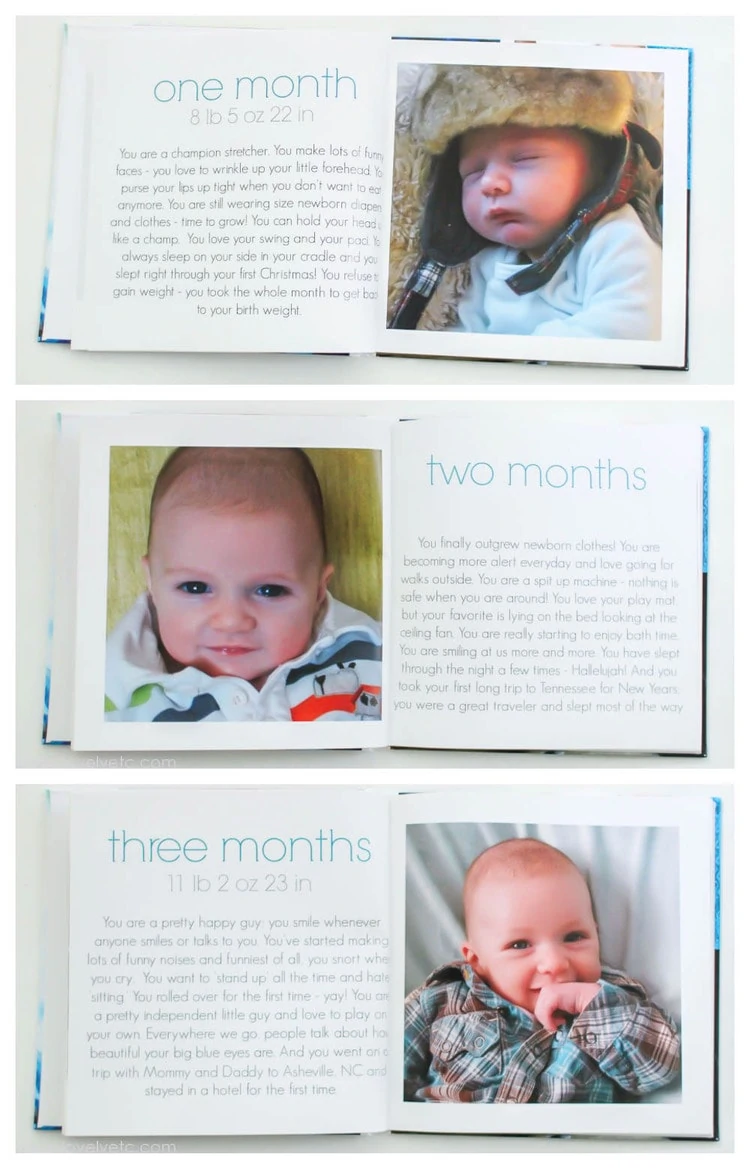 I made these little summaries using PicMonkey and then uploaded them into my photo book just like any other picture as a full page photo. (PicMonkey is no longer free, but Canva is a great alternative where you can do the same thing.)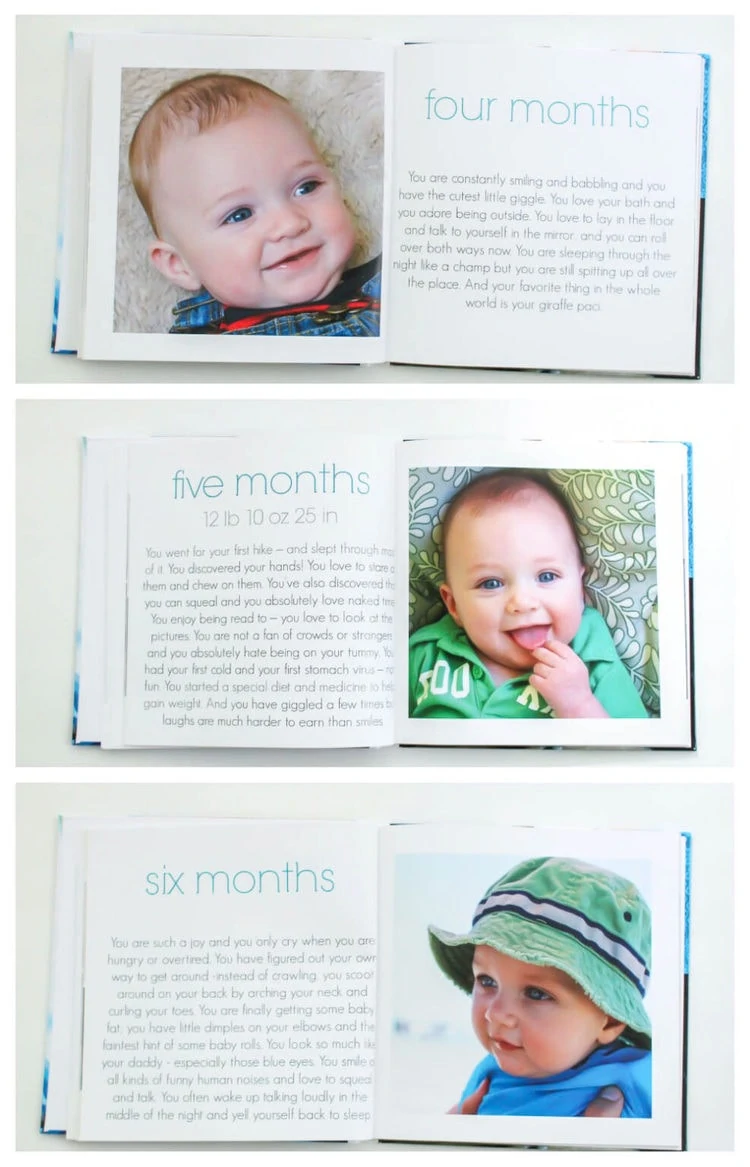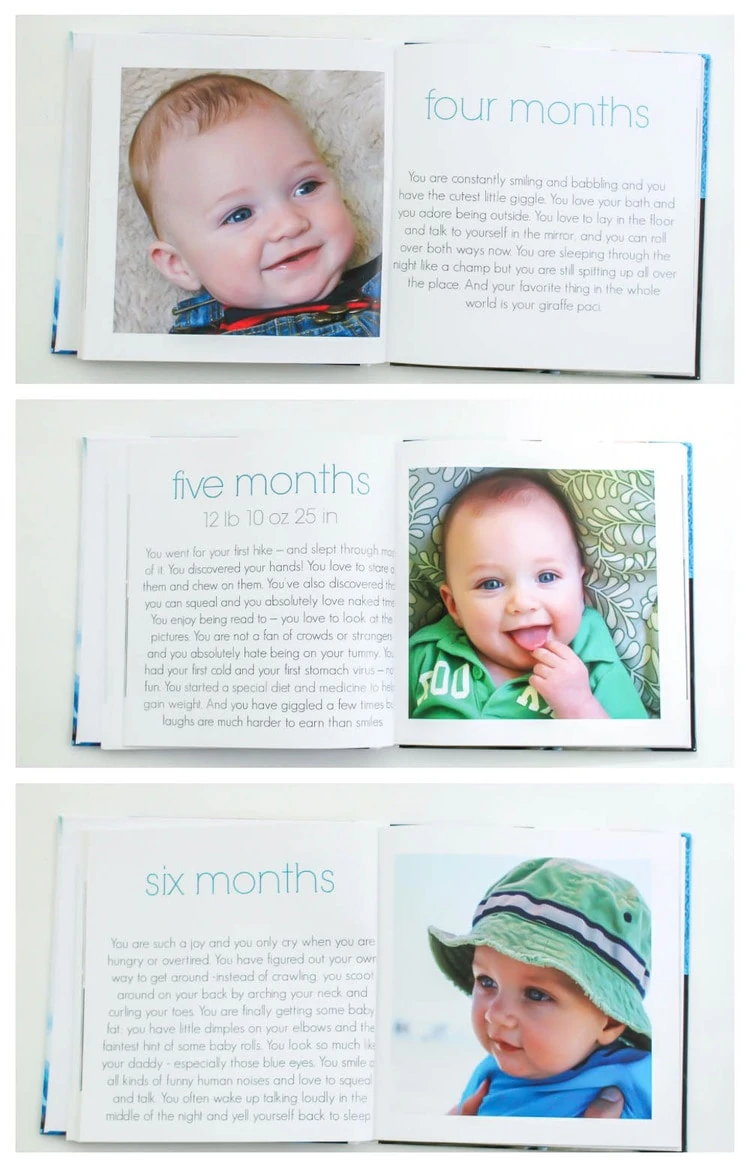 Milestones
Before I had kids, I thought that I would keep track of all of Griffin's firsts – first time he rolled over, sat up, etc. by recording the exact date these things happened.
But I soon discovered that sometimes it isn't as black and white as that – sometimes it is hard to narrow down whether the day he say unassisted for three seconds counts as sitting up or if it wasn't until he did it for ten.
Plus, life got busy and sometimes I really just didn't remember the exact date – that's why I liked keeping track of what was happening and all of his milestones by the month. It just made it all so much easier.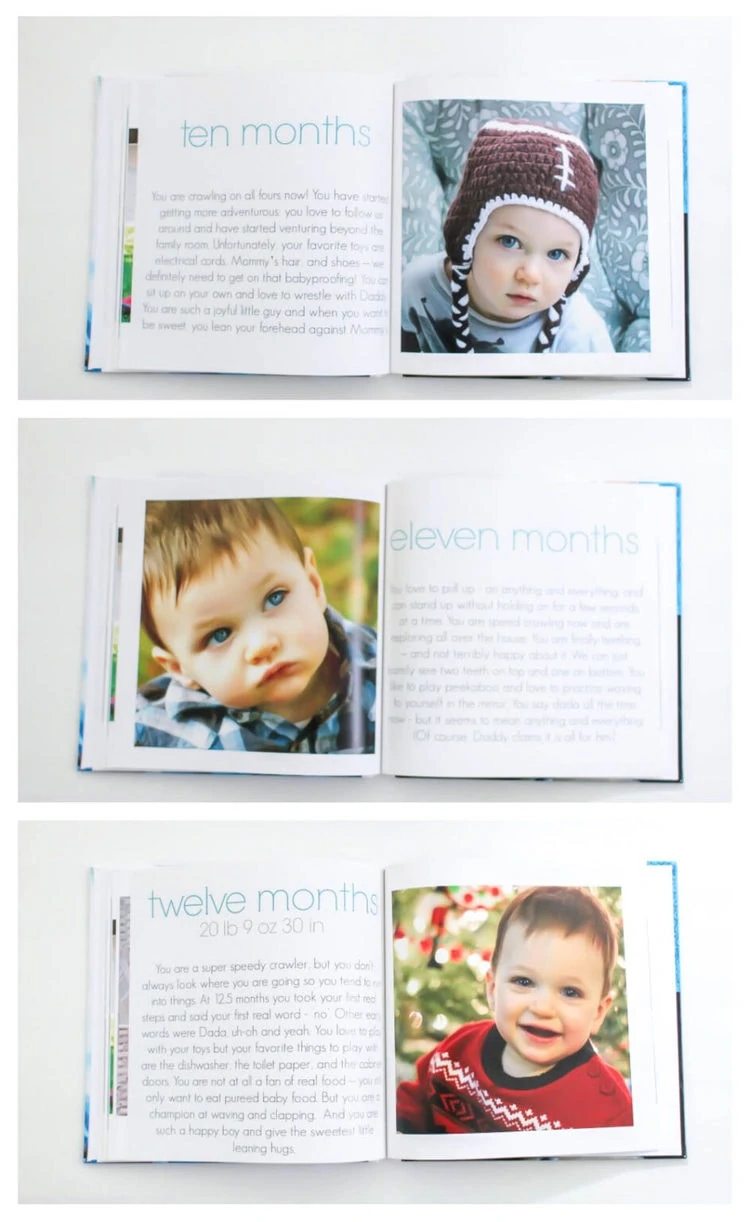 Photo Collages
Between each monthly spread are a page or two of the very best photos from that month.
I found that narrowing down the dozens of photos I took each month to only a handful of the very best was key. When you include a ton of little photos on a page, none of them seem special. When you look at the page, you think 'wow, look at all those photos' when what you want to think is 'wow, looks at those pinchable cheeks.'
The very best are the pages with only one large photo because they really grab your attention.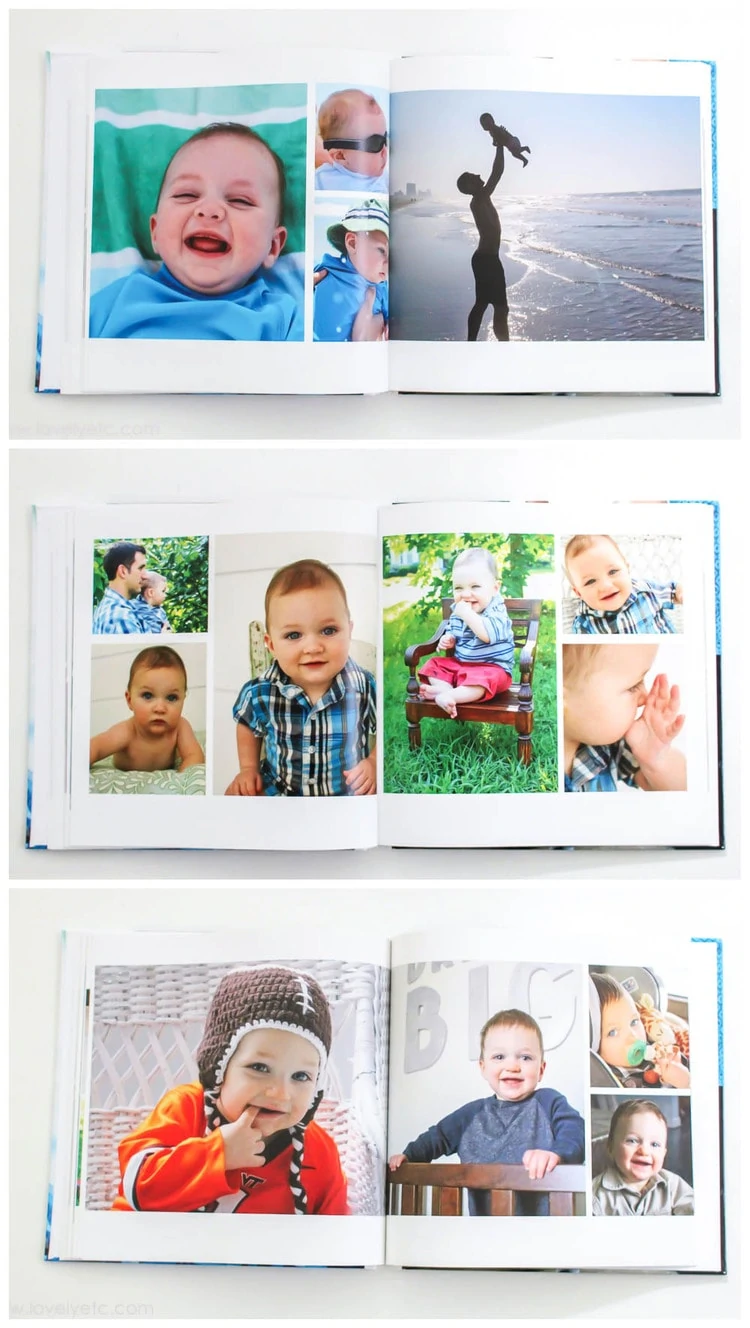 But I also mixed in pages with three or four photos each because I wanted to be able to show a fuller picture of what was happening each month.
Plus, your photos need to be really crisp to look good enlarged to a full page and some of my favorites just weren't good enough for that – but they look great slightly smaller. (When you make your book, it will let you know if your photo resolution isn't high enough for the size you want it.)
Beyond the First Birthday
At the end, there is a little recap of his first birthday and the major milestones that happened beyond twelve months.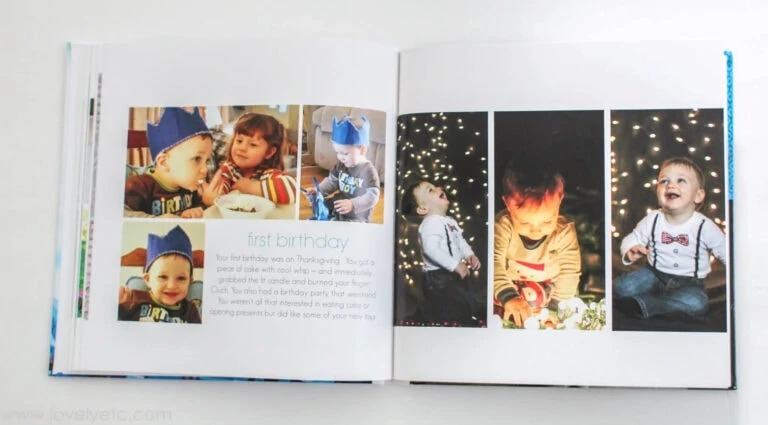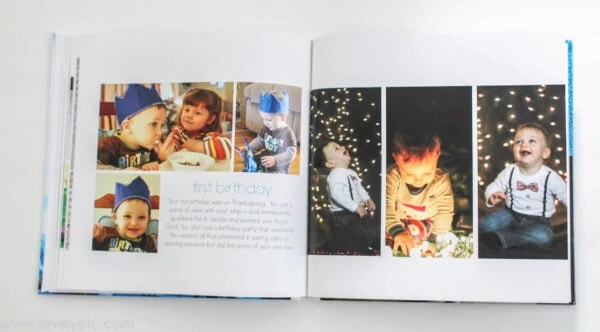 Monthly Photos Spread
And the book ends with a two page spread of his monthly photos.
I thought about using these throughout the book to start off each month, but they are much more fun when they are all together so you can really compare each month. Plus, because of a lack of good lighting in the location I chose (dope!) the quality really wasn't good enough to enlarge them to the size of a whole page.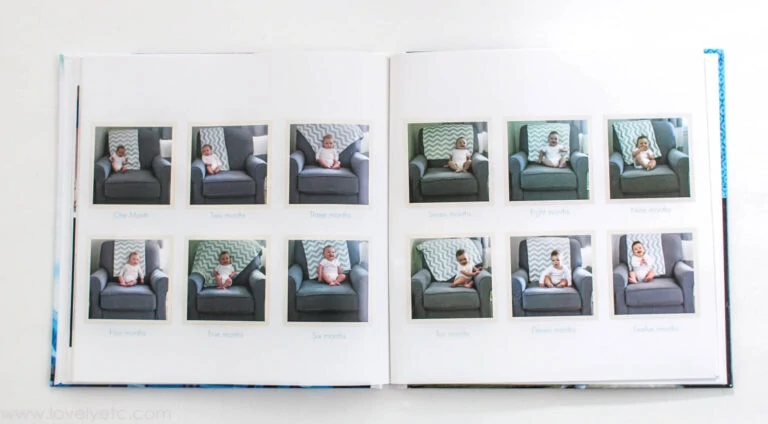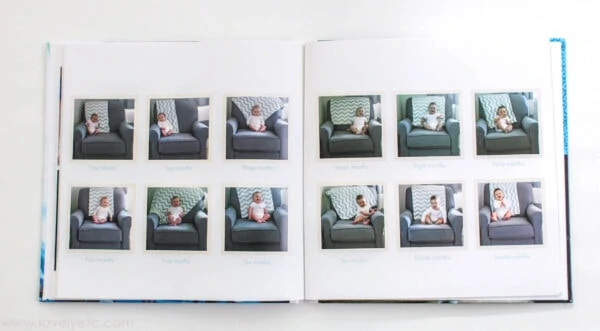 Once the baby book was finished, I was able to easily copy just the very best pages for a smaller book for the grandparents. Now that was a gift that was well received!
More great photo book ideas I think you'll like:
What can I say – I really love photos and I love the way your photos can truly tell a story with a good photo book.