Today I'm sharing how I flipped a dated settee into a beautiful bench for our porch along with everything you need to know to safely use indoor furniture outdoors.
Did you know you can actually use indoor furniture outdoors?
As long as you take the right steps to protect and waterproof your furniture, it can last outdoors for years! And yes, I'm speaking from experience here – I've refinished indoor wood furniture to use on both my front porch and screened-in porch several times.
Most recently, I picked up this fussy cane bench/settee from Facebook marketplace for less than $25. Even though it wasn't really my style, I could see it had a ton of potential.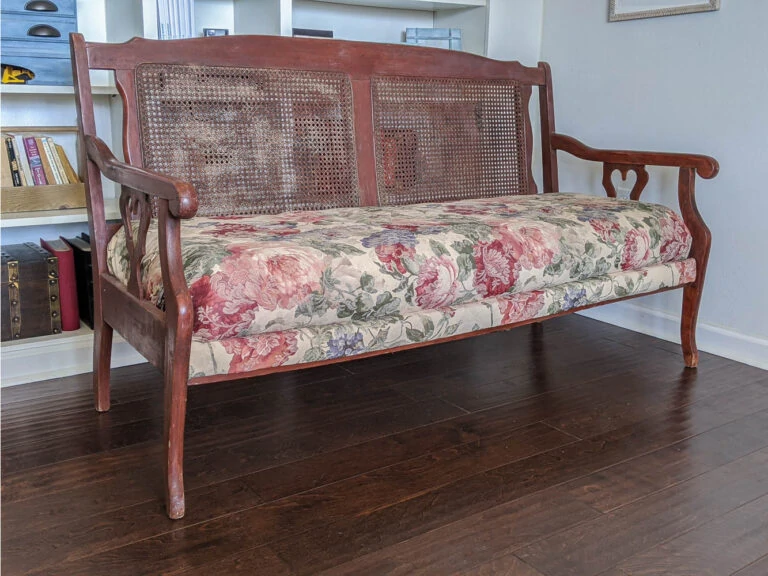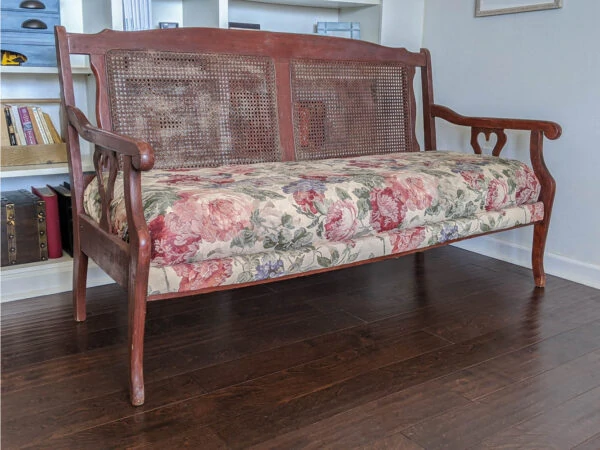 The easiest way to update this bench would have been to give it some fresh upholstery and a coat of paint.
But I had something else in mind. I had been looking for some new seating for my front porch and I knew this little bench would be just the thing.
Today I'm sharing this fun furniture makeover along with everything you need to know to make your own indoor furniture finds work outdoors.
This post contains affiliate links which means if you make a purchase after clicking a link I will earn a small commission but it won't cost you a penny more. Click here to see my full disclosure policy.
How to Use Indoor Furniture Outdoors
Using indoor furniture outdoors opens up a whole world of possibilities. Of course you can just buy furniture specifically made to be used outside, but the selection is usually super limited and it's expensive.
On the other hand, 'regular' furniture is much more widely available, both new and used, in a ton of styles and at a variety of price points.
I've used several pieces of indoor wood furniture outside before with great results, but there are a few things you need to keep in mind if you're considering doing the same thing.
Choose your furniture carefully
Please do not put anything that is super expensive and precious to you or your grandmother's antiques outside, even on your covered porch. Even though you can use indoor furniture outdoors, it probably won't last as long as it would indoors.
Most of the furniture that I've used outside has been pieces that I've found at yard sales or on the side of the road and fixed up cheap. I felt good about getting some extra years of life out of it, but it's not furniture that I necessarily plan to have for the rest of my life.
You also want to make sure that any furniture you are using outdoors can hold up well to moisture. Furniture made from pressboard, particle board, laminate, or any other fake wood isn't a great choice because it will quickly break down with even the tiniest amount of moisture.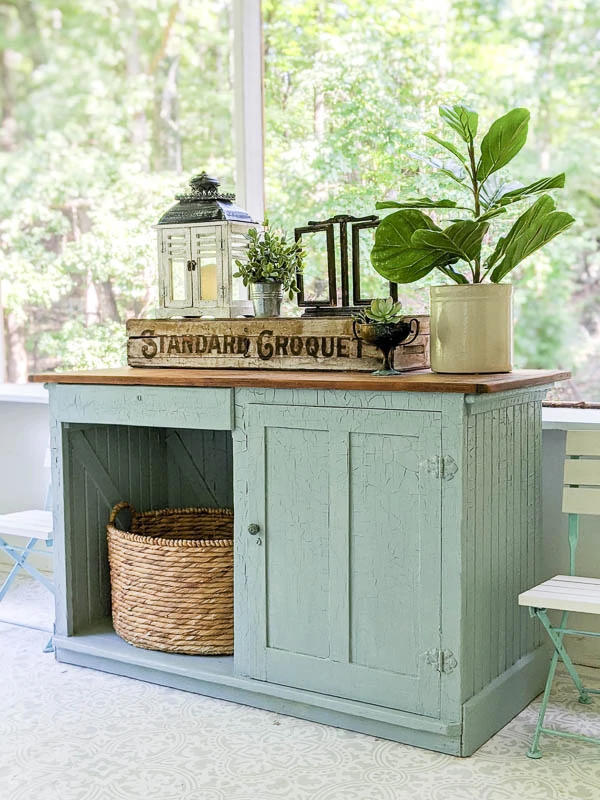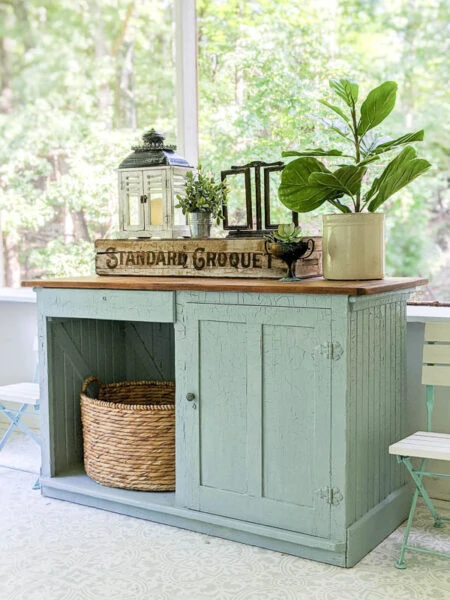 Choose a protected spot for your furniture
A covered porch or patio makes a great spot for indoor furniture because your furniture will get some protection from the elements.
Putting wood furniture outside, completely exposed to sun and rain with no cover, is going to wear it down a lot more quickly.
You should also consider the climate where you live. Where I live in Virginia, we have all four seasons and get heat, cold, snow, and tons of rain and I've had great luck with things lasting outside for years in a covered setting.
But there are certainly places with more extreme weather where it may not work as well.
Choose the right finish for your furniture
How you refinish your furniture will have a huge impact on how long it lasts outside.
Paint is the easiest way to get a finish that you know is really going to last. Make sure to choose a good exterior paint. Exterior paints are rated to hold up to UV rays and extremes in temperature and they also resist moisture.
If you're not painting your furniture, you're going to need to use a wood sealer that's rated for exterior use and can hold up to moisture and fluctuations in temperature well.
Protect every surface well
Painting or sealing furniture for outdoor use is different than painting something to use indoors.
You need to cover every single surface that is exposed to the air. When I'm painting a dresser or something to use in my house, I often don't paint the back of the dresser or the sides of the drawers.
There are a lot of things you can get away with not painting because nobody's ever going to see them.
But when you're painting something to be used outside, even the parts that are not going to be seen, like the underneath of my bench have to be painted.
Even the parts that don't show are affected by moisture and changes in temperature which can lead to warping, cracking, and other problems. Sealing every exposed surface really helps cut down on this.
Use outdoor fabrics
Finally, if you are planning to use any fabrics outdoors – either on upholstered furniture or on cushions and pillows – be sure to use outdoor fabric. Outdoor fabrics are treated to withstand moisture and mildew.
If you can't find an outdoor fabric that will work, another option is to use a waterproofing spray to protect your fabric. I used this Scotch Guard water shield spray on a drop cloth cover I made for my outdoor daybed last year and it has worked great.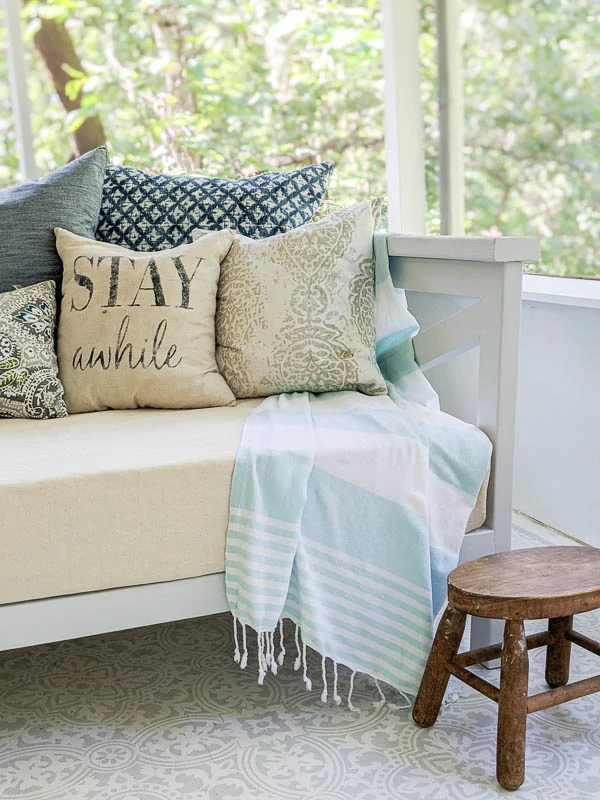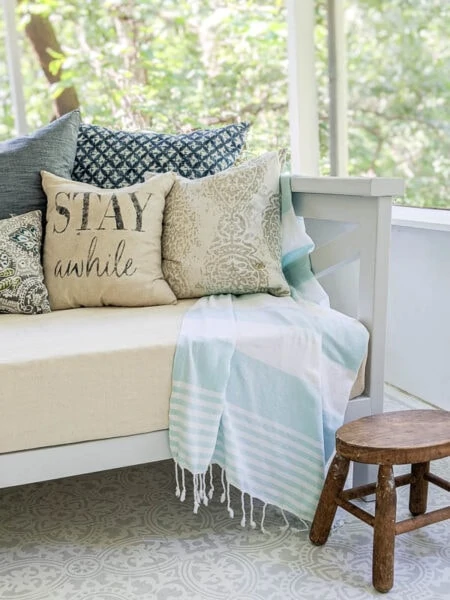 Repurposing a Bench for Outdoors
Okay, now that we've got the basics of using indoor furniture outdoors down, I'm sharing exactly how I turned my dated settee into a beautiful bench for my porch.
Materials
2″x2″x8′ furring strip – I used this super cheap wood to create support for my new wooden seat.

2″ wood screws

– for attaching the new supports to the original wood frame.
primer – this is my favorite primer for any furniture painting project. It blocks wood tannins to prevent yellowing and will stick to pretty much any surface.
exterior paint

1 1/4″ pocket hole screws

– this is totally optional. I used these to extend my bench's original plywood seat
Tools
How to convert an indoor settee into an outdoor bench
Remove unneeded parts.
I started my bench makeover with some demo. I'm not a big fan of upholstered furniture outside; it tends to take a long time to dry after rain and also gets stained pretty easily. So the first thing I did was remove the big fluffy upholstered seat.
I also used a handsaw to cut off the cut-outs on the arms to give it a more classic design.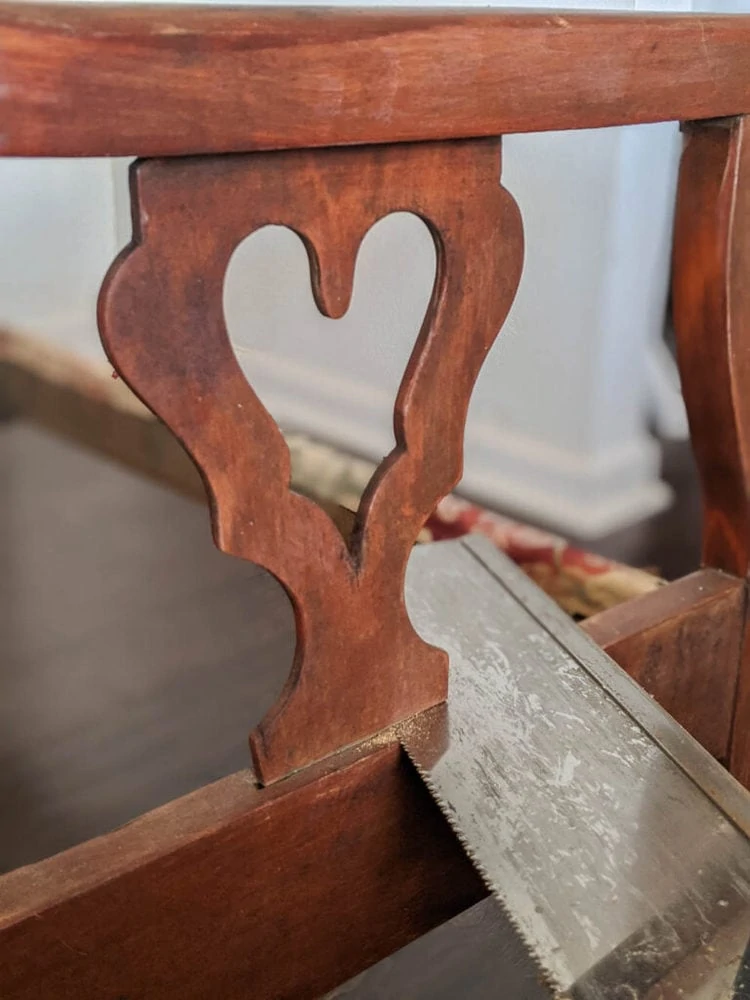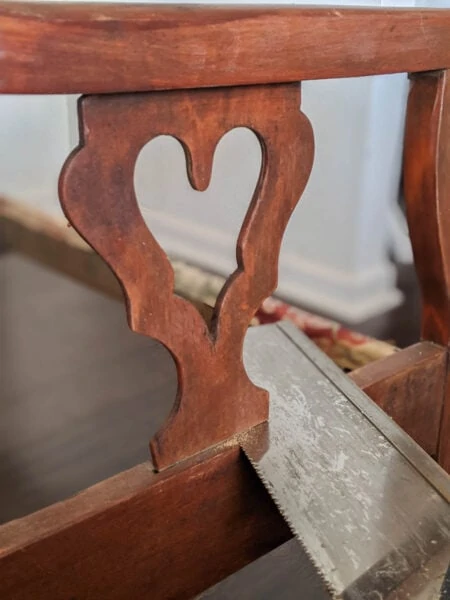 Prep for a wooden seat.
I had to make a few small changes to the frame of the bench to prepare it to have a wooden seat rather than an upholstered one.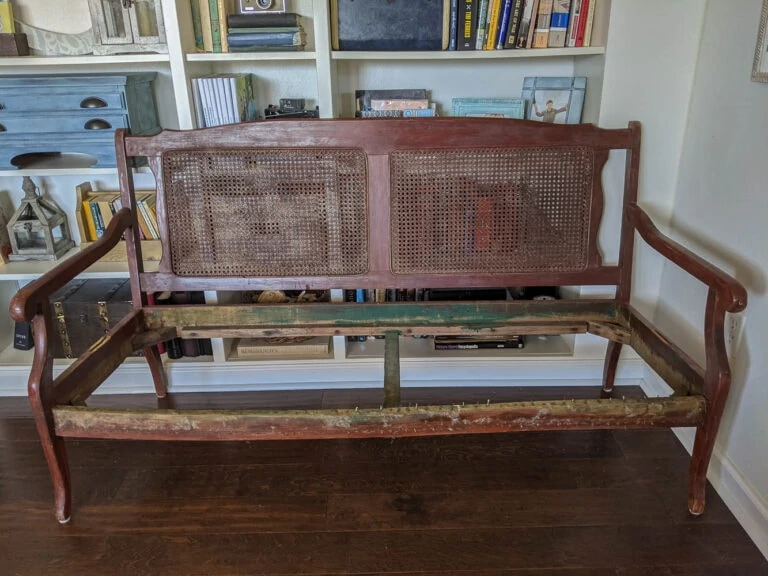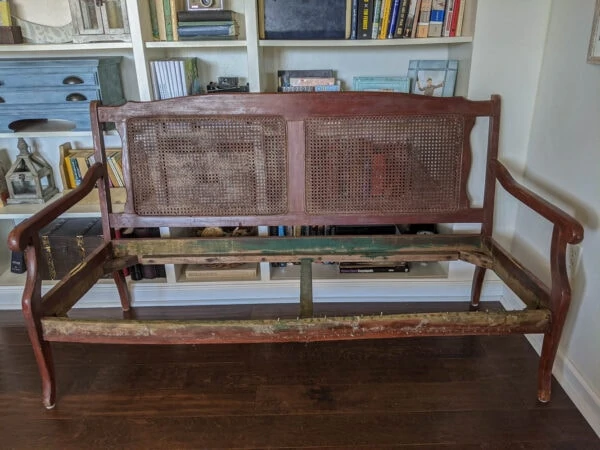 I was planning to use the frame exactly as it was and just add a new seat, but it turned out the board connecting the front legs was pretty warped. So I cut off the old piece of wood that was here and replaced it with this piece of scrap wood.
(The wood I used actually came from the old shelves I removed from my closet to make my new DIY closet organizer. I love when I'm able to reuse what I've already got rather than buying new!)
The supports for the old upholstered seat were too low to work for a wooden seat, so I added new supports by screwing cheap 2″x2″ boards around the edges of my bench.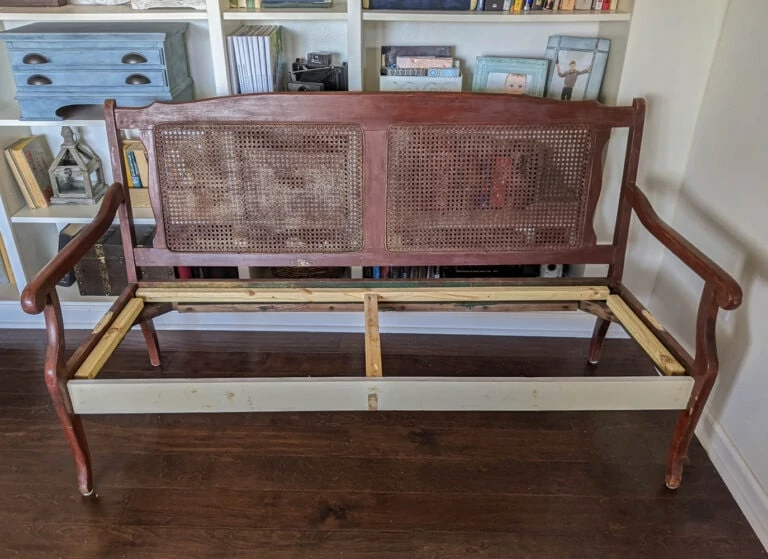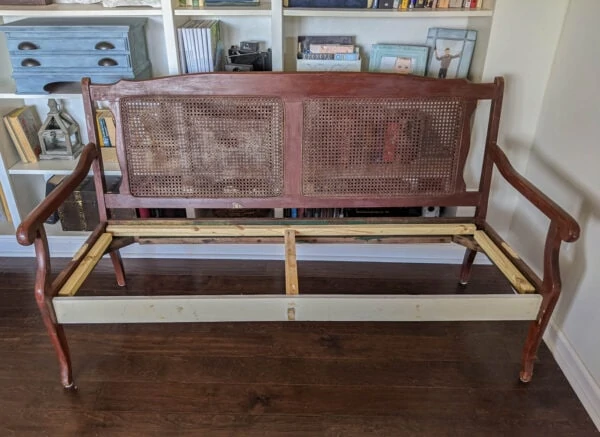 Cut the wooden seat.
Originally. I was planning to buy wood planks and make a wood plank seat. But then I started looking at the original upholstered seat and I realized that underneath all the upholstery and foam, the plywood was in great condition.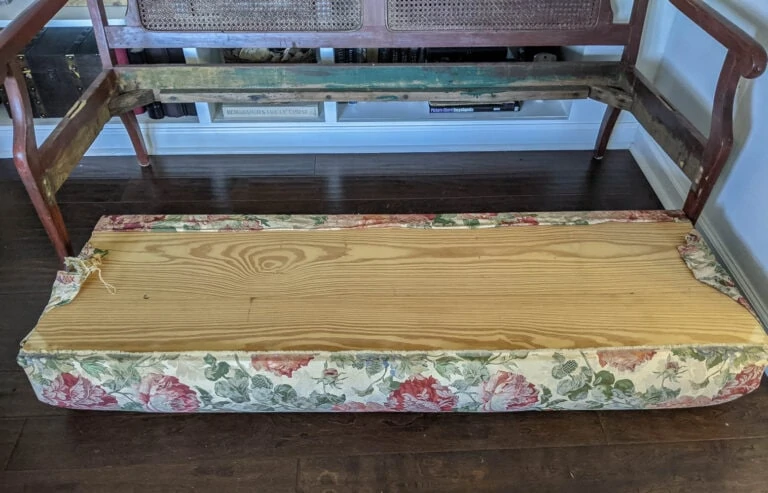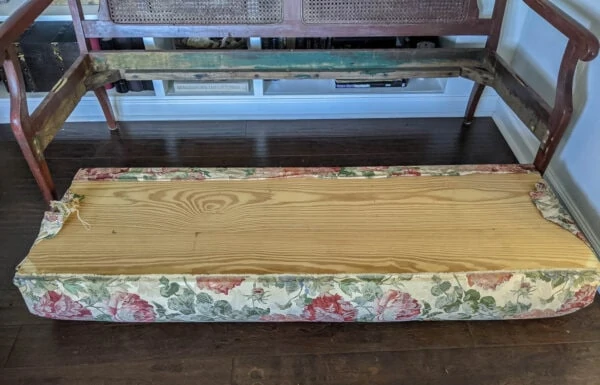 And it was already cut to almost the right size, so I decided to use that instead.
I used my upholstery staple remover to take the old fabric and foam off of the plywood backing.
Then I extended the plywood seat by adding a small strip of wood along the back using pocket holes. I wanted my wooden seat to overhang the front support a bit so it would be more comfortable to sit on.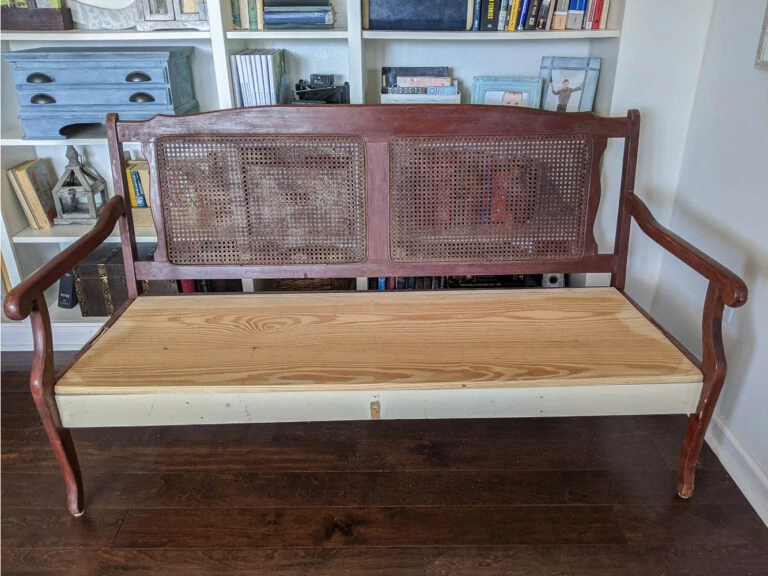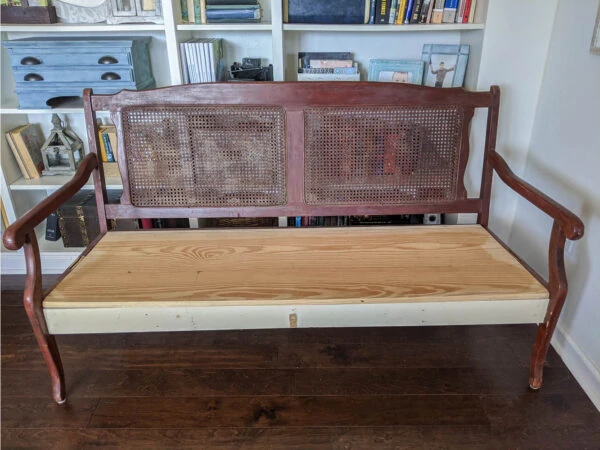 I put my bench seat in place to make sure it fit well and was nice and sturdy. And then I removed it again to prep for paint.
Prep for paint.
When I removed the heart details from my bench arms, they left small holes in the top and bottom of each arm. I filled in those holes with wood filler and then sanded it smooth once it was dry.
Then I primed the whole bench with Zinsser oil-based primer. This is my favorite primer for painting furniture, because it sticks to any finish and it seals in wood tannins so they don't bleed through and yellow your paint finish.
Paint.
I painted the whole thing with a light gray exterior paint – I don't have an exact paint color to share because I made it by mixing together a few colors of exterior paint leftover from other projects.
I realized about halfway through painting, that this would have been a perfect time to use my paint sprayer. A paint sprayer is great for painting cane furniture since it can very easily paint an even, thin coat of paint in all the grooves.
I used a small foam roller and a small paint brush instead. When you're painting cane furniture, you want to use as little paint as possible to get good coverage because you don't want to gum up the cane webbing.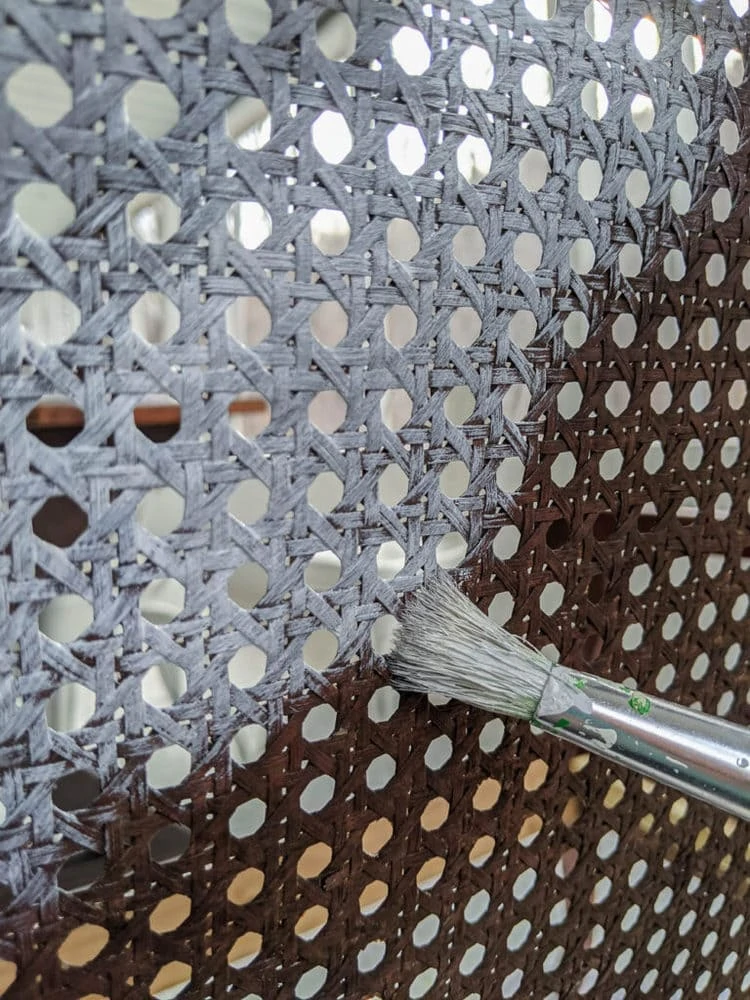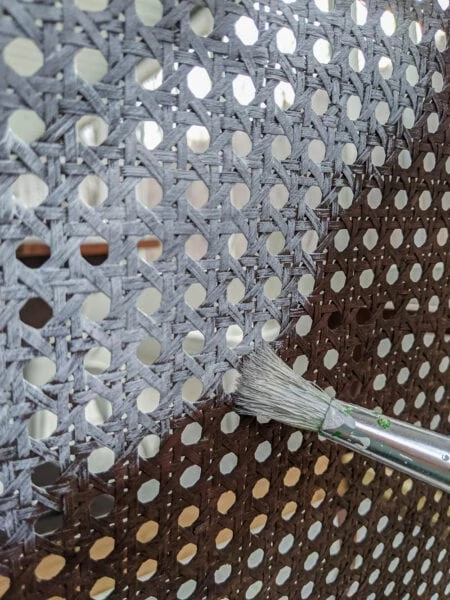 I found the best way to do this was to put a very light coat of paint on with my roller and then use a small brush to spread it out, making sure that there weren't any thick areas. I also checked the other side of the cane periodically to make sure no paint was dripping out the back.
Here's my finished bench!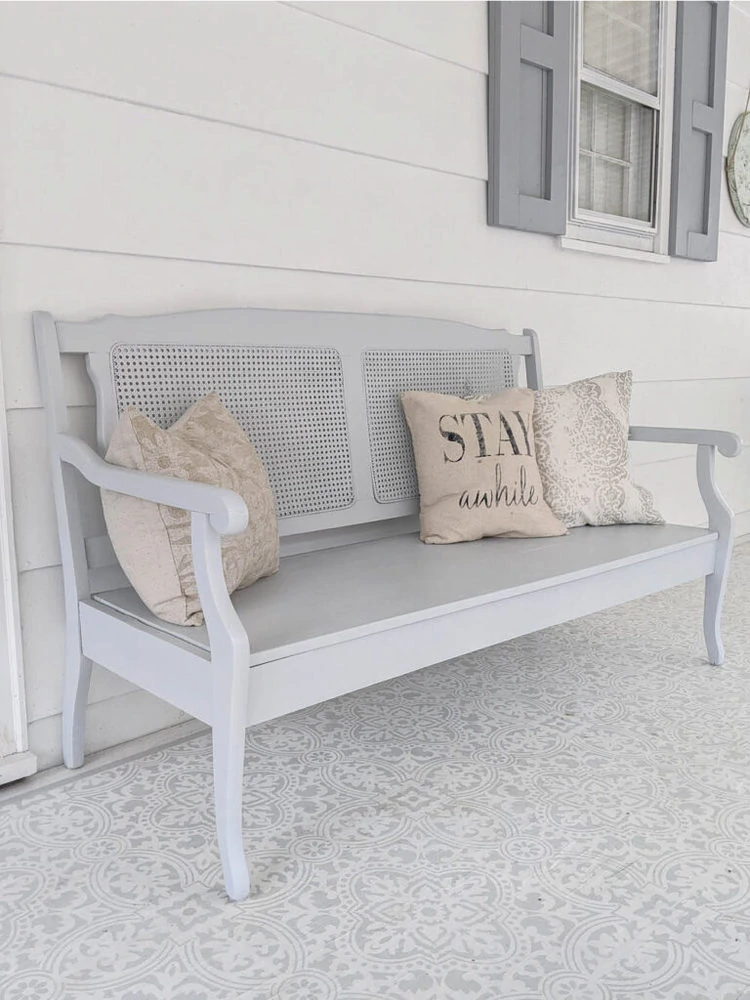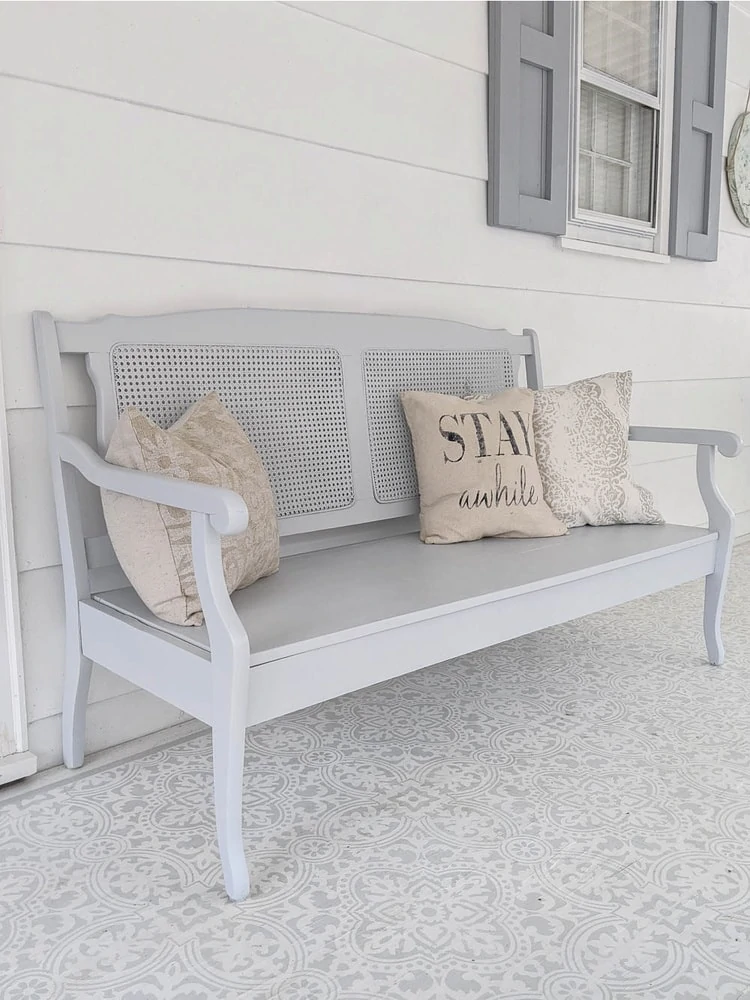 I love how it turned out. It's beautiful, it's sturdy, and it's going to make great seating for our porch.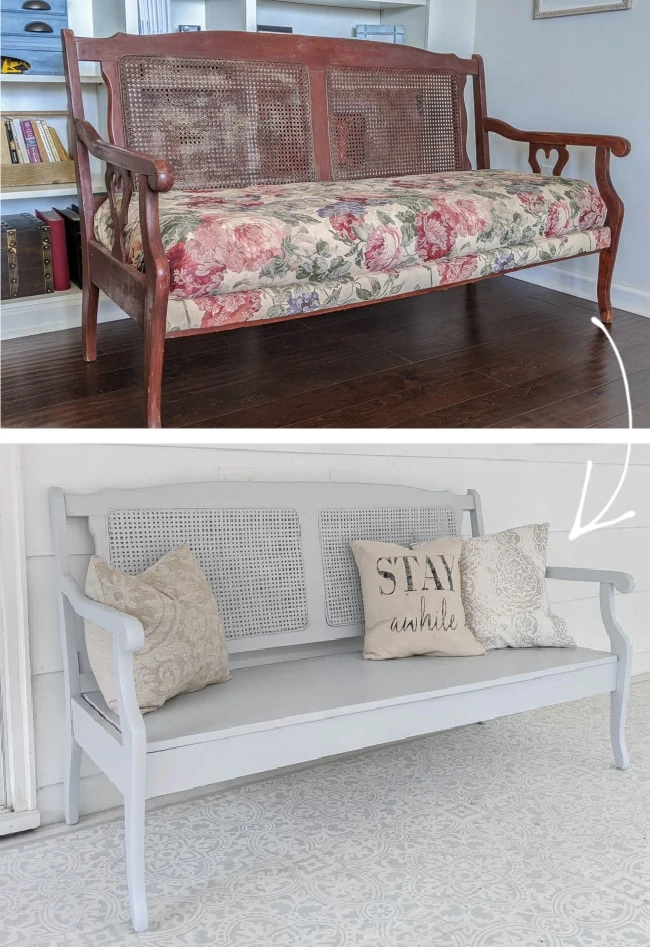 How's that for a before and after!
And since I was able to use scrap wood and paint that was leftover from other projects, I spent almost no money on this project, which of course is always my favorite.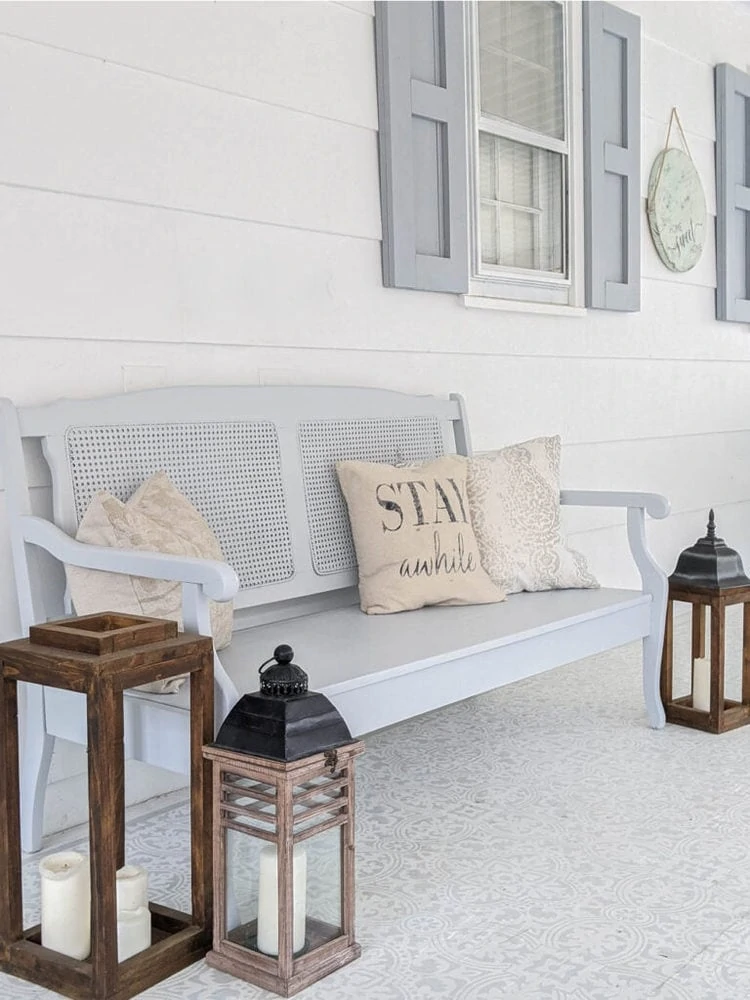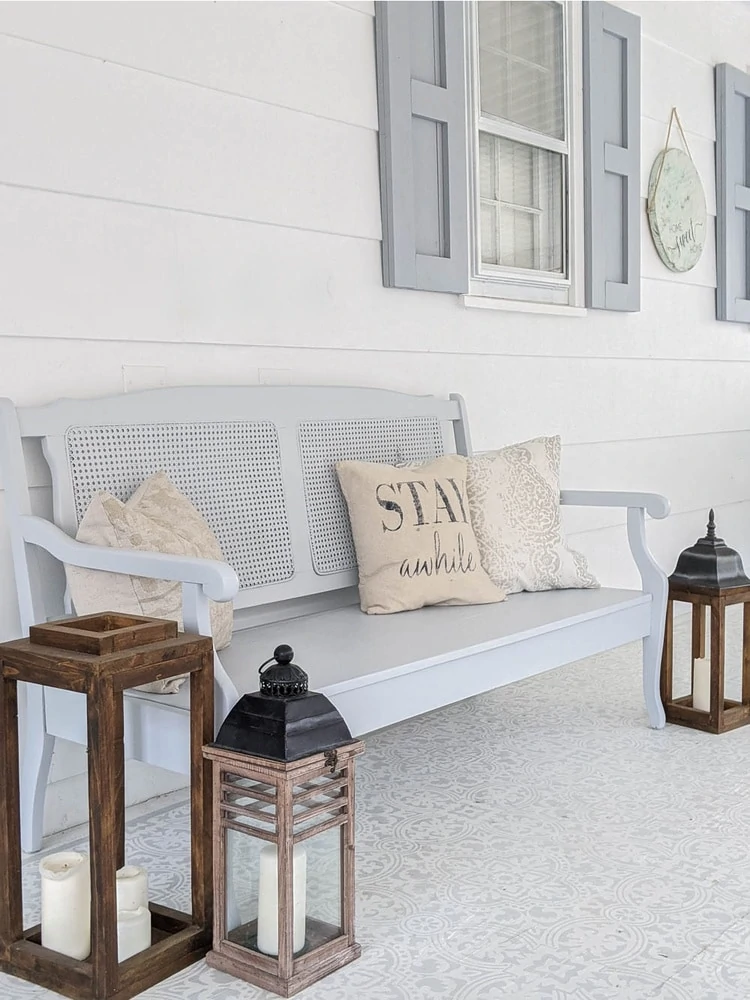 Video Tutorial
I'd love for you to subscribe to my Youtube channel!
Other outdoor furniture ideas I think you'll love:
I'd love for you to pin this post on Pinterest!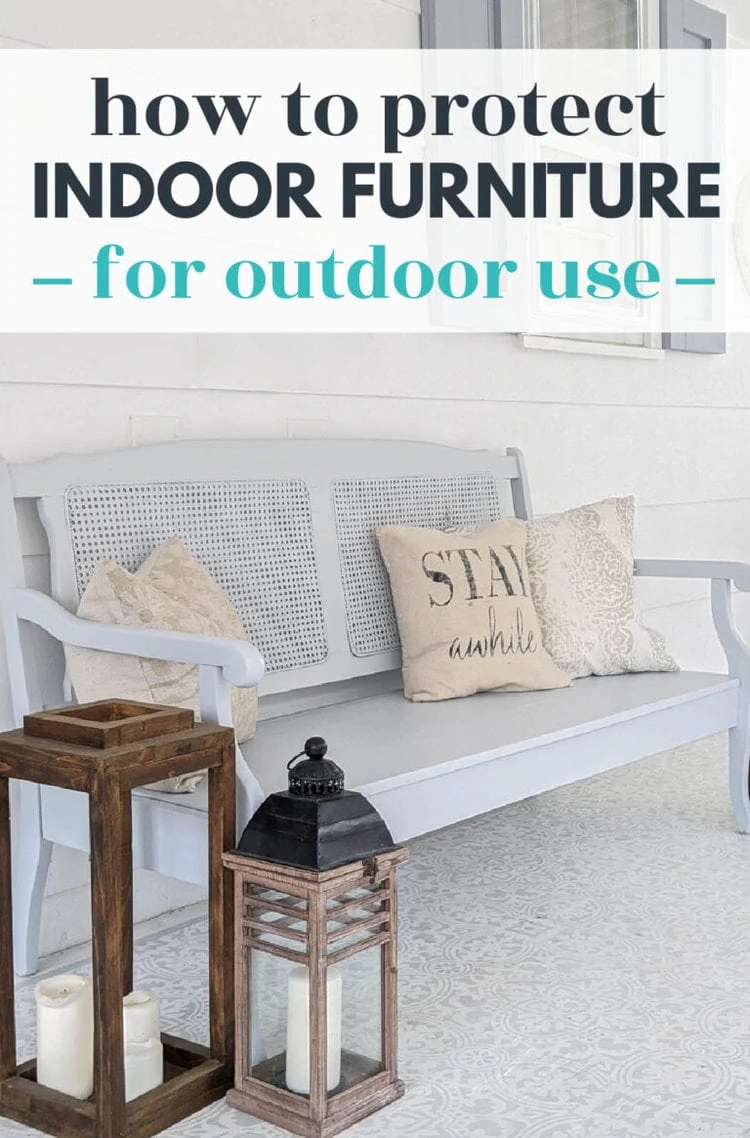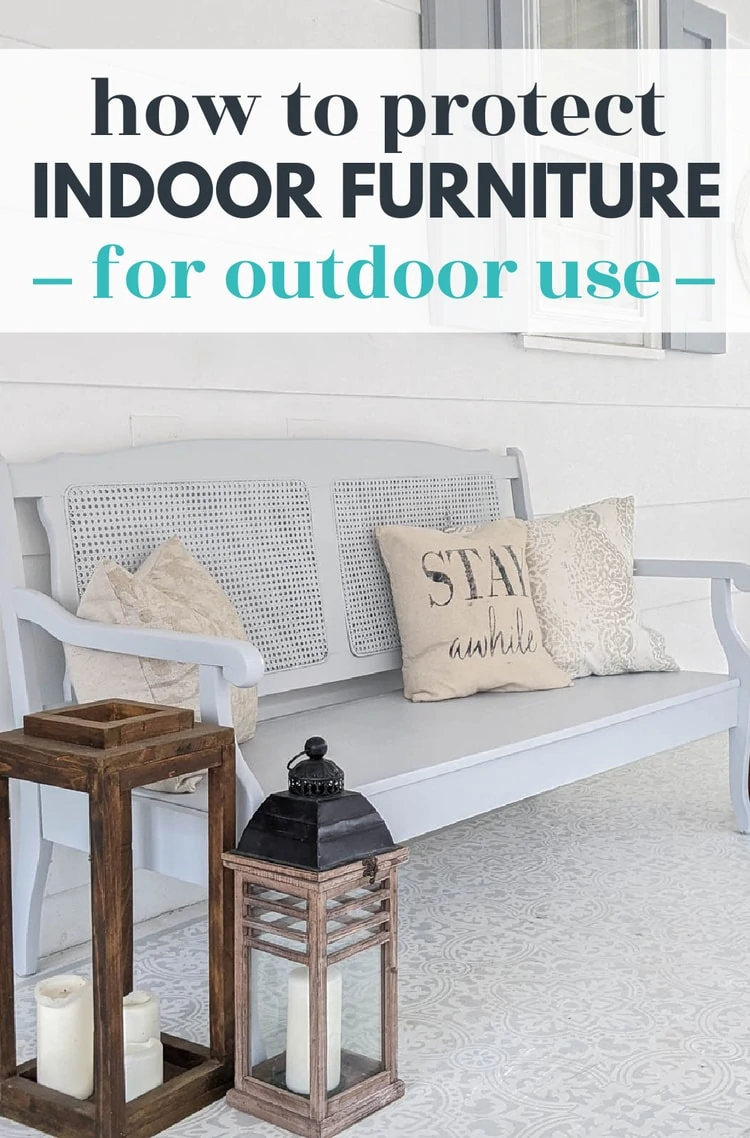 Google Web Story: Repurpose Indoor Furniture to Use Outside