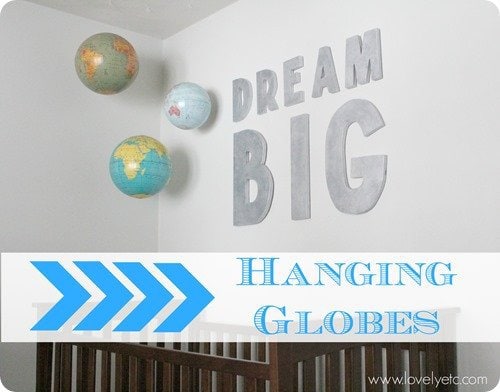 It's that time again! Time to reuse, recycle, repurpose! (All my favorite things!)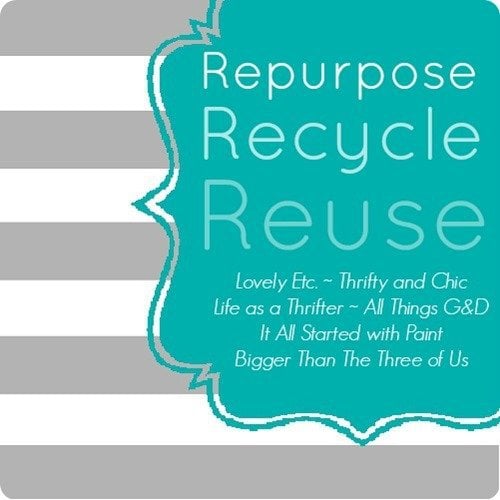 Now that Griffin is approaching toddlerhood, the tissue paper poms over his crib that were just fine when he was a baby were starting to seem way too girly. It was definitely time for a change.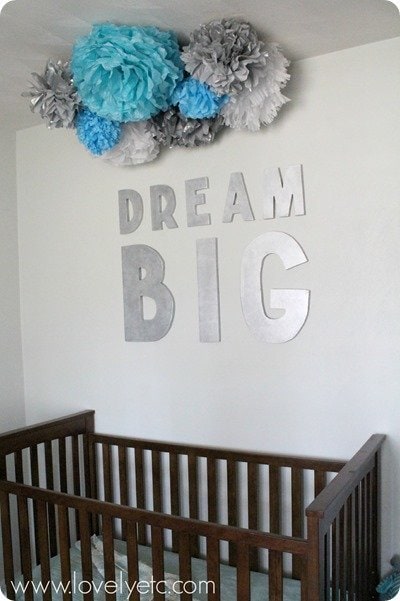 Luckily there are a few things that I just can't resist when I find a great deal: vintage cameras, old picture frames, and world globes. So I had an assortment of old globes just waiting for a new home. These globes were all yard sale/trash pile finds that were each $5 or less. None of them are new enough to be geographically useful or old enough to be historically valuable which made them perfect for this little project.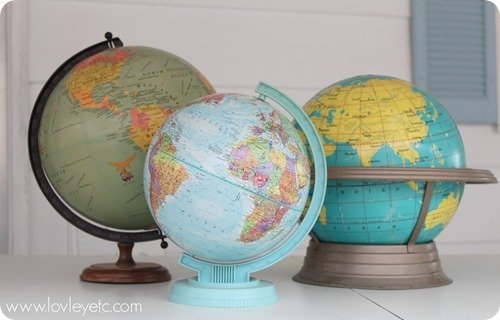 The first thing that needs to be done is to remove the globes from their stands. The light blue globe has a plastic stand and it quickly popped right out. The larger globe has a metal and wood stand that unscrews at the top and bottom of the globe. And of course I just lifted the third globe out.
Actually hanging the globes was both incredibly easy and incredibly cheap. The globes each had a small hole at the top and bottom. I bought a pack of pin clips from the hardware aisle of Lowes for about 50 cents and popped one into the top of each globe.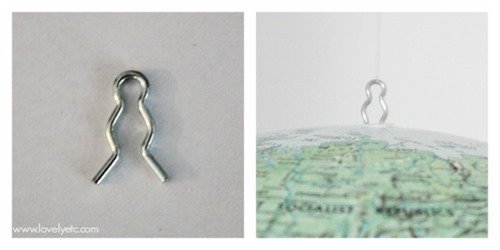 I also picked up a pack of small white cup hooks which I screwed into the ceiling. I did not worry about finding studs since the globes without the stands are very light. Then simply hang the globes from the hooks with fishing line attached to the pin clips.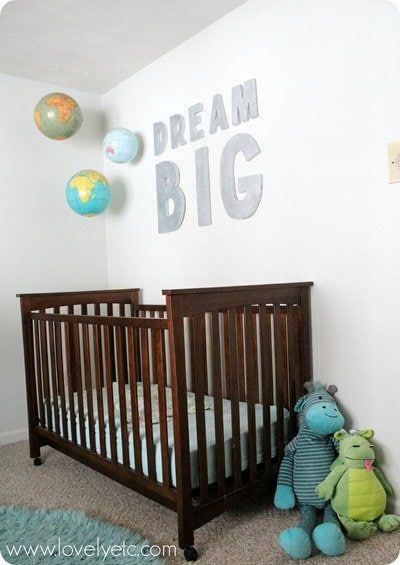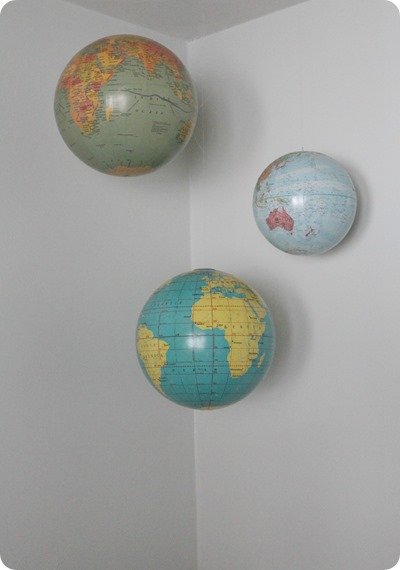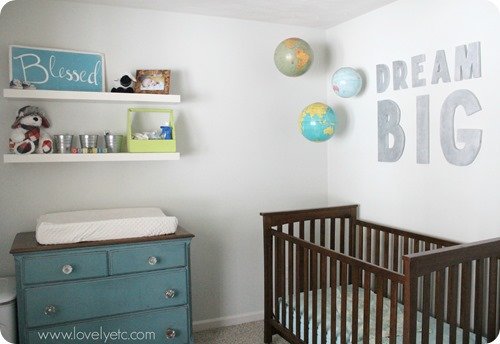 Much less girly for sure!
Now that I found a great new use for globes, I was left with three empty globe stands. Which got me wondering if there was some way to repurpose those as well, particularly the cool metal and wood one. So I tossed around a few ideas. My favorite is using it as a paper towel holder.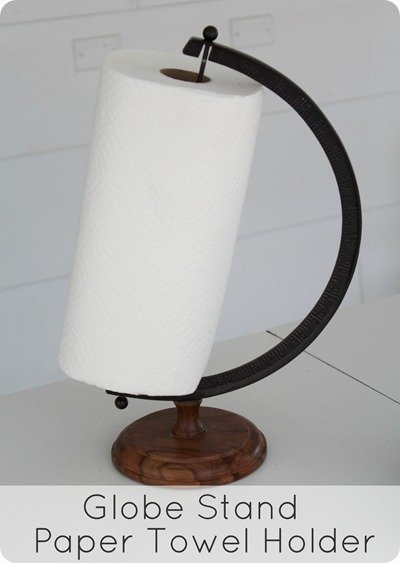 But now I can't decide if it is an awesome repurpose or trying a bit too hard.
Be sure to check out all of my friends Reuse, Recycle, Repurpose projects too. There are some really excellent projects this month; I'm pretty sure I'm going to be making some of these myself!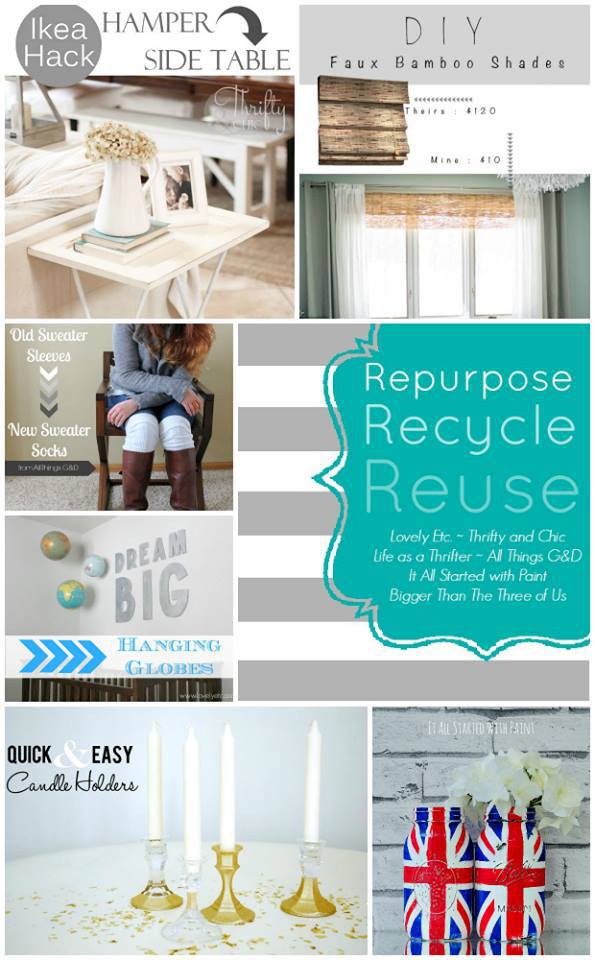 Ikea Hack: Hamper into Side Table from Thrifty and Chic
DIY Faux Bamboo Shades from Bigger Than The Three of Us
DIY Boot Socks from Old Sweater Sleeves from All Things G&D
Quick and Easy Candleholders from Life as a Thrifter
Union Jack Mason Jars from It All Started With Paint
And, seriously, what do you think about that paper towel holder? Yay or nay? At first I wasn't feeling it but now I'm pretty sure I love it.