Way back in 2012, when I was pregnant with Griffin, I was all about the nursery. I had tons of anxiety about the actual pregnancy, but the nursery – that was something I could control, something I could have fun with.
I remember spending hours looking for inspiration and tips on Pinterest. Of course I was looking for adorable design ideas (like these gorgeous nurseries), but as a first time mom I was also looking for practical tips for planning the perfect nursery. I just knew I was going to put all kinds of things in exactly the wrong place and the experienced moms out there were going to be shaking their heads at my naiveté. Unfortunately, while I found plenty of pretty pictures, I didn't find a whole lot of practical advice.
Now as a parent of one, I don't have delusions of being an expert, but I do know a heck of a lot more than I used to. So I figured why not pass it on and save some other new mamas a bit of frustration.
This post may contain affiliate links – you get to buy cool stuff you want and support Lovely Etc. at the same time. See my full disclosure here.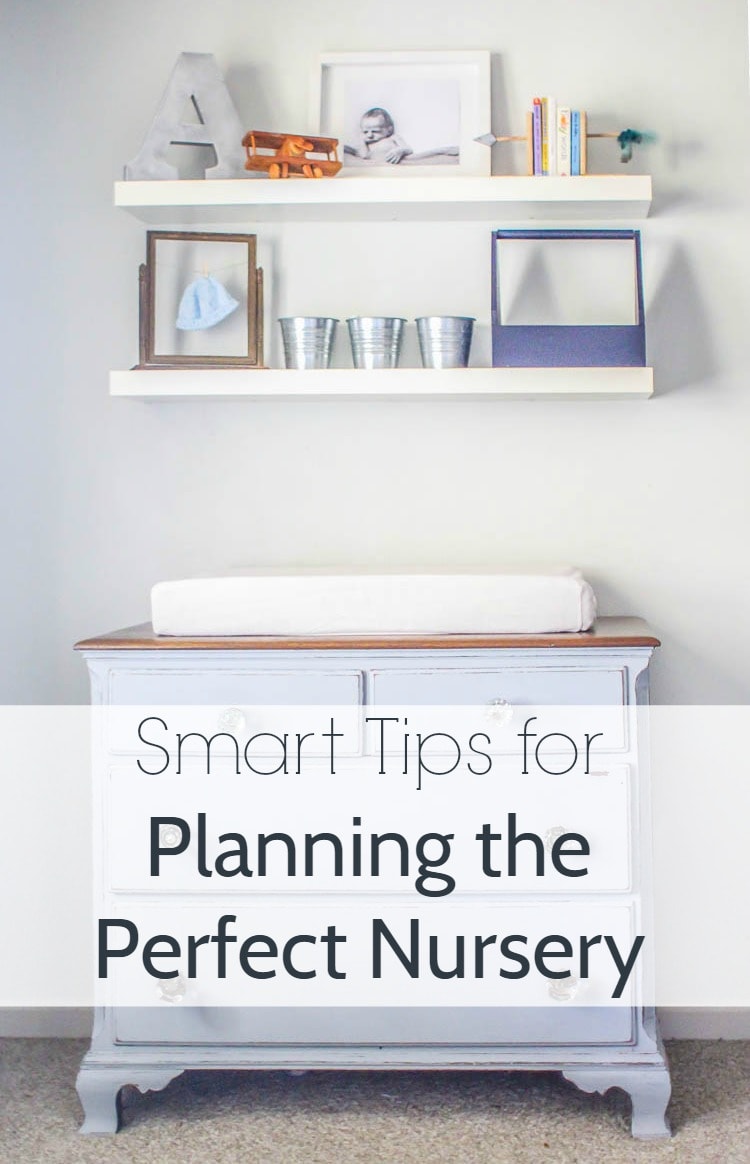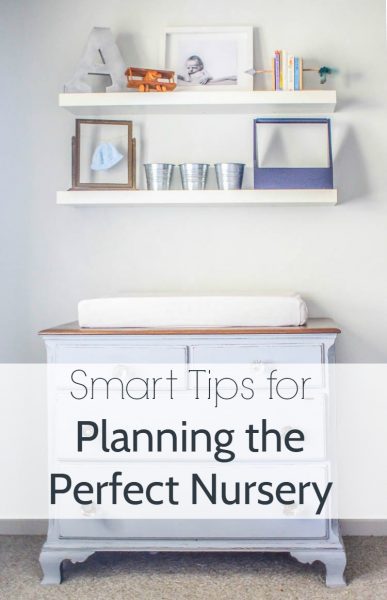 First things first, make sure you have room for LOTS of storage.
Babies are tiny and so are most of their things. The problem is they have about three million of those tiny little things. And you are going to need somewhere to keep them. Closets are great for this. Just remember that a big empty closet isn't going to be very useful for little tiny baby things. Our closet has hidden shelves from floor to ceiling along the sides as well as a shelf along the top. In addition to that I added a nursery closet organizer and an old bookcase for toys. You are definitely going to want to use every inch of space.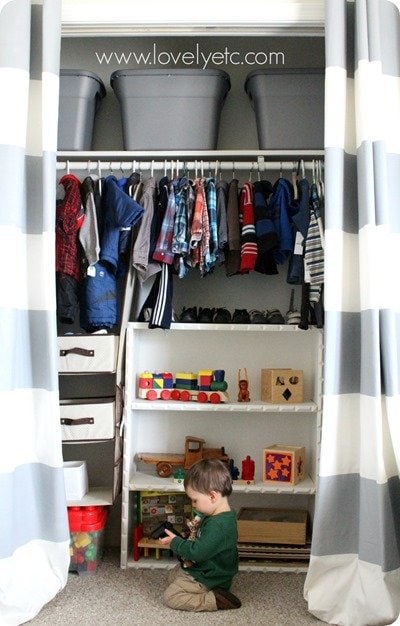 Make sure that storage includes lots of tiny compartments for tiny things.
In addition to the closet o' storage, we also have lots of drawer space in our dresser/changing table. Because the drawers are pretty large, I bought two packs of drawer dividers from good old Ikea to help corral tiny socks, mittens, shirts, etc. This has been a huge help and the dividers are very affordable.
Repurposing a dresser as a changing table is awesome.
This one is totally a personal preference thing. I know there are plenty of moms out there who say they never use their changing table but I swear by mine. 99.9% of diaper changes at our house happen on this changing table. It is just much easier than carting diapers and supplies all over the house. Maybe this is more the case because we cloth diaper, but whatever the reason, for me a changing table is a must. Having said that, I think many actual 'changing tables' are a big waste. They typically don't have a ton of storage and obviously their usefulness is limited. Just find a dresser that is at a comfortable height for you and add a changing pad to the top.
A big comfy chair = also awesome.
One thing I was set on having was a big, squishy rocking chair. I was so set on it, I ended up reupholstering a Craigslist find because that was the only way I could get one without blowing my budget. I am so glad I made this a priority. I have spent countless hours sitting in that chair, particularly late at night. It is so nice to have a convenient, comfy spot to crash when you are up with the baby in the middle of the night. If you aren't lucky enough to find a bargain on Craigslist, there are some pretty affordable options at Babies R Us – like this super stylish gray wingback version.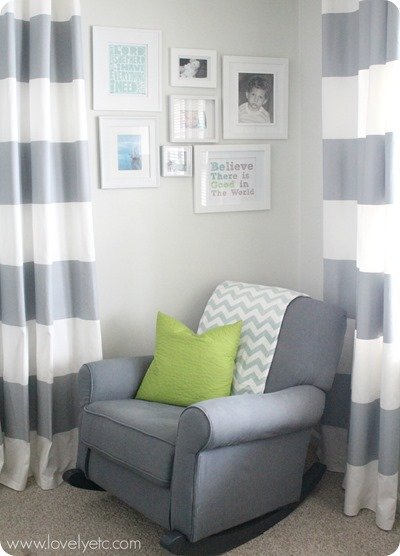 Make sure any furniture you put in the nursery is extra sturdy. And stable.
It is easy to forget that the teeny, tiny little baby you bring home will be crawling, pulling up, and walking in a few short months. This was a major lesson learned for me. Originally I had a cute little pedestal table next to the rocker with a lamp and some books and things on it. As soon as Griffin started pulling up, you can imagine what happened. The table and all of its contents were quickly pulled right over onto his little head. That table soon found itself out of a job. If you aren't sure if your furniture is sturdy enough for nursery detail, just run around the room like a maniac with your eyes closed for a few minutes and then see if anything moved. If it did, it didn't pass the toddler test and it's gotta go.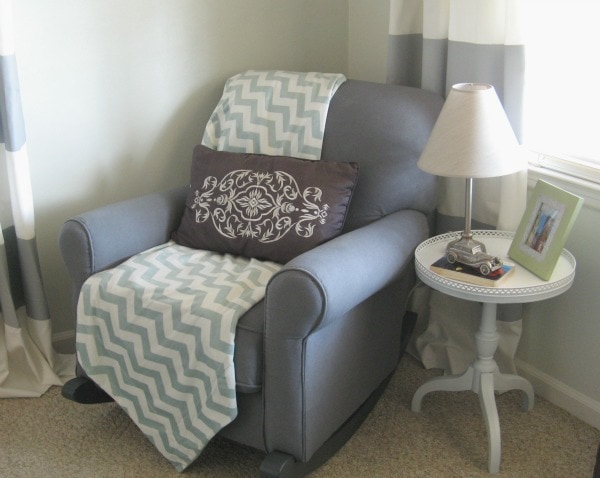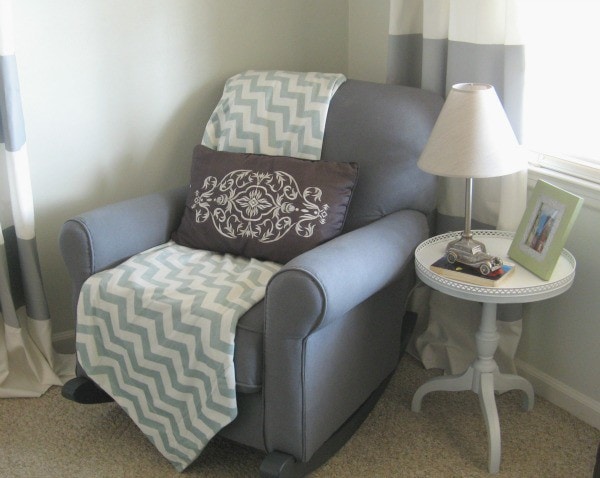 A ceiling fan is an excellent idea. One with a remote control is even better.
I know that not everyone is a fan of ceiling fans. (Haha, get it?) But no matter what your personal feelings about them, they are pretty darn perfect for a nursery. Having a fan in the nursery is one of the things you can do to help prevent SIDS and of course having it on the ceiling keeps it away from little fingers, plus it saves you the trouble of finding a place to put it. Not only that, most babies are obsessed with ceiling fans. They could happily stare at one for hours. Or at least ten minutes. And who couldn't use an extra ten minutes at the end of naptime? Bonus points if your fan has a remote control. This is how we were able to do away with our lamp when the pedestal table got the boot. We just used the remote to turn the light on and off from the comfy chair. Win-win.
Secure everything to the wall carefully.
We all want to have a super cute nursery which includes hanging cute stuff on the walls. Just double and triple check that none of that cute stuff is going to come crashing down on your sweet little bambino. I am a big fan of using Command Strips (the velcro kind) to secure things to the wall. Use plenty and follow the directions carefully. This is how I secured the Dream Big letters above Griffin's bed and they haven't moved a millimeter. Even when I want to take one down, I really have to yank it to get it to budge. Just remember that everything needs to be able to withstand someone banging on the wall as well as little fingers trying to pull them down.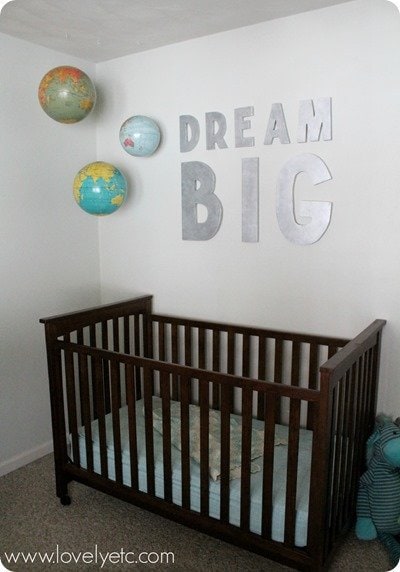 Be careful about using long drapes.
I am a huge fan of floor-length curtains and hung two sets in the nursery. I was extra careful to hang the curtain rods securely and so far Griffin really hasn't even noticed the curtains. However, I do realize there may come a day in the not-too-distant future when long curtains seem like the perfect thing to pull on…or climb up. If that becomes a temptation, the long curtains will have to go. You may also want to consider using black out panels. We did not and it hasn't been a problem for us at all but I know that some parents swear by them for helping their little ones sleep.
*Update: the long curtains were never a problem for us and remained in the room until Griffin moved to his big boy bedroom.
Designate a spot for too big and too small clothes.
Babies change clothes sizes a lot. I mean a lot. For the first year, their entire wardrobe is completely changing over every three months or so. Sometimes even faster than that if they hit a growth spurt. So you are going to save yourself a lot of trouble if you already have a designated spot to toss all of the clothes that no longer fit. Whenever Griffin outgrows something, I throw it into a basket in his closet. You are also going to want to keep the next clothing size up close at hand – both so you can see what you have and so you can pull things out as needed. I keep three gray rubbermaid containers on the top shelf of Griffin's closet. One to pack away the size he just outgrew and two holding the next two sizes up.
Plus two bonus laundry tips!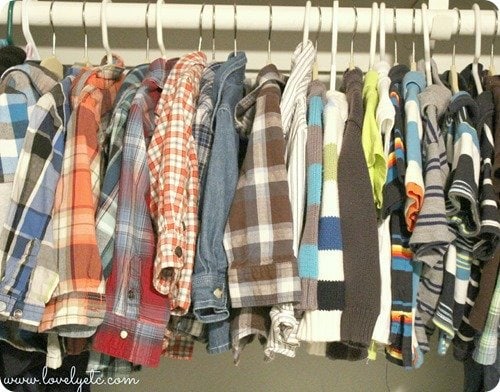 (Because where there are babies, there is laundry. Lots of laundry.)
Keep some stain remover in your nursery near your hamper. I've found it helps so much if I put some stain remover on baby stains before putting them in the hamper. Otherwise, everything gets mixed up together and there is no way I want to have to examine fifty tiny garments for stains when it is laundry time. I keep some OxyClean stain remover in one of the changing table drawers.
Don't bother folding baby clothes. I wasted sooo much time folding all of Griffin's tiny little t-shirts and pants in the beginning. At first it was kind of fun because all of his clothes were so tiny and adorable. But considering he needed a clean outfit about a million times a day, it got old fast. When I read Sarah at An Inviting Home's tips for doing laundry for her family of seven, I could tell she was on to something. Now I don't fold any of Griffin's clothes. I just throw them in his drawers (still keeping them organized with his drawer dividers). And seeing as how he is a toddler, I'm not exactly worried about his wardrobe looking a little wrinkly. So it works beautifully.
Those are some things this first time mama has learned along the way. I really hope they can help some other first timers out there.
Just remember that there really aren't any right and wrong answers. But there definitely are things you can do to make the space work better for you and be much safer and I hope these tips will help with that. And if you've got a baby on the way, you might want to check out my post spilling all the details of how I put together Griffin's entire nursery including furniture for less than $400.
What tips would you add? I know some of you have lots of knowledge about this stuff! And do you disagree with any of my own lessons? Not a big rocking chair person? Hate ceiling fans? Feel free to throw in your two cents in the comments!