Repurposing a vintage sewing machine table as a desk or small table is a great way to give it new life. I'm sharing everything you need to know to do it yourself.
I have an awesome upcycled project to share with you guys today!
Trash-to-treasure projects are always my favorite. There is just something immensely satisfying about taking something old and unloved and turning it into something beautiful and useful again.
And this project is extra special because it involves saving not one, but two sad, old pieces of furniture.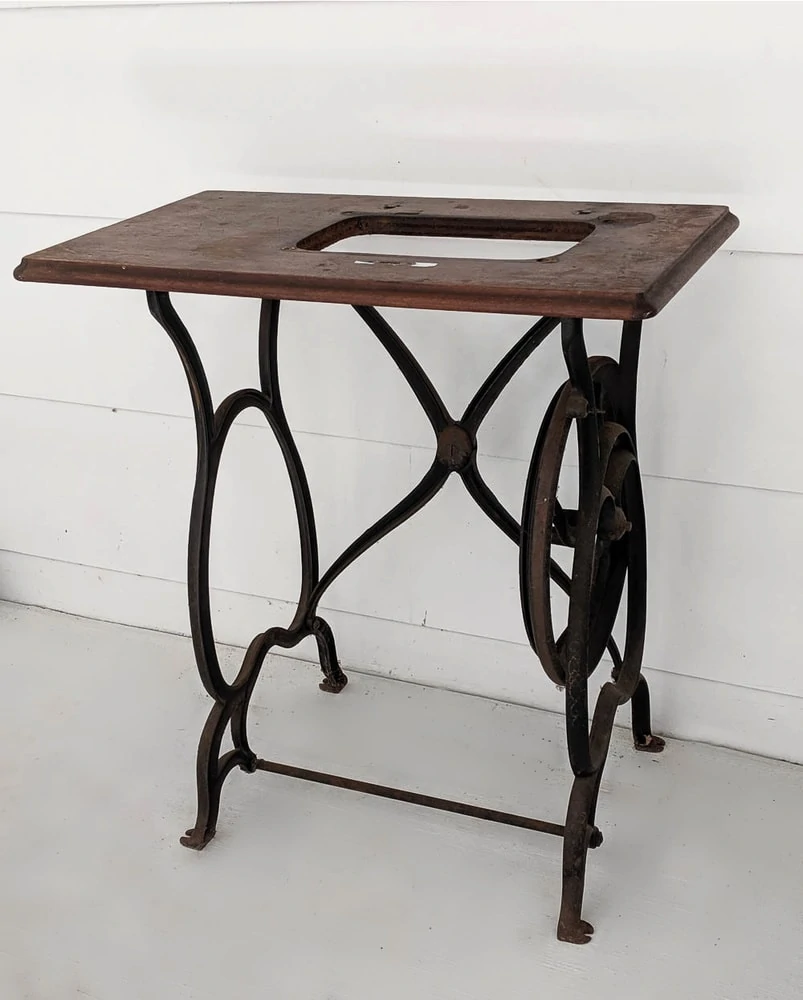 I picked up this old sewing machine table at a yard sale a few summers ago for only $15. The sewing machine was gone, but I'd seen lots of sweet repurposed sewing machine cabinet ideas and I knew I could make something with those beautiful cast iron legs!
I've been needing a little desk for my office, so it seemed like the perfect chance to give this little sewing machine table new life.
But it needed a new top – that big hole where the sewing machine originally went wasn't going to work! And that is where the second piece of old furniture comes in.
I headed down to my workshop in our basement to see if I had some wood on hand that would make a great desk top.
Unfortunately, the wood I had in mind wasn't going to work, but I spotted something on the other side of the basement that I thought might be just the thing.
I picked up this old bench several years ago. I honestly can't remember if it was from a yard sale or a roadside find, but either way I know it was in sad shape when I got it. We've been using it in our basement home gym for the past few years but I knew it would be way more useful as a top for my new desk.
Clearly it had seen better days and the legs were half-rotten. But it was solid and the weathered wood top had great character.
So I put my sewing machine table and my bench together and made myself an amazing desk!
I realize you aren't likely to find the exact same sewing machine table and old bench that I did, but I'm sharing the full tutorial because these same basic steps can be used to add a wooden top to any sewing machine legs.
And I'm all for anything I can do to help inspire more old furniture pieces to be saved!
This post contains affiliate links which means if you make a purchase after clicking a link I will earn a small commission but it won't cost you a penny more. Click here to see my full disclosure policy.
Materials
old sewing machine cabinet – for this project all you need is the legs so if your cabinet has a top, drawers, or other cool parts, you can save those for a future project.
old table top or wood to make one – I repurposed my table top from an old bench but I'm sharing other ideas for making your own top below.
wood stain – I used Minwax special walnut. This is one of my go-to stain colors for a really nice medium brown finish.
wood sealer – I used General Finishes High Performance Top Coat.
clean rag or paintbrush – to apply stain and sealer
1″ wooden dowel – optional
Tools
How to Repurpose a Sewing Machine Cabinet
Disassemble your sewing machine cabinet
For this simple desk/table, we are only using the legs of the sewing machine, so the first thing you need to do is remove the legs from the rest of the sewing machine cabinet.
For my own sewing machine table, this was really easy. The sewing machine and treadle were already gone and I don't think my simple cabinet came with drawers. All I needed to do was unscrew a handful of screws to remove the top and back pieces from the sewing machine.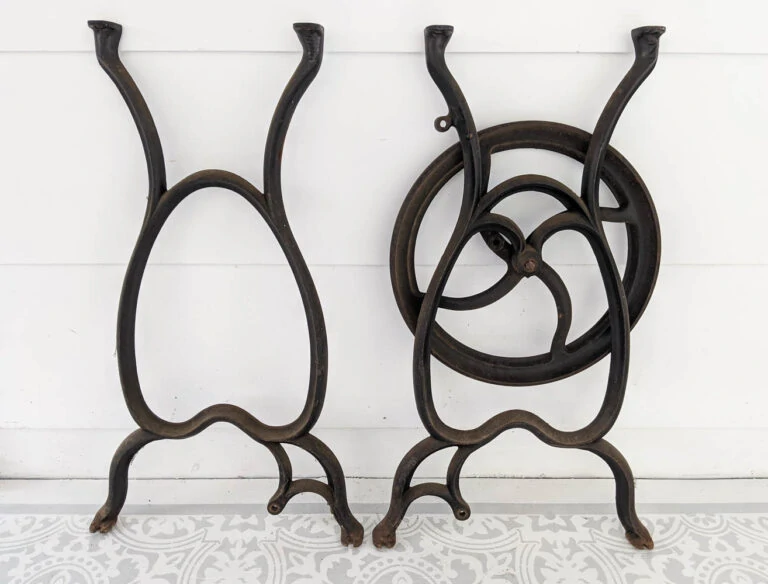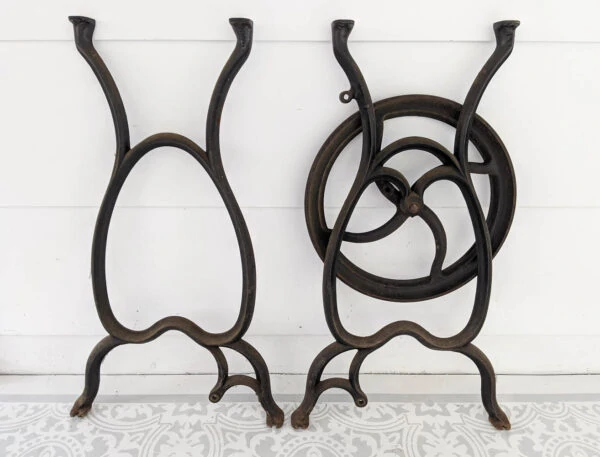 If your sewing machine cabinet still contains the actual sewing machine, that is the first thing you need to remove. Once that is safely out of the way, you can start unscrewing and disassembling everything else.
I put aside all the pieces I didn't need to use for a future project.
Table top ideas
I was lucky enough to have an old wooden bench laying around to use as my table top. But there are lots of other gorgeous ways to create a table top full of character for your sewing machine legs:
An old table – the top from an old coffee table or small kitchen table would be a great fit. If the tabletop is too wide for your legs, you can always cut it down to the right size with a circular saw.
A piece of butcher block countertop. Butcher block can look beautiful and is often inexpensive, especially if you can find a used butcher block counter someone is getting rid of. In this case, the more scratches the better!
A piece of live edge lumber would look amazing! I often see live edge wood slabs available on Facebook marketplace in my area. They aren't always the cheapest but the would look gorgeous with these old legs.
An easy plywood tabletop. It's kind of amazing how beautiful a simple plywood tabletop can look. My friend Gretchen recently shared this beautiful plywood desk top and I love how substantial it looks.
Preparing your table top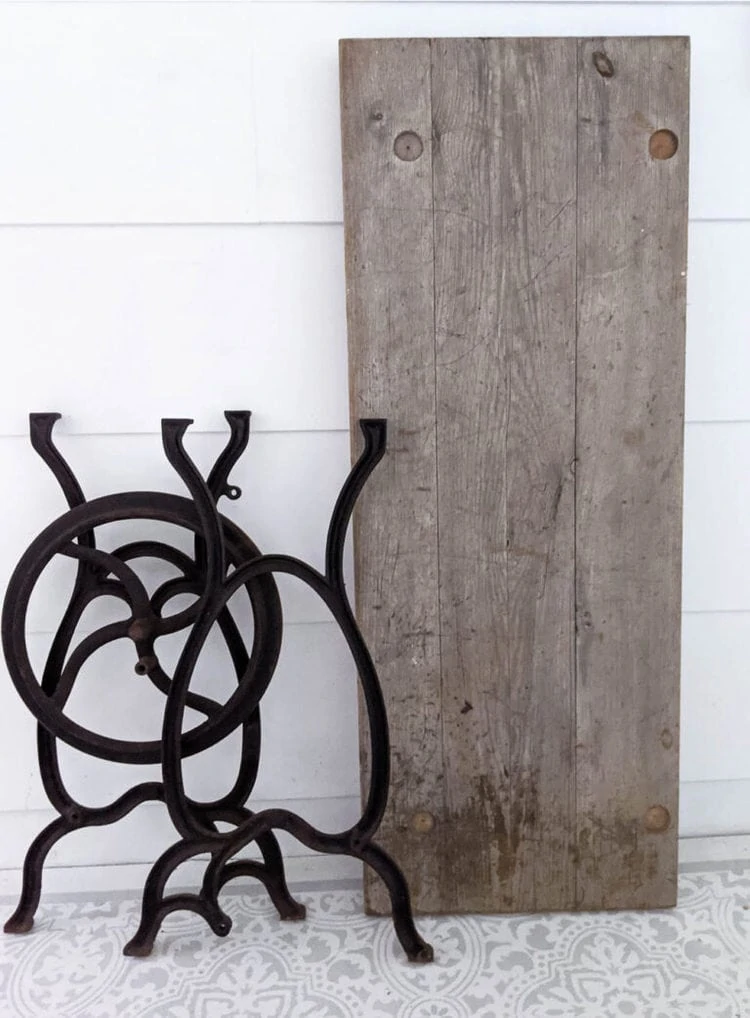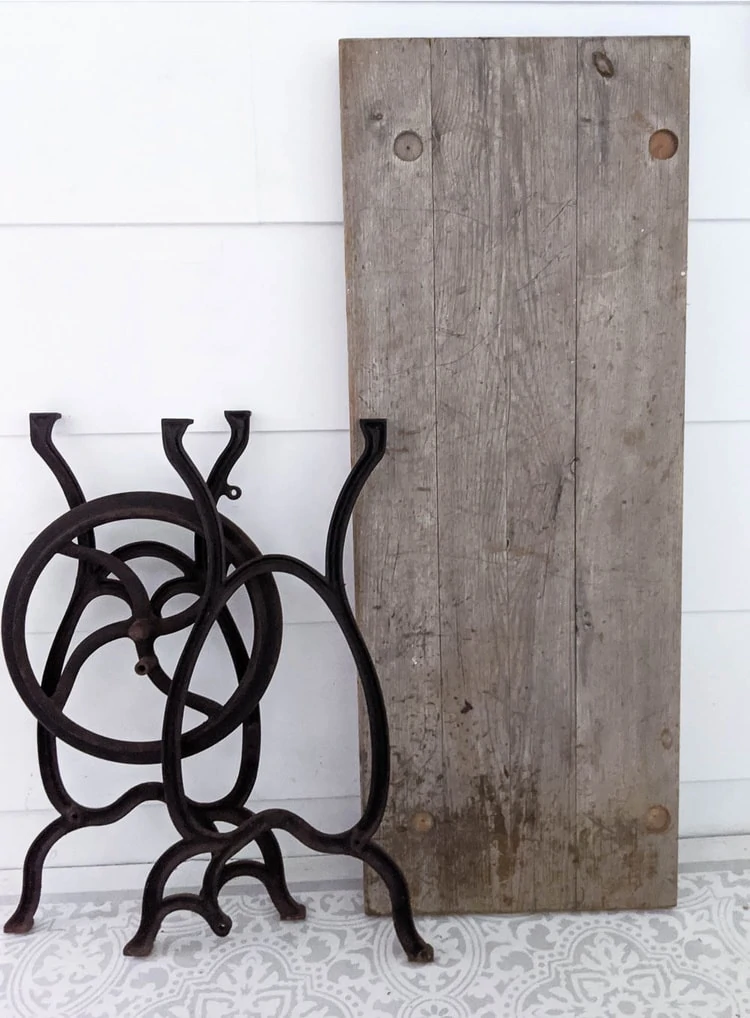 My own old bench top needed a little work to help it reach it's full potential.
First I removed the bench legs from the top. (Which was way harder than I would have liked. That thing was built to last forever!)
Then I got to work on the old wood. I liked the weathered finish of the bench as it was, but some parts were a bit too rustic for me.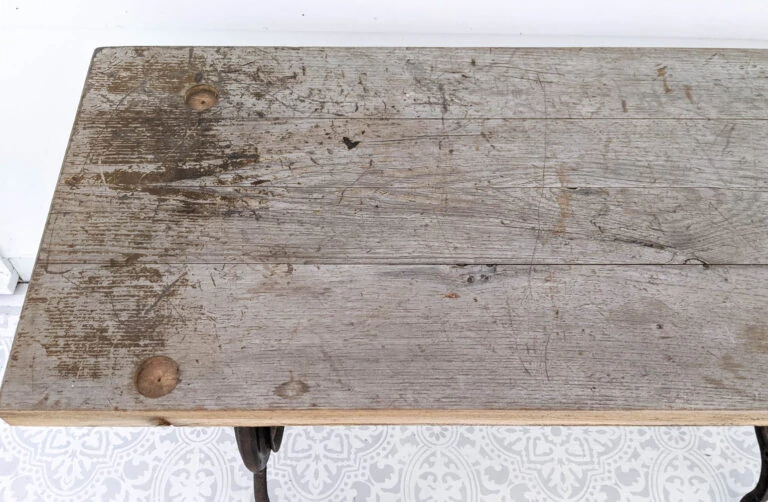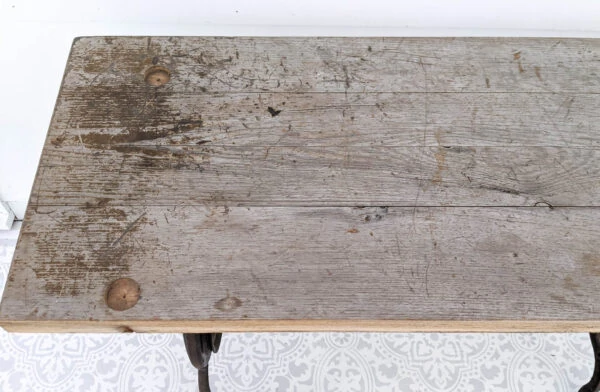 So I decided to sand the wood down and restain it. I didn't try to sand out the scratches and imperfections; I just sanded off the old finish.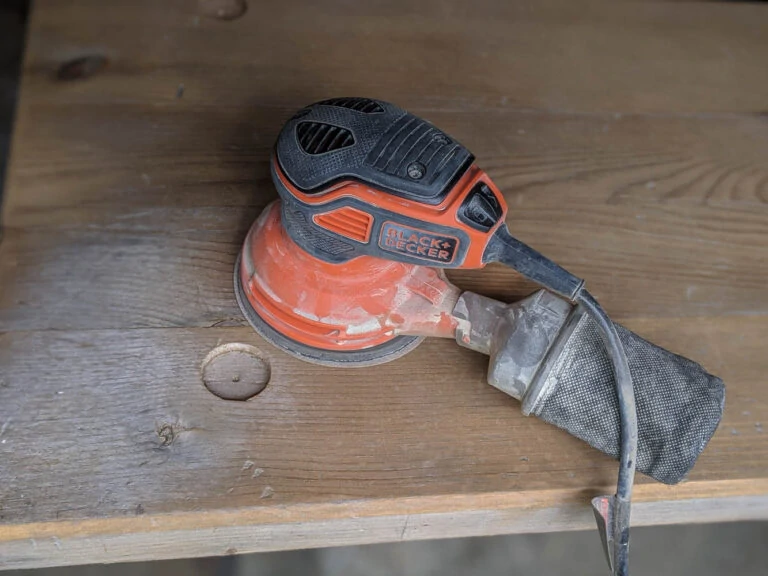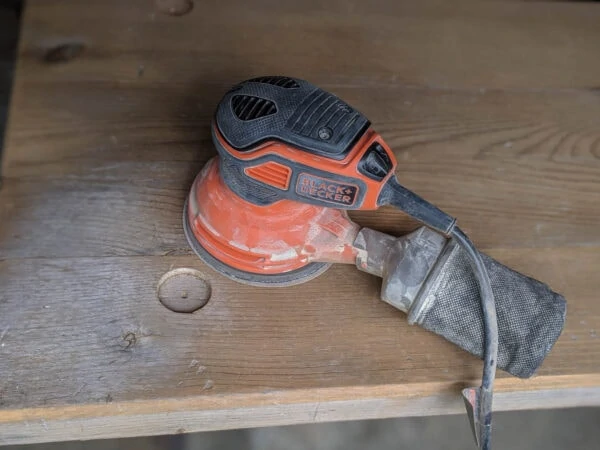 After sanding I restained the top with Minwax Special Walnut stain, wiping it on with a clean rag and then wiping off the excess.
Once the stain had fully dried for, I sealed the top with General Finishes High Performance Top Coat. An oil-based polyurethane would also work well, but I had General Finishes on hand and prefer to work with it.
(Note, if you are using a water-based sealer over an oil-based stain you need to let the stain dry for 72 hours before applying the sealer.)
Attaching the new top
The last step is attaching your table top to your sewing machine legs. This seems intimidating, but is actually very straightforward.
My metal legs were connected to the old wood top using screws attached directly to the wood. I reused the same screws and screwed them through the same holes into my 'new' wood top.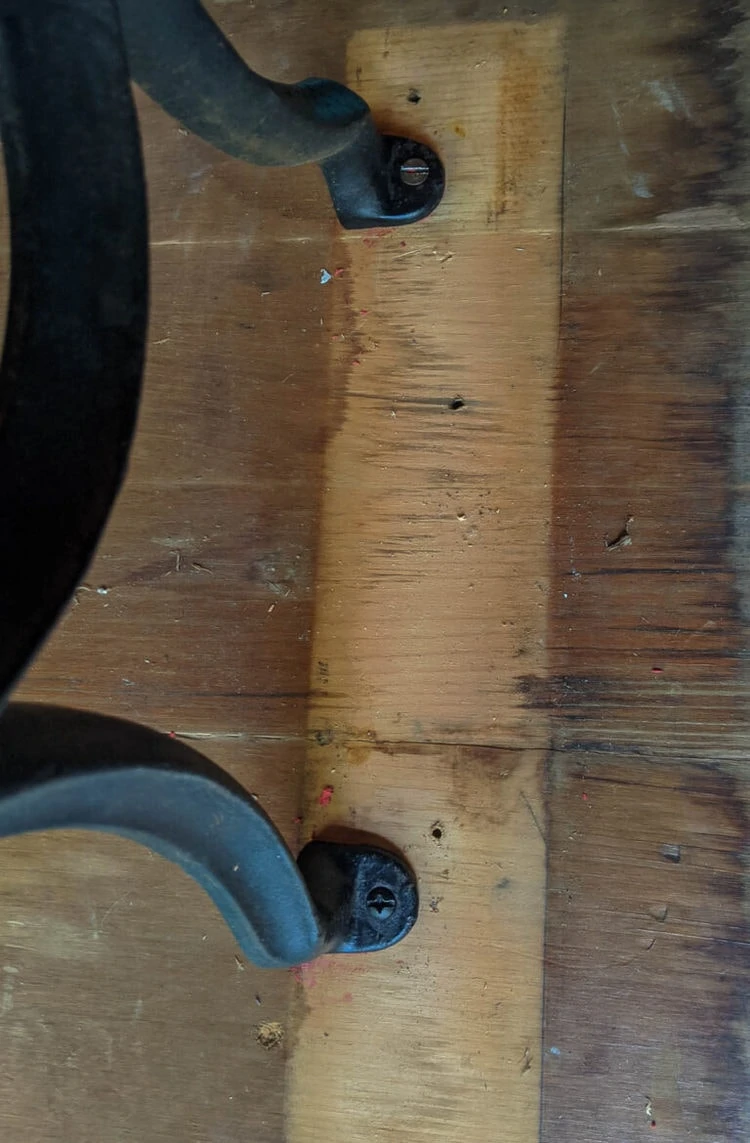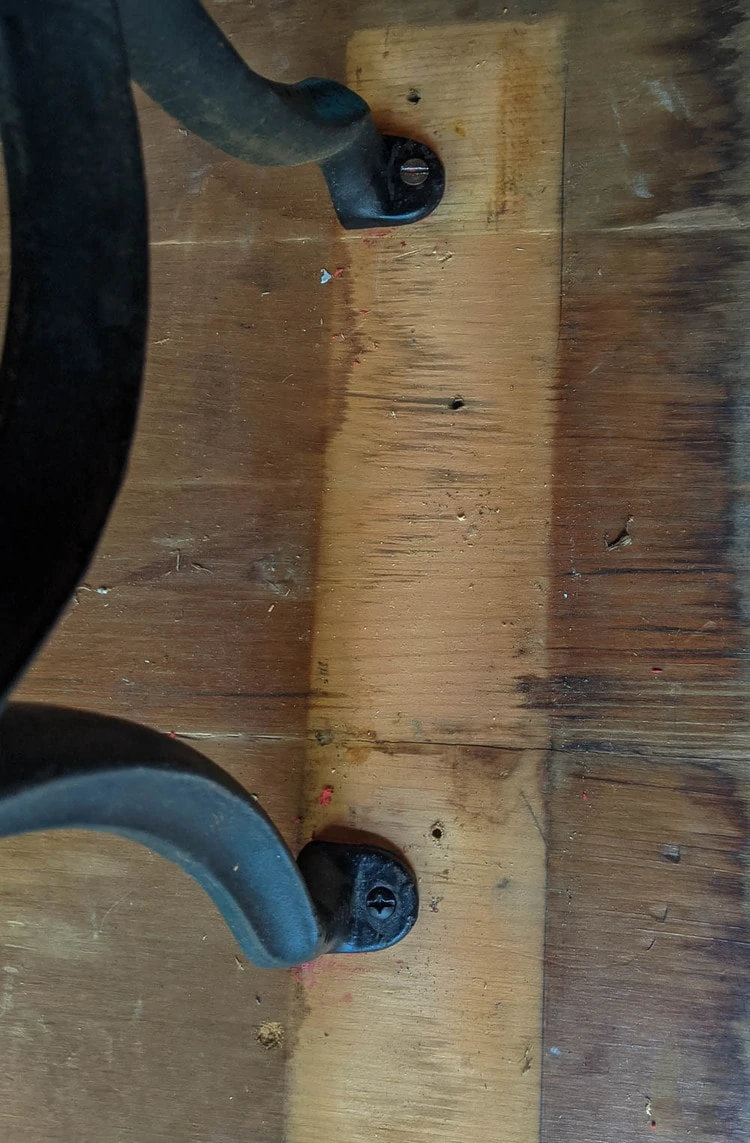 Adding a crosspiece
My table was a tiny bit wobbly at this point, so I decided to add a crosspiece for added stability.
My original sewing machine table had a small metal crosspiece across the bottom, but of course it was much too short now that I had made the table longer.
I considered using a piece of inexpensive metal conduit to make a new crosspiece, but then came up with an even easier idea. I cut a 1 inch wooden dowel to size and attached it with a screw through the holes in each leg where the previous crosspiece was attached.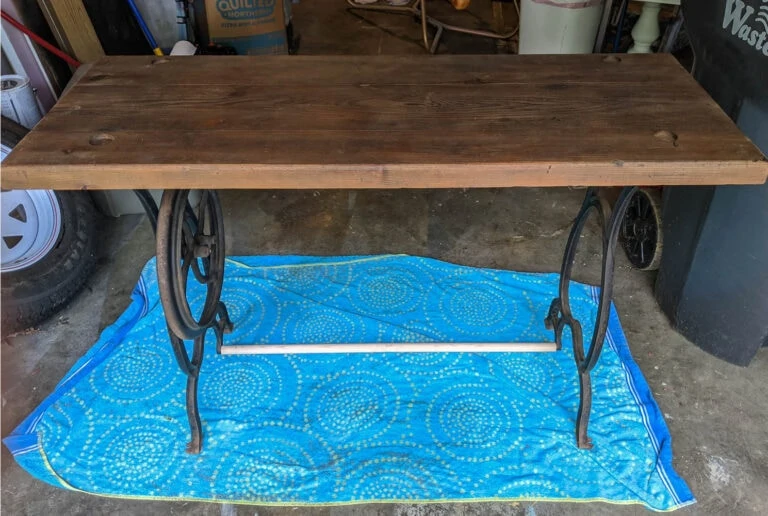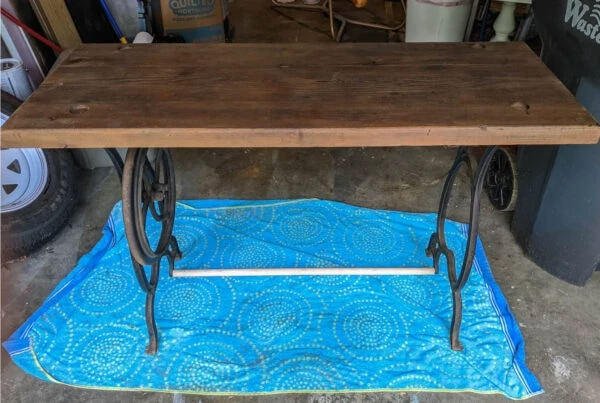 Once my dowel was firmly attached, I simply painted it with black craft paint to match the black legs. You would never know it wasn't originally part of the legs.
Repurposed Sewing Machine Table
Here's my finished desk!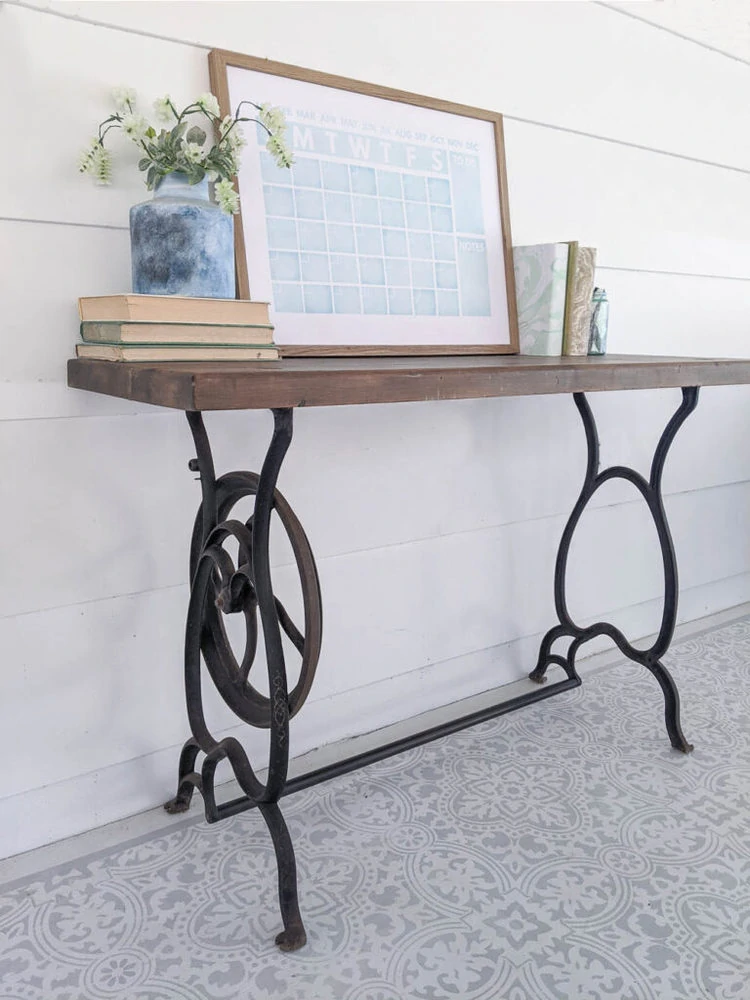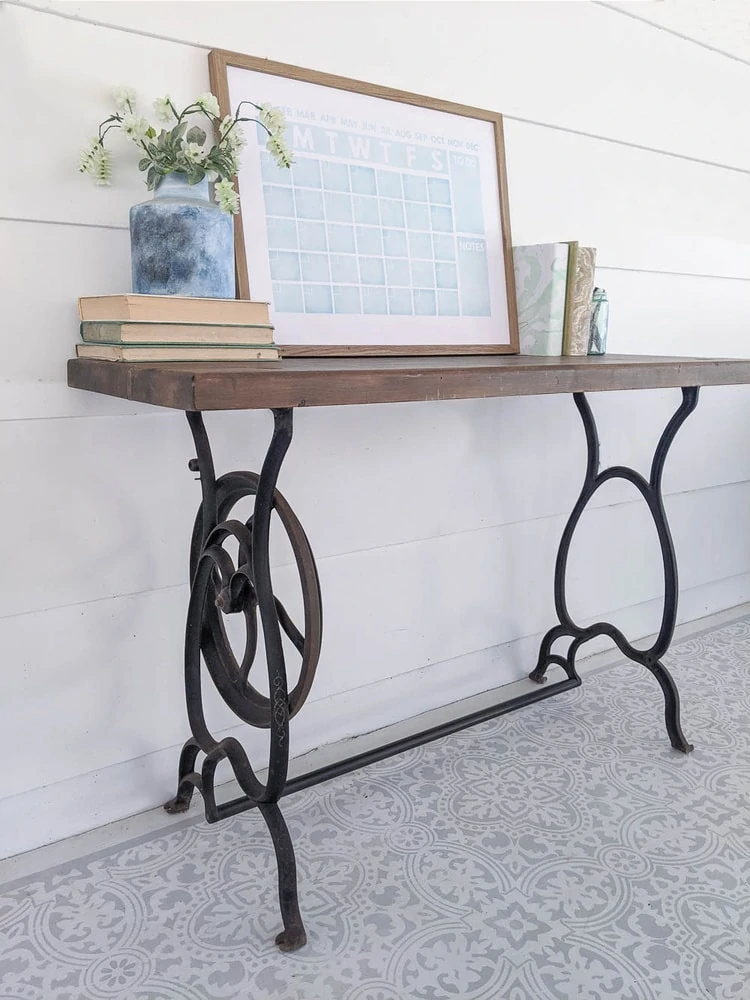 I think it turned out just beautifully! Those legs are gorgeous and who knew that old wooden bench top could look so good!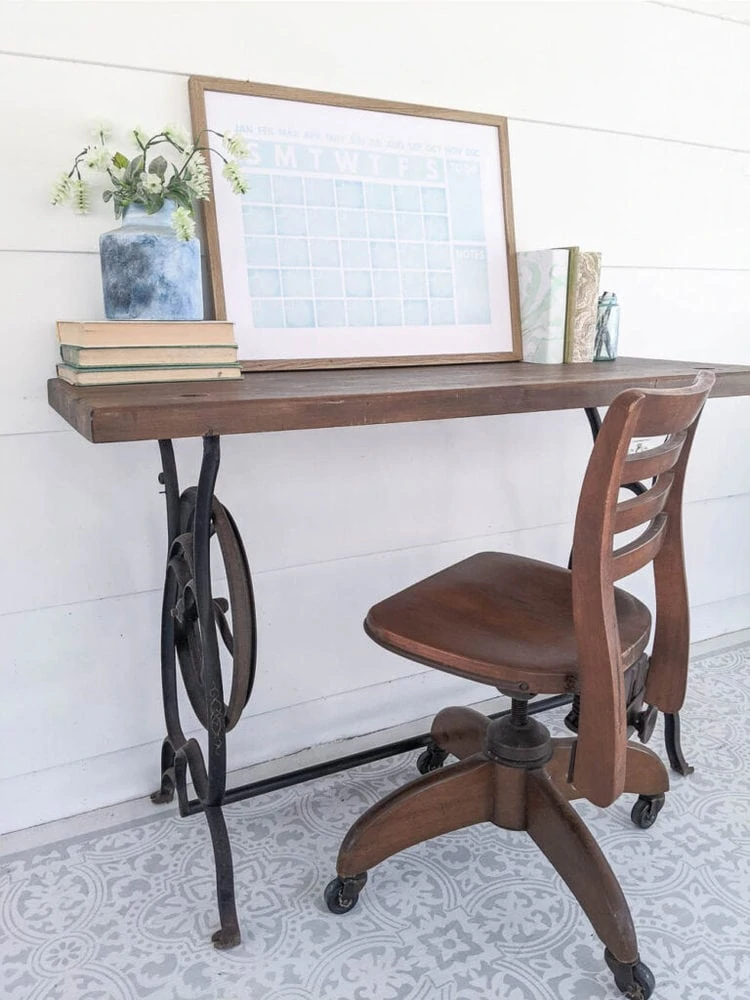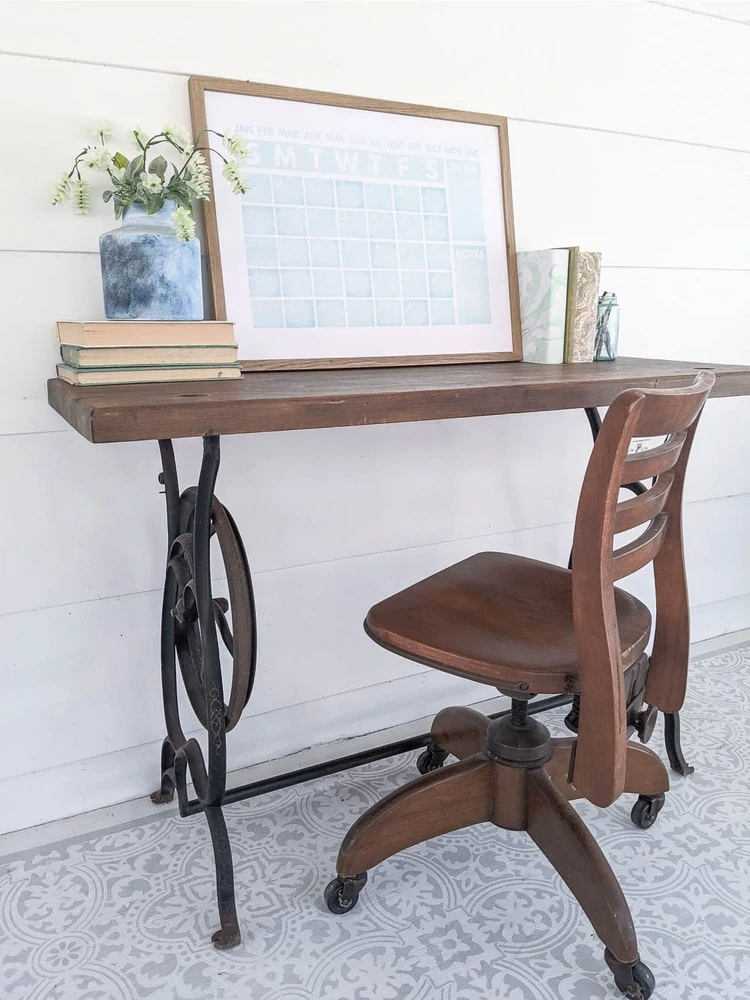 This little table is the perfect size for me to use it as a simple desk. There's plenty of room for my laptop and papers.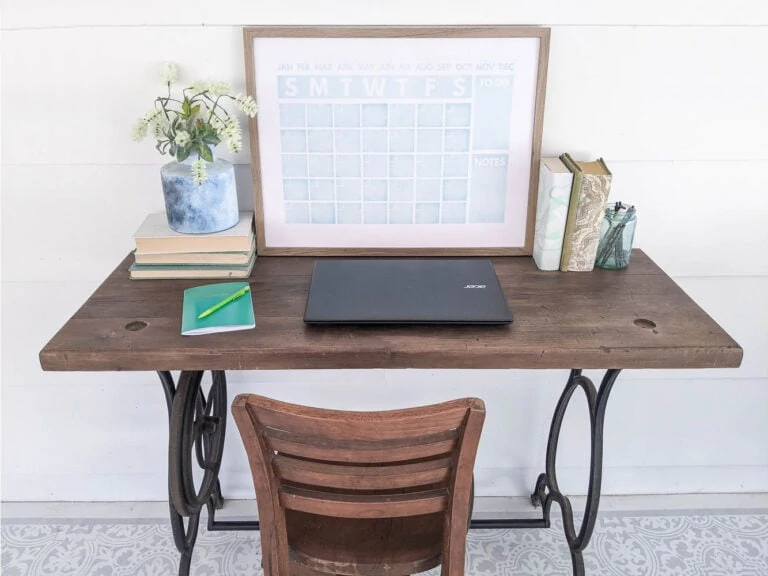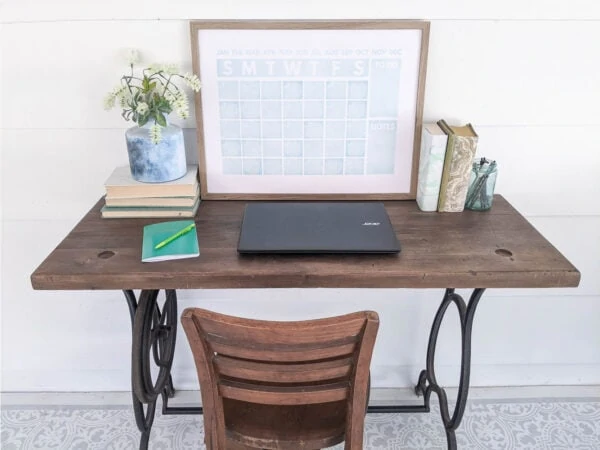 And I also think it would work beautifully as a small table in an entryway or behind a sofa.
If you love a good upcycled project like I do, you're going to want to check out my top 20 trash-to-treasure projects. There are some really fun ideas in there.
I'd love for you to pin this post on Pinterest!