Our screened-in porch got a total makeover on a tiny budget with DIY outdoor furniture, second hand finds, and lots of paint.
I've been busy giving our screened-in porch a makeover on a tiny budget and I'm so excited to share it with you guys!
This is my favorite room in our house and I think it's a really great example of how to create a space you really love for cheap.
I may not be the best stylist or designer out there, but I am really good at making the most of what I've got, staying on a budget, and putting together a room that I love without spending a lot of money.
I don't have many photos of what this screened-in porch looked like when we first moved in, but I think you can get the idea from the one photo I do have.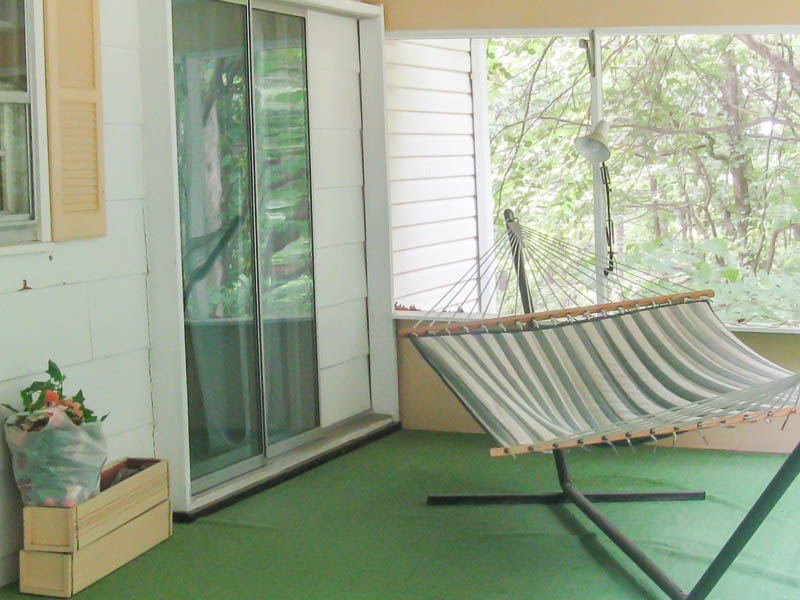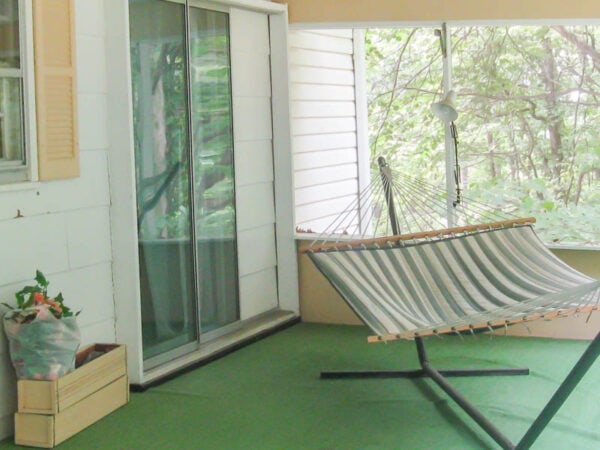 Green astroturf, peach paint, and window boxes full of noticeably fake flowers. Not great.
I ripped the Astroturf out and painted over that peach paint not too long after we first moved in.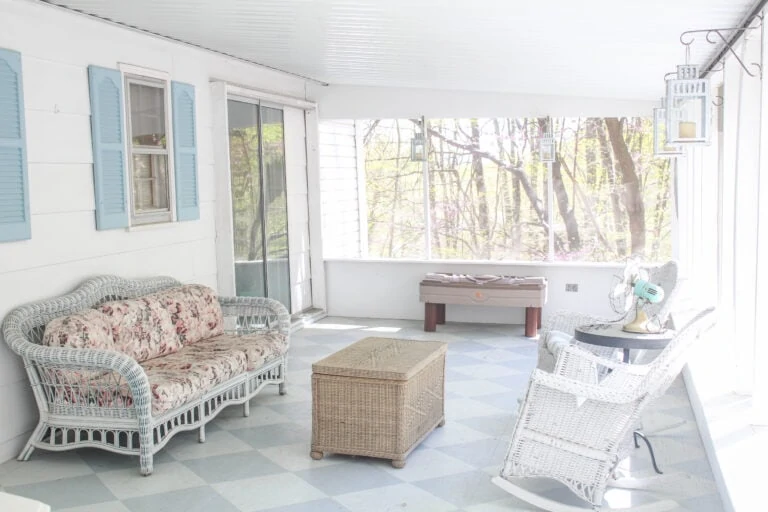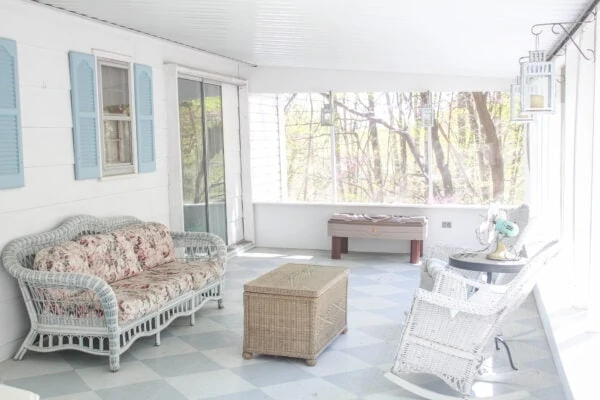 With a painted checkerboard floor, the porch looked so much better.
But after nearly ten years, the paint was starting to show its age and it was definitely time for an update.
I put together a video tour walking you through the room and I've also got everything broken down below with plenty of photos.
And at the end of this post, there's a full list of tutorials for all of the DIY projects in this space as well as links to the few items I purchased for the room.
This post contains affiliate links which means if you make a purchase after clicking a link I will earn a small commission but it won't cost you a penny more. Click here to see my full disclosure policy.
Video Tour of Screened-In Porch
I'd love for you to subscribe to my Youtube channel!
Fresh Paint
This makeover started with fresh paint pretty much everywhere.
The walls all got a fresh coat of white paint, I used a gorgeous stencil to paint the floor, and I also painted the aluminum windows and sliding doors.
I seriously painted everything!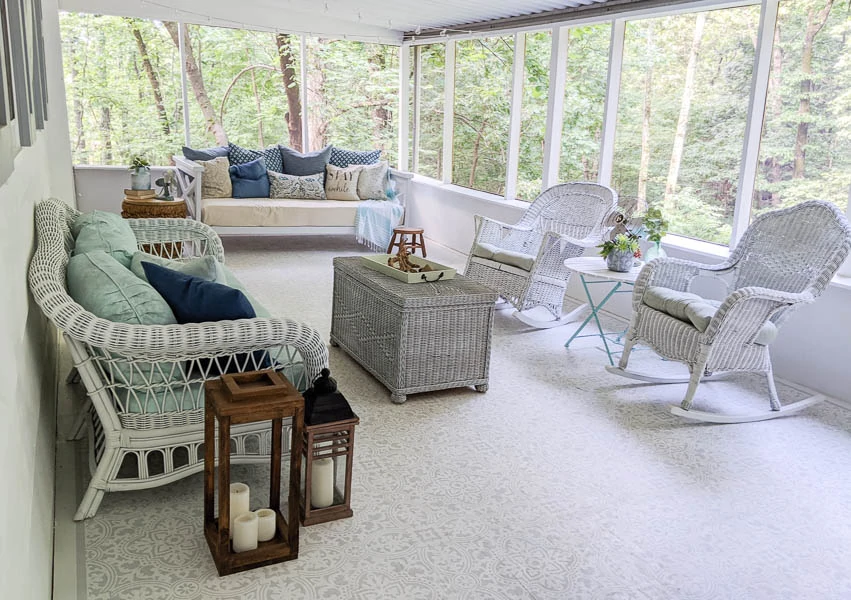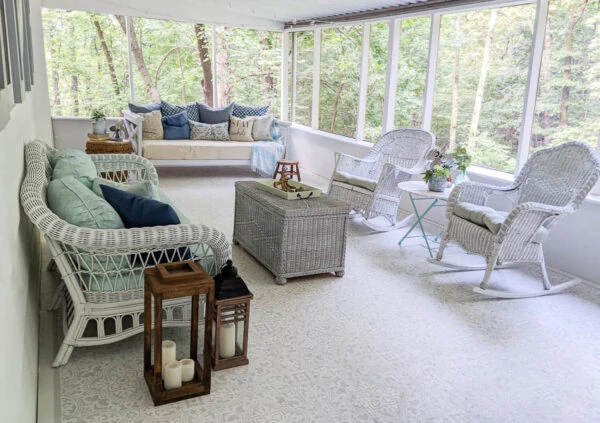 Just giving everything a new coat of white paint made a huge difference.
I painted everything white because it's clean, it's bright, and it really draws your eye out to that gorgeous view.
I realize white isn't always the easiest to keep clean, so time will tell if I regret that decision, but for now, I'm really happy with it.
I also built and painted the simple shaker-style shutters. The shutters that were here before were fine, but I really love the clean lines of these.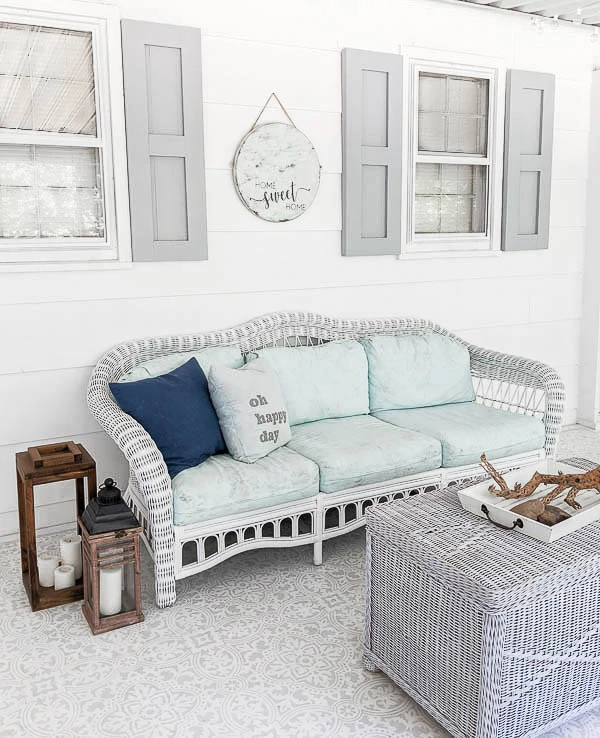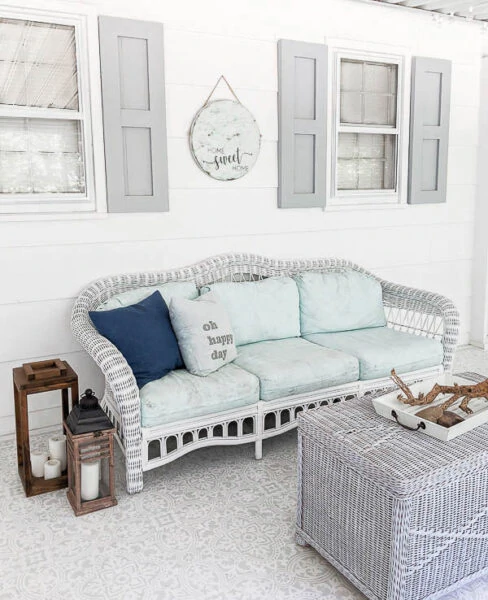 Lighting
I removed the old 1970s intercom speakers and replaced the ugly light fixture.
I actually found the cute little galvanized light fixture at a yard sale for super cheap, but you can also get the same light pretty inexpensively at Home Depot.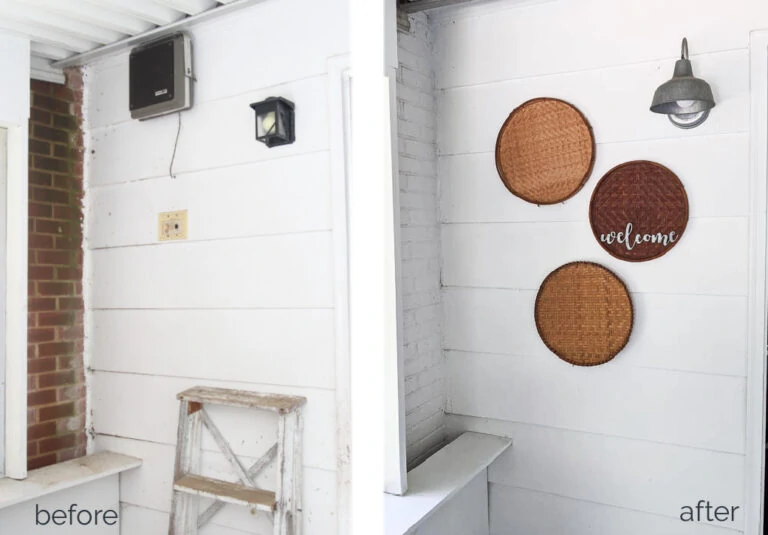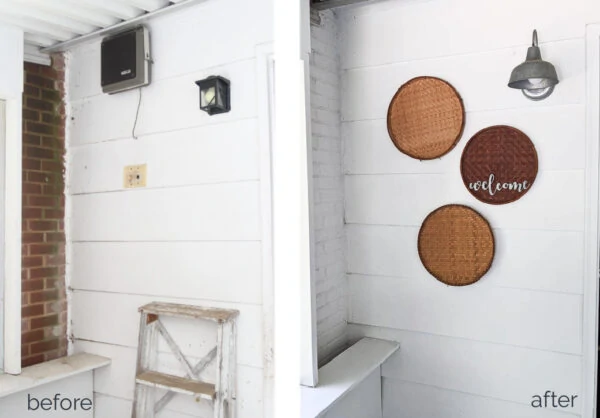 I also added these beautiful string lights. The porch only had one small light fixture for this entire room before.
These string lights are perfect for lighting up the space at night, they don't require any fancy electrical work, and they're pretty affordable too.
I chose these particular lights because the white cord blends in beautifully with the white ceiling.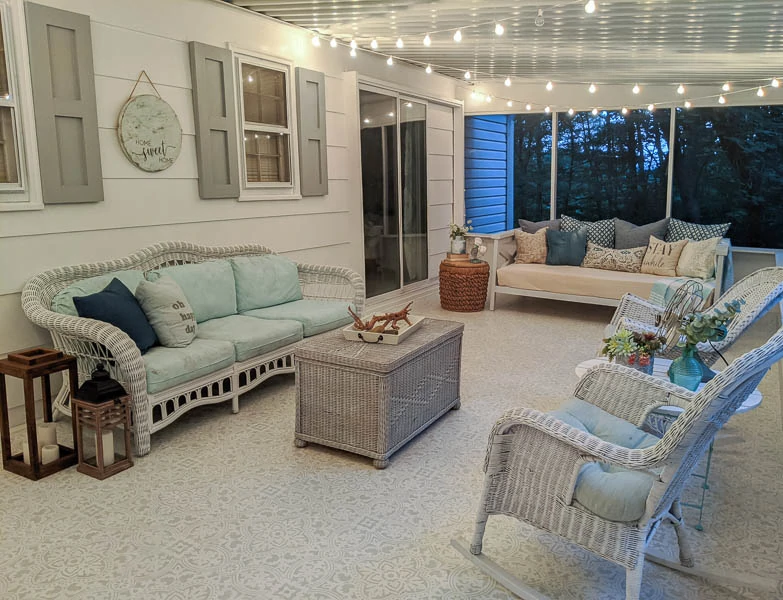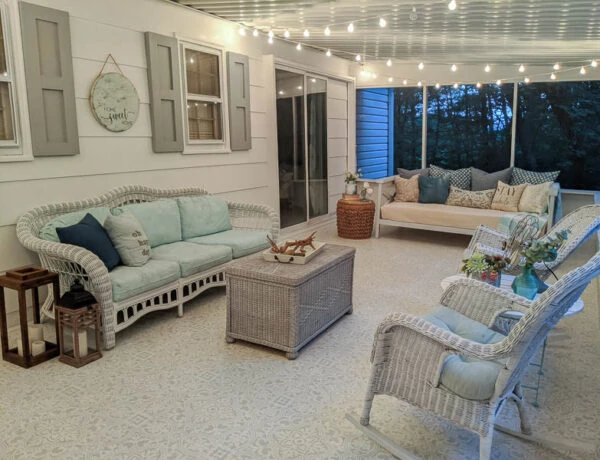 Painted Porch Furniture
The wicker couch was given to us for free by a friend about ten years ago. It was hunter green with pink floral cushions – not exactly my style.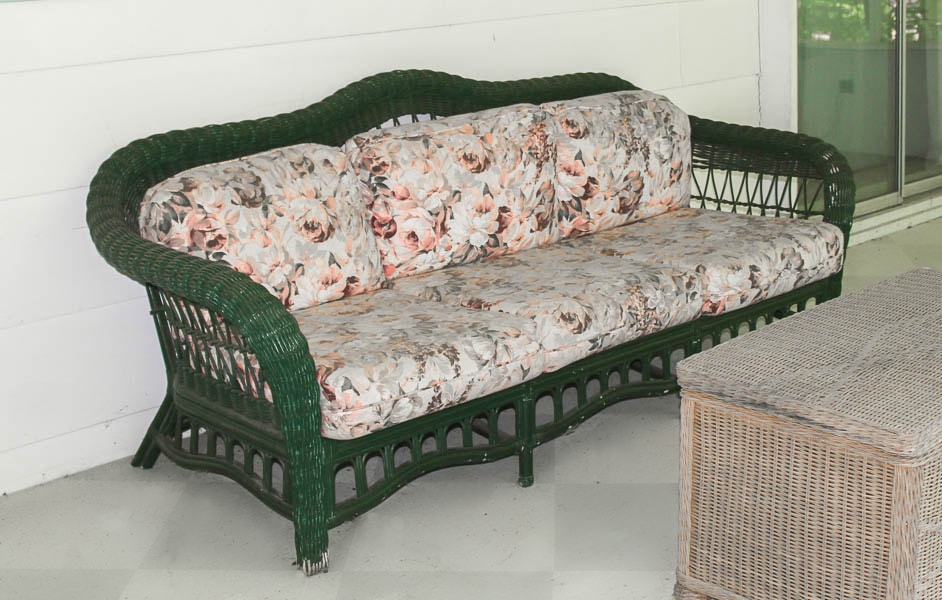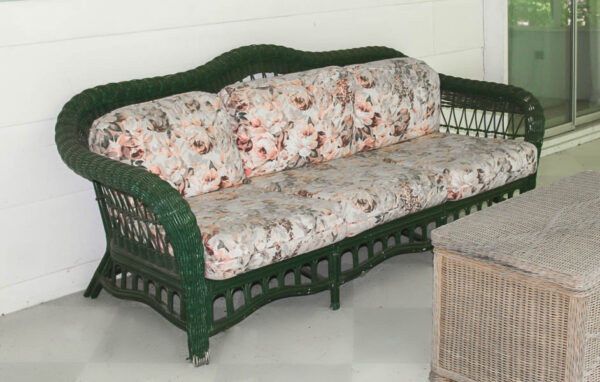 But I am all about reusing what you have, finding things inexpensively, and turning them into something beautiful and after painting the wicker white, it looks a million times better.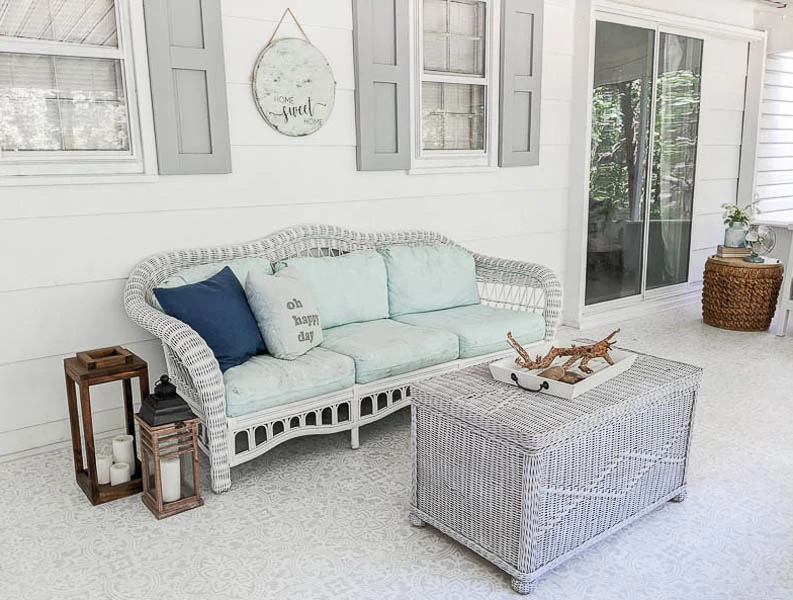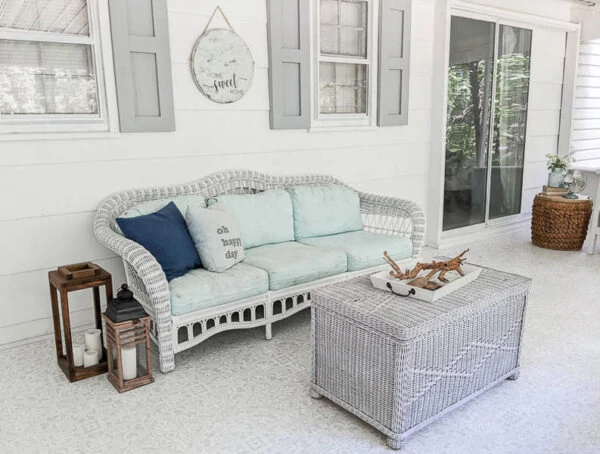 I also painted the floral cushions blue. I don't know if you've ever looked at outdoor furniture cushions but they're very expensive.
So I decided to give paint a try. The cushions aren't perfect; you can still some of the floral patterns.
I'd still like to replace this couch someday but for now, it looks a hundred times better.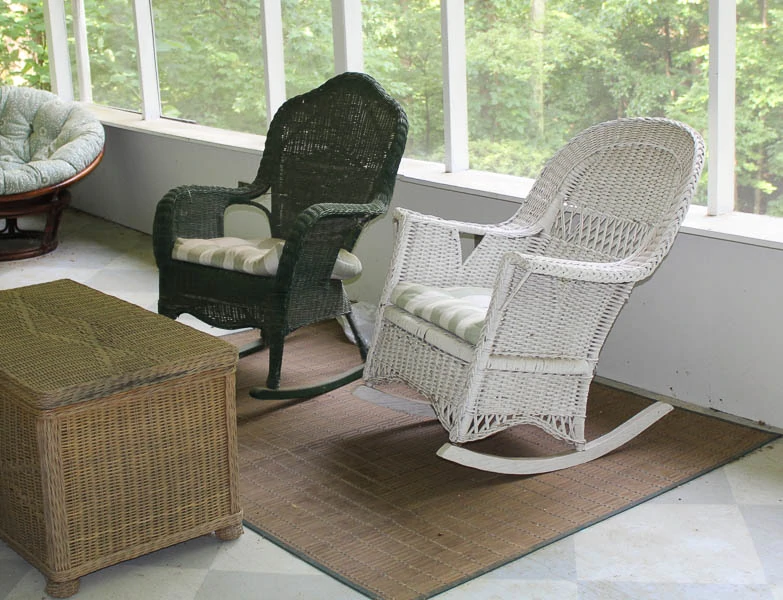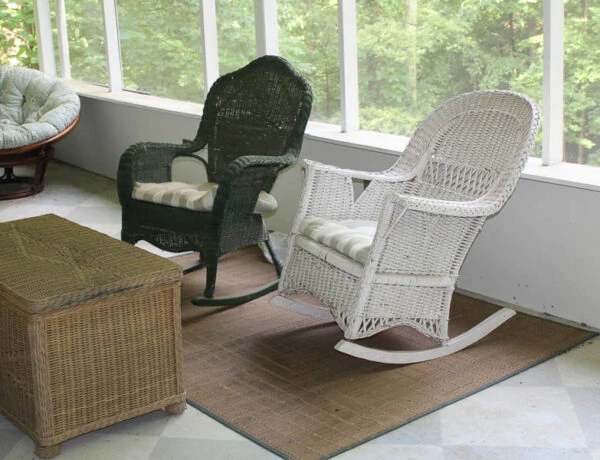 The same friend also gave us this wicker trunk and one of these rocking chairs.
I found the second chair at a yard sale for a steal and again I just gave them a fresh coat of white paint.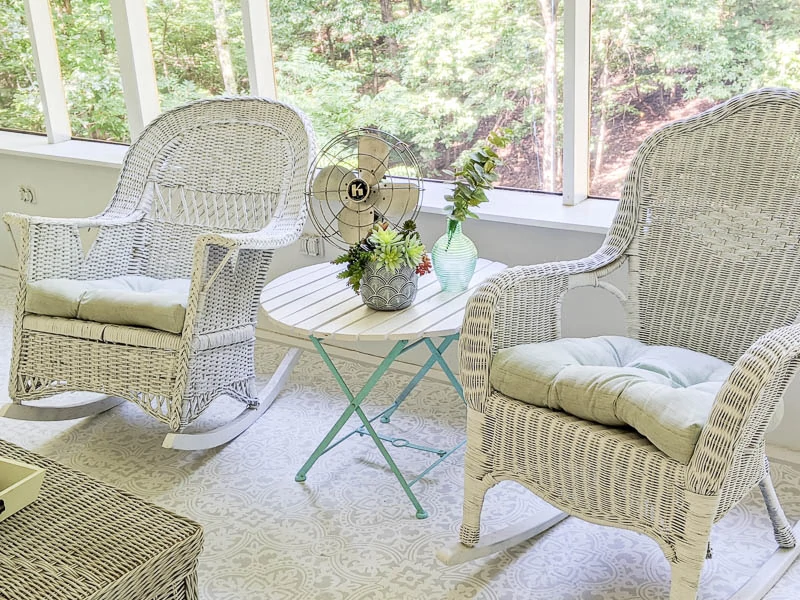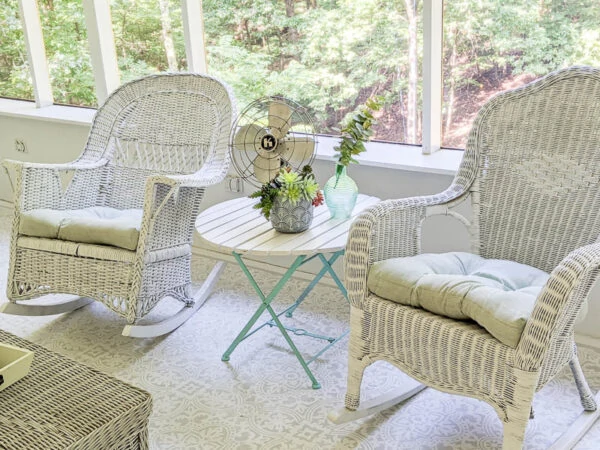 The cute little table was a kids' table and chair set that was in terrible condition. They were another yard sale steal at just three bucks.
A few repairs and some fresh paint completely transformed them.
The blue cabinet down on the end was something that I actually found on the side of the road.
It was in rough, rough shape, and very dirty. But something about it caught my eye and I knew it could be something beautiful.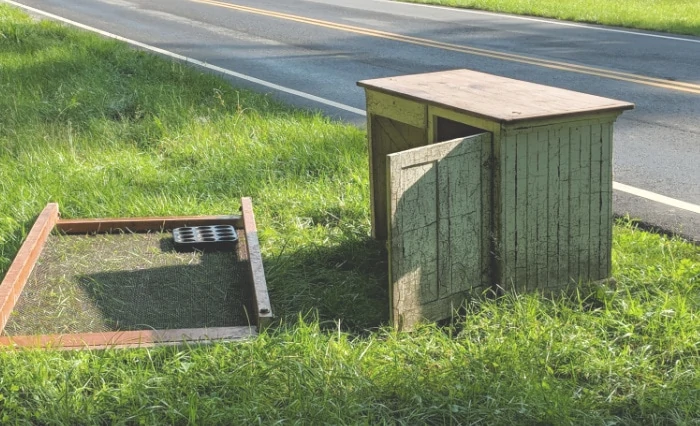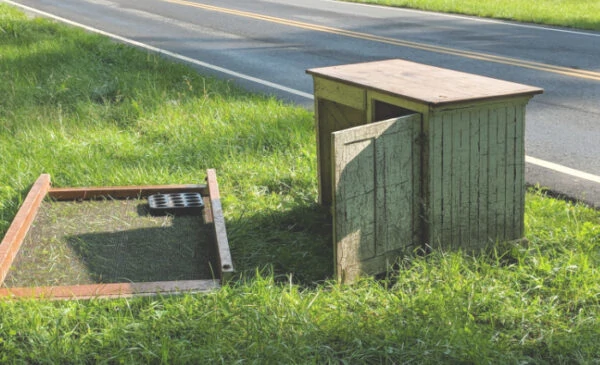 I gave it a makeover with blue milk paint and refinished the top. I love how it turned out and I think it's perfect out here.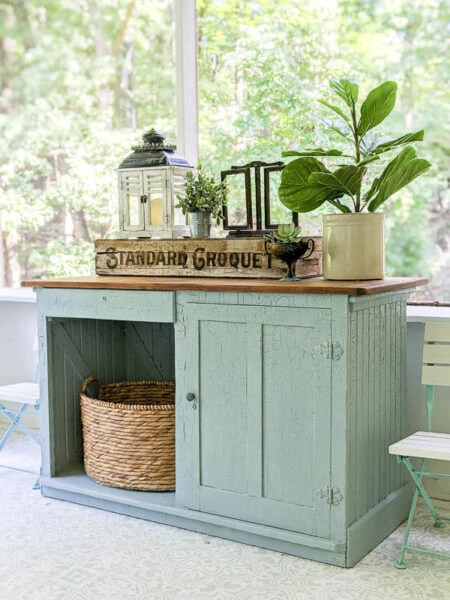 DIY Porch Furniture
There are also several furniture pieces out here that I built myself.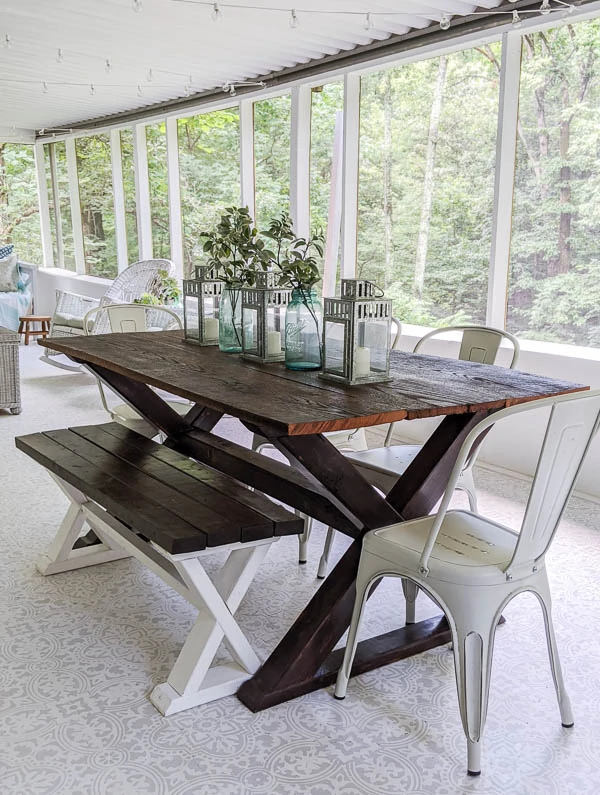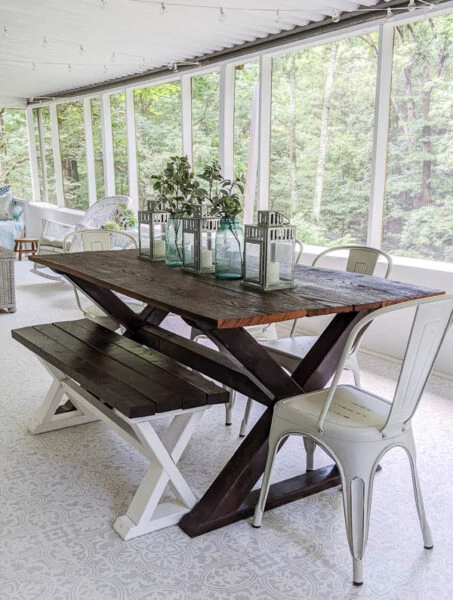 The wood dining table was one of the first pieces of major furniture that I built myself and I love how it turned out.
The tabletop is made from some old, wide boards that a family member gave me and the base is made from simple 4x4s.
I also built the bench. It's made from inexpensive 2x4s and I think it looks great with the table.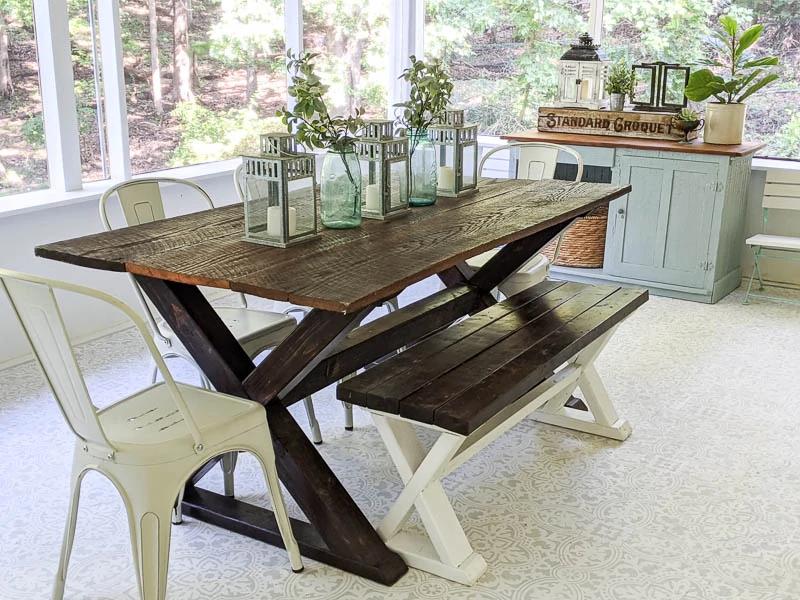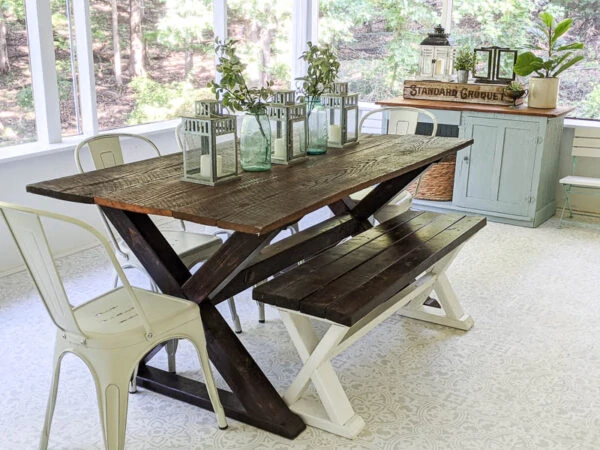 The white chairs are the only pieces of furniture I bought new for this space. They were still inexpensive and I love how they look with the table and bench.
Finally, there's the daybed which was my most recent build.
I have a post sharing exactly how to make this DIY daybed for cheap and it is actually a pretty easy build even if you're a beginner.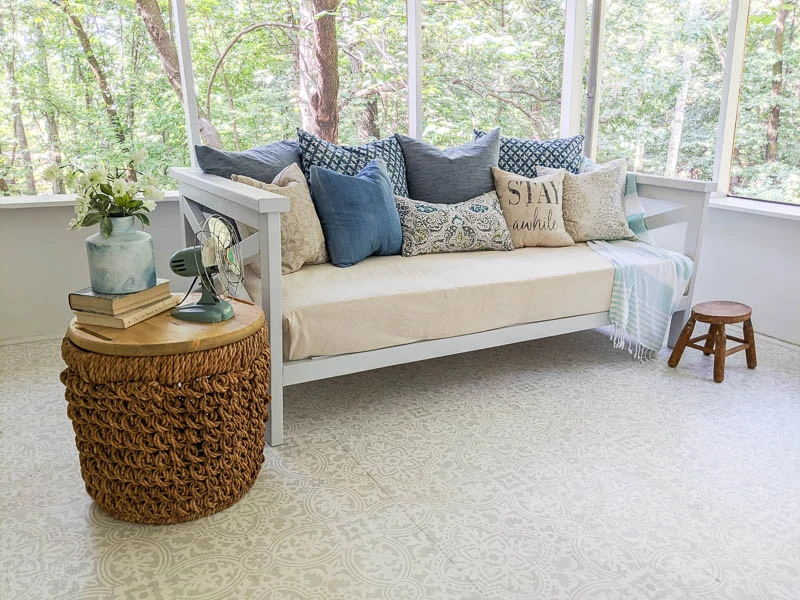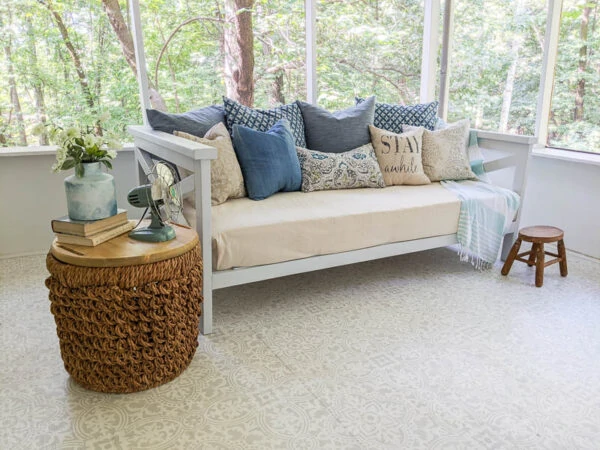 I made a simple cover for the daybed from a canvas dropcloth and I also made most of the pillows.
I like to repurpose all kinds of fabrics to make pillows and these are made from a combination of outdoor fabric, the fabric from a shower curtain, and even some old clothes.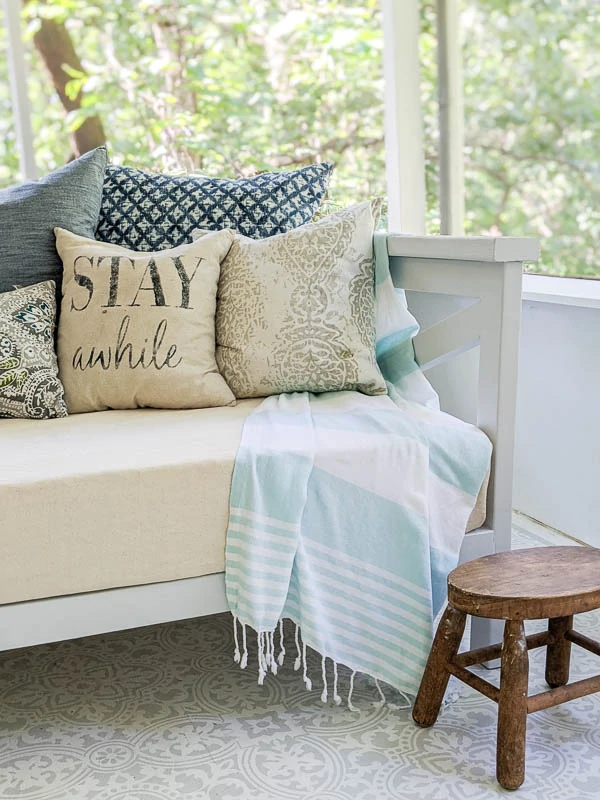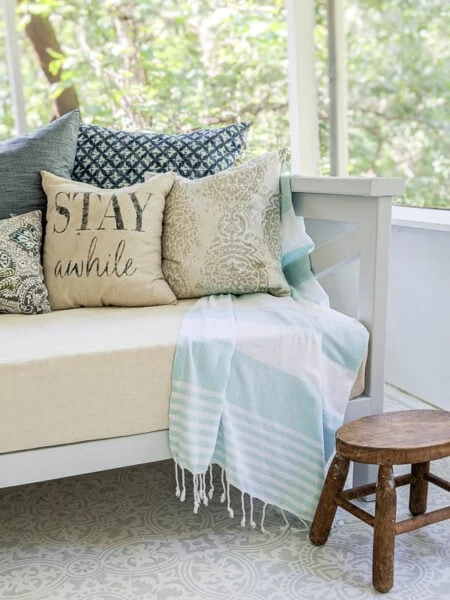 I did spray everything with Scotchgard heavy duty waterproofing spray to help protect it.
Even though the porch is covered, some rain does blow in and I want to keep the fabrics looking nice.
Porch Accessories
Everything else in the room is a combination of things I made, things I thrifted, and things I grabbed from other rooms around the house.
The little basket table is made from a big basket that we were using as a clothes hamper and a circular piece of wood that was leftover from a DIY fail.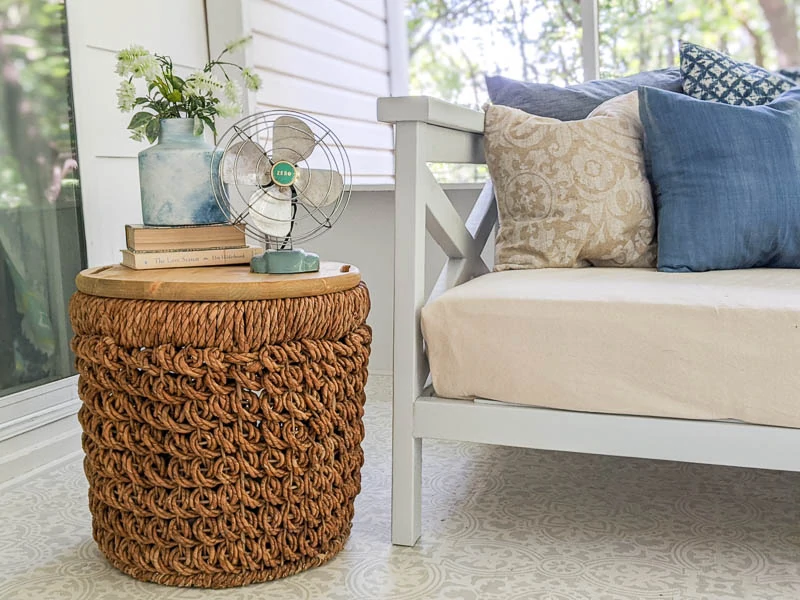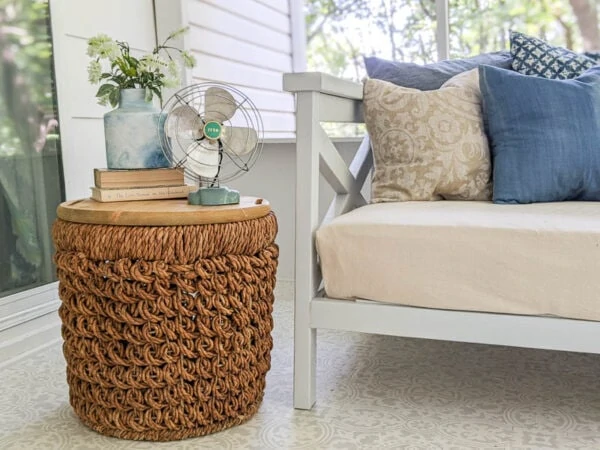 You can buy these wood rounds pre-cut at a home improvement store so putting together a little basket table like this is super simple.
And I love having a little extra hidden storage.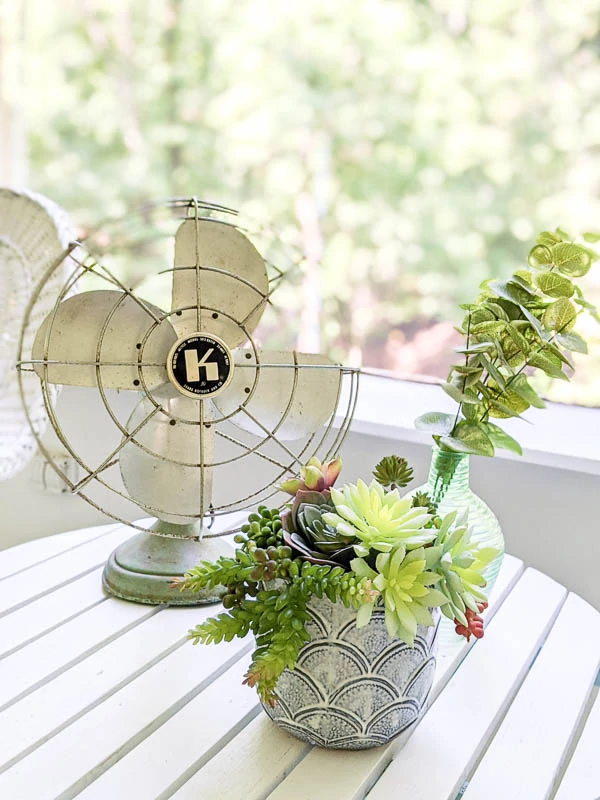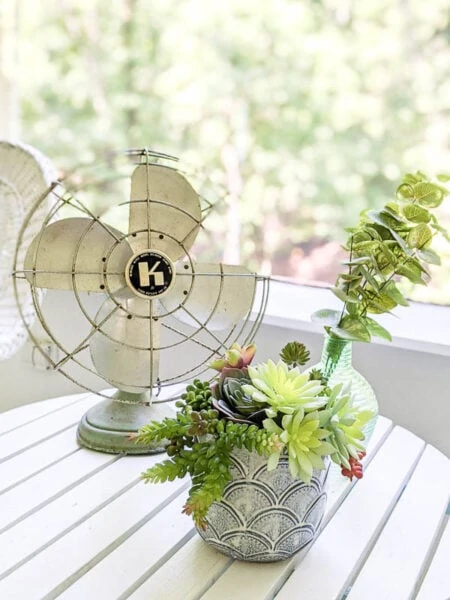 The vintage fans are my favorite. They look adorable and they also really work which is wonderful on a hot day.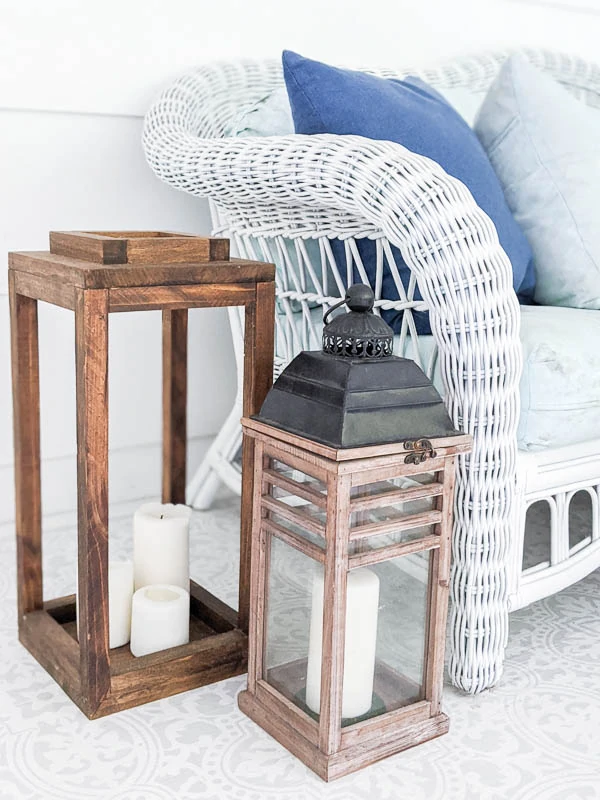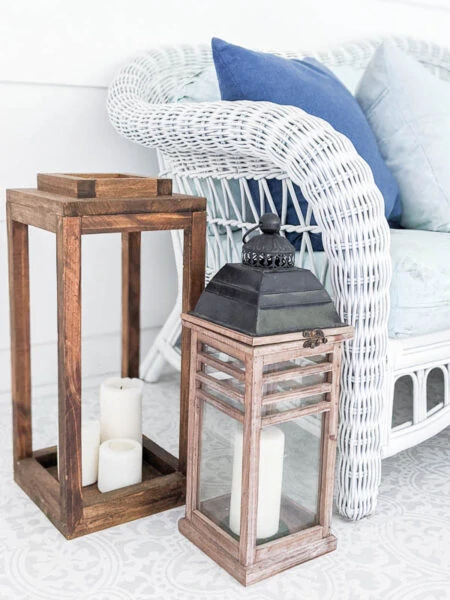 I built the larger lantern; the smaller one is one I already had.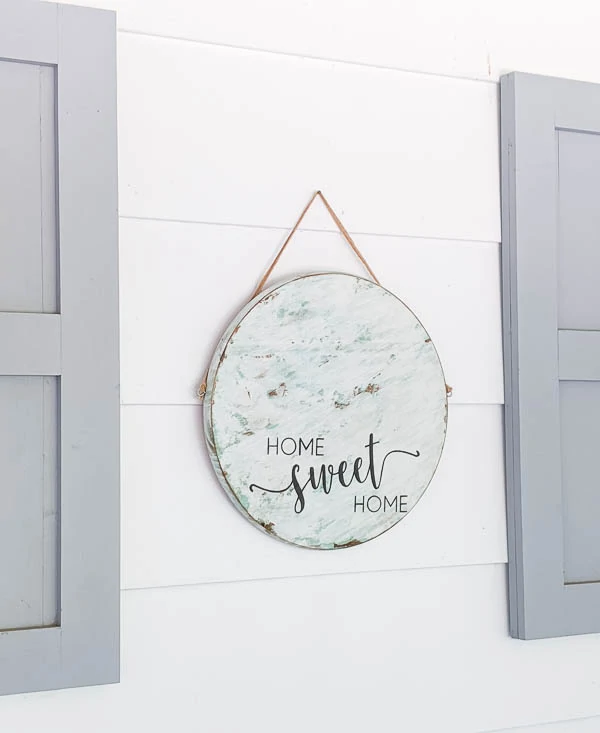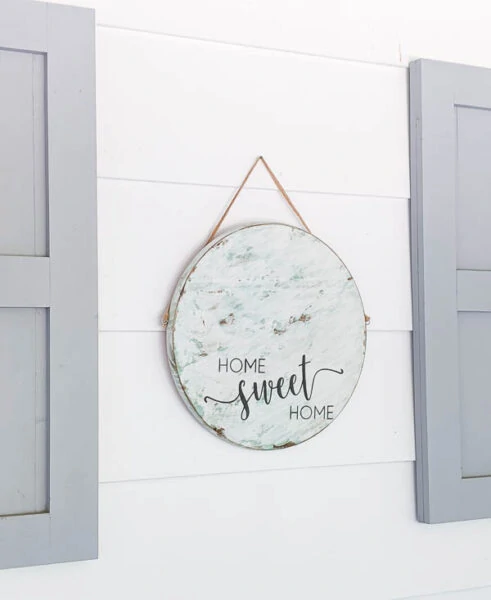 The home sweet home sign is a super easy DIY project using a stencil.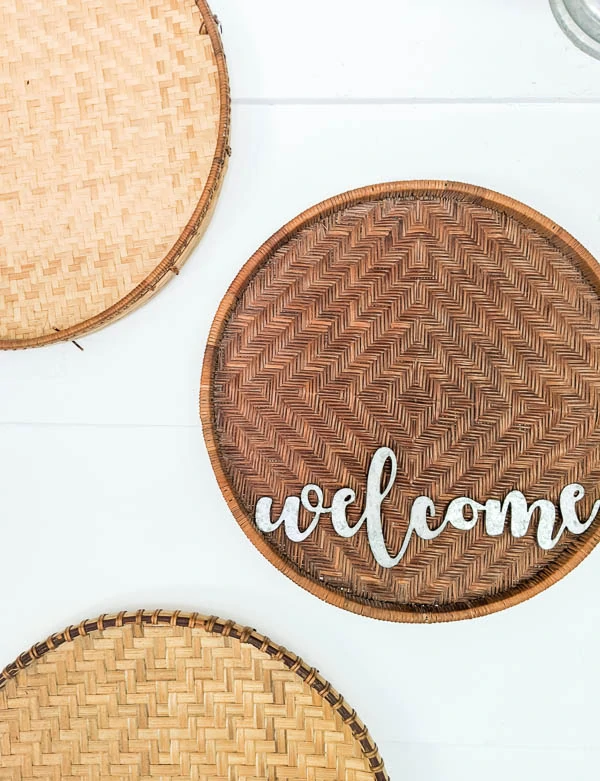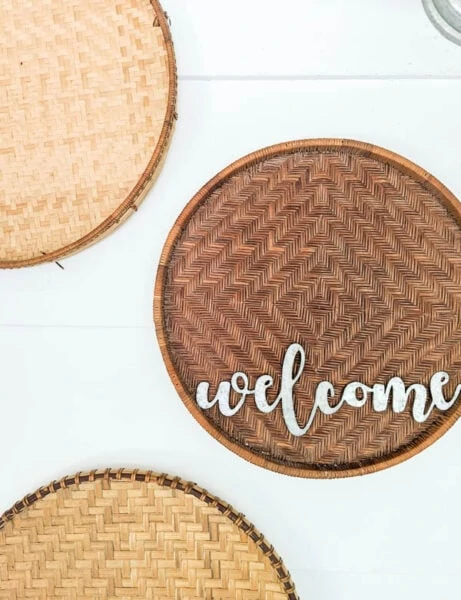 And finally the basket wall. I know they're super trendy right now and I thought about not adding it.
But I really like it, and not doing something just because it is trendy is just as silly as doing something just because it is trendy.
I found these baskets at a yard sale (of course) and I like the way they add warmth and texture to this little corner.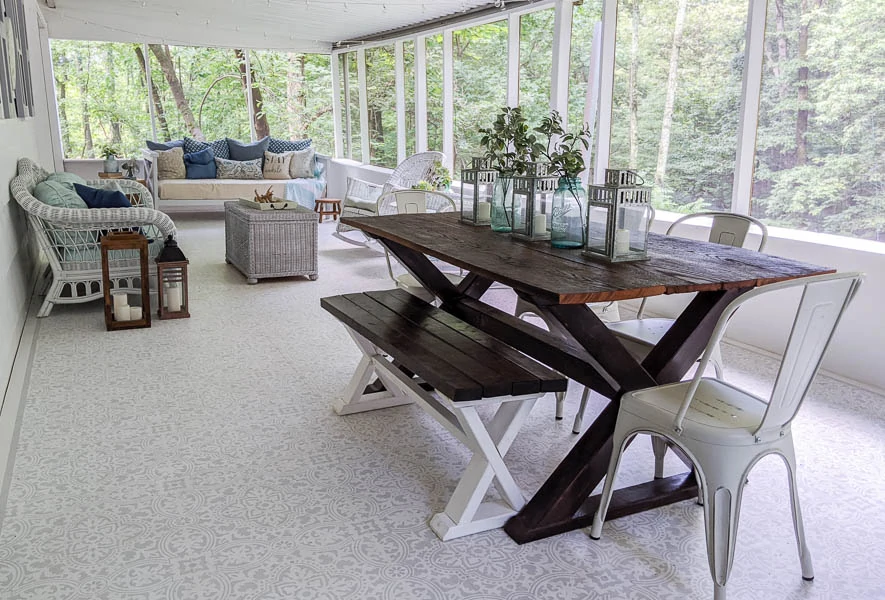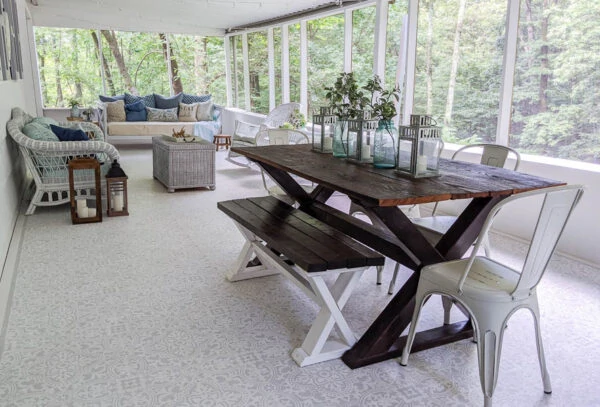 Thanks for letting me share my porch makeover filled with things I made, found, put together, built, and painted!
I definitely love this room more than if I had just bought everything I wanted from a bunch of stores.
The downside is it took a lot of time, especially all of that painting.
This was not one of those quick weekend makeovers, but it was completely worth it.
Sources
Links to all the things I purchased for this space. The ones that didn't come from a yard sale ;)
DIY Tutorials
I'd love for you to share this post on Pinterest!