This face mask organizer has been a huge problem-solver for us. Our family needed some way to organize and store our face masks so that is was easier to grab a clean mask on our way out the door and deal with the dirty one as soon as we got home. To be honest, we had face masks all over the house before this – on our entry table, in the car, in my purse. And trying to make sure everyone had a fresh face mask when we had to leave the house was a huge hassle.
I also wanted to make it easier for everyone to quickly see which face masks were theirs so that we weren't grabbing the wrong ones. With two adults and three kid with different sized faces, it was getting confusing.
This project is so easy I almost didn't share a tutorial. But it has really helped solve a problem for our family, so I figured it was worth sharing in case it helps somebody else out.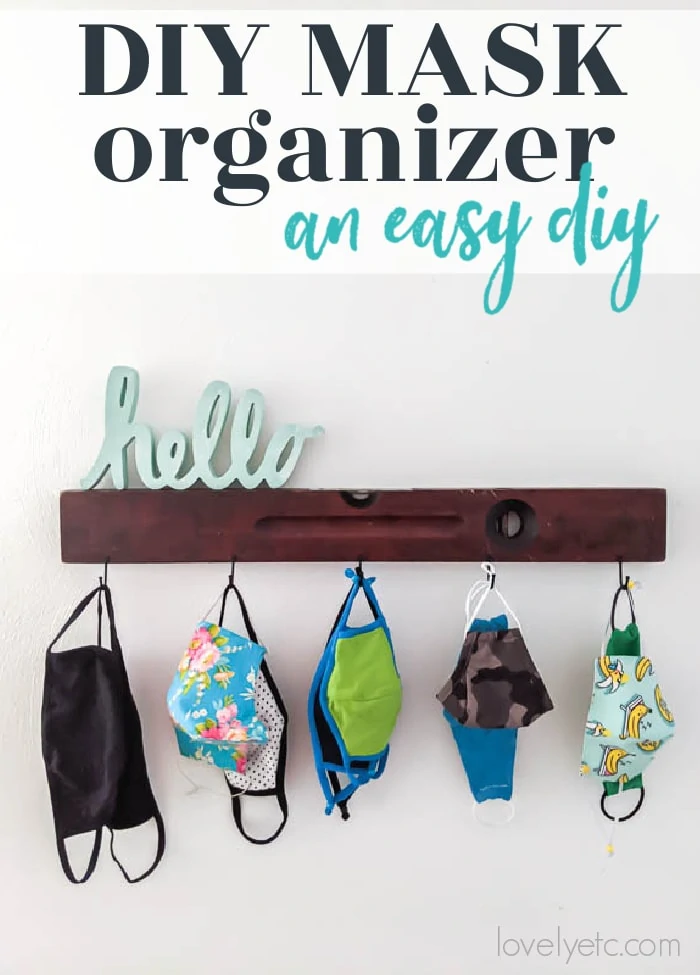 This post contains affiliate links which means if you make a purchase after clicking a link I will earn a small commission but it won't cost you a penny more. Click here to see my full disclosure policy.
You could really do basically the same thing using a set of key hooks you buy from a store. I'm a DIY girl at heart so I chose to make my own. But if you would rather just buy a set or hooks to organize your masks, I'll link some really cute options below.
Just click the photo below for more info about each set of hooks.

But if you're ready to put together your own in less than ten minutes, here's the super simple tutorial.
Materials
Wood – Any piece of wood around 16-30″ long will work well. I used an antique wooden level for my own hooks. If you are looking for something similar, there are quite a few

available on Etsy

and some are priced really reasonably.
Wall hooks – I used these cute little hooks from Amazon. I love that they are small and they have a bit of a vintage feel.
How to Make a DIY Face Mask Organizer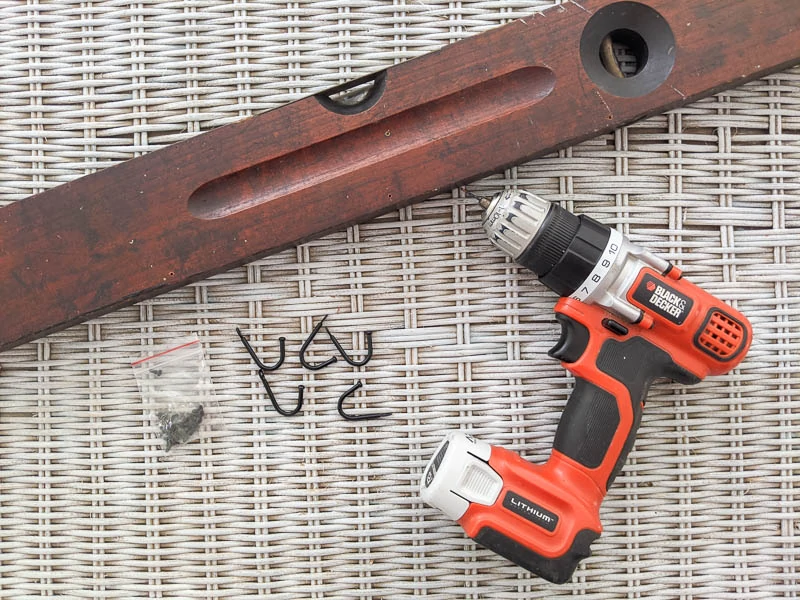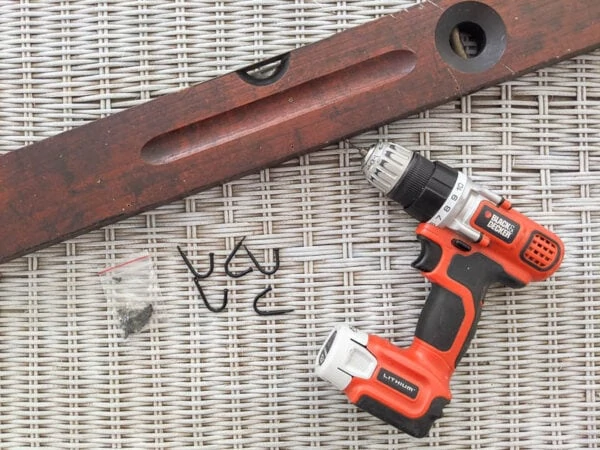 You can use any type of wood to make your mask hanger and this is a great project to use up some scrap wood.
I decided to do something just a little bit different for my own mask organizer. I found this old wood level at a yard sale a couple of years ago and I've been hanging onto it, waiting for the perfect way to repurpose it.
Obviously you do not have to have an antique level to make this. Any wood would work great and you can always paint or stain your wood to get the look you want.
As for the hooks, I chose these small hooks from Amazon because they're really inexpensive and I like the way they look.
The first step is to decide how many hooks you want to use. I'm going to use five so that each member of our family could have their own. When you're deciding how many hooks you want, just keep in mind how large your mask collection is, how you want to sort them, and how big your piece of wood is.
Once you've decided how many you want to use, you can mark where they need to be so that they will be evenly spaced.
I decided I wanted my hooks to hang down from the edge of my level but you can also center them on your board if you prefer.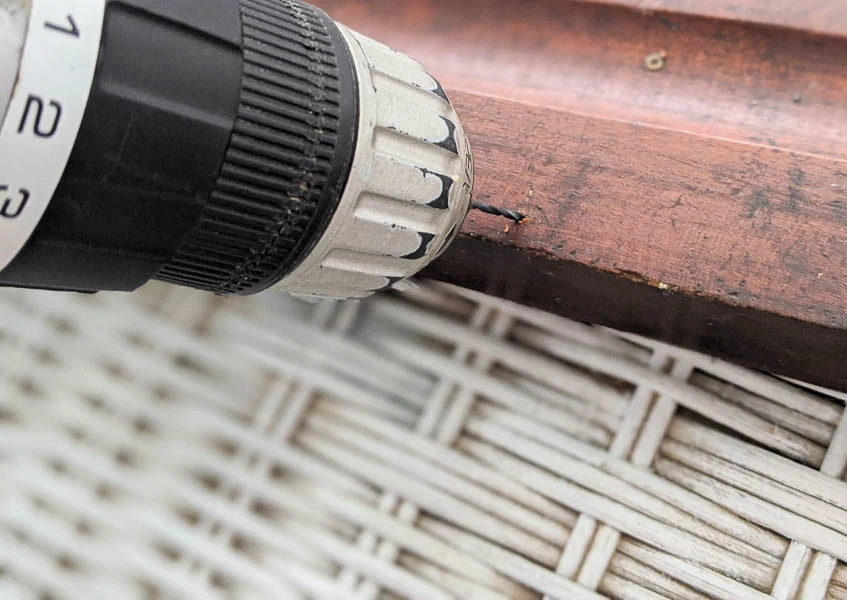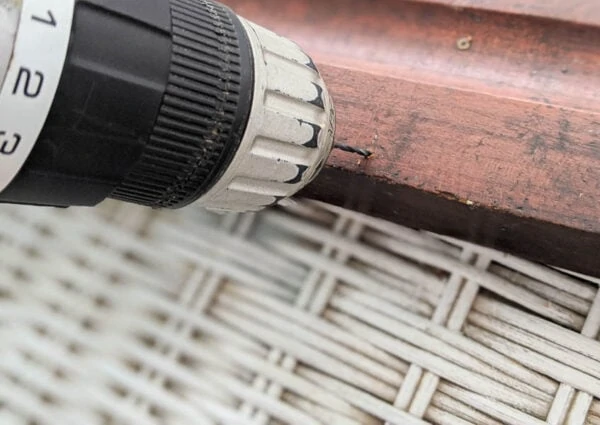 Next you are going to drill holes for the hooks. Make sure you use a drill bit that is slightly smaller than your screws.
Then you can screw your hooks into place.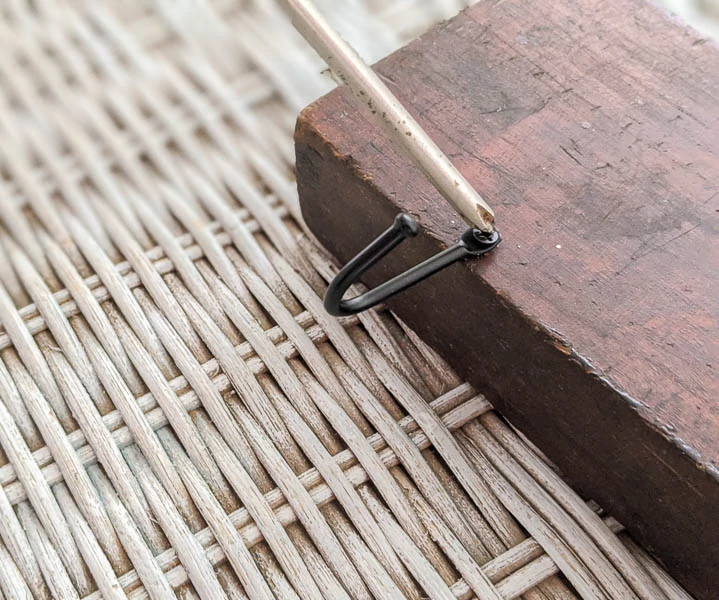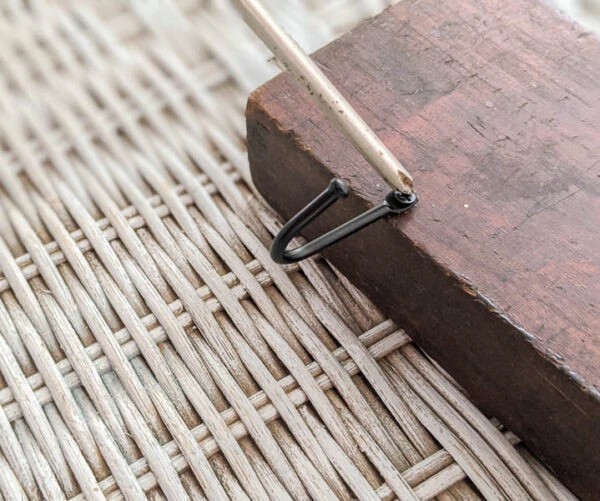 Once your hooks are on, flip it over and add some picture hangers to the back.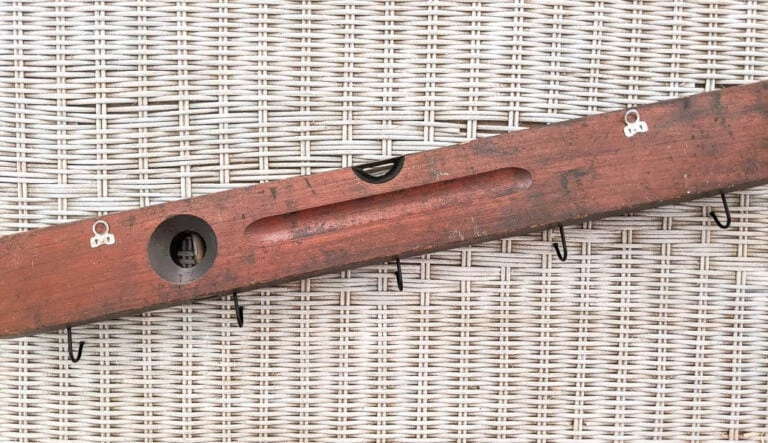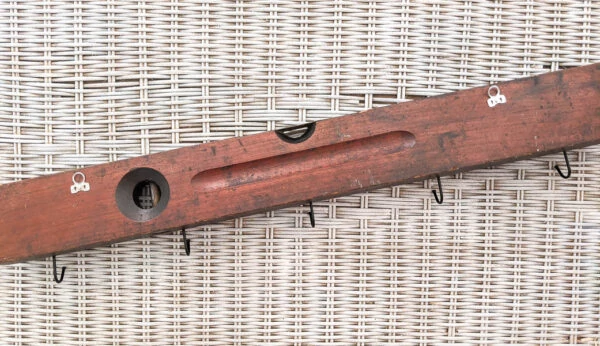 Now you can hang your hooks next to your door. It's a good idea to use drywall anchors to make sure its nice and sturdy.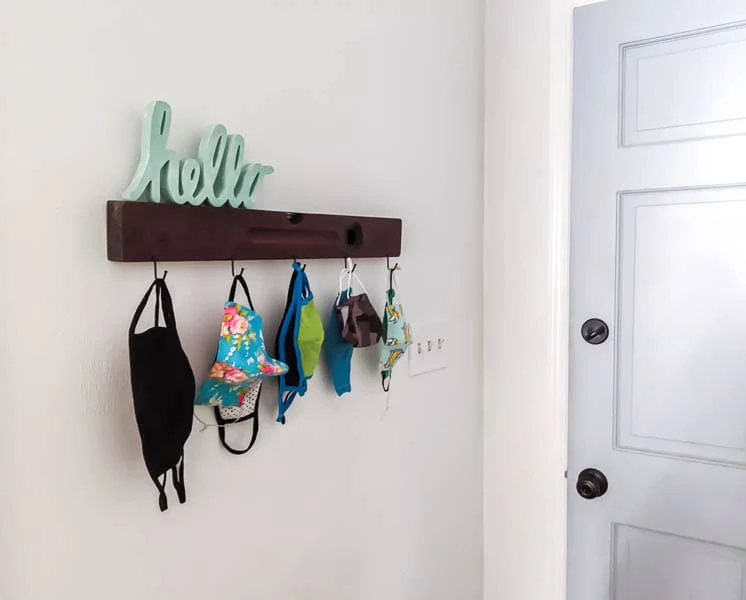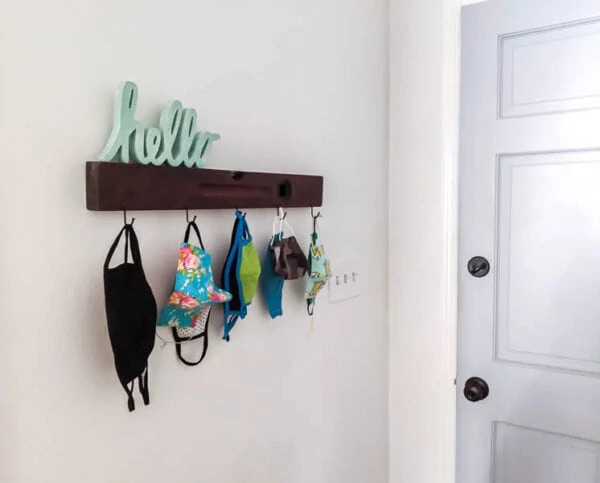 You should use a level to be sure that your hooks are hanging straight. Of course I didn't have to worry about that because my hooks are a level so that part was easy!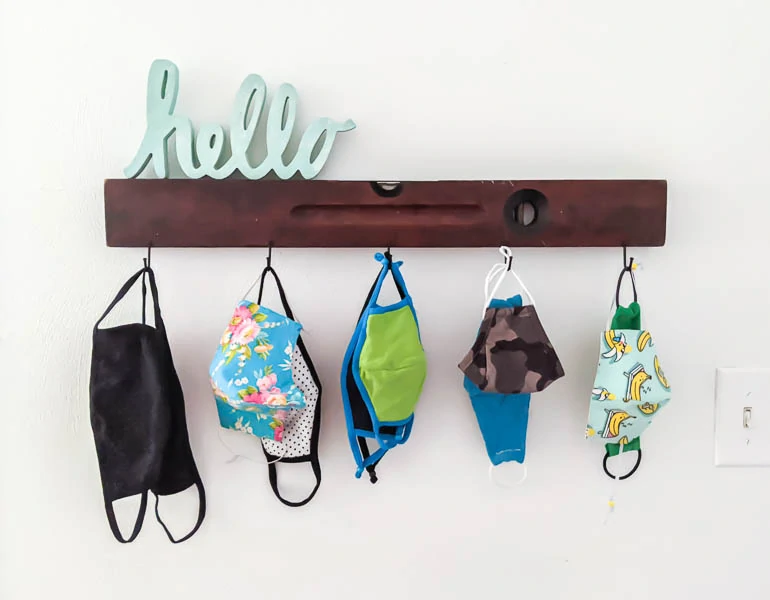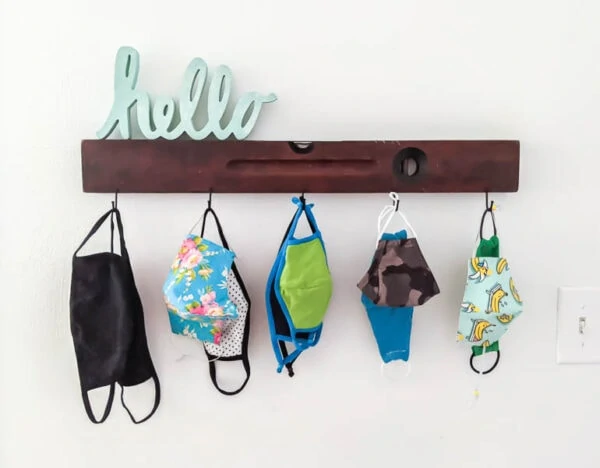 As far as the dirty masks, I put a basket on the table next to the door with a little laundry bag inside where we can just stick them in when we get home. I also love the idea of hanging a little hanging basket like this one on one of your hooks for holding used masks.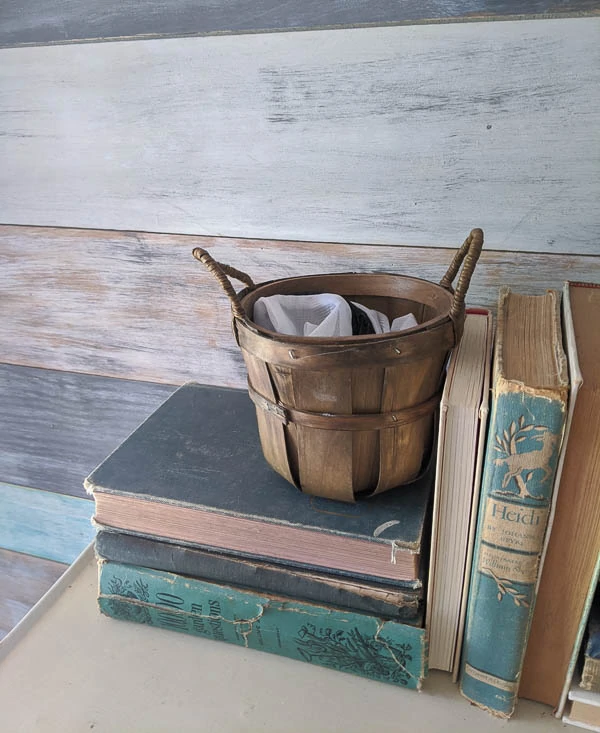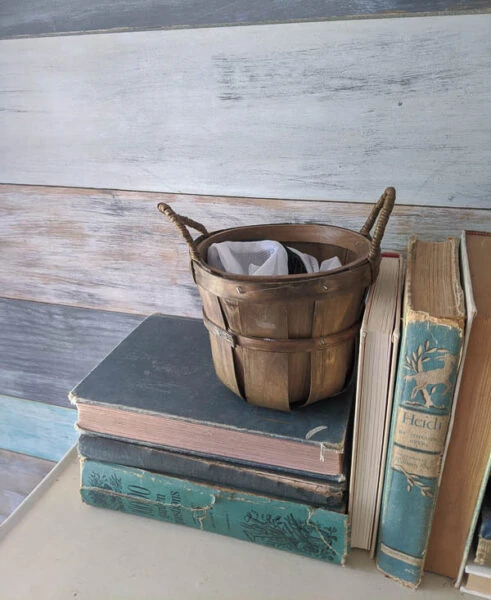 It's only been a few days, but our new mask organizer has already made things so much easier. Especially mornings when my oldest needs to grab a mask on the way to school.
And one day when things are different and we don't need face masks everyday, this will make a great hanger for our keys and sunglasses.
Video Face Mask Organizer Tutorial
Pin this post on Pinterest!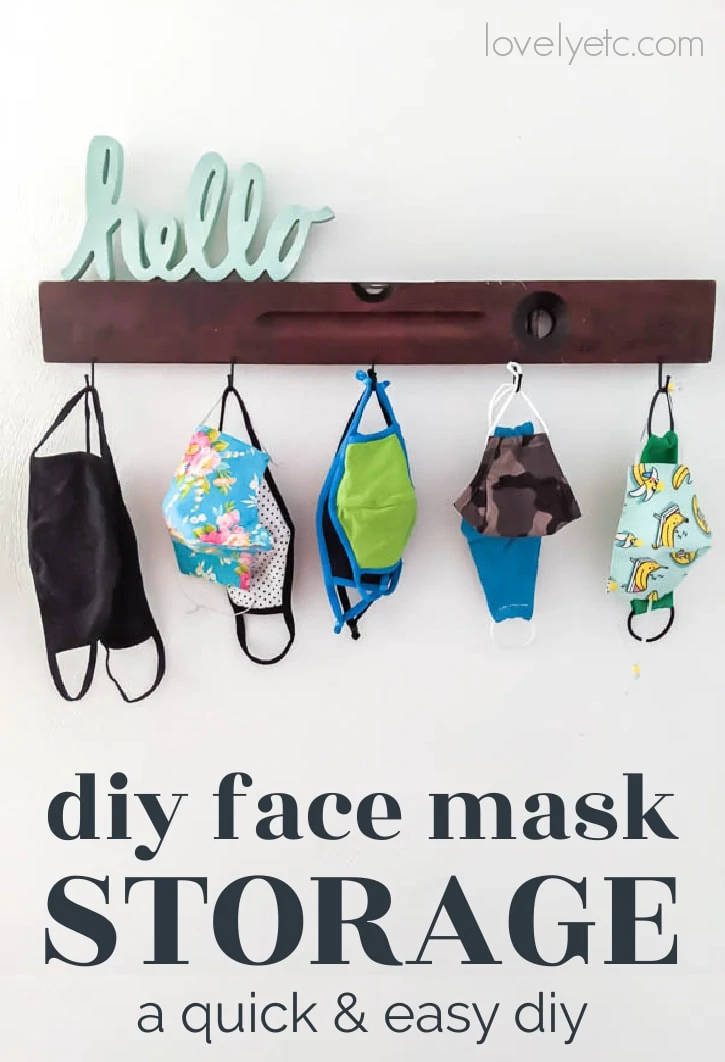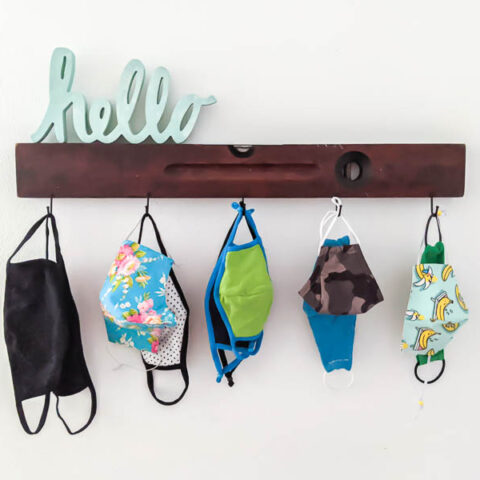 Quick and Easy DIY Face Mask Organizer
Yield: 1 Mask Organizer

Prep Time: 1 minute

Active Time: 15 minutes

Total Time: 16 minutes

Difficulty: easy

Estimated Cost: $5-$10

Create a handy DIY face mask organizer. It's a great way to store face masks by the front door to quickly grab as you are heading out.
Materials
Wood
Wall Hooks
Picture Hangers
Instructions
Decide how many hooks you want to use. Mark where they need to be to be spaced evenly on your wood.
Drill holes for the hooks.
Screw your hooks into place.
Flip it over and add some picture hangers to the back.
Hang by the door.
Recommended Products
As an Amazon Associate and member of other affiliate programs, I earn from qualifying purchases.