I have big plans to update our master bathroom this month on a tiny $100 budget.
We've lived in this house for more than ten years and the master bathroom still looks basically the same as it did the day we moved in. It is the only room we haven't updated and it is definitely time!
At the beginning of this year, I decided this is the year of the master bath and I put it at the top of my list of house goals.
But, well, 2020.
I was hoping to do a full gut remodel to deal with some underlying water damage, but with everything going on right now, that just isn't going to happen this year. So instead of just putting it off once again, I'm going to give the room a quick cosmetic update. It won't fix all of the problems, but it will give us a much nicer bathroom in the meantime.
So I've decided this little bathroom is perfect for the $100 Room Challenge. The $100 Room Challenge is a challenge dreamed up by Erin at Lavender, Lemons, and Laundry to make over an entire room in your home on a $100 budget in one month.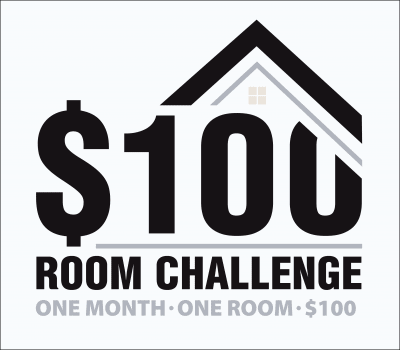 It's as crazy as it sounds, but it's also pretty incredible. Being on such a tight budget means really getting creative and it's amazing how far $100 really can go in a space.
Since we are going to be eventually completely redoing this bathroom, I love the idea of keeping this first phase of updates as inexpensive as possible. And I am so excited to see how far I can stretch that $100!
I've done three $100 room challenges before, though it's been a few years since my last one.
The Master Bathroom Before
Okay, so here's the bathroom I am working with.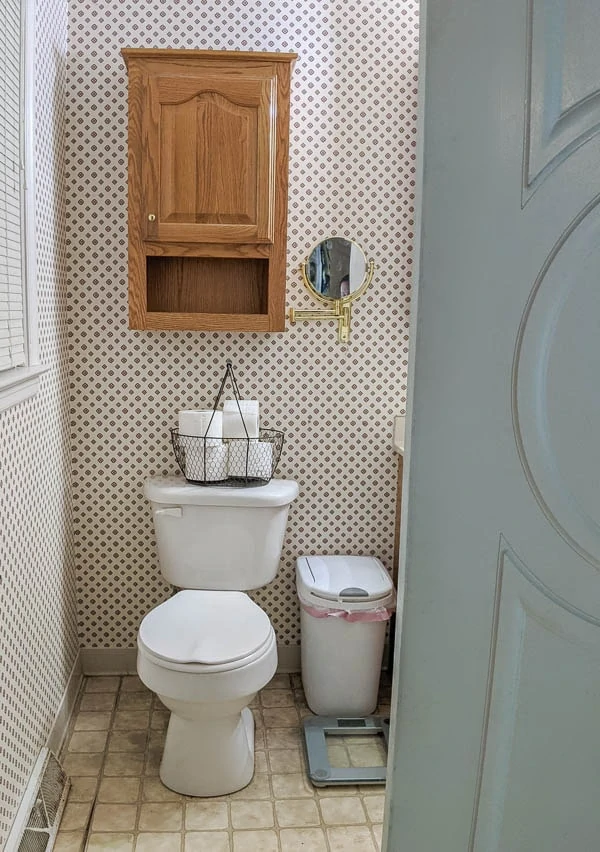 It is a tiny little bathroom with a shower, sink, and toilet.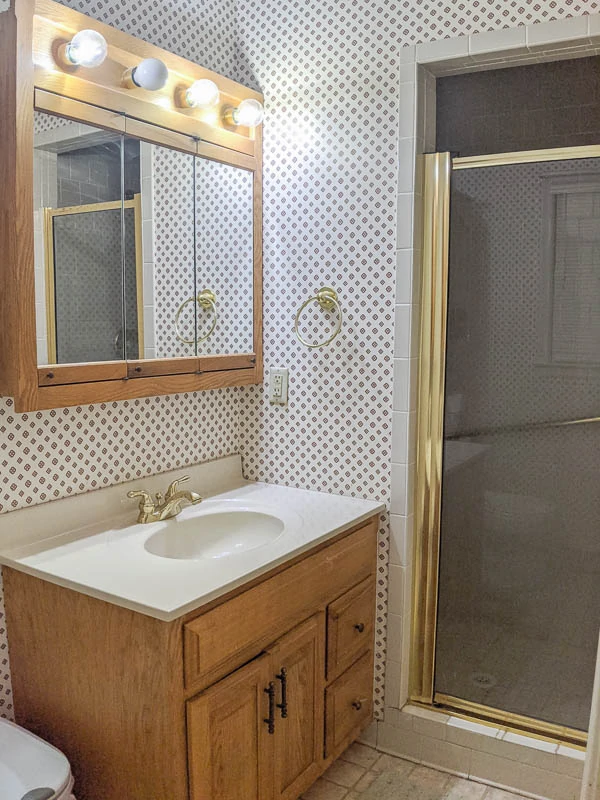 So what would I like to change in here? Pretty much everything! I'm not a fan of the gold fixtures, the wallpaper, the vinyl floor, the lighting, the closed off shower, the tile. Yep, basically all of it.
Obviously I am not going to be able to change all of that for $100, but I think I can change most of it!
$100 Bathroom Makeover Plan
My plan to stay on budget basically involves lots of paint and using as many things we already own as possible.
Walls -Remove the wallpaper and replace it with something with a bit of personality. I'm not sure yet if I want to do shiplap, some kind of board and batten, or just an interesting paint color, but walls are the easiest way to make a tiny room like this interesting.
Vanity – I'm planning to paint the vanity and replace the hardware with something from my stash.
Hardware – This bathroom is full of shiny, shiny gold hardware and it is just not my style. I'm going to replace the easy things like towel rings and hopefully update the rest with spray paint (including the faucet!) I'm also thinking about using a shower curtain to hide away the gold shower door.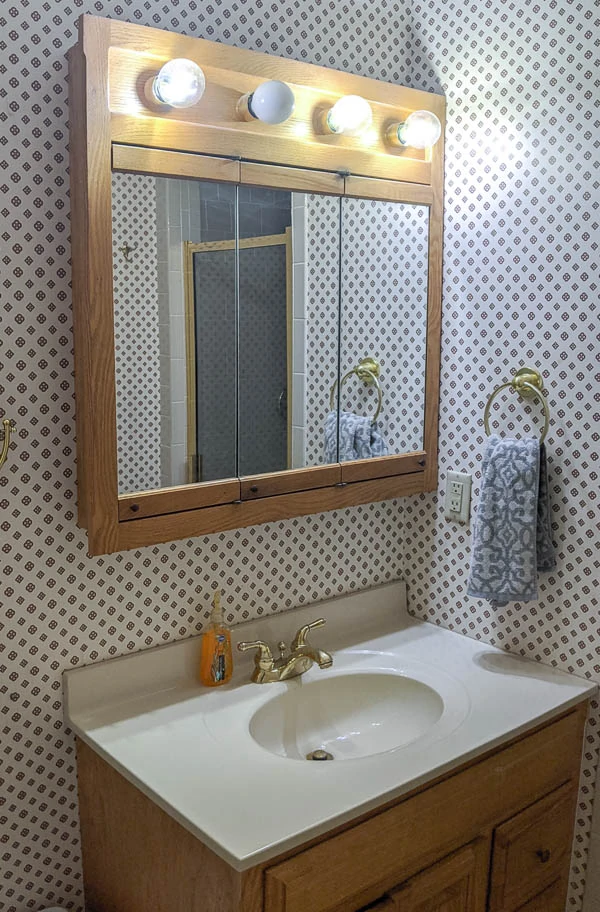 Mirror – Right now we have a medicine cabinet/light combination over the sink. It's got a ton of good storage – but it is also just really ugly and it has to go. I've got several old mirrors from yard sales and thrift stores stashed away and I am hoping one of them will be perfect for this space.
Lighting – Luckily, I actually have a really pretty bathroom light that used to be in our other bathroom. It's perfect for this small room and I can't wait to install it! This is also going to really help with the budget since lighting can get pricey.
Wall Cabinet – There's also a wall cabinet over the toilet – for such a tiny bathroom, there really is a ton of storage in here! I'm planning to replace this with some inexpensive wood shelves. The shelves will help bring back a bit of storage with a more modern twist.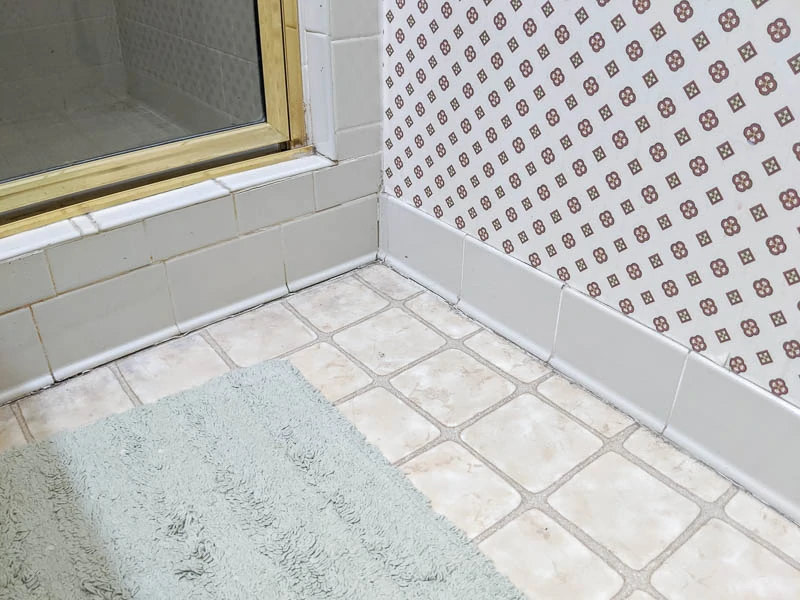 Floor – This room currently has a vinyl floor that is dated but isn't completely horrible. I'd like to do a really inexpensive update to the floor using either paint or peel and stick floor planks.
Trim – Instead of wood trim, there is a row of beige tiles along the bottom of the walls. I'm hoping to get rid of those and replace them with some simple white baseboards.
Window – The only window in this space currently just has cheap mini blinds. This is pretty low on the list of priorities, but if I get to it, I'd love to sew an inexpensive shade.
Shower – Eventually when we do phase two of the reno, I want to open the shower up and definitely update the tile. But for now, I'm just going to try to cover up that shiny gold door and otherwise ignore the shower.
There is a ton to do in here but I am incredibly excited to finally have a pretty bathroom in just a few short weeks! I'll be sharing updates and projects from this makeover every Wednesday until the final reveal at the end of this month. I can't wait!
And there are also several other brave bloggers taking on the $100 room challenge this month. You can find all of their 'before' posts at the links below. There are some room makeovers here that I am definitely excited to follow along with!
You are invited to the Inlinkz link party!