There's just something about Christmas decorating. I love to check out other people's homes any time of year, but Christmas is my absolute favorite time.
I love how everyone has their own unique spin on Christmas decor and it's all just so full of joy and hope. Whether it's colorful and whimsical, subtle and pretty, or full-out traditional, I just love it.
Every year I invite some of my favorite bloggers to join me in sharing their homes all decked out for Christmas. You can find my friends' homes linked at the bottom of this post – it's such a fun way to check out all different Christmas styles.
As for my own home, when it comes to decorating for Christmas, I don't try to stick to any one style.
I just put together the things I love in a way that makes me happy! That usually involves sprinkling lots of snowy greenery, cozy candles, and vintage finds all through the house until everything feels cozy and Christmasy.
This post contains affiliate links which means if you make a purchase after clicking a link I will earn a small commission but it won't cost you a penny more. Click here to see my full disclosure policy.
Christmas in The Entryway
Our little entryway is always one of my favorite spots to decorate for any season!
I kept things pretty neutral in here to complement that beautiful wood wall. I leaned a couple of pretty thrifted mirrors against the wall (including one I turned into a chalkboard).
And then to add that Christmas touch, I hung a few glittery banners from each and added a few cute little trees.
On the bottom shelf is our sweet little peg doll nativity set. I bought the people a few years ago and painted the animals myself. You can get a similar set on etsy.
I love how cute and simple it is and my boys love to play with it and talk about it the whole Christmas season.
I also tucked a basket filled with some pretty wrapping paper next to the table. I love wrapping paper and can't seem to resist buying pretty rolls at the end of the season sales each year.
And since it's so pretty, I figure why not use it to decorate!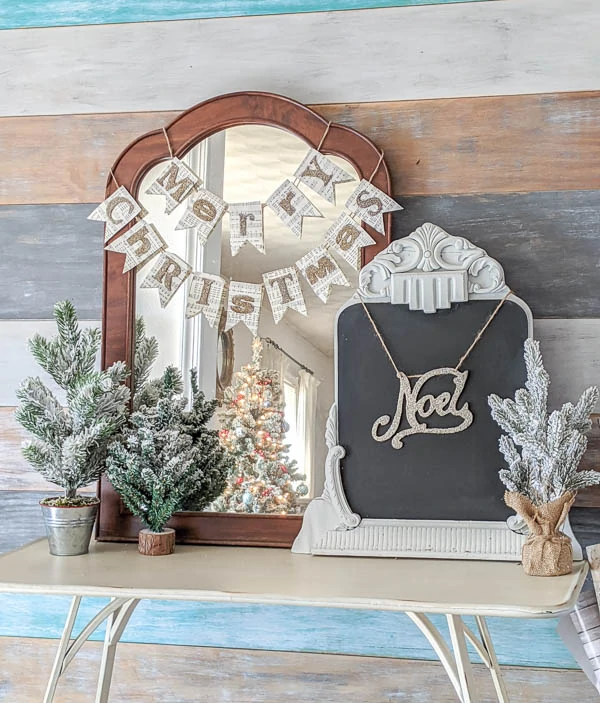 I have to confess that 11 months out of the year, I am pretty firmly anti-glitter. I'm just not a glittery, sparkly kind of person in general. And of course, I hate how it ends up absolutely everywhere.
But at Christmastime, I make an exception; I love to add a bit of glitter to little banners and ornaments.
I use silver German glass glitter and it truly is the king of all glitters. It is made from literal crushed glass and it sparkles like no other glitter I've ever used.
It also tarnishes over time like silver which can give it a really beautiful vintage look. And once it is too tarnished and has lost it's sparkle (usually after a few years) I just add fresh glitter.
German glass glitter is a bit more expensive than regular glitter, but a little also goes a long way and a jar lasts a very long time.
Christmas in the Library
When this house was built back in the 70s, this room was the formal living room. When we added a wall of built-in bookcases, my kids started calling this the library and the name stuck.
Every year I try to find just the right thing to put in our bay window at Christmas, but I've never found anything that looks equally good from both the inside and the outside until now.
This year I put my new DIY wood nativity set in the window along with a couple of cute little trees and I love it. Next year I may add some pretty garland, but for now I'm pretty happy with this set up.
Christmas in the Dining Room
Next up on the tour is our dining room. This glowing Christmas centerpiece is probably my favorite part of all of my Christmas decor. It's pretty, inviting, and almost completely made from secondhand treasures.
I started with a table runner made from pages torn from a book of sheet music.
I found my sheet music at a yard sale, but you can buy bulk lots of vintage sheet music on Etsy. Or I have printable versions of some of my favorite Christmas songs here you can download and print.
After the sheet music, I added a few candlesticks of different shapes and sizes.
I am always on the lookout for pretty candlesticks in all kinds of materials when I'm out thrifting. They're pretty easy to find for super cheap and they look beautiful grouped together.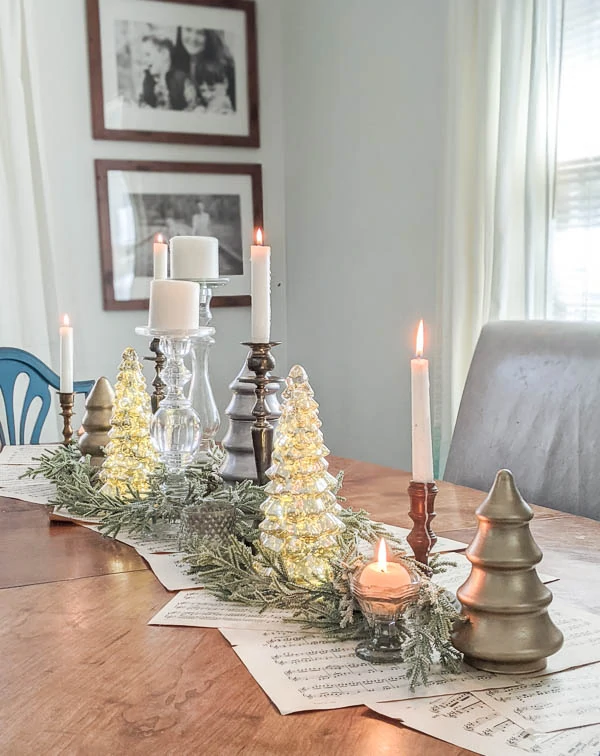 I added a few pretty glass Christmas trees. I upcycled several of these trees last Christmas from thrifted glass Christmas tree jars. Then I added a couple more light-up Christmas trees this year. (These are very similar.)
Finally I wove some simple garland between around everything to bring it all together.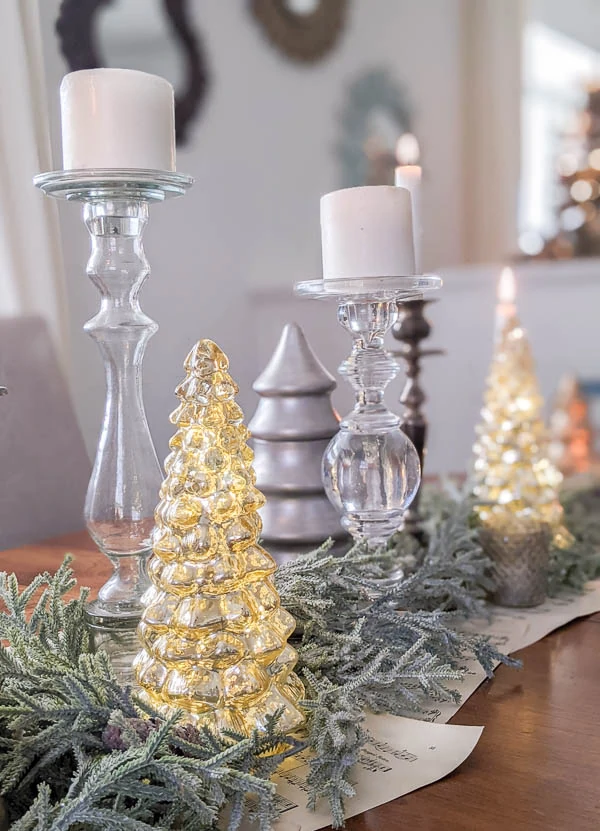 I think it looks beautiful and warm during the day. And it's even better in the evening with the candles all lit.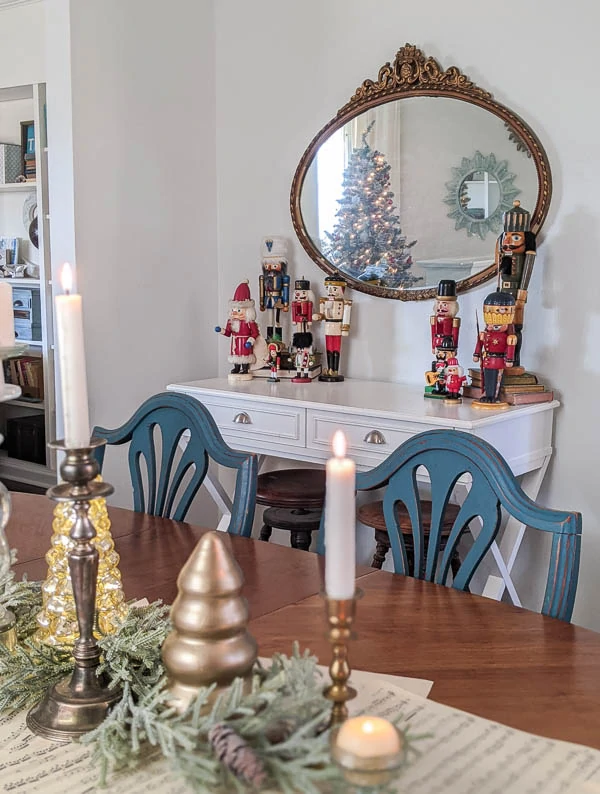 Next to the table I added some of my favorites from my husband's nutcracker collection. His grandmother started it when he was small and it's still going strong!
Christmas in the Family Room
And finally, the room where we spend most of our time – our family room. This is definitely the most important part of our Christmas decorations according to my kids – I mean, you really can't top the Christmas tree and the stockings.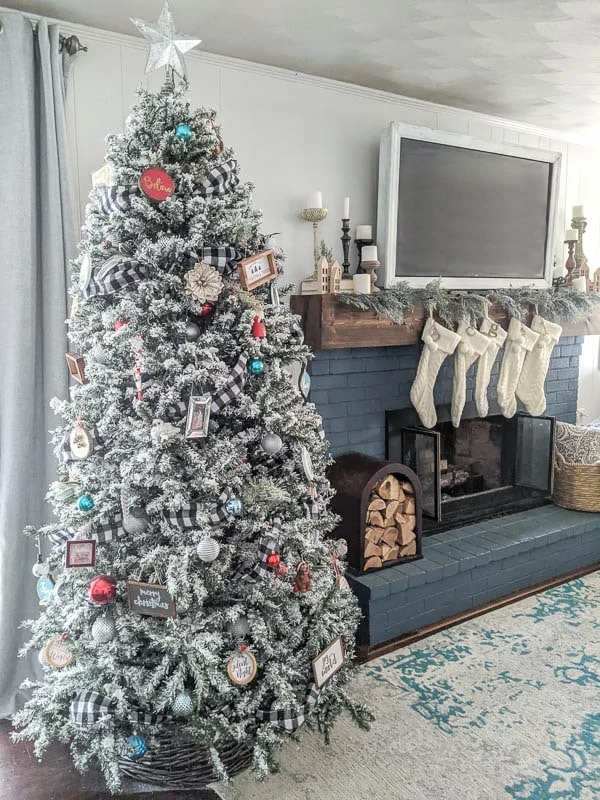 The Christmas tree I flocked six years ago is still going strong! You can read all about how to flock your own tree here. I did add a bit more flocking this year, but it still looks beautiful.
I didn't do anything fancy with the tree this year. I just added my favorite buffalo plaid ribbon and all of the ornaments we've collected and made over the years.
(If you're looking for ideas, I have dozens of DIY Christmas ornament how-tos.)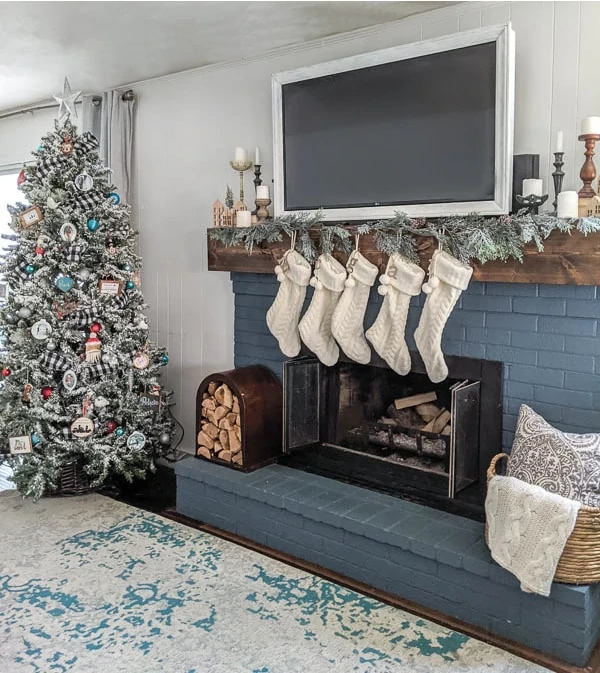 Our stockings are all hung and ready for Christmas Eve. The cute initial stocking tags are made from simple chipboard letters covered with my favorite silver glitter.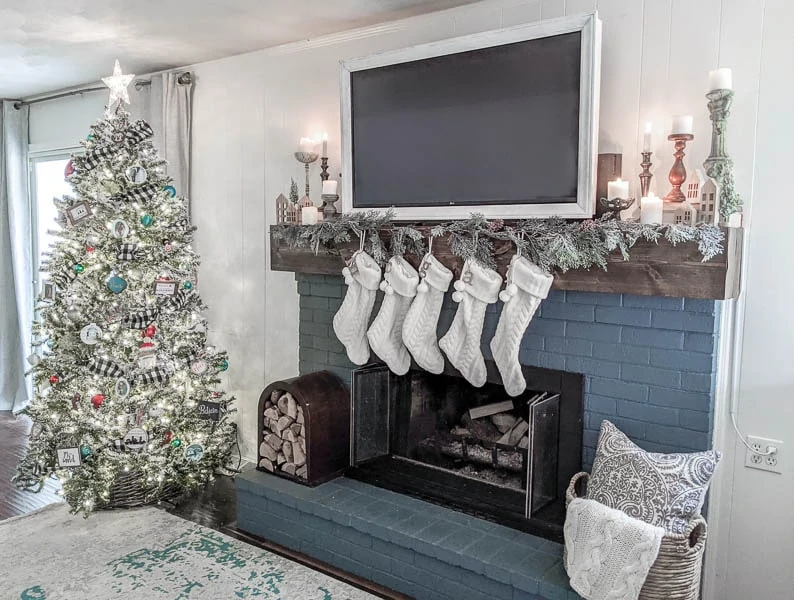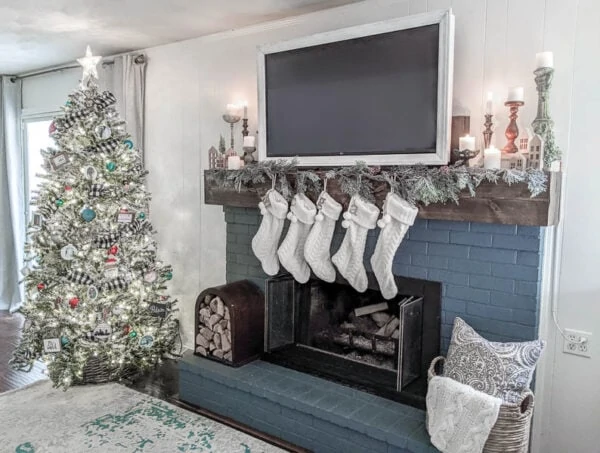 The rest of the mantel is not all that different from how it looks year-round. The collection of candlesticks are always there; I just added the garland and the little wooden houses.
And that's our Christmas home tour! My boys also have a small Christmas tree and a few dozen more nutcrackers in their room. But it's pure chaos in there, so I'll spare you the photos.
Thanks so much for letting me share my home with you! Now head to the links below to check out everyone else's Christmas decor. Seeing everyone's homes always gets me in the Christmas spirit!
I'd love for you to pin this post on Pinterest!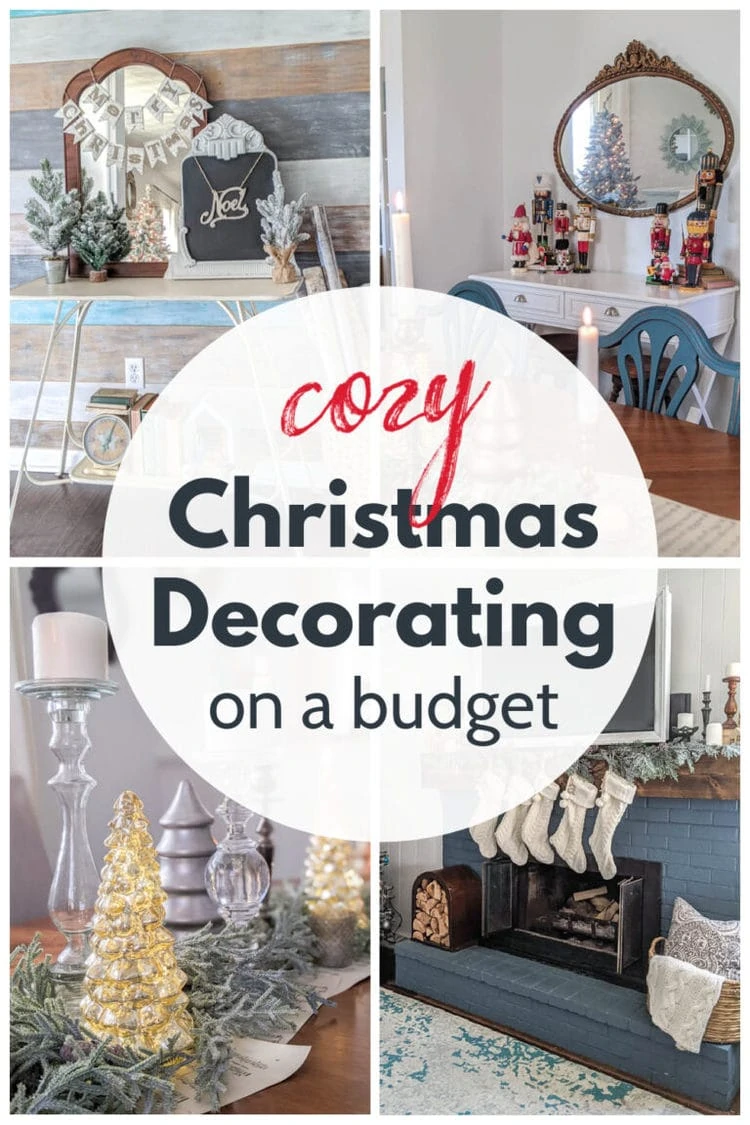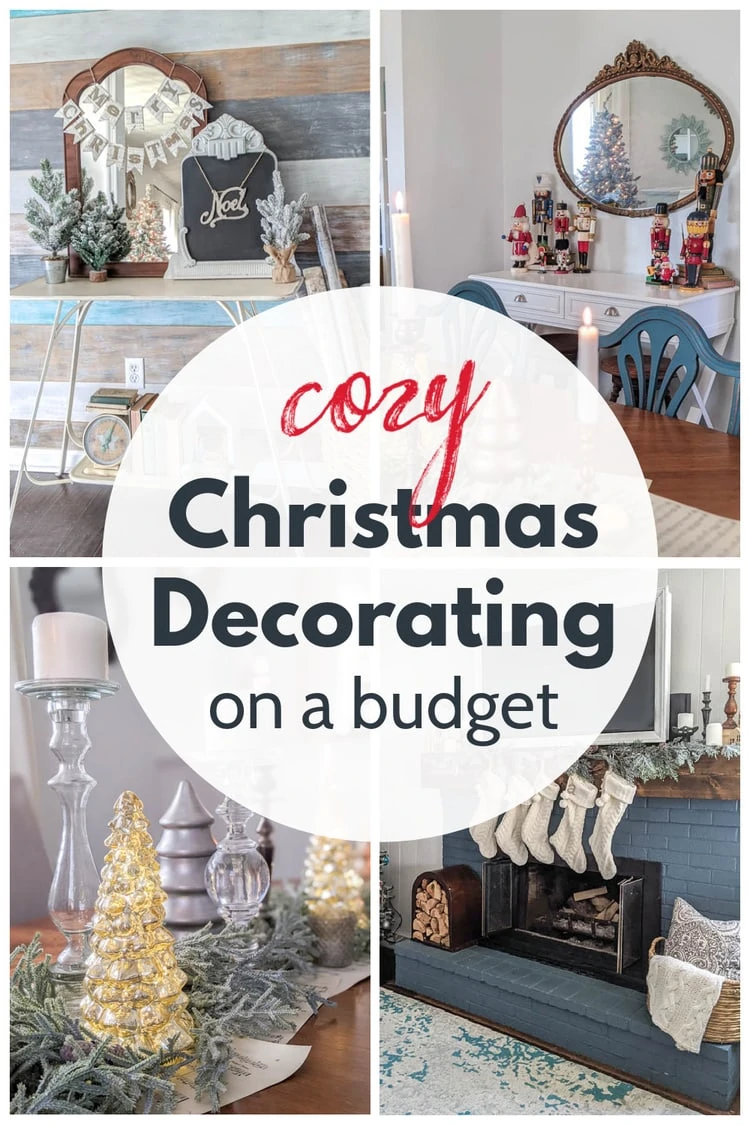 Merry Christmas!