Great places to find inexpensive cabinet knobs and pulls. Love these stylish hardware options for as little as a dollar each.
Kitchen cabinet knobs and drawer pulls are one of those little details of any kitchen that can completely transform a space.
I totally lucked out on the knobs and pulls for my kitchen cabinets.
A couple of years ago, I stumbled upon a yard sale that was full of cabinet and furniture hardware.
I'm talking boxes and boxes of it. The guy had apparently bought out a store's inventory at auction and he was selling them for fifty cents apiece.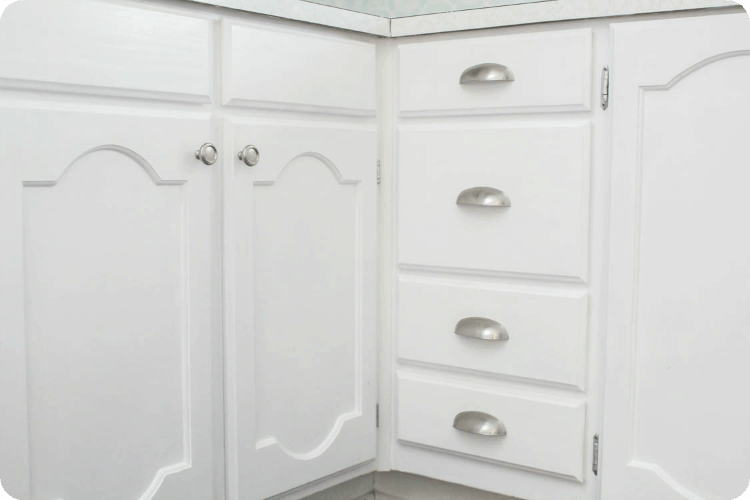 I may have gone a little crazy buying up hardware for future projects.
So when it was time to choose hardware for the kitchen, instead of hitting the hardware store, I just chose my favorites from my stash!
But what if you aren't lucky enough to find all of your cabinet hardware at a yard sale?
Luckily there are some other really great sources for inexpensive cabinet knobs and pulls.
And not the basic cheap-looking knobs you can find at any home improvement store, but stylish, beautiful hardware for only a couple of bucks per piece.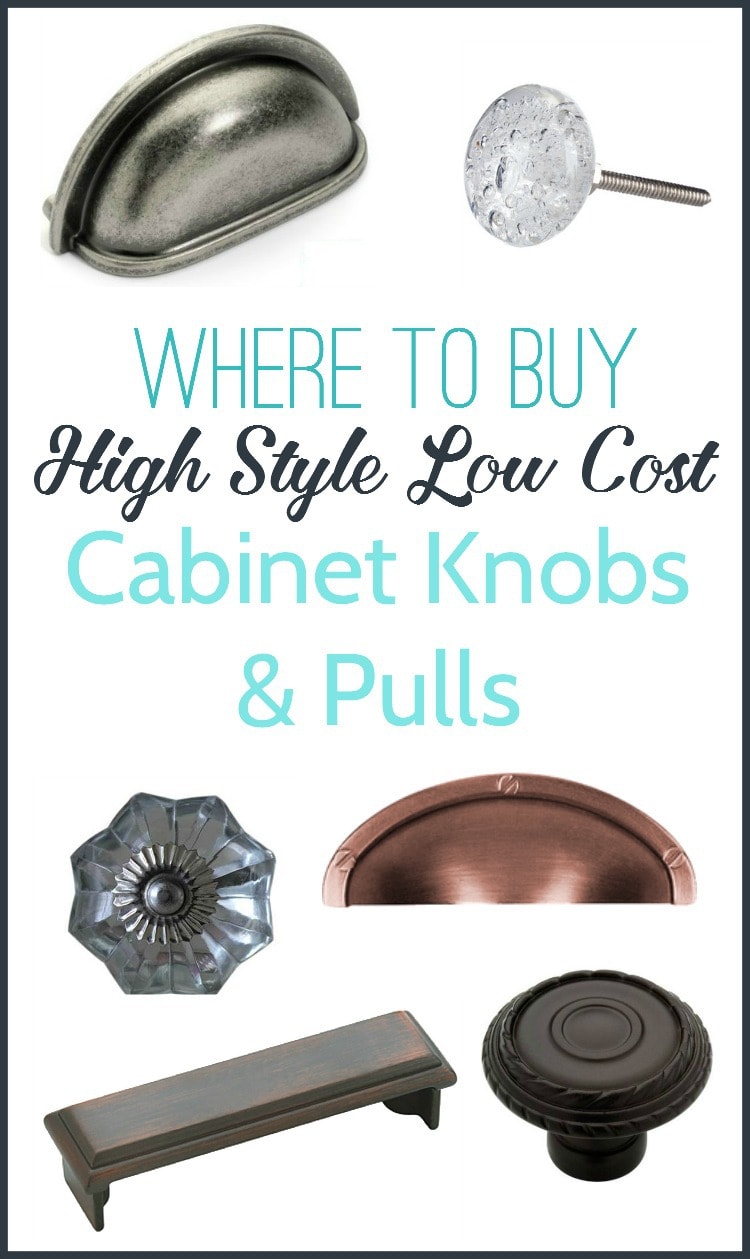 Some links in this post are affiliate links. See my full disclosure here.
Hardware from Amazon
It was only recently that I realized Amazon is actually a really great resource for inexpensive home stuff.
I mean, I knew they had everything; I just didn't realize they had good stuff.
I bought the sink and faucets for our bathroom there for a great price and it turns out they have great deals on hardware as well.
And as always, there is the added bonus of having plenty of customer reviews to help prevent you from buying something junky.
Hardware from D. Lawless Hardware
D. Lawless is a family run company that specializes in hardware. They have some great vintage styles like the glass knobs I used on my bathroom vanity.
And they always have reliably good prices.
Hardware from Hobby Lobby
Who hasn't wasted way too much time pawing through the aisle of knobs and pulls at Hobby Lobby? (Ok, tell me I'm not the only one please!)
Hobby Lobby always has a fabulous selection of unique and pretty hardware and even better, they are constantly having 50% off sales.
It can be hard to find enough of any one style in store, but you can order most styles online as well.
Hardware from Ebay
These days, much like Amazon, Ebay sells just about everything.
And not just used stuff anymore, there are tons of 'stores' that operate only on Ebay.
I popped over to see what their hardware selection was like and there were tons of options at super cheap prices.
Hardware from Habitat for Humanity ReStore
And I have to mention the ReStore. Most Habitat ReStores have cabinet knobs and pulls although you never know exactly what you will find there.
The prices are great, but of course the styles vary.
And I love the fact that shopping there helps enable Habitat for Humanity to continue building homes for families in need.
Did I miss any great hardware spots? I'm always on the lookout for new sources!
Check out all the posts related to our budget kitchen renovation below: