Painting your kitchen cabinets is one of the easiest ways to completely change the look and feel of your kitchen on a budget. These 30 beautiful painted kitchen cabinets include ideas for many different styles of cabinets painted with a whole range of gorgeous colors.
Painted kitchen cabinets are very popular and it isn't hard to see why.
A fresh coat of paint can make even the most dated kitchen look fresh and new in just a few days. It really is amazing how much painting your cabinets can completely transform your kitchen even if you don't change anything else in the room.
You can hire a professional to paint your cabinets, but I highly recommend painting your own kitchen cabinets as a DIY project.
Painting cabinets isn't a particularly difficult or complicated DIY and you will save thousands of dollars by doing it yourself rather than paying someone else.
But even if you decide DIY isn't for you, hiring a professional to paint your cabinets is still much more affordable than taking on a full kitchen remodel.
This post contains affiliate links which means if you make a purchase after clicking a link I will earn a small commission but it won't cost you a penny more. Click here to see my full disclosure policy.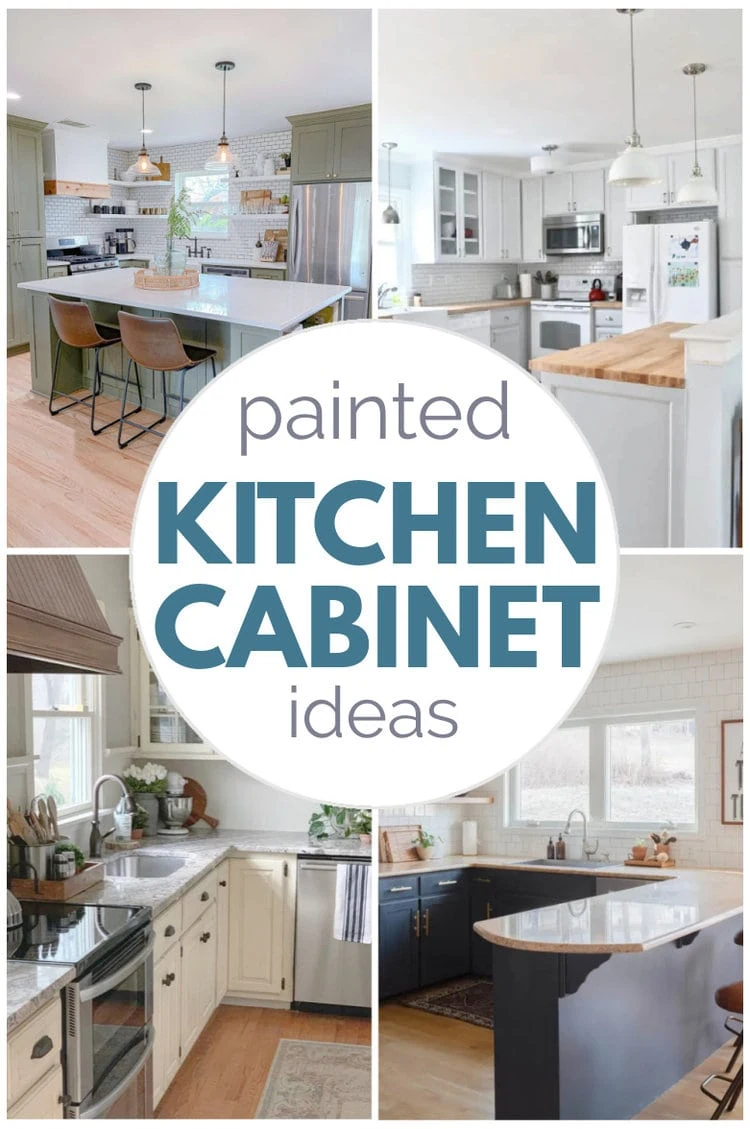 Before we get to all the beautiful kitchen cabinet inspiration, I want to share a few tips for choosing the right paint for your kitchen cabinets.
When you decide to paint your cabinets, you have two very important decisions to make –
What paint color to choose.
And what type of paint to use.
Choosing the best paint color for your painted kitchen cabinets
Choosing the right paint color for your kitchen cabinets is the fun part. But it can also be extremely intimidating.
Your kitchen cabinets are usually the biggest component of your kitchen. That's why painting them can completely transform your whole kitchen.
But that also means that the color you choose is going to have a huge impact on your finished kitchen so you want to choose a color you are going to really love.
Different paint colors can give the same kitchen a completely different feel.
White or gray might be perfect for that modern farmhouse look while a deep dark green or even black can give a more contemporary, sophisticated look.
The most popular colors for kitchen cabinets right now are white, gray, shades of blue, shades of green, and black. But that doesn't mean you can't choose any color you like – I've even seen pink kitchen cabinets that looked beautiful!
I've gathered kitchens with cabinets in a wide range of colors below to make it easier to see how different paint colors affect the look and feel of different kitchens.
Choosing the best paint for your painted kitchen cabinets
Just as important as the color is what type of paint you use to paint your cabinets.
Most of us use our cabinets every single day, opening and closing cabinets and drawers repeatedly, and all of that use can quickly destroy a poor paint job.
The biggest factor in making sure your beautiful paint job will last is using a high quality paint that is meant for cabinets. This isn't the time to grab some leftover wall paint and start painting.
The great thing about painted cabinets being so popular is there are now lots of great cabinet paints out there with new ones coming out all the time.
I haven't tried all the cabinet paints available, so I can't comment on all of them, but I do have two paints that I highly recommend for painting kitchen cabinets.
Both of these paints hold up well to moisture and regular cleaning, resist yellowing over time, and dry to a very durable finish.
My top paint picks for painting cabinets
Benjamin Moore Advance
Benjamin Moore Advance is a self-leveling, non-yellowing, paint that helps block stains. It is also low VOC, low odor, dries to a hard finish, and does not require a separate sealer. You will need to use primer before using this paint on wood cabinets.
General Finishes Milk Paint
General Finishes Milk Paint is actually an acrylic paint, not a true milk paint, and doesn't usually require primer. It is easy to work with, goes on smoothly, and dries to a hard finish. A separate sealer is not required, but it is recommended to use a sealer for high-traffic projects like painting cabinets.
General Finishes High Performance Topcoat is my top pick for sealing painted cabinets. I've used General Finishes Milk Paint + High Performance Topcoat to paint my bathroom cabinets as well as many furniture pieces and they have held up beautifully.
30 Beautiful Painted Kitchen Cabinet Ideas
To help you find the perfect cabinet inspiration for your own kitchen, I've gathered 30 painted kitchen cabinets in all different styles and colors.
From bright and bold hues to classic neutrals, there are painted cabinet ideas here for every type of kitchen.
This list is broken down into four broad color groupings: white cabinets, blue cabinets, gray cabinets, and green cabinets with a variety of cabinets in each color.
If you see a kitchen you love, just click the link to see the full tutorial as well as lots of before and after photos and more information about the specific type and color of paint used.
More DIY kitchen projects I think you'll like:
I'd love for you to pin this post on Pinterest!