I show you guys lots of pictures of the interior of our house and all of the projects I've taken on to make things homey and pretty. But you may have noticed I never show the front of our house.
The reason: it is super ugly.
We live in a 1970s brick ranch. It's in a great location, has plenty of room for us, and is on a quiet street.
But the house itself is definitely not my dream house. I've seen some really beautiful brick houses, but ours is not one of them.
We have an orangish brick with messy orangish grout. Yuck. There's a long concrete front porch with skinny white columns.
And let's not even get started on the lack of landscaping. (I am absolutely terrible with plants.)
I really haven't done anything about all of that. It was one of those things I was going to tackle someday when I had more time and money.
Ha! Does that ever actually happen?
Well, I finally decided it was time to do something about this house's curb appeal even if I had to start small.
So I decided to just focus on the front entrance. This is basically how our front entrance has looked for past, oh, 40 years or so.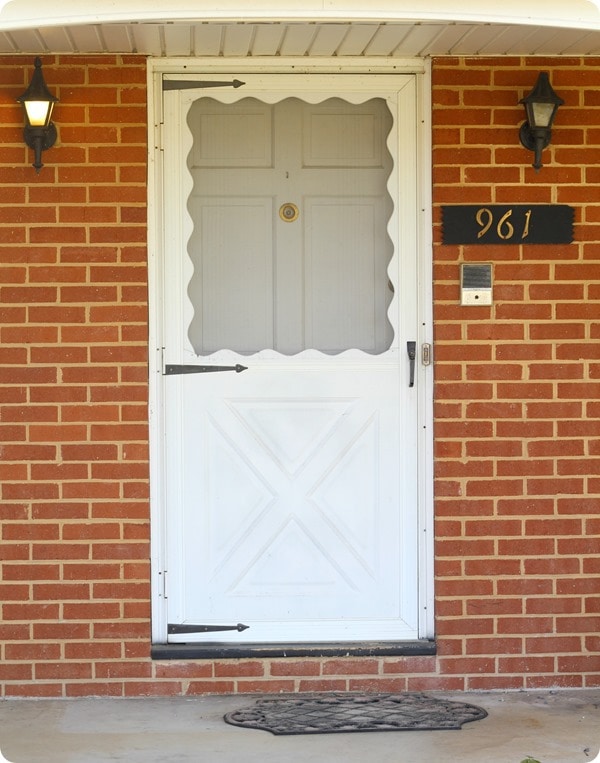 Pretty ripe for a makeover wouldn't you say! I wanted to change pretty much everything you see in that picture.
Unfortunately, the brick and concrete can't be changed right now, but I did manage to update everything else.
And as always I made it my goal to work a little magic here without spending a ton of money.
I've been slowly working to makeover our front entrance for the past year and here's how it looks now: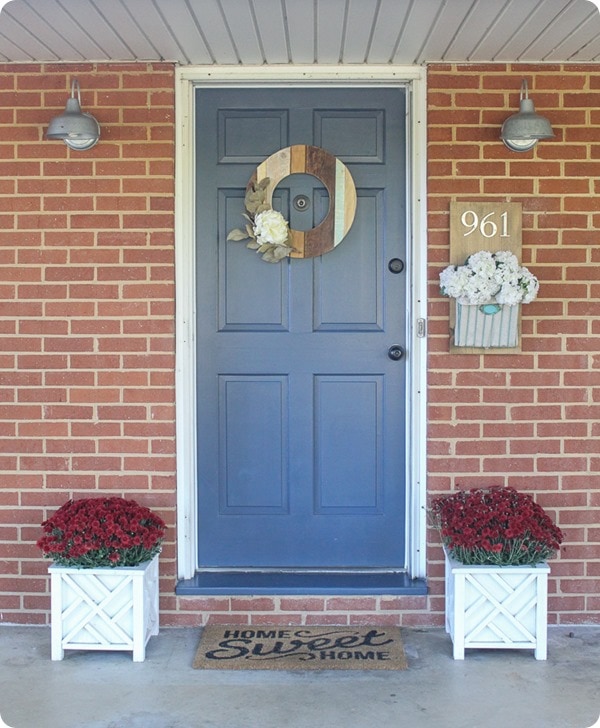 So much nicer and more inviting with just a few simple updates!
This post contains affiliate links. See my full disclosure here.
I removed the old storm door because it was hideous. I may replace it with a plain glass door at some point but for now, we really haven't missed it.
Choosing a color to paint the front door was very tricky. I knew I didn't want a white door anymore.
White is a perfectly nice color, but I wanted a front door with some spunk!
But that orange brick just doesn't play nice with a lot of colors. I wanted something that wouldn't clash terribly with the brick or accentuate its ugly undertones.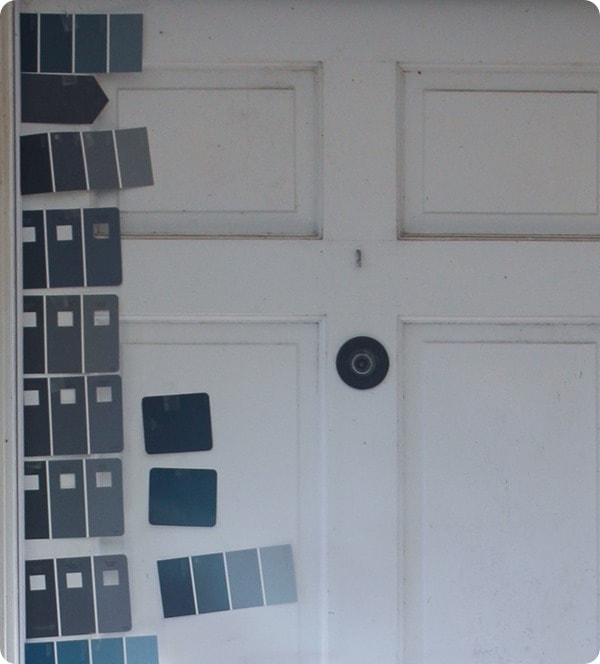 After trying many, many paint swatches on the door, I narrowed it down to a few navy colors and a few grays.
I got samples of each color and painted each one onto the door to see how they looked throughout the day.
This might seem like overkill, but it really helps make it obvious which color works the best.
Some colors were completely washed out when the full sun hits the door in the morning; others looked way too dark when the door is in shadows in the afternoon.
And some ended up blending right in with the oil-rubbed bronze hardware.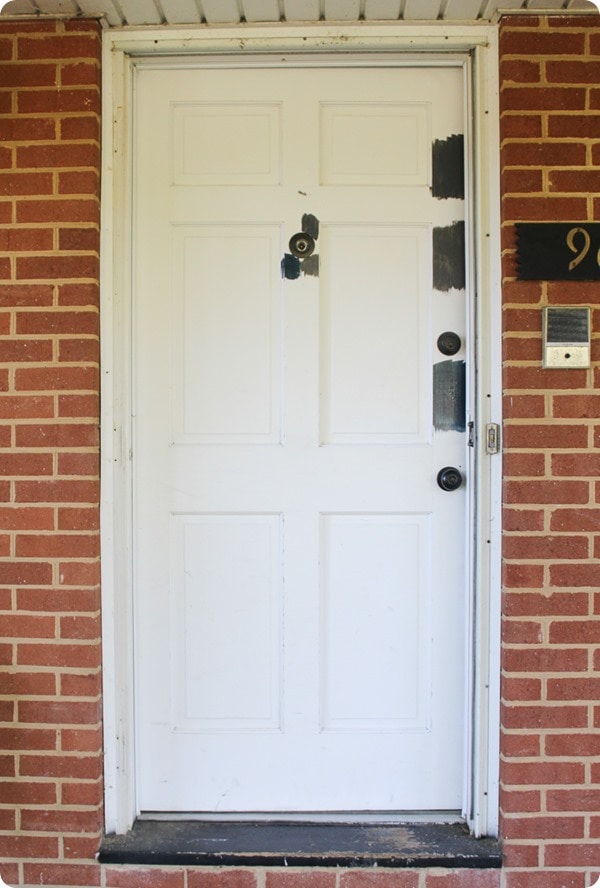 In the end, I painted the door using Valspar Pitch Cobalt in oil-based paint.
I knew the door was previously painted with oil paint and I decided to continue with oil because it gives such a hard, durable surface.
I also spray-painted the big brass peephole at the same time to match the doorknob we had installed several years ago when our old lock broke.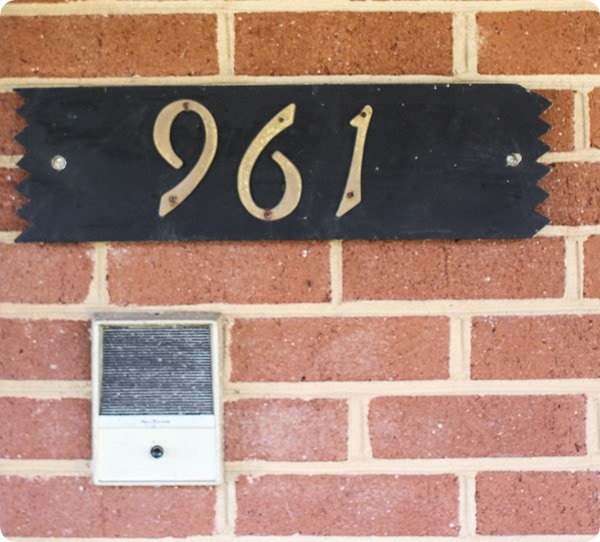 I removed the ugly old intercom speaker that was beside the door.
We absolutely never used it and as I shared here, we recently removed the intercom itself as well.
I was hoping it was installed on top of the brick but no such luck. We were left with a 6-inch hole that needed to be covered.
We used a small sheet of metal to seal off the hole and when I made my DIY house number sign, I made sure it would cover the metal.
I replaced the old black lights with a pair of galvanized metal lights I found for a steal at a yard sale. (They are originally from Home Depot and are really affordable brand new as well.)
I also lucked into finding those white planter boxes at a yard sale for $5 each. Woo-hoo! (This is why yard sales are my favorite!)
For now, I put some pretty mums inside. Fingers crossed I can keep them alive until the end of the fall season at least!
And to finish things off, I added my new DIY reclaimed wood wreath to the door and put out a cute new door mat.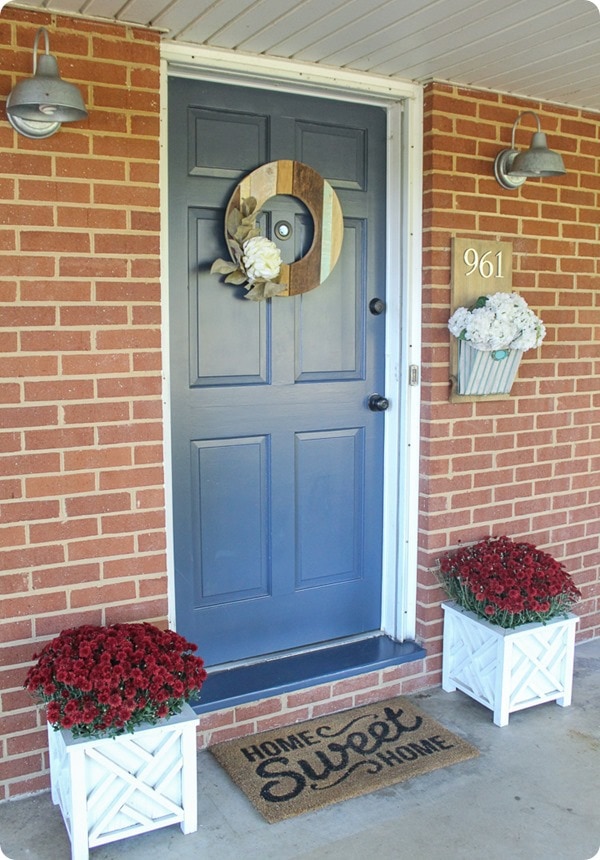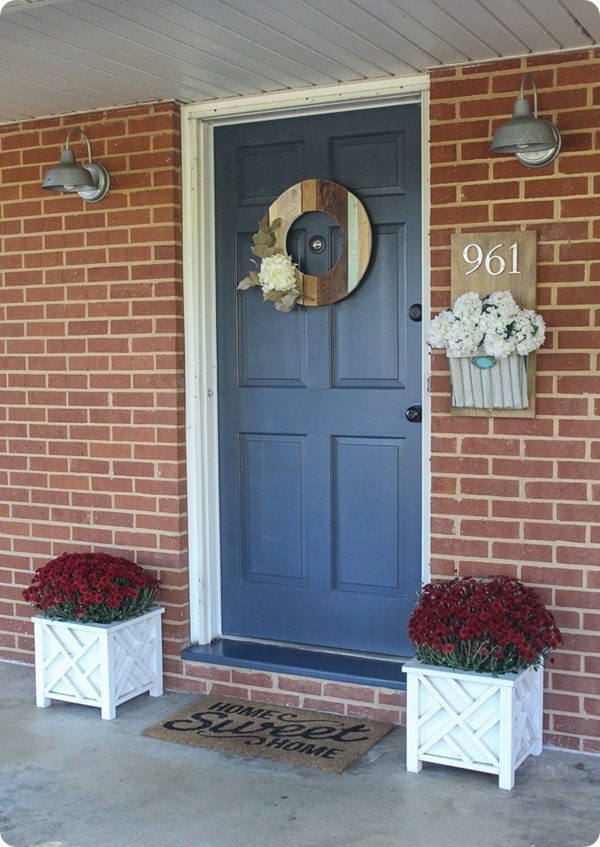 The brick is still ugly, the landscaping is still scary, and as you can see, there is still the rest of this crazy long front porch to deal with. (This pic just shows half of it!)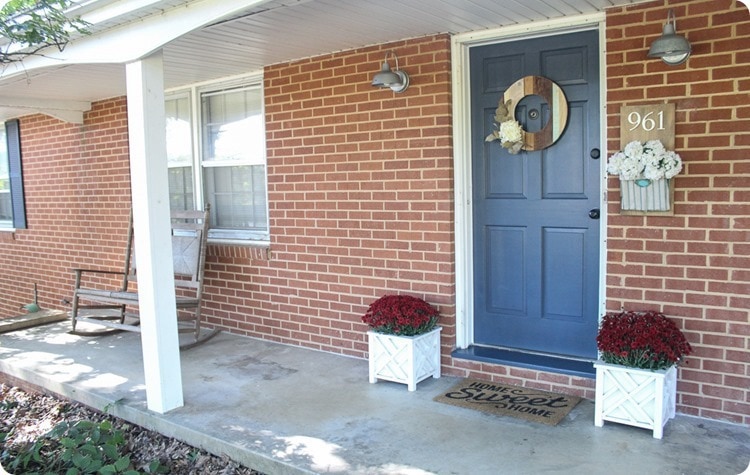 But the front door is finally fresh and inviting and it looks like a house you might actually want to go inside.
Always a good thing!
Next step, clear out all the overgrown bushes, pressurewash the concrete, and figure out what else to put on the porch to make it look a bit less bare.
Got any ideas for me?
In the meantime, here's a breakdown of the budget for everything I've accomplished so far:
Front door paint: Valspar Pitch Cobalt $30
Oil rubbed bronze spray paint for peephole: $6
Galvanized lights: found at a yard sale new in box for $13, you can also find them new here for a pretty sweet price
White planter boxes: from a yard sale, $10
Burgundy mums: $8
Home Sweet Home door mat: from Target, $11
DIY address sign: I already had everything except the actual numbers on hand, $7 (tutorial here)
DIY wood wreath using scrap wood: $0 (tutorial here)
Grand Total: $85
Pretty sweet for such a huge change!