Hi friends! You guys know I am all about creating a home you love without spending a lot of money. Furniture is definitely one of the biggest expenses when it comes to creating a home you love. And my absolute favorite trick for finding affordable furniture is buying it second hand. There are so many gorgeous pieces out there just waiting for some love and updating. Most of the time, I end up painting or refinishing my used furniture finds but every now and then I've even been lucky enough to find something gorgeous that doesn't need to be redone. Either way, I've learned quite a few tricks over the years for finding great stuff at absolute rock bottom prices.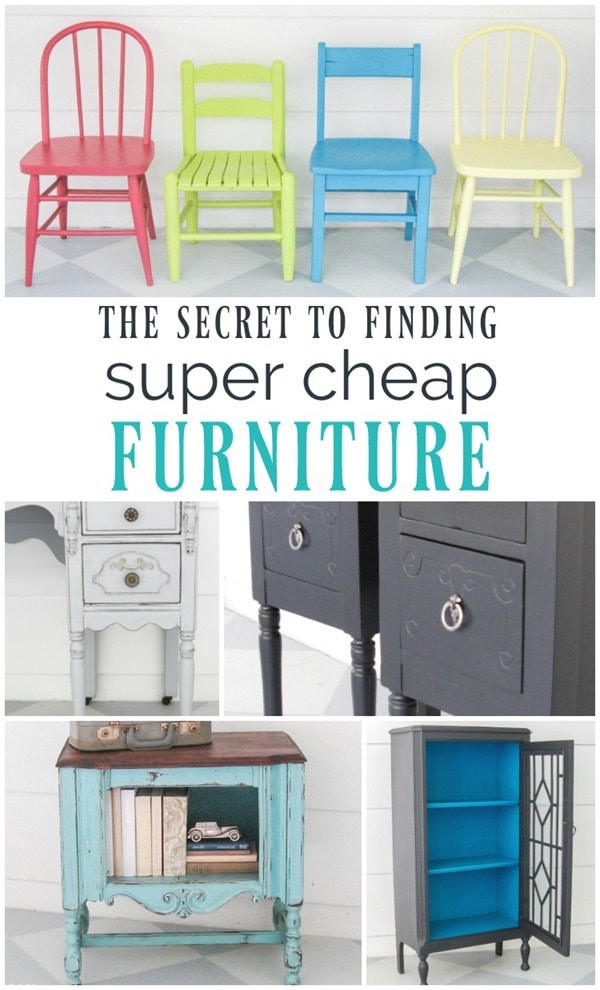 Where can you find great furniture pieces?
There are a few key places to look for good used furniture.
Estate Sales – An estate sale is a sale in someone's home that typically takes place when they have either passed away or are moving to a nursing home/assisted living situation. Estate sales usually involve selling years and years of accumulated stuff so they are much bigger than your typical yard sale. They can be run by a professional company or by family members. There is usually lots of furniture for sale at estate sales, especially good wood furniture like dressers, tables, beds, etc. Prices vary a lot. Sales run by professionals are usually more expensive than those run by family, though they often have 25-50% sales the second day. Always try to get there early because often the best stuff gets gone pretty quickly. Personally, I often find the best stuff at estate sales in the basement/garage. That's where they typically put all of the older furniture that needs a little TLC and it is priced pretty cheaply. If you do find something great at an estate sale, remember that it's okay to try to haggle on the price. They may or may not come down, but a little bargaining is usually expected.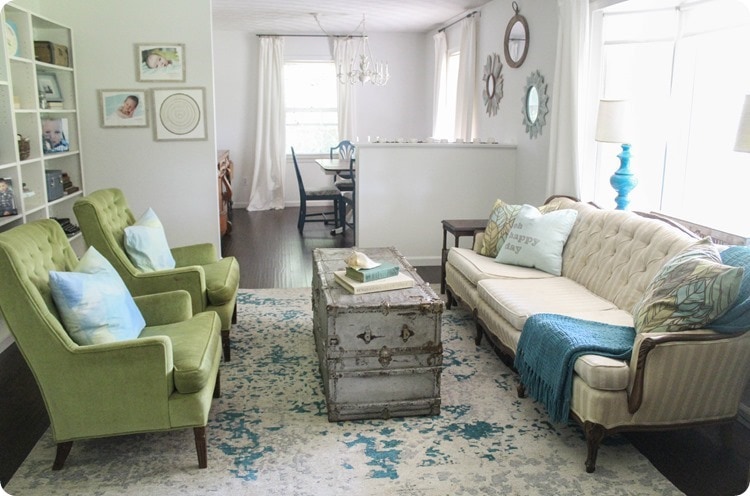 green chairs from yard sale $30, antique trunk from yard sale $40, couch from thrift store $69
Yard Sales/Garage Sales/Moving Sales – Whatever you want to call it, we all know this is when people try to sell some of the excess stuff they no longer need. Yard sales take a little more work and planning. You really need to get up early and get to the sales soon after they start. Just like at estate sales, the best stuff gets sold quickly. But because you have to actually get up and show up to a yard sale, the pool of potential buyers is pretty small. (Anyone can sit on their couch browsing Craigslist for furniture, but not everyone is going to get up and head out to yard sales.) Most people are pretty motivated to get rid of their stuff at yard sales so this is where I always find the absolute lowest prices. It takes more patience, but you can really strike gold.
Thrift stores – Some people find amazing furniture at thrift stores, but I've found it to be pretty tough. There are lots of people looking for bargains at thrift stores so when I do find something fantastic, it is usually already sold. Also, some thrift stores have really great prices while others don't. It's definitely checking out your local thrift stores to get a feel for how they price and how quickly things sell.
table from thrift store $30, 6 chairs from yard sale $20
Craigslist – Craigslist has been one of my favorite places to find great furniture pieces for awhile. You can search for exactly what you are looking for, see pictures, and haggle about the price all without ever leaving your home.
Facebook – Facebook is my new favorite place to buy beautiful used furniture. Buying/Selling groups have been around on Facebook for awhile and now there is also the Facebook marketplace. Facebook does basically all of the same things as Craigslist – you can search, see pics, etc. But there are also a few other advantages. It is really easy to message sellers about items you're interested in right from Facebook. Also, you can ask Facebook to let you know when something you are looking for is listed. Facebook also seems slightly safer than Craigslist since nobody is posting things anonymously. (Of course, always take safety precautions when meeting strangers to buy/sell regardless.)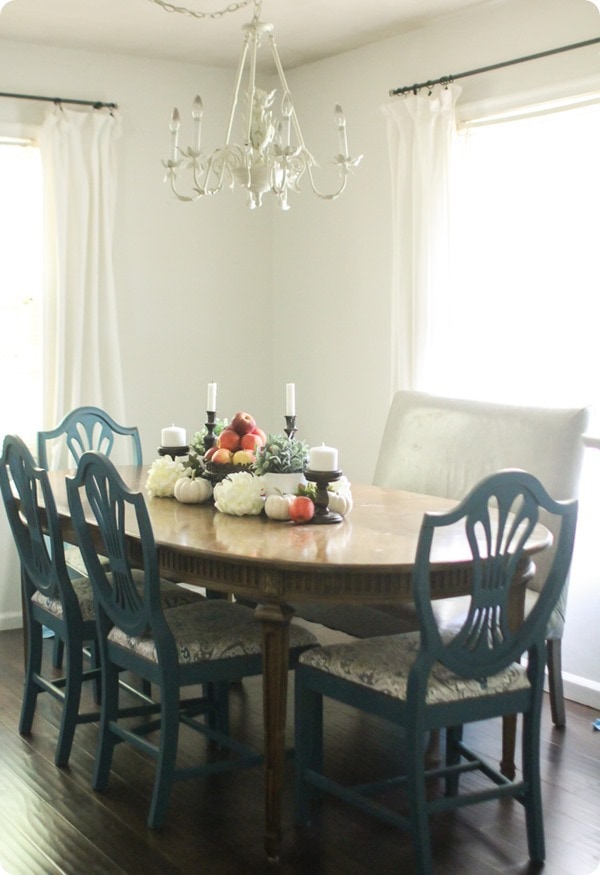 table with 2 leaves and 6 chairs, $50 on Facebook
Tips for getting the best furniture
Regardless of where you find your furniture, there are a few things to keep in mind.
Whether you are shopping at a sale or online, if you do find something you like, don't hesitate too long before purchasing. Really great pieces at low prices get sold very quickly, especially online. Take a few minutes to make sure the piece is going to work for your needs and then make an offer.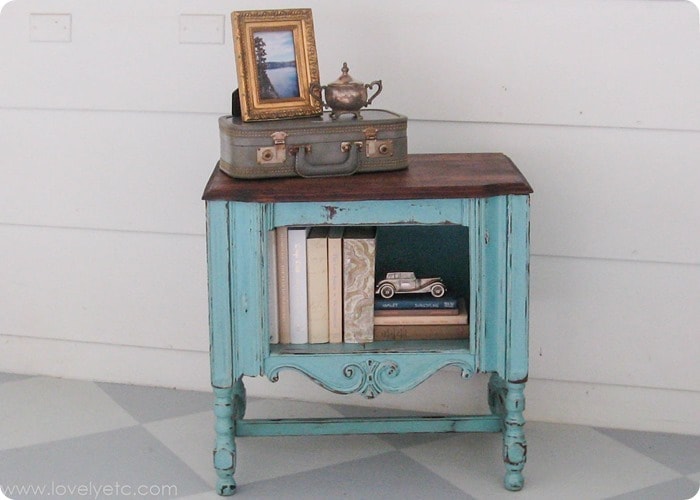 cabinet from yard sale $5 (painted here)
In pretty much any used furniture buying situation, haggling for a lower price is acceptable and usually expected. The seller may or may not lower their price, but it doesn't hurt to try. (If you aren't sure how to haggle, I have a simple method right here.)
Cash is king. Unless you are buying at a thrift store, you're going to need to be prepared to pay with cash.
Always check dimensions. If you are buying a piece for a particular room in your home, double check that the great furniture you've found will fit in the space.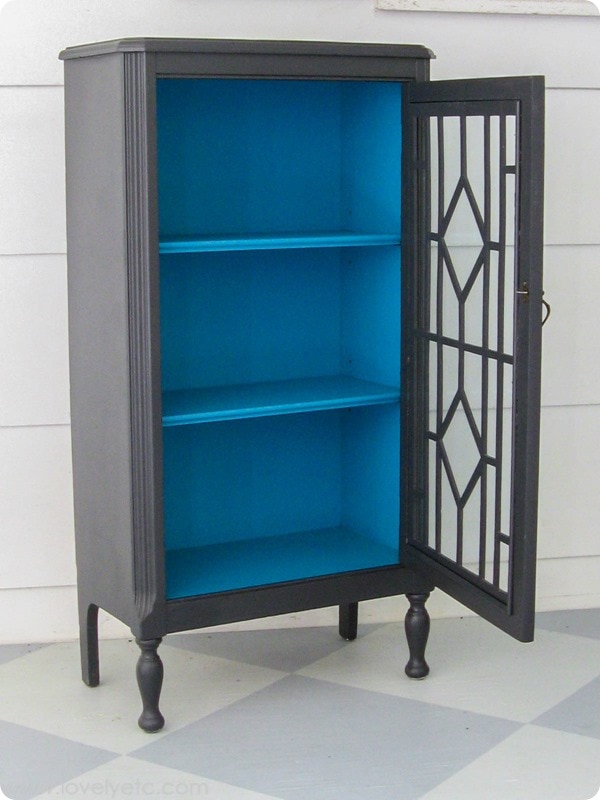 cabinet from yard sale $10 (painted here)
Look for solid wood pieces in need of a little TLC. Wood furniture is easily transformed with paint so try to look past ugly finishes. Just double check that any drawers open smoothly and nothing is totally falling apart.
Be patient. You probably aren't going to find the perfect table and chairs for dirt cheap, the first time you search online. Just know the top price you are willing to pay and keep looking; eventually you will find something great.
[embed_popupally_pro popup_id="28″]
Happy furniture hunting!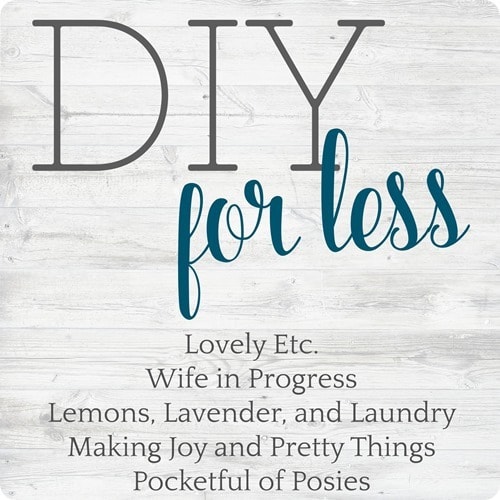 Ready for some more great budget furniture tips and projects? (Um, of course!) Check out the other fabulous ladies who love to DIY for less at the links below.