Everything you need to turn a printable calendar into a reusable dry erase calendar. This is a great way to get a forever calendar that never has to be replaced, but looks a million times cuter than the generic dry erase calendars from an office supply store.
I'm a huge fan of a good reusable wall calendar. I've made and shared several DIY reusable calendars over the years including this upcycled calendar I used for many years.
But I found that other people didn't really love the idea of having to draw their own calendar grid to make a reusable calendar. So this year I decided to make a printable version.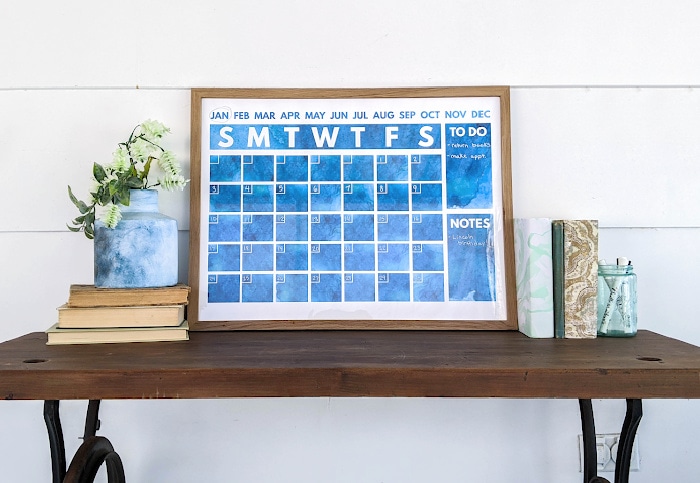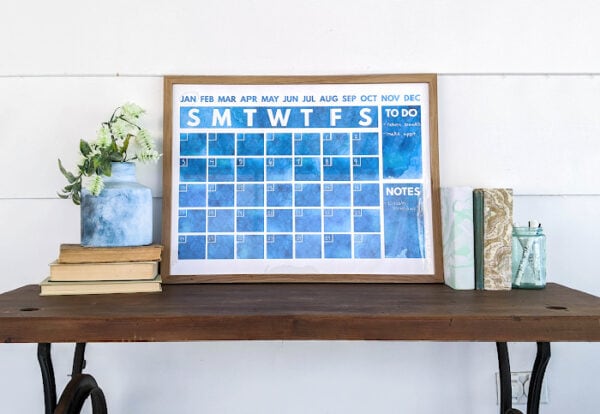 And once I got started, I just kept going. I ended up making three different printable reusable calendars and I absolutely love how they turned out. There are two different watercolor calendars: a light blue version and a darker blue version. (You guys know how much I love blue!)
And there's also a clean, simple black and white version for those who prefer a more modern look.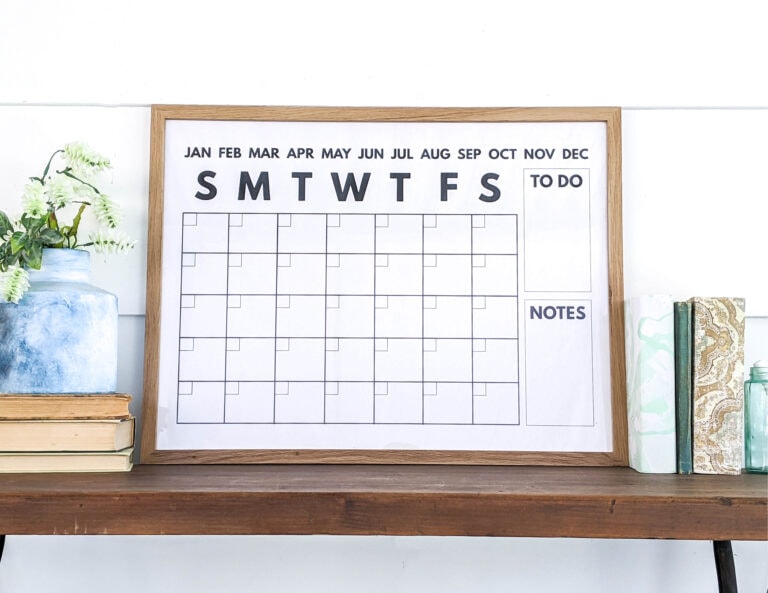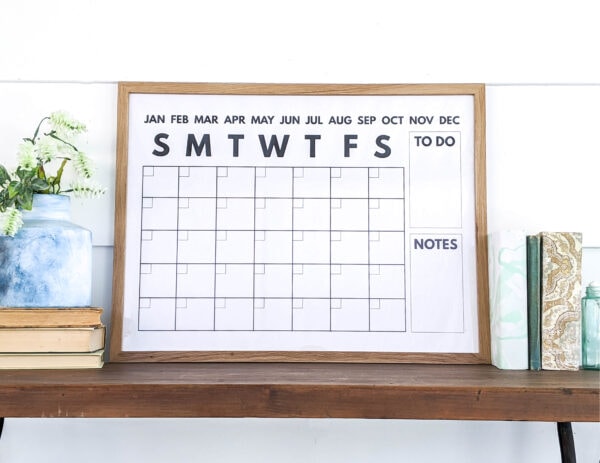 All three printable calendars are available in my newly revived Etsy shop and today I'm sharing everything you need to know to get your calendars printed, framed, and ready to use for the new year. This is a really inexpensive way to put together a gorgeous reusable calendar that you can use month after month, basically forever!
Each of these calendars could be printed out on regular copy paper to use in a planner, but they really shine when you have them printed nice and big and make them into a beautiful reusable wall calendar.
Did you know that you can turn any blank calendar into a reusable dry erase calendar by popping it in a frame? It's such a smart way to get a gorgeous calendar that you can reuse year after year.
I framed the dark blue calendar to use in my home office (which is the next room I am planning to work on). These would also be great printed nice and large for a family command center, a homeschooling space, or a meeting room. Basically anywhere you have a lot to keep track of.
And for even more organization help, I also recently created a set of free printable meal planners that coordinate perfectly with these calendars.
This post contains affiliate links which means if you make a purchase after clicking a link I will earn a small commission but it won't cost you a penny more. Click here to see my full disclosure policy.
Printing Your Calendar
When it comes to printing your calendar, you have a few different options.
Of course, you can always print your calendar on your home computer, but if you are going to print it in a larger size, you will need to have it printed at a print shop.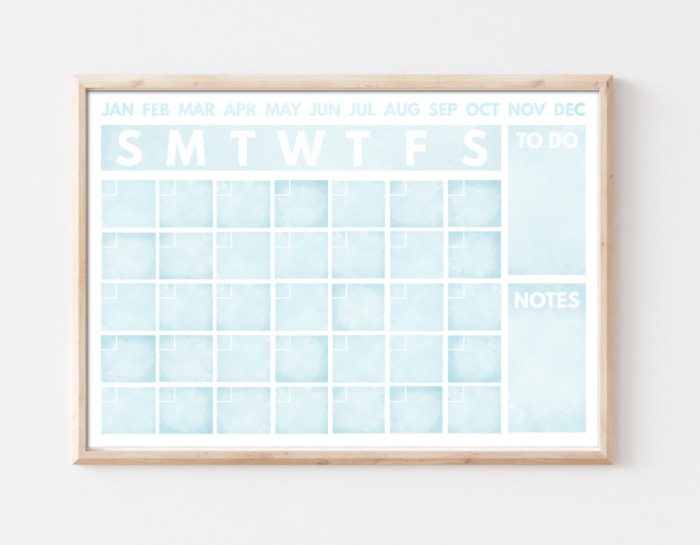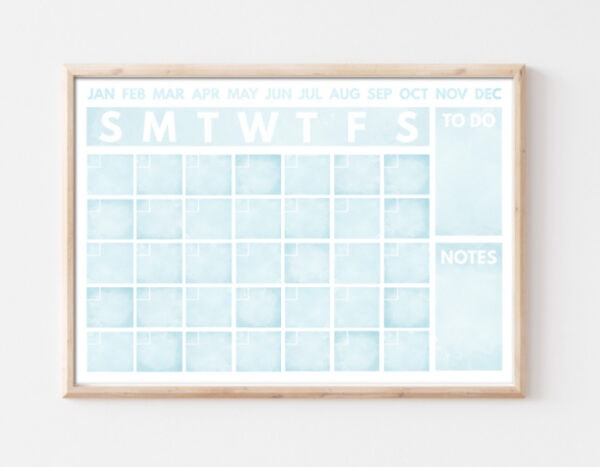 Engineering Prints or Blueprints
The cheapest way to get anything printed in a larger size is to have it printed as an engineering print or blueprint. These are printed on very thin paper and come in either black and white or full color prints. Blueprints come in sizes ranging from 18″x24″ to 36″x48″.
I had all three calendars printed at Staples in the 18″x24″ size.
They printed the black and white and light blue calendars as blueprints no problem for less than $5 each, but they weren't able to print the dark blue calendar as a blueprint because it would have used too much ink.
The quality of the design of both blueprint calendars was great and the images were crisp, but the paper is extremely thin and wrinkles very easily. If you do print your calendars as engineering prints, be extra careful with them and frame them as soon as possible.
Poster Prints
Another option is to print your calendar as a poster print. When Staples told me they couldn't print my dark blue calendar as a blueprint, I had it printed as a poster instead. The poster is a bit more expensive, but the difference in quality is immediately apparent. The paper was much thicker and more durable than the blueprints.
You can also have posters printed at other copy and print shops as well as many photo shops. I have had several posters printed at Walgreens and CVS in the past and they often have sales going.
Note: I had each these calendars printed as an 18″x24″ print so I can vouch for the quality up to that size. They would probably print well in sizes much larger as well, but I cannot guarantee those results.
Framing your Calendar
You'll need a good frame to turn your printed calendar into a reusable dry erase calendar.
If you are near an IKEA, they always have great prices on large frames and there are also lots of nice options at Michaels and Hobby Lobby, especially when they have a sale going on. I bought this wood frame from Target for my own calendar.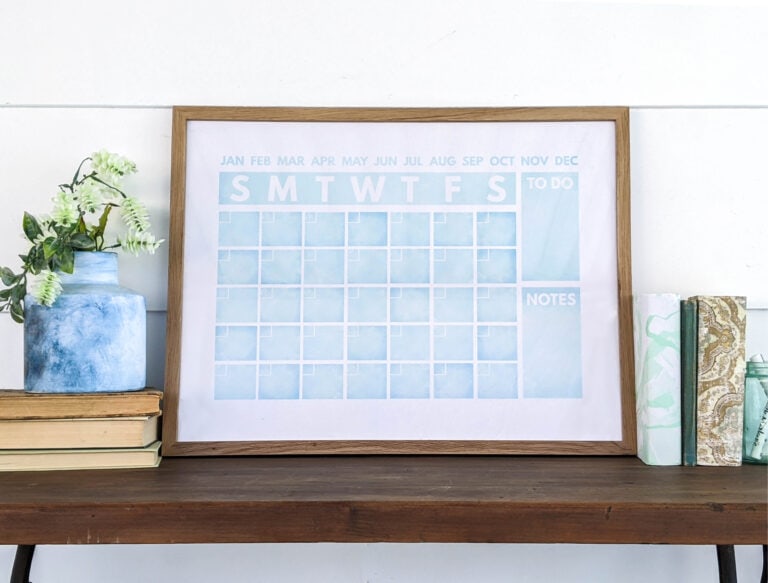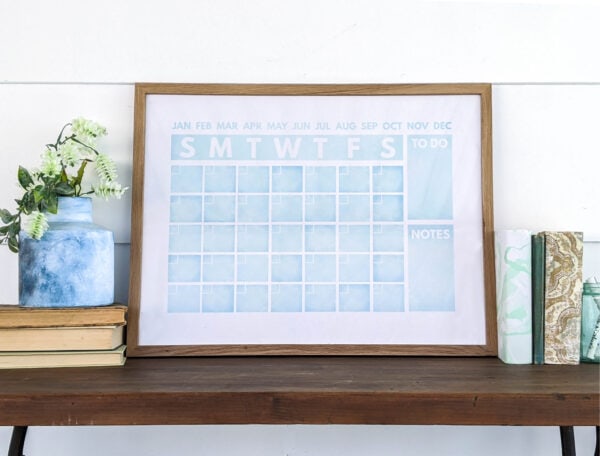 Writing on your Calendar
You can write on your glass frame with fine tip dry erase markers or chalk markers. Both write smoothly on glass and erase easily. Most of us are pretty familiar with dry erase markers – you write with them just like any other marker and them wipe them away to erase them.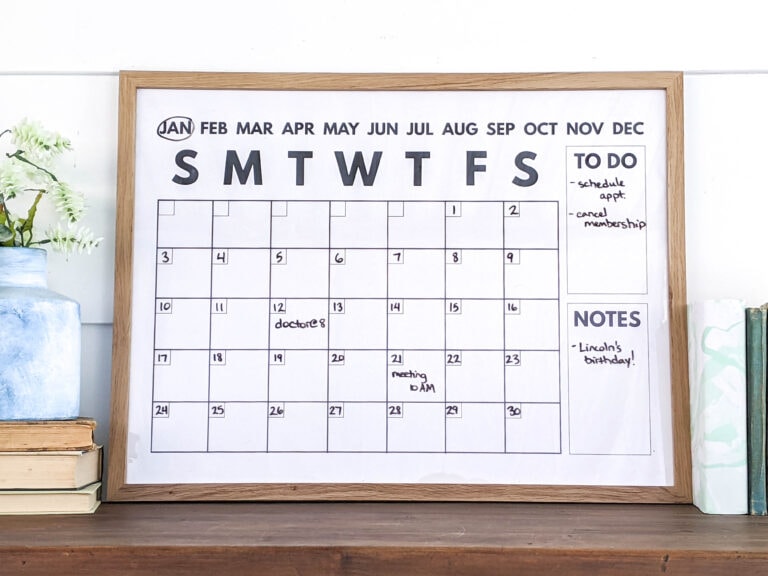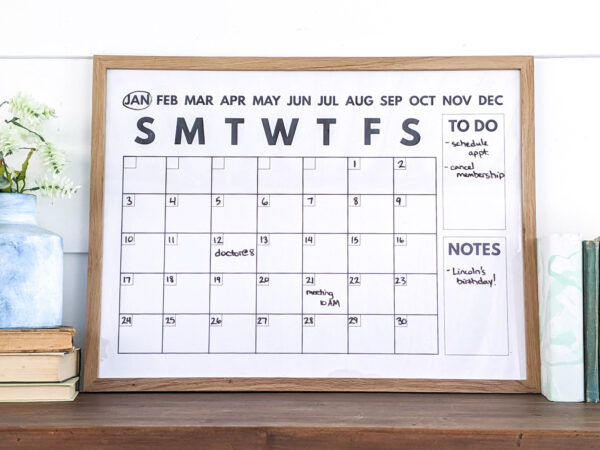 Chalk markers are similar, but once they dry, they don't wipe away if rubbed. Instead, chalk markers can be erased with a damp paper towel. This is nice because it keeps your calendar from getting smudged whenever you write on it throughout the month. Chalk markers come in classic chalk white, but you can also get them in a range of other colors.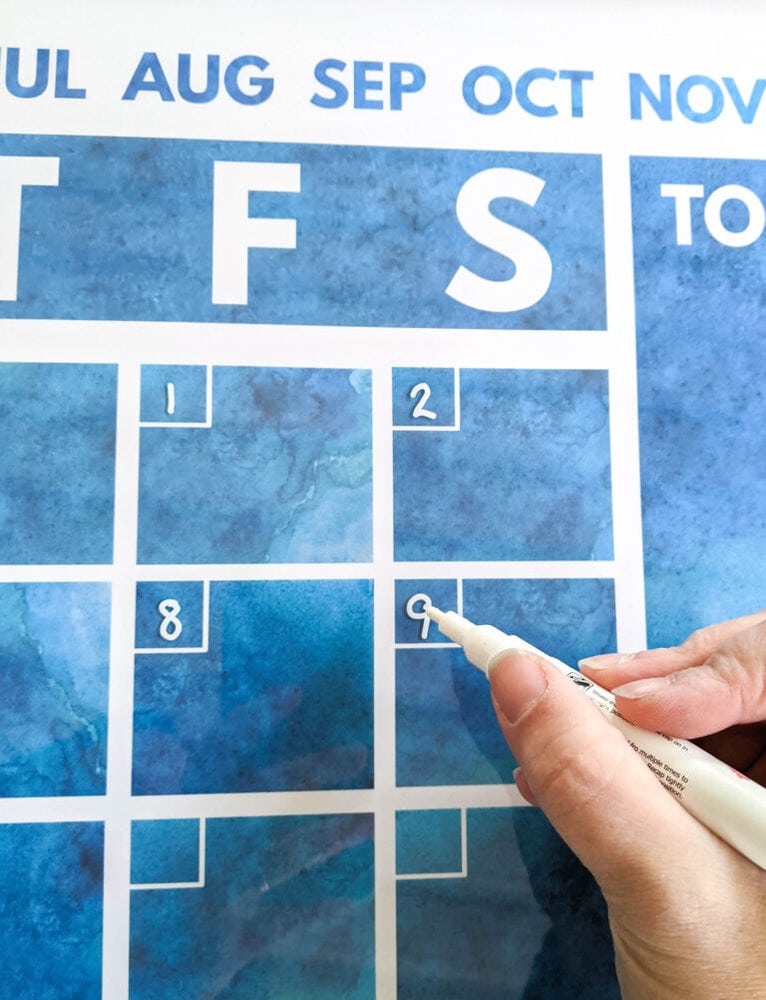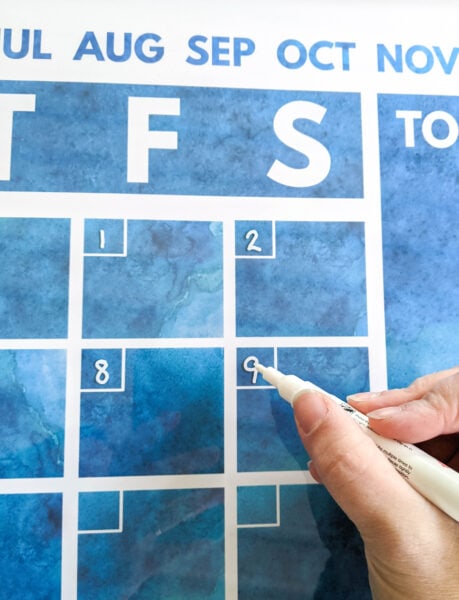 White chalk markers look beautiful against the dark blue watercolor calendar. And I also like the subtle white against the light blue, although a black dry erase marker would also work well.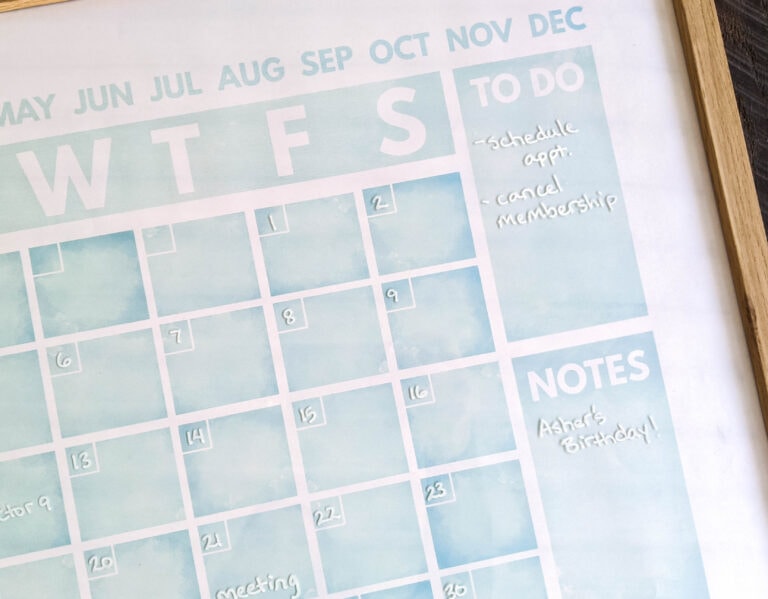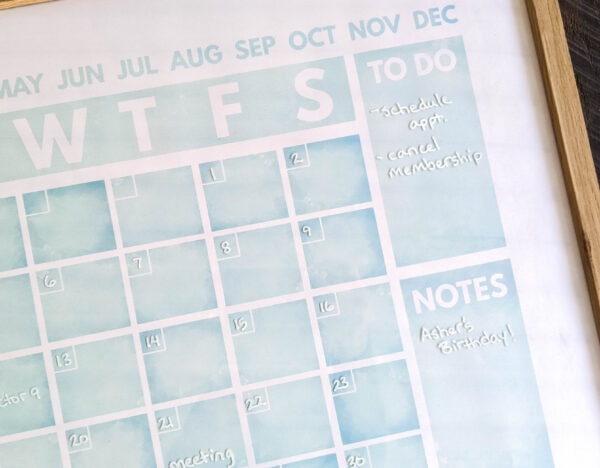 And now that I've got my killer calendar all ready to go, I'm definitely feeling more excited about getting my home office put together. (You can see a tiny sneak peak of the upcycled desk I built for the space in these photos. I'll be sharing more on that soon!)
If you are interested in grabbing one of these reusable calendars for yourself, you can find them all here in my Etsy shop.
And I also have a really cute free 2021 printable calendar, if that suits your needs better.
I'd love for you to share this post on Pinterest!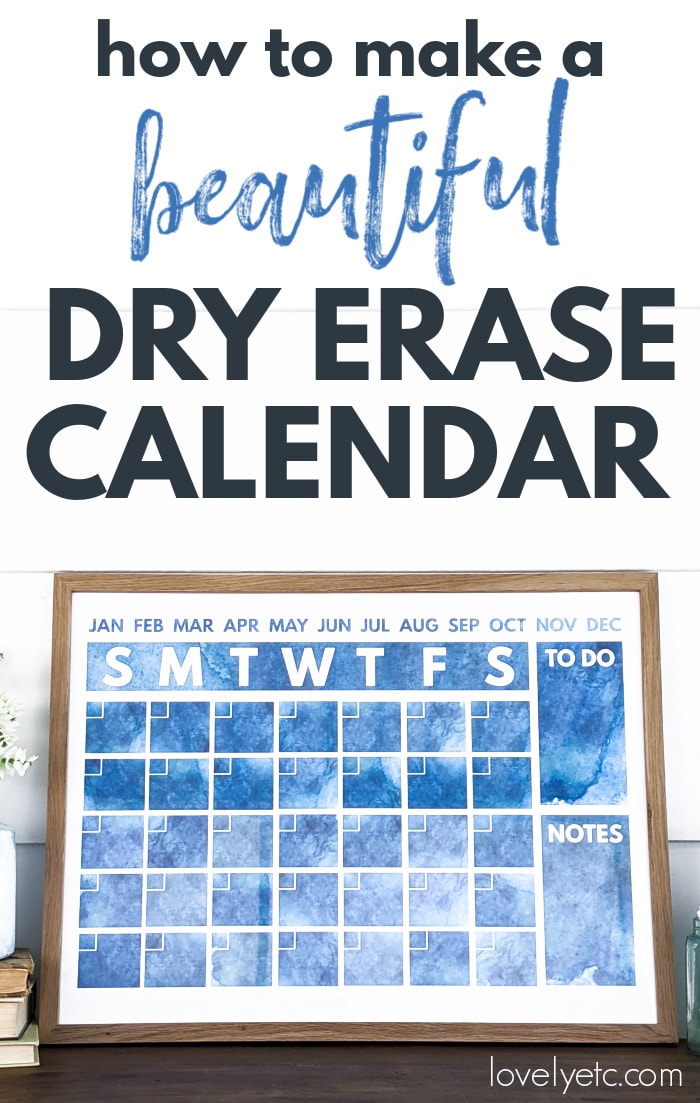 Here's to a great year!