I'm sharing four free printable meal planners that are stylish enough to display in your family command center.
I have an on-again off-again relationship with weekly meal planning. Sometimes I'm great at it and sometimes not so much. But I know my week always goes more smoothly when I take the time to do some planning before the week begins.
I designed these menu planners with a clean, simple design with lots of space to plan out your meals for the week. I usually only plan for dinner, but there's enough room to add breakfast and lunch plans in each block if you prefer.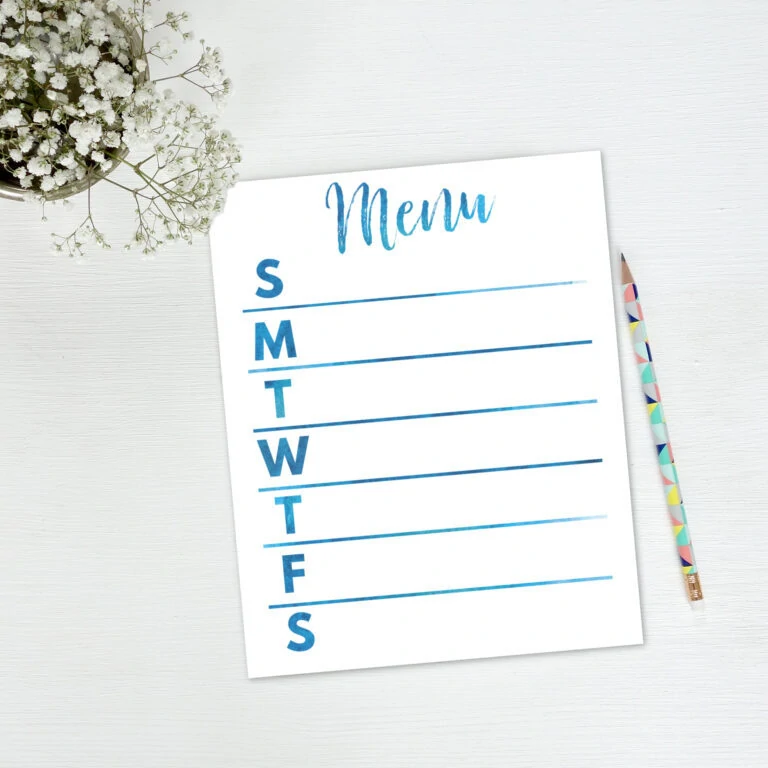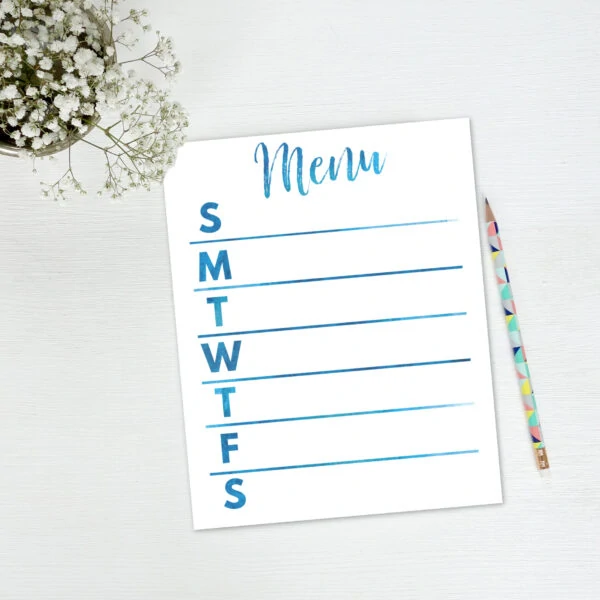 This post contains affiliate links which means if you make a purchase after clicking a link I will earn a small commission but it won't cost you a penny more. Click here to see my full disclosure policy.
There are four different printable menu planners for you to choose from; they each have the same layout but with four different looks. One is a very clean, simple black and white menu planner. Two are colorful watercolor designs in light blue and dark blue. And the final menu planner is a simplified blue watercolor design with a white background.
These meal planners would look beautiful as part of a family command center, framed somewhere in the kitchen, or even in a magnetic frame on the fridge.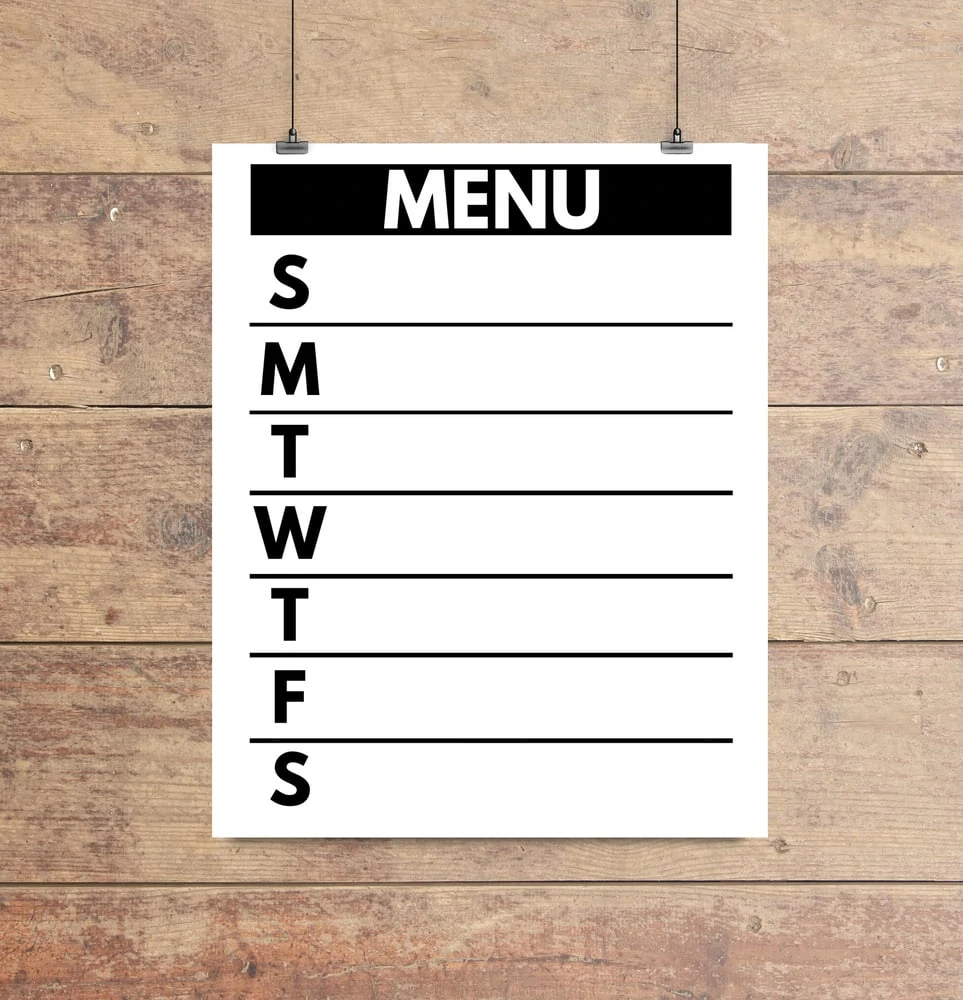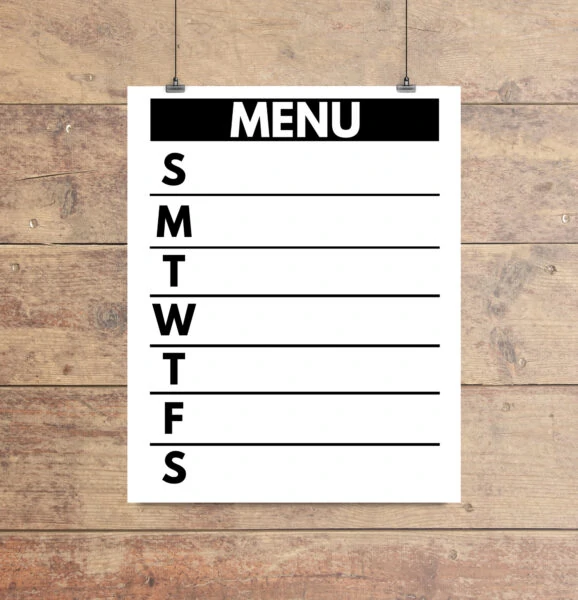 You can print a new weekly meal planner each week to add to your planner or stick on your fridge. If you are planning to print these weekly, I would recommend using one of the two menu planners with lots of white space to save on ink.
Or you can print out your meal planner just once and turn it into a dry erase menu planner that can be reused every week.
Making this a dry erase meal planner is super easy – just pop it in a nice frame and you can use chalk markers to write your meals for the week right on top of the glass. At the end of the week, erase with a damp cloth and you're ready for a new week.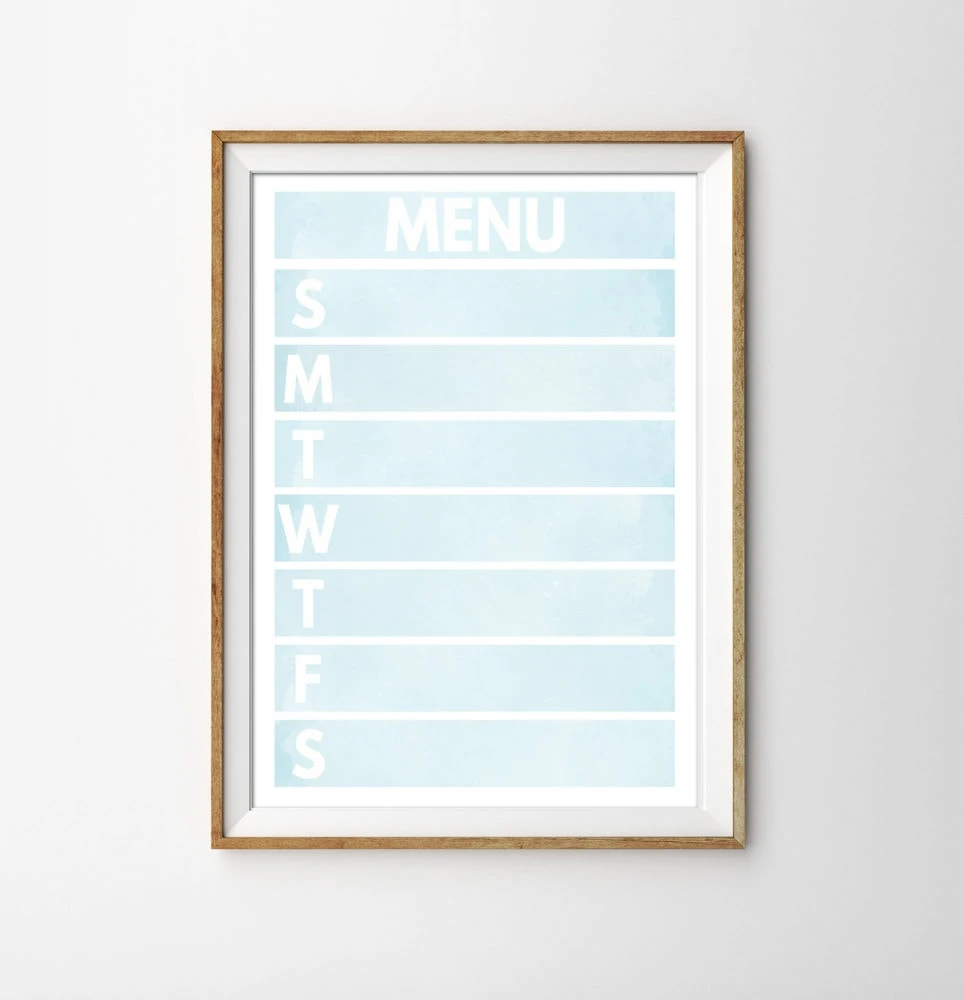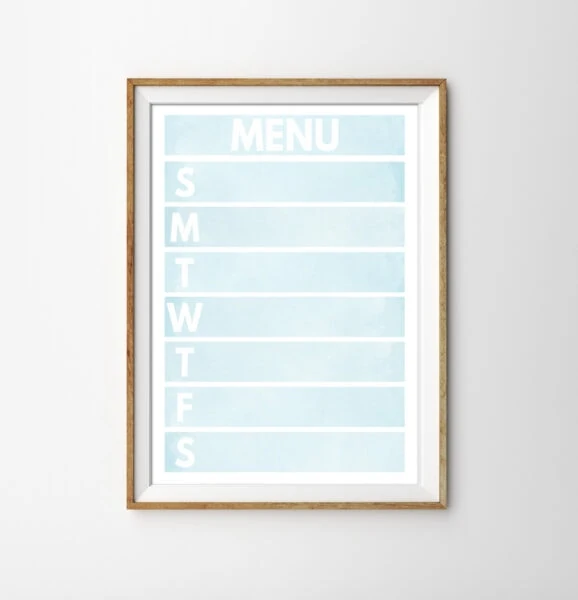 You can also use dry erase markers, but I prefer chalk markers. They often write more smoothly and once dry they won't smear or wipe off unless you use a damp cloth. White chalk markers look beautiful against the dark blue and light blue menu planners. And you can also get chalk markers in all kinds of colors for writing on a white background.
Each menu planner is formatted to print out nicely on regular 8.5×11 copy paper, but they should also print well in larger sizes if you want to make a statement. (I've got more info on printing these as engineering prints or poster prints in this post about printable calendars.)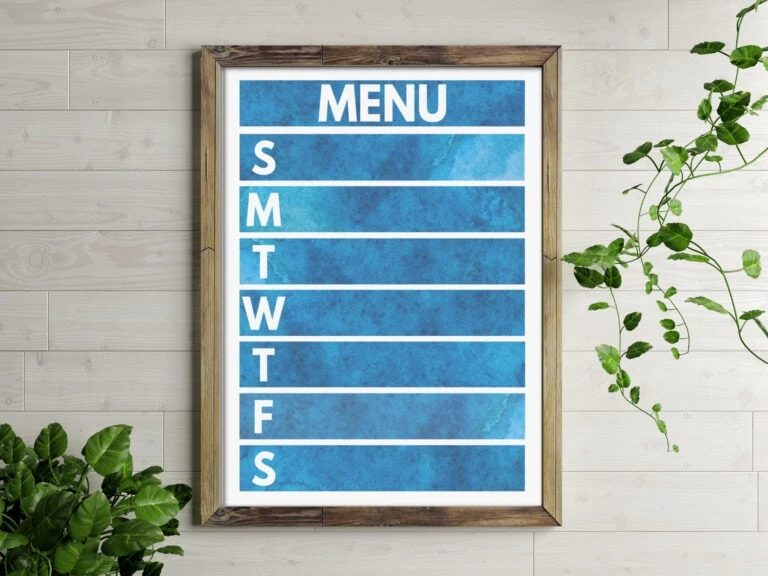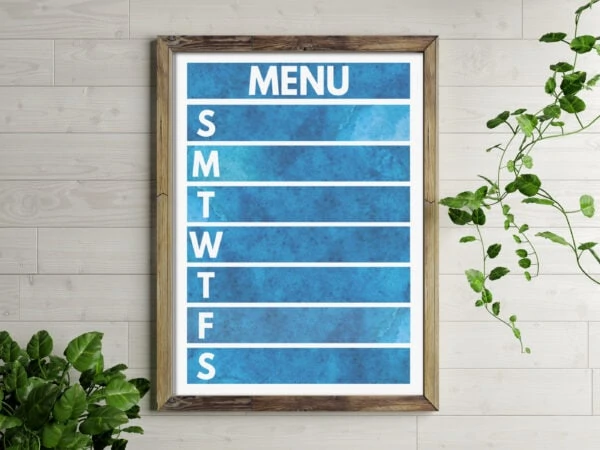 I actually created these printable menu planners a few months ago when I created the reusable monthly calendars in my Etsy shop. I even designed them to coordinate with those calendars. But somehow I never got around to actually sharing them anywhere! I considered selling them on Etsy, but I decided to give them free to my email subscribers instead. (But if you want some, grab them now! There's a good chance these may move to my shop eventually.)
I'm offering these along with all of my other printables completely free to all of my email subscribers. If you are already a subscriber, you will receive these in this week's email.
If not, just subscribe to my email newsletter in the box below to get the menu planners delivered straight to your inbox. The free download will be sent to your email within seconds and you will get access to all of my other free printables as well, along with my weekly email newsletter. (All printables are for personal use only and may not be resold in any form.)
More organizing posts I think you'll love:
I'd love for you to pin this post on Pinterest!