I never would have dreamed that I was capable of learning how to reupholster an armchair. In fact, I wasn't entirely sure that it was even possible!
Not only was it possible, but it also wasn't nearly as difficult as I imagined.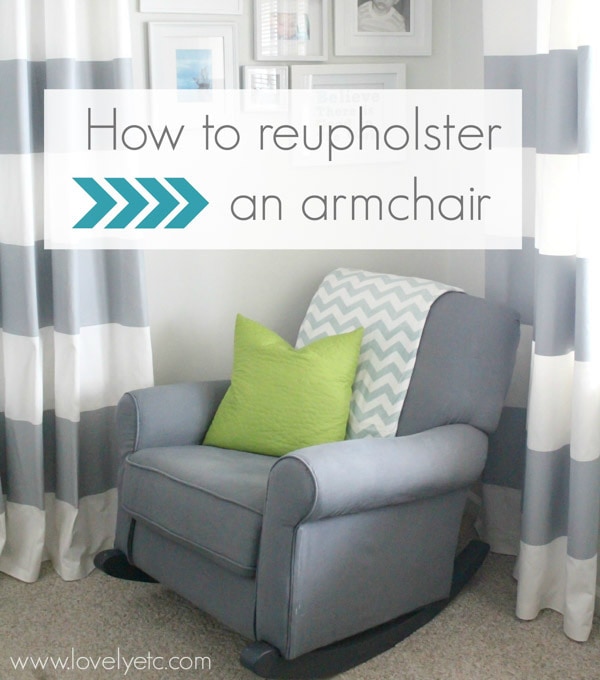 When I started planning our nursery, I knew that one thing I absolutely had to have was a big cushy glider for snuggling up in.
The kind that is basically a big armchair that rocks.
The problem was those big cushy gliders cost several hundred dollars. And that wasn't exactly in my teeny, tiny budget.
So I began earnestly stalking Craigslist for such a glider. And quickly realized that they really just don't turn up on Craigslist often. (At least not in my area).
Until one great day when I spotted this upholstered rocking chair listed in a neighboring town for $40.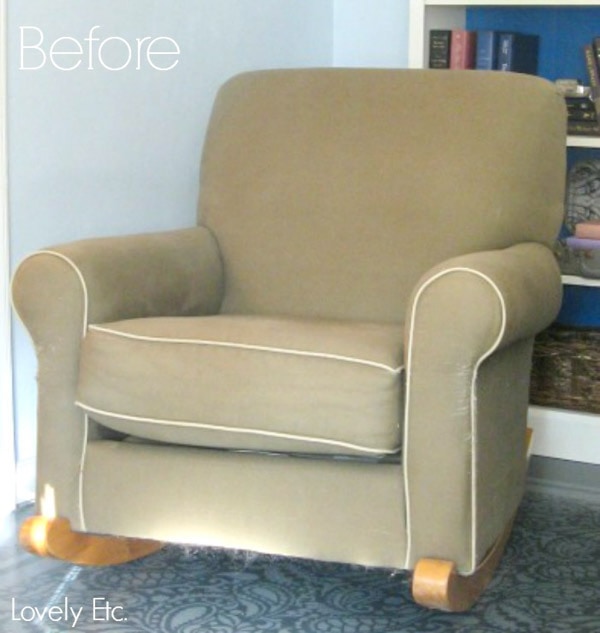 It had a few issues – the color was kind of blah but the bigger problem was a cat had been using the front of the chair as a scratching post.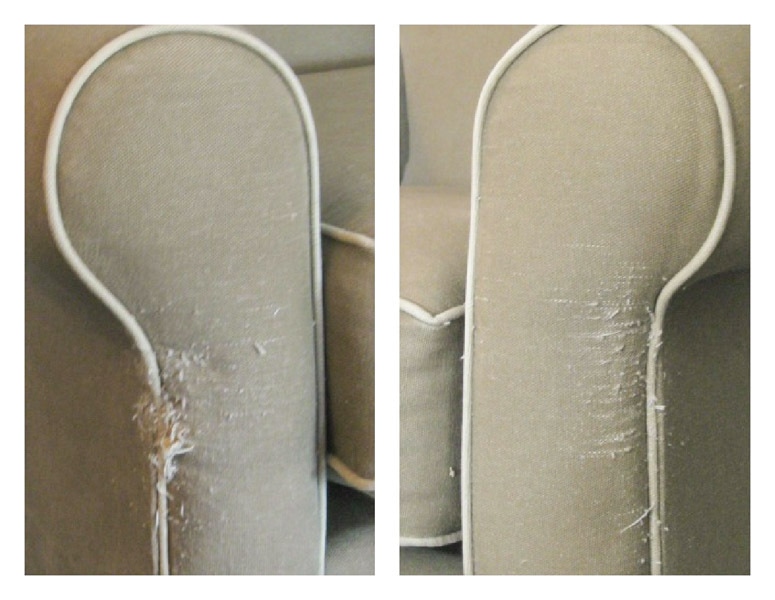 After a bit of back and forth, I decided to take the plunge and reupholster it. And I am so glad I did.
It is the just-right shade of gray. And it is so plush and cozy – by far the comfiest seat in the house.
I didn't want to spend a fortune on a great fabric since this was my first big reupholstery project and I wasn't 100% sure I could pull it off successfully.
So I got creative.
I found two sets of white sailcloth curtain panels on clearance at Target.
After a bit of experimentation with fabric dye, I had yards and yards of beautiful gray fabric.
(And the best part – the cost of the curtains and dye was only $27! Which works out to around $2 a yard. For other cheap ways to score great fabric, check out this post).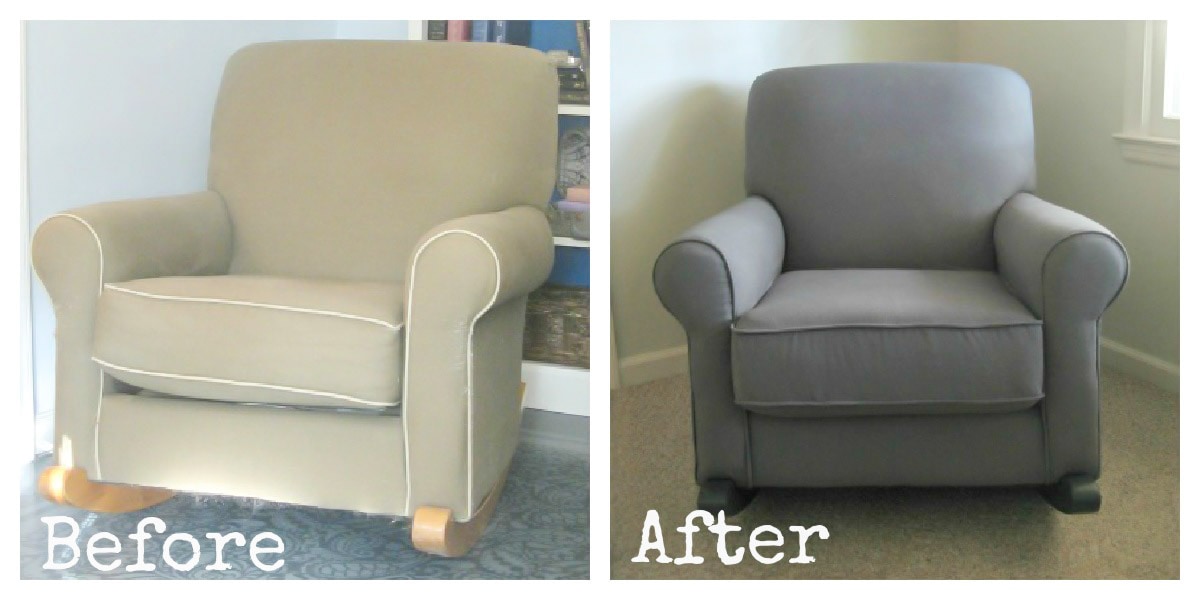 How to Reupholster an Armchair
A brief disclaimer: I realize there are some very good reupholstery tutorials out there already. (And I will certainly be including links to some of my favorites).
However, I decided to still write this tutorial because all of the DIY chair reupholstery tutorials I found were based on redoing a wingback chair or a dining chair, or an antique chair.
I really didn't see any guidance for reupholstering a full-on armchair. So I thought, I would let you know how I did it.
A briefer disclaimer: I am no expert. (This should be clear based on the fact this is the first major chair I have ever reupholstered).
These are the basic steps that worked for me. Remember each piece of furniture is unique and will include its own challenges.
This post contains affiliate links. See my full disclosure here.
Removing the old upholstery
The first step is to get that baby naked. Before you start taking it apart, study your chair for a few minutes.
Try to get some idea of how it is put together. And take lots of pictures from all angles to remind you of how it should look in the end.
Begin by removing the rockers or feet of your chair.
(One awesome part of my particular chair and most chairs like it is the rockers easily screw off. This means that in the future if I no longer need or want a huge rocker, I can simply remove the rockers and attach some cute little feet, and have a sweet armchair).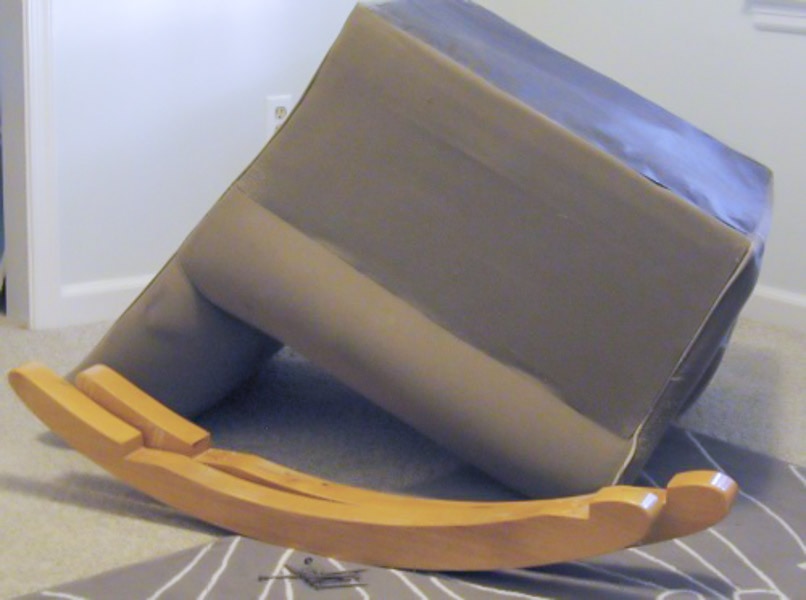 Carefully remove the first piece of fabric. For an armchair like mine, this will be a thin layer of fabric on the bottom of the chair.
The next layer was the panel of fabric on the chair back, which was easily pried off with a flathead screwdriver.
Most of the fabric will be attached by staples or tack strips. To remove them you can use a flat-head screwdriver and needle-nose pliers or I have heard that these staple removers make the job much faster.
Remove the rest of the chair fabric layer by layer. As you slowly take the chair apart, it will become more apparent which layer you need to remove next.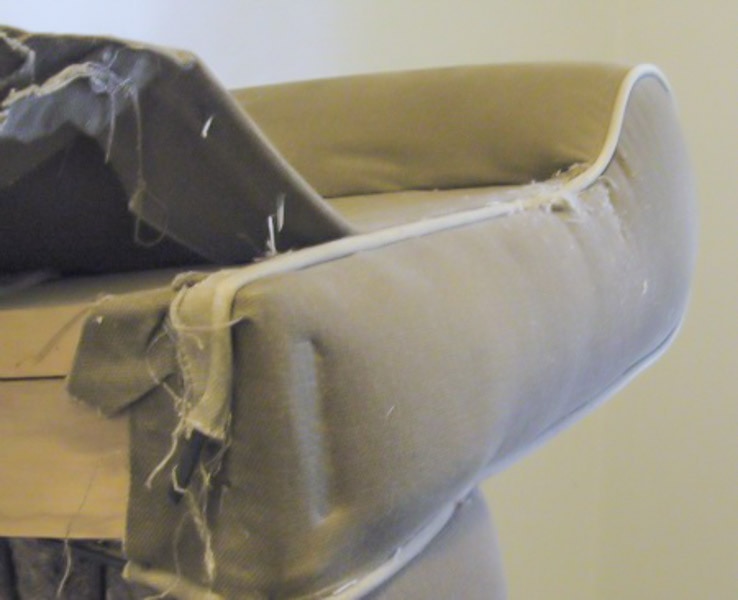 As you remove each piece of fabric, be careful to keep it intact. And label it. You will be using these fabric pieces as your pattern.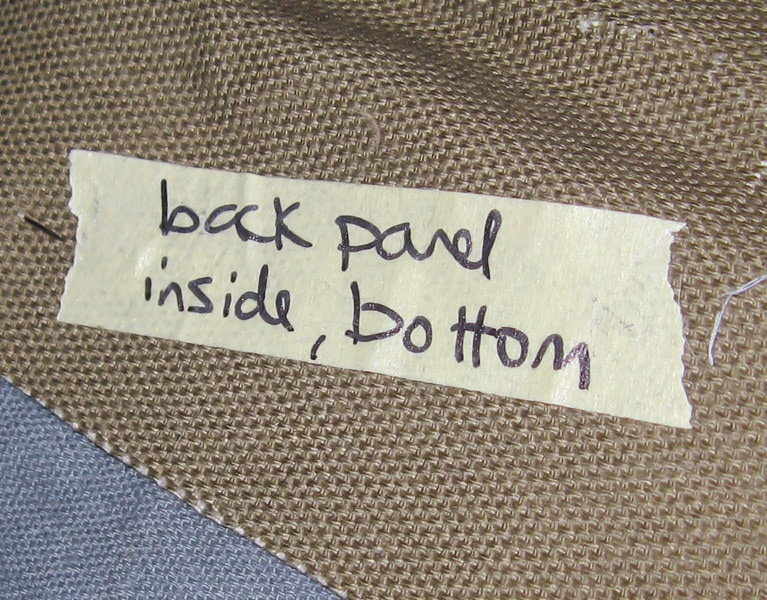 Also keep and label any miscellaneous pieces – tack strips, piping, cardboard pieces. Any random things that come off with the fabric and are a part of how the chair is put together.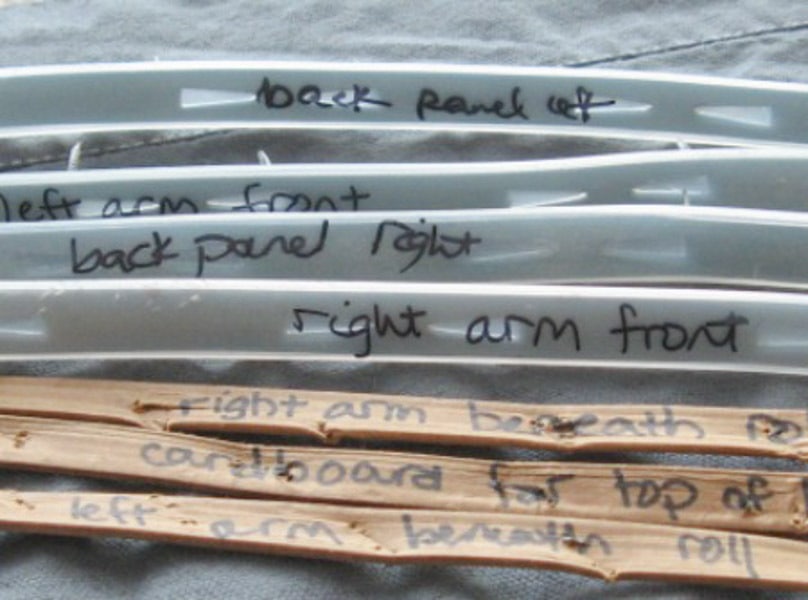 As you are taking the chair apart, take lots of pictures of every angle and detail of the chair.
Also, take lots of notes of exactly how everything is put together. Both of these can be invaluable when putting your chair back together.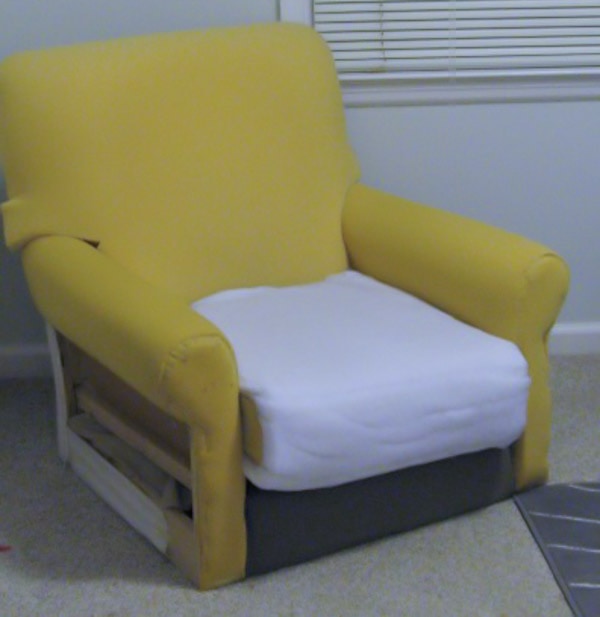 Cutting the fabric
Lay the fabric you removed from the chair out on your new fabric. Once you have arranged your pieces to make the best use of your new fabric, pin them in place and cut your fabric.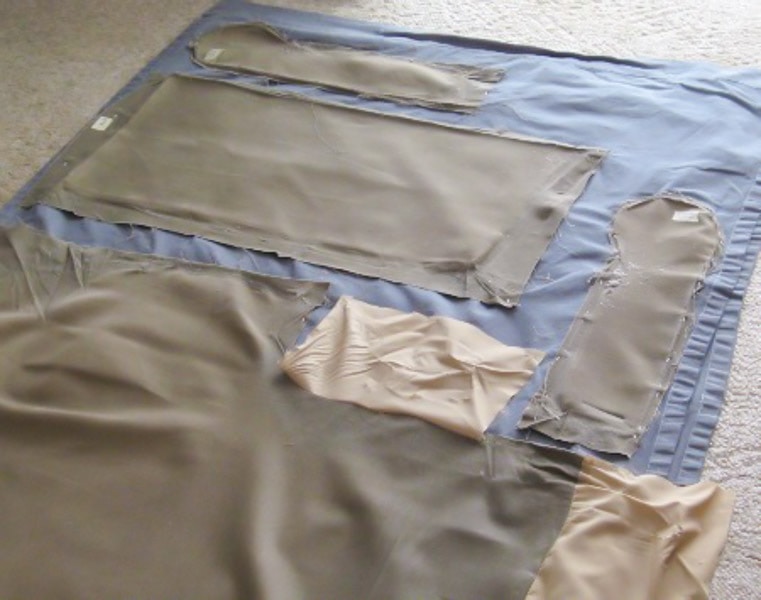 Reupholstering
Begin putting your chair back together in reverse order. The last piece you removed should be the first piece you put back.
This is where your photos and notes will come in handy.
As you put your new fabric on, take care to put everything back together with the same way it was before.
If it was attached with a tack strip, reattach it with the same tack strip. If it was stapled, restaple it.
On my particular chair, there were some areas around the arm where the fabric was sewn together.
At first, I tried to be clever and avoid sewing by stapling it instead, but I quickly realized that completely changed the shape of the arms.
So I sucked it up and sewed it back on.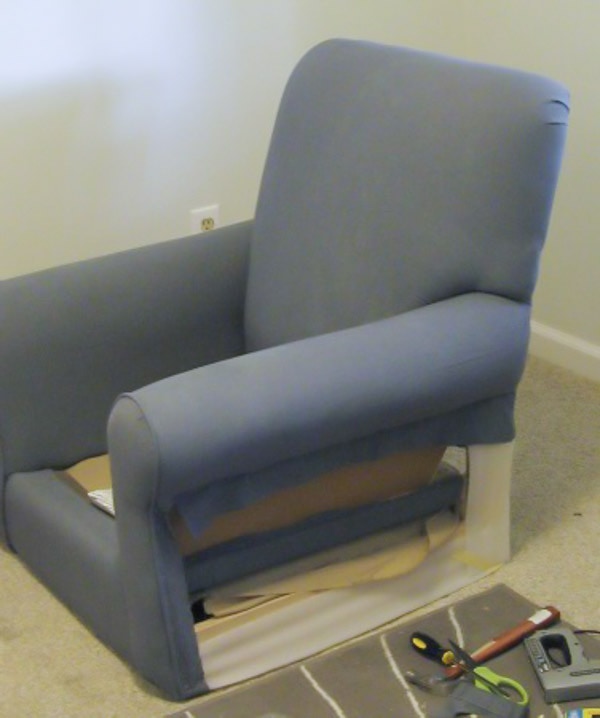 As you can see, I chose to use the same fabric for the piping but you can also choose a contrasting fabric if that is the look you are going for.
You could just leave the piping off for simplicity's sake but it adds so much polish to any project.
Piping can be the detail that takes your project from looking homemade to looking professional.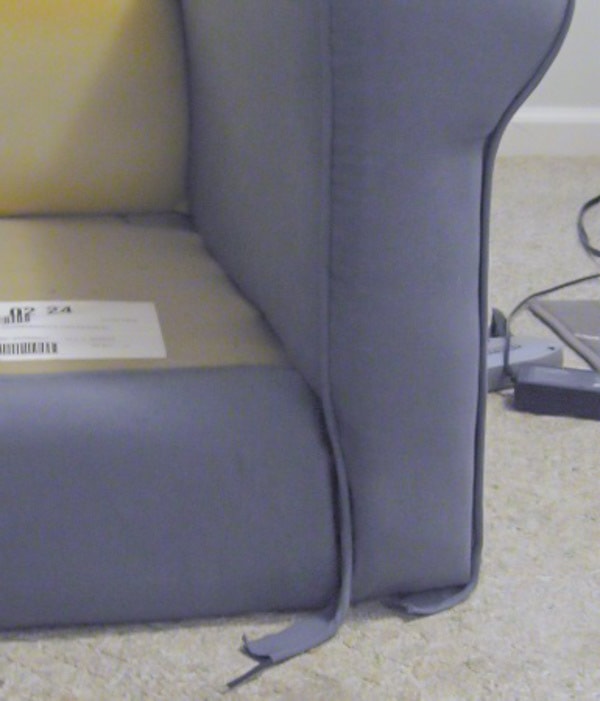 Sewing the cushion
This was the part of this whole project that I was most afraid of.
I can paint and use power tools and all kinds of other things. But sewing still scares me.
The first step of making the cushion is sewing the piping. As I mentioned, don't leave this off – it really makes the whole project look polished.
I don't profess to be any kind of expert on cushion making and I am frankly amazed and astounded at how well mine turned out.
(I will say, that I closed the back of my cushion with velcro rather than a zipper. I'm not at zipper caliber sewing yet).
Finishing details
I chose to paint my chair rockers a color very similar to my fabric for a more monochromatic look.
I considered doing white piping and white rockers for a high-contrast look but decided that just wasn't right for this particular project.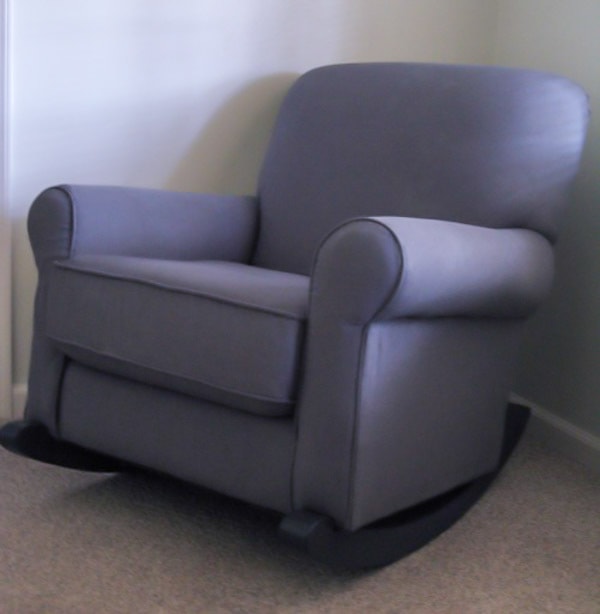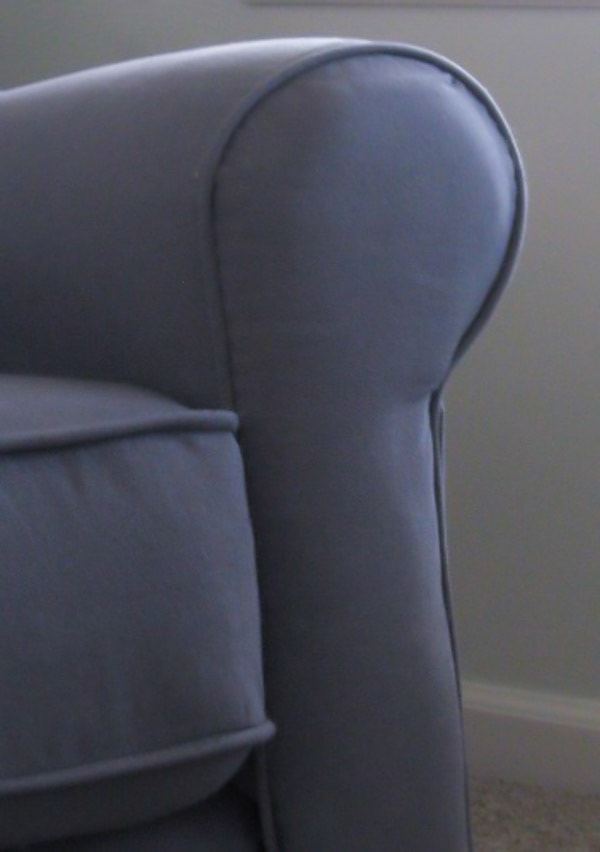 And with a few cute accessories, it looks even better.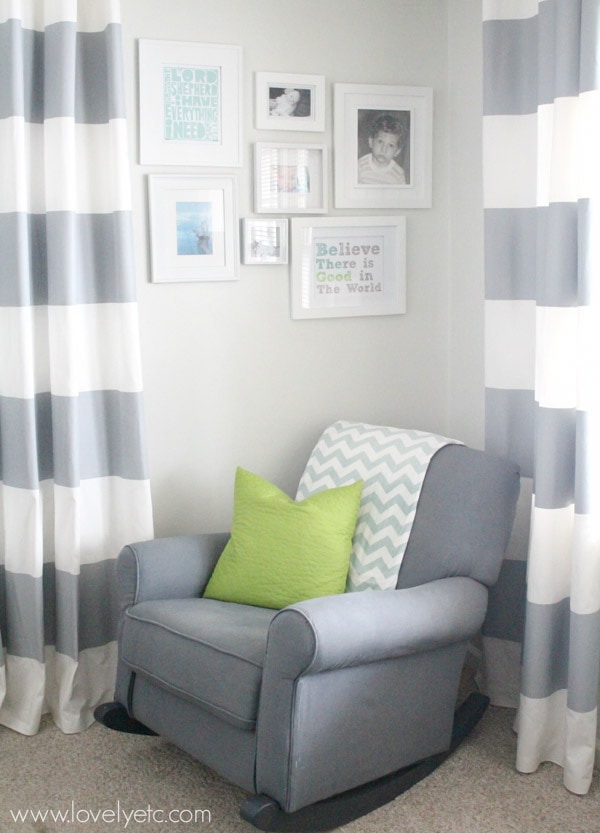 Since originally writing this post, I've gotten even braver and tackled another huge upholstery project.
I reupholstered a vintage tufted sofa! It turned out absolutely beautifully!
You can see the after and tons more upholstery tips right here.
So what do you think – are you going to give it a try? Do you feel totally empowered to make over any and everything?
I hope so because I certainly do.
Other DIY upholstery ideas I think you'll love: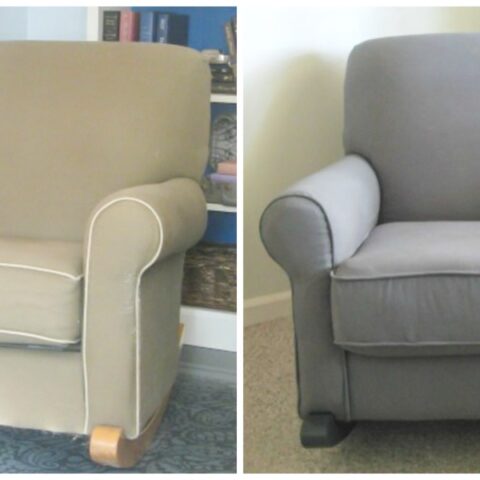 How to reupholster an armchair
Total Time:
4 hours
30 minutes
Let me show you how easy it is to reupholster an armchair with these super simple steps.
Materials
Fabric of your choice
Pins
Zippers or velcro
Tools
Flat head screwdriver
Needle-nose pliers
Staple Gun
Sewing Machine
Instructions
Start by removing the staples or tack strips with a flat head screwdriver and needle-nose pliers.
Remove the chair fabric layer by layer.
As you remove each piece of fabric, keep it intact and label it.
Take lots of pictures of every angle of the chair with notes of how everything is put together.
Lay the fabric you removed on your new fabric.
Pin the pieces in place and cut your fabric.
Begin putting your chair back together in reverse order.
Reattach it with the same tack strips.
If it was stapled, restaple it.
The final step is to sew a new cushion for the chair using the old fabric as your pattern.
Recommended Products
As an Amazon Associate and member of other affiliate programs, I earn from qualifying purchases.