I'm sharing all the details of how my painted laminate countertops have held up after seven years of regular use in our kitchen including how they really look now and what I would do differently next time.
Out of all the DIY projects I've shared here at Lovely Etc., my painted countertops are one my most popular projects as well as one of my personal favorites. Painting these countertops was a huge risk and to be honest, I was pretty skeptical about how well it was actually going to work.
But here we are seven years later, still using the same countertops so clearly it was a risk that paid off!
And now that the time has come to leave our brick ranch and move on to a new house, I knew I had to share one final update on how my countertops have held up.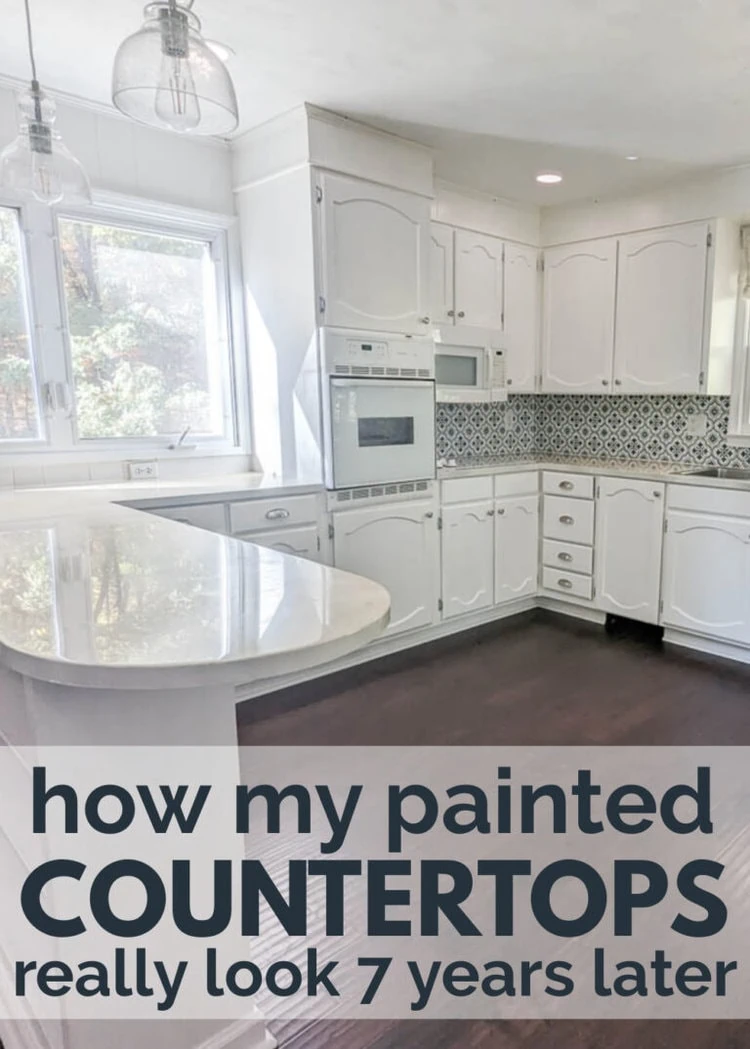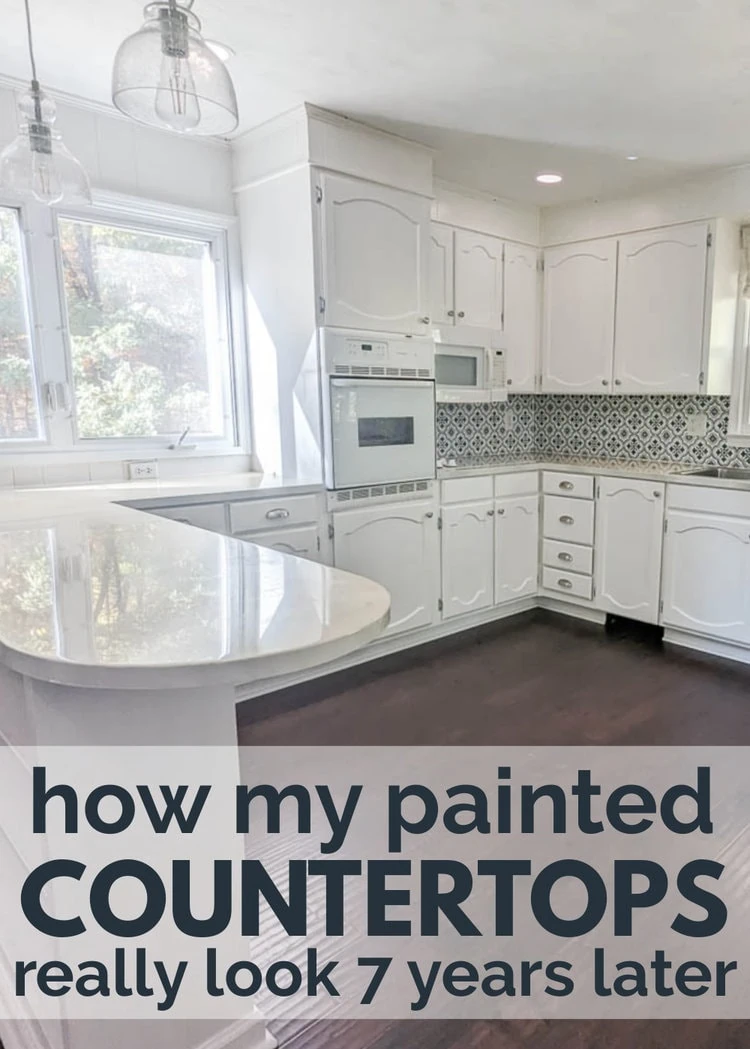 This post contains affiliate links which means if you make a purchase after clicking a link I will earn a small commission but it won't cost you a penny more. Click here to see my full disclosure policy.
Before I get into the update on how my countertops are holding up these days, I have to start with a photo of how they looked originally.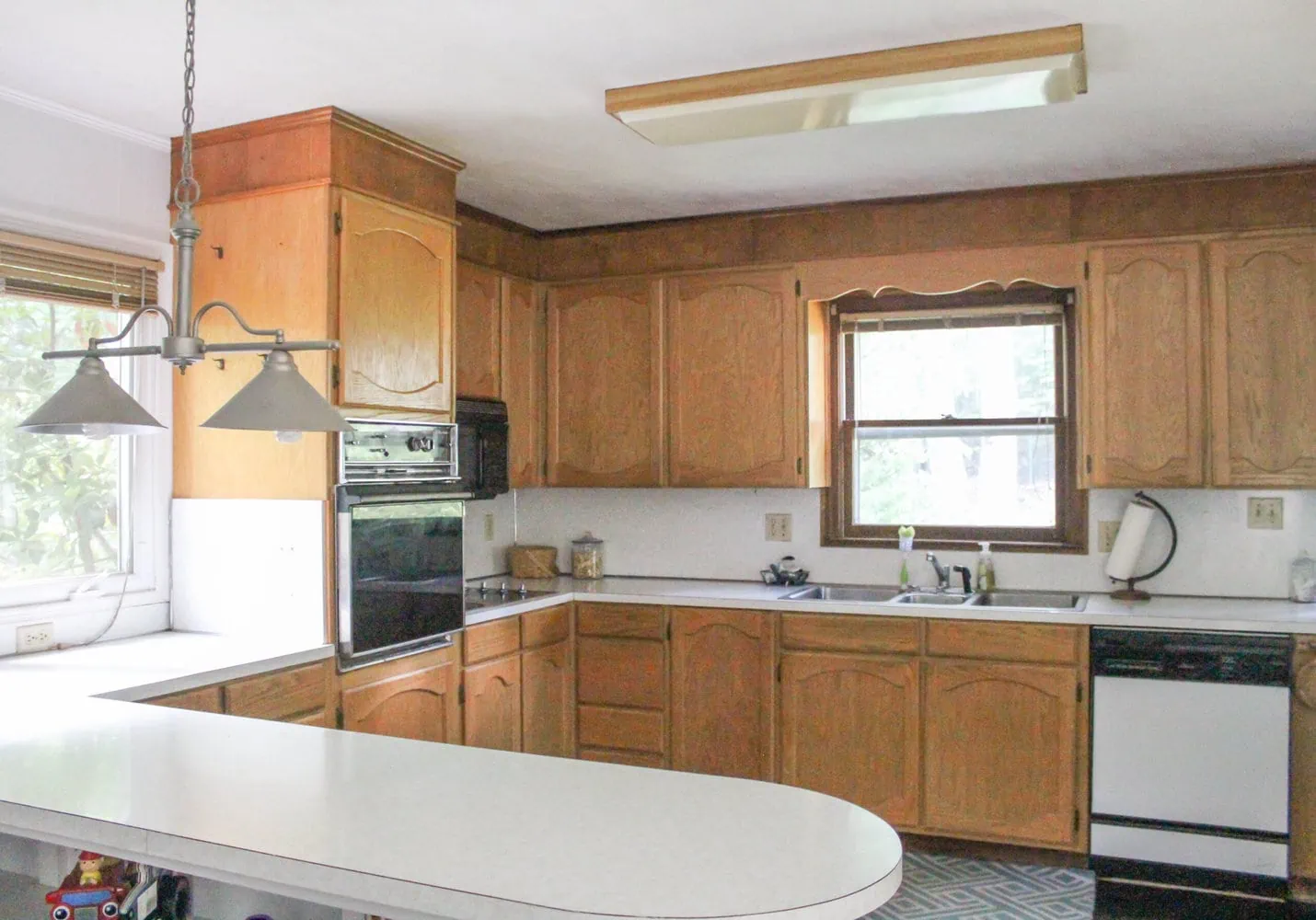 This whole kitchen was incredibly outdated and I think those counters with the gold squiggly lines were one of the worst parts.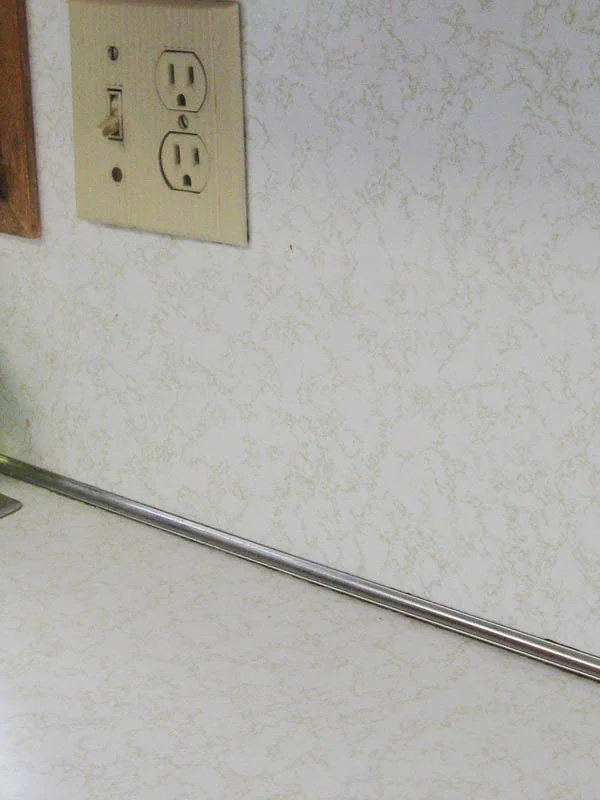 And here's a photo from right after the countertops (and everything else in the room) were painted.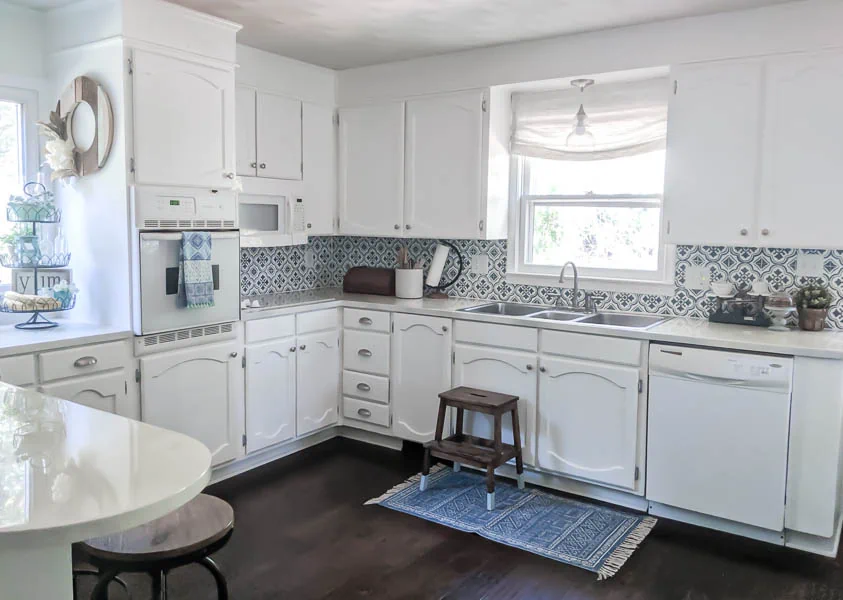 I was honestly shocked at how great they looked. The pour-on finish I used gave them dimension and a really fantastic shine. You would absolutely have never guessed that they were painted.
Want more details? I have a full step-by-step tutorial of how I painted and sealed my laminate countertops including info on the time and cost involved.
At the time, I never would have dreamed that I would be using those same painted countertops seven years later. In my mind, it was something that would hold us over for a year or two until we had saved up some money for a bigger renovation.
But once it was finished and I'd also painted the cabinets and the backsplash and made a few other small changes, the kitchen looked good enough that I didn't feel the need for a huge gut renovation.
*Note, all of the rest of the photos in this post were taken within the last few weeks. I've really tried to include photos that show the countertops looking as close to how they appear in person as possible.
How my painted countertops have held up
First of all, these countertops have held up amazingly well over the past seven years. There has been no paint flaking or wearing away. The surface of the counters is still solid and feels incredibly durable. There are no cracks or deep scratches. And even now, the surface still retains that great shine it had from the beginning.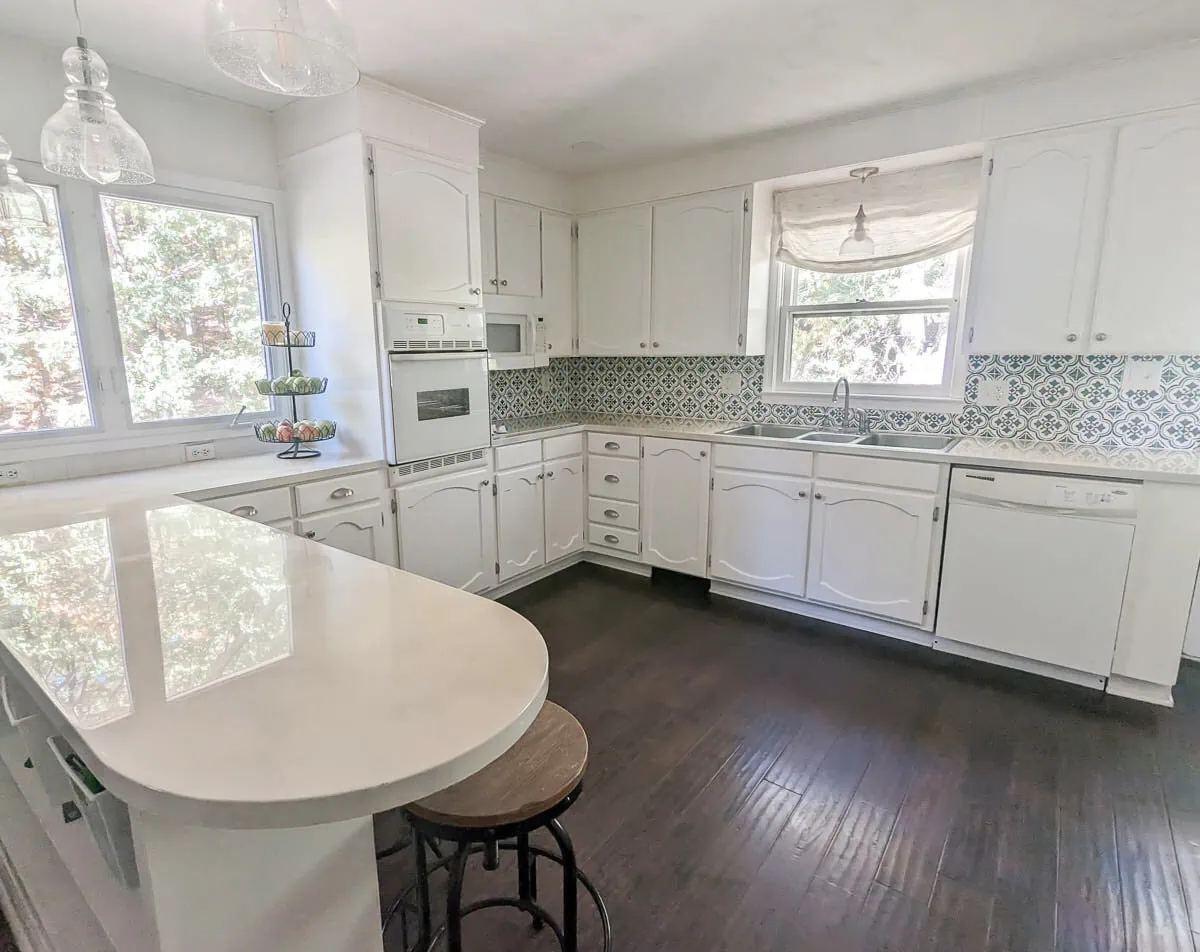 But, even though I've been thrilled with how well it has lasted, it isn't perfect.
Over the past seven years, I've had to touch up my painted cabinets twice. I've had to touch up plenty of painted furniture. I've had to touch up our front door paint. That's just how paint goes – it doesn't stay perfect forever. There's always going to be tiny chips and imperfections, and if you want it to look perfect, you have to touch it up.
But until very recently that wasn't the case for my countertops.
This sealer has worked amazingly and it has really protected the countertops. We use our kitchen daily to cook and prepare meals for our family of five and my three kids also love to sit at the counter to do homework and art projects. So they have definitely been put through their paces.
This is the pour-on high gloss sealer that I used to seal my countertops.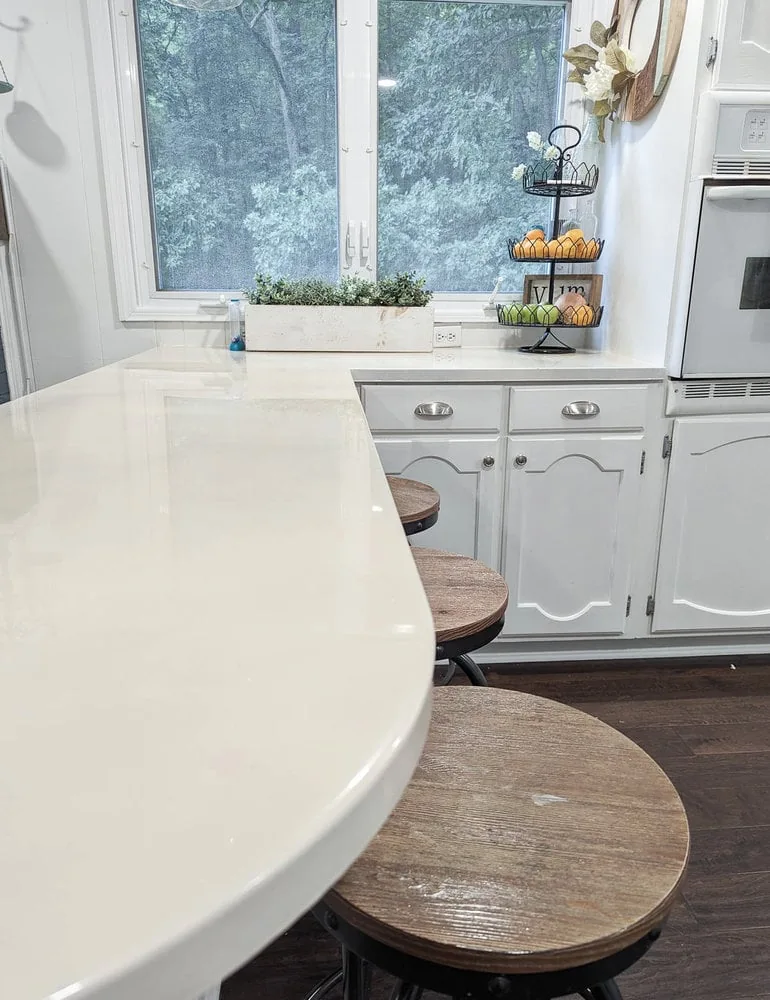 Minor imperfections to the finish
Only recently did I start to see any chipping at all. Within the last few months, I did notice some very small chips right along the edge of the counter at the end of the peninsula.
Since these chips are right on the edge, you can see the black edging from the original laminate countertops showing through.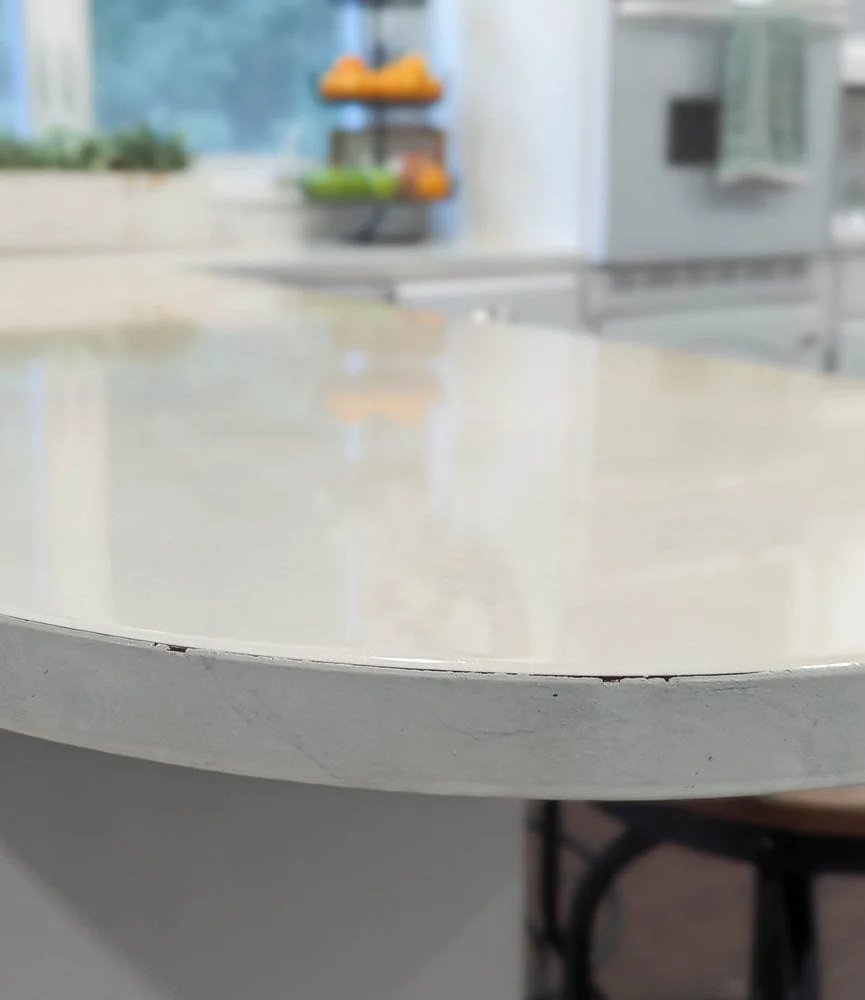 I did touch up these small chips. I mixed up some paint to match the countertop color and painted it on with a tiny paint brush. Then I used a glossy polycrylic sealer to seal them. It wouldn't make sense to repour the sealer to fix these tiny chipped areas.
The new paint blended right back in with the old surface but these areas will probably be weak areas that need some touch ups from now on for the life of the countertop.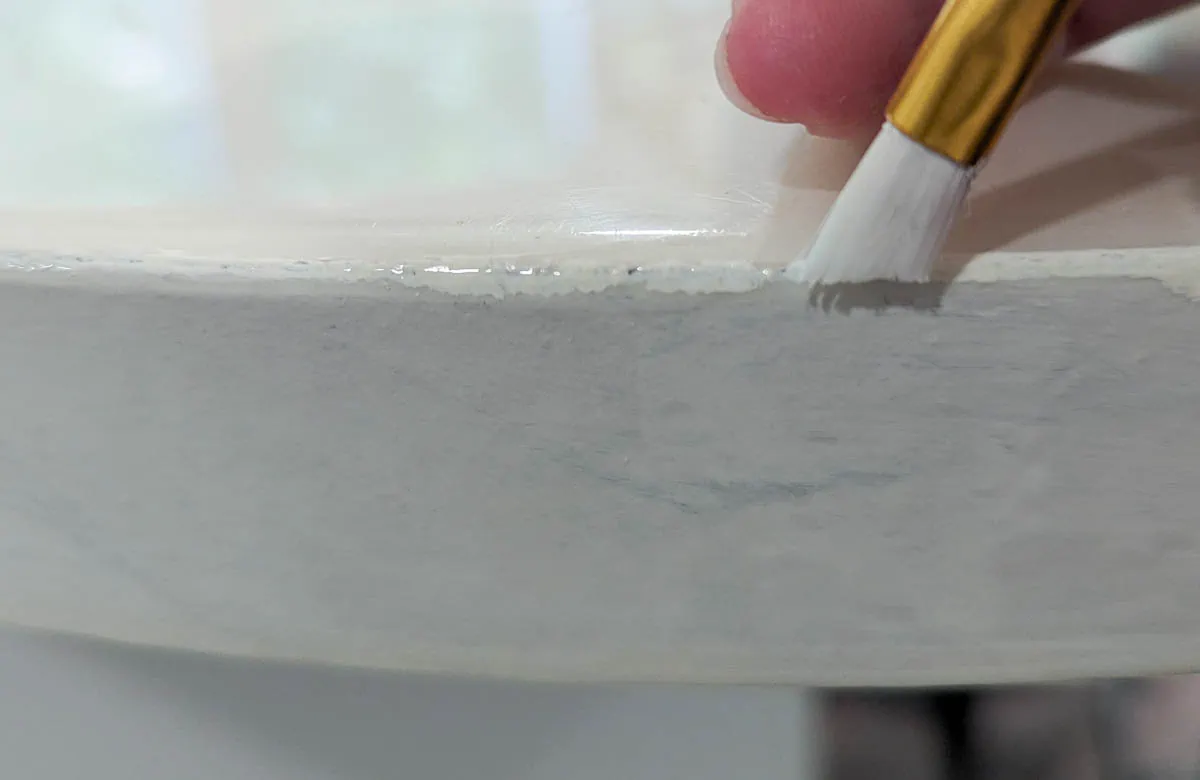 I also recently noticed there is one spot where the finish has become really dull. I'm pretty sure that that is the result of using a magic eraser to clean some red juice that my kids had spilled on the countertop and left there. While the magic eraser did get the stain off, it left behind a dull spot in the shiny finish that is visible when the light hits it.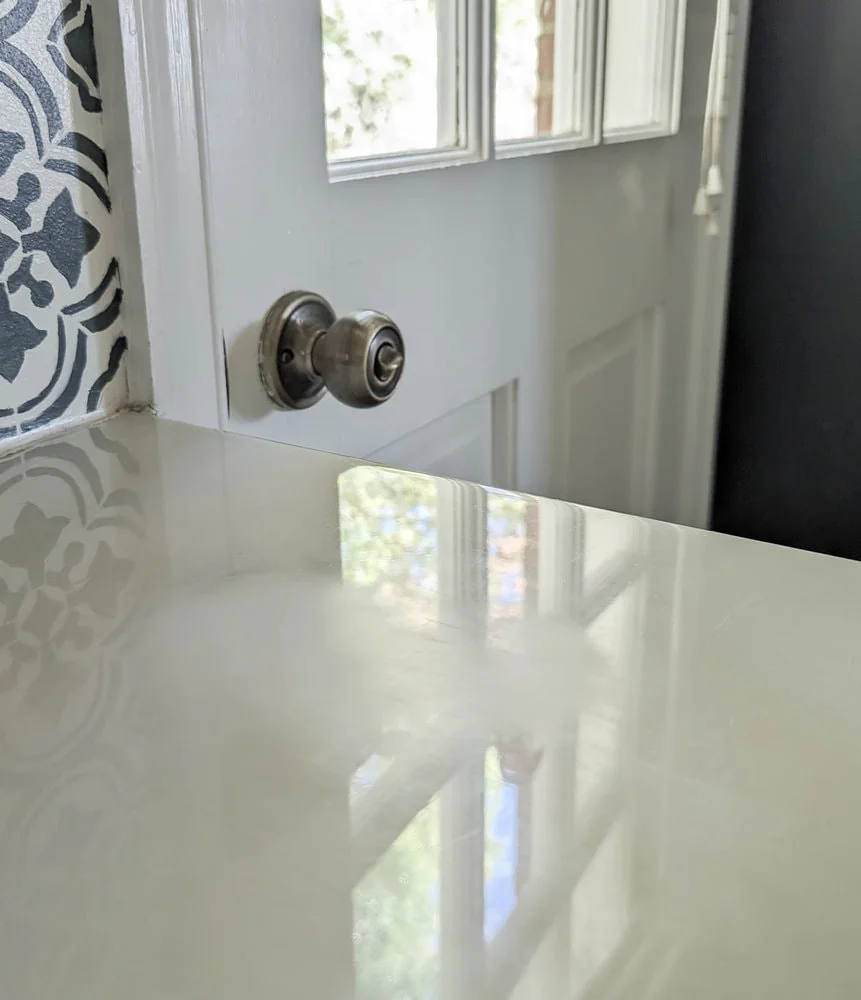 The biggest issue with my countertops
The tiny chips and the dull spot are just minor imperfections, but by far the biggest issue is that the finish has yellowed significantly.
When I last shared an update on the countertops, three years in, I shared that they were very slightly starting to yellow. Since then, the yellowing has definitely intensified.
I can tell by looking at old photos that the countertops overall are all less bright white than when they were first finished. But most of the room has just a faint yellowish overcast. The corner between our stovetop and a our sink, however, has a distinct and noticeable yellowish/orangish color to it.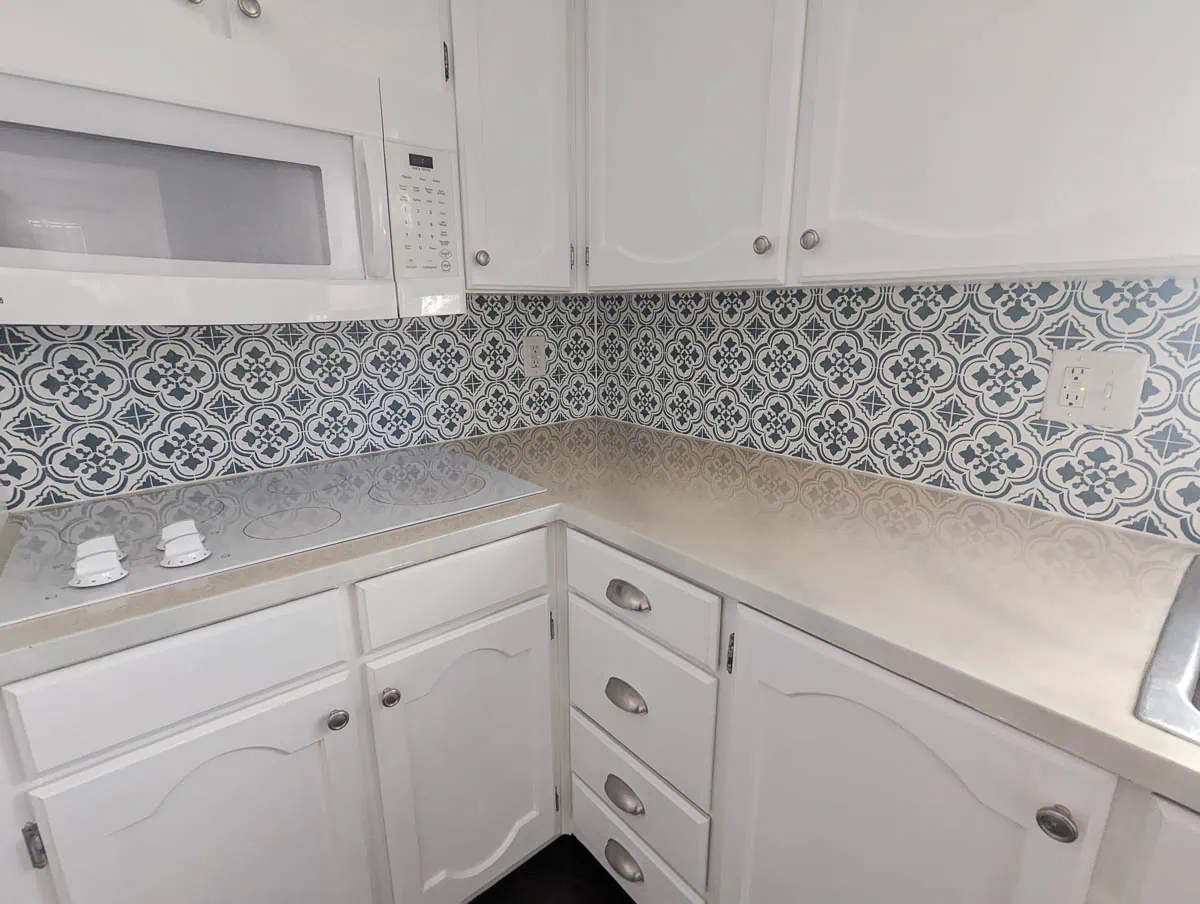 I don't think the color change would be nearly as noticeable if everything in the room weren't white. I have white cabinets, white appliances, and a mostly white backsplash which really accentuate the fact the countertop is no longer bright white.
I think if I had darker cabinets or if I had painted the countertops a darker color or if anything was not just white, white, then it wouldn't be such a problem. But it is what it is.
My kitchen was dark. It doesn't get a lot of natural light so I wanted to brighten it up, and here we are.
I don't know exactly what caused the yellowing. I don't think that I did anything wrong. I think it's just part of what naturally can happen with the product. I'm assuming it was probably a reaction based on light and heat, because that's typically what causes yellowing over time.
The corner that is the most yellowed gets almost no natural light and it's kind of tucked behind the cabinets, so even the overhead lights don't reach there as much. But it's right next to the cooktop, which makes me think heat was probably the biggest factor.
How they've lasted overall
But even with the tiny chips and the yellowing surface, I'm overall still pretty thrilled with how my countertops have held up, especially considering how inexpensive they were and how many years they have lasted.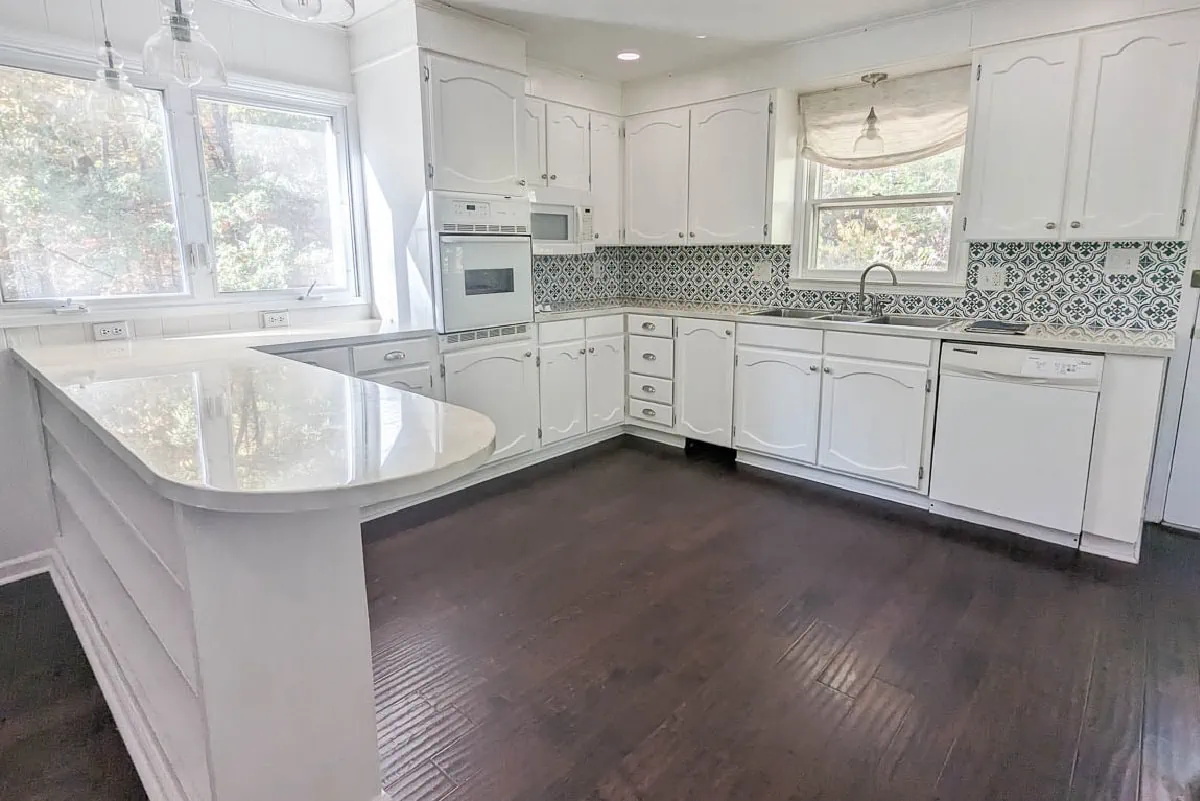 I think it's important to remember that plenty of home improvements, including the much more expensive not-DIY kind, are starting to show wear and tear after seven years.
Plus, even with their imperfections, these countertops still look better now than they did before I painted them.
Would I ever paint countertops again?
Which brings us to the final question. Would I do this again?
Absolutely, yes. I would paint ugly countertops again. I would go into it knowing that it is probably not a forever solution. And I would likely try some different colors other than pure white.
There's a good chance I would even use the same sealer again, though I might also see what else is out there. Paints and sealants are constantly improving and this many years later, there may be a better product on the market now. But I would definitely go for a pour-on sealer again because the finish and durability has been absolutely amazing.
If you have ugly countertops like I did, there's really not a lot to lose. There's a good chance you're going to love it, and it's probably going to last a lot longer than you ever would've imagined.
Want more updates on how my DIY projects actually last over the years? I just shared updates on 10 other popular DIY projects including all the good, the bad, and the ugly details.
I'd love for you to pin this post on Pinterest!