We are one week into the $100 Room Challenge and I have gotten a ton of work done already!
(Not sure what the $100 Room Challenge is? You can find out more about what it is and why I'm doing it in last week's intro post.)
This week was all about the demo, getting rid of the old, ugly stuff to make way for the new.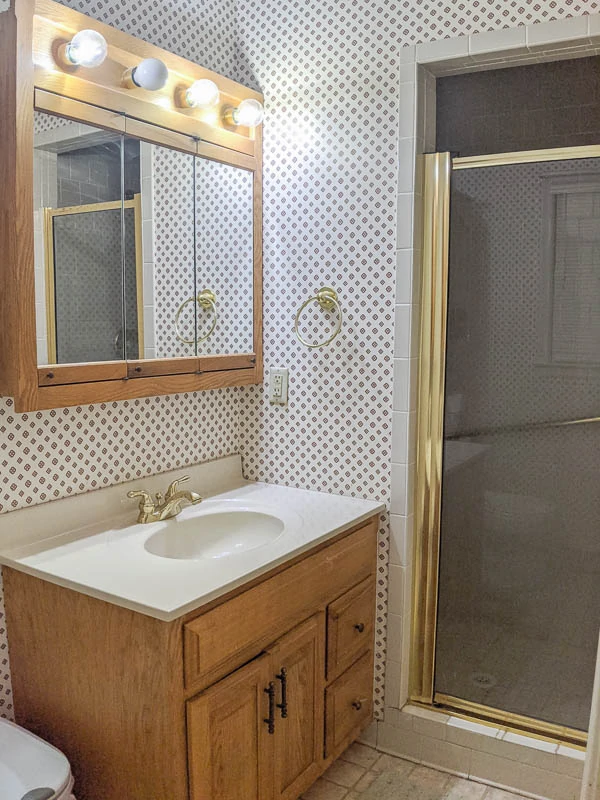 I peeled off the old wallpaper – not one of my favorite jobs! I took down the old medicine cabinet/light combo, the wall cabinet, and all the towel bars and hooks.
I got rid of the tile border along the bottom of the wall. I pulled about a dozen old screws and anchors out of the wall, patched the walls, and sanded everything down ready for paint.
And finally, I installed the light I had squirreled away in our basement and hung an old mirror I scooped up at a yard sale last summer. (Someone carved 'Paul you suck' into the frame of the mirror so it still needs some work, but its a start!)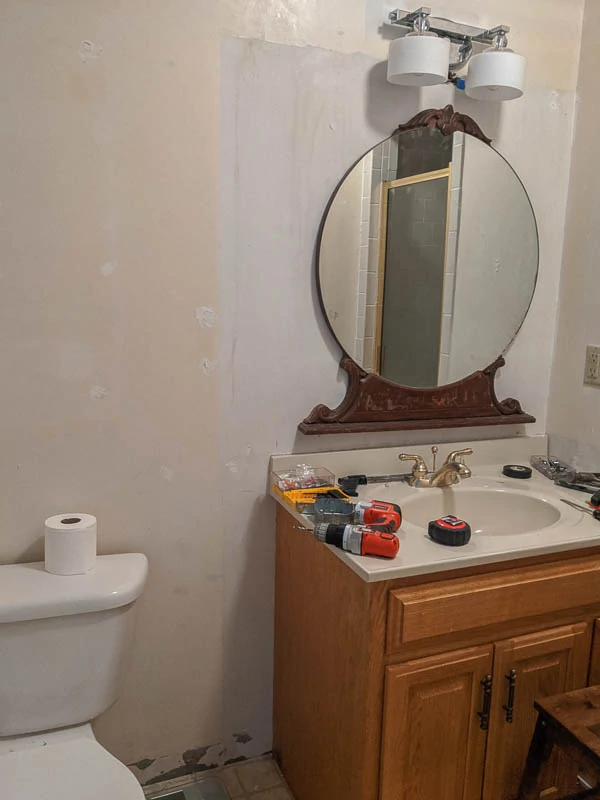 So even though I got a lot done this week, the results so far aren't particularly inspiring. But that's the reality of renovating – the majority of the renovation, everything is just a huge mess and then it all comes together in the very end. Hopefully.
So since I don't have any finished projects to share, I want to share more about my design plan for the room. Last week I shared a lot of details about what I want to accomplish and how to stay on budget. But I didn't share much about how I am hoping the space will look so I decided to put together a quick mood board to give a better visual of my plans for my bathroom.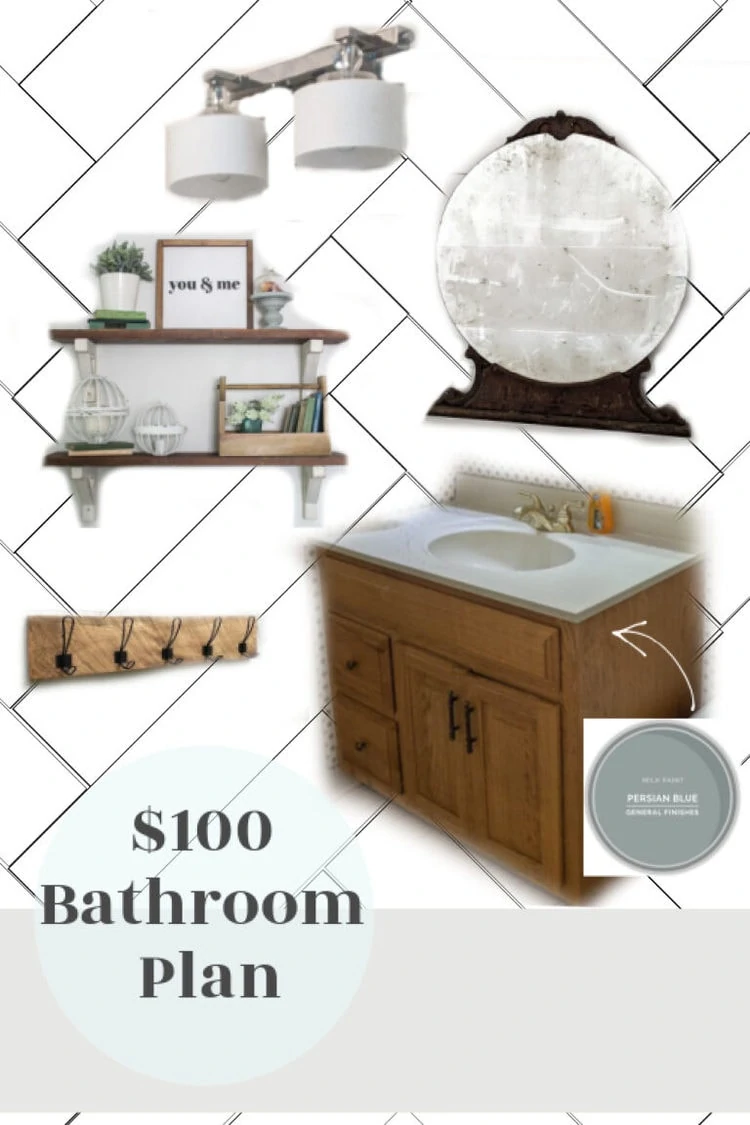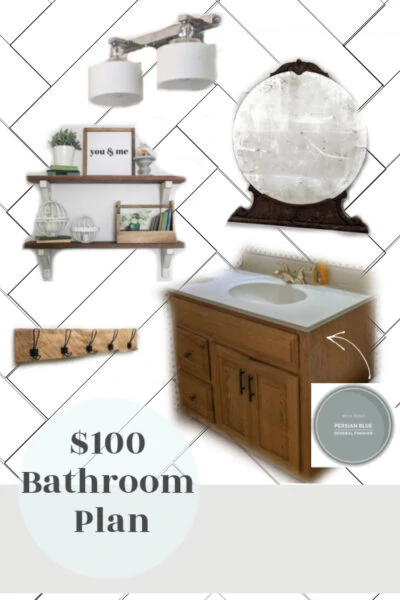 I've been debating what to do on the walls in here to make it a bit more interesting. After considering shiplap, board and batten, and a bunch of other options, I think I've decided I want to create a herringbone wall.
Right now the plan is to use inexpensive strips of plywood painted white to create the wall (similar to what I used to make the weathered wood plank wall in our entry).
But I have been toying with the idea of doing a Sharpie wall instead. I've seen lots of 'Sharpie shiplap' and people claim it looks great in person, but I have to admit I'm skeptical. The Sharpie method would definitely be faster, cheaper, and easier, but I'm wondering if it will really look as good.
I am planning to paint the vanity with General Finishes Milk Paint in Persian Blue and I'm also planning to paint the floor using paint leftover from my stenciled porch floor.
It looks like this coming week is going to involve lots of lots of paint and I'm excited to see it come together!
Here's an update on how the budget is looking so far.
Bathroom Budget Update:
Vintage mirror: $0 (already owned)
New light: $0 (I was lucky enough to have a great light I removed from our other bathroom a couple of years ago,)
New baseboard: $10 (I had a few scraps on hand and bought one new 8′ piece to add to it.)
Paint for vanity: $20
Running Total: $30
Bathroom Project List:
remove wallpaper and prep walls
paint walls
accent wall
paint vanity and replace hardware
replace medicine cabinet
replace vanity light
get rid of all shiny gold!
replace cabinet over toilet with shelves
remove tile trim and install wooden baseboards
paint or cover vinyl floor
new window treatment
add towel hooks and other accessories
You can check out everyone else's progress at the links below! Just three more weeks until the big reveal!
You are invited to the Inlinkz link party!