Painting your shower door frame is an easy, inexpensive way to make dated bathroom fixtures look fresh and beautiful without needing a total bathroom renovation.
I have hated our shiny gold shower door since the day we moved into this house.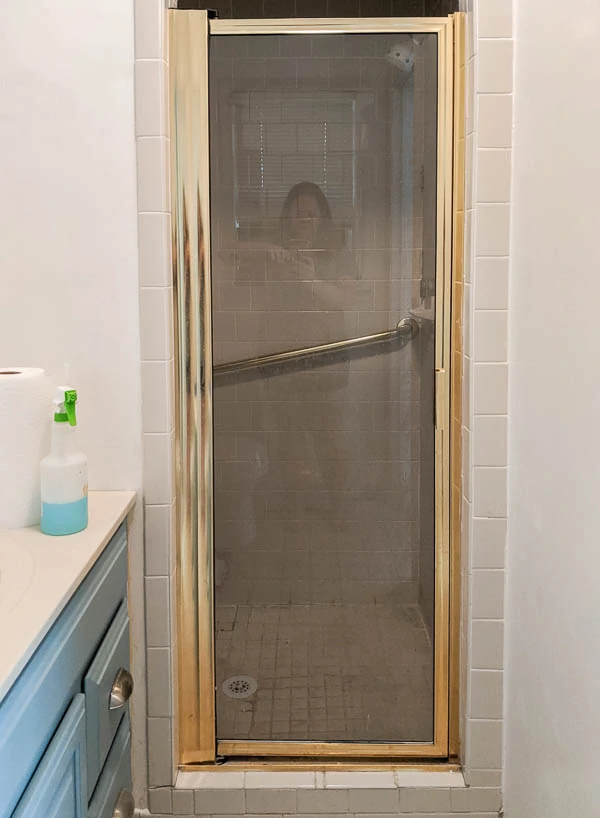 For years I've been wanting to do a huge bathroom renovation and completely gut our shower.
But we aren't ready to tackle a major bathroom renovation right now, so instead, our bathroom is getting a budget DIY makeover as part of the $100 Room Challenge.
After my success painting my sliding glass doors, I decided to paint my shower door too and now I only wish I had done this years ago!
In the first week of the challenge, I shared my $100 bathroom makeover plans, and last week I shared my design plan.
This week I'm sharing before and after photos of my shower door along with a step-by-step tutorial to help everyone else out there struggling with a shower door they hate. (There's also a video tutorial below for those who prefer video.)
This post contains affiliate links which means if you make a purchase after clicking a link I will earn a small commission but it won't cost you a penny more. Click here to see my full disclosure policy.
Materials
How to Paint a Shower Door Frame
Cleaning the shower door
Step one of painting anything is cleaning it well.
Paint won't stick to dirt, dust, grease, or soap scum so you need to be sure your shower door frame is really clean before painting it.
Protecting the area around your shower
Once your shower door is all clean, it's time to break out the painter's tape.
Spray painting inside isn't ideal – no matter how careful you are, spray paint tends to go everywhere!
So you're going to want to protect everything near your shower door.
Start by taping all along the edges of your shower door frame with painter's tape, making sure your tape lines up exactly with the edges of your door.
Then you can use a plastic drop cloth or thick paper to cover the glass in your shower door, the walls, your tile, your tub, your floors, anything that is within a foot of your shower door.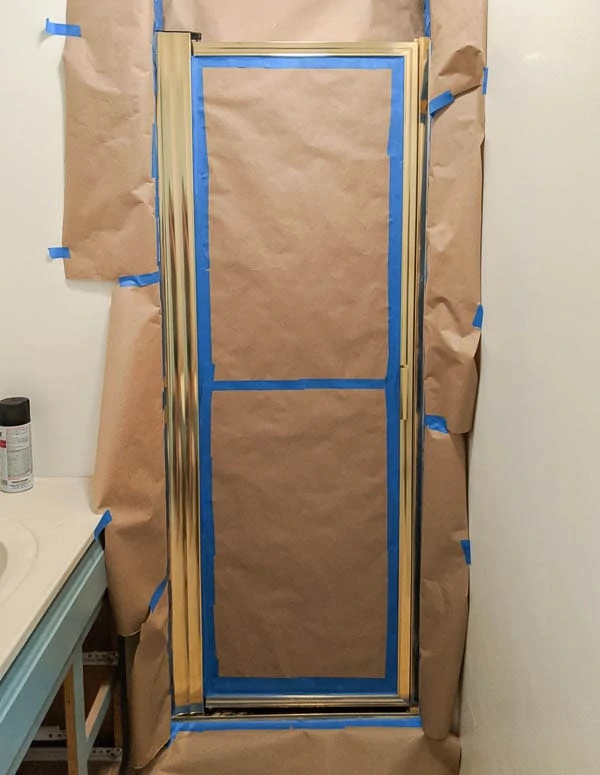 Make sure to close off any openings behind your door as well, so paint doesn't make its way inside your shower.
And if you aren't sure if you've taped enough, tape more! I thought I had protected everything possible, but paint still ended up on the tile above my shower door.
Luckily it was pretty easy to remove with a little elbow grease.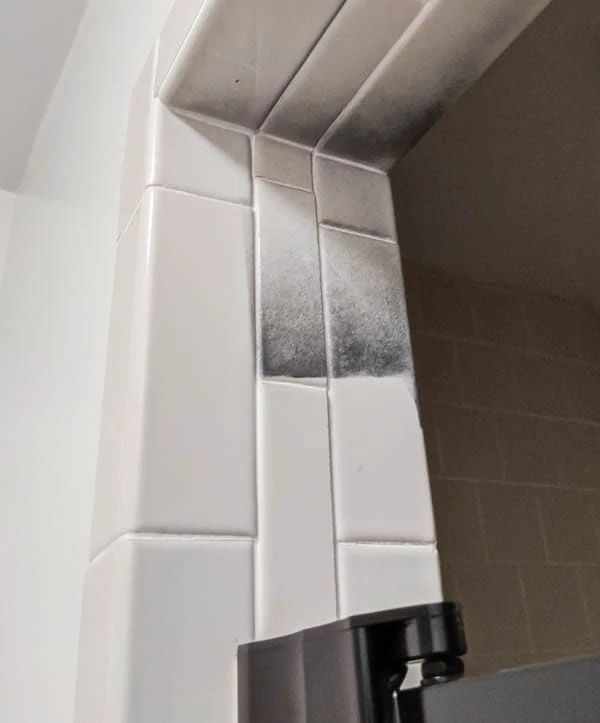 I also discovered that covering more of the bathroom including the entire floor would have been a smart idea.
Spray paint produces a lot of paint dust and while the spray paint stayed pretty contained, a layer of gray dust settled all over everything.
I was able to wipe it clean pretty easily but it would have been even better if I could have avoided that step altogether.
Priming
Before you start priming, remember to wear your mask to protect yourself from paint fumes. If there is a window in your bathroom, it's also a good idea to open it before painting to help ventilate the room.
Once everything is fully protected, the actual painting process goes super quickly.
Start with a coat of spray primer.
The spray primer will help your paint stick to the slick metal shower door frame.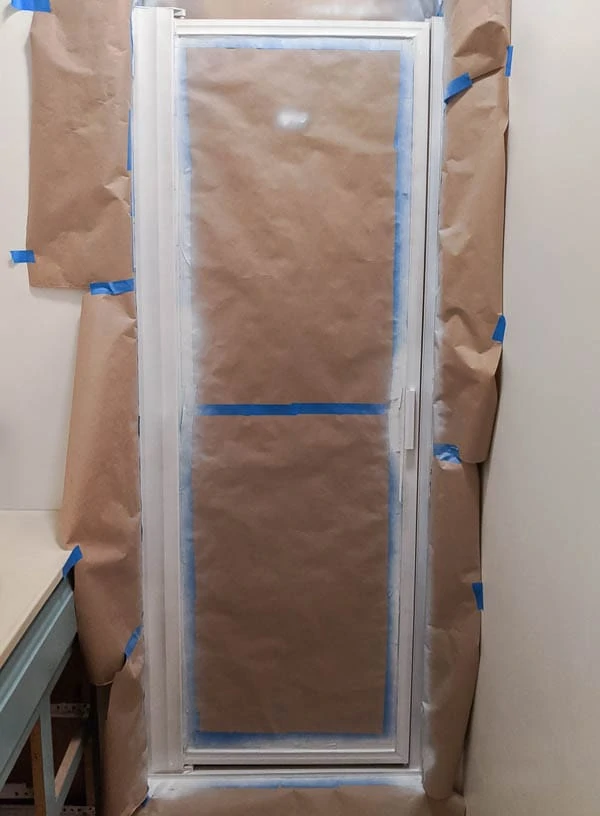 Anytime you are using spray paint, remember to do very light coats of primer/paint. Keep your spray can at least six inches from the surface you are painting and keep it moving evenly over the surface.
You definitely don't want to do a thick layer of paint – that just leads to drips and gunky paint build-up.
Once the primer is fully dry, it's time for paint!
The primer I used recommended waiting 15-30 minutes before painting; if you use a different primer, just check the can for the recommended drying time.
Painting
When the primer is totally dry, you can spray on your first coat of paint.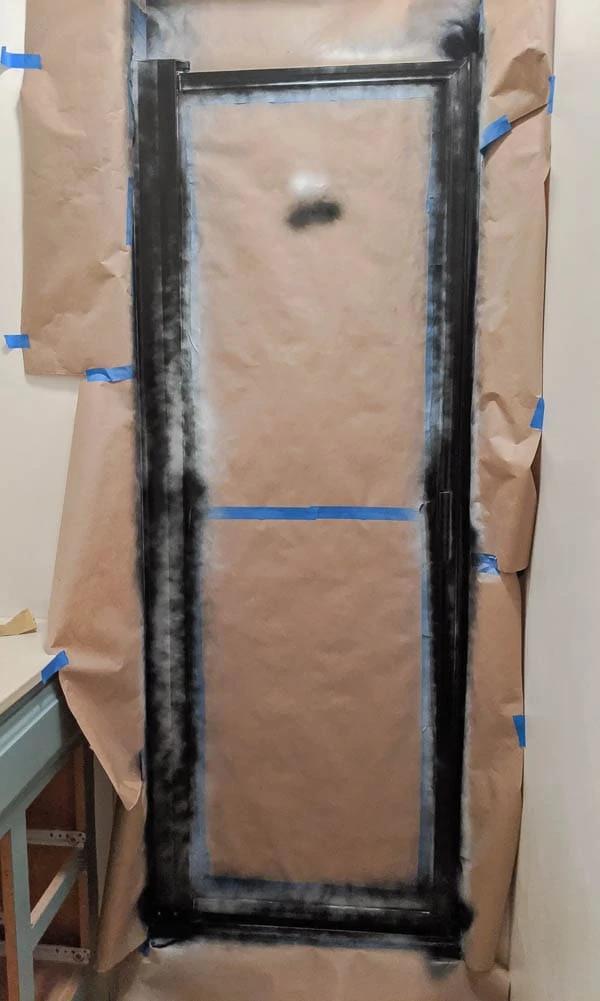 first coat of paint
Remember, you want to do several light coats of paint rather than one thick, drippy coat.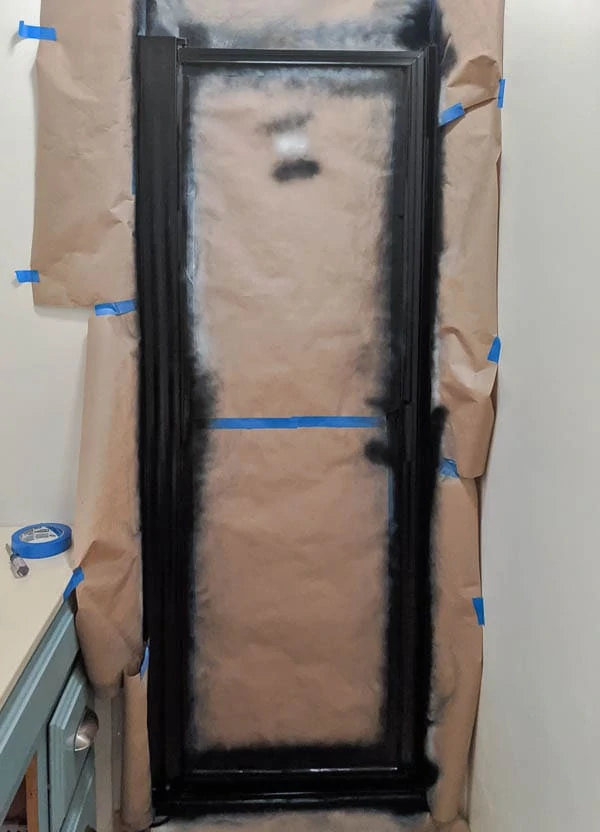 third coat of paint
If you do end up with drips in your paint, it's fairly easy to fix.
Wait for your spray paint to completely dry. It's going to be really tempting to try to wipe off the drips right away, but that usually just leads to a bigger mess.
Once the paint is dry, you can gently sand off the drip with high grit sandpaper. Then spray another light coat of paint to cover the sanded area.
Removing the tape
When removingthe painter's tape, the main goal is to make sure the paint doesn't peel off your shower doors.
There are two options for removing the tape without peeling the paint as well:
Remove the painter's tape before the final coat of paint dries. This is the method I usually use and it works really well. The downside is it can get messy pulling off the tape that is covered in wet paint.
The other option is to wait for the paint to completely dry and then score the edge of the tape before removing it. Just lightly run the blade of a utility knife along the edge of the painter's tape. If the paint has formed a seal between the metal and the tape, this will break that seal so that the tape doesn't rip the paint from the metal.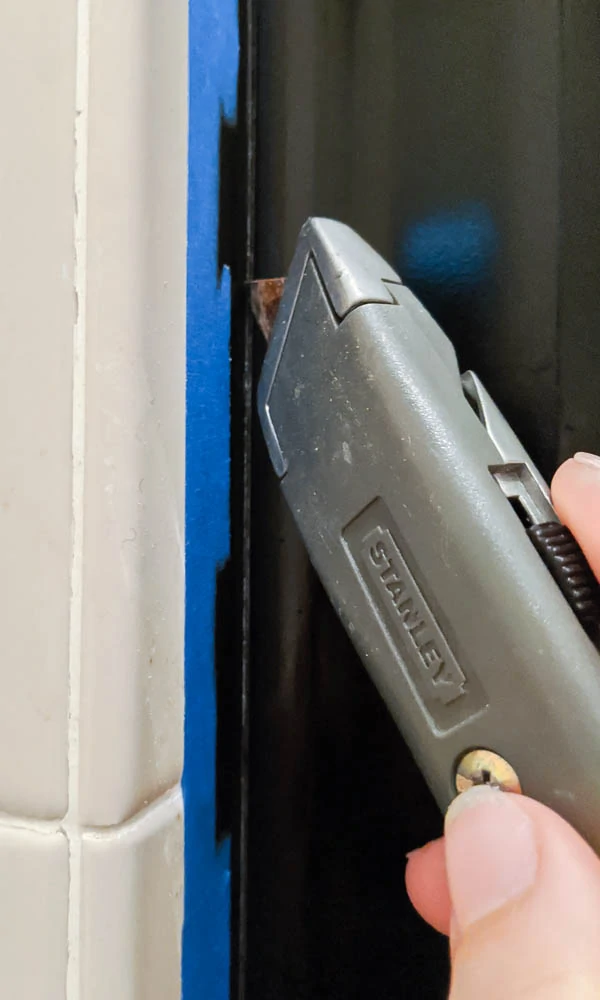 I used the utility knife method to remove the paint this time around and it worked perfectly! Just look at those crisp paint lines!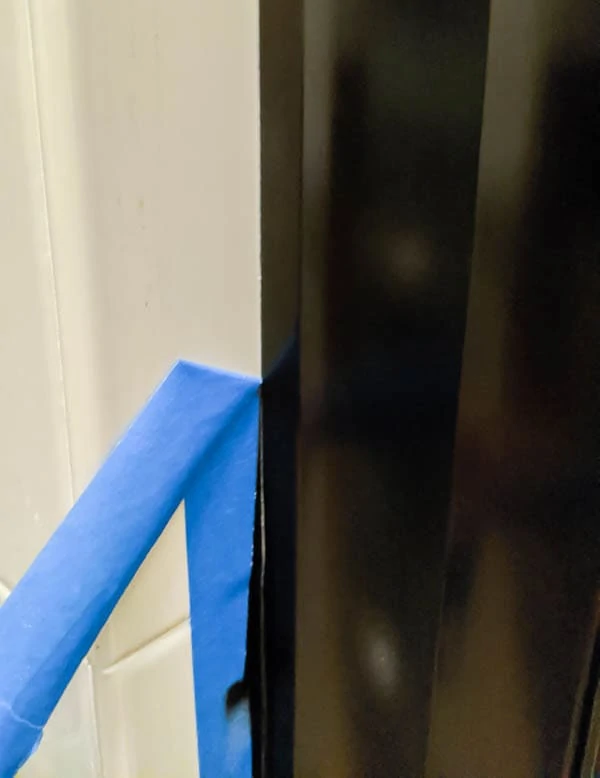 If despite being careful, you have a few places where your paint needs to be touched up after you remove the tape, Lauren from Blesser House has a smart trick for touching up spray paint.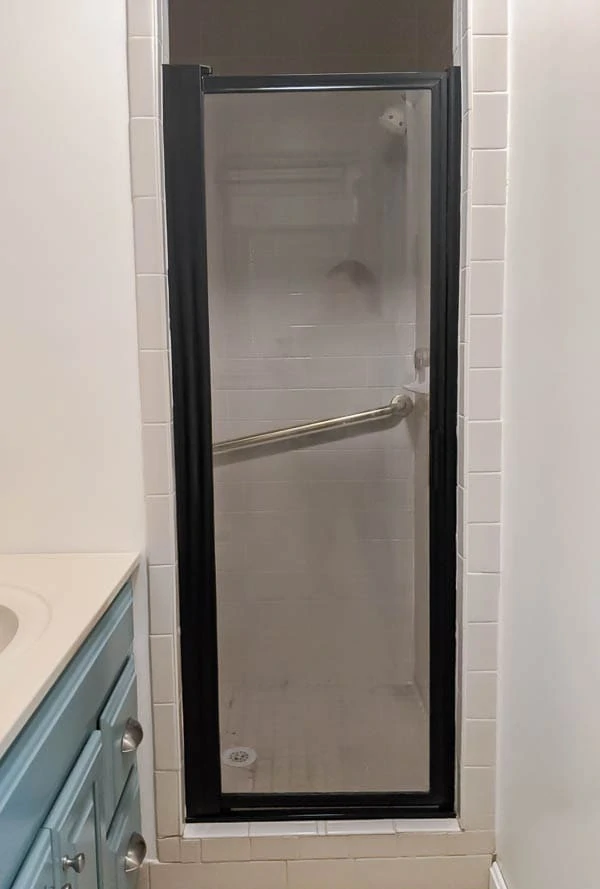 I chose to only paint the outside of my shower doors and leave the inside of the doors gold.
You certainly could paint the interior of the doors as well; I just decided not to since the inside of the doors can only be seen from inside the shower and really haven't bothered me.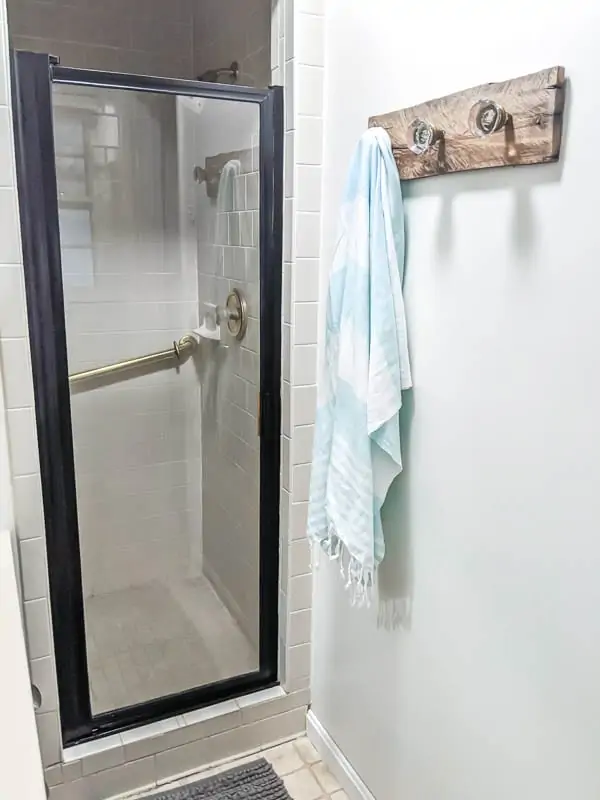 I love my black shower door! It really makes the whole room look more modern – even next to the bland beige tile.
Video Tutorial
I'd love for you to subscribe to my Youtube channel!
There are only two weeks left until the big $100 bathroom makeover reveal and I am so excited about how everything is coming together! In addition to painting the shower door, I also painted the bathroom walls and vanity this week.
Here's an update on where the budget and project list stands.
Bathroom Budget Update:
Total from last week: $30
Paint for walls: $0 (leftover from previous project)
Paint rollers and brushes: $0 (already owned)
Paint and primer for shower doors: $8.50
Running Total: $38.50
Bathroom Project List:
remove wallpaper and prep walls
paint walls
accent wall
paint vanity and replace hardware
replace medicine cabinet
replace vanity light
paint gold shower doors
paint or replace gold faucet
replace cabinet over toilet with shelves
remove tile trim and install wooden baseboards
paint or cover vinyl floor
new window treatment
add towel hooks and other accessories
There's still a lot to do, but I'm feeling pretty confident I can pull it off.
You can check out everyone else's progress at the links below!
You are invited to the Inlinkz link party!
I'd love for you to pin this project on Pinterest!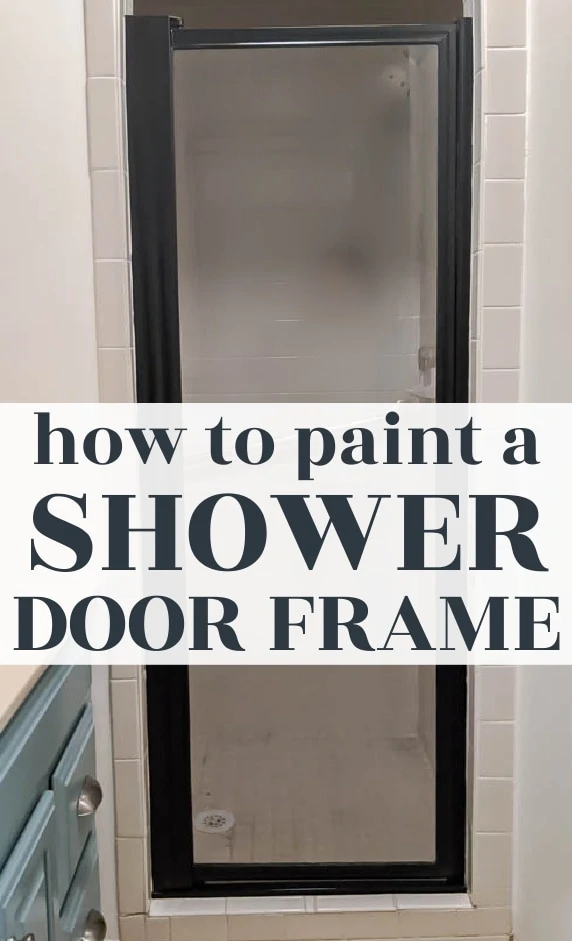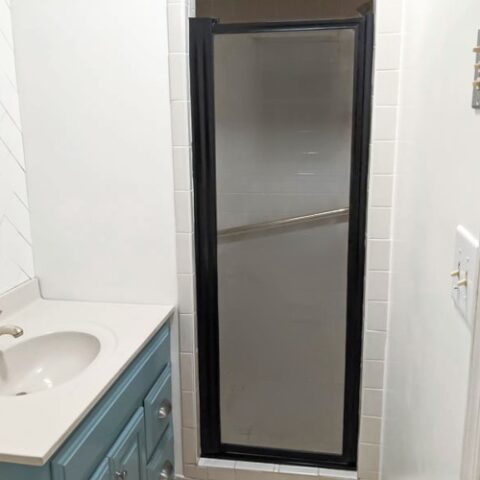 How to Paint a Shower Door Frame
Paint is an easy way to update an old shower door frame. It's inexpensive and can completely change the look of a dated bathroom.
Materials
Cleaner
Painter's tape
Plastic drop cloth or kraft paper
Spray primer
Spray paint
Instructions
Clean your shower door frame well.
Use plastic drop cloth or thick paper to cover everything around your shower door frame.
Spray a light coat of spray primer on your shower door frame.
When the primer is dry, spray your first coat of paint. Use several light coats of paint, rather than one heavy coat. You will probably need 2-3 coats of paint for good coverage.
To avoid peeling off the paint when you remove the painter's tape, either remove the tape before the final coat of paint dries, or wait for the paint to dry completely and then use a utility knife to score the edge of the tape before removing it.
Recommended Products
As an Amazon Associate and member of other affiliate programs, I earn from qualifying purchases.