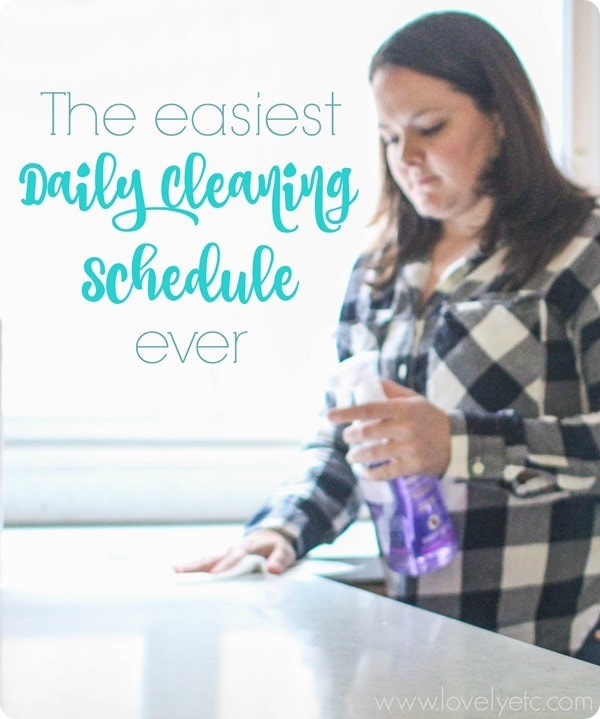 Time for a confession. I love my home and clearly spend a lot of time making it my own. But it is pretty much always a mess. Always.
Oh the irony. I work so hard to create a beautiful home that I can hardly ever enjoy because it is always covered in mess. I constantly have a project going on which means there is always DIY debris cluttering up the house. Add the mountains of toys that seem to multiply daily plus the everyday clutter and it isn't pretty.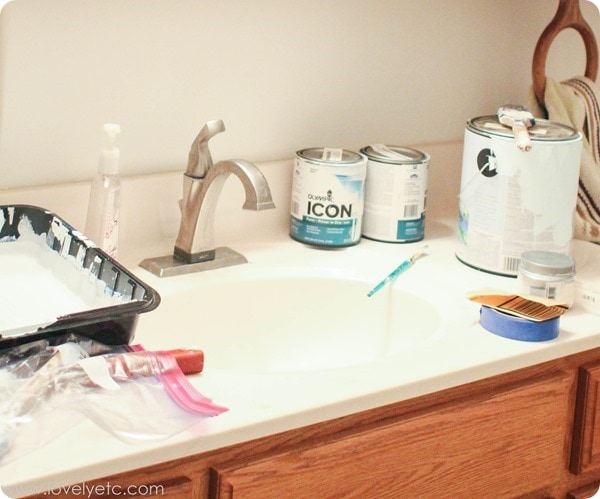 I really need a daily cleaning schedule.
One of my goals this year is to finally get it together and get a system in place to truly get things clean. What I really need is a routine. Currently, I get fed up with the mess every few weeks and go into a frenzy cleaning the whole house. Once everything looks great, I try to keep it that way. I really do. But pretty quickly I notice things starting to pile up again. And one thing always leads to another until we are in the same mess again. Squeezing cleaning into my day whenever is just not working.
I need a daily cleaning routine. A quick one, because I do have two little kids who make it their business to make sure my free time doesn't get out of hand. And it has to be simple. I'm not worried about perfection here – I just want to make sure the paint is all stowed away and the floor is swept.
So here is the quick, easy daily cleaning schedule I came up with.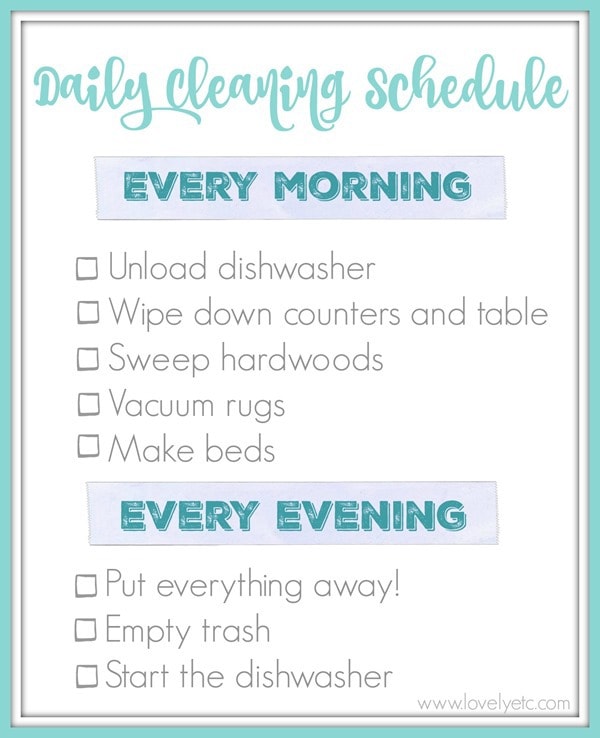 Every morning – clean it up. Every morning after breakfast, do the basic cleaning. Everything should still be put away from the previous evening, so all of the surfaces will be clear for cleaning. This is the time to do the basics – Unload the dishwasher, clean the counters and sink, sweep the floor, vacuum, make the beds.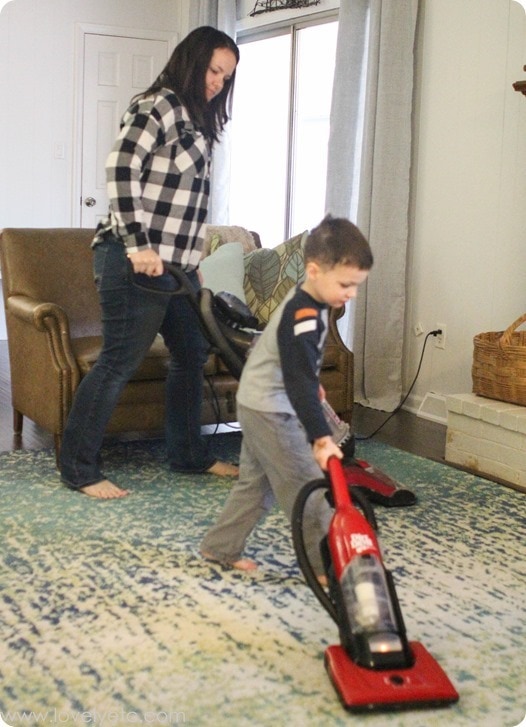 This way every single day the house starts fresh and clean. Inevitably, it will get messy throughout the day, because hey, we do live here. But every single morning it will start out nice and clean.
Every evening – put it away. As in everything. All DIY gear needs to be stowed away. All toys need to be corralled back onto the shelves. And any other stuff cluttering up the counters and tables needs to be put away. Before I can go to bed, this must be done. Which sounds really annoying until I remember that if I do it every night, it's going to take fifteen minutes tops.
And in the interest of quick and simple, I've got my super simple cleaning supplies – all purpose cleaner and paper towels. Those two alone will take care of 95% of the messes and that's what I need. Something that gets the job done fast without a lot of supplies or fuss.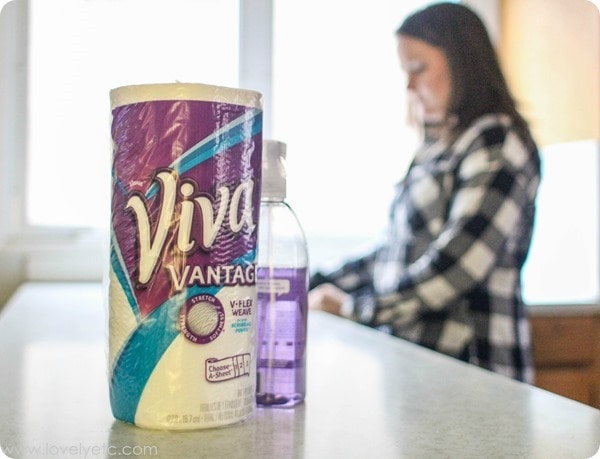 Lately, I have been really loving Viva Vantage paper towels for scrubbing down my counters, table, and cabinets. They have a really strong, scrubby texture that really helps attack the stuck-on stuff – and somehow I seem to have stuck-on stuff every single day. Sigh.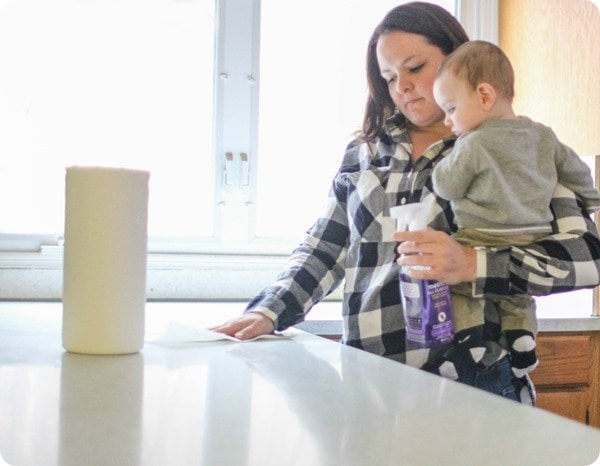 I actually didn't even realize until recently that there are two different kinds of Viva paper towels. Viva Vantage have a scrubby texture that is perfect for cleaning tough messes while Viva Towels are really soft and strong like cloth – just what I need for wiping down my kids' messy faces.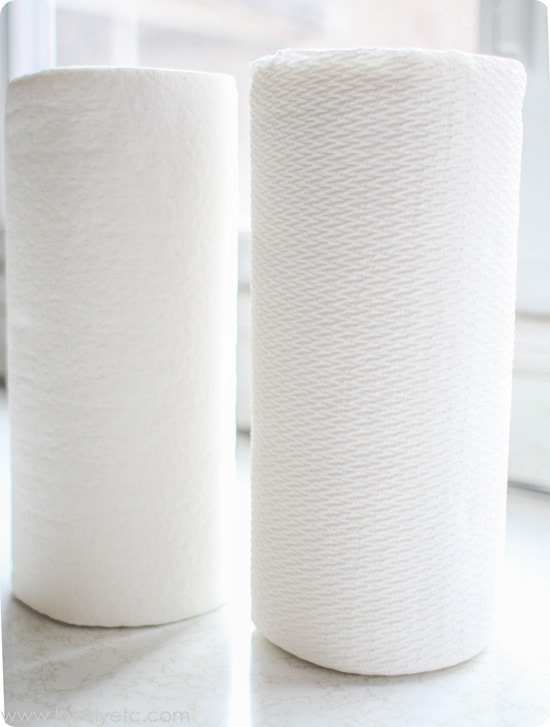 And both types work just fine for cleaning big messes.
Until I get my daily cleaning routine down a little better, I made a printable to stick on the fridge. It never hurts to have a little reminder right where you are sure to see it. You can get your own copy at the link below.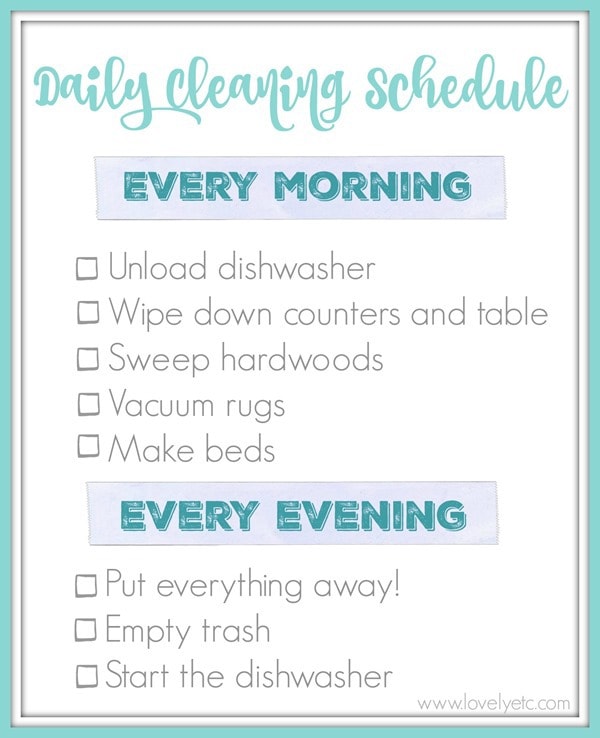 Printable Daily Cleaning Schedule
I was selected for this opportunity as a member of Clever Girls and the content and opinions expressed here are all my own.