Sharing an update to my painted plywood subfloor three years later…
It is hard to believe it has already been three years since I painted the plywood subfloors in our living and dining rooms.
My painted floors are one of the most worthwhile DIY projects I've tackled in our home and are still one of the projects I get asked about the most often.
Now that we have lived with them for several years, it seemed like the perfect time for a painted subfloor update to share how they have held up.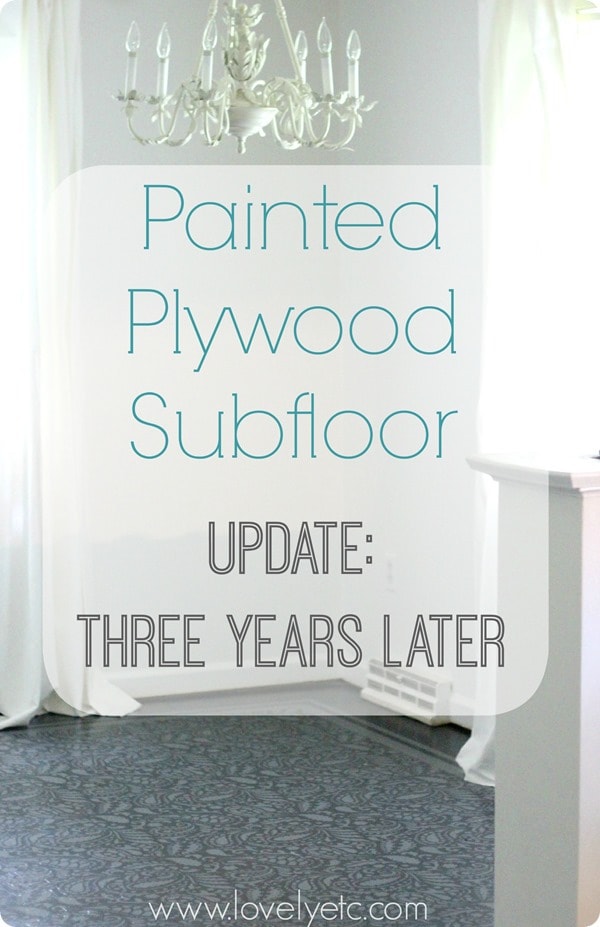 Not only that, but this will also be the final floor update because we are actually ready to lay hardwoods over my beautiful subfloor.
Not because they haven't held up well or are no longer amazing though. I'll explain why we are going that route, but first an update on the floors themselves.
(*Just a heads up that you might want to read my post on the good, the bad, and the ugly of painted floors for an update on how things were looking after a few months as well. This update will focus more on the effects of time while that update focused more on the reality of living with painted subfloors.)
This post may contain affiliate links. See my full disclosure here.
How do the painted floors look after three years of use?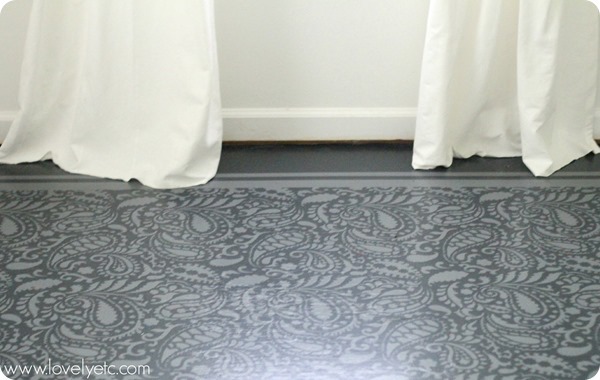 Honestly, they look amazing. In most ways, they look exactly like they did the day I finished painting and sealing them.
There is not a single spot in these two large rooms where the finish has worn away or the paint has faded or scuffed.
The floors have the same soft sheen they had from the start. The actual paint, which is what I was initially the most worried about, has held up phenomenally.
The floors have also been a dream to clean. The stenciled pattern truly does hide crumbs and dust along with hiding the imperfections in the plywood. (We used this paisley stencil and it was perfect.)
I have generally just cleaned the floors by sweeping and mopping the same way I would clean any hardwood or vinyl floor.
There were, however, a few hard-to-reach spots in the corners of the room where the sealer did not cover as well.
In those areas, dust and dirt do like to stick to the paint and are very difficult to clean off. (Which is another reason, using a good sealer is so important!)
Have there been any problems with the floors?
Yes and no.
Although the floors still look amazing, there have been some minor wear and tear issues. These floors have endured a bit of abuse over the years, just like any other floor.
My two-year-old drags toys and other random things across the floors daily. And when I have moved furniture in these rooms, I haven't taken any special care to protect the floors and there haven't been any problems.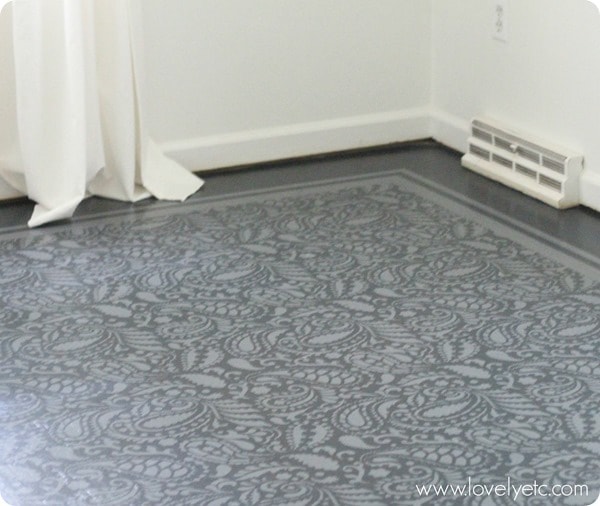 However, even though the floors do not get scratched easily, the soft plywood is easy to ding.
There are quite a few small spots where something with a sharp edge has been dropped on the floor and has left a small dent that goes through the paint and shows some of the wood below.
These spots are all very small – the largest is around the size of a pencil eraser, but they are visible if you look closely.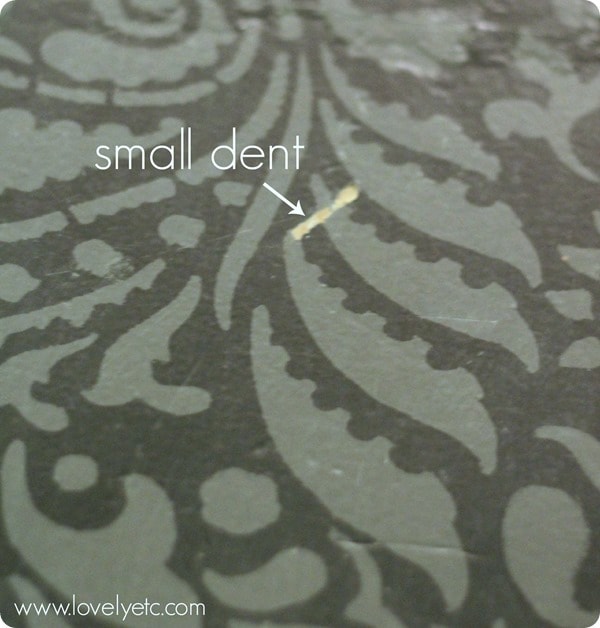 There has also been a slight problem with some of the staples and nails that secure the subfloor to the joists popping up.
The floors are not unstable in any way, but clearly, this is a problem. In the dining room, there is one area where a row of five staples has popped up – they have not popped all the way out, but are now visibly sticking up.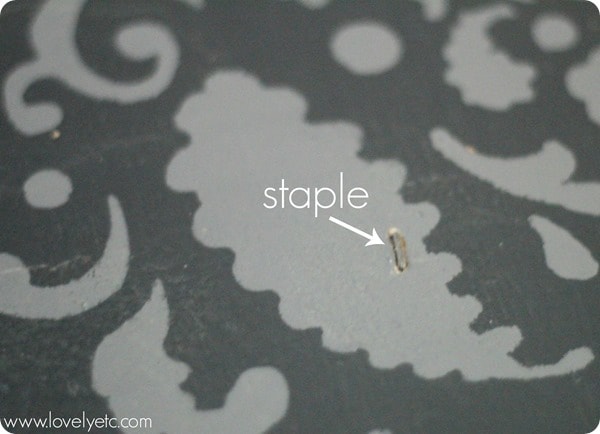 There is another area in the living room where four nails have popped up even higher. I know this happened when we were replacing some subflooring in an adjoining room, but I am not sure the cause of the staples popping up in the dining room.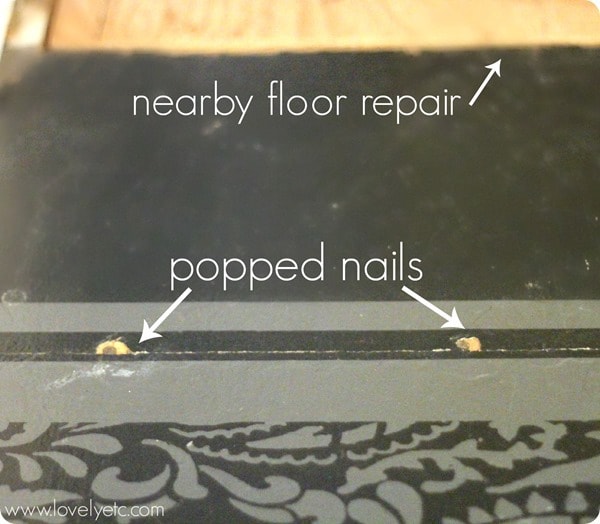 My guess is that this is related to the fact I filled the seams of the plywood before painting. The seams are actually there to allow the plywood to expand and contract as needed.
Since they were filled in, they weren't able to do this properly which caused the staple popping. I am clearly not a contractor and do not know for a fact this is what happened, but it seems to be the most likely explanation.
So if I were painting the floors today, would I still fill the seams? I think I would. The floor just looks so much more finished without the large seams.
However, I would apply the filler very superficially and keep it on the surface of the floors as much as possible so that the wood could hopefully still expand as needed underneath.
Is this a perfect solution? I have no idea (still not a contractor), but it seems like a good compromise to me.
Was all that work worth it?
So the big question. Was it worth it? The floors were incredibly inexpensive at only around $300 for gorgeous flooring in a 400 square foot space.
I have had a few builders comment on my posts about the floors that paint is not real flooring and I should have just gotten some other type of inexpensive flooring. Clearly, they missed the point.
I have never seen a quality flooring material that you can buy for less than $1 a square foot including all needed materials and supplies.
And any flooring that comes close to that price – peel and stick tiles, vinyl, etc. is not really something I want in the main living areas of my home.
If all I needed was an adequate floor cover, I could have kept the stained carpet we had originally.
But I wanted more than that – I wanted something beautiful that would make me smile when I saw it each morning.
And that is exactly what my painted floor did. So as far as money goes, there is no question. It was worth it one hundred times over.
But what about the time? There is no doubt this project required a much bigger investment of time than money.
Removing the carpet, preparing the floors, priming, painting, stenciling, sealing, waiting for things to dry – it adds up to quite a bit of time.
Especially knowing now that we were only going to enjoy the floors for three years.
To me, the time was also well worth it. There is just no way to adequately explain what a difference these floors have made to our house.
Even if we had only had them for one year, it would have been worth it. They are gorgeous. They are clean and sanitary (as opposed to the gross carpet).
And they completely transformed our living room and dining room from spaces we mostly avoided to rooms we actually like being in.
The difference they made in our home was more than worth the time and effort they took.
So why are we covering the painted floors if they are so great?
This is the million-dollar question and definitely one I have asked myself quite a few times. We are not covering the floors because they aren't beautiful or we don't still like them.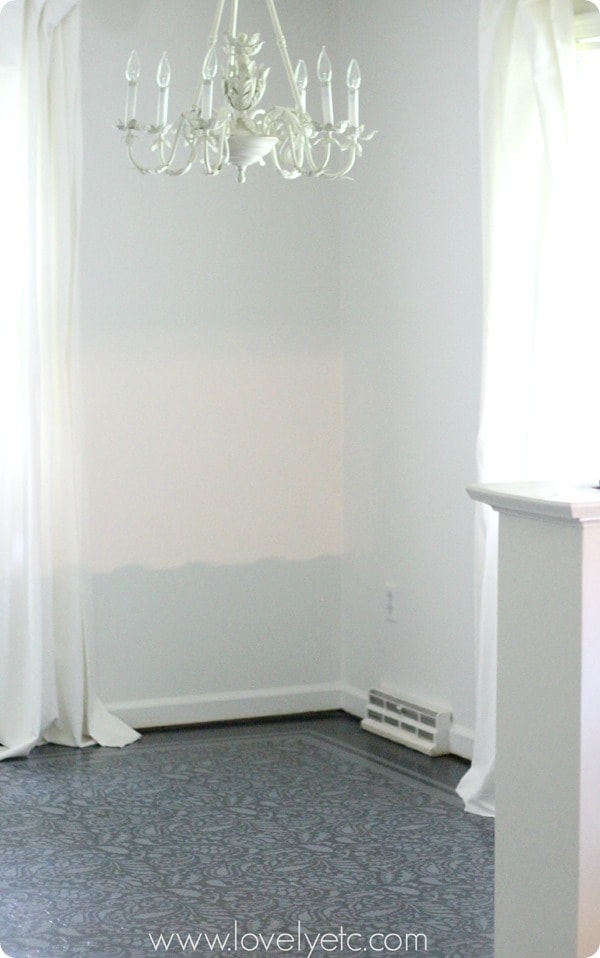 When we moved into our house, the flooring throughout the entire house was not great – lots and lots of old worn-out carpet, dated vinyl flooring, and permanently stained stone.
We pulled up the carpet in the dining room and living room and painted the floors because that carpet was the worst of all.
Our dog was fairly old and had begun having lots of accidents in those two rooms and frankly, it was just getting really gross. But the rest of the house still had the original worn-out flooring.
Not only that, but our house has a fairly open floor plan. The foyer, living room, dining room, family room, kitchen, and hallway are all connected to one another through open doorways.
So everything is pretty open to each other – and none of the flooring types matched. There was carpet next to stone next to carpet next to vinyl next to carpet.
Every single threshold led to something different. So when we painted our floors, they were amazing; but the flooring was still extremely choppy throughout the house.
Here is a very basic floor plan of the various floors we had going on including carpet in the family room, vinyl in the kitchen, and dark stone in the foyer.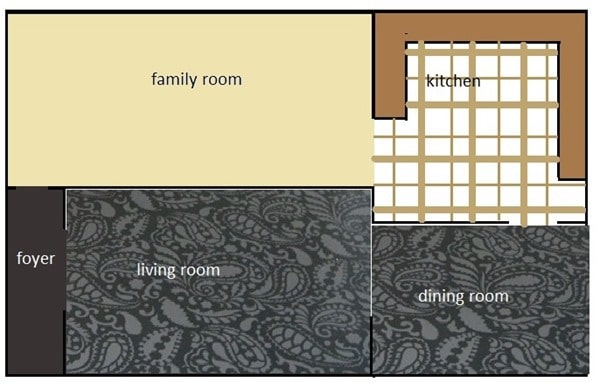 So the short answer is, we are covering our beautiful subfloors to put in hardwoods throughout the main part of the house – foyer, hallway, family room, kitchen, living room, and dining room.
We saved up some money for home improvements, bought the wood during a great sale, and are installing it ourselves.
We actually already laid the floors in the family room and kitchen last year and we love, love, love them. So even though I am sad to cover all my hard work, I am also excited to see our house start coming together as a cohesive unit.
Plus, as my husband says, one day when we are long gone, some other home owner is going to be in for such a shock when they pull up the flooring and discover that beautiful paint job underneath.
Imagining that definitely makes me smile!
So there you have it, the final update. So long beautiful floors. Although, really they won't be gone – just hiding out for a while.
If you have any questions about things that I didn't cover, please ask. I definitely want anyone considering doing this in their own home to have as much information as possible and will help any way that I can.
If you are thinking about painting your own floors, you need to check out these other posts for tips and answers to many of your questions:
Amazing Painted Floors: A How To
Painted Plywood Floors Update: The Good, The Bad, and The Ugly
The Absolute Best Floor Stencils and Tips for a Perfectly Stenciled Floor
15 Gorgeous Painted Floors: Ideas for Every Type of Flooring