This vintage bamboo end table has been totally transformed. Not only did it get a fresh coat of paint; I also replaced the broken glass tabletop with a fresh new wood top.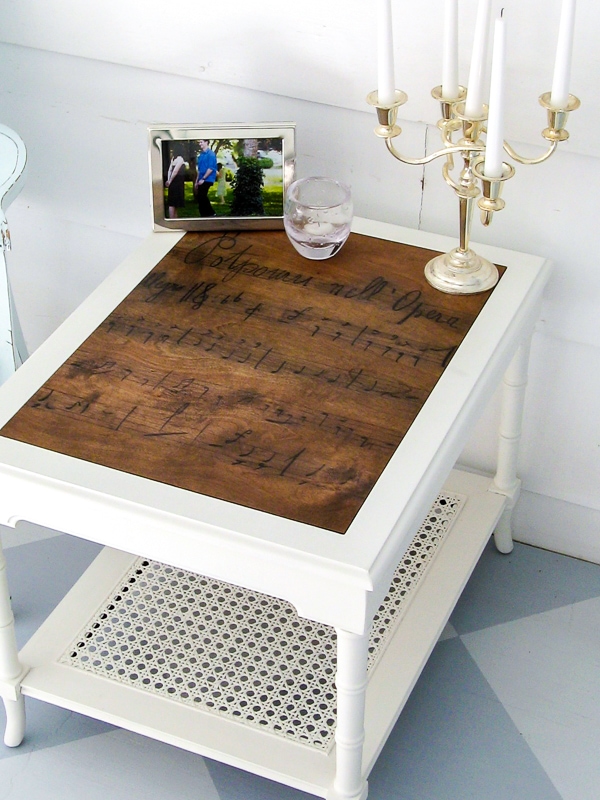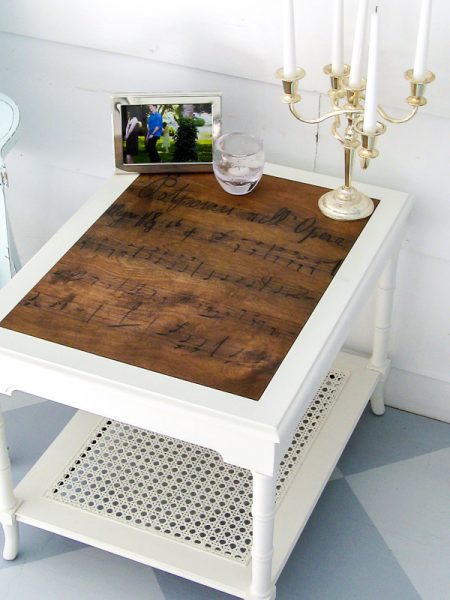 I absolutely adore how this end table turned out, but as usual, no transformation is complete without some sad tale of woe.
This table had a very scuffed-up wood finish and it originally had a nice thick piece of beveled glass instead of a wooden tabletop.
I forgot to take a before picture before getting to work, but it looked very similar to this table.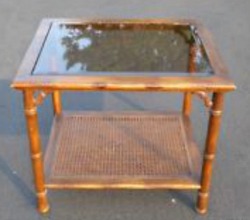 I bought this table at the Goodwill, plopped it in the back of my SUV, and headed home. On my way home, another car abruptly cut me off and I had to slam on my brakes.
I avoided hitting the other car but the sudden stop caused my end table to flip over, sending the glass shattering all over me and the car.
I only had one very tiny cut but I was furious that my glass had been broken. Now my table had a gaping hole in the top.
Well, the table sat in the basement for a while. At first, I was planning to simply replace the glass tabletop with new glass, but I didn't want to just put a thin, cheap piece of glass on the table.
I also didn't want to spend a ton of money. Finally, inspiration struck.
The hubs cut a nice piece of birch plywood to fit the hole on top of the table. I stained it with Minwax Jacobean stain and headed over to the Graphics Fairy to find the perfect graphic.
I think sheet music is absolutely beautiful so I chose a scrap of old sheet music as my graphic.
It was the perfect shape for my little tabletop. I used this super simple pencil transfer method to transfer the design to my stained plywood. Then I traced over the design using a basic Sharpie. Seriously, it was that easy!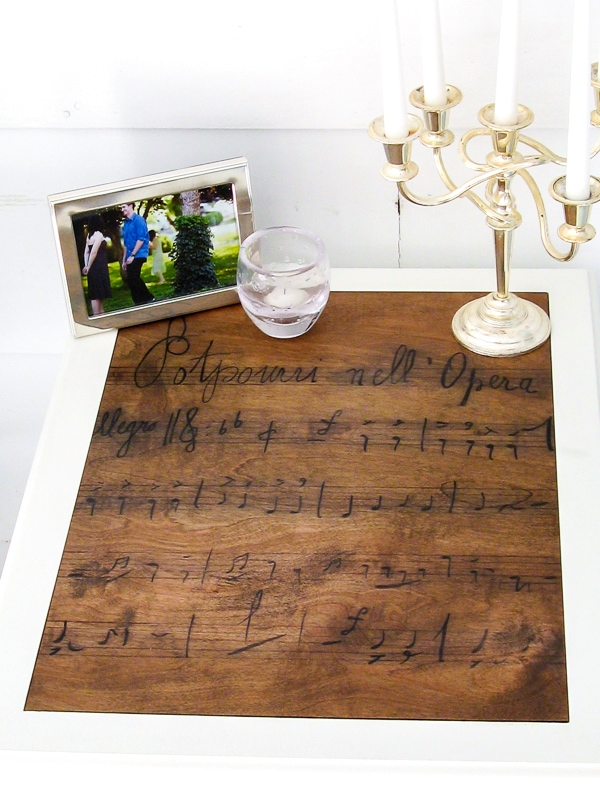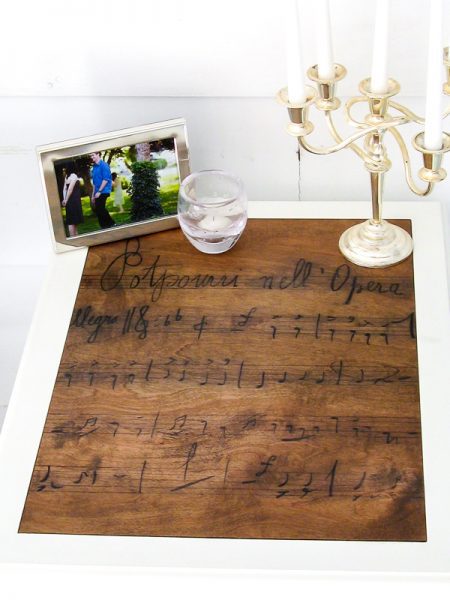 I painted the body of the table white which made a beautiful 'frame' for the wooden top. (You can see all of my favorite paints right here.)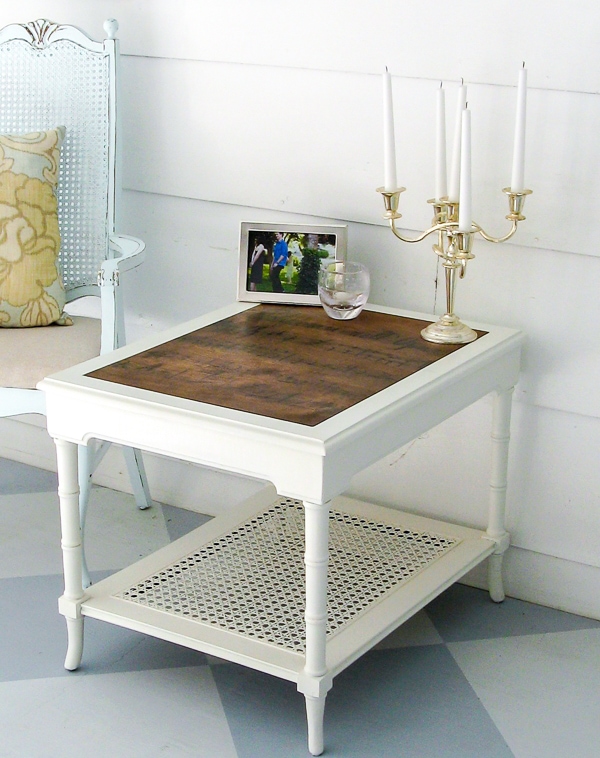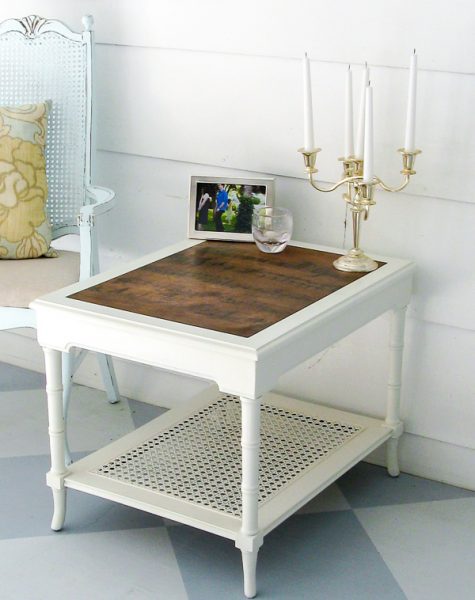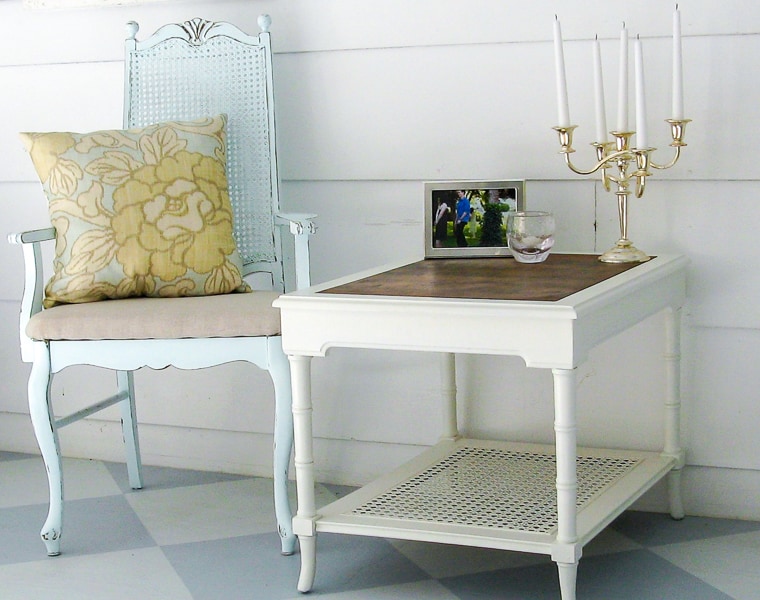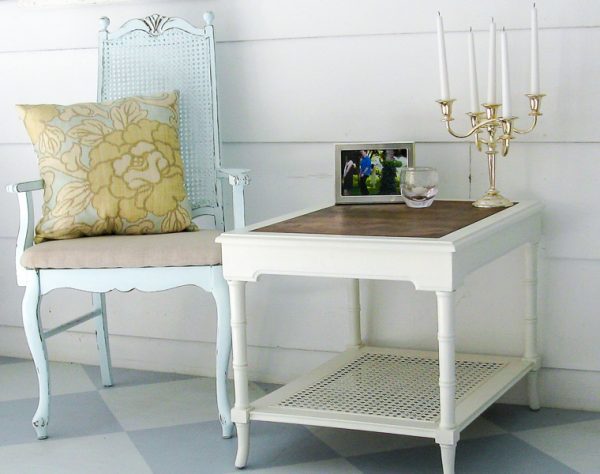 I love the finished product so much. It is way more awesome than it would have been with just a fresh paint job and its old glass top. (But I'm still not happy with that guy that cut me off!)