Several months ago I started plotting how to get beautiful floors for not much money.  I was fed up with my nasty, stained carpet but didn't have the money for the hardwood floors I was dreaming of … or any other decent flooring for that matter.
But that gross carpet had to go, so I decided I was going to paint the plywood subfloor in my living and dining rooms.
Many months later, I am finally done!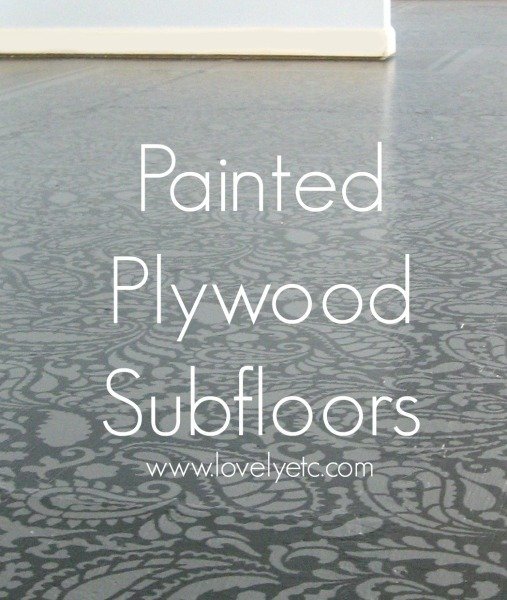 I think I'm kind of in love with these floors.
This was not a quick or easy project but it was sooo worth the effort.  Here is a quick run-down of how I did it.
This post contains affiliate links – you get to buy cool stuff you want and support future DIY projects on Lovely Etc. at the same time.  The gorgeous stencil I used was provided to me by Cutting Edge Stencils.  See my full disclosure here.
Painted Plywood Subfloor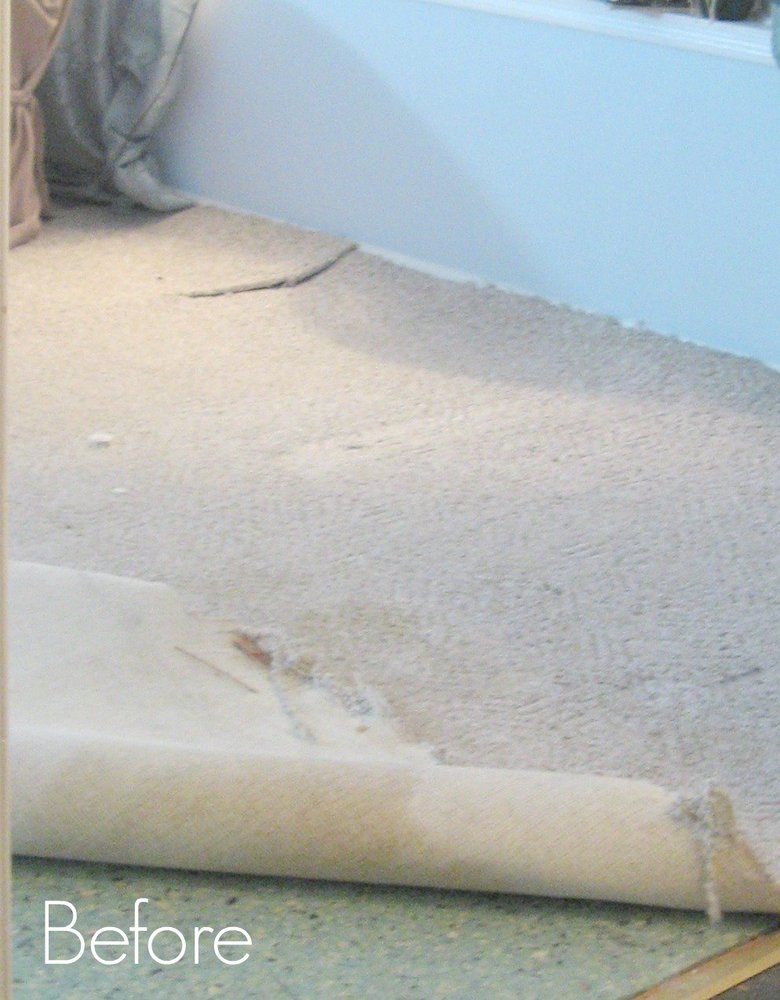 1.  Rip out old carpet and carpet padding.  Remove all tack strips and staples from subfloor.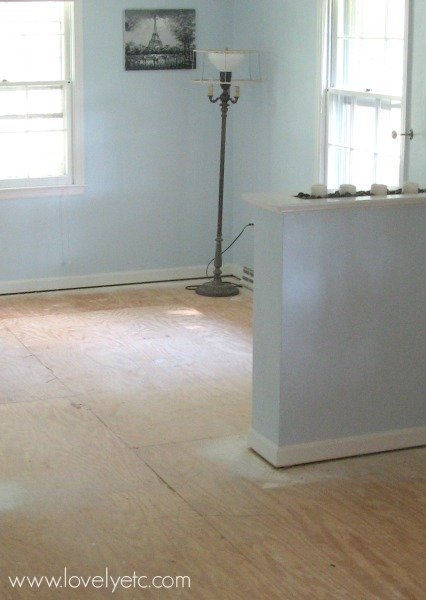 2.  Patch the seams and staple holes.  (This is the only part I really wasn't pleased with.  I used Flexible Floor Patch and Leveler.  This was not the right choice.  It is good because it flexes with the floor and all that stuff.  But it is horrible because you can't sand it smooth).  *Update – I found a much better product for filling the holes and seams of the subfloor – check it out in this post.*
3.  Sand the floor.  We just used a small palm sander but of course a large floor sander would work much faster.  Just remember that this is plywood – it is not going to be silky smooth.  The point of sanding is to smooth out major rough spots and smooth any filler you used.
4.  Prime the floor with a quality primer.  The quickest way to do this is to use a roller with an extension handle and then get the edges with a brush.  (I used Zinsser Oil-based Primer/Sealer.  I like oil based primer in general because it sticks to anything and is very durable.)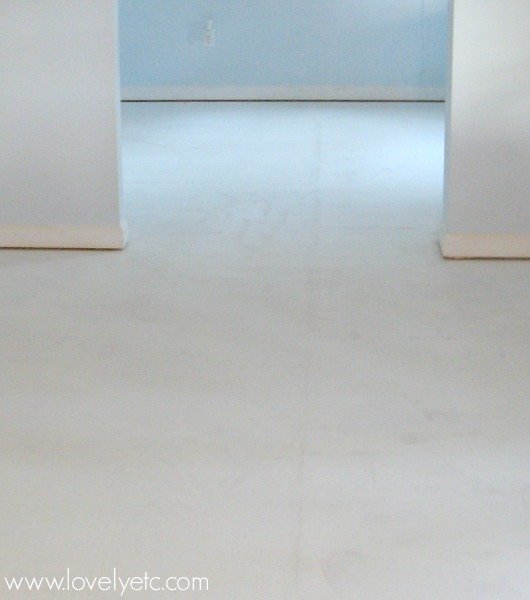 5.  Paint the base color onto the floor. (I used Valspar latex porch and floor paint in 'Chimney Smoke'.  Latex paint works just fine over oil based primer; you just can't do oil based paint over water based primer.  I chose to use latex paint because it is easier to work with and easier to clean.)
6. Paint the border around the room (Valspar latex porch and floor paint in 'Crucible'). To get nice crisp lines follow these steps.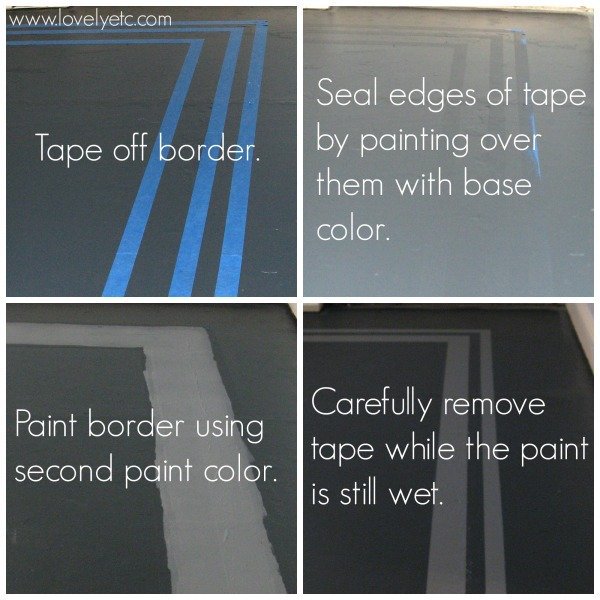 7.  Stencil the design inside the border. (I used the Paisley Allover Stencil
from Cutting Edge Stencils.)  I used a small foam roller to paint over the stencil and only needed one coat of paint in each section.  Be sure to only put a small amount of paint on your roller each time.  You only want to paint a thin coat when stenciling – this way the paint won't smudge when you move the stencil to the next section.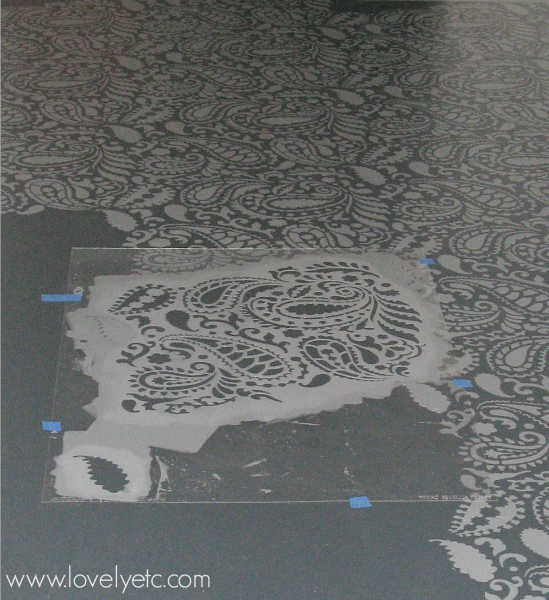 8.  Seal the floor to protect it.  (I used four coats of Rust-Oleum Varathane Crystal Clear Water-Based Poleurethane in Satin Finish and would highly recommend it.  I also used a Varathane floor finish applicator to apply this.)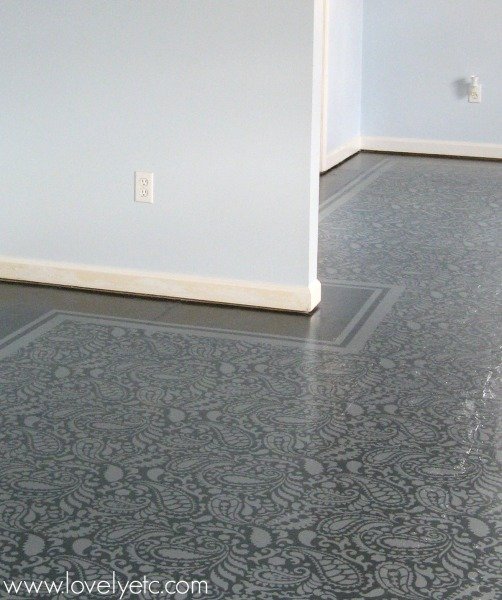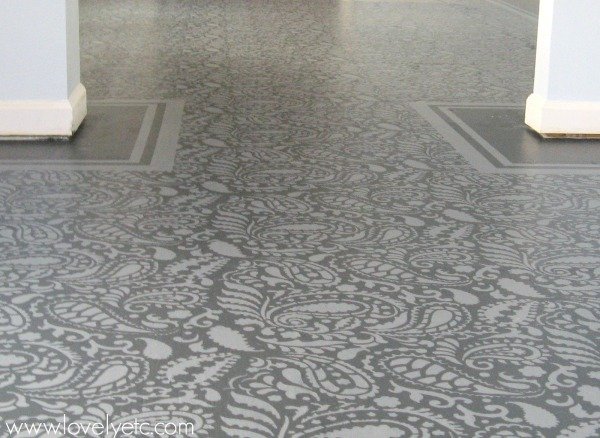 LOVE! There will certainly be more painted floors making their way through my house in the not-too-distant future.
Now I need to finish the trim, and then it is on to the total room makeover these floors have jump-started.  I want to make sure the rest of the room is as great as the floor.
If you are thinking about painting some floors of your own or are just wondering if a painted floor can really last, be sure to check out these tips and updates:
Painted Plywood Floors Update: The Good, The Bad, and The Ugly
Stenciled Floors: Tips and Frequently Asked Questions
Painted Plywood Subfloor: Three Years Later, The Final Update
And if you are still nervous about painting your own floors, I'd love to help any way I can.  You can email me with questions at thelovelyseeker@gmail.com.