This winter wonderland Christmas tree is full of snowy branches, blue and white ornaments, and a bit of sparkle.
Usually my Christmas tree looks more or less the same every year.
I add a few new homemade ornaments each Christmas, but overall I do pretty much the same thing every single Christmas…and I thought that was the way I wanted it.
But not this year. This year my tree looks totally different and I am completely head over heals in love with it! (Is it inappropriate to love a Christmas tree?)
So why the change?
Two reasons. First, I painted my fireplace blue this fall and it completely changed the feel of the room in the best way.
Unfortunately, the combo of blue fireplace and red Christmas décor was looking a bit too patriotic for Christmas in my opinion.
And second, my 17 month old had broken his first ornament within about thirty seconds of me carrying the Christmas boxes upstairs.
So all of my beautiful vintage Shiny Brite ornaments and everything else breakable went straight back down to the basement.
Which meant it was time for a whole new plan.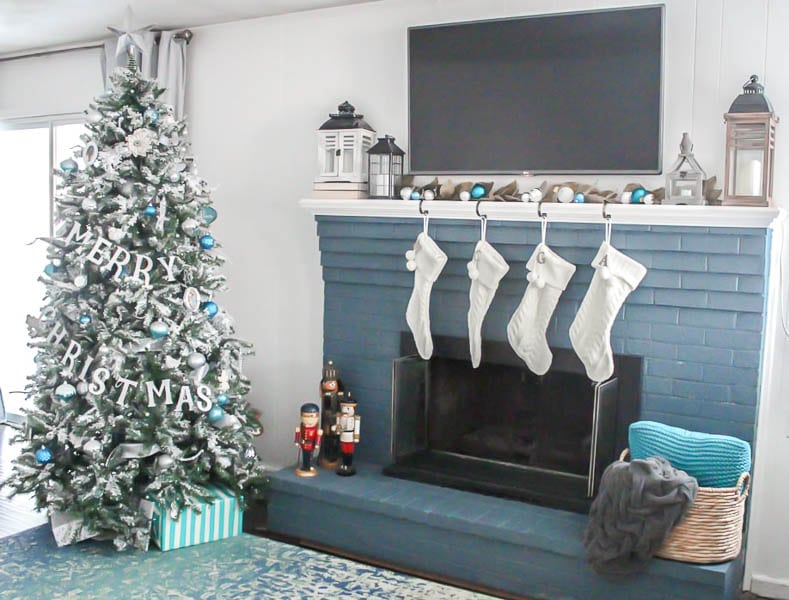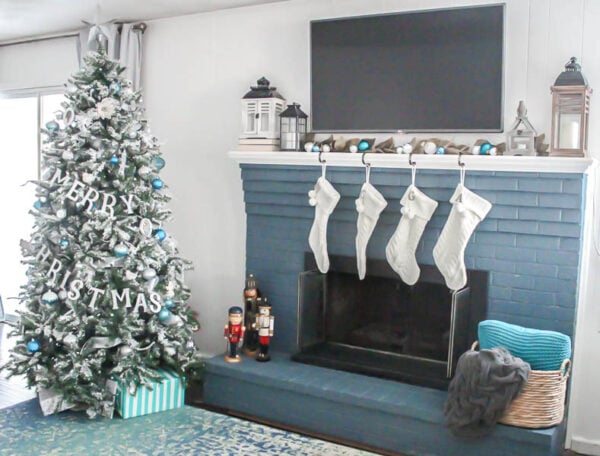 And all of that led to my most favorite Christmas tree ever – my glam winter wonderland tree. I have all the heart eyes for this thing.
Even better, the only thing I actually had to buy to pull it off was a new star for the top and a few pieces of glittered cardstock. Winning!
(If you missed it, be sure to check out the rest of my Christmas home tour here – it's my favorite yet.)
This post contains affiliate links which means if you make a purchase after clicking a link I will earn a small commission but it won't cost you a penny more. Click here to see my full disclosure policy.
Decorating a Winter Wonderland Christmas Tree
First of course, is the gorgeous flocking.
I think flocked trees are just about the most beautiful trees in the world and I wanted one really, really, really badly. But I already had a perfectly fine fake Christmas tree so two years ago I flocked the tree I already had.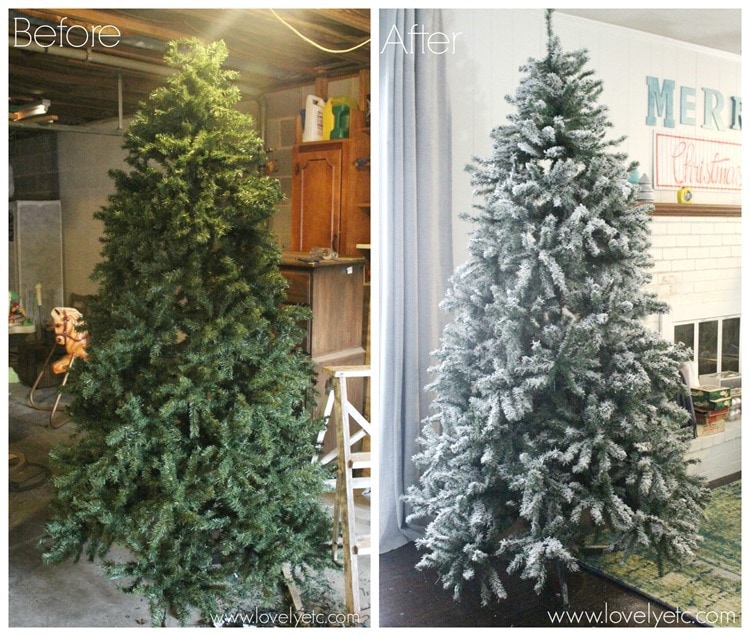 Adding DIY flocking is way, way easier than I ever would have thought and it completely transformed my plain jane tree. (This is the awesome flocking I used. See the full tutorial here.)
This year I got a wild idea to add a bit of nature to the tree. I absolutely adore trees with lots of beautiful Christmas picks (branches, pine cones, flowers, etc.), stuck in them, but I was trying to keep the costs as low as possible.
So instead of buying a bunch, I made my own version.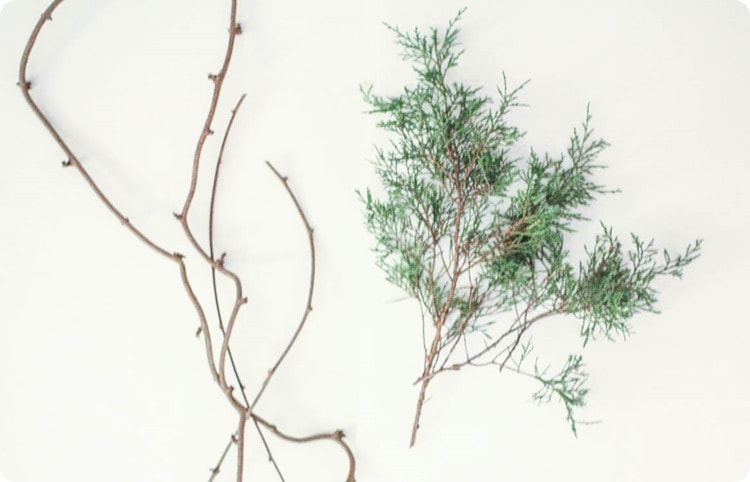 I cut some vines and evergreen branches from our yard, added flocking and stuck them throughout the tree.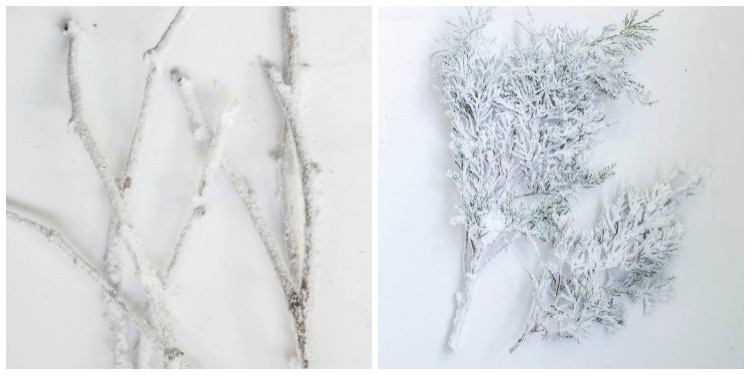 I love how it lends an element of untamed nature to my overly tamed fake tree.
In fact I loved it so much, I did the same thing with a wreath I made and it turned out amazing as well!
Then I added the ribbon.
I only had one roll of ribbon for the whole tree, so I cut it into 18 inch strips and tucked and curled it strategically throughout the tree.
I used a sparkly white and silver herringbone ribbon but any wide, wired ribbon works great.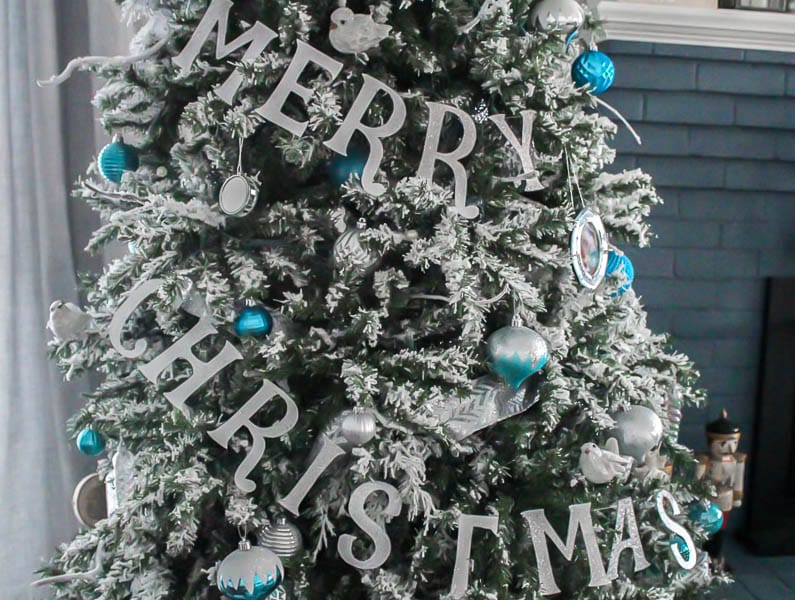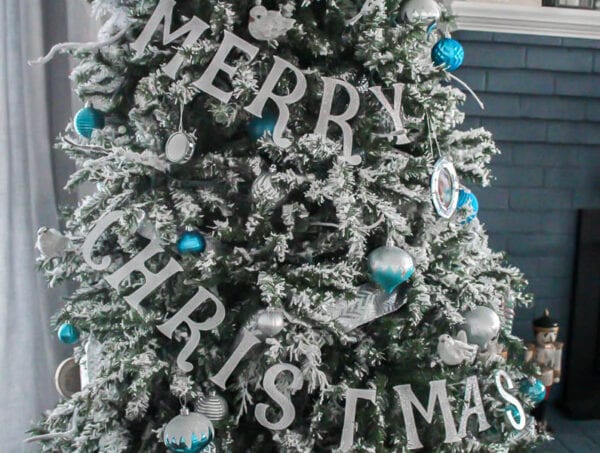 I really wanted to try adding a bit of extra Christmas cheer this year, so I added the Merry Christmas banner across the front of the tree.
I cut my own banner with my new Silhouette Cameo, but this similar banner from Etsy is another great option.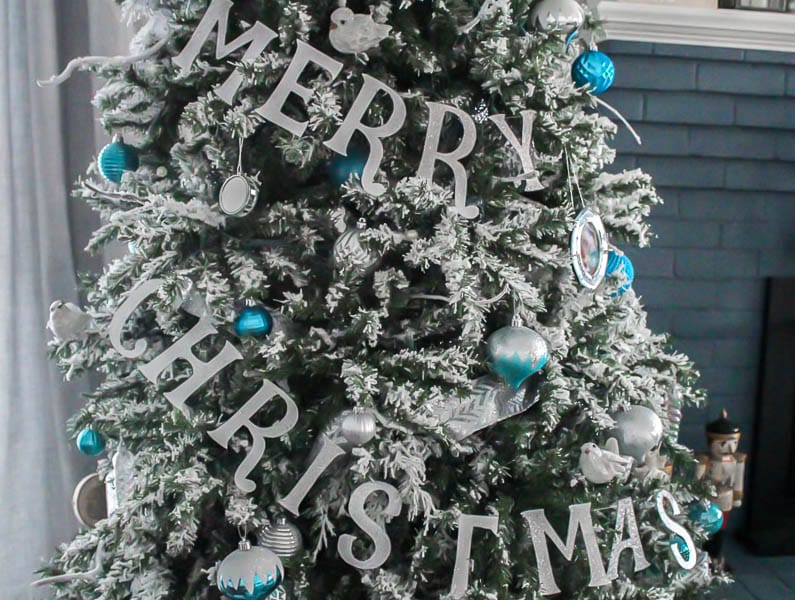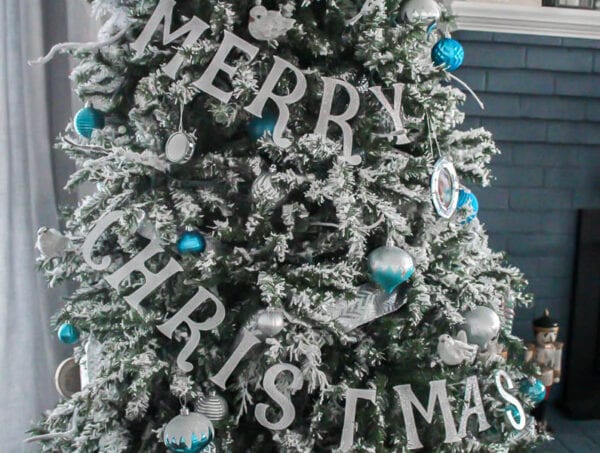 As far as ornaments, I used way less than normal this year.
I only pulled the shatterproof turquoise, silver, and white ornaments from my stash and packed everything else away. But because of everything else going on in the tree, it was plenty. (Here are some great shatterproof turquoise and silver ornaments if you're looking for something similar.)
And finally, we added a star to the top. We've never had a tree topper before, because I could never find the exact right, perfect thing. This year I decided to just find something pretty and go with it.
I chose a simple light up mercury glass star and I think it looks pretty darn nice.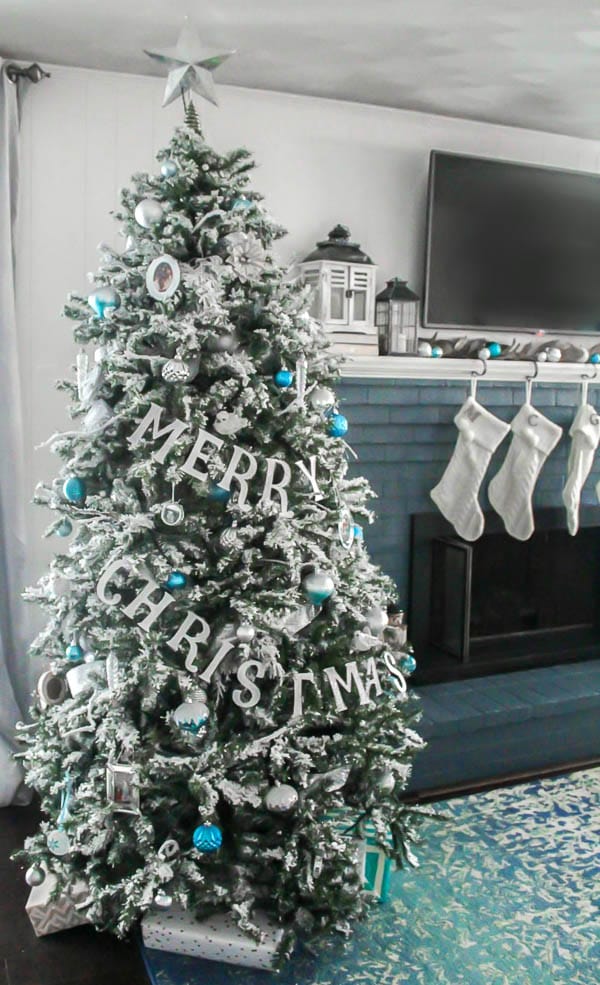 I absolutely love how the sparkly ornaments and letters pop against the snowy tree and how it all looks with my pretty blue fireplace!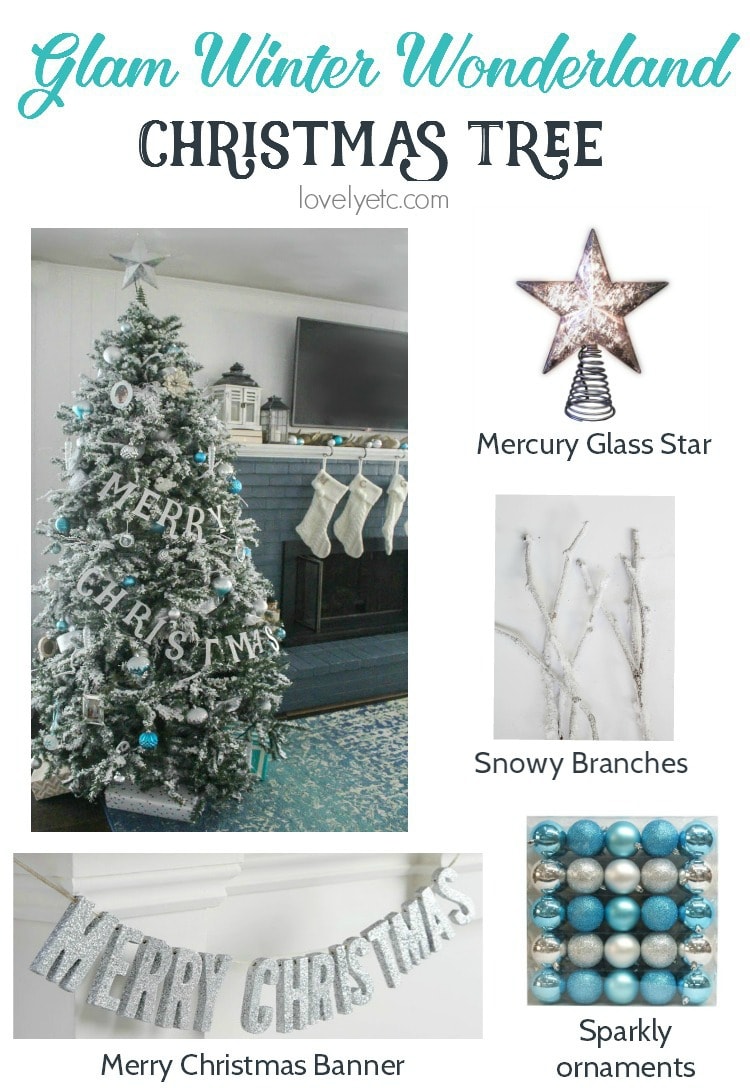 Sno Flock * Merry Christmas Banner * Ornaments