Here are some tips and tricks on how to furnish your entire house for under $2000!
Ok, so I'm not a professional interior designer by any means, but one thing I know I am very good at is putting together a beautiful home on a teeny tiny budget.
I'm pretty sure thrifty decorating is my superpower. It may not be as cool as flying or x-ray vision, but it sure does come in handy when you're trying to turn a so-so house into a comfortable home you love.
Over the next few months, I'm going to be sharing some of my best thrifty decorating secrets and today I am starting with one of the biggest of all: how to save money on furniture.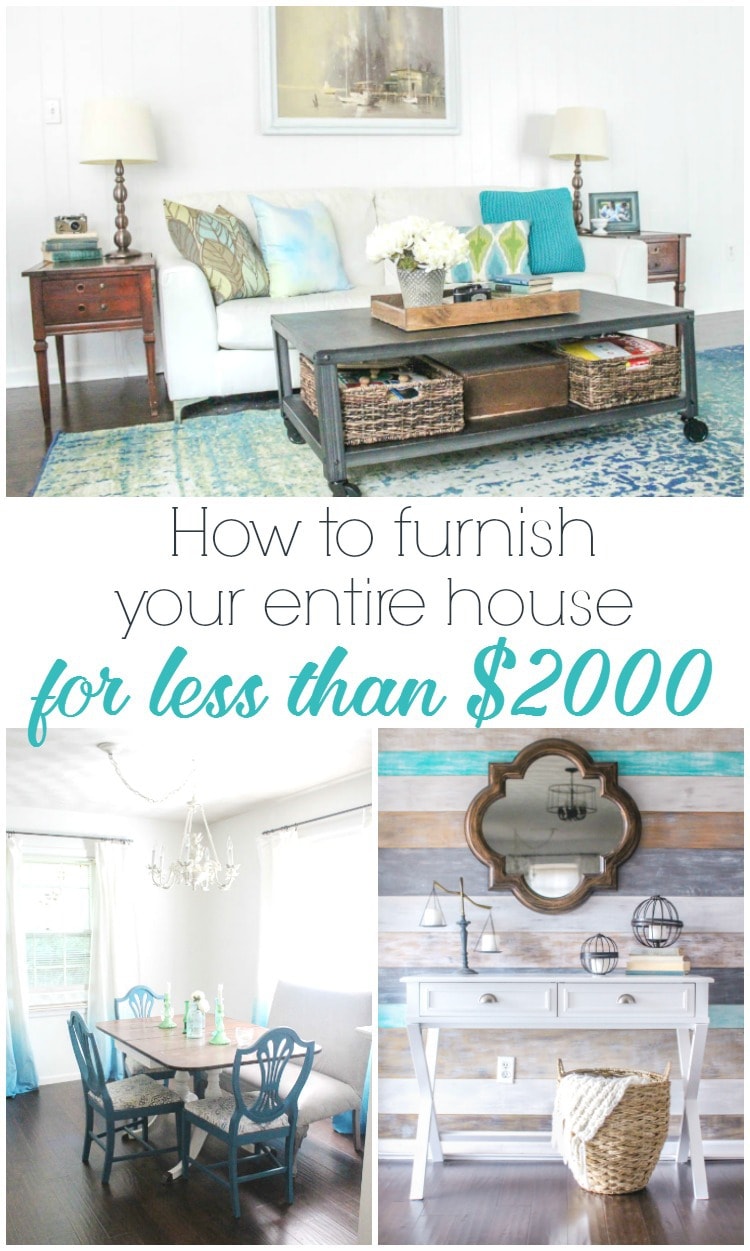 Furniture is expensive! Lately, I've been on the hunt for a new sofa and I've been reminded all over again just how incredibly pricey nice furniture can be.
But it is possible to furnish your entire home inexpensively. And as proof, I've gone through my entire house and tallied up how much we spent on every stick of furniture we have.
And yes, it is under $2000!
For reference, our home is 1600 square feet with a 400 square foot screened porch. (We are so stinking lucky to have that big old porch!)
I've included all of the furniture from our foyer, living room, dining room, family room, kitchen, three bedrooms, and huge porch in my total. Every single thing.
How I furnished my entire house for less than $2000
Where possible I have linked where to buy the furniture items in my home. Some of these are affiliate links; see my full disclosure here.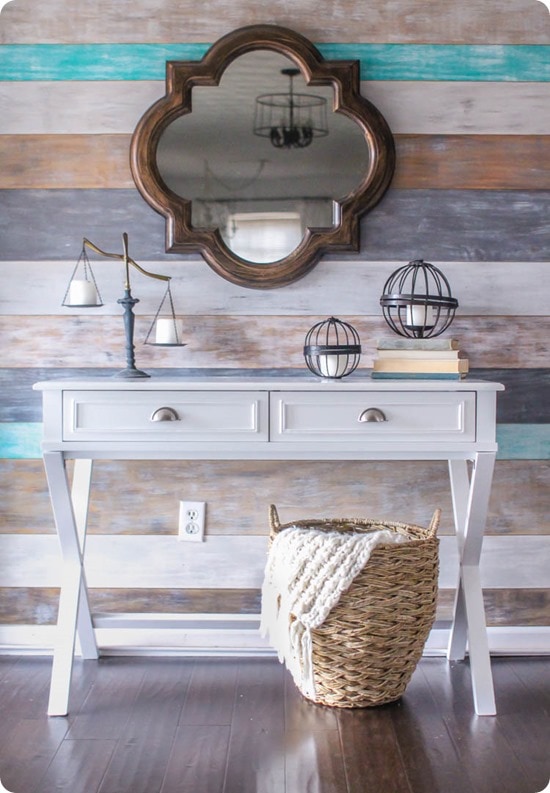 Entry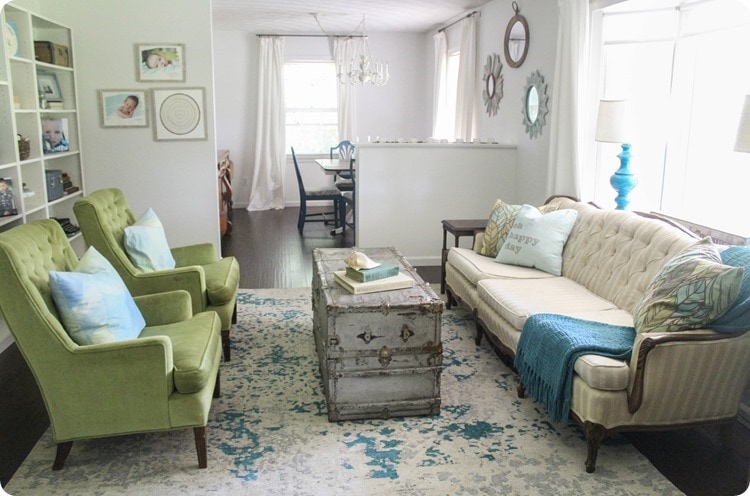 Living Room
couch: Goodwill $70
end table: yard sale $5
trunk coffee table: yard sale $40
green chairs: yard sale $30
secretary desk (not pictured): hand me down $0
bookcases: Ikea $430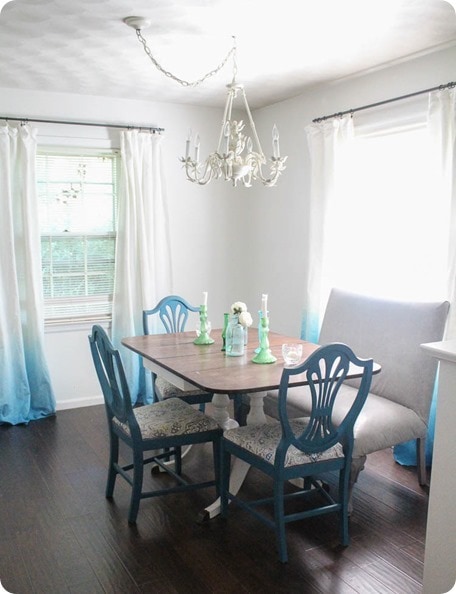 Dining room
table: Craigslist (painted and refinished) $0
chairs: yard sale (painted and reupholstered) $30
upholstered bench: yard sale (reupholstered) $15
buffet (not pictured): newspaper classifieds (pre-Craislist) $300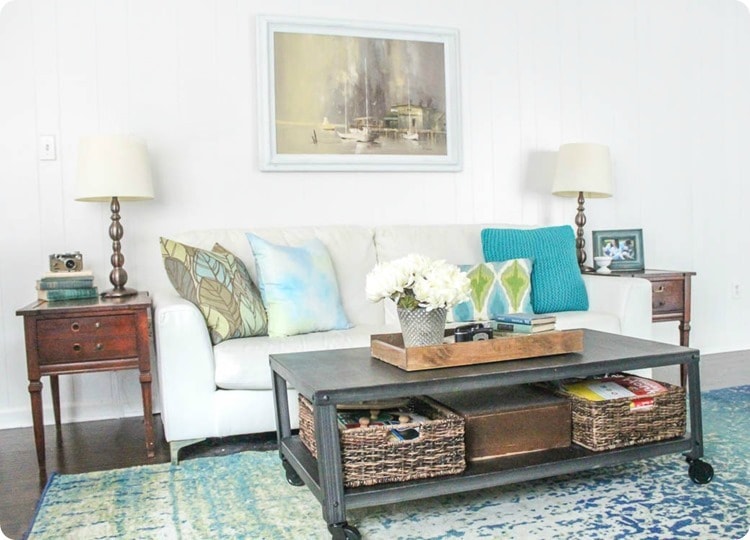 Family room
couch: Craigslist $250
end tables: yard sale $35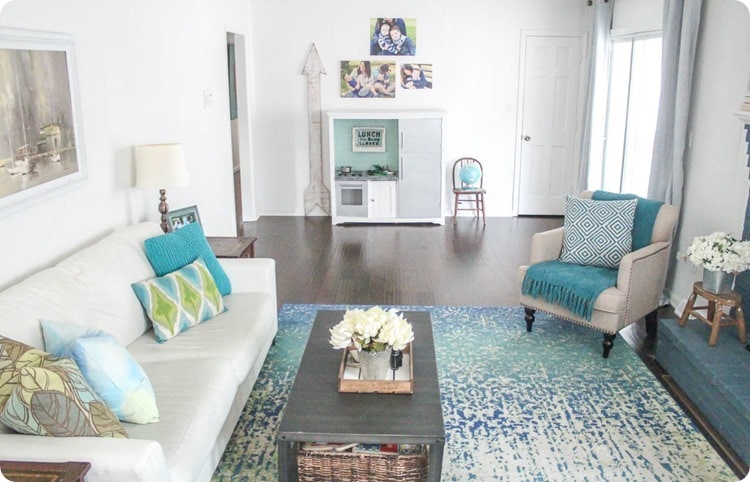 upholstered chair: Wayfair (I received this free to review but it is worth $150)
play kitchen: Craigslist (entertainment center I transformed into a play kitchen with paint and thrifted finds) $25
small wooden chair: yard sale $5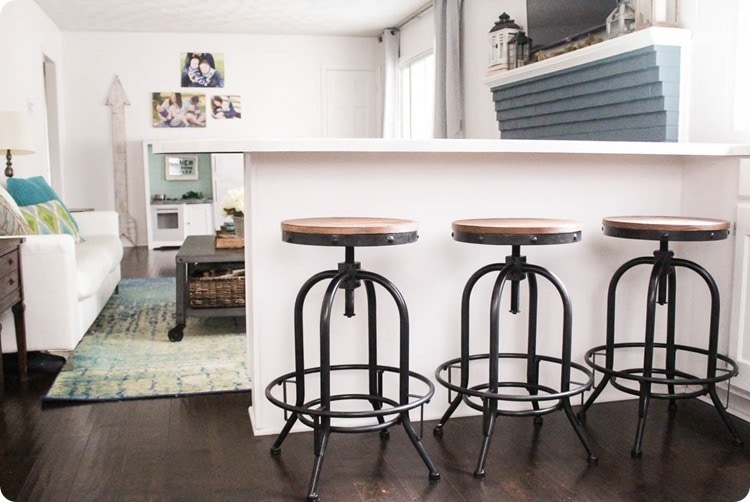 Kitchen
stools: Wayfair $260 for four (paid for with gift cards)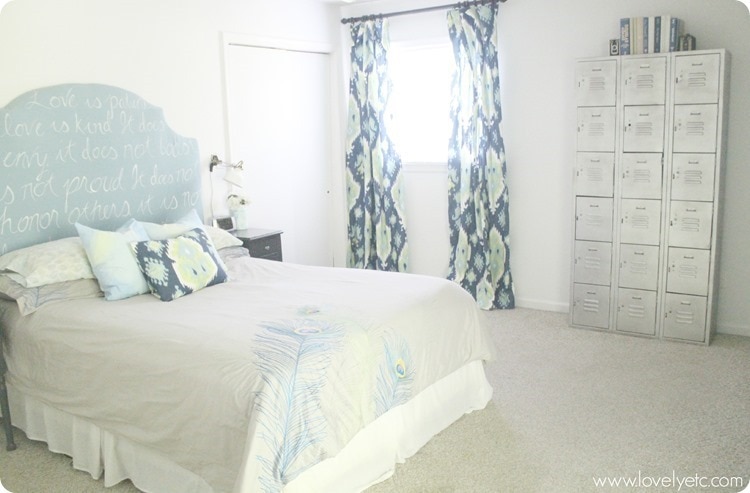 Master bedroom
headboard: DIY project $50
bed frame: yard sale $5
lockers: yard sale (painted) $10
nightstands: yard sale (vanity converted into 2 nightstands and painted) $8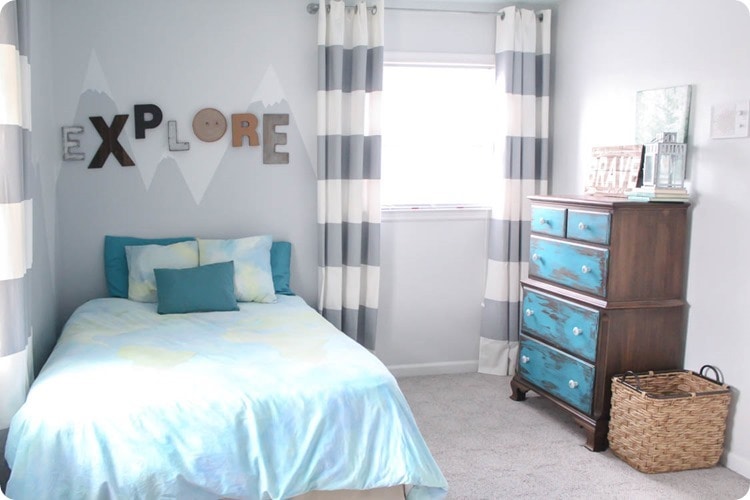 Griffin's room
bed frame: hand me down $0
dresser: hand me down (painted and replaced hardware) $0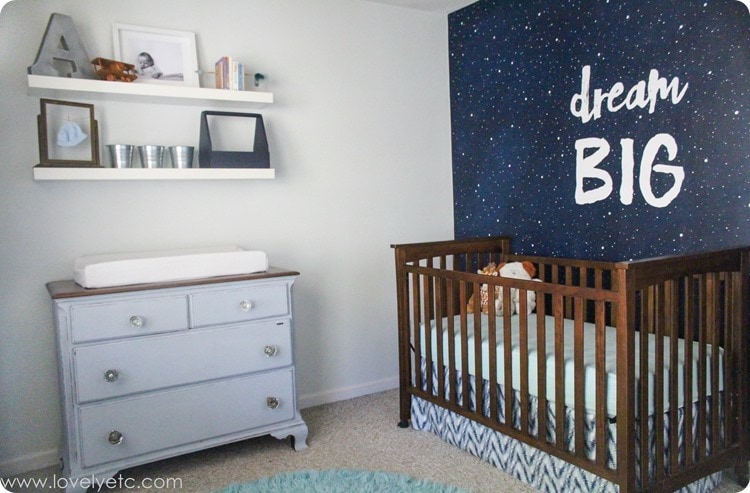 Nursery
crib: won in a giveaway from another blog $0
dresser: hand me down (painted and replaced hardware) $0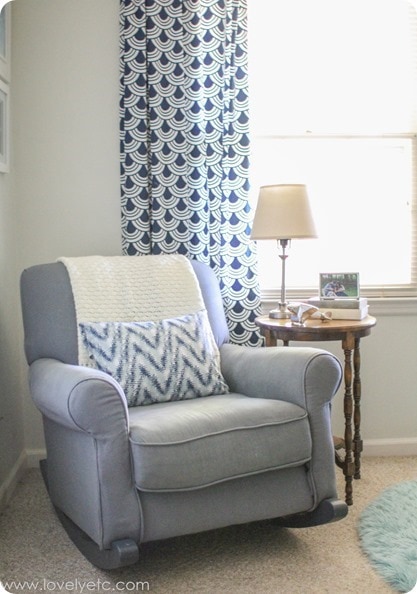 glider: Craigslist (reupholstered) $50
side table: yard sale $3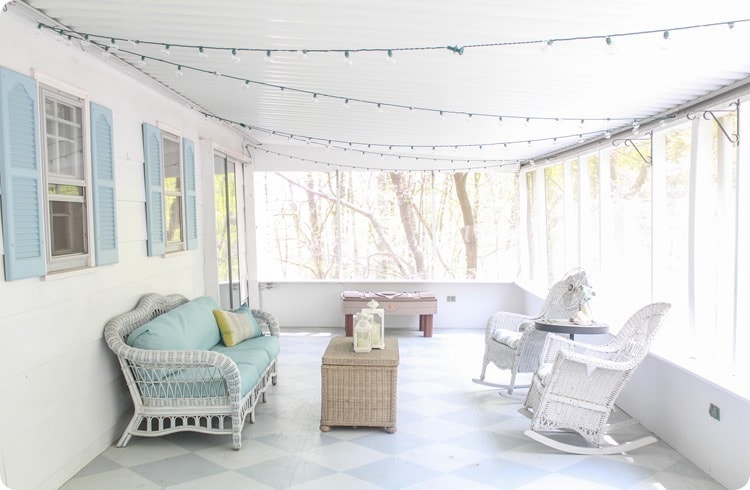 Screened porch
wicker rocking chair: yard sale $20
wicker rocking chair: hand me down (painted) $0
round metal table: Big Lots $15
wicker couch: hand me down (painted) $0
wicker trunk: hand me down $0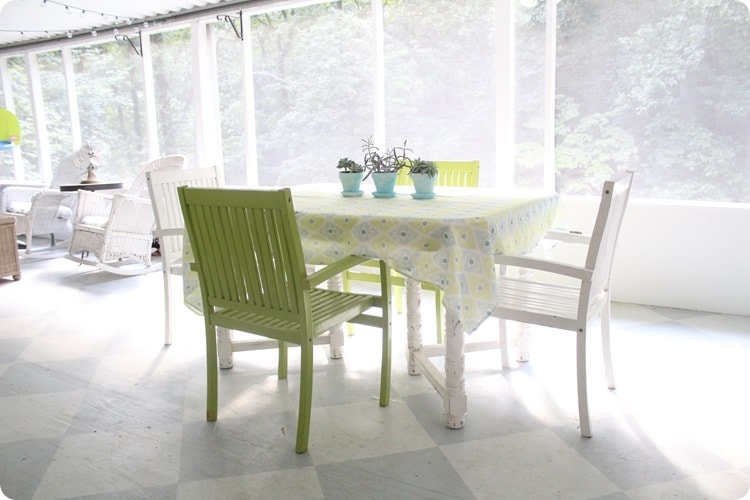 table: Habitat ReStore (painted) $45
chairs: yard sale $30 for 6
Grand total: $1721 my cost (Or $2131 when you add in the value of the chair I received to review and the stools I bought with a gift card)
My top strategies for finding inexpensive furniture
Buy used
So it is probably pretty obvious what my biggest strategy is. Clearly I have absolutely no problem with used furniture.
I have found amazing deals at yard sales and estate sales, on Craigslist, and at local thrift stores like Goodwill and the Habitat for Humanity ReStore.
In my area yard sales are typically the absolute cheapest places to find furniture, mainly because the sellers just want it gone with as little hassle as possible.
On the other hand, it is easiest to find exactly what you are looking for from the comfort of your own couch using Craigslist.
And not only is used furniture typically really cheap, it is also more likely to be solid wood and well-made than most affordable new furniture. (Need more info? Check out my best tips for finding great deals at yard sales right here).
Be open to taking hand me downs and freebies
Once my friends and family found out that I love to give old furniture new life, they started offering me lots of furniture they no longer needed.
At first I took pretty much everything I was offered, but that was a huge mistake. I ended up with tons of furniture that I really didn't like and had no use for.
Now I only take things that I know I can use and that either fit with my style or will with a bit of work.
Be open to pieces that need some TLC.
A lot of the furniture I bought used or was given wasn't exactly my style.
But it had good bones and was well-made, so I was willing to put in a bit of work to make it exactly what I wanted.
Most of the time, all it takes is some paint and new hardware. Sometimes I reupholster items as well.
It is definitely more time-consuming than simply buying something brand new that is already exactly what you want.
But when you get a dining table for free or a set of solid wood chair for $30, it's worth putting in a little extra work to make it something special.
Plus, this way you get to choose the exact paint colors and fabrics you want. (You can see my top tips for painting furniture right here).
Try these inexpensive furniture stores
Sometimes I really just can't find what I want used, especially if I am looking for something really specific.
When that happens there are a few stores I like to shop at that tend to be less expensive.
Ikea, Target, World Market, TJMaxx, HomeGoods, and Big Lots all have some really great deals on furniture.
In my experience, not everything at these stores is a great deal.
But if you pay attention to sales, you can find some really great things for cheap. (And yes, I know that Big Lots doesn't always have a reputation for being very stylish, but there are some really cute things there if you pay attention).
Shop online sales
Just like there are certain stores that tend to have some great deals, there are also certain websites that really come through sometimes.
My favorites are Wayfair, Overstock, and Hayneedle.
To be totally honest, I have found plenty of overpriced things at each of these websites.
But there are also some hidden gems, plus a really great sale can make everything more affordable.
And I recently discovered that even Amazon has some really good furniture deals.
Build it yourself
If you can't find what you want affordably, you can always build it yourself.
This isn't something I have done much. I love to DIY and fix up old castoffs, but I generally hate actually building things.
But I have friends that have built amazing furniture, so this strategy can definitely work.
Use gift cards
If you know there is something you really want, ask for gift cards for your birthday or Christmas instead of other gifts.
You can put them together to buy something you want for your home.
This is also a great use for any random Visa giftcards hanging out in your wallet. (Am I the only one that always forgets to use those?)
I couldn't find any stools for our kitchen that I really liked and could afford, so I used gift cards to buy the ones I really wanted. Win-win.
So those are my secrets for furnishing my entire house for less than some people spend on just their sofa!
Have any great tips to add? What was your best furniture deal?
Want more thrifty decorating? The thrifty style team are all sharing some of our favorite thrifty decorating tips and projects today!
Just check out all the projects at the links below!