The truth about our painted plywood floor – I'm spilling all the details of how our stenciled plywood floors are holding up after seven months.
My painted plywood floor is one of the most beautiful, creative, fantastic projects I have ever done. And one of the most popular projecta I have shared here at Lovely Etc. so far.
(If you missed my post about how I transformed my living room by painting my subfloor, you have got to go check it out immediately!)
Now that we have lived with our painted floors for more than half a year, I figured it was time to share a little update on how they are holding up. So here it is. The completely honest, unbiased update of the good, the bad, and the ugly of painted plywood subfloors.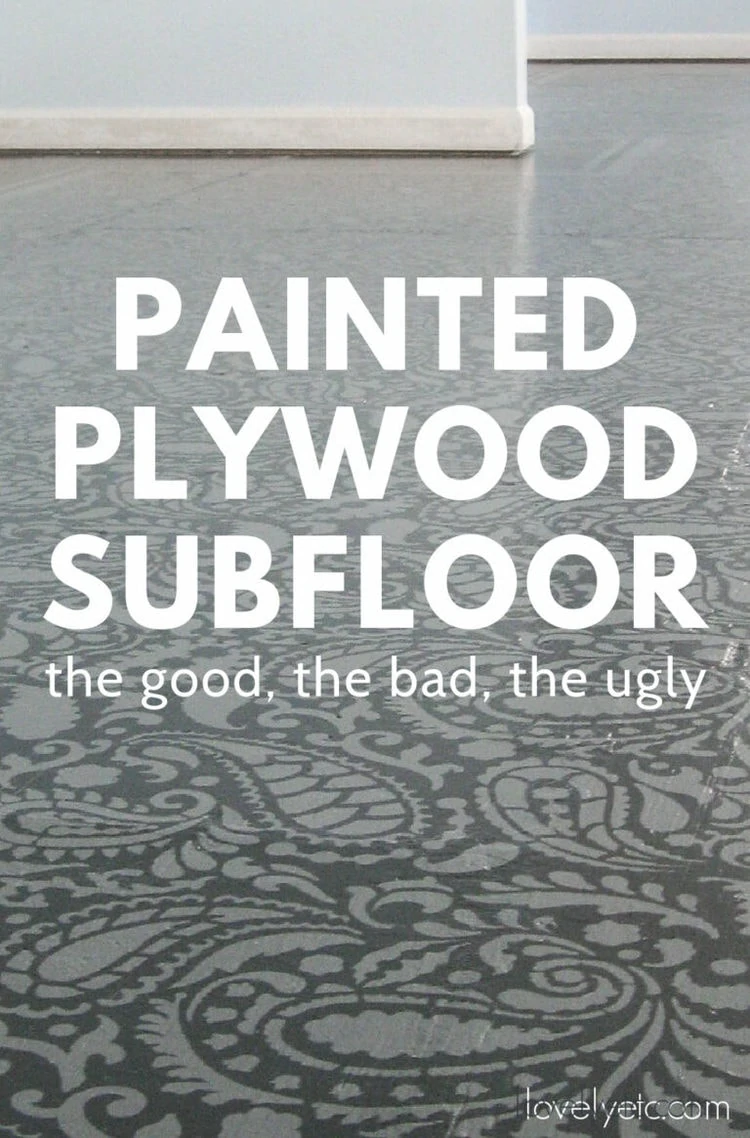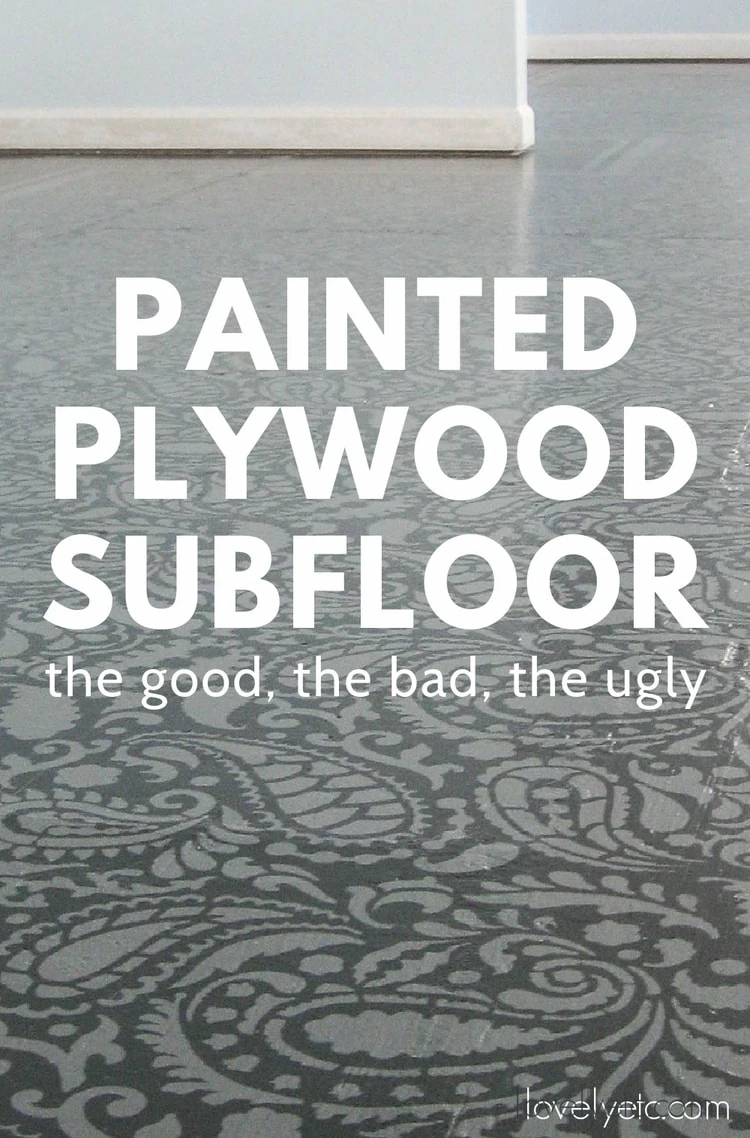 This post contains affiliate links which means if you make a purchase after clicking a link I will earn a small commission but it won't cost you a penny more. Click here to see my full disclosure policy.
The Good
First, I should say that the floors have held up great and continue to be my very favorite thing in our house. I love, love, love them.
When I walk into other rooms that still have their dreaded dingy carpet, I can't stand how the carpet seems to just suck all of the light out of the room. These floors, on the other hand, continue to be just as beautiful and reflective as they were the day I finished painting them.
The floors have also been quite durable. I have had almost no problems with the paint getting chipped or scratched.
Some of my furniture has protective pads under it but not everything. The couch is sitting directly on the floor and has not made even the slightest scratch in the finish – even when we scooted it around to reach things underneath.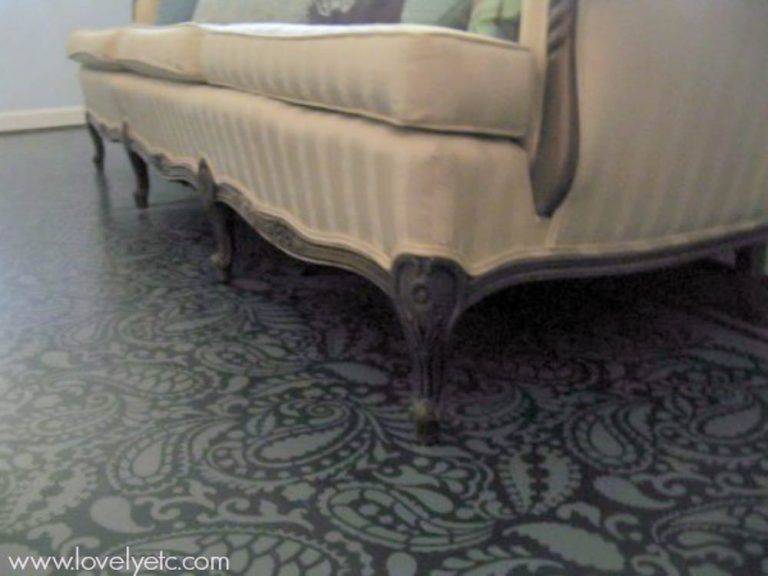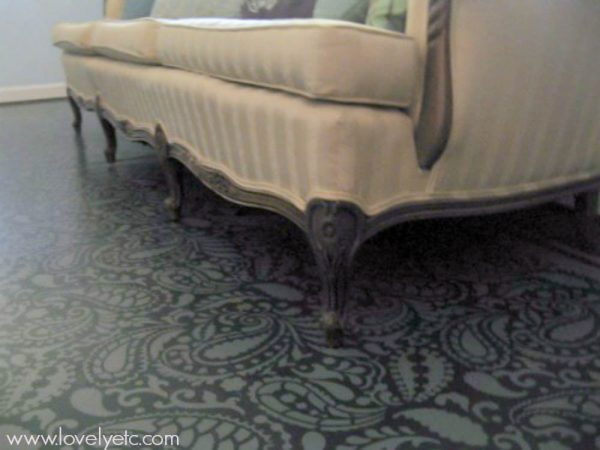 There is one exception to this. There is a very small divot in the floor where I dropped something several months ago. I think it may have been a picture frame, but in any case a sharp corner fell into the floor.
This did not scratch the paint, but it did dent the soft plywood of the floor. The divot it left was deep enough to show the bare wood beneath the paint.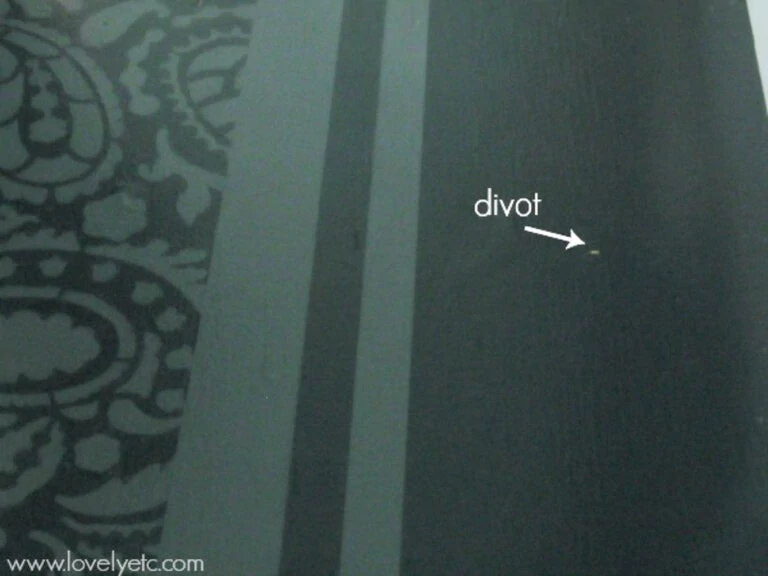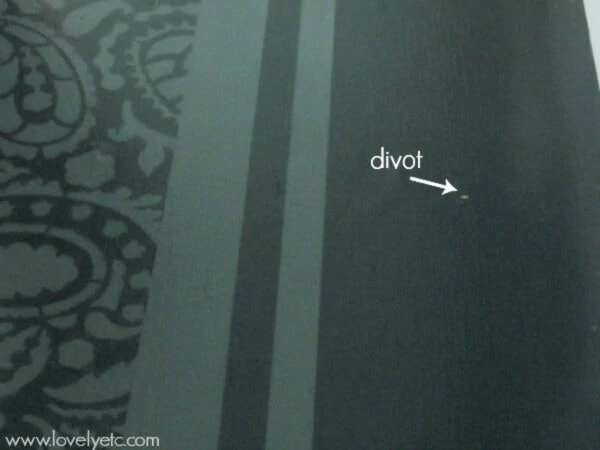 As you can see, it is tiny and not very noticeable at all. If it really bothered me, I could simply touch up the paint.
As far as cleaning, I have simply swept and mopped my painted floors the same way I would any other hard surface flooring with no problems.
The sealer I used has been one of the biggest keys to the durability of this project and has held up great. I used porch and floor paint followed by Rust-Oleum Varathane Clear Water-Based Polyurethane, Satin Finish
.
I also painted the floor of my screened porch several years ago with porch and floor paint but did not use a sealer. Not only does that floor not have the same beautiful sheen, it is also much more difficult to keep clean. Without a good sealer, the dirt just seems to stick to the paint.
The Bad
I am extremely happy that I stenciled a pattern on the main area of the floor because it hides dust and dirt so well. (I used this Paisley Allover Stencil by Cutting Edge Stencils.)
The solid area around the edges of the room tends to show every speck of dust – mainly because the floor color is so dark. Also, being a painted surface, it is very uniform and hides nothing. Even hardwood floors have some wood grain to help camouflage dust.
The other reason the pattern is so key is that it helps hide the seams in the plywood floor. The floor overall looks completely amazing.
But when the light hits it a certain way, you can see the plywood seams quite clearly. This doesn't really bother me, but if you are a perfectionist, it may not be for you.
Of course the seams would not be so noticeable to begin with if I had used the right filler to patch them before painting.
When I originally painted my floors, I used a product called Flexible Floor Patch and Leveler. I am sure it is great for some applications but not for painted floors – it has a very rough texture and does NOT sand smooth at all.
This weekend I was patching some dings in our kitchen floor in preparation for laying hardwoods and I tried something I hadn't seen before – Dap Presto Patch Filler .
It was brilliant! It goes on very smoothly and sands like a dream. This is definitely what I would use in the future to smooth seams before painting floors.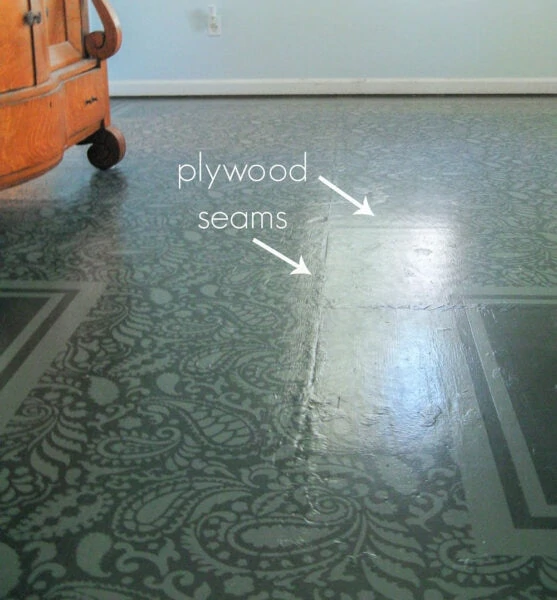 And the biggest negative of all.
After I posted about my painted subfloors, a fellow blogger let me know that painting subfloors can be a problem from a real estate point of view. Yes, I already realized that potential buyers may not be pleased with plywood flooring – even if it is very beautiful plywood flooring.
The bigger problem is that in at least one state, you cannot sell a house unless there is some sort of covering over the subfloor – it has to do with not being able to get bank financing. One of those strange quirks.
That state is Virginia which is where I happen to live. (This may or may not be true for other states – I am not an expert in real estate and have absolutely no idea).
For some people, this could be a major deterrent and it is definitely something you should be aware of before you undertake a project like this. For me, it is not really a big deal because we are not planning to move anytime soon.
The Ugly
Come on, seriously, there is nothing ugly about this floor! It is magnificent and it makes the whole room seem so much more amazing.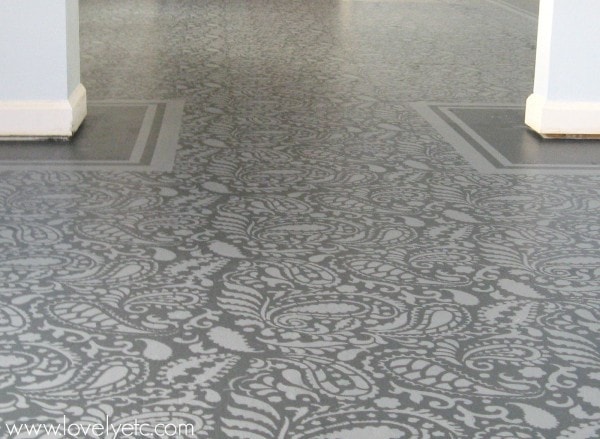 Okay, so there was one point when it almost took a turn toward ugly.
When I first did this project, I actually sealed the floors two times. The first time I used Varathane Crystal Clear Water-based floor sealer in Gloss Finish. The floor was so shiny and glossy that it looked wet long after it dried. The extreme shininess of it also highlighted every single imperfection in the plywood – not pretty at all.
Luckily, I didn't let that get me down; I just went back to the store and bought Rust-Oleum Varathane Clear Water-Based Poleurethane, Satin Finish. I put this right over the finish I had previously used and it turned out perfectly.
So there you have it – the unbiased truth.
It may not be perfect, but I absolutely adore my painted plywood floor.
Has anyone else out there tackled a floor-painting project? What tips or advice would you add?
Are you as thrilled with your floors as I am with mine? Anyone have other questions about the process or about how they are holding up?
If you are thinking about painting your own floors, you may want to check out these other posts for tips and answers to many of your questions: