These free printable Christmas gift tags in classic Christmas colors are the perfect blend of modern and traditional.
This weekend I started wrapping Christmas gifts to put under the tree and as I was wrapping, I realized I didn't have any cute gift tags to use.
I love designing free printables, so instead of heading out to buy gift tags, I decided to make my own.
I made my first printable gift tags a few years ago and while I still love them, I was ready for something new.
This year I really wanted something simple and cozy in classic Christmas colors.
I ended up designing two different sets of gift tags and then I couldn't decide which was best. So I decided to just share them both!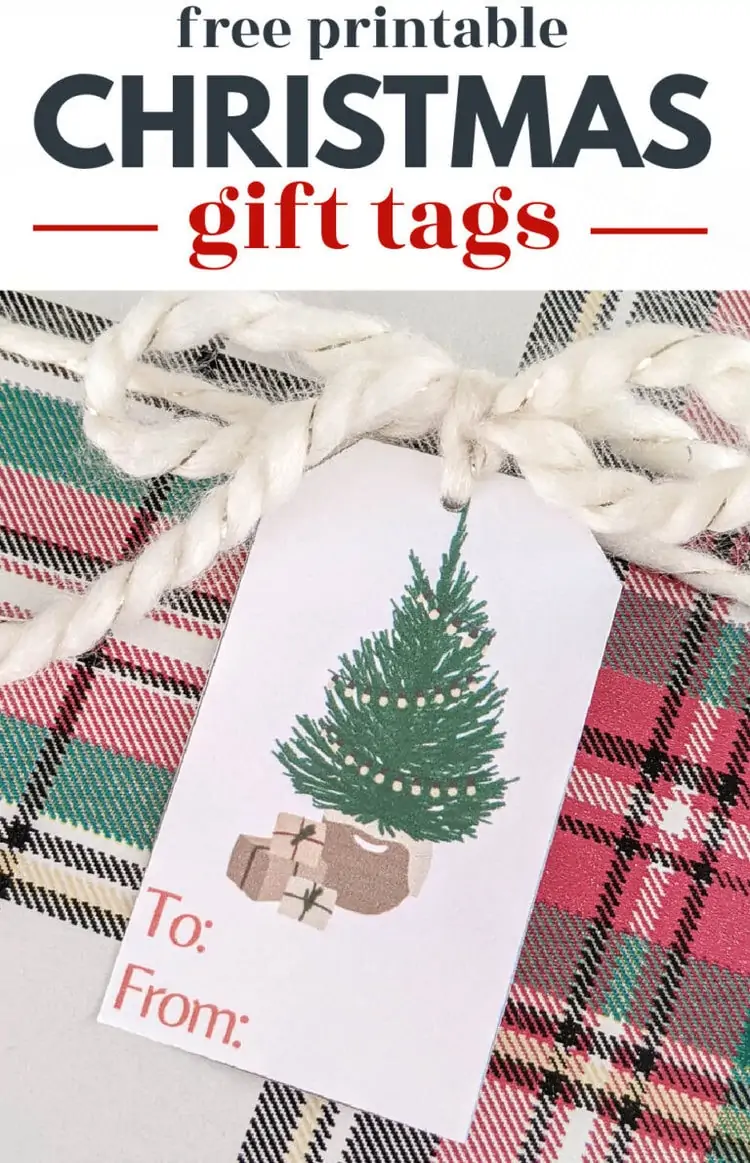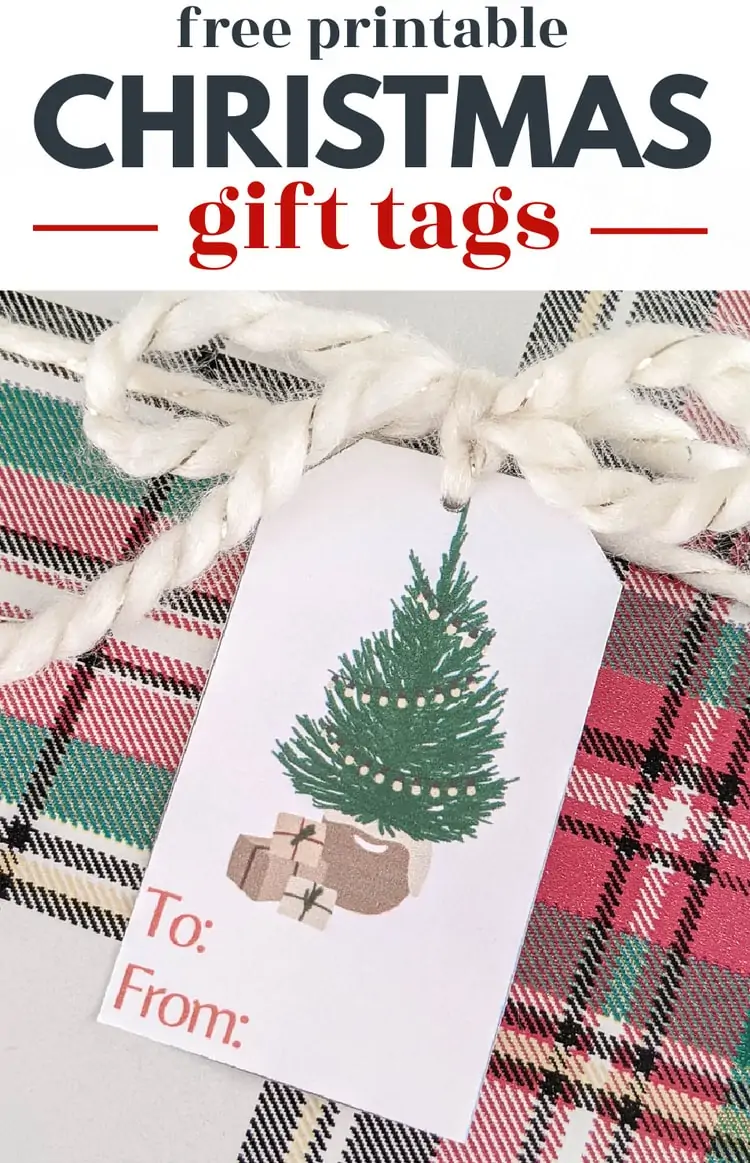 This post contains affiliate links which means if you make a purchase after clicking a link I will earn a small commission but it won't cost you a penny more. Click here to see my full disclosure policy.
Cozy Modern Christmas Gift Tags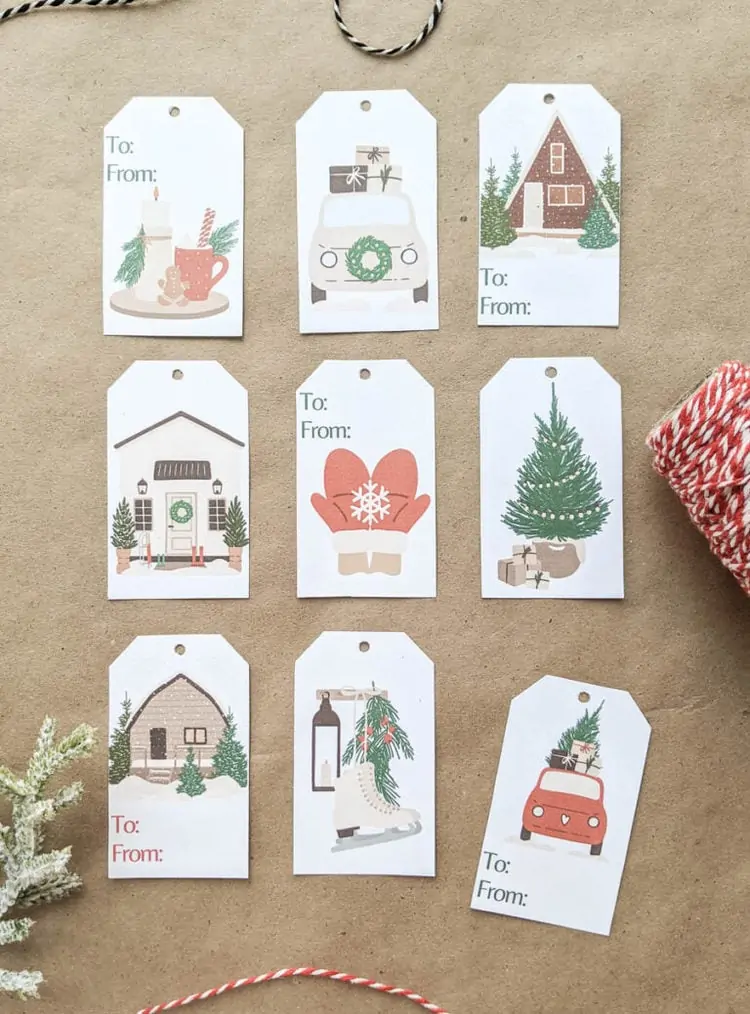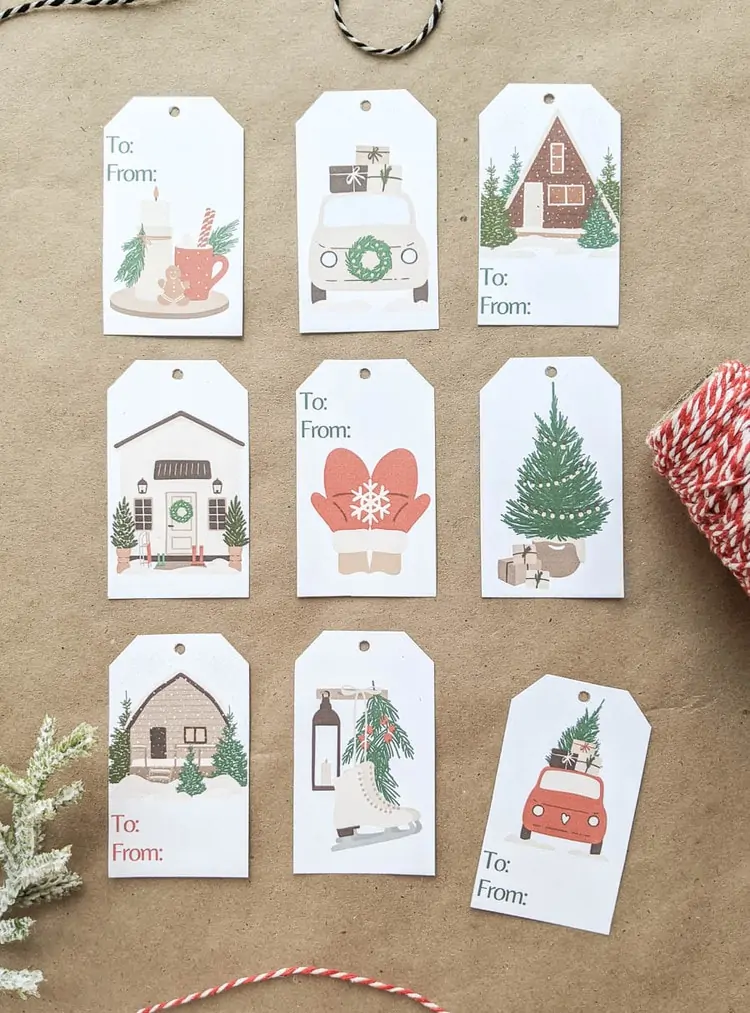 The first set of gift tags uses the same graphics as the printable Advent calendar I shared a few weeks ago. They're a bit modern, a bit boho, and a bit traditional.
There are cozy Christmas houses, cars loaded with presents, warm mittens, a Christmas tree, and more.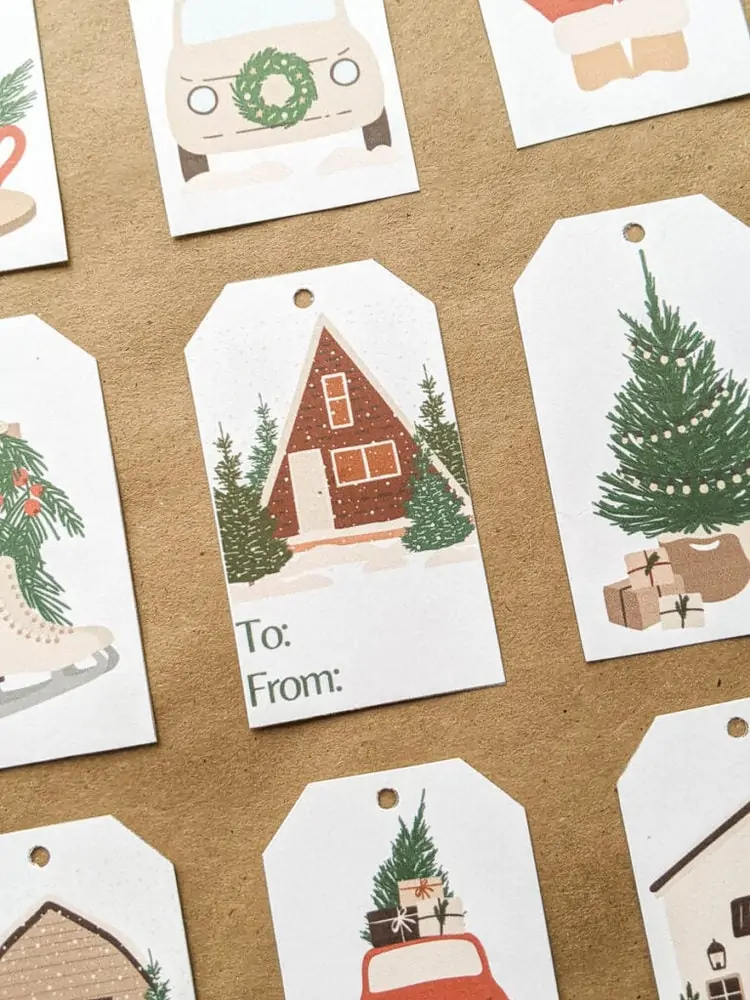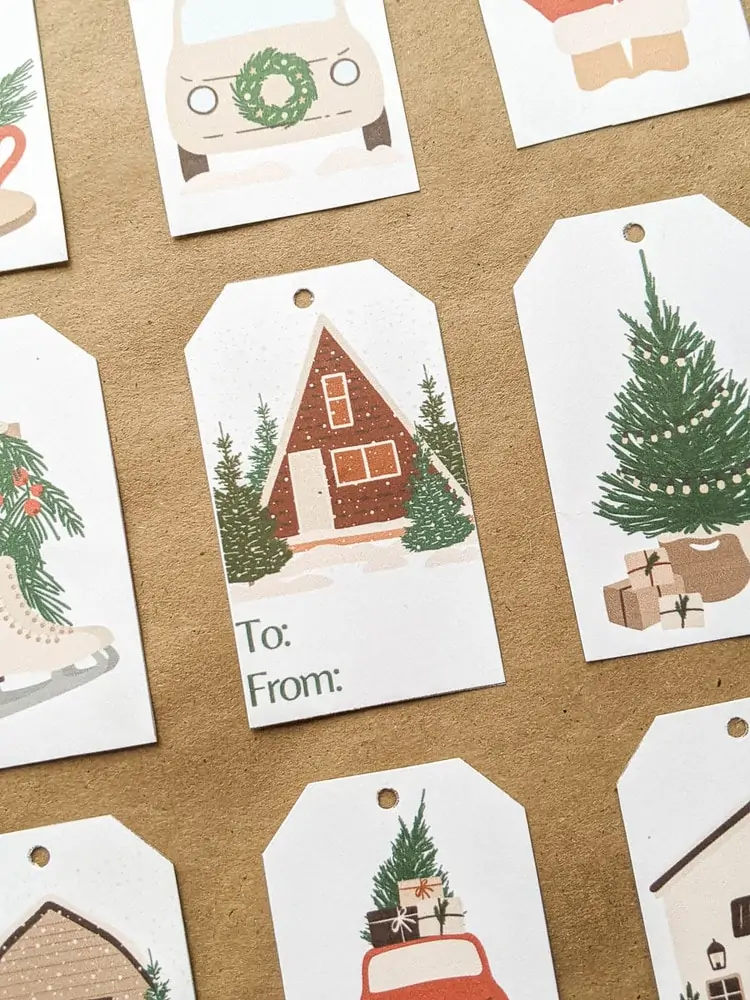 There are several neutral tags that will look great on any color of wrapping paper along with some tags in muted reds and greens.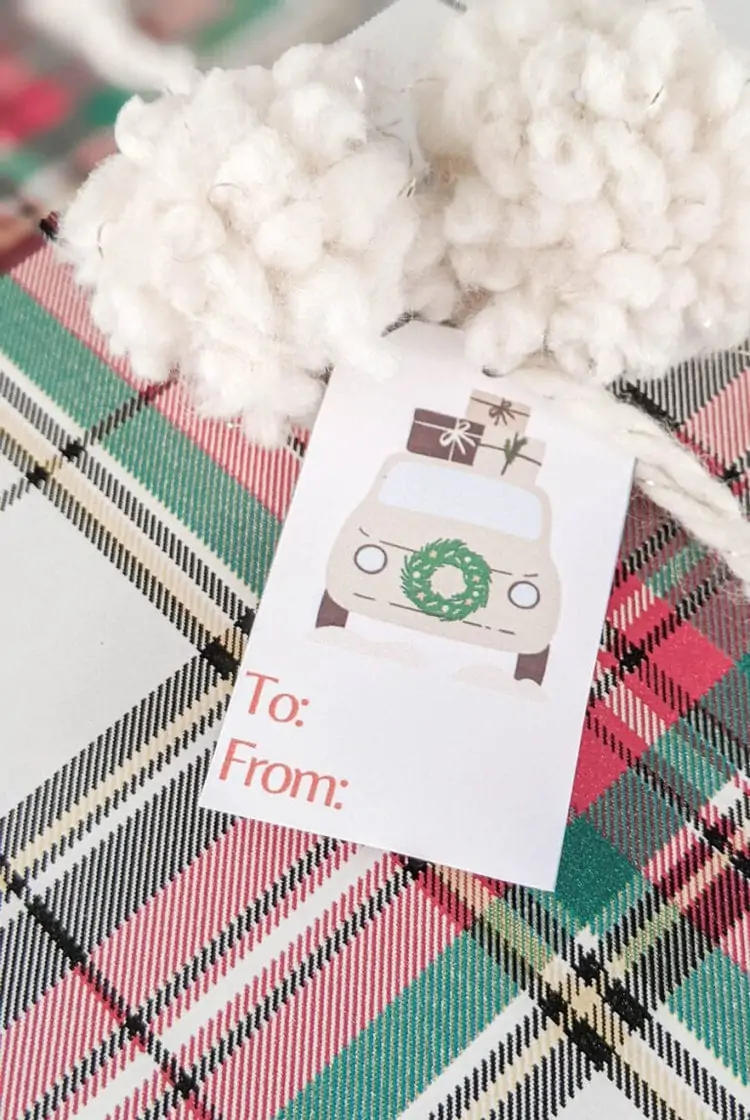 Half of the tags have the words to and from on the front. The other half are just images with plenty of room for adding names to the back of the tag.
Classic Watercolor Christmas Tags
I made the second set of gift tags using more classic Christmas watercolors designs.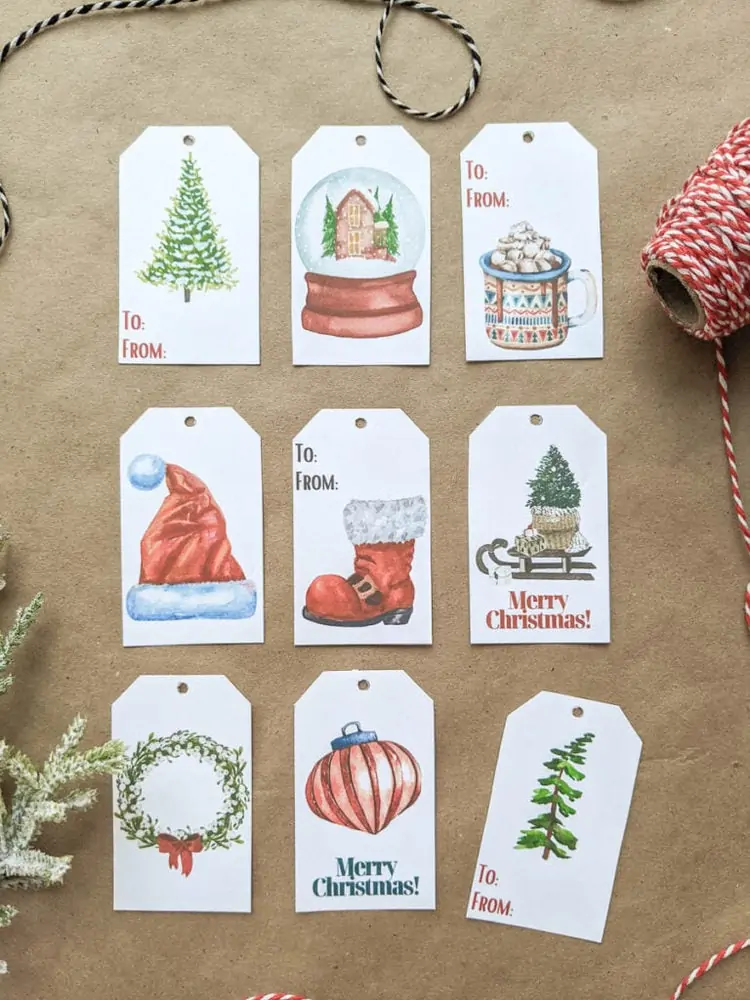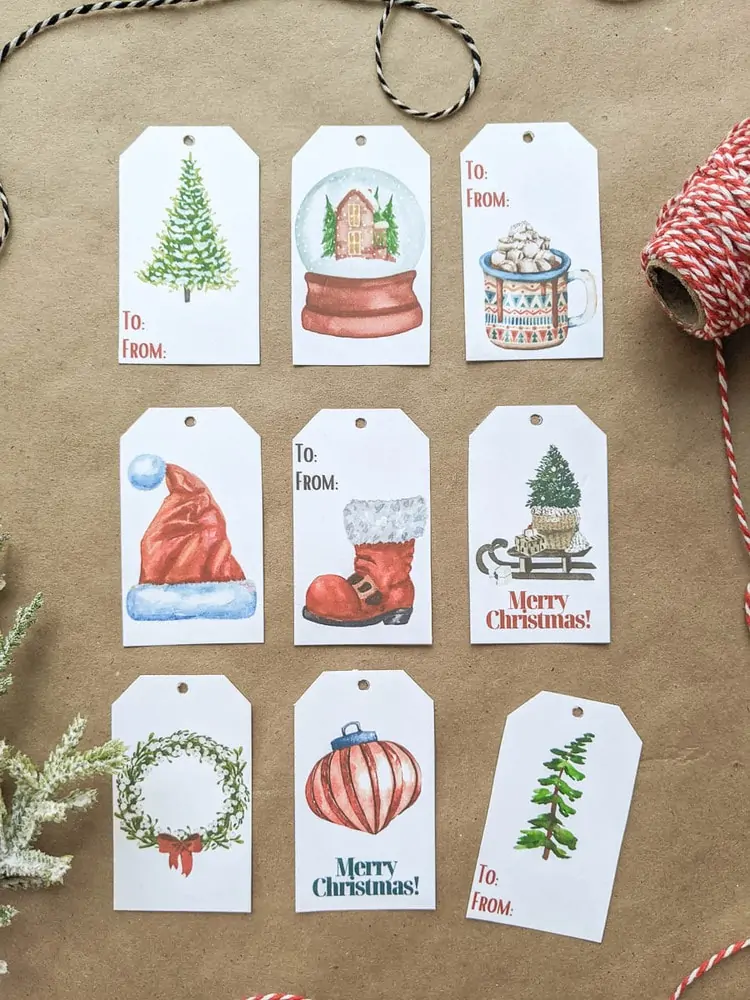 These gift tags are filled with things that will remind you of your favorite childhood Christmases. There are Christmas trees and wreaths, a Santa hat, a snow globe, an ornament, and more.
These tags primarily use the traditional Christmas colors of red and green and the colors are a bit brighter and more classic than the first set.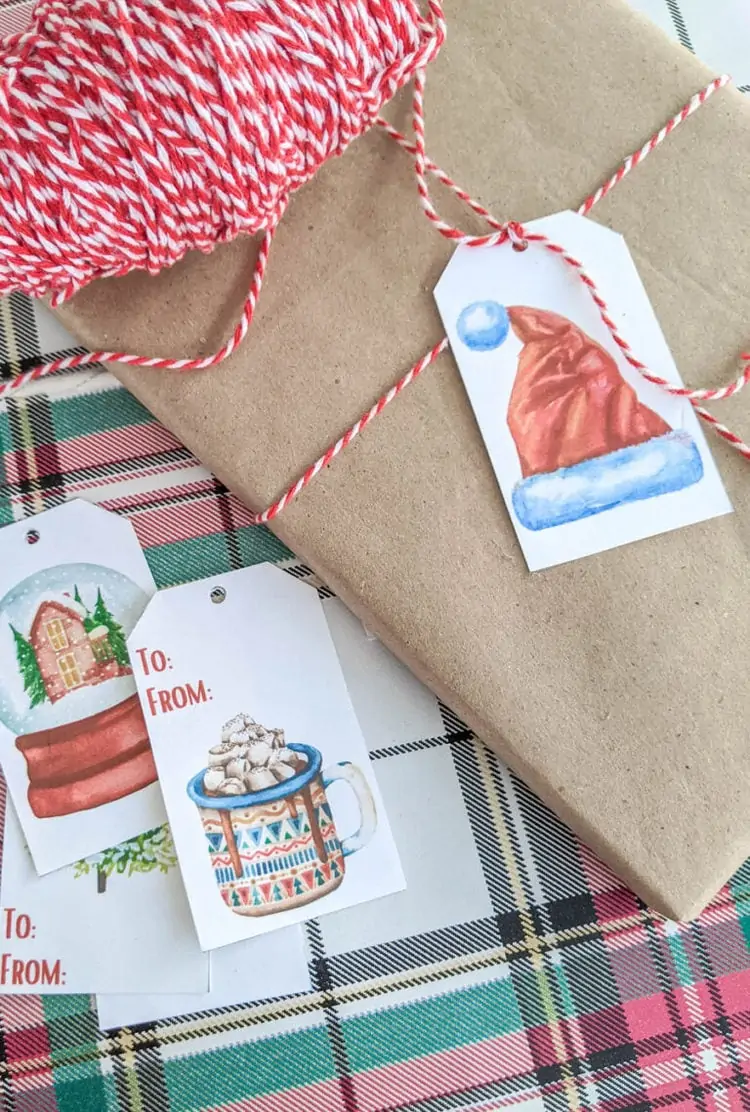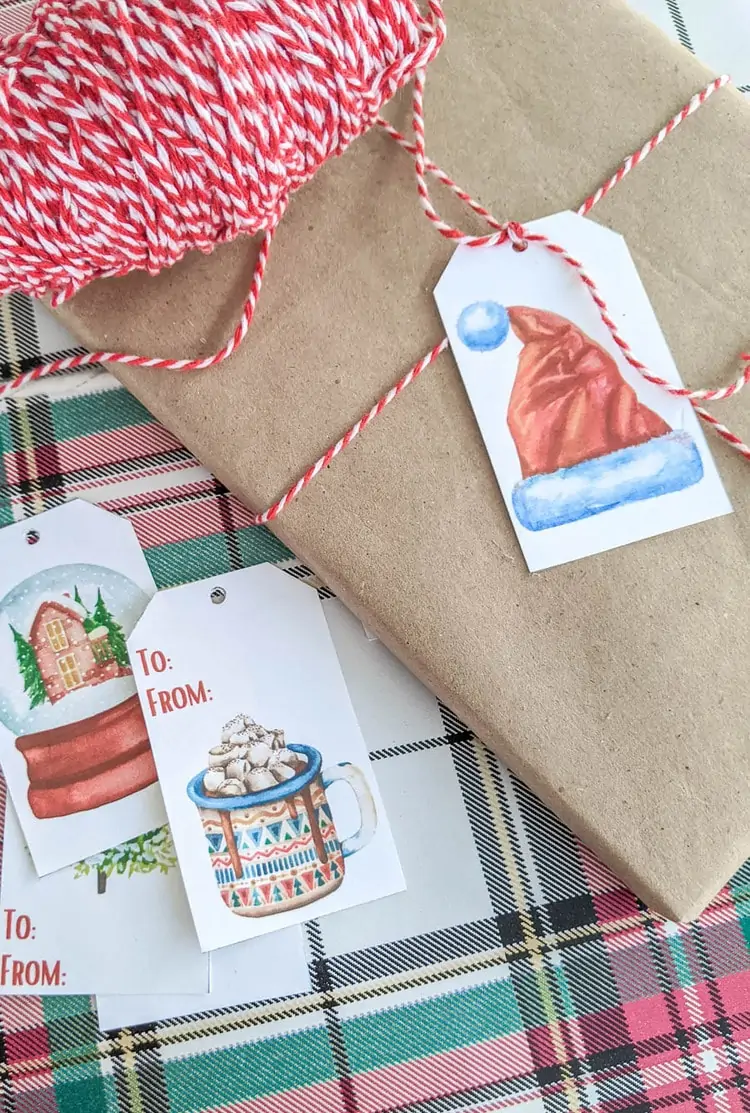 Just like the first set, half of these tags include the text to and from on the front and the other half feature larger images with room on the back for adding names.
I combined all 36 gift tags into one simple pdf file. They are all sized and formatted to print perfectly on regular 8.5″x11″ cardstock on your home printer.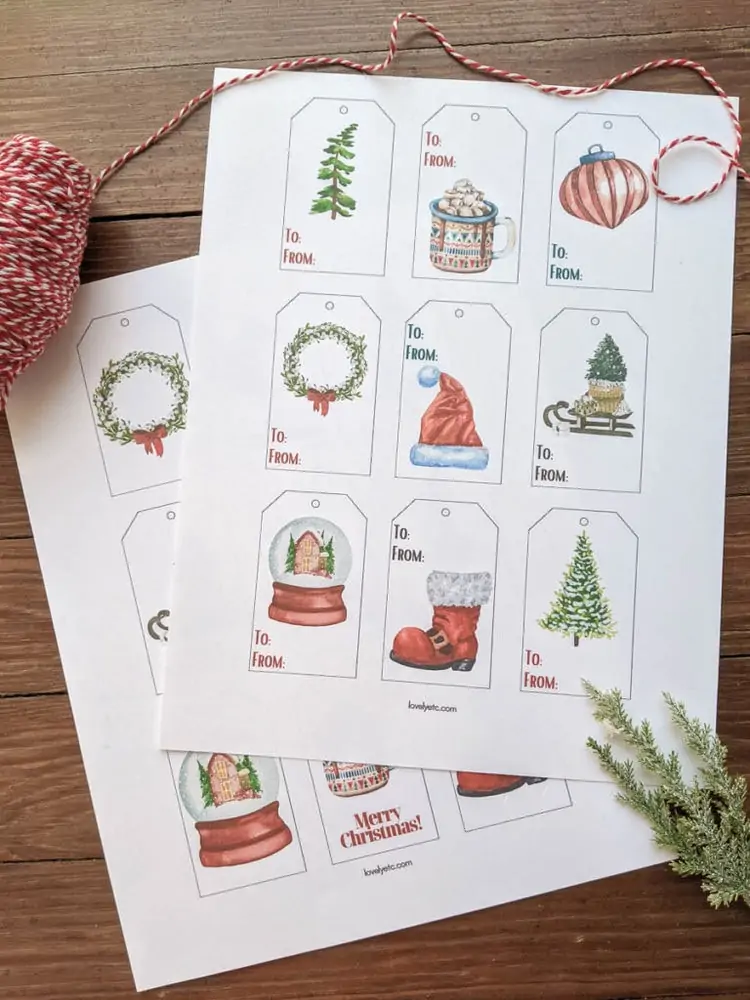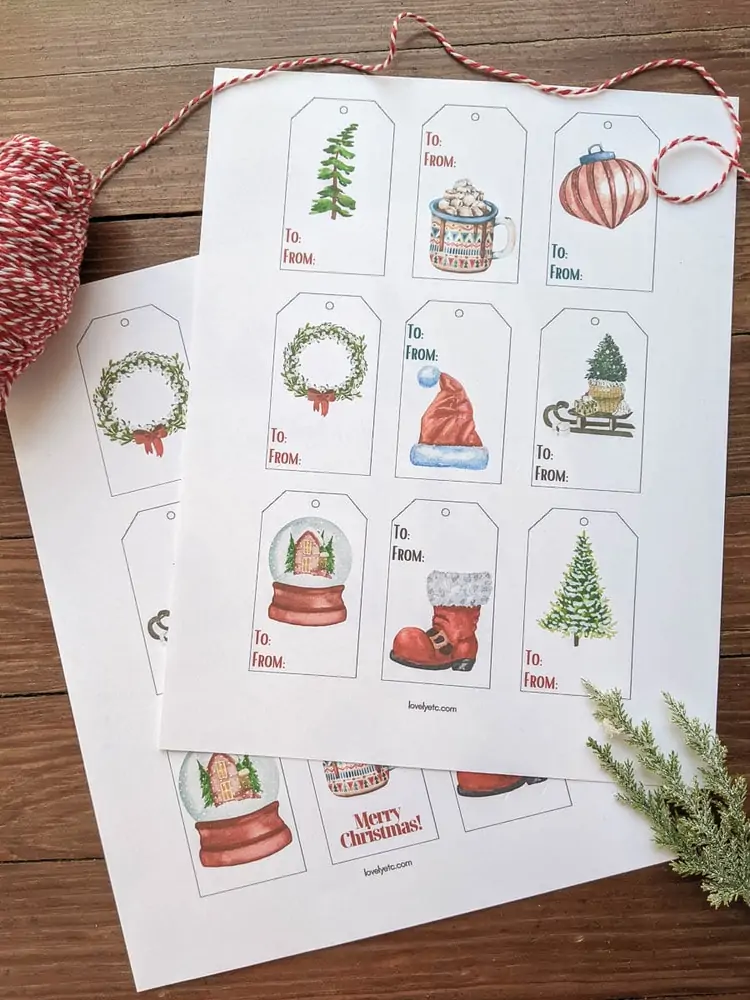 Once you've downloaded the file, you can choose to print all four sheets of gift tags or just print your favorite set.
I recommend you print them on cardstock. Then you can cut them out, punch a hole with a hole punch, and add whatever string your like.
Red and white baker's twine is my favorite for anything Christmasy but yarn, ribbon, or regular twine can also be festive.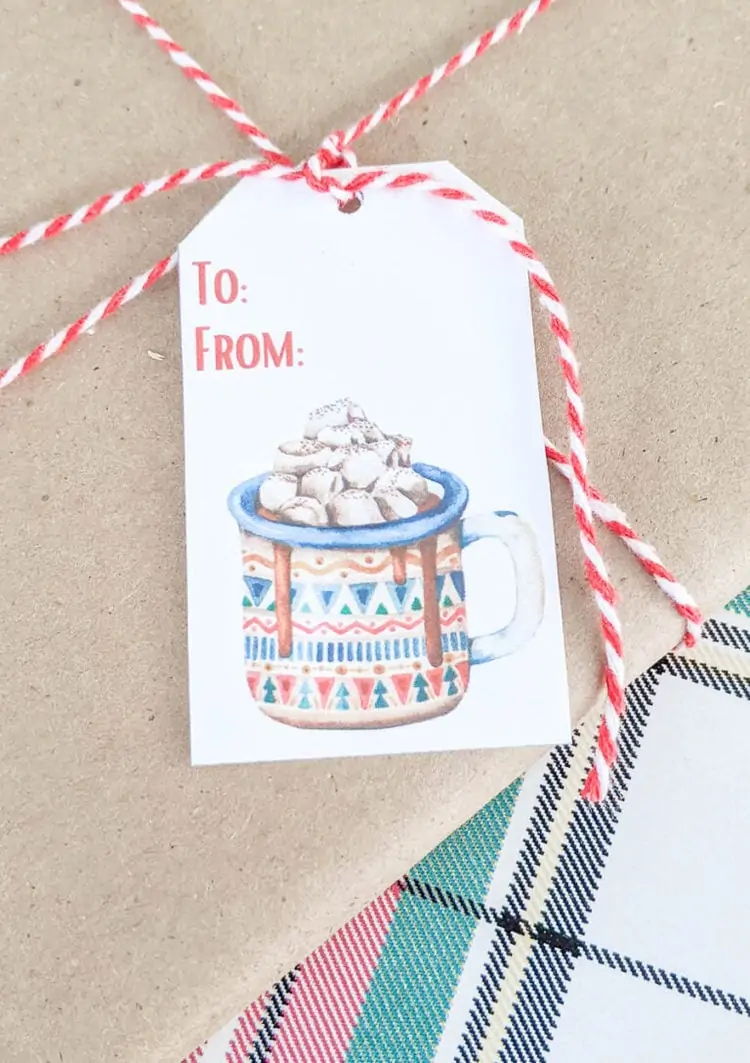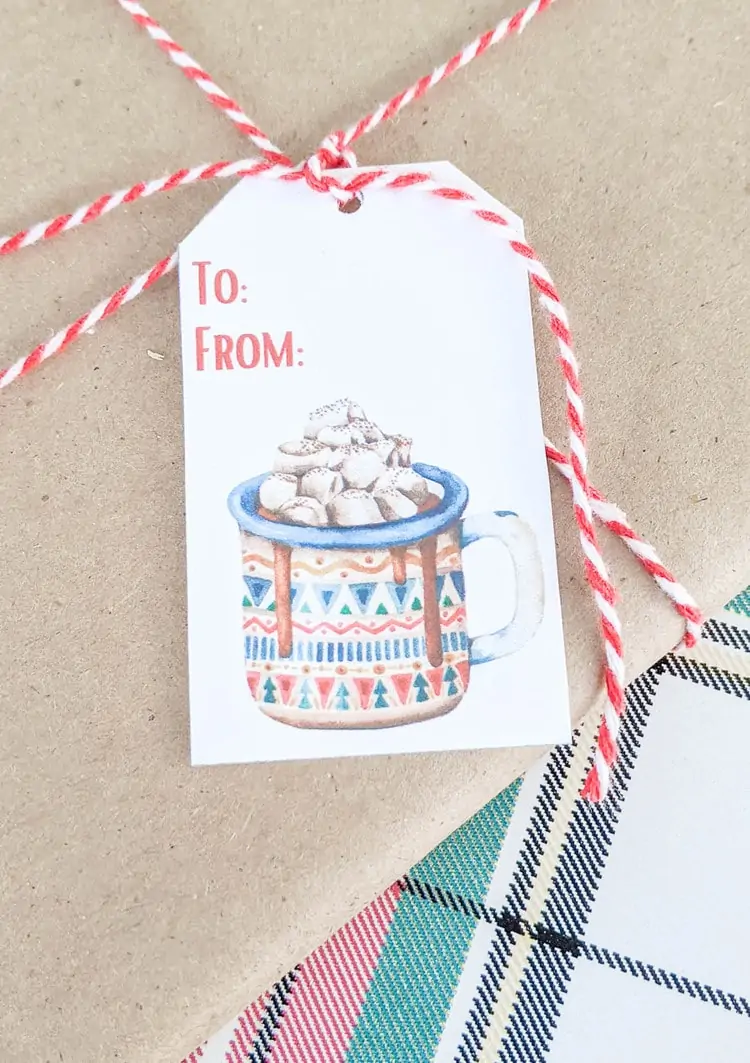 I'm offering both sets of gift tags along with all of my other printables completely free to all of my email subscribers.
To get your printable gift tags delivered straight to your inbox, just subscribe to my email newsletter in the box below. The free download will be sent to your email within minutes and you will get access to all of my other free printables as well along with my weekly email newsletter.
(Printables are for personal use only and may not be resold in any form of course.)
More Christmas posts I think you'll love:
I'd love for you to pin this post on Pinterest!