As I've shared, I've been on a journey these past few months to declutter our home. We've made a lot of progress by figuring out how to really determine what to keep and what to toss and thinking bigger with our decluttering. But there have definitely been some stumbling blocks along the way.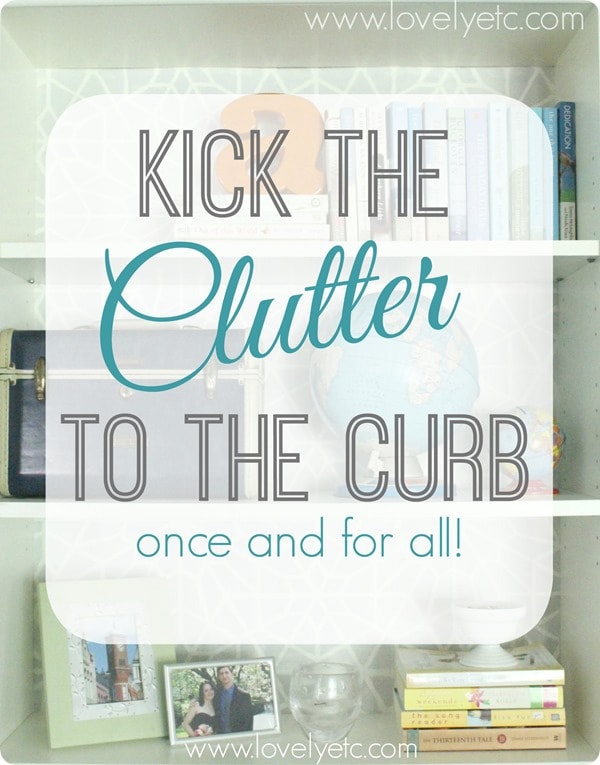 For one thing, I had a sweet baby boy two months ago. Which as you know, means lots of stuff. As I've bought all of the baby gear out of storage – the swing, the bouncer, the play mat, the baby bath tub, the cradle, and on and on – I've been astounded at just how much stuff we have for one little baby. And as I have to find places for all that stuff in our newly decluttered rooms, it is a bit disheartening. I just have to keep reminding myself that all of this stuff is just temporary. And if it really drives me crazy, I can always get rid of it – although that may come with its own problems!
But there has been another problem as well. I'm getting better and better at letting go of things – even big things, like the buffet that was in our family room, acting as a landing pad for any and all random stuff. Unfortunately, it goes a little something like this: I look at something and realize we don't really use it anymore. I go back and forth a little and then decide it is time to let it go. I don't absolutely love it anymore and we don't absolutely need it. So I feel quite proud of myself and add it to the box of things to get rid of.
Here is the problem – the box of things to get rid of never seems to go anywhere! It sits and gets fuller and fuller until it is joined by a second box or even a third. And even though I'm doing a great job decluttering, absolutely nothing seems less cluttered. Because nothing actually left the house. Not because I'm not ready to say goodbye to it. (Ok, every now and then that may be the problem, but not usually!)
No, the problem is I can't seem to decide what to do with the stuff I am getting rid of!
And because of this, there are far too many piles of things ready to get booted out the door just sitting around our home. And yes, the majority of the things that are ready to go are down in the basement. But that still doesn't help because the whole point of all this decluttering is to own less stuff. Less stuff that we have to manage, and organize, and clean up, and think about. And as long as it is still sitting in our basement, it is still my job to manage and think about it.
If you find yourself at this point in your decluttering, don't give up! And by all means, do not start digging back through your boxes and pulling things back out. You do not want to ruin all the hard work you have already put in!
Instead, it is time to get that stuff gone!
Ok, there are really only a limited number of possibilities as far as what to do with stuff.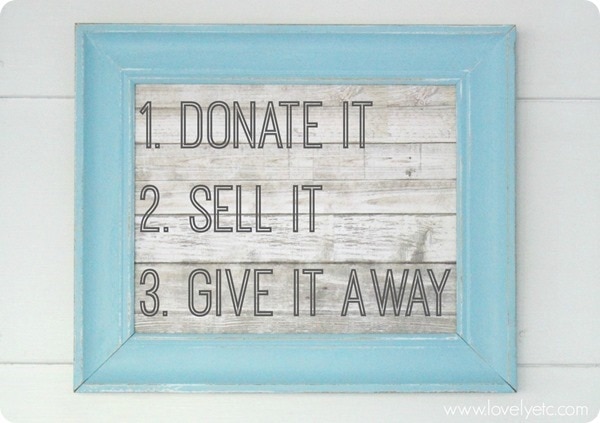 Donate it
This is what I recommend for the majority of stuff you declutter. This is the fastest way to get rid of stuff because you can get a huge heap of stuff gone at once. (And the easier getting the stuff out of your house is, the better it will go.) This leads to the question of where to donate it. Every town is different, but in my city, there are two main organizations that make donating items easy. The Goodwill is super convenient because there are drop off locations every five minutes. And the Rescue Mission is also a great choice because they will come and pick up large loads of items for you. Find somewhere near you that is convenient and easy to donate to. If there is a cause that is dear to your heart and you can support them by donating your old stuff, even better. If not, just go with what is easiest.
Just don't make it too complicated. You don't want to be running all over town donating different items at five different charities. (Well, maybe you do, but I don't. As nice and generous as it sounds in theory to help all the charities everywhere, I know I wouldn't ever actually get it done which means I would help nobody including myself with that plan.) Personally, I give clothes to a local clothes closet and everything else heads to the Goodwill.
Sell it
Selling your stuff can be very tempting because, hello, you get money! Before you choose this route, just be sure to think objectively about how much money your old castoffs are really worth. If you have your grandmother's antique furniture that just isn't your style, yes, selling is a great option. If all you have are a huge box of semi-broken toys and a huge collection of CDs, not so much. As much as you really liked your stuff at one point, you have to think long and hard about what it is actually worth today, in its current condition, to someone who isn't emotionally attached to it. If you still think you've got some stuff of value, then selling just might be a great idea.
I say 'might' because even though there is a huge upside to selling rather than donating (money!), there is also a big downside. No matter what method you use, selling your stuff is going to take more time and energy than just donating it. So if you don't have extra time, selling stuff may not be for you.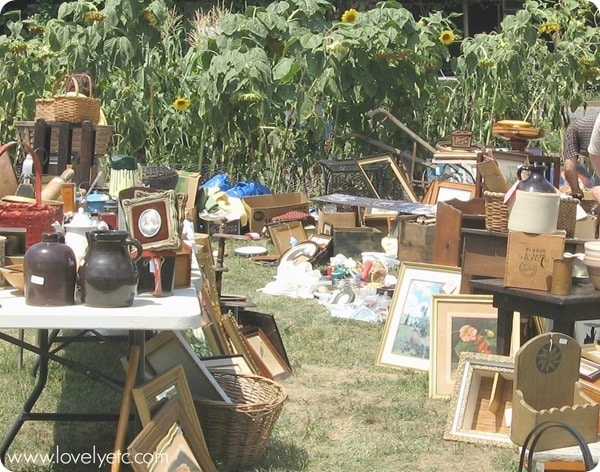 Where to sell stuff? If you have a huge volume of stuff, having a yard sale may be the solution for you. Fair warning: successful yard sales are a lot of work. They take lots of preparation and pretty much eat up your entire weekend as well, but you can make real money. I've made $1000 dollars in a weekend just by selling old stuff we no longer wanted – but I definitely had to work for it. (And I had a lot of stuff to sell). If you are thinking this might be the route for you, check out my tips for having a hugely successful yard sale.
If you don't have a ton of stuff, but instead, have just a few things that are worth some real money, Craigslist may be the answer. Craigslist can be awesome for selling furniture, building supplies, children's items, and other high value items. But even though selling on Craigslist is not as involved as hosting your own yard sale, it can still be a lot of work. You have to take good photos and list your items which isn't a huge deal though it does take time. The work comes when people start calling or emailing wanting to come see your items. It takes time to schedule a time to meet and can honestly just turn into a huge hassle with people not showing up or rescheduling or wanting to pay way less than you asked. Because of that, I personally don't feel like it is worth listing anything on Craigslist for less than $25. For you, it may be worth it to go lower.
Give it away
Sometimes you're ready to let go of something but you just can't bring yourself to just throw it in a donation box. Maybe it is something that you used to really love but just don't need anymore. Maybe it is something that you think is really cool, but you just don't love enough to keep. Or if you are a DIYer like me, maybe it is a past DIY project that you poured your creativity into but are ready to pass on. If you can't bring yourself to donate it, but know it isn't worth that much money, you can always find someone to give it to who you think will appreciate it. You can pass your son's baby clothes on to your pregnant neighbor. Or give your sister that painting she's always admired. Just be careful not to pressure someone into taking something they don't really want to make yourself feel better. You don't want your decluttering to contribute to someone else's clutter problem.
Or if you don't know the right person personally, offer it up to your Facebook friends. Or in a freecycle group.
If you want to join me on this mission to declutter in a brand new way that actually changes how your home functions, don't miss the other posts in this series so far:
Tricks, tips, and the right mindset to actually get rid of clutter once and for all
What to do with the stuff you want to get rid of: