Guys, great lighting is usually sooo expensive…but I'm learning that you can make gorgeous DIY lighting for very little money.  This little hanging light is a great example of that.
It's time for another Repurpose, recycle, reuse project and this month I managed to both repurpose and reuse.  I reused an old worn out lampshade that I just couldn't throw away and I repurposed an indoor/outdoor tablecloth from TJMaxx into an awesome lampshade cover.
I've been on a bit of a DIY lighting kick lately.  It started with my DIY orb light fixture in the foyer and continued with my vintage camera lamp.  And now I'm back with a super cheap little hanging light that you can hang literally anywhere.  Seriously, all you need is a wall outlet nearby.  I decided to hang mine out on our huge screened porch.  That baby is four hundred square feet of screened-in goodness and only has one little tiny light fixture way down on the end.  Our candle lanterns are great but sometimes you just need some real light, ya know?
What I'm learning from all this DIY lighting I've been tackling lately is that wiring a light really isn't so scary.  I mean, yes, you need to be extremely careful because electricity is dangerous.  But it is soo doable.
Materials
old worn out, ugly lampshade – if yours still has the ugly pleated fabric, simply remove it
fabric of your choice
white fabric for lining
hot glue gun
I got the next three items from my local home improvement store for around $15 total. They can also be easily purchased through the Amazon affiliate links below.
Instructions
I chose to wire my light before recovering the shade but you can definitely recover the shade first if you would like.  As always be very careful when working with electricity and of course, do not plug in your light while you are still working on it.
First screw one end of your threaded nipple into your loop.  (Threaded nipple is just what you call that little tube with the ridges on the outside – I have no idea why they chose to call it that.  Clearly a man named it.)
Thread one end of your lamp cord through the middle of your loop/nipple and slip the whole thing into the hole in the top of your lampshade. Pop your pull chain socket apart – very easy to do – and screw the base into the free end of the threaded nipple.
Pull several inches of the lamp cord apart into two strands and make sure you have a half inch or so of exposed wire at the ends.  If not use sturdy scissors to carefully strip away some of the plastic.  Then tie the two strands into a knot like you were going to tie your shoes.  (I will be honest – I have no idea why you do this but the instructions that came with the socket said to so I did.  I am a rule follower).
Carefully attach the two exposed wires to the socket by wrapping them around the two screws on the sides and then tightening the screws to secure them.  Snap your socket back together.  And that is it as far as wiring!
Now it is time to recover your shade (if needed).  I did a little research online and quickly learned that there is a correct way to recover a lampshade that involves cutting various pieces of fabric and sewing things together and making everything just so.  I didn't have time for all that.  So instead I just pulled out the old hot glue gun.  I used a scrap of white fabric to line the inside, hot gluing the top and bottom edges to the lampshade frame.
Then I used a little of my tablecloth fabric to cover the outside.  I cut my fabric a few inches taller than the actual shade.  I folded over the top and bottom edges of the fabric to make a hem using hot glue.  To keep the edges neat, I folded the hemmed fabric over the top and bottom of the shade and glued them on the inside.
The great thing about this type of light is that you don't need to worry about where you have overhead lighting wired in; this can be used anywhere.  If you are using this inside, you can simply use a hook that screws right into the ceiling to hold it up.  I was hanging mine on a metal porch ceiling so I chose to use some command hooks to hold the fixture and also keep the cord where I want it.  The light weighs very little so I am pretty sure the command hooks will hold it. So far, so good!
And as always, be sure to check out my fellow bloggers' inspiring repurposed, recycled, and reused projects.  Every month I come away with some great new ideas!
Repurposed Thrift Store Chandelier from Life as a Thrifter
Repurposed Hose Caddy from Bigger than the Three of Us
Basket Hanging Light from Thrifty and Chic
DIY Magazine Coasters made from a Pottery Barn Catalog from All Things G&D
Have you ever wired your own lamp or light fixture?  Now that I know how simple it is, its like a whole new world of DIY possibilities has opened up!  Do you have any dark, dreary rooms that could use a cheerful hanging light?  Or an ugly lampshade hanging around, waiting to be useful again – it may just have a new purpose now!
Here are some of my other favorite inexpensive DIY lighting ideas: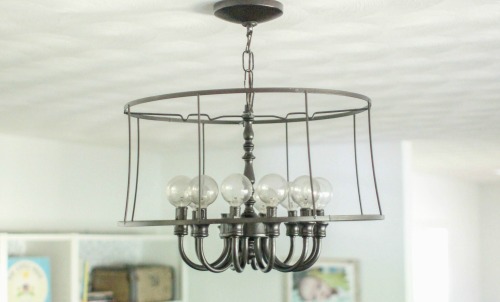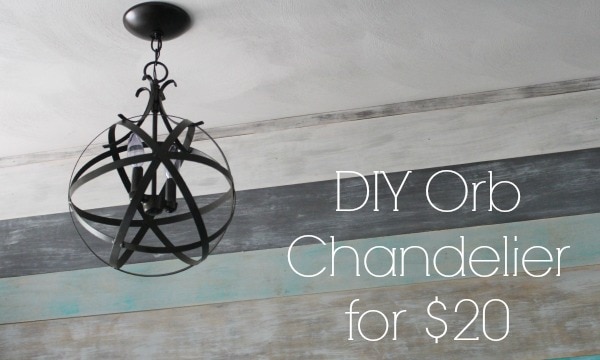 How to Turn a Lantern into a Lamp