These free art printables are a fun, easy way to add color and life to any space. With two of my favorite quotes about outdoor adventure, they are perfect for summer.
For me summer is all about spending as much time outside as possible and really enjoying the beauty of the world. With all of the craziness going on right now, I'm more thankful than ever for the days I can escape to the woods and clear my head or even just sit in my own backyard and feel the sunshine on my face.
I'm always looking for ways to capture a bit of that inside our home as well – with a basket full of seashells or a vase full of fresh flowers or my collection of heart-shaped rocks. And this year I decided I also wanted to create a few new art prints to celebrate the carefree spirit of summer.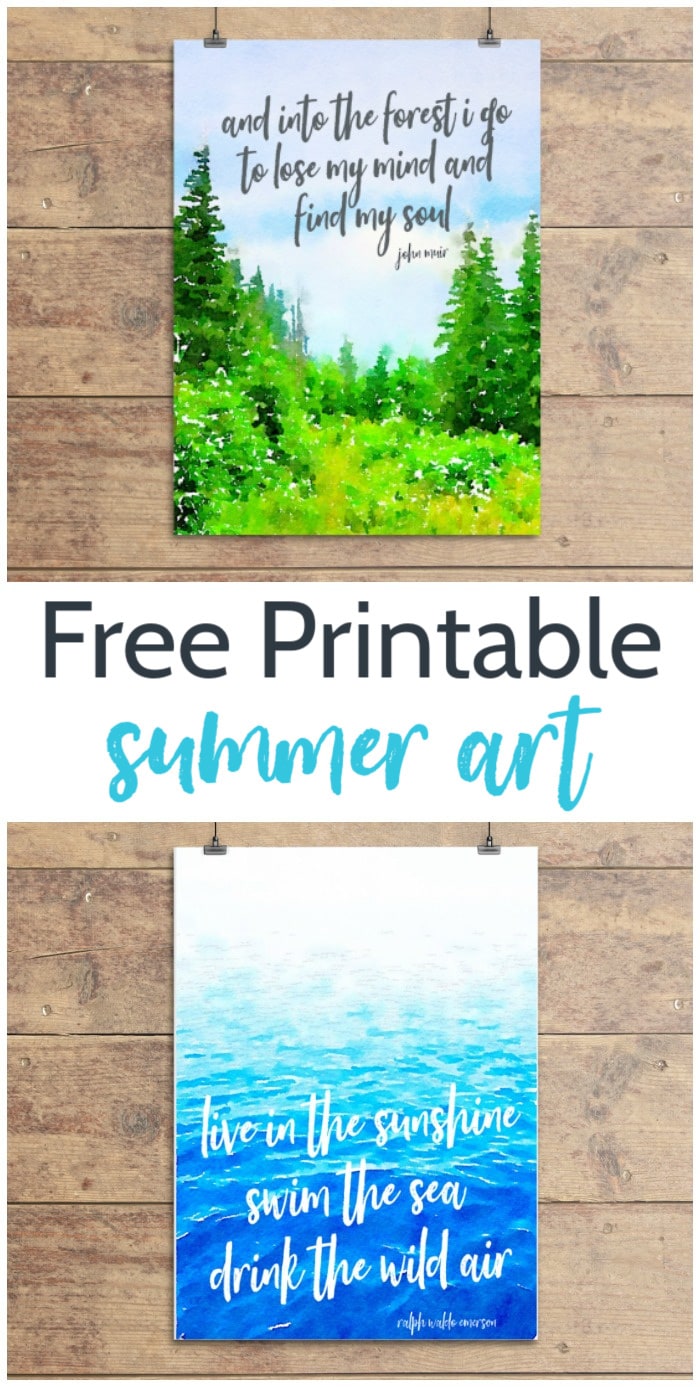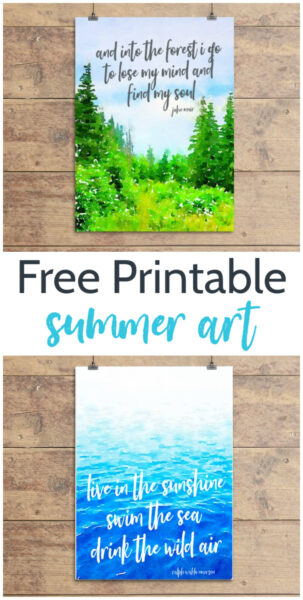 And because I'm always looking for new art, I also invited some of my favorite creative bloggers to join me in sharing new summer printables with you guys. They are all completely free and you can check out all of the freebies at the end of this post.
Free Summer Printables
The summer printables I created were inspired by a pair of signs I made for my sons' shared bedroom a few years ago.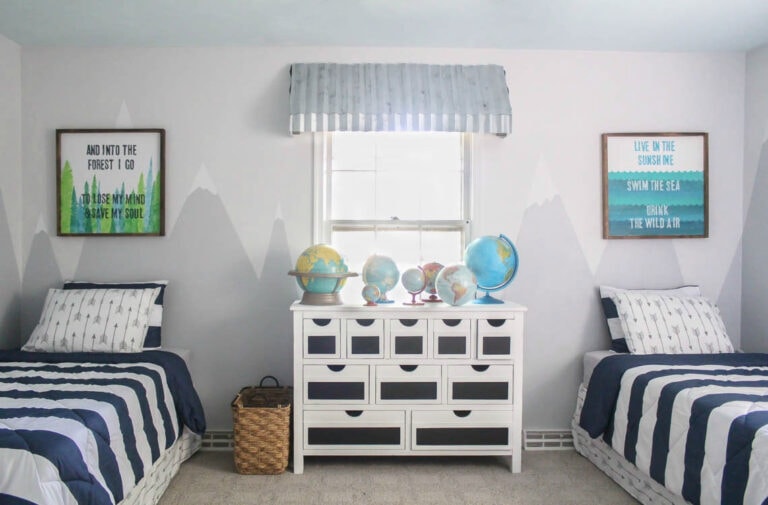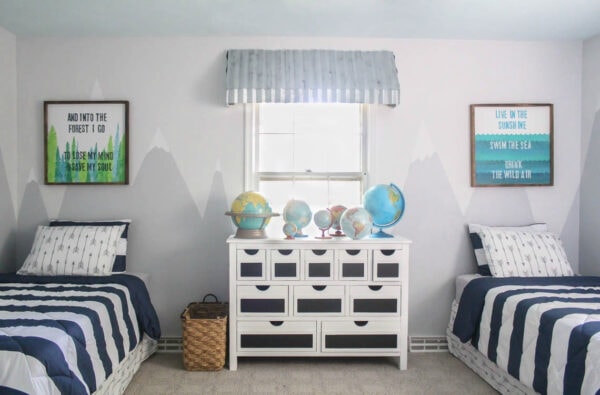 They are some of my favorites of all of the wooden signs I have ever made. I love the fun colors, the unique style, and the fantastic quotes about getting out and finding adventure in the world.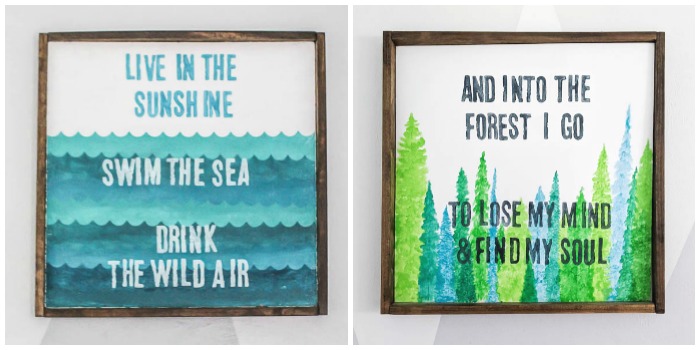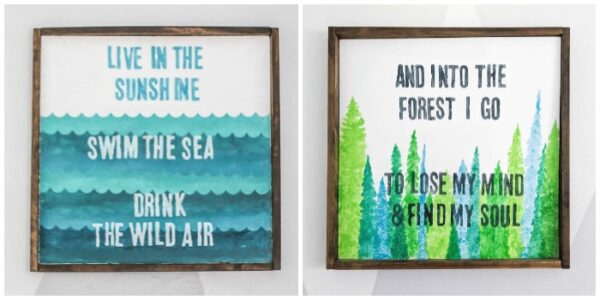 So I decided to create some colorful art prints inspired by these signs and I absolutely love how they came together.
The first print is all about my favorite summer quote from Ralph Waldo Emerson: Live in the Sunshine, Swim the Sea, Drink the Wild Air. If that doesn't describe absolutely what I would love for my summer to be, I don't know what does. (Of course, I have no idea if I will actually get to swim the sea this summer, but I can still dream!)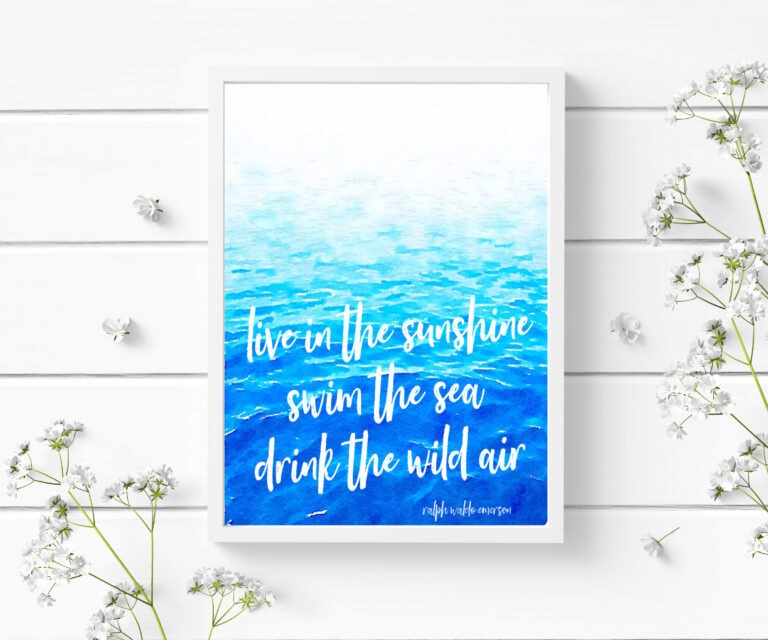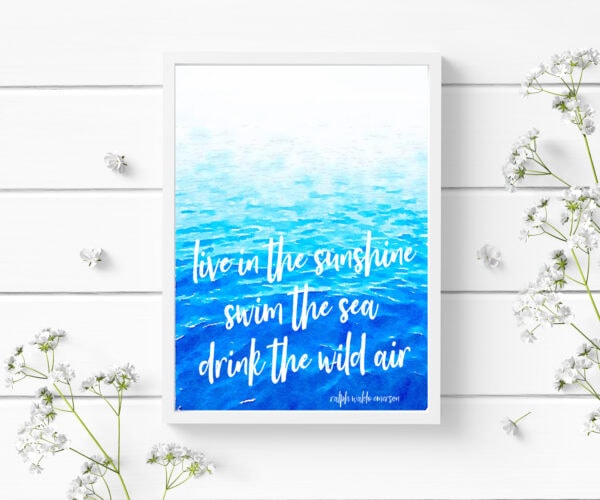 The second print is all about getting away from it all and clearing your head in the beauty of the forest. Always one of my favorite things to do, and even more so now. The quote is from John Muir and says: And into the forest I go, to lose my mind and find my soul.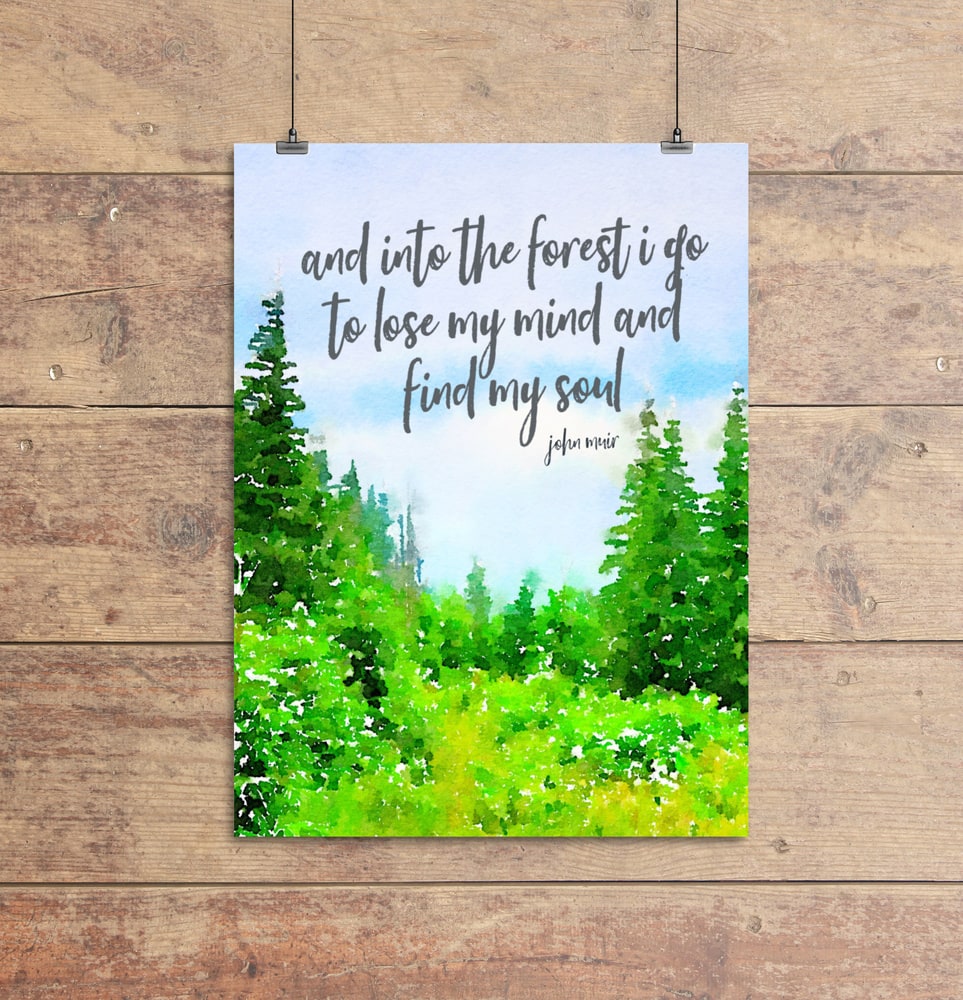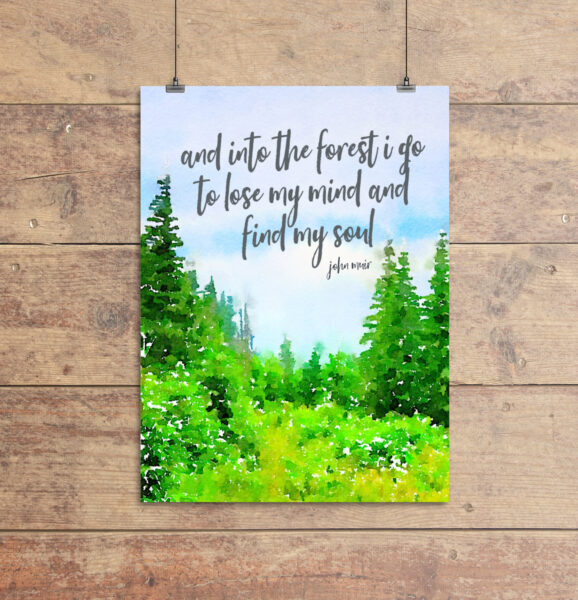 I love them each individually and I love them even more framed together as a set.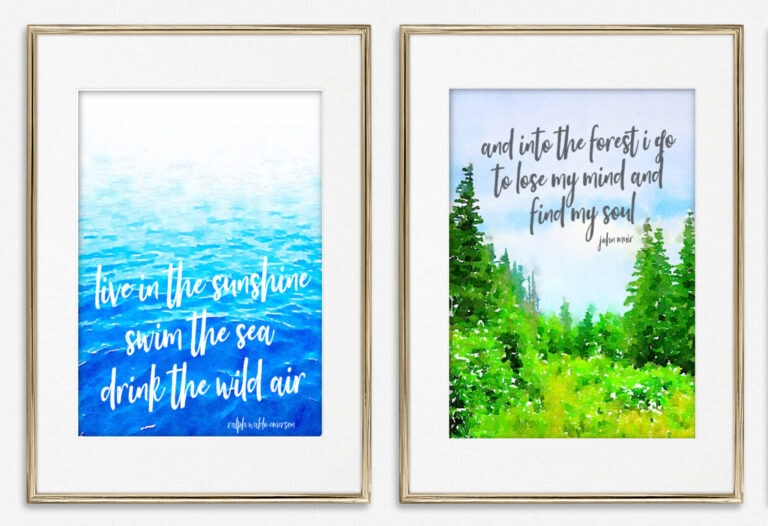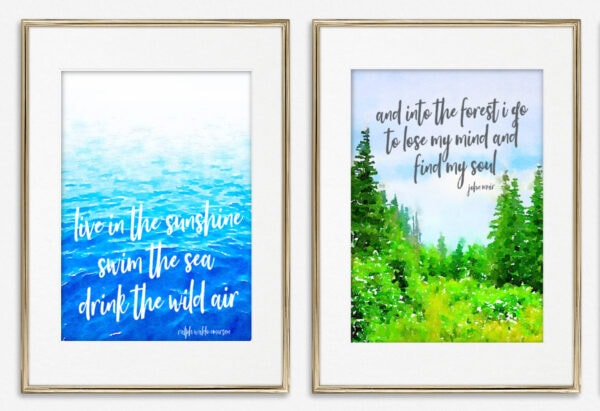 In fact, I think I love them even more than the wooden signs that inspired them!
Each printable is available in jpg format and should print perfectly as an 8×10 or will scale easily to print in other sizes.
I'm offering these along with all of my other printables completely free to all of my email subscribers. If you are already a subscriber, you will receive these in this week's email.
If not, just subscribe to my email newsletter in the box below to get your printables delivered straight to your inbox. The free download will be sent to your email within seconds and you will get access to all of my other free printables as well, along with my weekly email newsletter. (Printables are for personal use only and may not be resold in any form of course.)
More Free Printables for Summer
Ready for more summer printables? There are so many awesome free printables in this collection – be sure to check them all out and head to the links below for your favorites.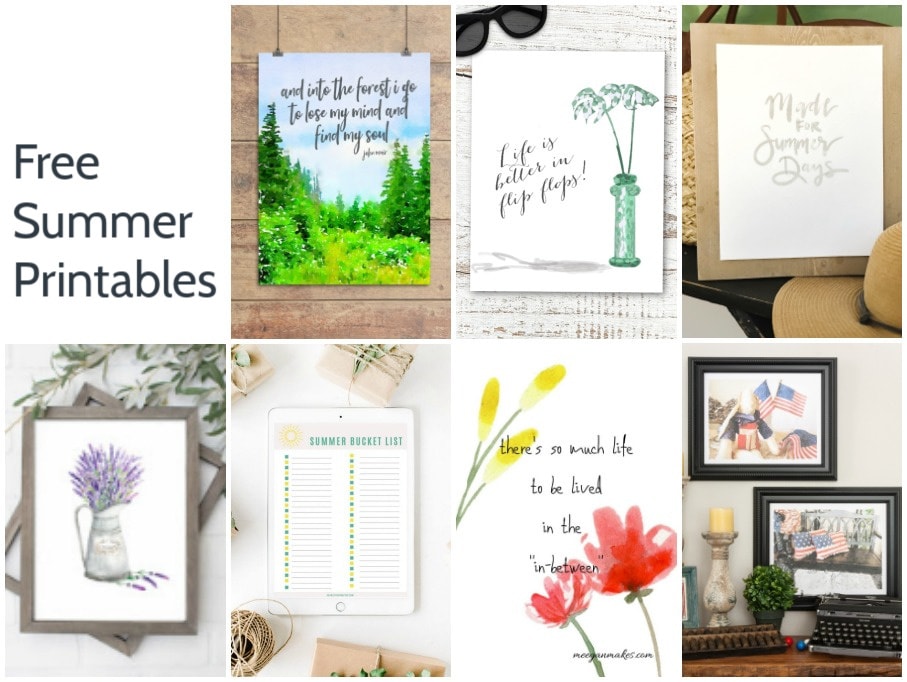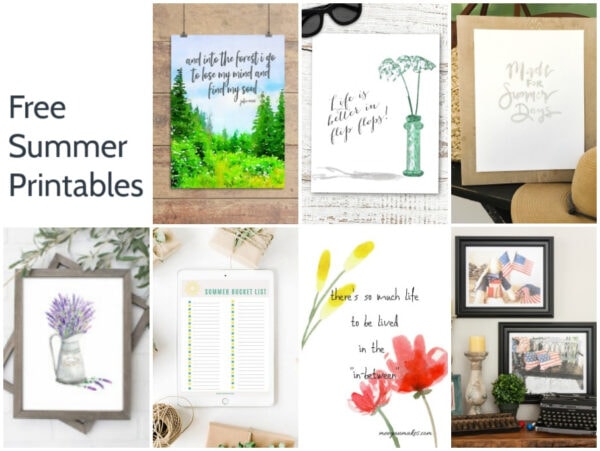 Free Printables: Colorful Art for Summer from Lovely Etc.
Free Summer Printable: Life is Better in Flip Flops from Up to Date Interiors
Set of 5 Summer Quote Printables from Twelve on Main
Watercolor Lavender Free Printable from Postcards from the Ridge
101 Summer Bucket List Ideas – FREE Printable from Charleston Crafted
There's So Much Life To Live Summer Printable from What Meegan Makes
Wall Art Free Printable | 3 Colorful Designs For Summer from Sunny Side Design
I'd love for you to pin this post on Pinterest!