These 19 gorgeous painted tables include ideas for updating all kinds of kitchen tables and dining tables, no matter what your style.
It's amazing how much a fresh coat of paint can completely transform an old table.
More than any other type of furniture, tables tend to have classic shapes that really hold up over time. While you may see a dresser or chair than looks distinctly 1980s, most dining table shapes continue to look beautiful through the years.
But the finishes are another story.
Sometimes the wood finish is outdated or the table has been painted a hideous color. Or sometimes, the color is fine, but the table has seen a lot of years of use and it's in need of some TLC.
Either way, giving an old table a fresh coat of paint can completely transform it.
You may already have an old table on hand, but if not, they are pretty easy to find used at estate sales and on Facebook Marketplace.
Sturdy, solid wood furniture is always the top choice, but you can paint pretty much any type of table including laminate tables.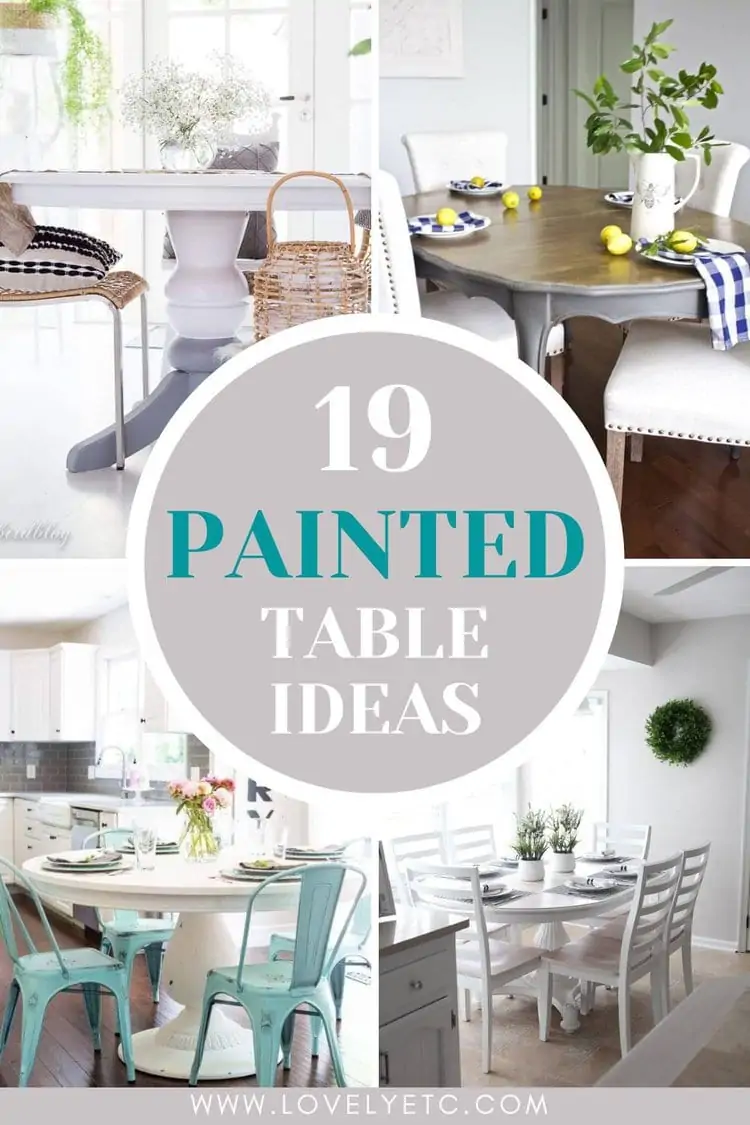 Painting and Refinishing Tables
Once you've decided to paint your table, there are yet more decisions to make.
What paint color will you use? Will you choose latex paint, chalk paint, or some other type of furniture paint? Will you do a smooth modern paint finish or will you do a weathered antique finish?
One of the biggest decisions to be made is which parts of your table you're going to paint and which parts you want to refinish with stain.
Refinishing a table typically involves either sanding or stripping off the old finish before applying fresh stain and sealer. This can be extremely tedious and time-consuming to do on any curved, carved, or detailed surfaces.
On the other hand, refinishing a big, flat tabletop isn't nearly as difficult. And a properly refinished tabletop is likely to be more durable and last longer than a painted finish.
This is why you often see tables with painted legs and a stained wood tabletop.
But that isn't the only way to paint a table. Other options include painting the entire table, painting the tabletop and the legs with two different finishes, or even painting the tabletop and leaving the legs as is.
Painted Table Ideas
The painted tables below include inspiration for painting all types of tables in a huge range of styles.
There are formal dining sets as well as modern pedestal tables. There are tables painted with latex paint as well as chalk paint. There are tables with a clean white finish as well as two-toned tables and tables with an antiqued paint finish.
Whatever your style, I feel confident you'll find inspiration here for your own painted table.
19 Beautiful DIY Painted Tables
These DIY painted table ideas include inspiration for painting all kinds of kitchen and dining tables. Just click the link below each picture for more details and the full tutorial.
More furniture painting posts I think you'll like:
I'd love for you to pin this post on Pinterest!