This DIY silver leaf seashell necklace is super easy to make and looks beautiful.  It makes the perfect souvenir from your beach trip or gift for a friend.
I have a massive collection of seashells I have collected over the years.
I'm pretty sure it's a treasure hunting thing.  The same part of me that loves chasing down the best finds at yard sales, also gets a thrill from finding beautiful seashells.  It may just be physically impossible for me to walk down a beach without searching for the seashells.
Which means every summer I come home with all of these gorgeous shells…and no idea what to do with them.
I am particularly always trying to figure out what to do with itty-bitties.  I have some of the most perfect, gorgeous seashells that are no bigger than the end of my little finger.  They are marvelously tiny and perfect but I can't exactly set them on the mantel seeing as how they are a half inch tall.
In a couple of weeks I am headed to the beach again (and I am soooo elated about that).  I know when I get there I am going to be on the hunt for more shells so I figured it was a good time to figure out a way to use some of the ones I already have!  They are the perfect size to make some shell jewelry, but I didn't really want the hippie vibe a lot of shell jewelry has.  I decided to keep it classy and simple with some simple silver leaf shell pendants.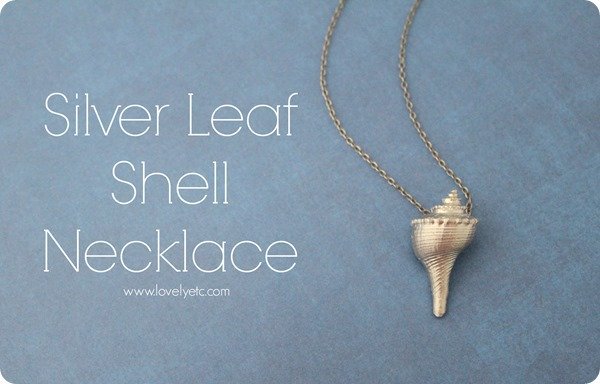 This post contains affiliate links which means if you make a purchase after clicking a link I will earn a small commission but it won't cost you a penny more.  Click here to see my full disclosure policy
Materials for Silver Leaf Seashell Necklace
small seashell  (If you can't find the perfect one on the beach, you can always buy a bag full.  It isn't as fun but it's much easier!)
paint (any color – this won't show in the end)
soft paintbrush
Liquid Leaf silver
Spray Acrylic Sealer
Pendant bails
chain necklace
The How To
Choose your shell (or shells) and clean it throroughly.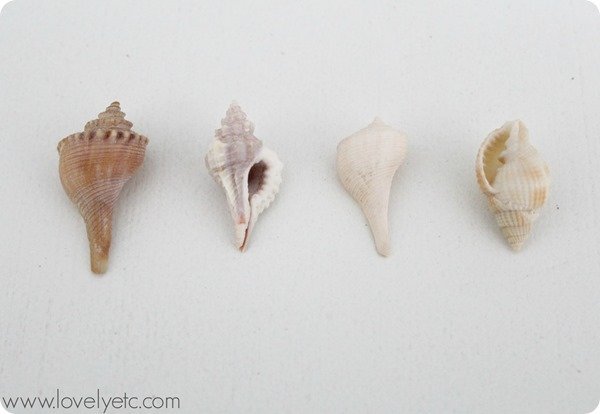 Seal your shell by brushing on some sort of sealer or simply painting it any color. Allow the paint to dry.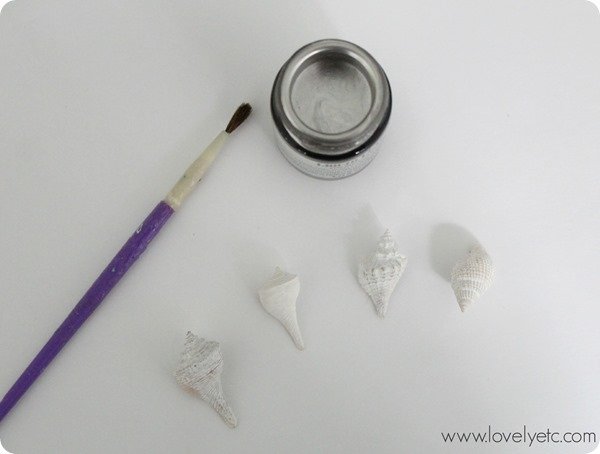 Use a soft bristle paint brush to paint the shell with liquid silver leaf.  Allow to dry.  Use a clear spray sealer to seal all of that silver finish in.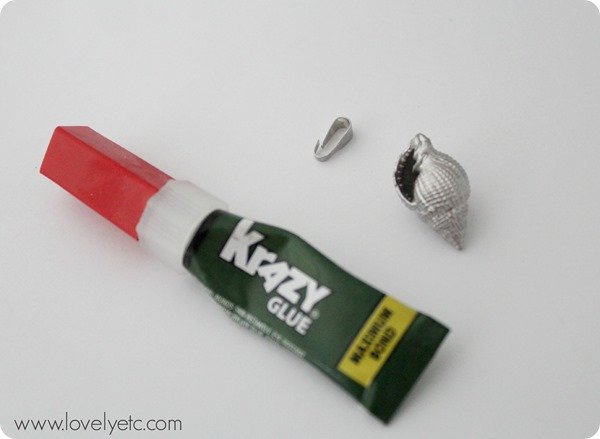 Use glue to attach a pendant bail to a flatish spot on the back of your shell.  (Some people drill holes in their shells to make jewelry but since I was using very tiny shells, I was afraid drilling would destroy them, so I chose glue instead.)  My pendant bails were a slightly different color from my silver leafed shells, so I decided to paint them with the liquid silver leaf as well.
Once the glue has dried, string your shell onto your chain.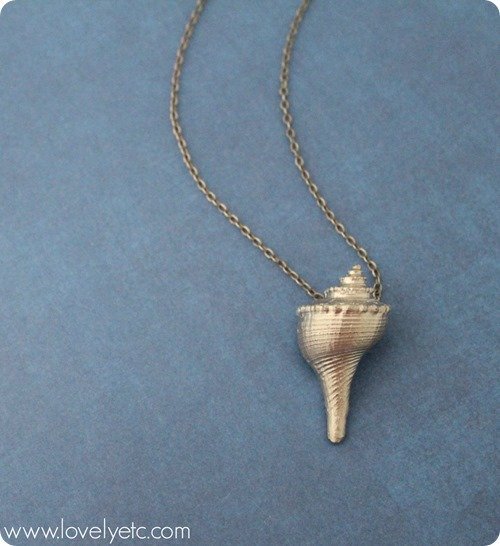 I think shells are gorgeous in their natural finish, but I am really loving how classy these silver leaf necklaces look.  I may or may not have started walking around the house looking for more things I can silver leaf as soon as I finished these!  Nothing is safe!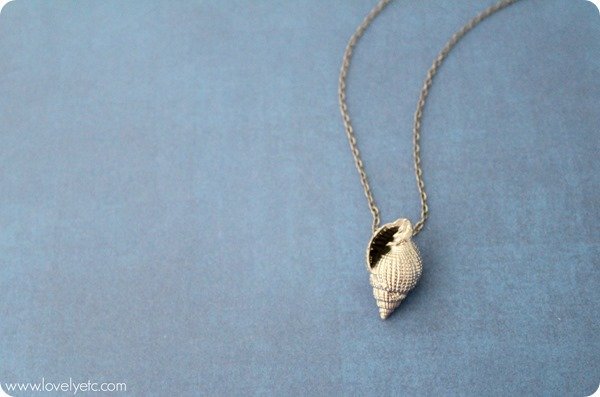 Like this project?  Pin it!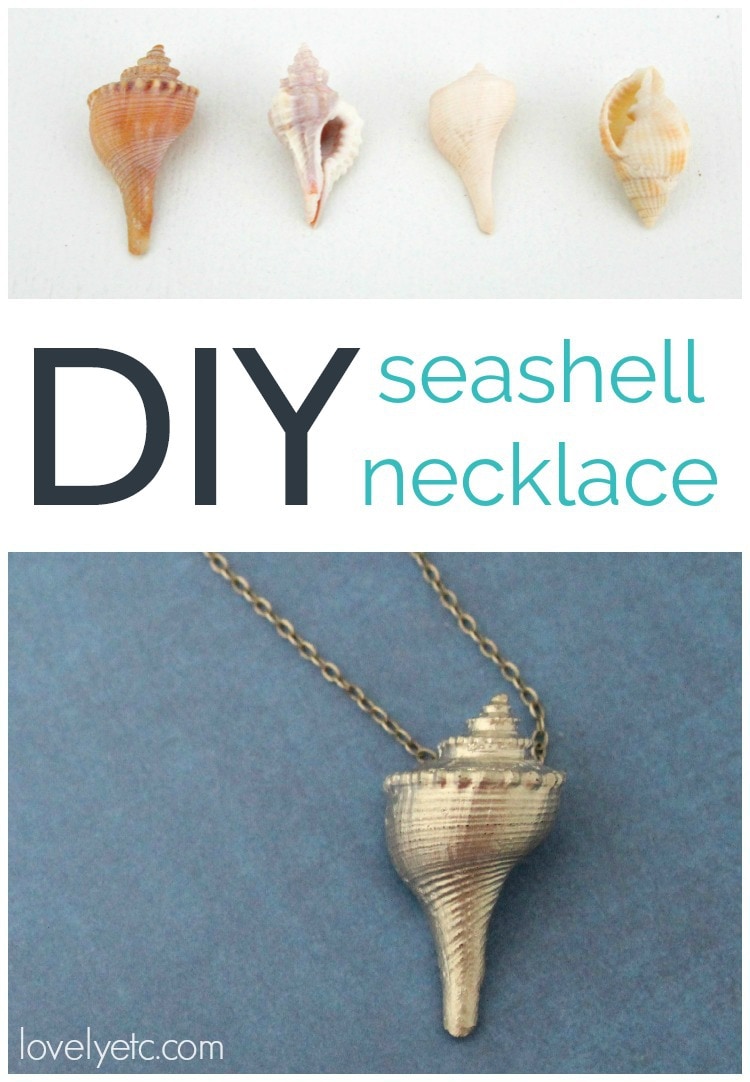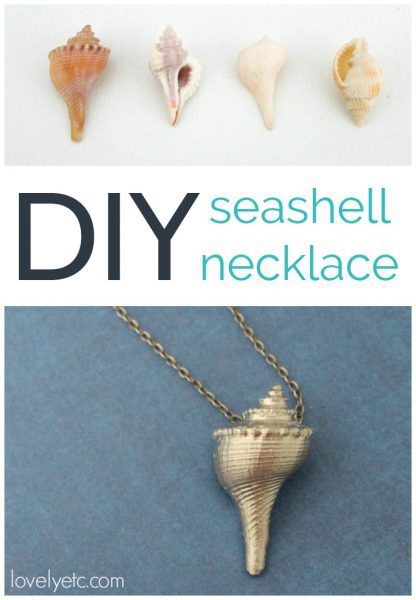 Want to see more shell ideas (that are totally un-tacky)?  I've gathered all of my favorite shell crafts right here.
And it's time for another round of Repurpose, Reuse, Recycle as well where my friends and I each share a repurposed project.  I was questioning whether this really qualified as a repurposed, recycled, or reused project at first.  But then I realized that when you really think about it, I reused a little sea creatures former home as jewelry to make me feel pretty.  Definitely seems to count to me!
Be sure to check out my fellow bloggers' repurposed projects – as always, there are some genius ideas in here.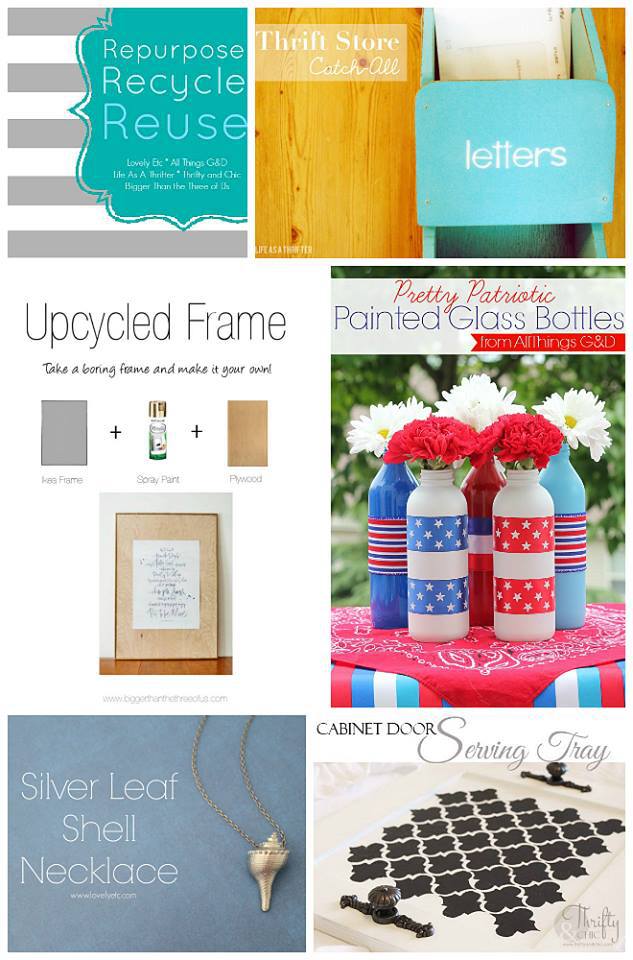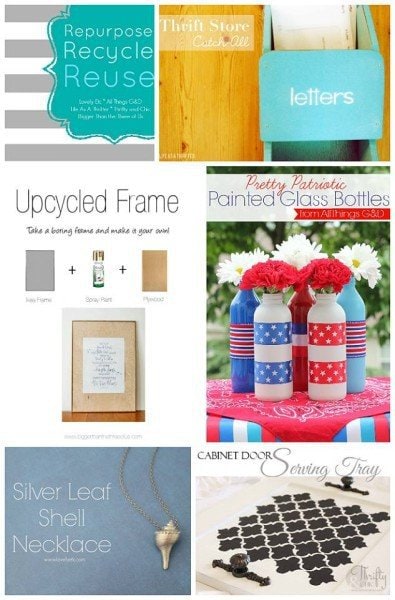 Thrift Store Catch All by Life as a Thrifter
Upcycled Frame by Bigger Than The Three of Us
Patriotic Painted Glass Bottles by All Things G&D
Cabinet Door Serving Tray by Thrifty & Chic
Be on the lookout for more seashell projects from me in the future.  And if you have done something cute with seashells, I'd love to hear about it – always looking for inspiration!