This is a sponsored conversation written by me on behalf of World Market and contains affiliate links. The opinions and text are all my own.
It's been awhile since I shared any of my thrifting finds but you'd better believe I've still been out there searching for treasures. Having three little ones definitely makes it harder to get up super early on Saturdays to hit the yard sales, but I still try. And Griffin, my 4 year old has turned into quite the little junker himself. All week long he asks me when its going to be 'ard sale day.
Yard sales will always be my favorite, but lately I've also been having lots of luck both buying and selling on Facebook. I've been wanting a new dining room table for awhile. Our last table was a freebie that I refinished and there was absolutely nothing wrong with it. I just had the itch for something a bit different. So when I saw a beautiful table with six chairs posted for only $50, I could hardly send a message fast enough.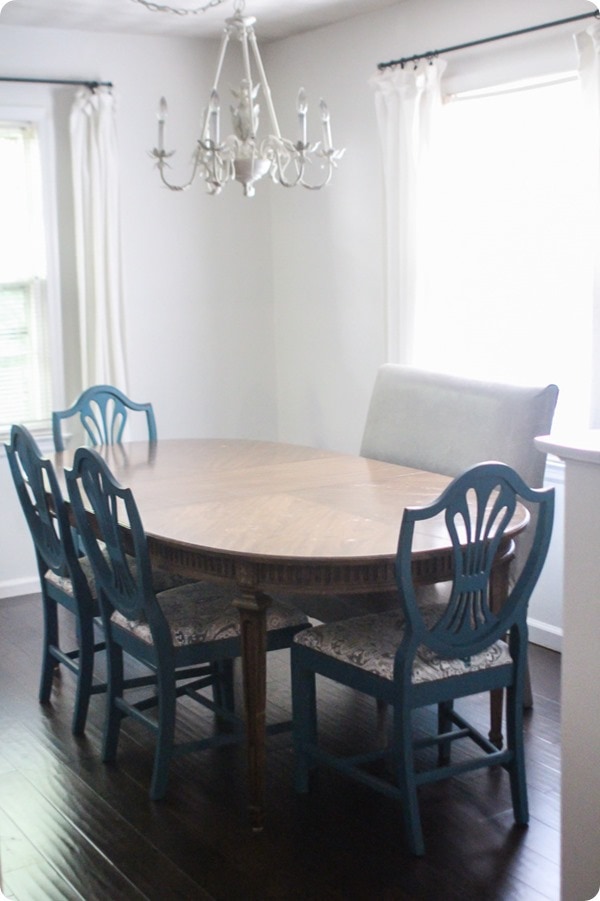 The table is beautiful with gorgeous details. And it's huge! I'm talking banquet huge. It came with 2 leaves and expands to be over 8 feet long!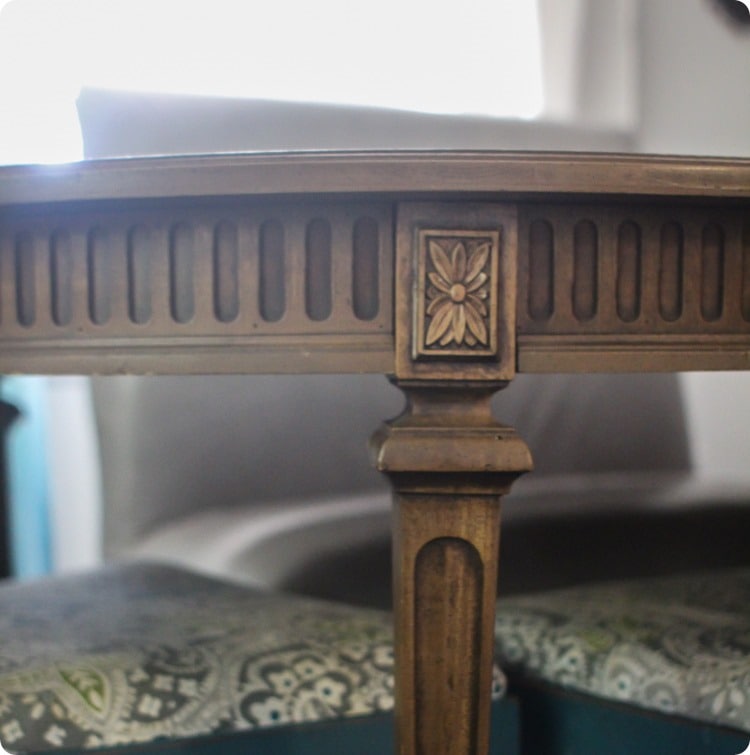 It also came with six pretty cane backed chairs. Unfortunately the caning has a few holes, so for now I am using the chairs and bench I already had. (Both found at yard sales and spruced up! You can check out the whole story of the chairs here and the bench here.)
The table isn't in new condition – it does have a few scratches and I'm planning to refinish it. But even with the scratches, look at that gorgeous wood grain. Did I mention it was only $50? Man, I got away with highway robbery on this one!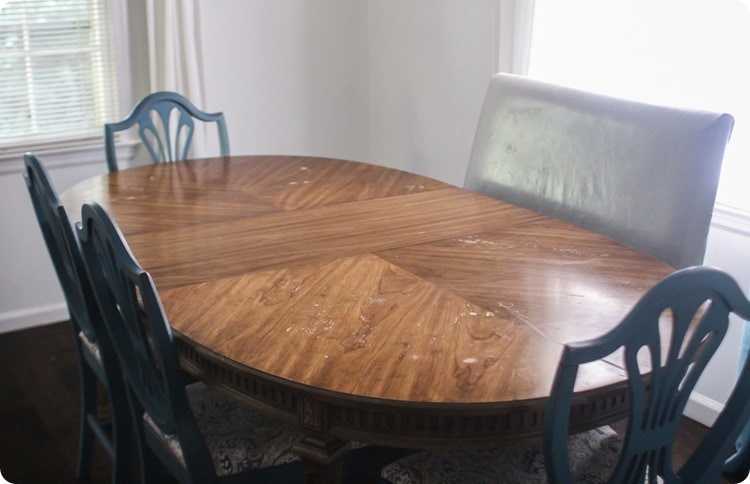 Since I'm still a bit gaga over my new table, I've been dreaming about all the ways I could dress it up. And since Cost Plus World Market has a fantastic sale coming up, I decided to take my dreaming right on over to their website to see what I could come up with. They have lots of pretty global designs but I also saw a lot of beautiful farmhouse decor.
This is my dream fall tablescape full of natural wood with hints of gorgeous aqua. (Y'all know I can't seem to put together a project without a little blue slipping in.) I think this would be beautiful for Thanksgiving entertaining.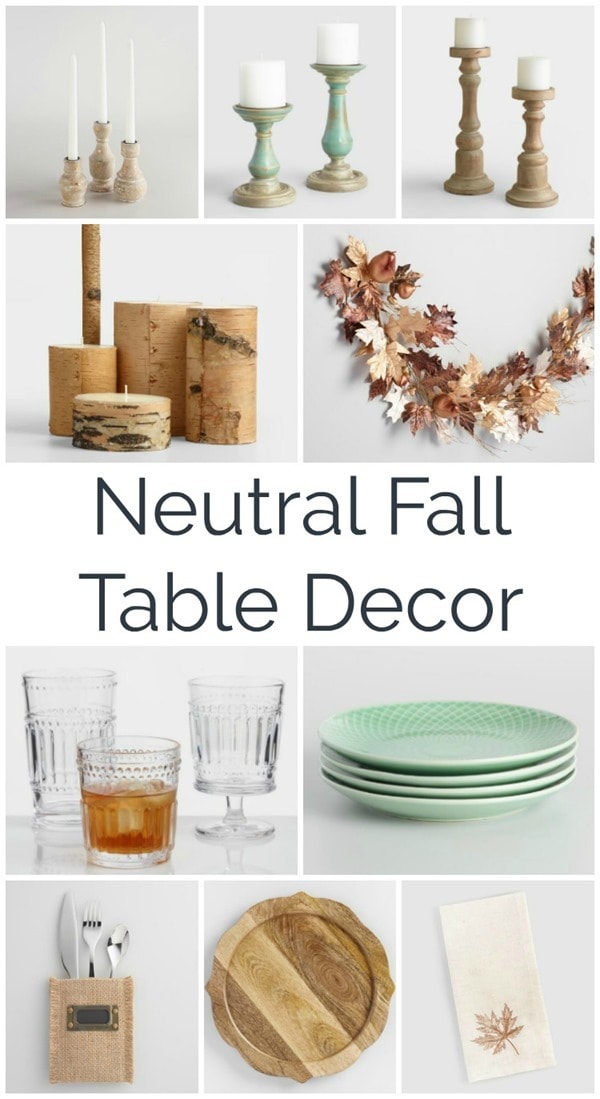 Okay, so first of all the centerpiece. My favorite, simplest way to create a vignette is to just gather together a bunch of the same type of thing. Like my lanterns here and my flowers here. It is super simple and you just can't go wrong. I think a bunch of light wooden candleholders with classic white candles spread down the center of the table would be gorgeous. Add in a few pretty birch candles and woven between them in place of a table runner, a beautiful metallic leaf garland.
Then I would add curvy wooden chargers, gorgeous mint plates, textured glasses, and embroidered fall napkins. And the final touch – cute jute utensil holders with labels instead of placecards.
Ah, I can see it all so clearly!
And this weekend is the perfect time for a bit of shopping at Cost Plus World Market. As I mentioned they have a fantastic sale coming up. Cost Plus World Market's Friends and Family Event begins this Friday 10/6 and you can save an extra 30% on home décor, furniture, entertaining essentials and more. (Now that's nothing to sneeze at!) You can also save 10% on food and beverages. Sale ends 10/9/17.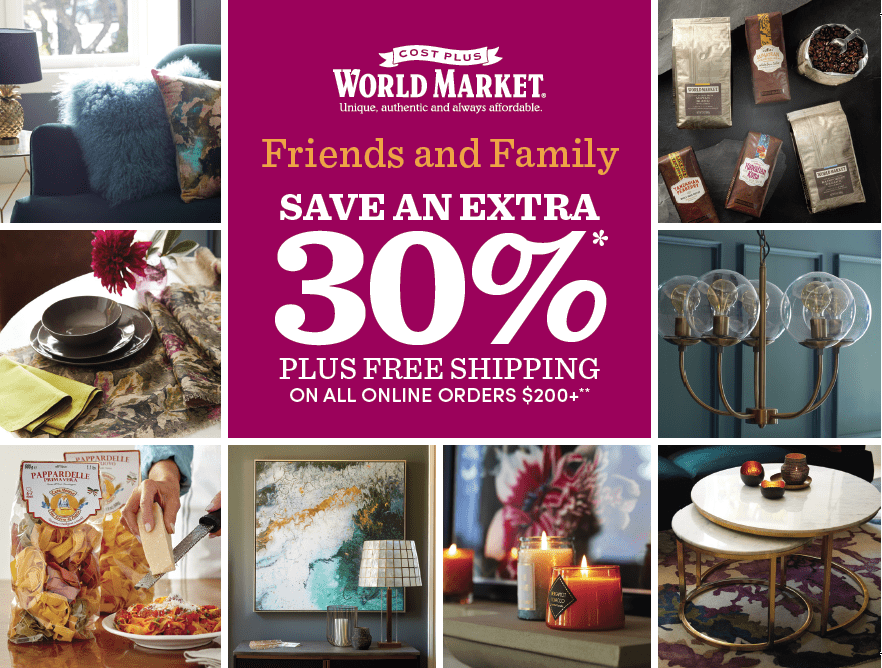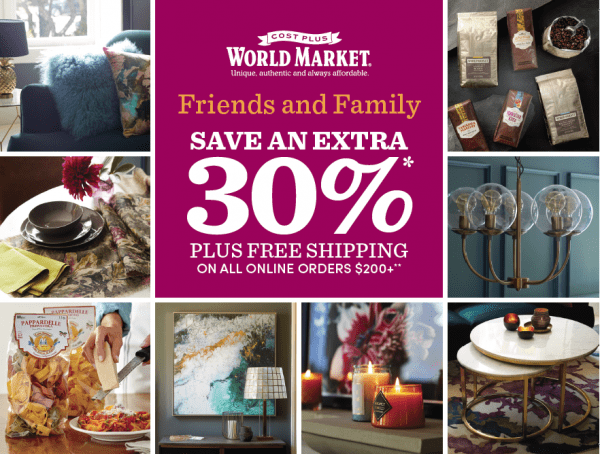 The sale is going on both online and in stores. Sadly, I don't have a store location in my town, but you don't have to twist my arm to get me to add a trip to Cost Plus World Market whenever I'm visiting family in Knoxville, TN. (You can find the store nearest you right here.)
Happy shopping!