There are a few spots in our home that get some Christmas love every single year and our fireplace mantel is one of them.
Really, nothing says Christmas like stockings hung on the fireplace and the glow of a warm fire!
Our fireplace has undergone a huge transformation over the past year between being painted navy and more recently getting a gorgeous new DIY mantel. So I was pretty excited to decorate if for Christmas for the first time.
The only thing I don't love so much about our fireplace?
The big black TV taking up almost the entire wall above it! Yuck!
A few years ago, we mounted our TV over our fireplace mantel. It works so much better there and generally I love it, but I really miss the days of putting fun signs and art over the fireplace for the holidays.
There used to be so many possibilities!
But the TV is here to stay, so I got busy figuring out how to create a beautiful, classic Christmas mantel with a big TV right in the middle. And I really love how it turned out!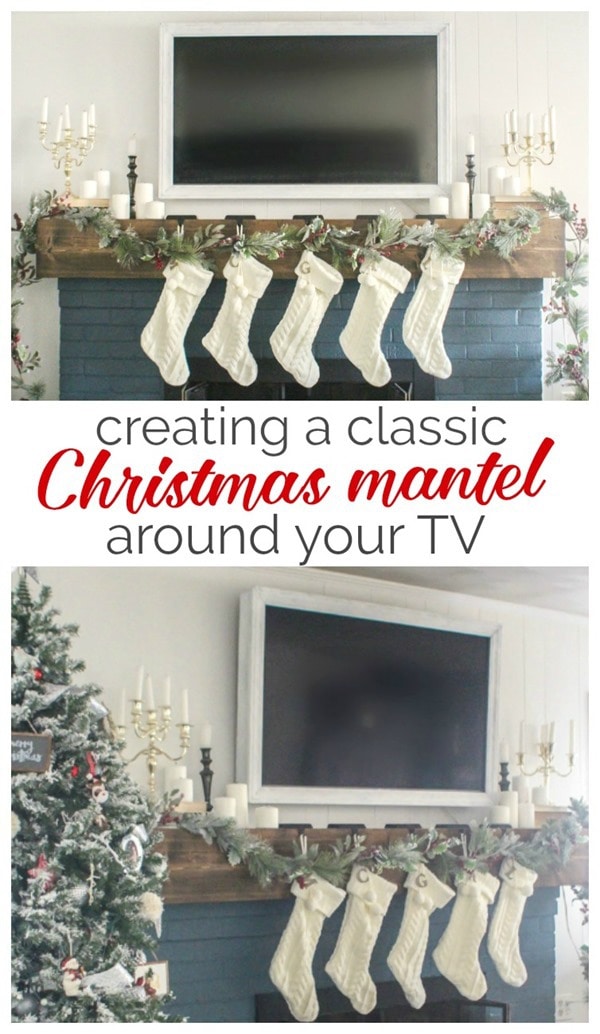 And I am joining together with the fabulous Krista from The Happy Housie and 16 other fantastic bloggers to share their seriously stunning Christmas mantels as well. You can check them all out at the end of this post (and drool over them).
But first, here's how my own mantel came together.
This post contains affiliate links which means if you make a purchase after clicking a link I will earn a small commission but it won't cost you a penny more. Click here to see my full disclosure policy.
Classic Christmas Mantel
So this is one of my favorite Christmas mantels from a few years ago. (I really loved that Merry Christmas sign.)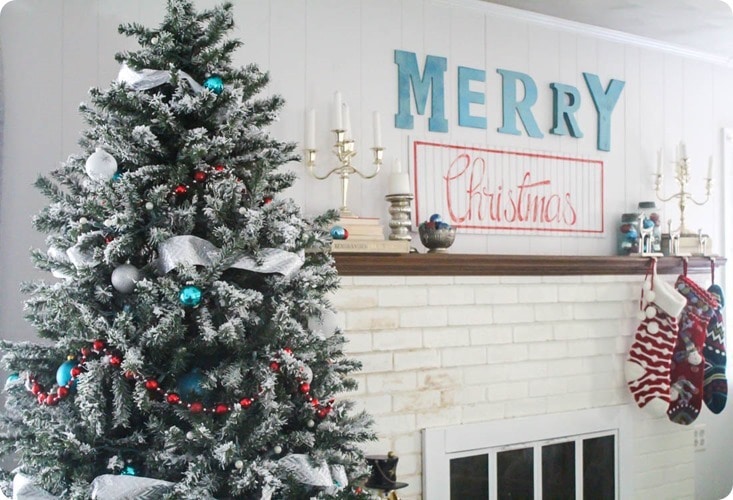 And here is the same fireplace with this year's Christmas mantel: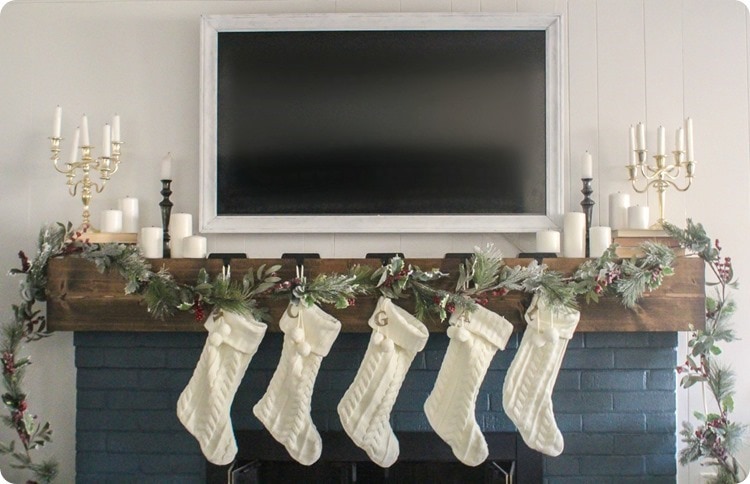 The TV isn't my favorite, but check out the change in the fireplace itself! I love it so much!
You can read all about my fireplace painting adventure here and get the tutorial for how to make that fabulous chunky mantel for cheap right here.
And that white frame around the TV is my latest DIY project.
I love how it helps the TV blend in with the rest of the room a bit more and you can read the full tutorial right here.
When it came time to decorate the mantel for Christmas this year, I decided to keep it classic and simple.
I've had the garland for a few years but this year I decided to add just the tiniest bit of my favorite snow flocking. My flocked tree is right next to the fireplace, so I wanted to tie them together a little better. (I may have a serious flocking problem, lol.)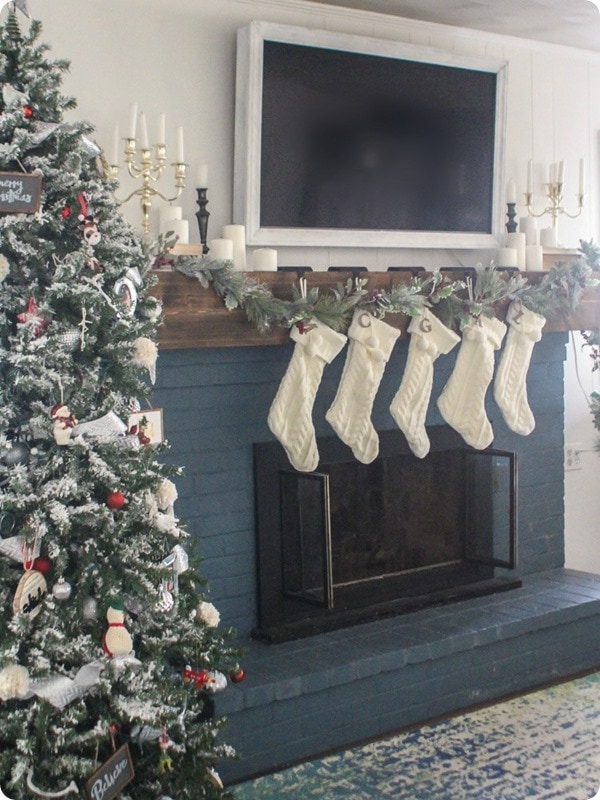 I bought four of those beautiful white knit stockings last Christmas. But then when baby Lincoln was born this year, we clearly needed a fifth stocking.
Luckily Target is selling the same ones again this year. Although if you look closely you can see the new one (on the end) is slightly smaller than last year's version. Oh well.
Since everyone's stockings look the same, I added some simple glittered chipboard letters to label them.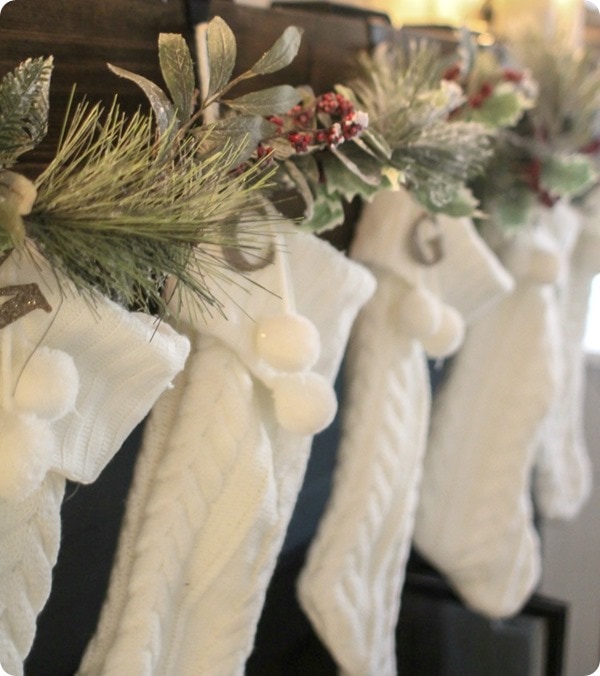 Above the mantel, I decided to keep things simple and classic with lots of pretty white candles.
I used a few old books to add height and pulled out some of my favorite vintage candlesticks. And then I just added a bunch of white pillar candles in various heights.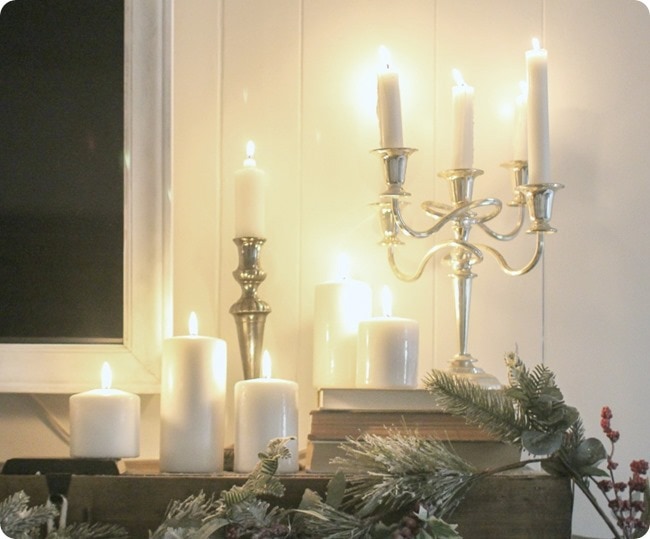 And that's it!
I considered adding some things to the hearth but I know that in reality, this area is usually the overflow spot for any presents that don't fit under the tree, so I left it open.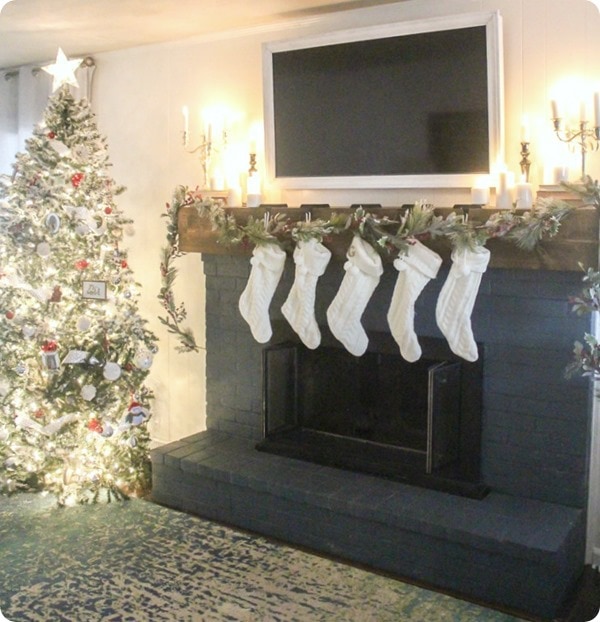 There's really nothing quite as pretty and peaceful as candlelight.
Although Christmas tree lights are a close second. The glow in this room at night is amazing!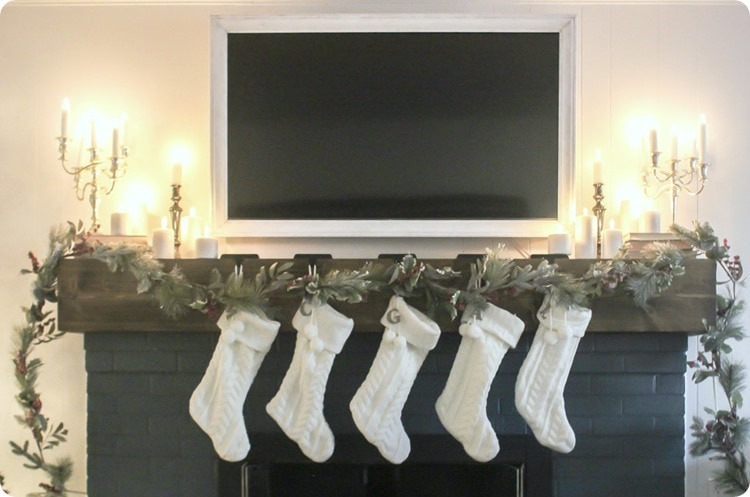 Ready to see more fantastic Christmas mantel inspiration? There are definitely a few in this bunch that I am totally drooling over! See all 18 by clicking the links below.
The Happy Housie / A Pretty Life / Place of My Taste / Two Twenty One / Newly Woodwards / Cherished Bliss
Pin It for later: