As I've shared before, I've been on a bit of a decluttering mission this year. A few months ago, I realized that one of the major clutter culprits in our home was our furniture and I've recently come to another realization. Some of the things that are in our home specifically to make it more beautiful are actually just making it look more cluttered and messy.
And the worst culprit of all?
Throw pillows.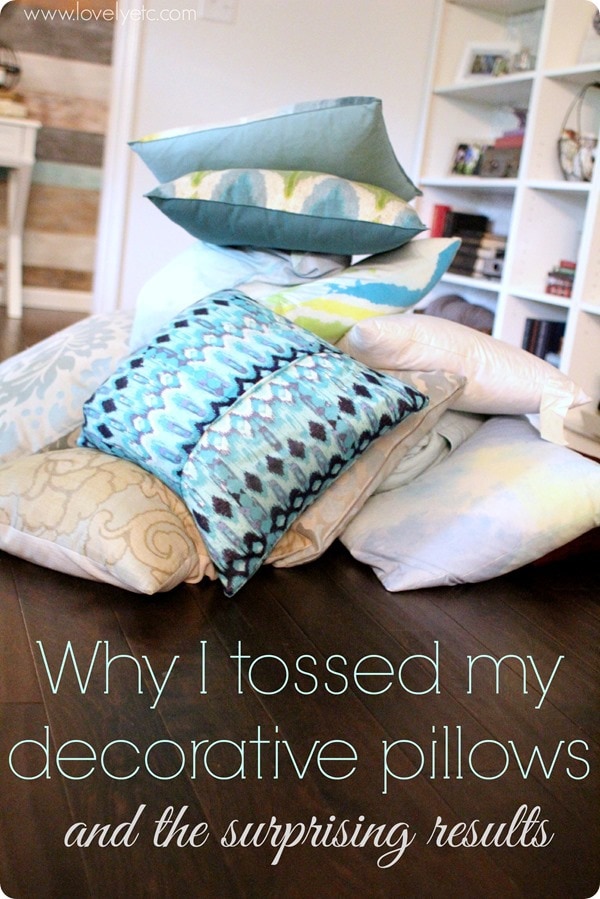 You pretty much can't decorate without throw pillows. You never see pictures of a beautiful room with a bare couch. Or a gorgeous bed that isn't covered in a mound of pretty pillows.
And designers and bloggers are constantly singing the praises of the humble throw pillow. Quickly change up the style of a room with new pillows. Change out your pillows for every season. Put them on the bed, the couch, the chairs, benches, in baskets, pretty much everywhere.
And as an amateur decorator, I 100% agree, Rooms just look better with lots of pillows.
Except maybe they don't.
Because our homes aren't just pretty pictures – we actually live in them. And all of those pretty pillows that I like to pile everywhere don't actually stay on the couch – they are immediately tossed to the side when someone sits down. (Or if it is my son, thrown in the floor.)
And that luxurious pile of pillows on the bed spends most of it's time in the floor as well. Because the bed is actually used for sleeping. And even though I make my bed most mornings, I almost never take the time to beautifully arrange a pile of pillows.
Eventually it became clear that the pillows I bought and made specifically to make our house beautiful were actually just making it look like a big mess. Because 95% of the time they weren't lined up on the couch looking cute – they were piled up in the floor. Just one more thing that wasn't where it goes.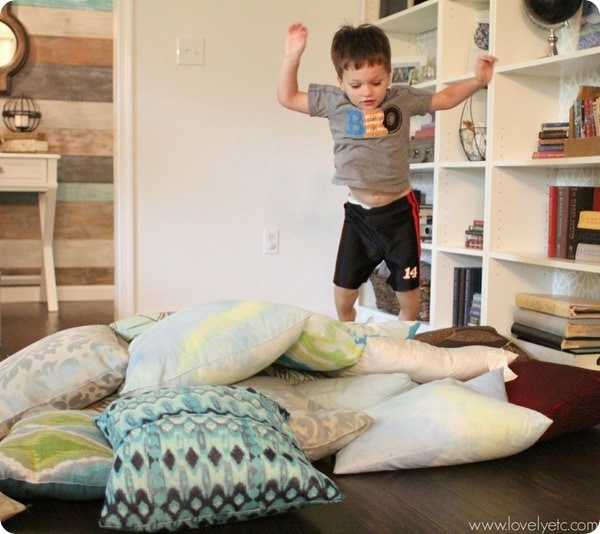 So I've been paring them down – instead of piles on the couch, there are two. Just enough to get cozy for an afternoon nap. Instead of three or four on the bed, there is one – just enough for a pop of style but no elaborate arranging required in the morning.
As for the rest, I'm letting them go right into the donation pile and out the door.
Surprisingly, getting rid of these decorative pillows actually makes the house look better. Ironic when you think about it.
It seems like that I'm finally getting to the real heart of this whole decluttering thing – keeping the few things you really love and saying goodbye to the rest.