This weathered wood finish is easy to create in just a few simple steps using inexpensive craft paints. This finish is perfect for creating a light wood finish on furniture or other home decor without all the work of sanding or stripping off the old finish.
I have had lots of requests for a tutorial for this great weathered wood finish ever since I shared the antique sofa I refinished several weeks ago. The sofa had beautiful lines but the old wood finish was incredibly dated and needed an update. I considered sanding off the old finish and restaining it for about five seconds but I knew that would be a massive undertaking. All of those nooks and crannies would have taken forever to strip down! Instead, I decided it would be the perfect piece to do a faux wood finish using paint.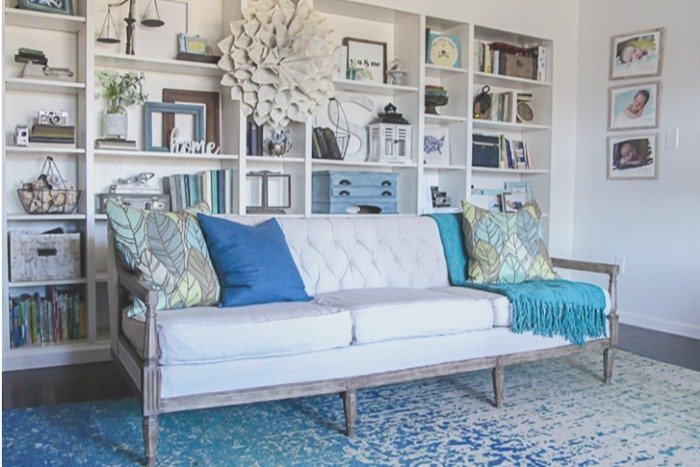 I know faux finishes get a bad rap. Sometimes they just look way too fake and I agree that when it is possible, the real thing is always better. But even so, I still love a good faux wood finish using paint. It is way faster than traditional refinishing and works beautifully on pieces with a lot of detail that would be incredibly time consuming to refinish the traditional way. It is also perfect for adding a beautiful wood finish to laminate furniture, photo frames, small decor items with lots of detail, or any other project that just needs a quick makeover.
Since it can be tough to fully demonstrate a paint finish using photos alone, I put together a quick video showing exactly how to create this look with paint. For the video I painted a worn out thrifted candlestick using the same paints and techniques I used to paint my couch frame. And I also have a full step-by-step tutorial below for those who prefer to see it all written out.
This post contains affiliate links which means if you make a purchase after clicking a link I will earn a small commission but it won't cost you a penny more. Click here to see my full disclosure policy.
Materials
Acrylic craft paints in three colors: tan, light gray, dark brown (I used DecoArt craft paints in the colors fawn, raw umber, and slate gray)
painter's palette or paper plate for mixing paints
clean rag
Matte sealer if painting furniture (I love General Finishes Flat out Flat Topcoat)
How to Create a Weathered Wood Finish Using Paint
Creating this weathered wood finish is quick, easy, and very inexpensive. You can use chalk paint for this, but honestly, acrylic craft paints work just as well and they are very inexpensive. I had plenty of paint in my three little bottles to do my entire couch frame as well as this candlestick and several other projects.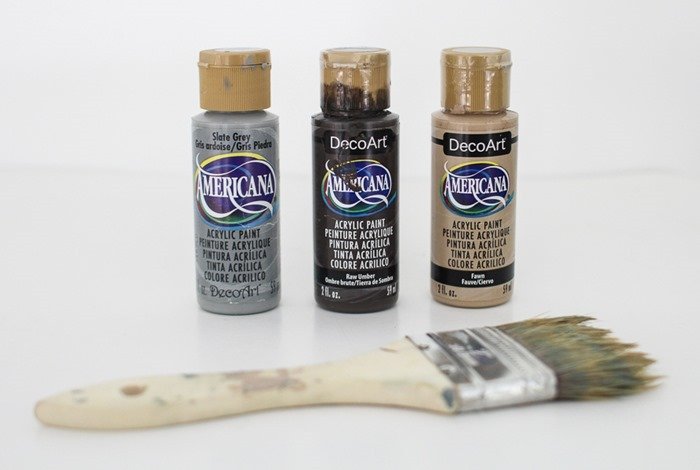 Before you get started painting, you always want to start by giving your piece a quick cleaning to remove any dust and grease.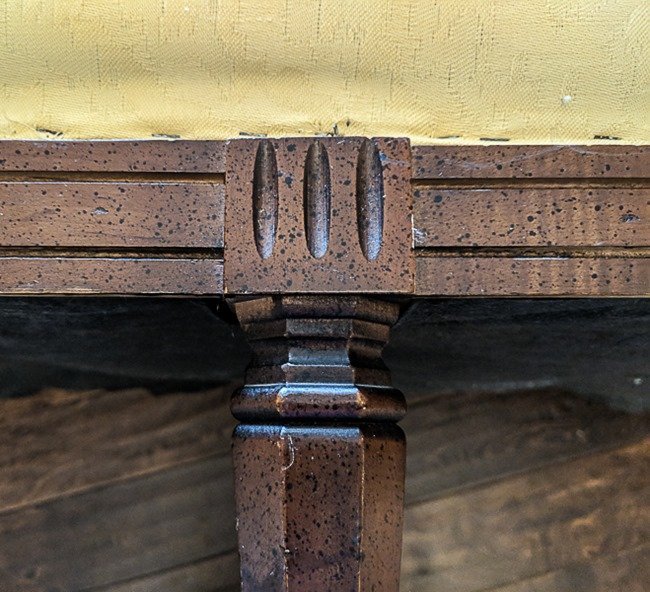 This is what my couch's wood finish looked like before. It seems they may have gone a bit overboard with the black flecks!
Once your piece is clean, use your chip brush to paint a rough coat of tan paint all over your piece. The paint should cover most of the old finish but it is fine if the color looks uneven or there are a few bare spots. In fact the less perfect it is, the better. Real weathered wood is not uniform; it has lots of texture and different shades. A few layers of imperfect paint can give us a similar look.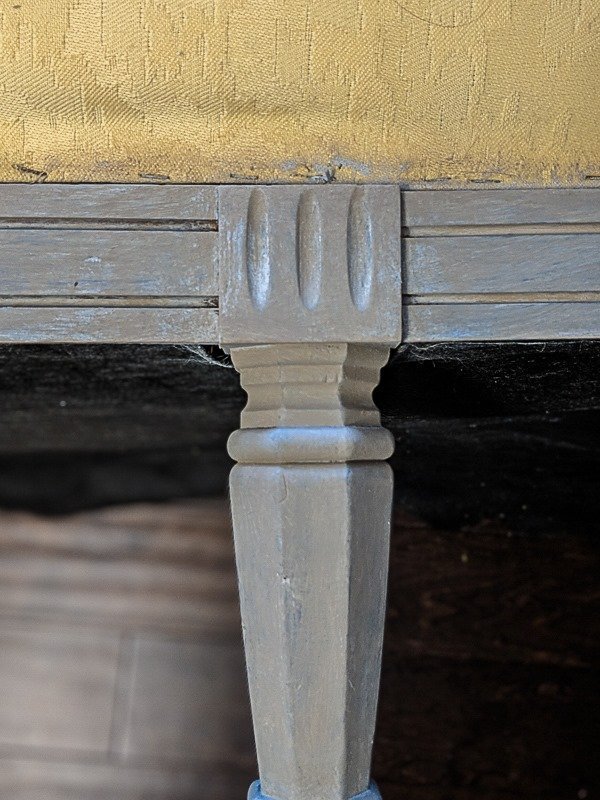 Usually these craft paints dry in a matter of minutes and once your first coat is dry, it is time to move on to the dark brown paint. You want to dry-brush a light coat of dark brown over the tan. If you aren't familiar with dry-brushing, it is very easy. Simply get a very small amount of paint on your paintbrush and then wipe most of it off on your painter's palette or a paper towel. Then lightly drag your paintbrush over the piece you are painting. Be sure to paint in the direction of the wood grain or if you are painting something that doesn't have wood grain, paint along the length of any straight edges, in the direction wood grain would typically go.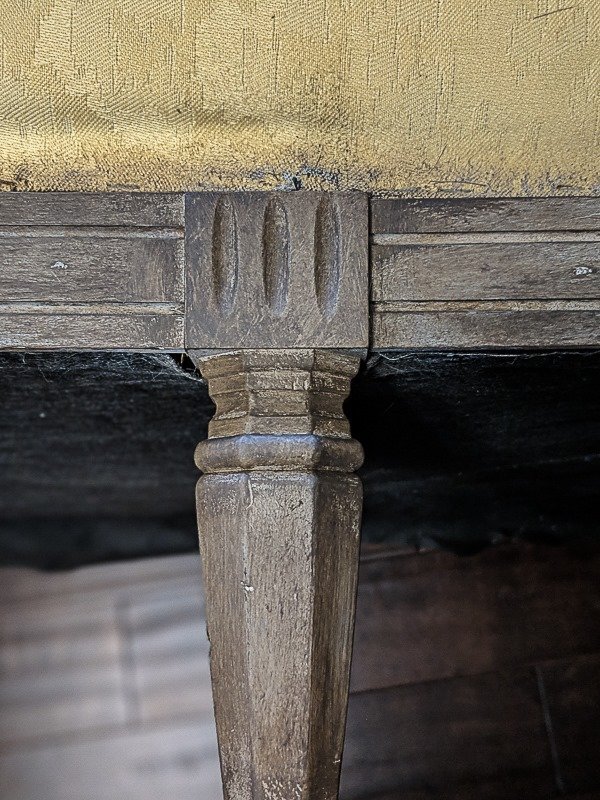 If your paint goes on a little thicker than you wanted, you can use a clean rag or scrap of old t-shirt to gently rub off some of the excess. This will also help to really get the paint into all of the nooks and crannies of your piece.
For the third coat of paint, mix equal parts of your gray and tan paint together. Dry brush a light coat of this over your piece.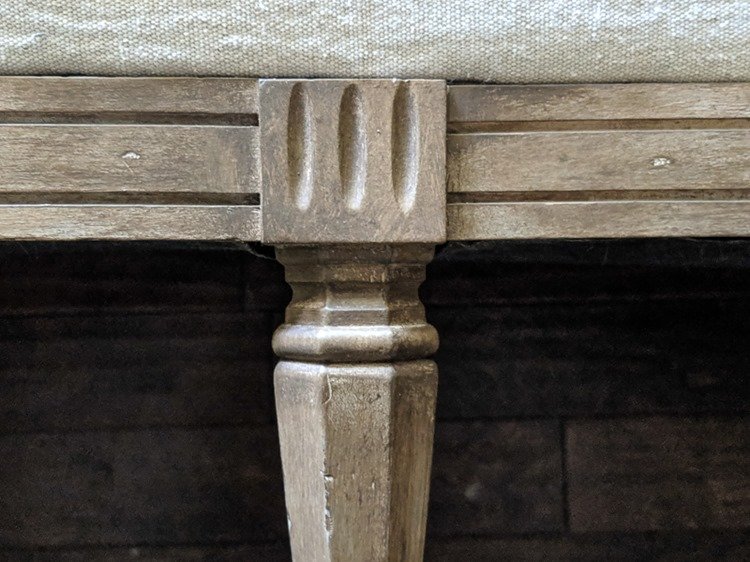 My favorite thing about this technique is that it is truly impossible to mess up. It doesn't need to be perfect and since each piece of wood is different, there is no right or wrong way for it to look. But if you aren't satisfied with how your piece looks after the third coat, it is very easy to simply add more paint. If you would like it to look more gray, brush on a bit more gray. If you want it lighter, you can always mix a little white into your tan paint. Or if you wanted it darker, just add a bit more dark paint. Just keep dry-brushing on layers of color until you love the result.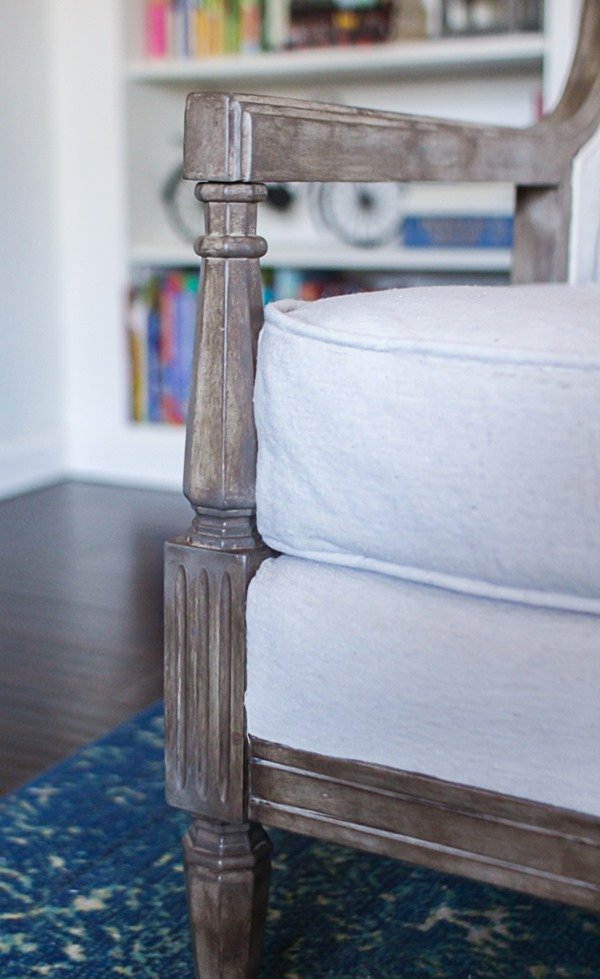 If you are using this finish on a piece of furniture, you will definitely want to protect your finish with a good sealer. General Finishes Flat out Flat is one of my favorite sealers. I used it on my vintage sofa and it gives the perfect matte finish. If you are painting small home decor pieces, a sealer really isn't necessary. (If you aren't sure why or when you need to use sealer on painted furniture, I've got a post that breaks it all down right here.)
Here's the full before and after of my refinished sofa: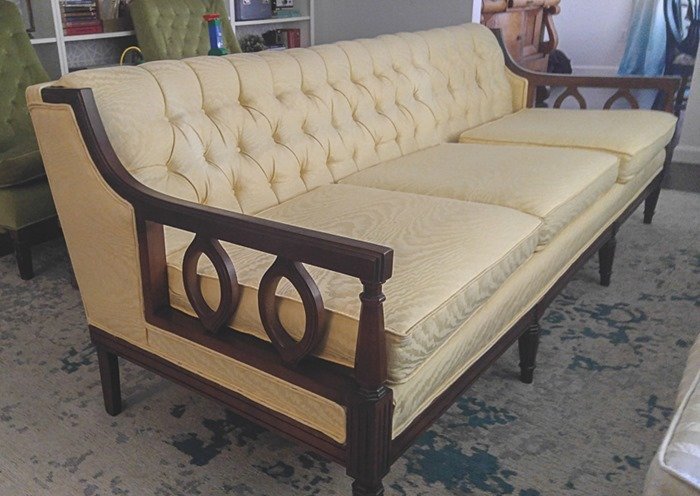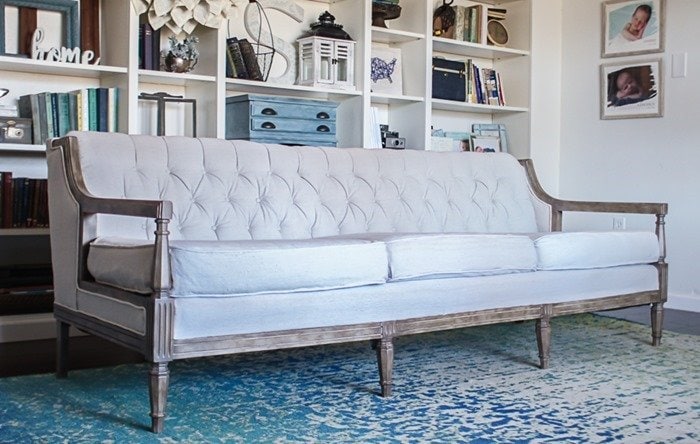 Talk about a huge difference! If you missed the post where I detailed the whole process including that gorgeous upholstery (it's a drop cloth!), you are going to want to head here to check it out.
And here is a before and after of the cute little candlestick I painted in my video tutorial.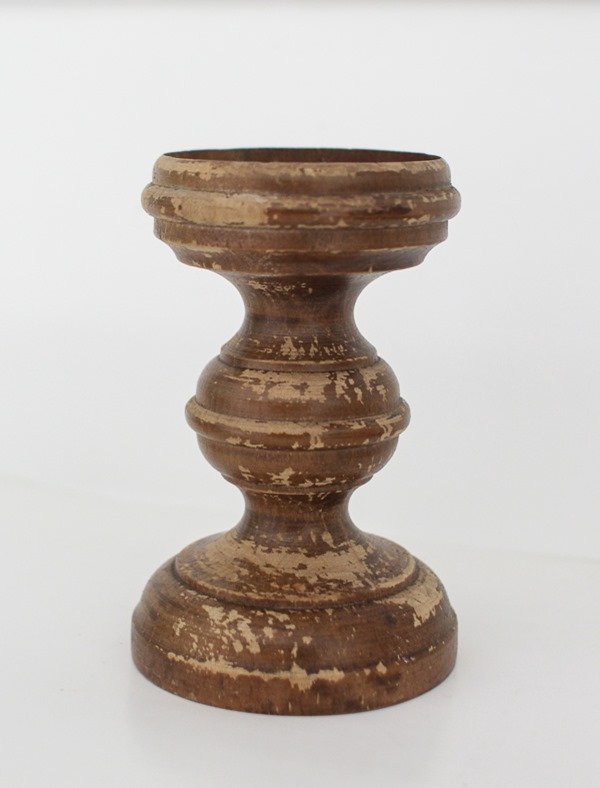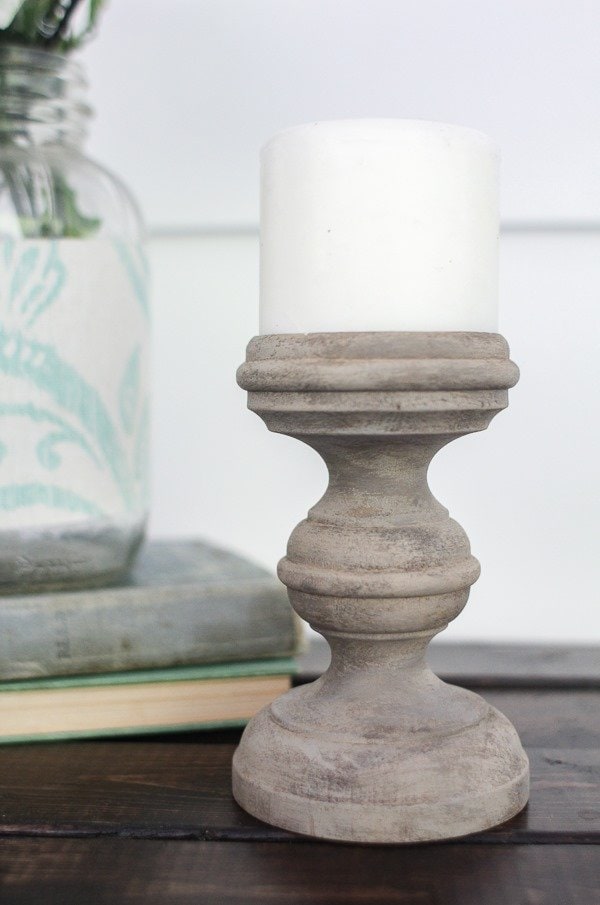 I love how the candlestick and sofa look slightly different even though I used the exact same colors. When you layer paint this way, you are pretty much guaranteed to never get the exact same results every time just like with real weathered wood. I'm going to be on the lookout for more chunky candlesticks as I'm thrifting. I think a group of these would be gorgeous on my mantel!
Pin it for later!