My honest review of how our antique dresser bathroom vanity has held up after seven years of use by our family of five, along with tips for what I would do differently next time.
Almost seven years ago, I completely renovated our main bathroom on a budget. And my favorite part of the entire renovation was the bathroom vanity I created from an antique dresser.
I love how using real furniture in a bathroom can add so much warmth and detail to what is often a very cold, sterile room. Plus using a thrifted dresser was soooo much cheaper than buying a brand new vanity.
Of course turning a dresser into a vanity requires quite a few adjustments and I shared a detailed breakdown of the process including how to choose the perfect dresser, how to adapt the dresser for plumbing, and how to protect the whole thing from moisture.
When our bathroom reno was complete, I was absolutely in love with how the vanity turned out. It looked beautiful and functioned perfectly. And I felt confident that it would hold up well.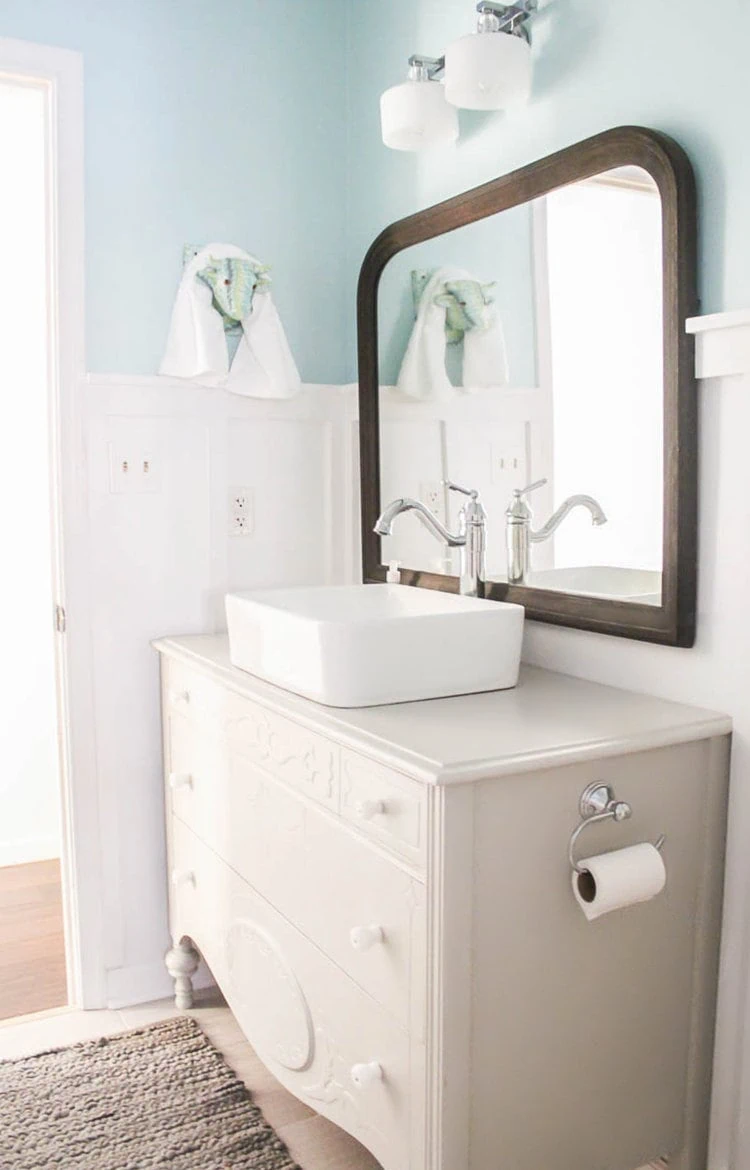 Now seven years later, I just finished giving that bathroom a mini makeover. The basic bones of the room were still great, but we had to do some repairs to the tile floor so I decided it was a good time for a refresh.
As part of that makeover, I gave our vanity a new look with a fresh coat of paint. But first I took tons of pictures so I could share a full update of how it has really held up over the past seven years.
If you've ever wondered if using an old dresser in a bathroom is actually a good idea in real life, this post is definitely for you.
And yes, I'll be sharing the full truth including the good and the bad about how our dresser vanity has functioned for our family of five, how it has held up, and how well the paint finish really lasted.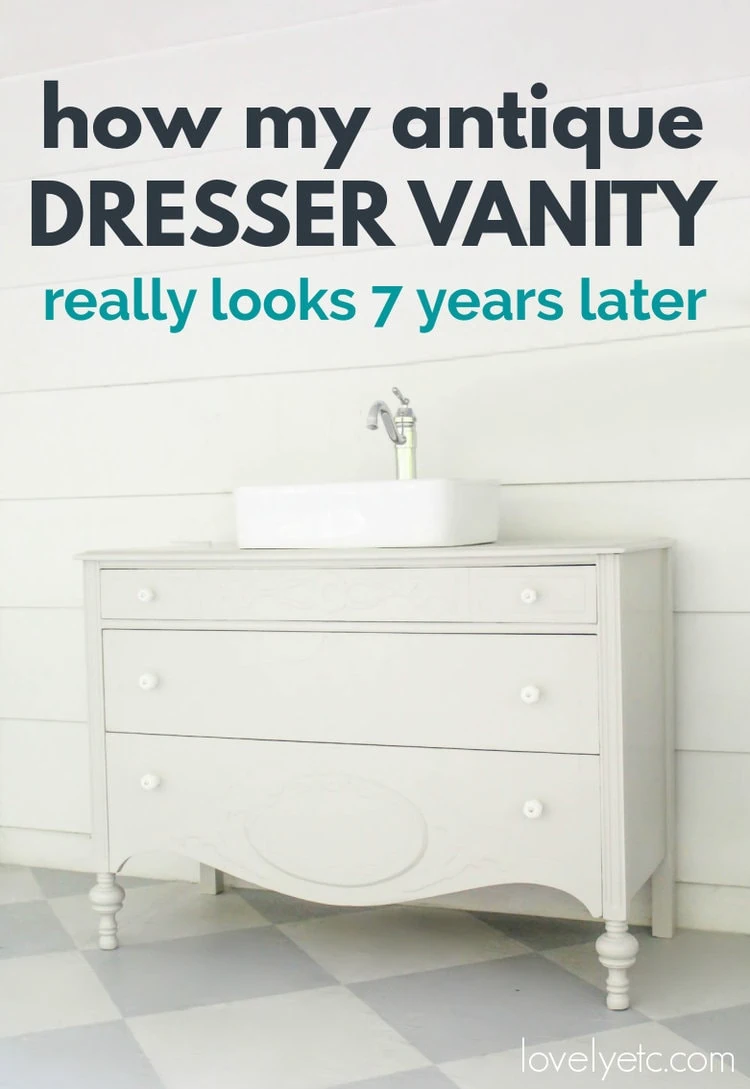 This post contains affiliate links which means if you make a purchase after clicking a link I will earn a small commission but it won't cost you a penny more. Click here to see my full disclosure policy.
Do dressers really make good bathroom vanities?
Let's start with the basics. Is it even a good idea to use a dresser as a bathroom vanity?
Our dresser vanity is in our home's main bathroom. This is the bathroom that is shared by my three elementary school age boys along with anyone in the main living area of our home. (Our other bathroom is a small master bathroom tucked away at the other side of the house).
As you can imagine, any bathroom shared by three small boys gets put to the test pretty quickly.
I can confidently say after using this dresser for seven years, I love having a dresser vanity. It has just enough counter space and the three wide drawers provide plenty of storage space. In fact, it has way more storage space than many more traditional bathroom vanities I have seen.
And of course I love the look. This dresser adds so much style to our bathroom and the turned legs and carved details really help soften all the harsh, flat surfaces in the rest of the room.
It's important to choose the right size and style of dresser to use as a vanity, but as long as you choose well, a dresser absolutely works well as a vanity.
I have lots of info on how to choose the perfect dresser for your bathroom in this post.
How has your dresser vanity held up?
How our vanity has held up is a bit of a mixed bag, so I am going to break it down into two parts: the good and the bad.
The Good
As I said earlier, this dresser has functioned incredibly well for us in our bathroom. It has tons of storage and easily holds the majority of the towels, toiletries, and first aid items for the entire house.
The plumbing, sink, and faucet have held up perfectly. The sink hasn't had any leaking issues and the drawers continue to open and close very smoothly around the plumbing.
The top of the dresser has also held up extremely well. This section still looks beautiful, with no chips or scratches in the paint. This is the part I was most concerned about getting damaged by all the water splashes, but it has actually held up beautifully.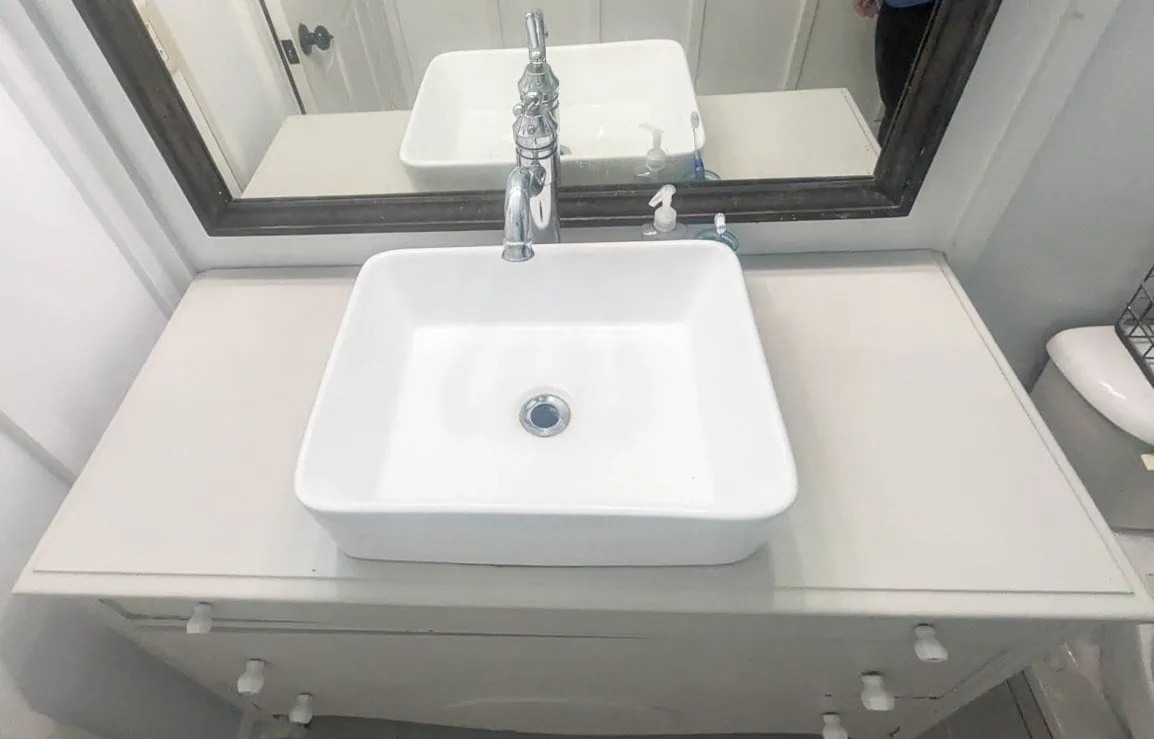 The Bad
On the other hand, there has been some damage to the wood and paint over the years.
To be fair, this dresser has been heavily used by our family for seven years. In general, I would expect any piece of furniture in our house to have some chips and scratches after about five years, whether it is a piece of furniture I painted myself or something purchased prefinished. It's just the nature of having an active family. (And to be honest, I'm more concerned with my family being active and happy than having a flawless home.)
That being said, this dresser has become more chipped than I would typically expect to see.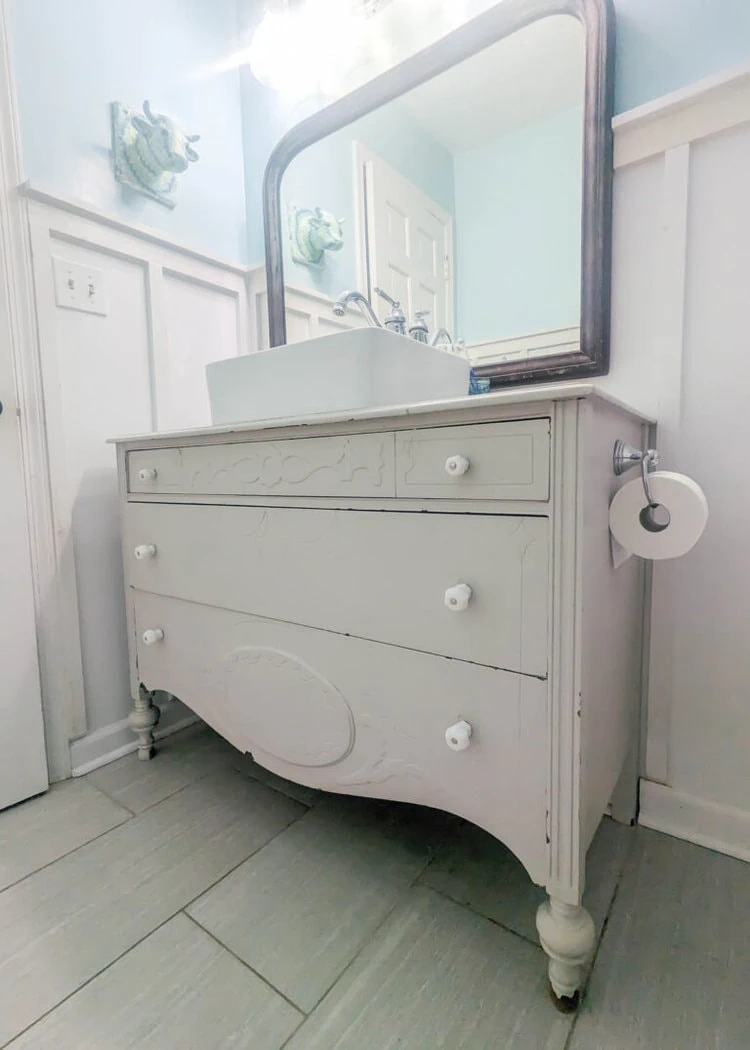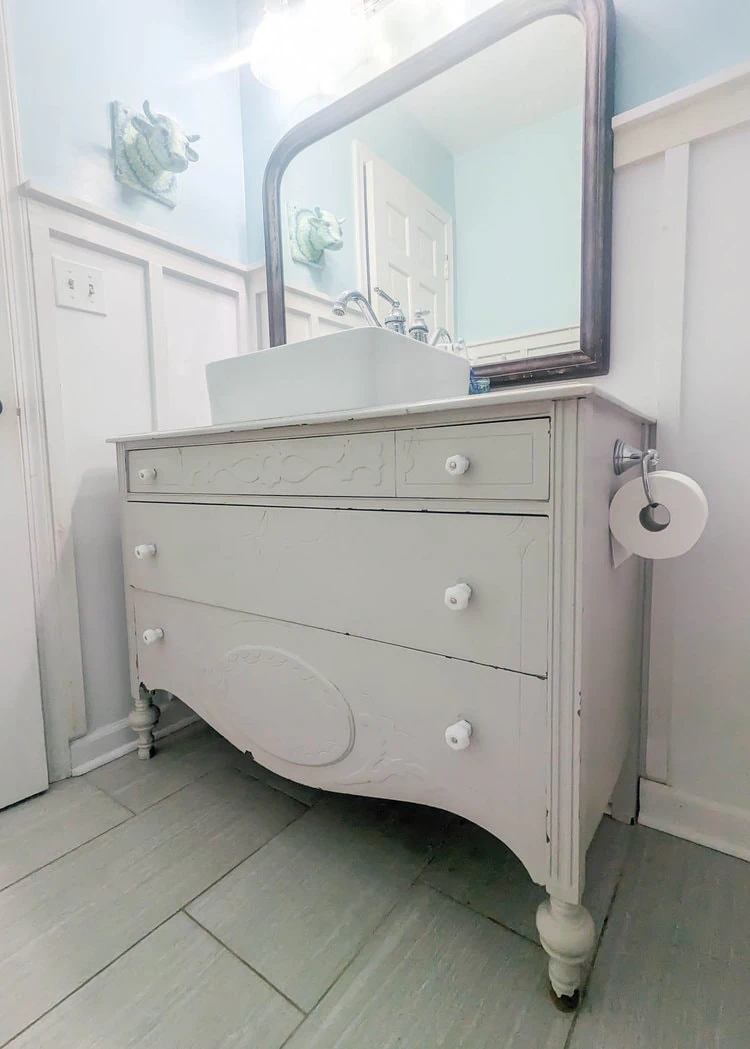 The paint has chipped in several places around where the drawers slide in and out. In addition the paint also chipped quite a bit around the bottoms of the front legs, likely due to water being left in the floor. (Did I mention three small boys use this bathroom?)
And finally, there were also two sections where chunks of wood from the bottom drawer are missing.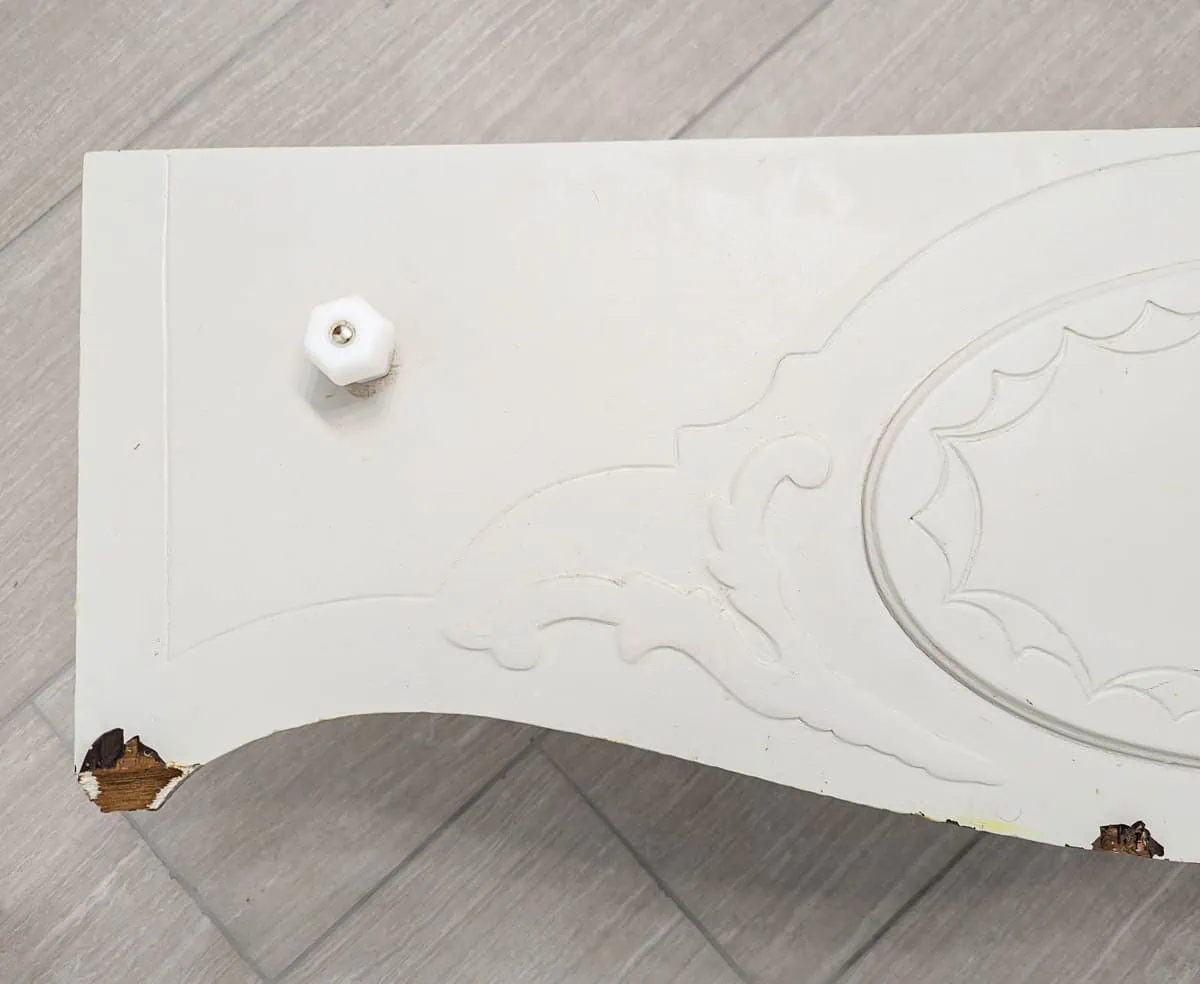 The end of the lower drawer broke at some point when I had emptied the dresser to do some deep cleaning and the drawer was on it's side in the hallway. I have no idea what happened to the middle of the drawer, but I have to imagine someone knocked into it with something heavy.
These missing chunks of wood are definitely disappointing, but I don't think they are directly related to the fact this antique dresser being used in a bathroom. These types of accidents could have happened if the dresser were being used in a bedroom as well.
On the other hand, I do think the increased paint chipping and damage to the dresser are probably a direct results of it being used so frequently. This vanity is used many times each day by all five of our family members for everything from tooth-brushing to hand-washing to frequently needing to grab band-aids.
It has certainly been used more frequently than if it were holding clothing in a bedroom.
The Conclusion
In some ways this vanity has held up really well – it is still functional, the top looks great, and the chipping paint can easily be fixed.
On the other hand, the excessive paint chipping is an issue. I do think choosing a different paint and sealer would have helped with longevity, but no painted furniture is going to last forever. Especially if it is gets a lot of use.
I love painting furniture and changing things up in our home, so needing to repaint our vanity after several years isn't a huge problem for me. But if you really want a bathroom vanity that you won't have to think about again for the next twenty years, a dresser vanity might not be the best pick for you.
How can you waterproof wood furniture for a moist bathroom environment?
Which brings us to the question of how you can make sure you properly waterproof your wooden dresser for use in a bathroom.
I haven't exactly painted a lot of wood furniture to be used in a damp, steamy bathroom, but I do have quite a bit of experience painting wood furniture to withstand moisture so that it can be used outdoors.
The general idea is the same. You want to prevent any moisture from reaching bare wood where it can be absorbed and cause damage. The paint is not only a way to change the color; it also seals the wood so that moisture can't get in. If you also use a separate sealer, it further protects the paint finish and seals the whole thing from moisture.
When you are painting a piece of wood furniture to be used in a bathroom, the best practice is to paint all exposed wood even if it won't be seen. This will keep moisture from being absorbed and causing damage.
You may be wondering why you don't need to do this if you are painting a regular bathroom vanity made of wood. Traditional bathroom vanities have already been finished to seal out moisture. So when you paint them, you are changing the color, but not adding water protection.
What is the best paint and sealer for a bathroom vanity?
There are so many great paints out there, it can be hard to know which ones are the best.
When you are painting something very high-use like a bathroom vanity, you want to look for a paint that will go on smoothly and hold up well over time. It needs to also be non-yellowing and self-leveling which really helps to prevent visible brushstrokes.
In the years since I first painted my vanity, I have done quite a bit or research into the paints that really work well for painting cabinets and these are the paints I recommend:
Benjamin Moore Advance: This is a self-leveling, non-yellowing, paint that helps block stains. It is also low VOC, low odor, dries to a hard finish, and does not require a separate sealer.
Sherwin Williams Emerald Urethane Trim Enamel: This is a self-leveling, non-yellowing paint that dries to a very hard, durable finish. It also does not require a separate sealer. And while Sherwin Williams paints are pricey, they run 30-40% off sales pretty regularly.
General Finishes Milk Paint: This is actually an acrylic paint, not a true milk paint. It is easy to work with, goes on smoothly, and dries to a hard finish. A separate sealer is not required, but it is recommended to use a sealer for high-traffic projects like painting cabinets. General Finishes High Performance Topcoat is my favorite furniture sealer and also works great for sealing painted cabinets. I used General Finishes Milk Paint + High Performance Topcoat to paint my bathroom cabinets as well as many furniture pieces and they have held up beautifully.
Can you use an unpainted dresser in a bathroom?
What if you don't want to paint your dresser at all? Can you incorporate the beauty of antique wood in your bathroom without covering it with paint?
Yes, you can leave your dresser unpainted, but you will still need to make sure it is sealed against moisture. Just like you can use wooden furniture outside if it is properly protected with sealer, you can also use wood furniture in a bathroom if it has been properly sealed.
You will want to seal your entire dresser (including the parts that won't really be seen) using a water-resistant sealer like polyurethane.
When you are dealing with an older dresser, this can be a bit tricky. Typically you won't know what kind of finish was used on the dresser in the past. If it has a wax finish or even certain types of varnish, you won't be able to put a new sealer directly over the old finish.
It's a good idea to test your chosen sealer on a small section of your dresser to see how it goes on. If it goes on easily without any resisting or crackling, you are probably safe to apply it to the rest of the piece.
If your original finish feels waxy or your test patch doesn't go well, you can try wiping down your entire dresser with mineral spirits to remove old wax and other contaminants before applying the new finish.
Or you can completely strip and refinish your dresser. This is the most labor-intensive way, but it is also the best way to get the exact wood tone you want while also ensuring your dresser is fully protected.
What I would do differently if I were doing this project all over again?
I love how my bathroom vanity came together, but there is one thing I would do differently if I could go back in time.
I would use a different paint and sealer. I have learned a lot about the best paints to use for various projects over the years and while the paint and sealer I used were fine, I know there are other options out there that go on more smoothly and give a more durable finish.
In fact, I just repainted my dresser using General Finishes Milk Paint and General Finished High Performance Top Coat and I'm feeling pretty good about it's chances of lasting quite a few more years.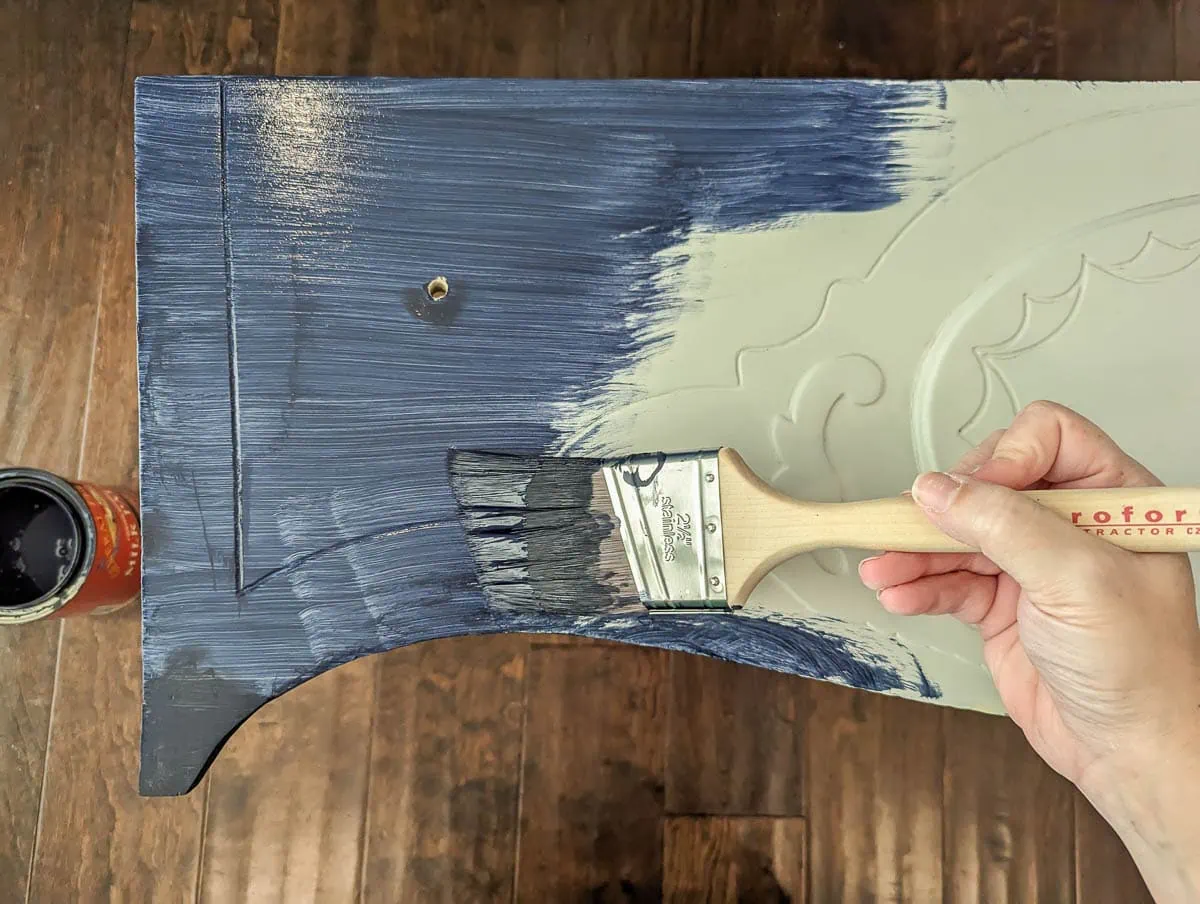 Otherwise, I wouldn't change a thing.
What's next for my vanity?
I've actually already given my vanity a pretty sweet makeover. The chipped wood has been repaired and it has a new paint job and new hardware. I'm loving the new look and can't wait to share it very soon!
Head over and check out these other bathroom projects I think you'll like:
I'd love for you to pin this post on Pinterest!