We spend more time in our family room than any other room in our house. So why in the world is it one of the absolute last rooms I've pulled together!?! It's a tricky room to decorate with a big, off-center fireplace, sliding glass doors, and way too many toys everywhere. But finally, I decided this year I was going to make it happen.
Last week I shared how I gave the fireplace a much-needed update with a fresh coat of paint in a big bold shade of blue. I absolutely love it – the daring navy fireplace is exactly what this room needed to bring it to life. But as much as I love the bold new color, the hard lines and dark colors were making things look very stark and modern. Basically the opposite of the cozy, homey space I'm going for.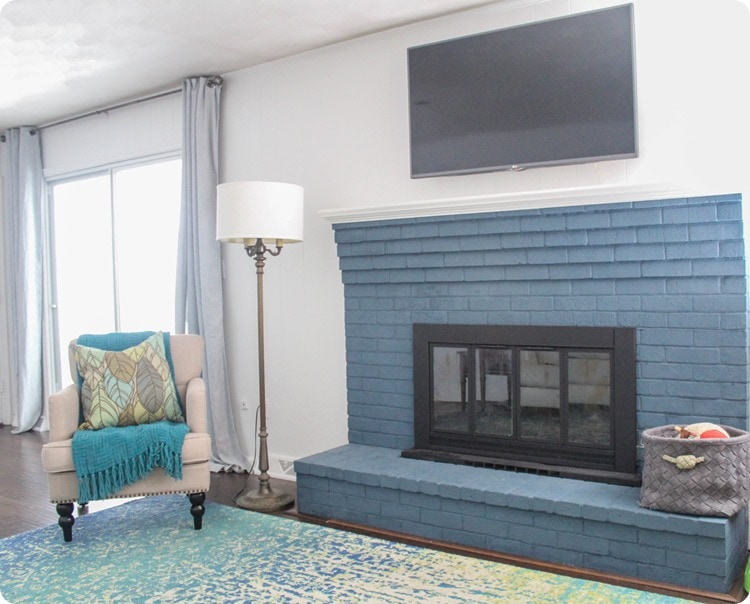 Usually I am a very slow decorator, patiently gathering things here and there until it all comes together. Not this time! I knew this mantel area was going to be gorgeous and I just didn't have the patience to putter away at it. I wanted it looking great now, darn it!
As always, I had a budget to contend with so I went on a little shopping spree at At Home, the home décor superstore.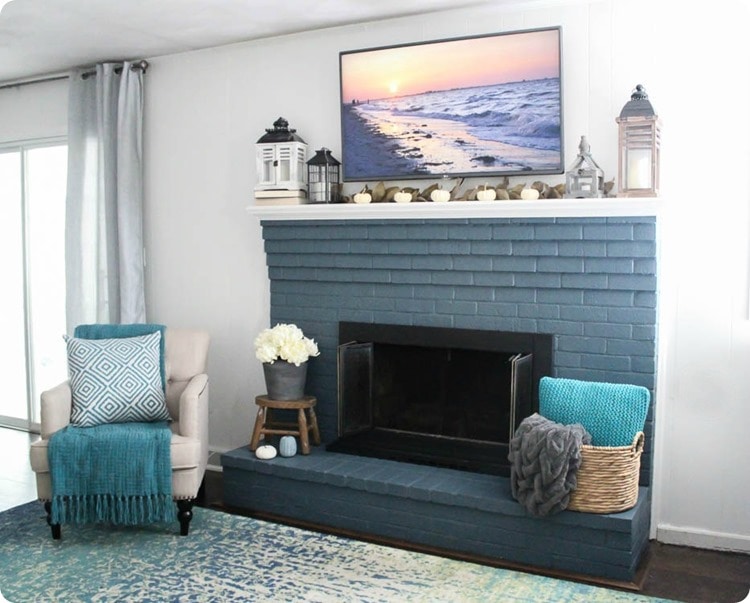 I knew I wanted to soften the modern lines of the fireplace by incorporating lots of texture, natural elements, and rustic charm. I wanted to add a touch of farmhouse to help balance the modern lines. And it definitely worked!
As soon as I walked into At Home, I saw a huge display of all kinds of beautiful lanterns. I'm a sucker for a cute lantern and the prices were really afforable. I knew an eclectic collection of lanterns would be the perfect way to soften the mantle and draw attention away from that big black TV.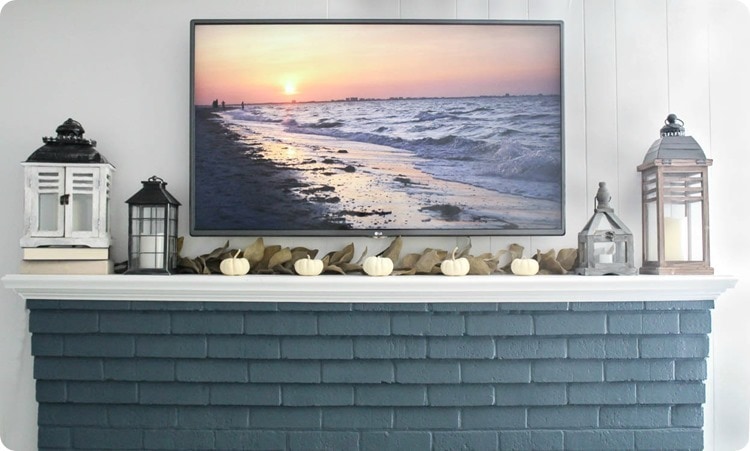 I also grabbed some beautiful leafy branches to further soften the area under the TV (and more importantly, hide the TV cord!) I've mentioned before, I would love to eventually build a big frame for the TV, but in the meantime I decided to use the TV to display one of my favorite photos. I love how the colors of the beautiful sunrise compliment all the cool colors in the space. Such an easy way to turn a technology eyesore into a piece of art.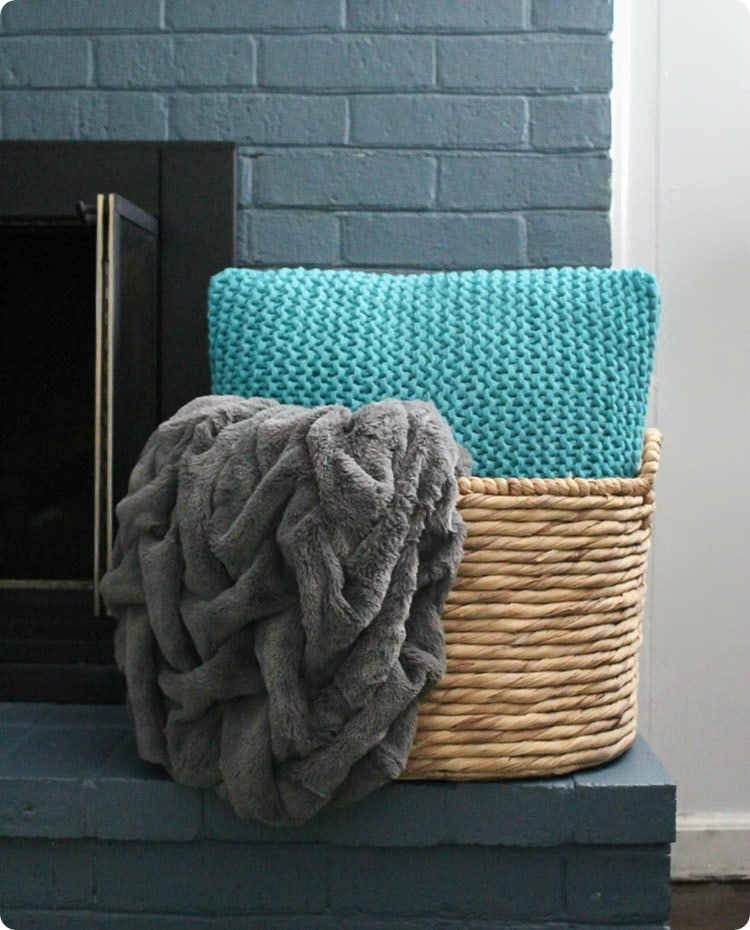 I found a beautiful woven basket to add texture and lighten things up. I'm thinking it will be perfect for holding firewood this winter, but for now, it's a great spot to stash a spare pillow and a cuddly blanket for snuggling on the couch. (And let me tell you, that luxe gray blanket is easily the coziest, softest blanket I have ever felt. I can't wait to snuggle up with it in front of a fire this winter.)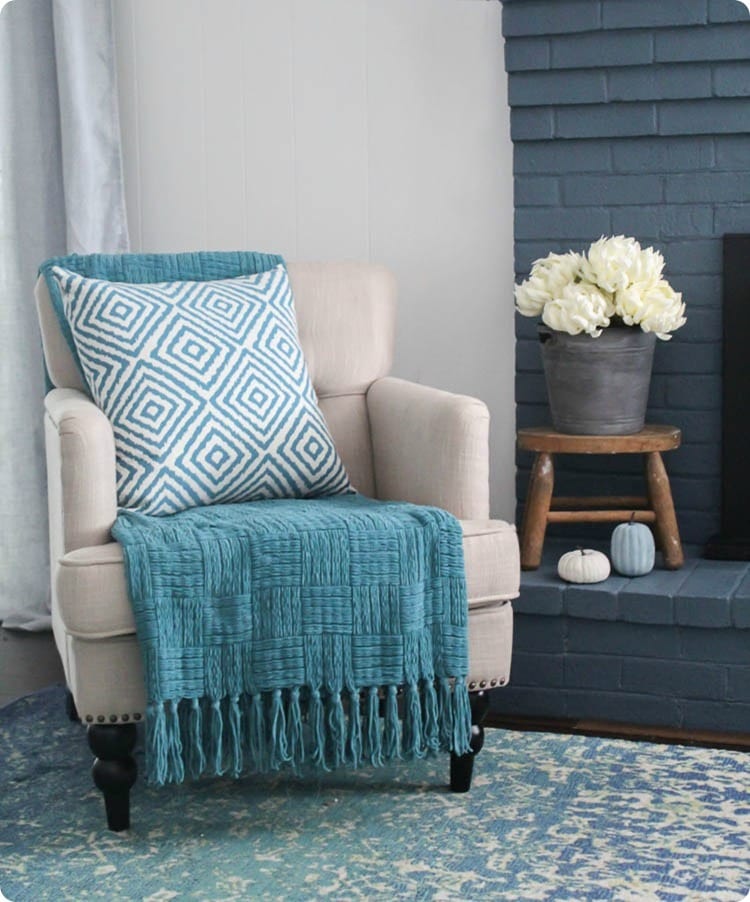 Can you believe those flowers! I adore big beautiful flowers but I just can't manage to keep them alive. I am always planning to buy more faux flowers, but I usually end up passing because they are so stinking expensive. When I saw these gorgeous white mums, I stopped in my tracks. They are seriously some of the prettiest fake flowers I've ever seen and they cost way less than most. To add height and a bit more farmhouse flair, I placed them on an old stool on the hearth.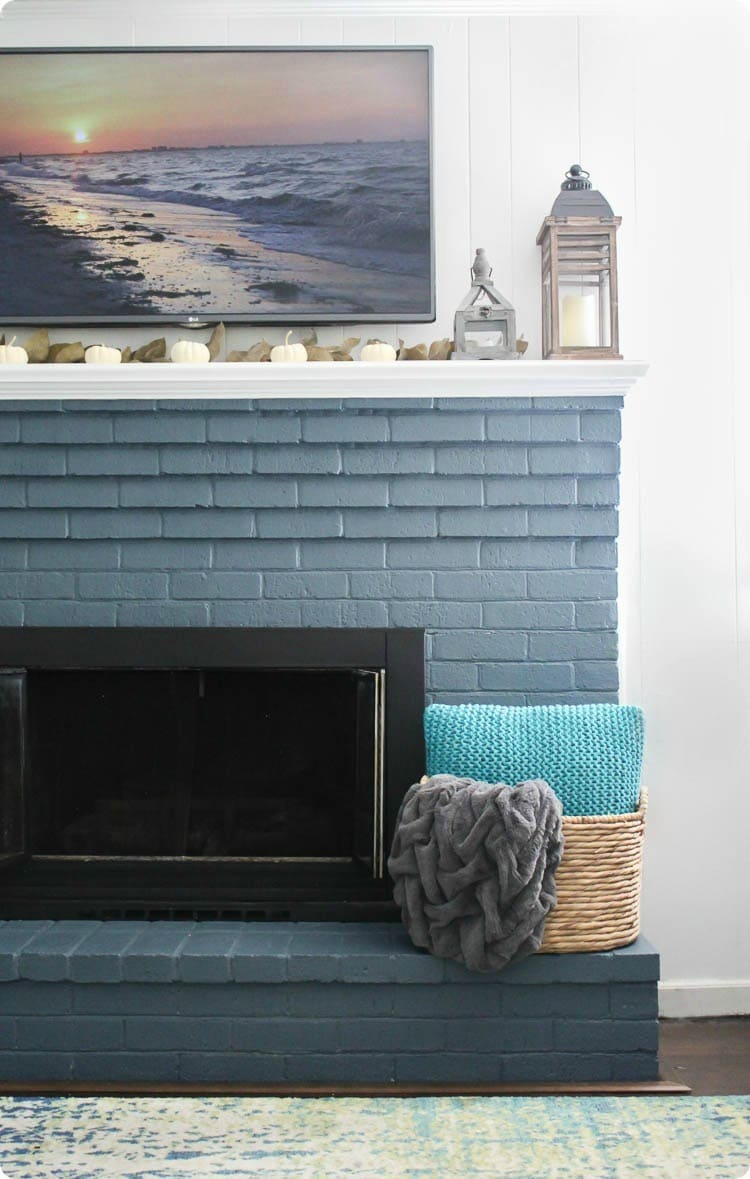 Now this is a space I can't wait to spend time in. I just love how beautifully everything came together.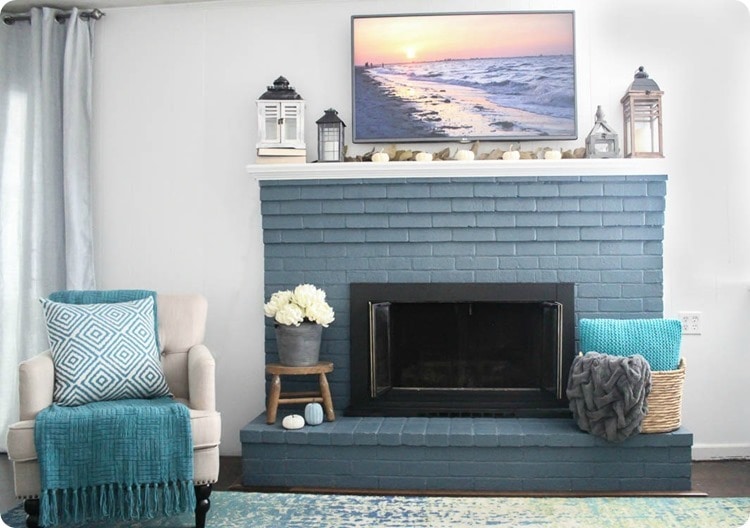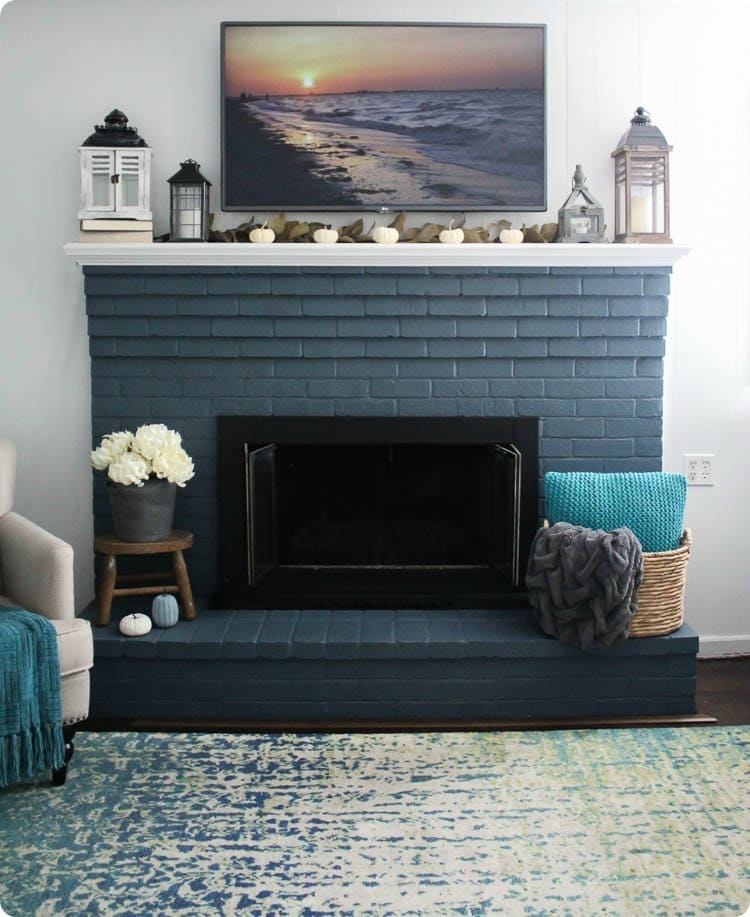 Now I can't wait to build a fire, light all the lanterns, and snuggle up under my new favorite blanket!