Three weeks left until little man #2's due date. Which really means, we could have a new family member at any time in the next month or so. Yikes and Wow! In equal measure.
So with time getting short, I have accepted that the nursery will not be fully decorated and ready to go when he arrives. The good news is he isn't going to care in the least.
Luckily, all of the functional aspects of the nursery are pretty much ready to go. We moved Griffin out of the nursery and turned our guest room into his big boy room, which means the nursery already has a crib, dresser, rocker, diaper pail, basically all the essentials. All that's missing is the style. Which I am more than happy to supply!
Yes, I could just leave the nursery exactly the same way I decorated it for Griffin two and a half years ago. And that would be completely fine.
But, first of all, I love to decorate so why pass up a chance to decorate a nursery – one of the most fun rooms of all! And second, just because this new little guy is the second boy doesn't mean he doesn't deserve a bit of special treatment. He's getting plenty of hand-me-down clothes, toys, and gear which is totally fine. But I want him to have a few things that are all his own including his own little haven of a nursery.
This is how the nursery looked the first go round. Aqua and gray with pops of green.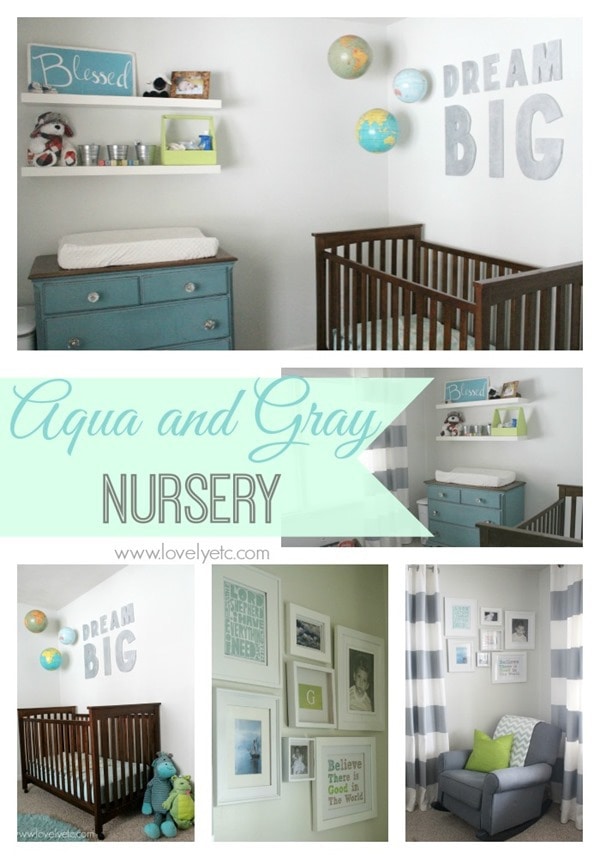 So what exactly is changing? Well, like I said,the furniture is staying, as is the wall color and ceiling fan. But all of the décor is up for a change. This is the naked nursery I'm working with.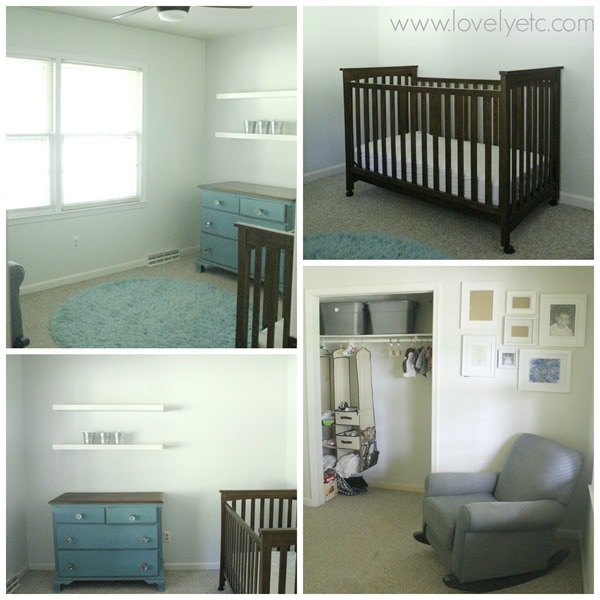 The curtains, hanging globes, and a lot of the accessories from the original nursery moved with Griffin to his new big boy room. And I took down what was left of the accessories and wall art to make room for the new.
So now the room is bare and ready for all the fun details – curtains, crib bedding, wall art, accessories. And even though, the basics are staying the same, I want to take the room in a slightly different direction this time. Because really, what's the point of redoing the nursery if it ends up looking the same?
Of course, as always, I will be making all of these changes as inexpensively as possible by repurposing things we already own and doing plenty of DIY projects. Here's what I have in mind.
I'm a huge lover of combining vintage charm, happy colors, and modern graphic patterns which will definitely come into play in this room. Since I am using the same dresser and chair, aqua and gray are still going to be a big part of the room, but I also decided to add some heavy doses of navy. I think the navy will look beautiful with the other colors and will also give the whole room a bit of pop.
The walls are currently painted Day Spa by Valspar which is a neutral color with hints of blue, green, and gray in it depending on the light. The color is perfect and will definitely be staying.
The crib, rocker, and dresser are all from the original nursery design. The chair and crib are remaining as is, but I'm considering a slight update to the painted dresser. It will all depend on how things look as the room comes together.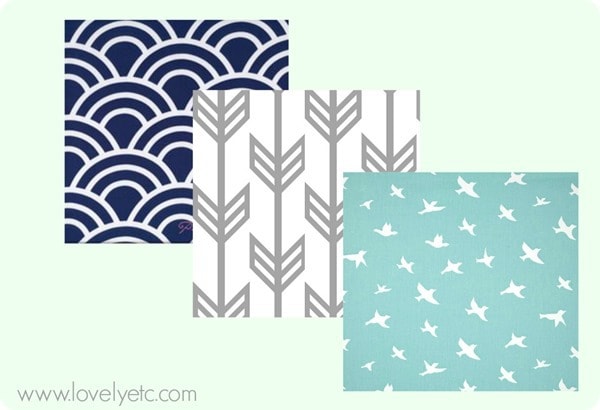 navy scallops, gray arrows, blue birds
New fabrics will definitely be making an appearance in this room (which is awesome because I love finding fun new fabrics to create with – even though I hate sewing). New curtains are a must since the gray striped curtains were stolen for G's big boy room. A new crib skirt is also a definite – the crib skirt I made for Griffin doesn't go with the new color scheme at all. And if the price is right, I would love to add a new crib sheet and changing pad cover. In the previous nursery, I used a collection of plain white sheets and changing pad covers that I found for a few bucks at yard sales. They worked perfectly fine, but if it is in the budget, I'd love to go for a bit of an upgrade this time around.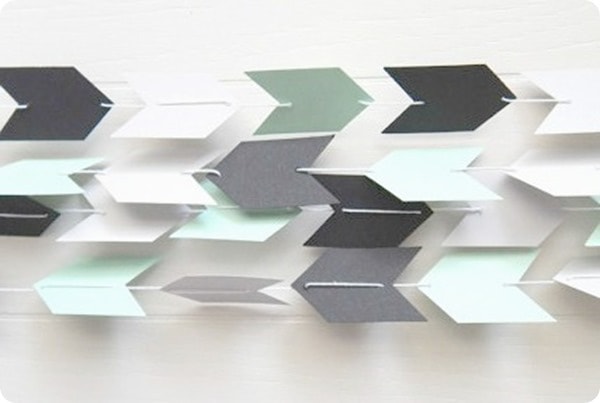 arrow garland
Some wall décor is also in order. I haven't figured out what I want over the crib yet, but I love this arrow garland and it will definitely find it's way into the room somehow.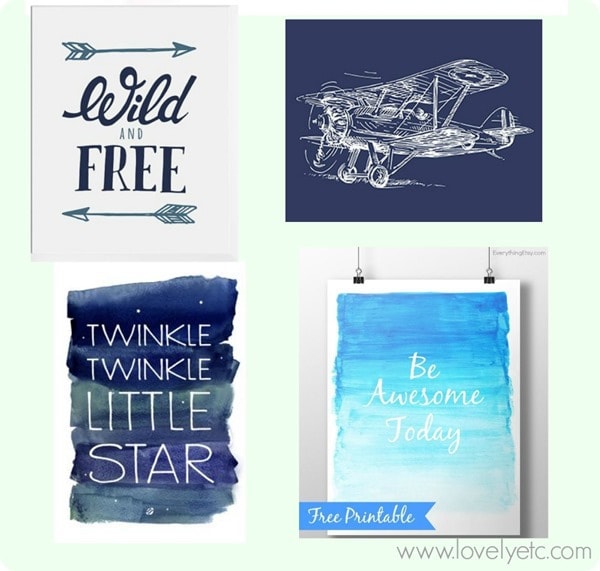 wild and free, airplane sketch, twinkle twinkle, be awesome today
There was a small gallery wall in the original nursery. I removed the photos and art but left all the frames up, so I will be filling those with some fun printables and photos of our new little guy.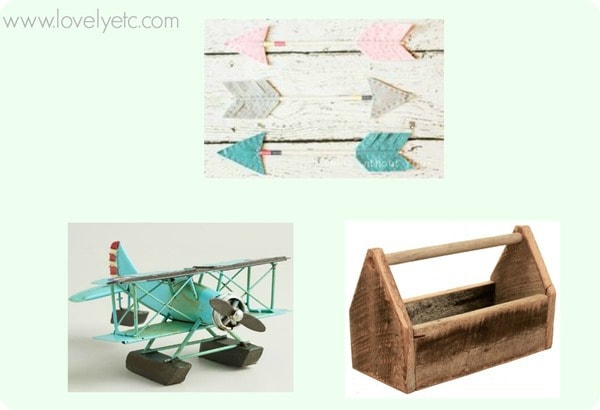 felt arrows, metal airplane
The floating shelves are staying but they are getting all new accessories. I'm sure a wooden tool caddy will make an appearance somewhere (they are my favorite for storage) along with some other fun little finds. I tend to use fun inexpensive vintage finds to accessorize, but I am a bit obsessed with this little plane from World Market, so it may just end up in the room as well. As for the felt arrows, I just think they are really cool and would love to make some to incorporate somehow.
In the original nursery, I removed the closet door and hung curtains around the closet opening to add a little more interest to that wall. This time around, I decided to go a bit more classic (and hide the closet clutter more easily) so the closet doors are going back up.
And finally, if I can find the right pieces, I would love to add a small side table and ottoman to the corner with the rocker. There used to be a little table there when Griffin was tiny, but it had to go when he started pulling up. And an ottoman would be awesome for the long hours spent rocking in that chair.
So that's the plan and I'm pretty darn excited about it! Of course, there is a good chance things will change as I start actually working on the room but it feels really good to have some direction. And now I can't wait to get started – in fact, I finished the first project for the nursery yesterday so be on the lookout for that next week!