This year my cozy farmhouse Christmas tree is a blend of beautiful style and meaningful Christmas memories.
Let me start by saying I think all Christmas trees are beautiful. I love loud colorful trees, trees full of a crazy mix of elementary school art class ornaments, and trees that are perfectly groomed and arranged.
I even love naked Christmas trees decorated with nothing but a string of Christmas lights.
I think how you like to decorate your Christmas tree is an intensely personal thing that is all wrapped up in how your Christmas tree looked growing up combined with your personal style and level of patience with decorating!
I'm pretty sure there could probably be a new branch of therapy built simply around analyzing people's Christmas trees.
So I am really excited to be joining the Christmas Tree Edition of the My Home Style Blog Hop. A big thanks to Stephanie from Casa Watkins Living for putting this whole thing together. More than 20 bloggers have all joined up to share our Christmas tree style this week and you can see them all at the end of this post.
If you are coming over for the first time from Designer Trapped, welcome to Lovely Etc! I just love Tasha's colorful style and her DIY spirit.
Here at Lovely Etc, I love to share ideas for adding personality to your home and creating a space you love for cheap.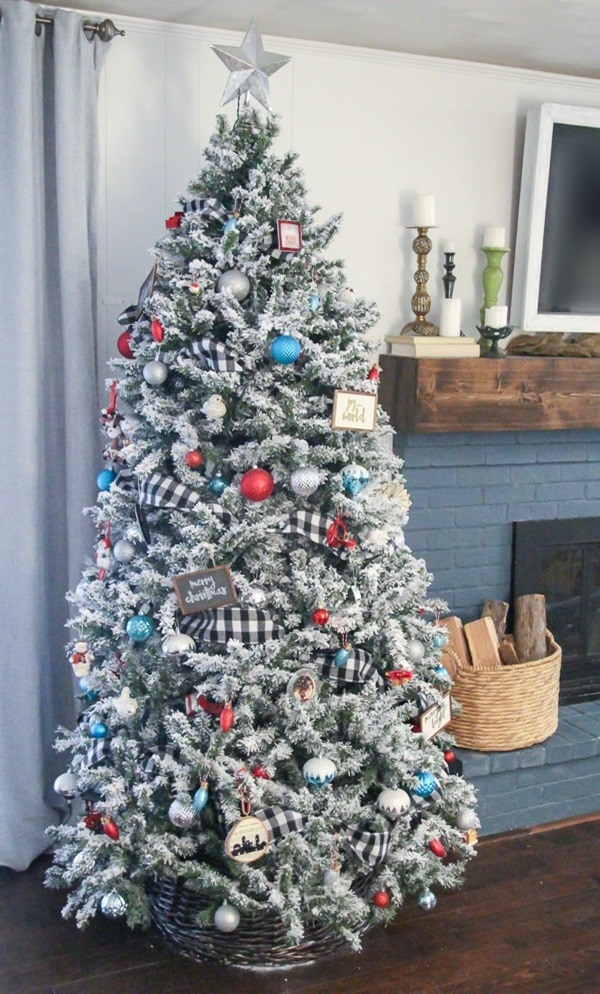 When it comes to our Christmas tree, every year it looks just a little different, but I always try to find that sweet spot between beautiful and meaningful.
I love beautiful things and that includes beautiful Christmas trees. But I also have three little boys who think Christmastime is pure magic. And I want our Christmas tree to represent that magic.
So every year we add all of our special (nonbreakable) ornaments – the ornaments with my babies' pictures on them, the handmade ornaments I love to make each year, and the ones we've been collecting for years.
And I do my best to make it all come together in a beautiful way (without being an overbearing mom that won't let anyone else touch the tree.)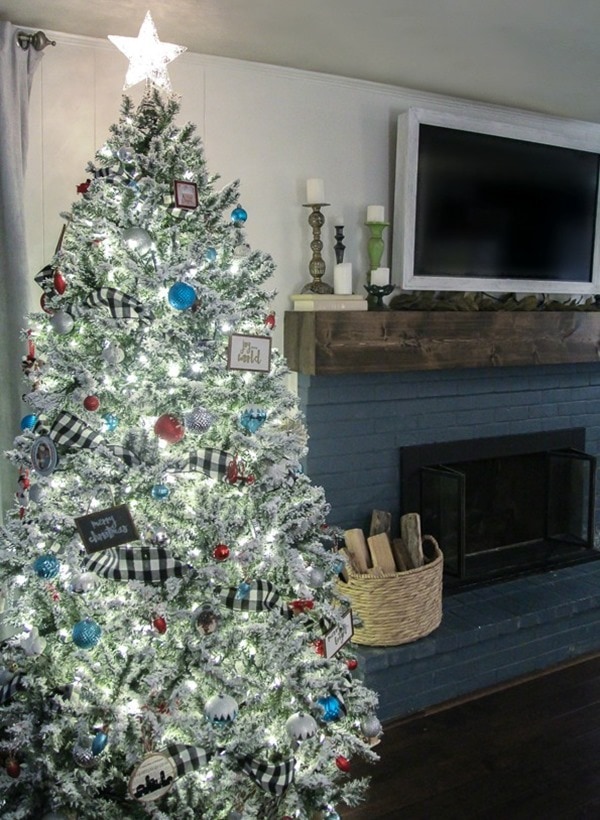 This post contains affiliate links which means if you make a purchase after clicking a link I will earn a small commission but it won't cost you a penny more. Click here to see my full disclosure policy
First, I have to quickly mention my favorite thing about our Christmas tree. We've had this tree for eight or nine years and a few years ago it was really starting to look a bit tired.
I was loving the snowy flocked trees I was starting to see everywhere and I really wanted one. But we already had a perfectly good artificial Christmas tree and I just couldn't justify buying a new one.
So I did some research, bought real flocking powder, and flocked our old tree. And it was gorgeous! If you're also wishing you had a gorgeous snowy tree, you've got to check out my tutorial right here. It's way easier than you would think.
This fall I have been having a bit of a love affair with black and white plaid. I'd already made a few buffalo plaid ornaments and a gorgeous buffalo plaid Christmas wreath that I adore.
And when I saw big rolls of buffalo plaid ribbon at Michaels, I couldn't resist snapping some up. It's even soft and fuzzy like a flannel shirt. Perfection.
Once I had it on our tree, I started adding ornaments. At first I was considering just adding all of our neutral ornaments and leaving off all of the bold colors. The plaid ribbon seemed to fit right in with the neutral farmhouse style that is so popular and it just seemed like the right fit.
But after living with it for an afternoon, I realized I hated it!
I have seen some truly gorgeous neutral trees, but they are NOT for me. For me Christmas means color and sparkle and yes, a tiny bit of chaos. So I pulled out all of our bold red ornaments and my favorite shiny aqua balls.
And once it was all loaded down, it was a very happy tree.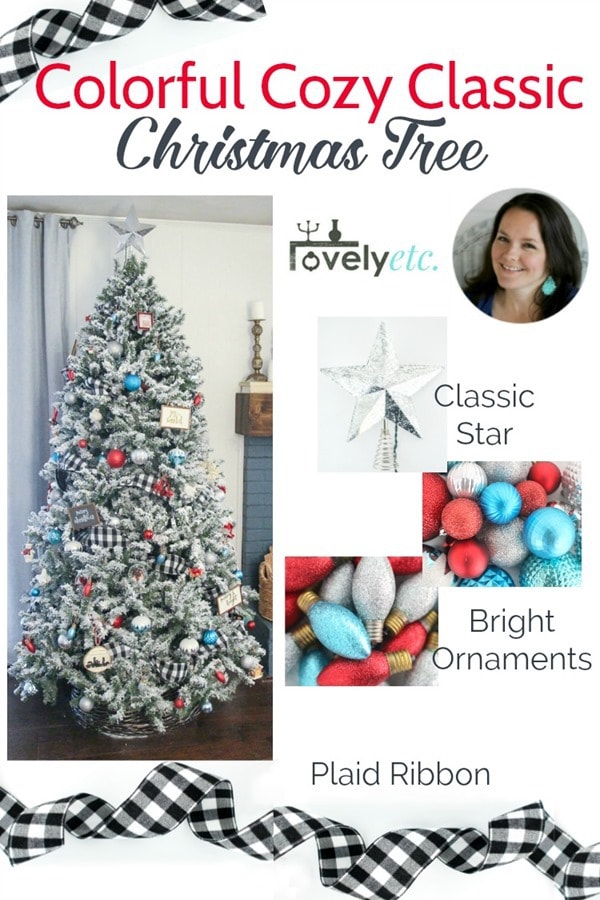 So here is what makes up our colorful cozy classic Christmas tree.
Black and white buffalo plaid ribbon. Mine is from Michaels but they seem to be selling out quickly. There are also some great options on Amazon.
Shiny shatterproof balls. I like to use all different shapes and sizes in my favorite Christmas colors – silver, red, and aqua.
Glittered lightbulb ornaments. These are a quick DIY. Just find some old Christmas light bulbs, cover them with glue and glitter, and tie them on the tree with baker's twine. Easy peasy.
These aren't technically unbreakable, but the glass on the vintage bulbs I used is pretty thick and has survived several launches at the floor. So far so good.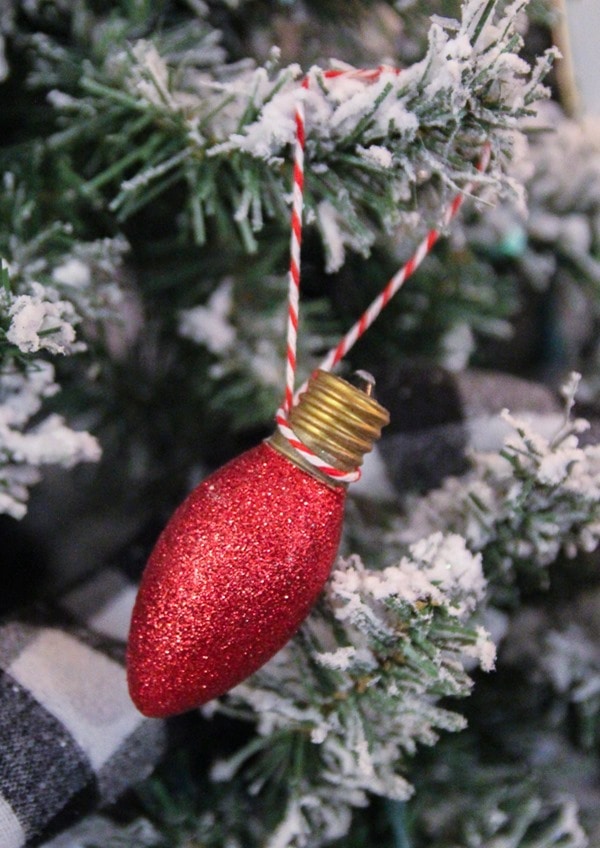 A classic light up star. I have a pretty silver leaf one.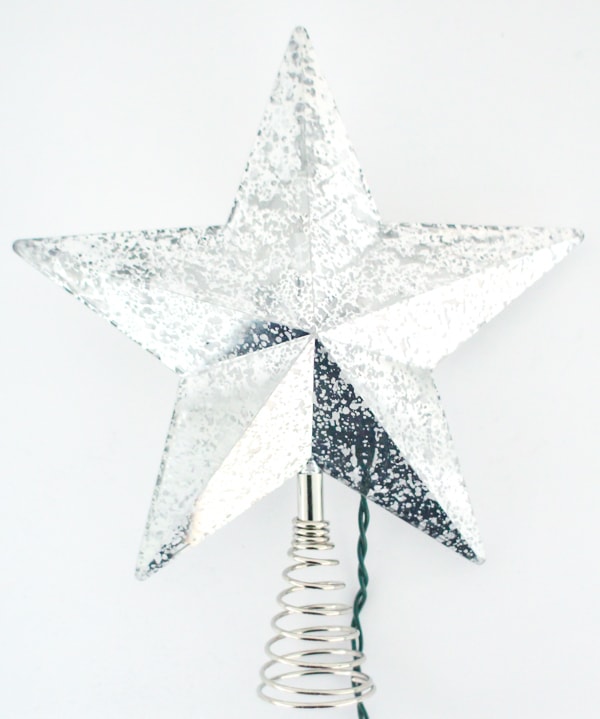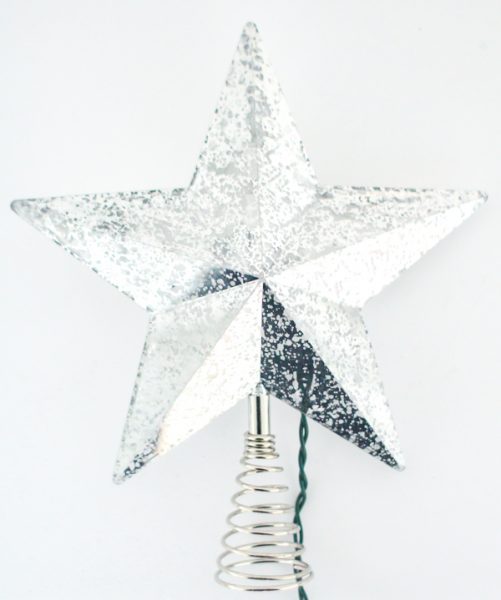 All of our favorite ornaments that we have collected over the years. I love to pick up vintage ornaments at yard sales and I also love to make a few new ornaments every year. These are a couple of my favorites with links to the tutorials.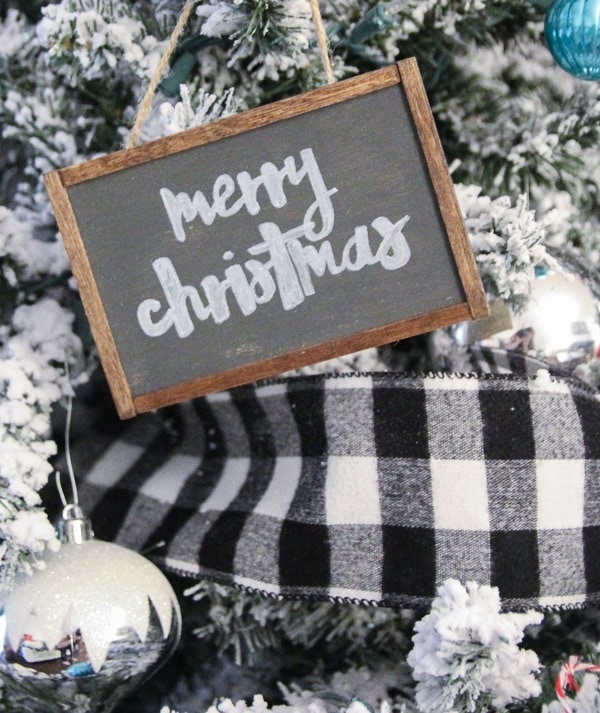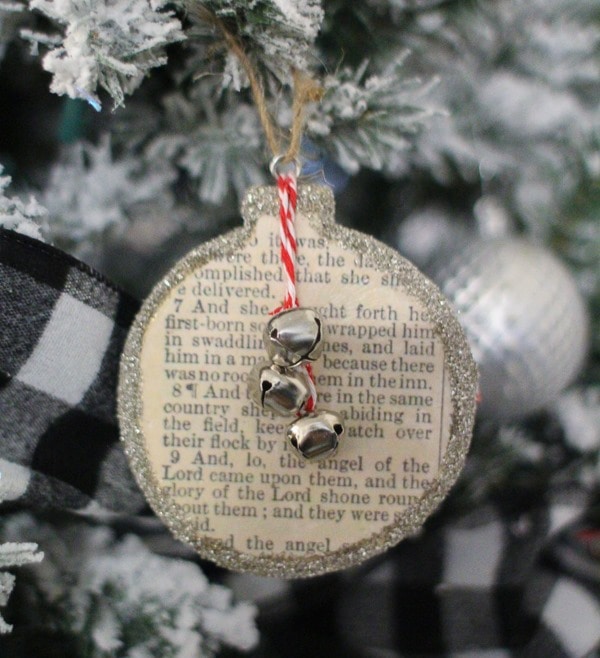 You can find all of my handmade ornament tutorials right here.
This year I also finally picked up a cute basket tree collar and it was so worth it. It looks beautiful. But also our tree is quite a few years old and the basket helps keep the bottom branches from being too droopy.
Double win!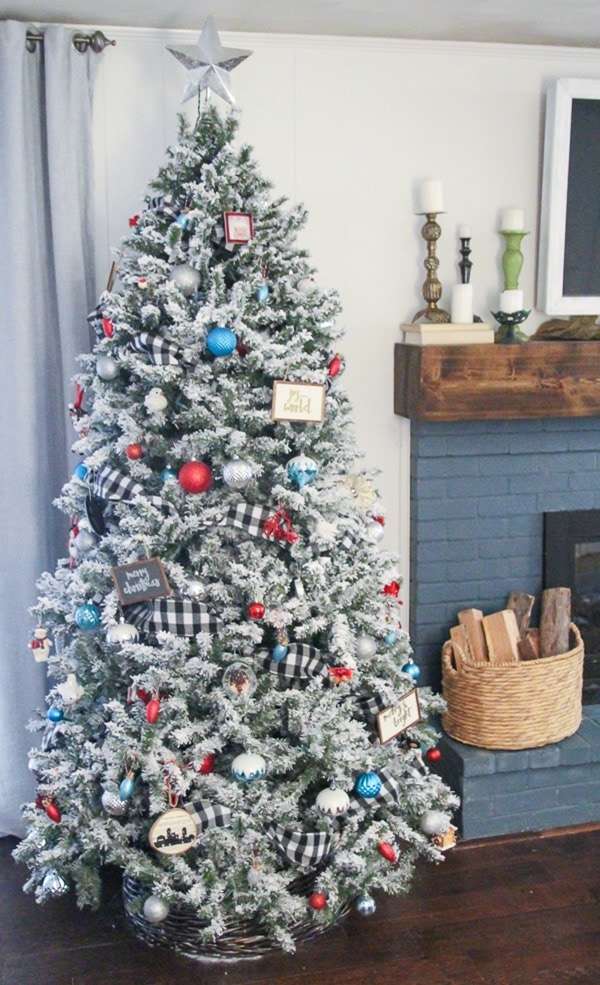 I'm so glad I have these pictures to remember our beautiful tree because I'm pretty sure it is going to look entirely different in a few weeks.
My boys are 5, 3, and 16 months. Griffin, my 5 year old is all about Christmas decorating and he has his own little tree in his room that he very lovingly decorated with his own favorite ornaments. But the other two are a bit more challenging.
My 3 year old, Asher, keeps adding toys, pieces of string, and anything else roughly ornament sized to the tree. And Lincoln, the baby, wants nothing more than to rip every ornament off the tree and throw it on the floor.
For now, we've had to move the coffee table in front of the tree as a buffer but I'm hoping with time he'll get used to it being there and not go immediately into destruction mode. Fingers crossed.
And if not this will be one of those years we look back on and laugh about how our Christmas tree was completely bare on the bottom except for random candy wrappers and Matchbox cars.
Ok, I know you are going to want to head over to Delineate Your Dwelling and see her modern colorful Christmas tree. And then check out all of the trees linked below. There are so many different styles and I feel like this is the perfect place to gather inspiration for decorating your own Christmas tree.

Monday:
Casa Watkins Living // Monica Wants It
Tuesday:
Thou Swell // The Homes I Create // Not Just A Housewife
Wednesday:
Designer Trapped In A Lawyer's Body // Lovely Etc. (that's me!) // Delineate Your Dwelling // Persia Lou // Taryn Whiteaker Designs
Thursday:
House Homemade // Two Twenty One // Tag and Tibby // Jeweled Interiors // My Sweet Savannah
Friday:
PMQ For Two // Made In A Day // Club Crafted // Daly Digs // Jennifer Perkins