Lately there have been lots of questions about my stenciled floors, so I thought it would be helpful to share my answers to the most frequently asked questions along with my recommendations for the best floor stencils.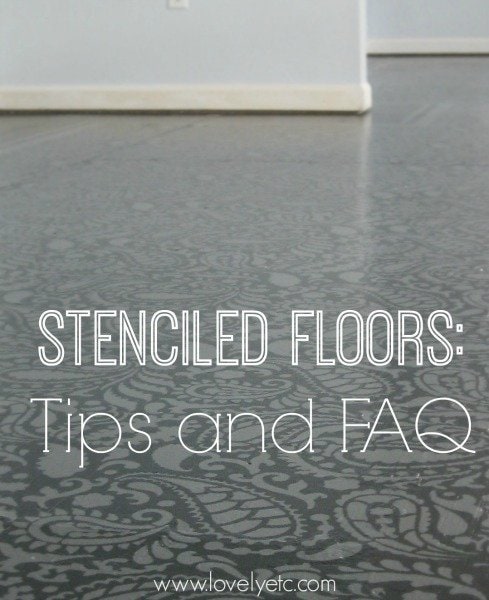 This post contains affiliate links – you get to buy cool stuff you want and support Lovely Etc. at the same time.  Win-win.
How big was your room?  How long did it take?  How much did it cost?
I painted the floors in my living and dining rooms which combined are around 400 square feet.  This process took me many weeks – mostly because it was around the holidays so I had a lot of other things going on and took lots of breaks.  I would say you would need at least a two week window though, mostly because of the drying times for the various layers.  My total cost was between $300 and $400.  (I already had some materials on hand so it really depends on if you count those.)  This includes filler, tape, sandpaper, primer, paint, and sealer.
What did you use to paint the stencil?  Didn't it take forever?
I used a small Foam Roller
to paint the stenciled area.  Make sure to use a roller made for smooth surfaces.  They often say they are for doors and trim.  Roll your roller in the paint but be sure not to overload it – you do not want it dripping paint.  Then before actually painting over the stencil, you need to remove any extra paint.  I just used a paper plate with several paper towels on top and rolled the roller over it a few times.  It is important you don't have too much paint on your roller so it doesn't squish under the stencil.  Then lightly roll your roller over your stencil.  This goes MUCH faster than you would think.
How do you keep from smudging the paint when you move the stencil?
When you have your stencil in place, secure it to the floor with a few pieces of painter's tape.  As long as you don't overload your stencil with way too much paint, the paint actually dries pretty quickly.  When it is time to move the stencil to the next section, gently untape it and lift it up and then place it gently at the next section.  As long as you don't slide your stencil through the fresh paint, you shouldn't have smudging problems.
How often did you clean your stencil?
Cleaning the stencil was one of the most annoying parts of the whole process.  I definitely did not clean it in between each section – that would have taken f.o.r.e.v.e.r.  However, I did have to clean it a few times during the process.  After awhile, dried paint starts to build up around all of the edges of the stencil which keeps your lines from looking crisp.  When that happened, I would clean my stencil.  I found this very frustrating and there may be a better way but I ended up cleaning my stencil in the sink.  I sprayed it with water and wiped it down with an old washcloth to get off all of the old paint.  Then I peeled off all the remaining bits of paint with my fingers – since it was latex it peeled off in little sheets.  As I said, this was the most annoying part so I only cleaned it when absolutely necessary – maybe three or four times for the entire floor.
What would you recommend I use to patch the seams and holes in the plywood before painting?
This is something that has been plaguing me since I painted the floor a year and a half ago and I have finally found a solution.  I shared in my original post that I did not like the filler I used to patch the holes and seams in the floor, but I had not found any better solutions.  Since then many people have asked for a suggestion but I had none to give.  Not to mention it just really bothered me that I didn't know.  But finally I do!  When I originally painted my floors I used a product called Flexible Floor Patch and Leveler.  I am sure it is great for some applications but not for painted floors – it has a very rough texture and does NOT sand at all. This weekend I was patching some dings in our kitchen floor in preparation for laying hardwoods and I tried something I hadn't seen before – Dap Presto Patch Filler
.  It was brilliant!  It goes on very smoothly and sands like a dream.  This is definitely what I would use to smooth seams before painting your floor.
Did you really use oil based primer and latex paint?  Can you do that?
Yes, I did and yes, you can.  You can paint either oil or latex paints over oil based primer.  However, you can only paint latex paint over water based primer.  I chose to use oil primer for its durability.
The best floor stencils
Ok, so really any stencil can be used as a floor stencil.  But the best floor stencils are big, have a large pattern, and are detailed enough to hide stray crumbs.  I totally love the paisley stencil I used, but here are some other stencils that I think would make amazing floors.
Charlotte Allover Stencil Pattern
Khanjali Ikat Stencil
Zamira Moroccan Stencil
Faux Bois Allover Pattern Stencil
If anyone else out there has stenciled their floors, I would LOVE to see them.  Please send me a pic or link your floors in the comments – I would love to feature some on my Facebook page.
And if you haven't yet, be sure to check out these other posts for more answers to your questions about painting floors:
Amazing Painted Plywood Subfloor: A How To
Painted Plywood Floors Update: The Good, The Bad, and The Ugly
Painted Plywood Subfloor: Three Years Later, The Final Update
Have a wonderful week,