Tips and tricks that really work to help brighten up and bring more light into even the darkest rooms in your home.
Our house sadly gets very little natural light. We are super lucky to have lots of tall beautiful trees surrounding us, but the downside of that is they block out most of the sunlight. And the porches along the front and back of our house block even more.
Which means our house is generally a lot darker than I would like.
You might be surprised by this since the photos I usually share of our house look plenty bright.
But I always have to wait until the very brightest part of the day to take photos and then I still have to edit them to brighten them more.
Here are a couple of photos of our house lit by only natural light with no editing. These photos were taken around 11 AM on a decently sunny day.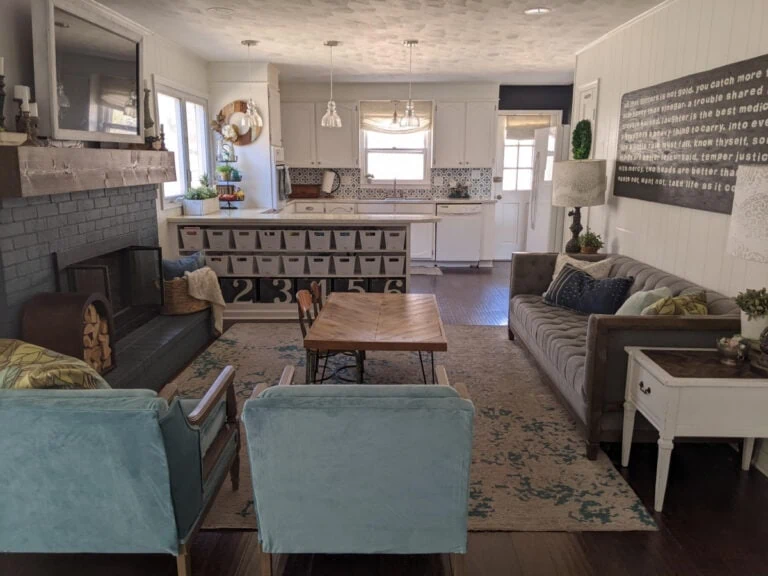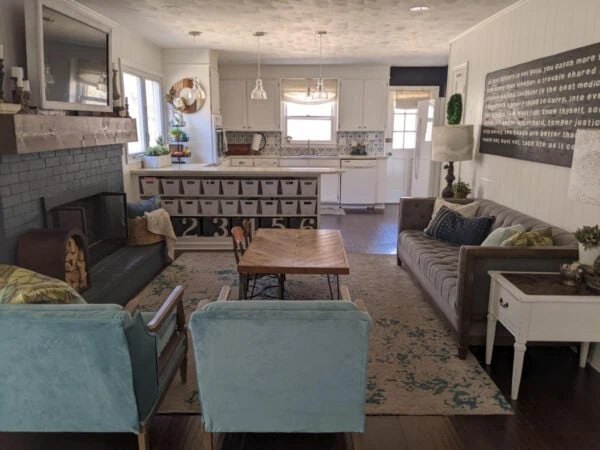 Over the years, I have tried many tricks to brighten up our dark rooms and I've been surprised by just how much certain things really do make dark rooms brighter.
So today I'm sharing all of my tips and tricks for brightening up your dark rooms, whether it's a basement without windows or just a room that doesn't get a whole lot of sunlight.
I'm only including the best ideas that actually make a difference. I've seen lots of advice for different ways to make rooms feel brighter, but I've found there are only two real ways to brighten up a room. Either bring in more light somehow or reflect the light that's already there around the room better. This list of ideas includes lots of ways to do both of these things.
I'm starting this list with the quickest and cheapest tricks and moving to the more involved and costly solutions to make it easy to find the ideas that will work best for you.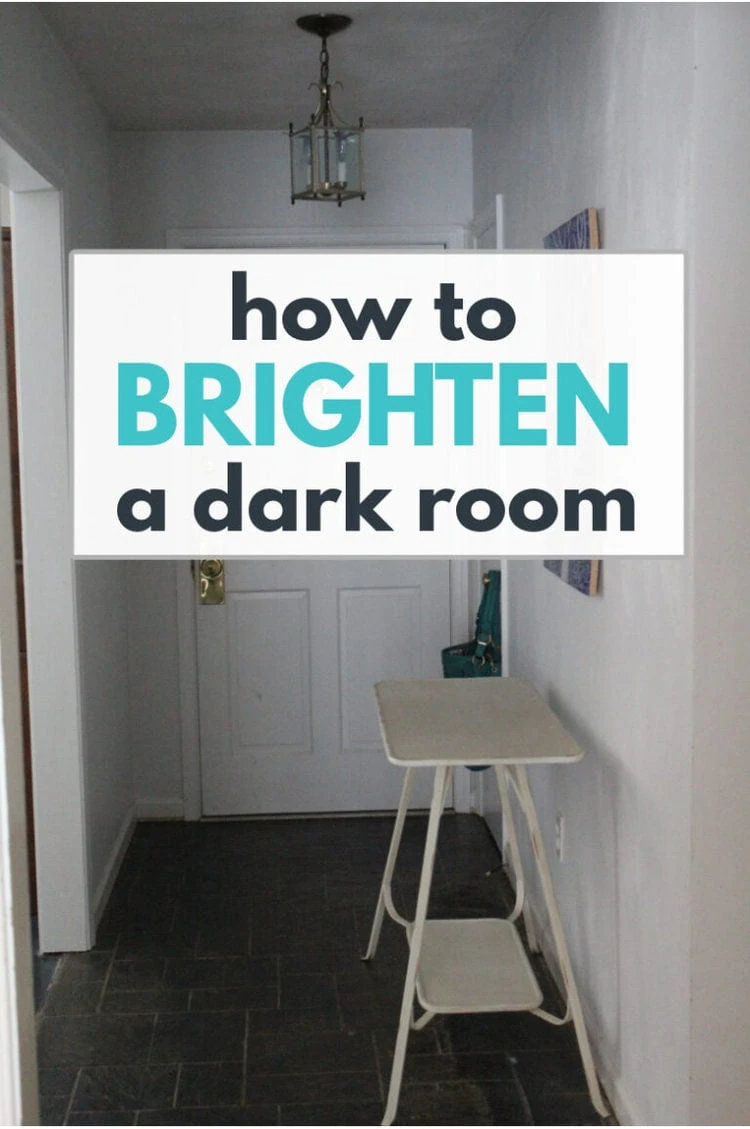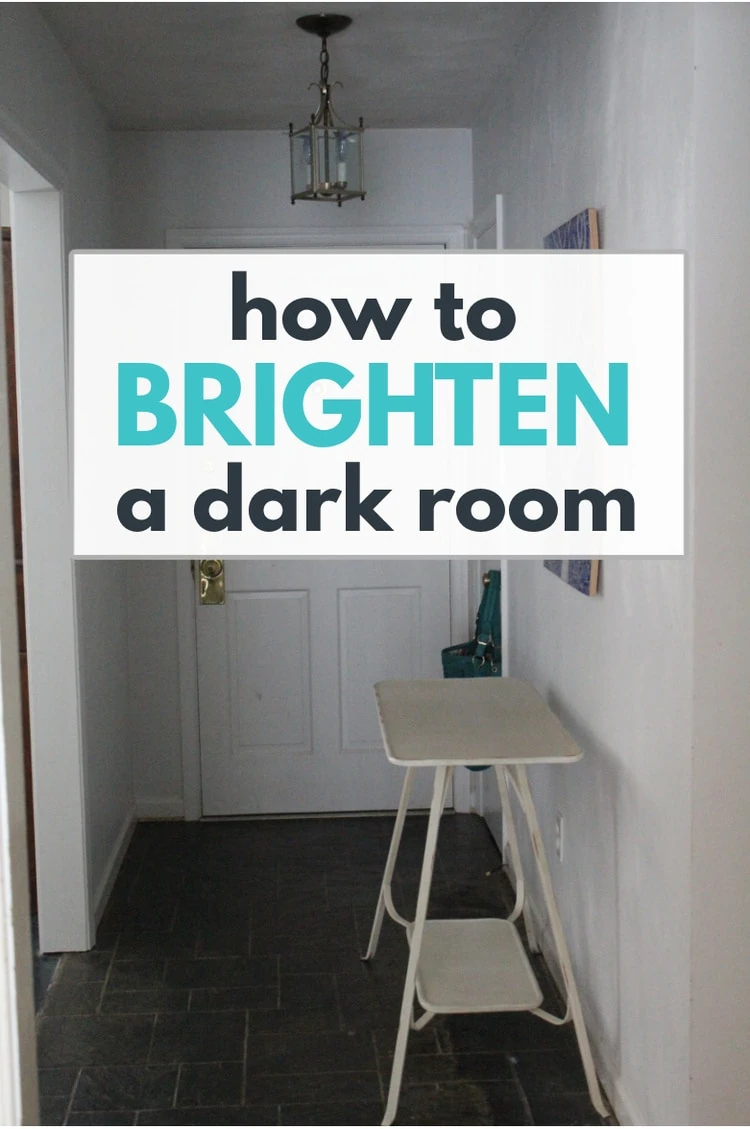 This post contains affiliate links which means if you make a purchase after clicking a link I will earn a small commission but it won't cost you a penny more. Click here to see my full disclosure policy.
How to Brighten Dark Rooms
Open your blinds or curtains
Ok, this probably seems obvious, but one of the easiest ways to brighten up your home is open your blinds or shades all the way every morning. Or if privacy and light-blocking isn't a concern, you can go without any window coverings at all.
We have several windows that face the woods behind our house so we leave them bare and it really helps brighten things up.
This is one of those things that takes only a few seconds but can make a huge difference. When you don't get a whole lot of natural light, you want to be sure to let in as much as you possibly can.
Hang your curtains high and wide
And while we're talking window treatments, it really helps to hang your curtains high and wide. This is advice that designers give all the time because it helps make your windows look bigger and better.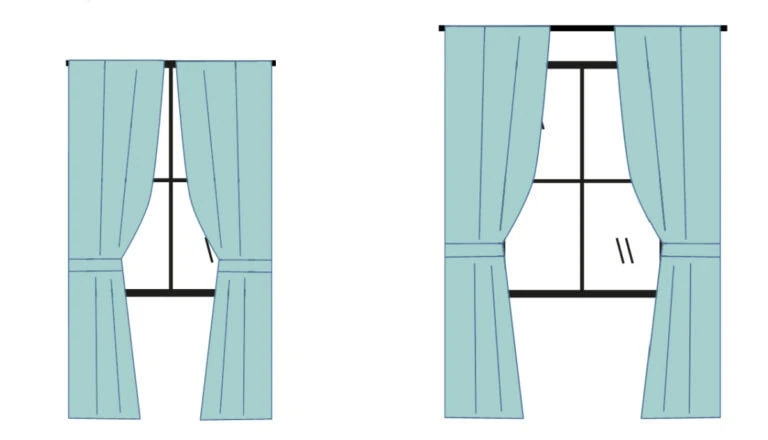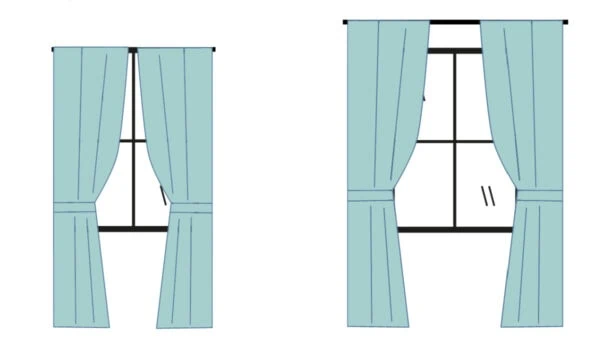 But the other benefit is that when you hang your curtains wider, they cover a lot more of the wall and a lot less of your actual window, letting more light in.
Use mirrors to bounce light
Mirrors are great for brightening up dark spaces, but there are a few things to keep in mind if you are trying to use mirrors to brighten up your space.
Just hanging a mirror isn't enough; you need to hang it in the right place.
Anywhere you hang a mirror, it will reflect the ambient light in the space. But if you want your mirror to really brighten things up, it needs to be able to reflect a strong light source into the room.
Hanging a mirror across from or adjacent to a window or even a lamp is going to help reflect way more light into the room than if you hang it somewhere else.
Our entryway is super dark when the front door is closed. But this mirror faces the library and helps reflect the light from the windows in that room.
Even when you aren't worried about brightening a dark room, it's always a good idea to consider the reflection any time you hang a mirror. The mirror is going to essentially frame an image of whatever it reflects, almost like framing a piece of art.
If it is reflecting a view of the outdoors or a beautiful fireplace or mostly open space, great! But if it is reflecting something not so great like a blah closet door or a refrigerator, you might want to reconsider the placement.
Change your lightbulbs
One of the easiest ways to brighten up your home is to swap out the lightbulbs in your lamps and light fixtures.
Most light fixtures have a recommended maximum wattage. If your room feels dark, it's a good idea to make sure you are using the brightest lightbulbs you can.
You may also want to consider using lightbulbs with a different color tone. Lightbulbs come in all different color temperatures ranging from a cool bluish white to a very warm yellow white.
In general, more yellow tones make a room look darker. The color temperature of a lightbulb is measured in Kelvins and most residential lightbulbs are somewhere in the range of 2000 Kelvins (more yellow) to 5000 Kelvins (more blue).
Choosing lightbulbs that are around 3000 Kelvins is usually a safe bet – they are the most likely to give off a pretty neutral, white light. But you can always experiment with trying different temperatures to see what fits your space the best.
And if you just want an easy answer, GE relax bulbs have a bit of a cult following and look great in most spaces.
Add more lamps and layers of lighting
Sometimes all you need to do to brighten a room is add more lighting. There are lots of ways to add more light without involving an electrician.
You can add more lamps. You can add plug in wall sconces or picture lights.
You can even use puck lights to create lighting that doesn't need to be plugged in at all. (There's lots of great info about that in this post at Thrifty Decor Chick).
And with all of the smart lightbulbs and smart plugs and remote control outlets available these days, there are so many ways to make using non-traditional lighting super convenient.
One side of our living room was super dark so I added a picture light that can be plugged into an outlet.. To make it super easy to turn on and off, I connected a super inexpensive remote control switch to the outlet.
The remote is attached to the wall next to the door and looks and works just like a regular light switch.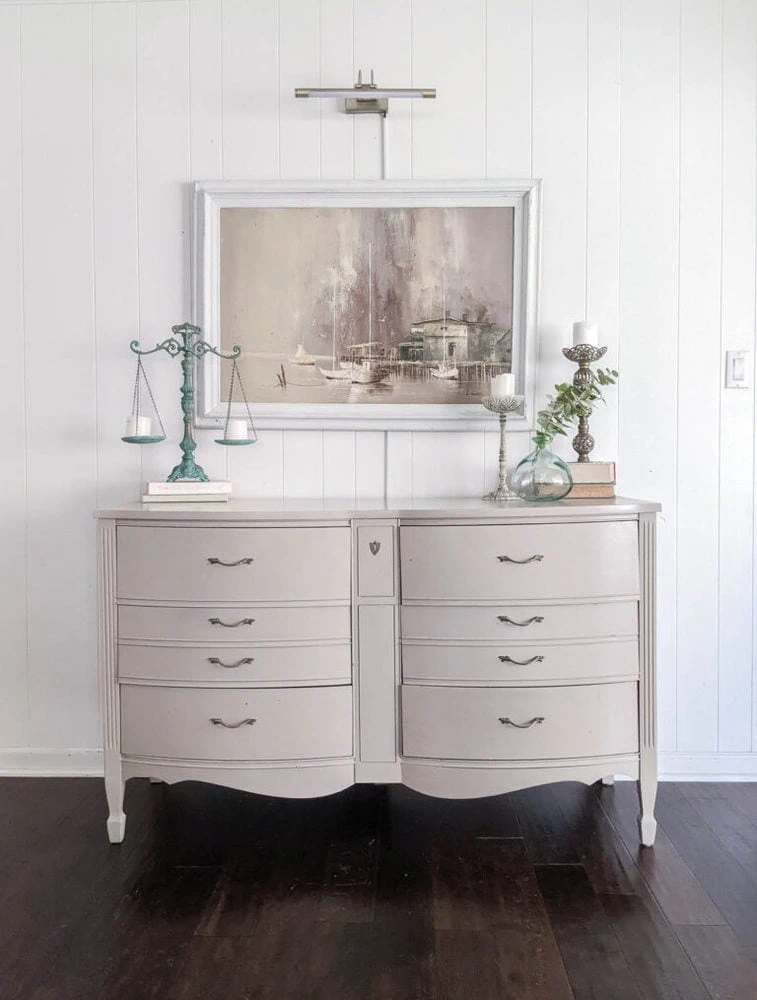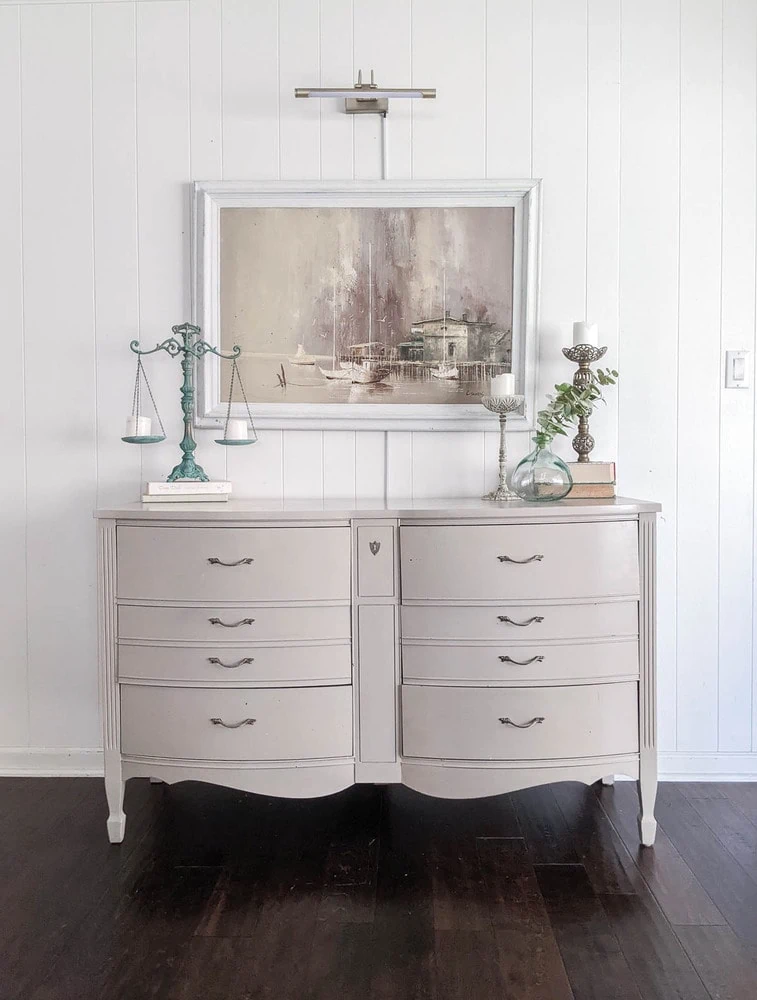 Paint your walls light colors
Painting your walls a lighter color can make a huge difference in how light and bright a room feels.
It doesn't have to be stark white, any very light color will work.
I recently painted over the dark wall mural in my office with a light neutral shade and I was shocked by how much painting that one wall brightened up the entire room.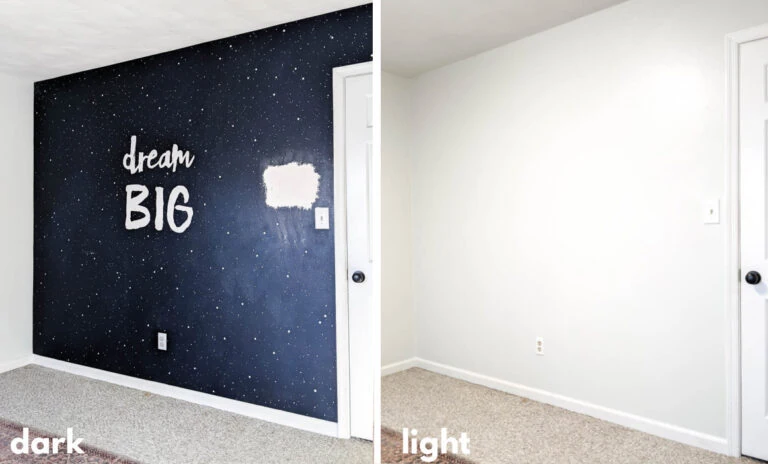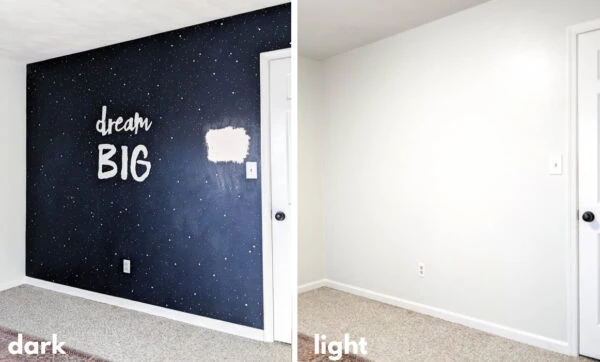 Paint your walls with satin or semi-gloss paint
The color of your paint isn't the only thing that matters, the sheen is important too. Wall paint comes in a variety of different sheens – matte or flat, eggshell, satin, semi-gloss, and glossy.
Paints with a higher sheen reflect a lot more light and look 'shinier'. Even better, they are also generally more durable and easier to clean.
When you are trying to brighten a dark room, bouncing as much light as possible around the room is key. Matte and eggshell paints just don't reflect a whole lot of light.
Sating and semi-gloss paints are a great choice for painting walls. I prefer to use semi-gloss paint in kitchens and bathrooms because it is super scrubbable and also resists moisture well.
I typically use satin paint in living rooms, bedrooms, and other spaces because it still reflects light well without being overly shiny.
Paint your trim, cabinets, and brick
Painting other elements of your room can also really brighten things up. Painting your wood trim, built-ins, doors, windows, or cabinets white can also make your room much brighter, but how much difference it makes may vary.
If the wood in your room is very dark or has a very matte finish, painting it will probably really brighten up your room, especially if you paint it a bright white in semi-gloss. But if your wood is already pretty shiny, painting it may make less of a difference.
The oak cabinets in our kitchen were a light color but they had a very dull finish that really absorbed any light in the room. Painting them white made a HUGE difference in how the entire space felt.
Yes, it helped them look more updated, but even more importantly, it made the whole space much lighter and brighter.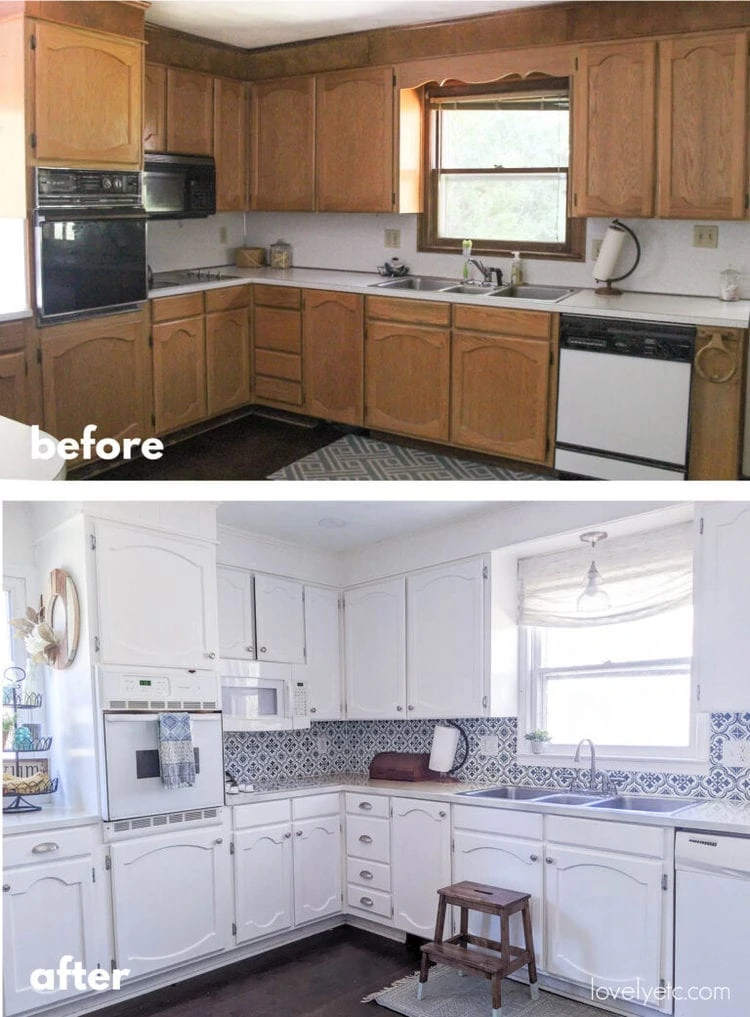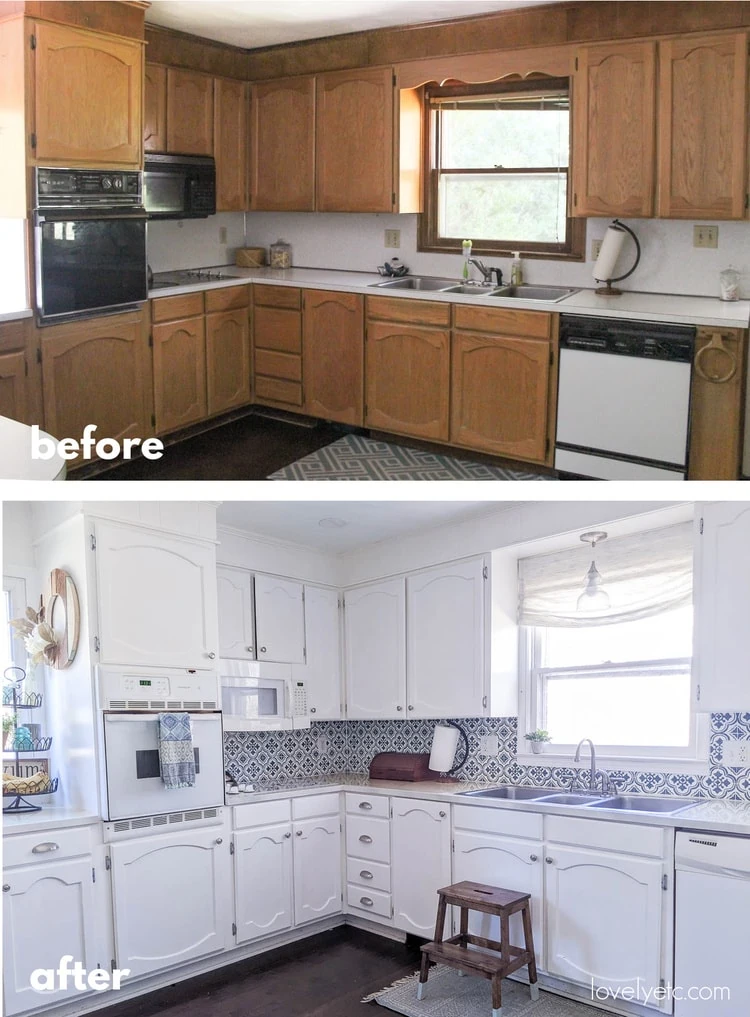 Painting brick can also make a huge difference. Brick is very porous and tends to suck the light out of a space. Painting it a lighter color can really brighten things up.
I have a step-by-step tutorial for painting a brick fireplace and as I mention in that post, I think brick looks best when painted with a matte paint rather than something more reflective. But even painting brick with matte white paint can really brighten it up.
Our brick fireplace is now a dark blue so not necessarily light and bright, but several years ago I painted the original brick white and it brightened the whole room significantly.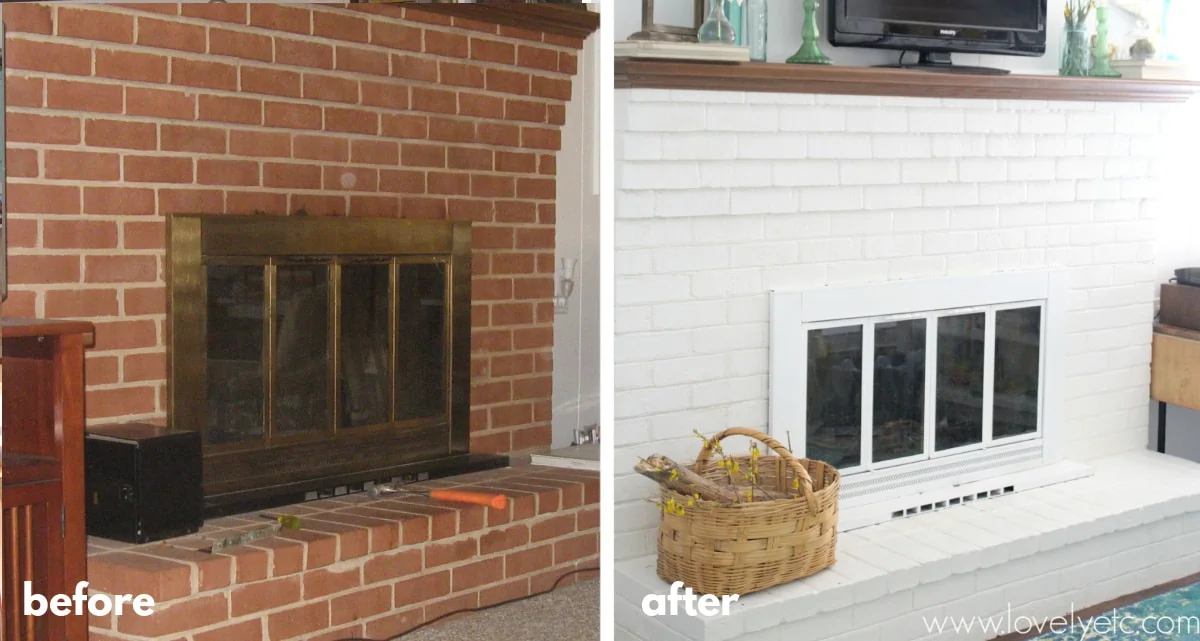 Paint your ceiling
Painting a fresh coat of paint on your ceiling can also really brighten things up. There's a good chance your ceiling is already white, but if it has been awhile since it's been painted, it may have gotten pretty dull and dingy over time.
I repainted our living room and kitchen ceiling a few months ago and it was crazy how bright the fresh ceiling paint looked against the old dingy white paint.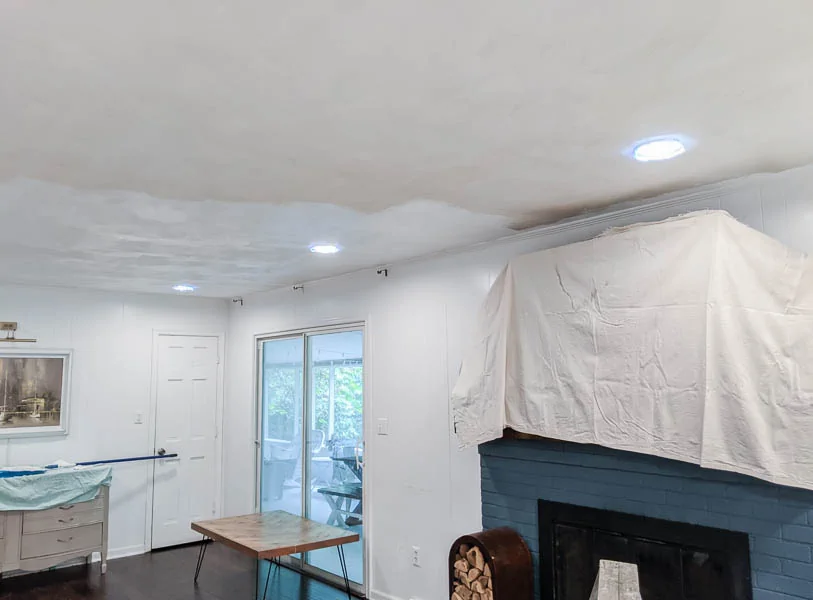 I'm not going to lie, painting a ceiling is not a fun job. But it can really make a difference.
Consider your flooring
Okay, I know you probably aren't going to change out your flooring in the name of brightening up your room.
But if you are in the process of finishing a basement or remodeling another dark room, keep in mind that your flooring choices really affect how bright your room looks.
Carpet absorbs light, while hard flooring choices like hardwoods, tile, and vinyl floors usually reflect light.
Because of this a dark hardwood floor may make a room look brighter than even a light colored carpet.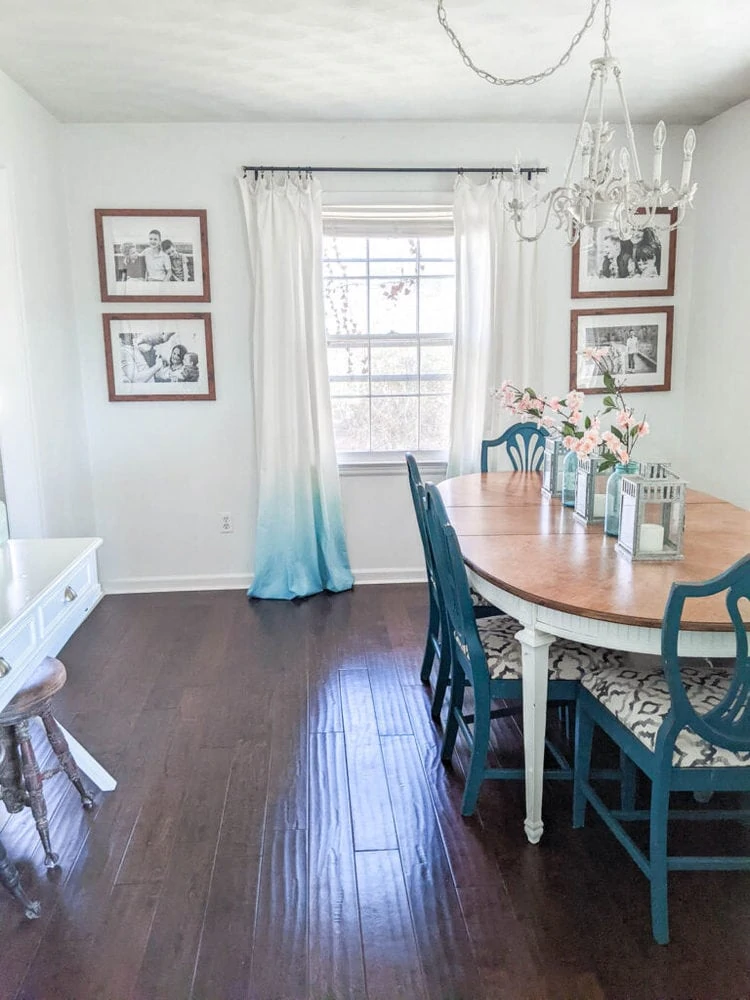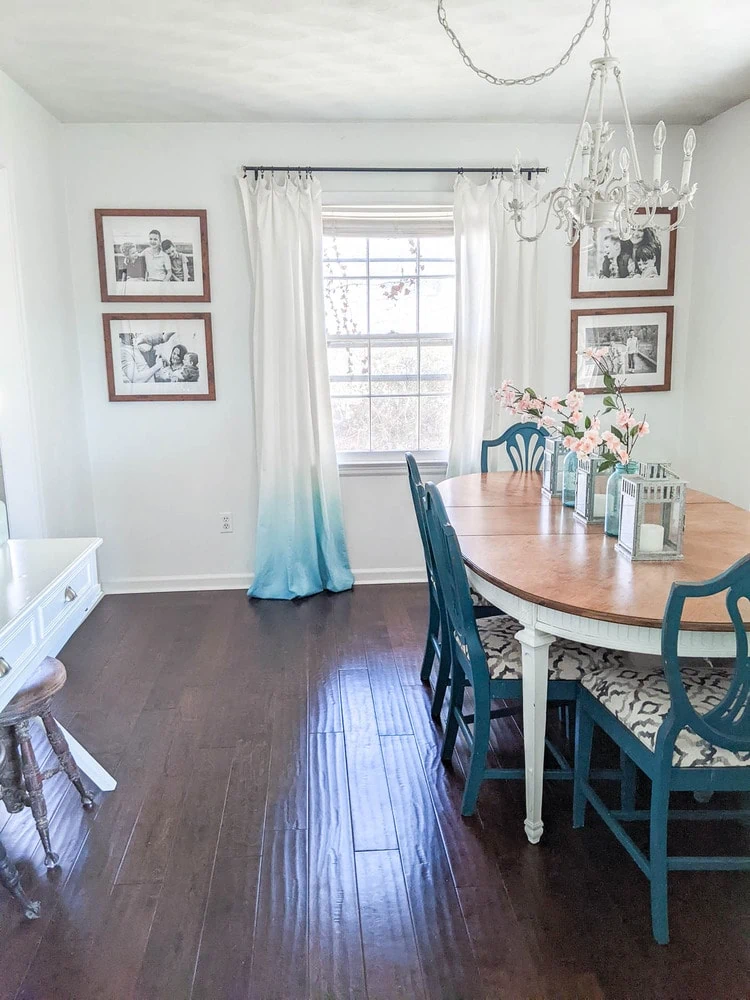 It really is amazing how much of a difference reflecting light around the room can make.
Install more lighting
And finally, when you've tried all the tricks and you still want more light, you can always install more lighting.
Our house was built in the 1970s during a time when overhead lighting wasn't very popular. So most of the rooms in our home had no overhead lighting including our super dark living room.
After making do with lamps for many years, we hired an electrician to install recessed lighting in our living room and kitchen last fall and it made a world of difference!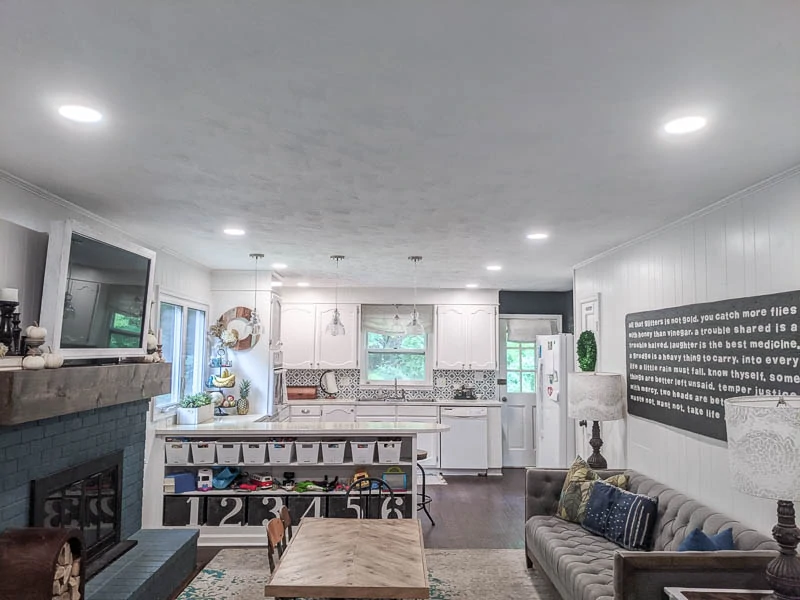 The lights are on dimmers and I never would have guessed how much I would love it. We can lower the lights in the evening when we're watching TV or brighten them on dreary, cloudy days. The way the recessed lighting lights the entire room so evenly has been a game changer.
Of course the huge downside is that it was not cheap. I love to DIY and have changed our many light fixtures, but this job involved lots of wiring and was not something I have the skill to tackle.
It cost around $2000 to install 10 recessed lights on dimmers along with installing new pendant lights over the kitchen peninsula, removing the old florescent kitchen light, and installing some new switches. Depending on where you live and whether or not you already have the necessary switches and wiring installed, your cost may be a bit more or less.
For a more budget-friendly option, we also had an electrician install an overhead light fixture in our library a few years ago. It was a much simpler job involving dropping an electrical box into the ceiling and connecting it to a light switch that used to operate an outlet (another weird 70s quirk).
While it wasn't quite as amazing as the dimmable recessed lighting, that overhead fixture also made a huge difference in brightening up the room. And it was much more affordable at around $300.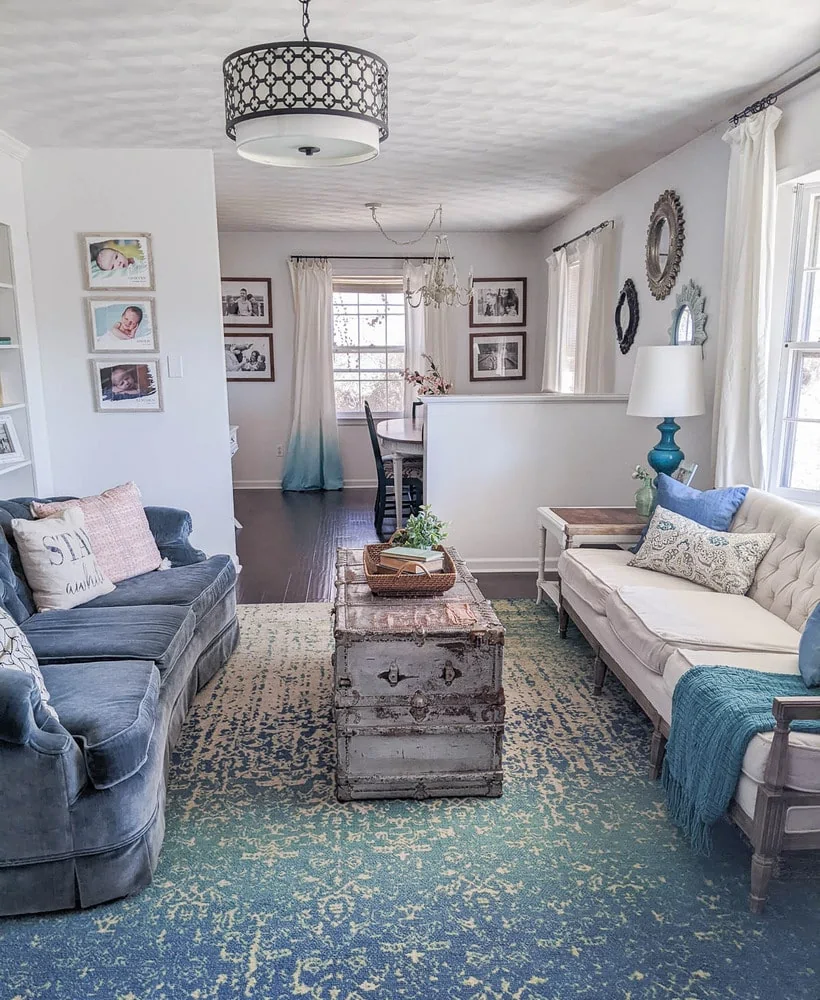 Over the years, implementing these ideas throughout our home has really helped make things feel brighter and fresher. Our house still isn't the brightest, but it also isn't the dark cave it used to be.
Do you have other tips for brightening up dark rooms? I'm always looking for new ideas to test out!
More DIY posts I think you'll like:
I'd love for you to pin this post on Pinterest!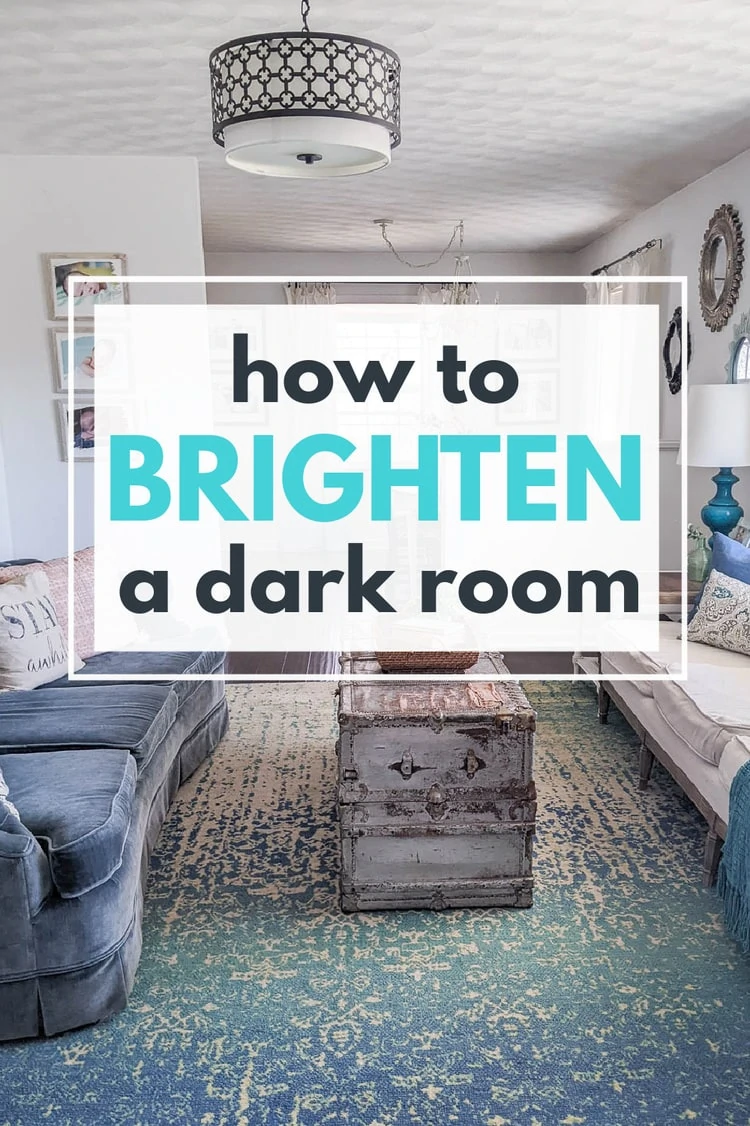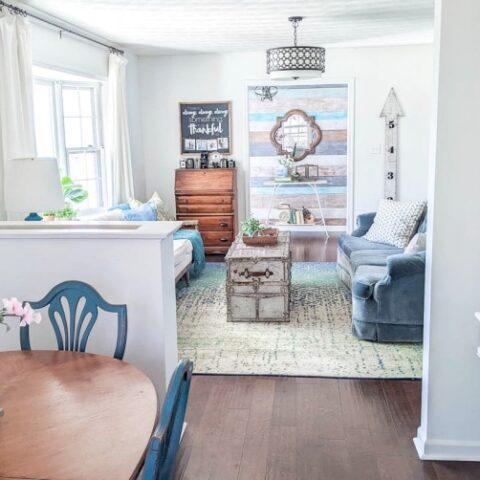 Tips on How to Brighten a Dark Room
How to brighten a dark room - lots of ways to add light to any room including cheap and easy ways as well as more long-term solutions.
Materials
daylight bulbs
mirrors
light paint
Instructions
Open your blinds and curtains.
Hang your curtains high and wide.
Use mirrors to bounce light.
Change your lightbulbs. Consider daylight bulbs like GE relax bulbs.
Consider additional lamps and more lighting like wall sconces, picture lights, and puck lights.
Paint your walls light colors. Painting your walls a lighter color can make a huge difference in how light and bright a room feels.
Paint your walls with satin or semi-gloss paint to reflect more light around the room.
Paint your trim, cabinets, and other elements to make your room brighter.
Paint your ceilings with a fresh coat of paint to increase the brightness of the room.
If you are in the process of finishing a basement or remodeling another dark room, consider that your flooring choices affect how bright your room looks.
Google Web Story: How to Brighten a Dark Room