Here's the thing about clutter. It seems like no matter how much clutter I get rid of, it is never enough.
Case in point, we have an awesome spare closet in our family room – perfect for storing all the random stuff that doesn't have an obvious home. Soon after the New Year, I had the decluttering bug and cleaned out the closet. I cleaned out a couple of boxes full of stuff to donate and felt really good about it. Until less than a month later, I needed to make some more space in that same closet so I could move things there from the guest room – and I easily cleared out another three boxes full of stuff.
How? How is it that I can clean out the whole closet and yet somehow manage to leave it half full of unnecessary junk? Does decluttering ever actually accomplish anything?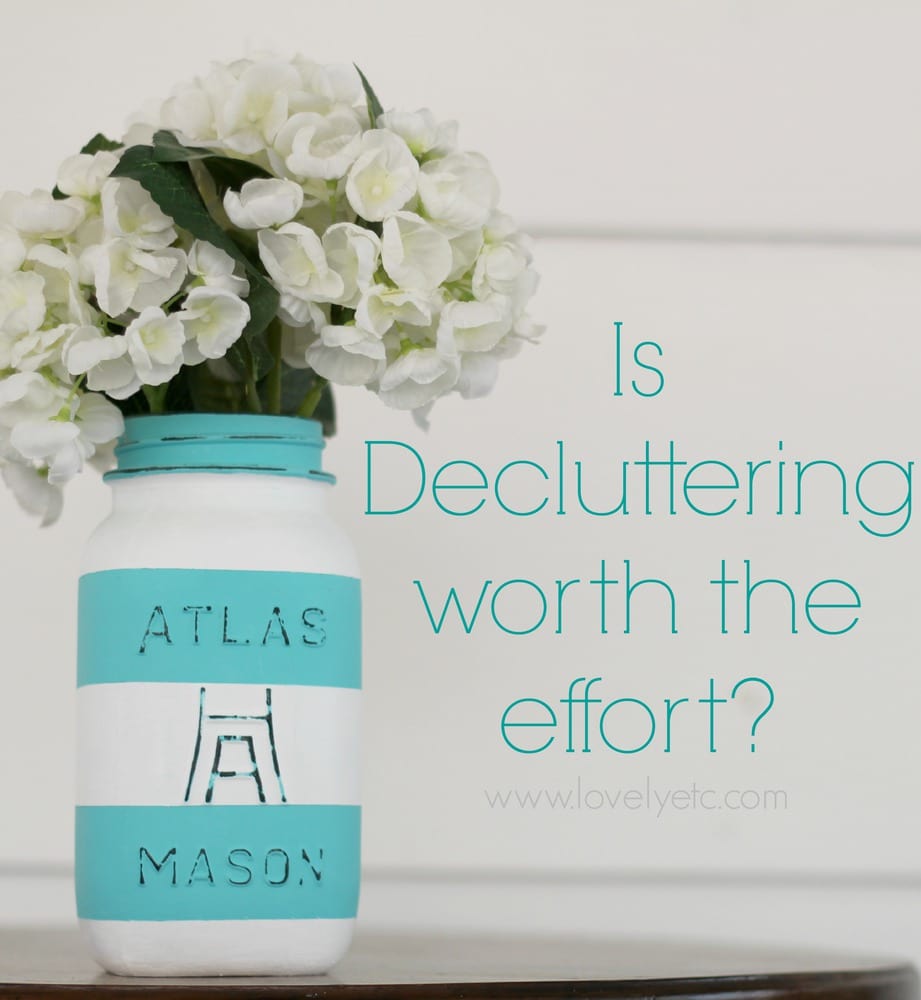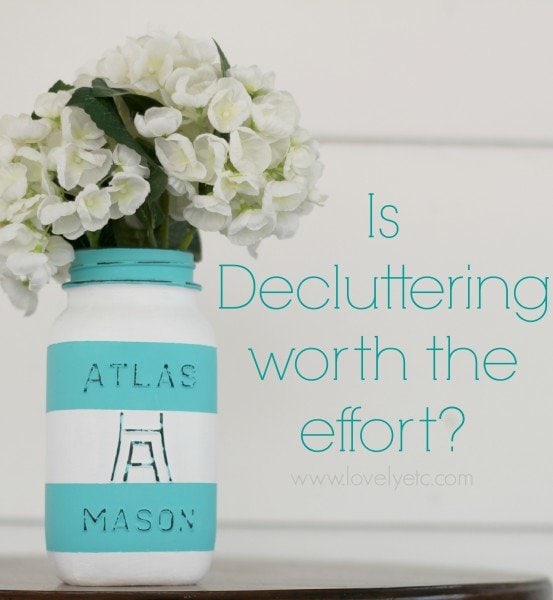 Decluttering has definitely been on my mind lately.
First of all, it has to be done. As we make room for our second child this summer, all the random stuff that was hanging out in the guest room and especially in the closet has to find a new home. Which means all the other closets in our house have to be thoroughly cleaned out to make room.
But it is more than just that. I keep reading how getting rid of clutter and excess stuff saves time and money and stress. When you have less stuff, you don't have to spend so much time organizing your stuff and cleaning your stuff and trying to find a home for your stuff and moving your stuff out of the way so you can find the stuff you actually need. You spend less money buying stuff you really don't care about – or even worse, buying stuff you forgot you already own because it was buried in piles of stuff you could care less about. And you don't collapse on your couch after a long day or working and then chasing a toddler and stress about the piles of random stuff that seems to be covering every available horizontal surface. (The same stuff that you are just too tired to actually put away.)
There's a problem though.
Decluttering is supposed to save me all of this time and energy. But if I am cleaning out the same darn closet every month, is that really saving me either? I don't think so. It makes me feel like one of those hamsters running in their wheel sure they are getting somewhere.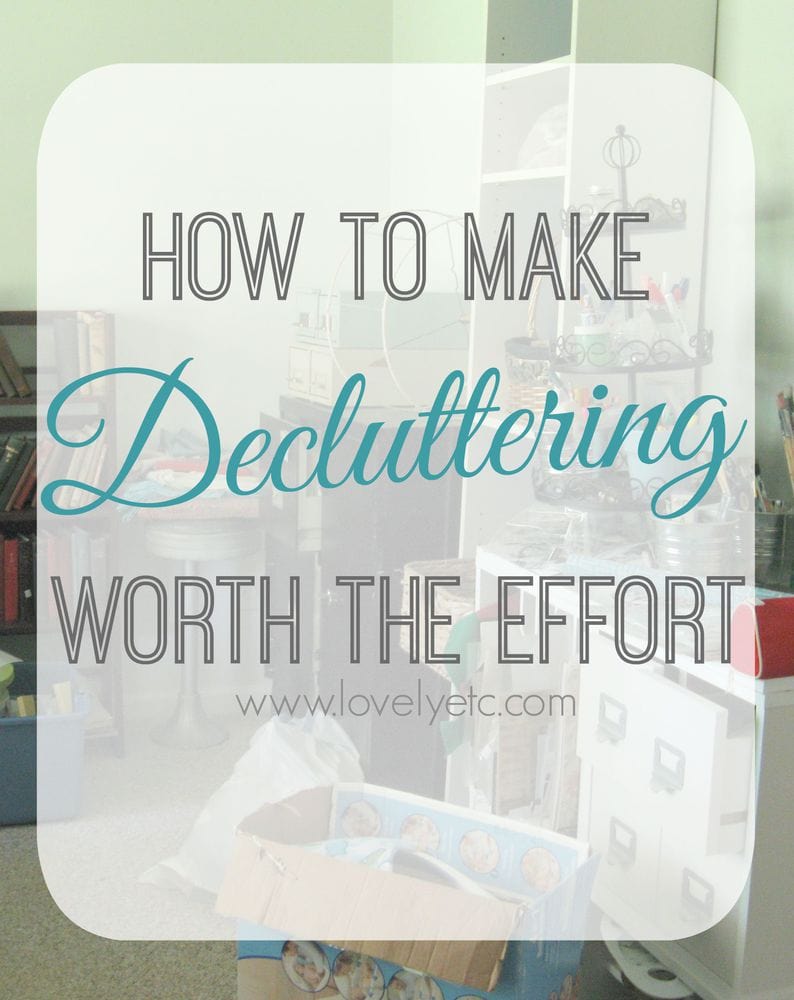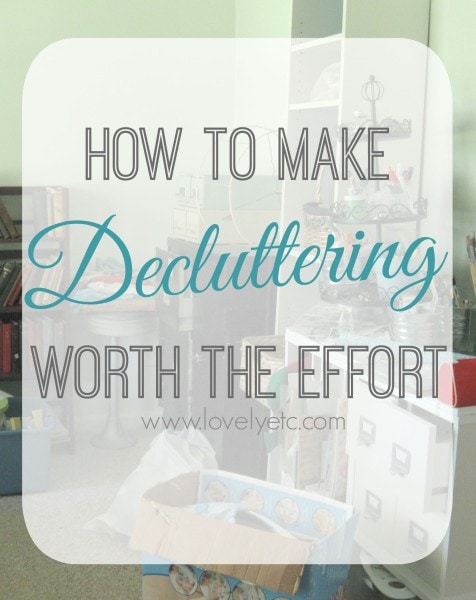 But I do still believe decluttering can work. And if decluttering can work, but it isn't working for me, I apparently haven't been doing something right.
After considering exactly what my problem is, I think I've found the answer. Whenever I clean out, I toss out the most obvious things. The games we haven't played in five years. The sheets that don't fit our new mattress. The vanilla candle that gives me a headache. But that's it.
I leave behind all those things that I might need one day. Or that have a lot of potential. Or that I used to really, really like.
So the second time I cleaned out the closet, I went about things a little differently. I asked myself some pointed questions about every item. And not just, do I like this well enough?
I started out asking myself two questions that pretty much sum things up.
Do I use this? Not, will I use this one day? Not, could I possibly use this? Not, is this useful? Plain and simple, do I use this? In the present tense.
Do I really love this? Because I love pretty stuff. I'm not getting rid of everything that isn't 100% practical. But again, that is not could I really love this one day? Or will I really love this when I fix it up? Or will I really love this if I change the colors I decorate my house with? Do I love it – right here, right now.
Both of those questions really helped me narrow things down. But for some things, I was having to really spend some time thinking to figure out if it was a toss or a keep. Then I figured out an even simpler question that helped cut through all my silly excuses even faster.
If I was moving to a new house right now, would I pack this? Nobody wants to bother moving stuff they don't really need. And nobody wants to be unpacking lots of useless stuff at their new, completely clutter free house. So if you would really want to take something with you when you move, chances are it is pretty important to you. If you wouldn't miss it at your new house, you aren't going to really miss it at this house either.
This helped with a lot of tough calls.
Like the DVD player/VCR combo that was in the closet. I totally kept it because I needed it to play two home movies from when I was a kid. Seems quite useful. But would I move it to a new house? Um, no. I'm pretty sure it hasn't been out of the closet since I put it there six years ago. And if I really want to watch those movies one day, I can do the grown up thing and get them converted to DVD or whatever it is everyone is using twenty years from now.
Or the little blue chalkboard I made several years ago. I made it to sell in the little booth I had at a local boutique several years ago. But it never ended up selling so I decided to keep it. Except I never found a good place to put it in my home, so it has sat in the closet ever since. I do truly like it, so I was tempted to hang onto it even longer. But if I haven't found somewhere to use it by now, is it really that important to me? And would I be so willing to pack it up to sit in a closet at another home? Probably not so out it goes.
Our house still has plenty of drawers, cabinets, and corners to be dealt with, but I feel confident that I actually accomplished something this time when I cleaned out the closets. It gives me hope for decluttering after all.
If you want to join me on this mission to declutter in a brand new way that actually changes how your home functions, don't miss the other posts in this series so far:
Tricks, tips, and the right mindset to actually get rid of clutter once and for all
What to do with the stuff you want to get rid of: