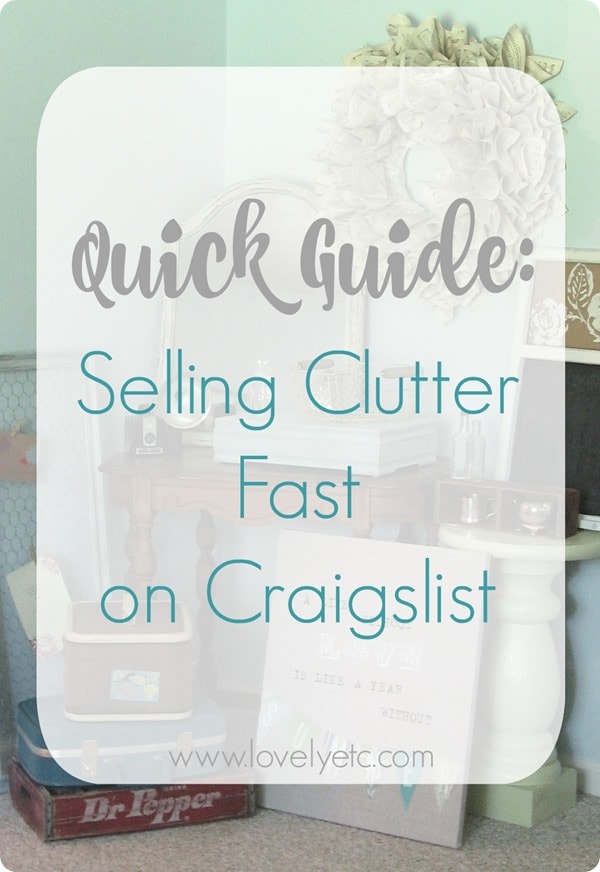 Selling Clutter Fast on Craigslist
The basement is getting cleaner and cleaner everyday! We did hit a few snags that majorly slowed things down – sick kids, a foot of snow, real life daring to interrupt my decluttering! But even so, major progress has been made! Within the next two weeks, the whole thing should be shiny and new and mostly bare. Woo-hoo!
One of the major tasks has been selling things we no longer need on Craigslist. This is actually one of the coolest parts: we're getting stuff we don't want gone and making money at the same time! Definitely a win-win. But it can also be a time-consuming process, so I've got some great tips for you to make the most money for your stuff with the least amount of hassle.
(Aren't sure whether you should sell on Craigslist, have a yard sale, or just donate it all? I've got some great tips for making that decision right here.)
Ok, ready to get selling?
Taking Photos for Craigslist
The first thing you need is good photos. Don't even think about trying to sell something without including photos. I love to shop on Craigslist and I have not once answered an ad without a photo, even if it sounded like the deal of the century. People don't want to have to do detective work to figure out what you are selling and that includes having to email you to request a photo. Just put it in the ad to begin with.
And not just any old photos either. Your photo should be clear, well-lit, and show the entire object for sale. People should be able to look at it and immediately see what you are selling. You don't have to make it a magazine-worthy photo, just try to make it look appealing. Even if it is down in your basement, you can move bags of trash and obvious junk out of the shot. Put your best photo first because that is the one people will see as they are looking through all of the listings.
Also, if you are selling furniture, it is helpful to take photos from more than one angle. And if the piece has imperfections and problems, take photos of those as well. There's no point in pretending an item is in new condition if it clearly isn't.
The photo below is an actual photo I found on Craigslist. And no, I didn't add the scribbles – they were part of the ad. For some reason, this ad doesn't really make me want to buy the rocking chair that is barely visible in the background. Go figure.
Writing your Ad
When you write your ad, make sure to include any relevant information that buyers are going to want to know. It will help prevent a deluge of people asking you the same questions over and over.
What exactly is it? (The picture should help with this, but put it in words too)
How old is it?
Is it a name brand?
What is it made of?
What are the measurements?
Does it have any imperfections?
Not all of these will be relevant for every item you are selling; just be as thorough as possible.
Also be sure to include a bit of a description to make your item sound more enticing. Point out all of its best features. A "solid wood vintage dresser with a large mirror, tons of storage, and drawers that glide smoothly" sounds much more appealing than an "old dresser".
Making your ad easy to find
There are two main ways people shop on Craigslist. Some people just browse the categories they are interested in and some people use the search bar to search for exactly what they want. You want to make sure your item can be easily found either way.
In order to make your item searchable, you want to make sure you include a good description full of the words people will be using to search. Think about what you would search for if you were looking to buy something similar. Instead of just listing something as a table, list it as an antique dining room table. Instead of just calling something a sofa, be sure to include the word couch somewhere in the ad as well in case people are using that as their search term instead of sofa.
You also want to make sure people can find what you are selling by browsing, which means you need to make sure it is in the correct category. It also means you may want to make duplicate listings for an item and list them in different categories. An antique table could go under both furniture and antiques. A light fixture could work under both household and materials.
Choosing a competitive price
You want to price your items high enough to make as much profit as possible, but you also want to keep the price low enough that buyers will be interested. A general rule of thumb is that most used stuff in excellent condition is worth 25% of what it would cost new. Of courses this doesn't always apply. There are antique items and collectibles that are worth far more used than they would ever be worth new. And there are fad items that are worth practically nothing once the fad ends. (Beanie babies, anyone?)
The easiest way to determine a fair price is to see what similar items are listed at. The items don't have to be exactly the same, just things that would appeal to similar buyers. If you see lots of items just like yours, it might help to price yours slightly lower than the others so that potential buyers are more likely to choose yours. If you don't see much that is similar to your item, you can also look on ebay to get pricing ideas.
Make sure that your asking price is clearly stated in your ad; otherwise, a lot of people will assume it is overpriced. Also, you do not need to put "or best offer" in your ad. Craigslist shoppers generally expect to haggle about price and assume the price you listed has a little wiggle room. Adding 'or best offer' just tells them they can probably get away with paying way less.
Completing the sale
Whether you choose to get phone calls and texts or just emails from people who are interested in your stuff, try to stay organized. Respond to any inquiries right away. There is a good chance people are responding to multiple ads for items they are considering and if you wait a few days to respond, they probably will have already bought from someone else.
If you haven't had any interest after a couple of days, refresh your ad so that it appears a little higher when people are browsing. If you haven't had any interest after a week, you may need to seriously consider lowering your price.
Remember that when people come to look at your items, they are probably going to try to get you to lower the price. Just decide beforehand what your absolute lowest price will be and stick to it.
And of course, only accept cash.
Always be safe
If possible meet in a public place like a busy parking lot. If you are selling furniture or other large items, always be sure another adult is home with you before inviting buyers to come look. And if someone gives you a bad feeling, don't feel obligated to meet them or invite them over. It isn't worth risking your safety to make a sale; just move on to the next potential buyer.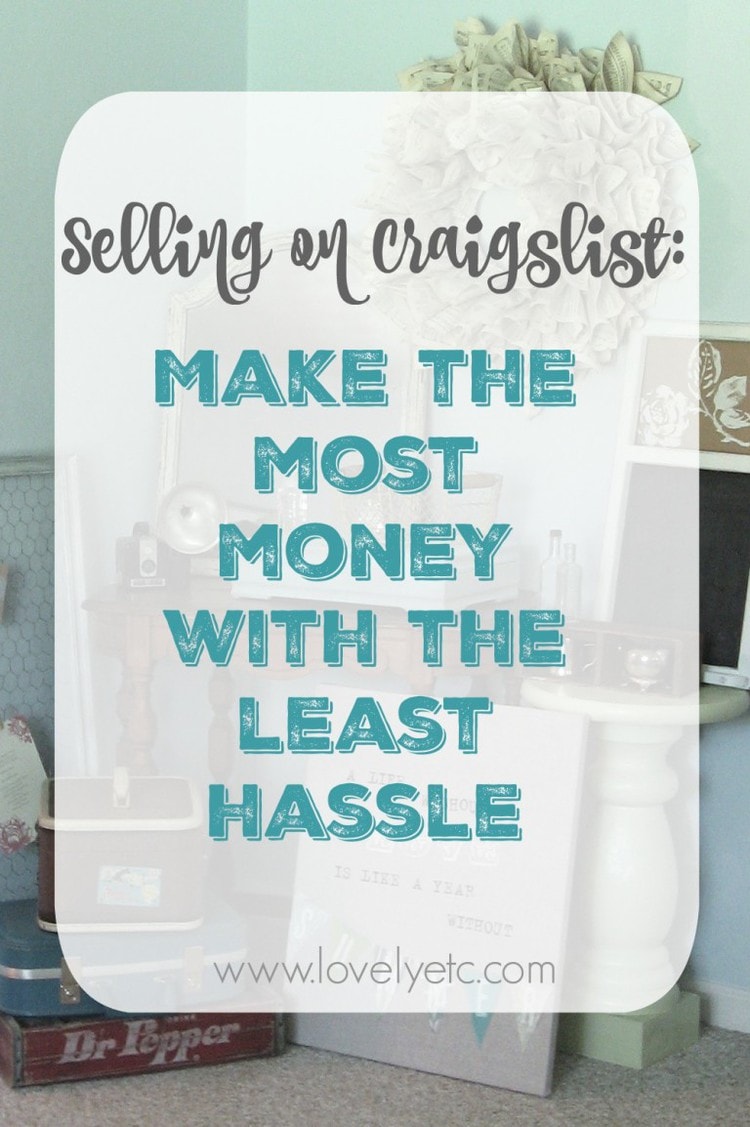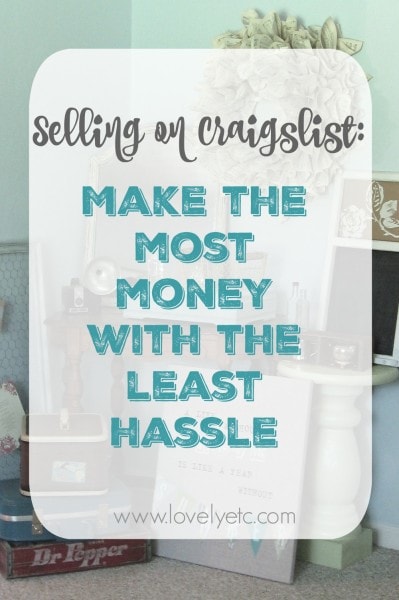 Good luck turning your clutter into cold, hard cash! If you have any Craigslist tips to add, please share them with us in the comments.
And if you want to join me on this mission to declutter in a brand new way that actually changes how your home functions, don't miss the other posts in this series so far:
Tricks, tips, and the right mindset to actually get rid of clutter once and for all
What to do with the stuff you want to get rid of: