Well, friends, our ugly foyer is well on its way to being gorgeous! And it's all thanks to our DIY plank wall.
I know white shiplap is all the rage these days thanks to Fixer Upper.
I love the look of a fresh white wall too, but what I really wanted was the look of a gorgeous reclaimed wood wall – without the stress of finding and dealing with actual reclaimed wood!
And this painted plank wall definitely fits the bill.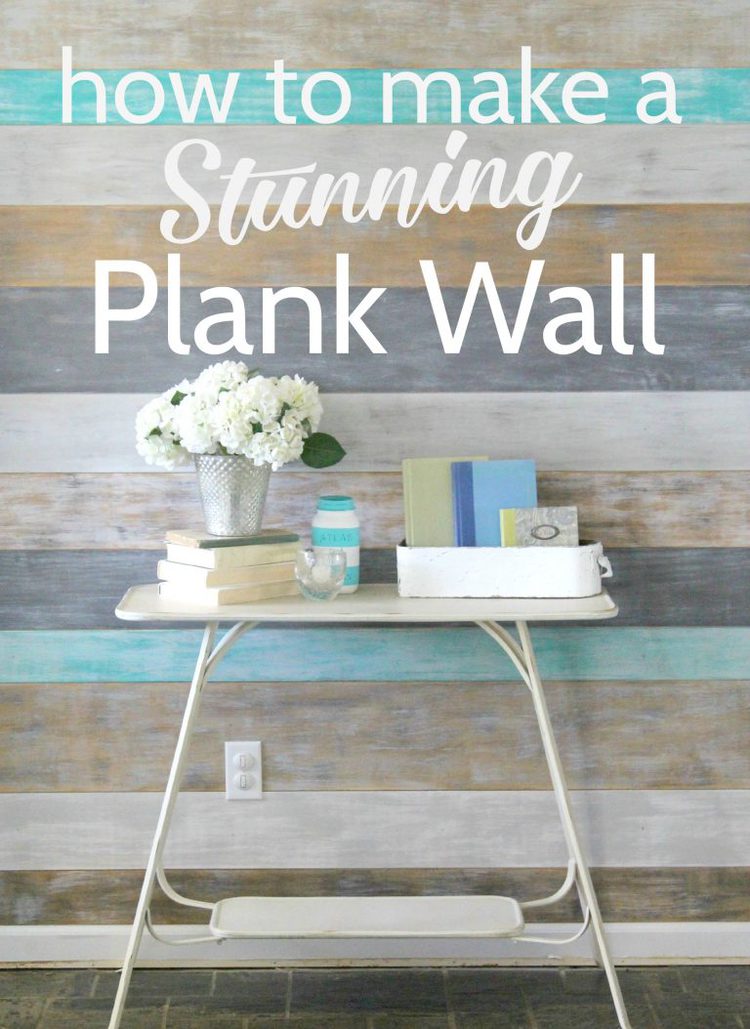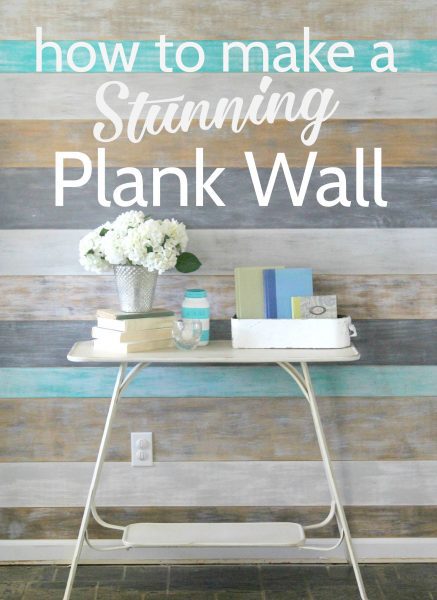 Even better I was able to complete this painted plank wall for less than $50!
To keep costs down, I used 1/4″ plywood to make my planks.
I read a lot of tips about saving money by using masonite, but I knew I wanted to incorporate some wood grain into my plank wall so masonite wasn't a good choice for me.
This post contains affiliate links – you get to buy cool stuff you want and support Lovely Etc. at the same time. See my full disclosure here.
Materials
How to Make a Wood Plank Wall
For my entry wall, I needed two 4'x8' sheets of 1/4 inch plywood. I had my plywood cut into strips at Lowes – 8 six-inch strips, 4 eight-inch strips, and 4 four-inch strips.
I am so glad I had my planks cut in the store – even with their huge cutting machine, it took a while to make all of those long cuts. (Plus, even better, they did the cuts for free.)
Once your planks are cut, the next step is to paint. For a unique look like this, it is so much easier to paint each plank before installing them.
My plank wall is a fairly small entry wall – it is only eight feet wide from the closet door to the corner.
Since the plywood is eight feet long, I simply did one plank per row.
If you are planking a longer wall, you will need more than one strip of wood in each row.
You can either paint all the wood in each row the same for a striped look like my wall or mix up the finishes for a more eclectic look.
I knew I wanted a textured, weathered finish to give the feel of reclaimed wood and my go-to technique for this is dry-brushing.
Dry-brushing is incredibly simple. Chip brushes are ideal for this, but you can use any paintbrush.
Put a very small amount of paint on your brush and then wipe as much off on the lip of the paint can as possible.
To remove even more paint, you can wipe your brush on a paper towel several times.
Basically, you want your brush as dry as possible while still having some paint on it.
Then lightly brush your paint across your board.
I've gotten a ton of questions about how exactly to do this so I put together a quick video that makes it easy to understand.
Video Tutorial for Weathered Wood Paint Finish
General Finishes provided me some of their milk paint to try out for this project and I ended up using four of their colors: snow white
, seagull gray
, driftwood
, and patina green.
I love General Finishes paint (and that patina green is amazing), but you can also get this look with almost any paint.
A paint with a matte finish will work best, so you could use chalk paint or even acrylic craft paints from a craft store.
In the video, I used Americana Decor Chalky Finish paint in everlasting (white), yesteryear (light gray), relic (dark gray), and treasure (turquoise).
I also used a bit of stain on some of my boards before painting to highlight the wood grain.
Check out all the different finishes I was able to get using only four colors of paint!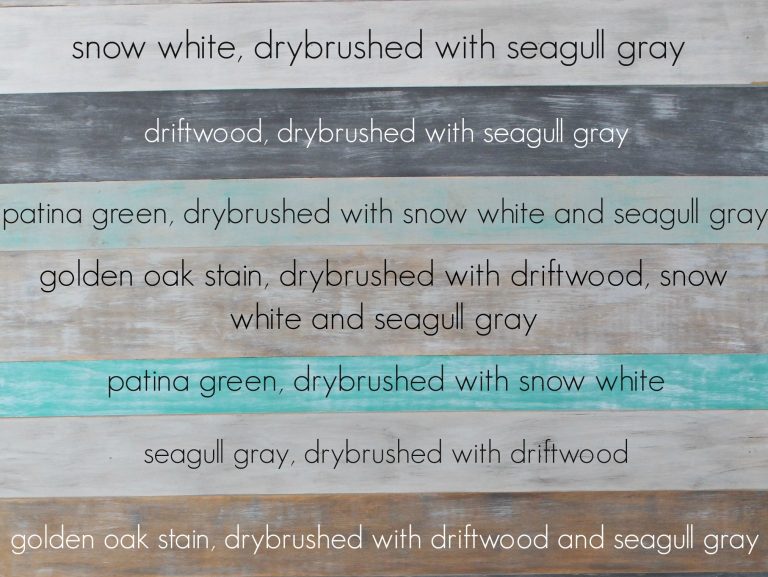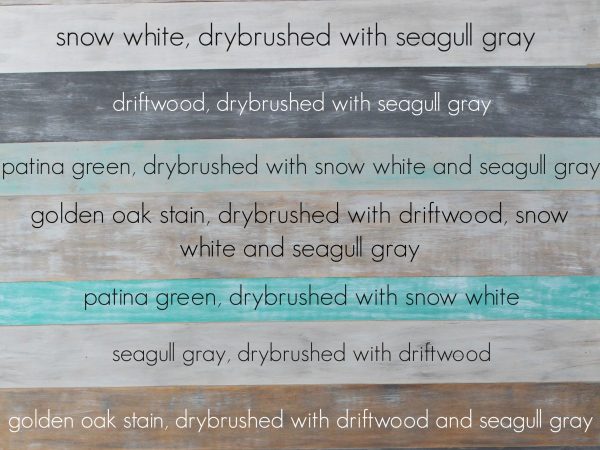 Once everything was painted, it was time to install the wall.
Let me say right now, that I do not have a nail gun. You can totally install a plank wall using an old-fashioned hammer and nails.
My husband and I worked together and we were able to get the whole thing installed in just a couple of hours.
I started out by cutting one of my four-inch strips in half to make 2 two-inch strips.
I used these as a sort of molding along the edges of the plank wall.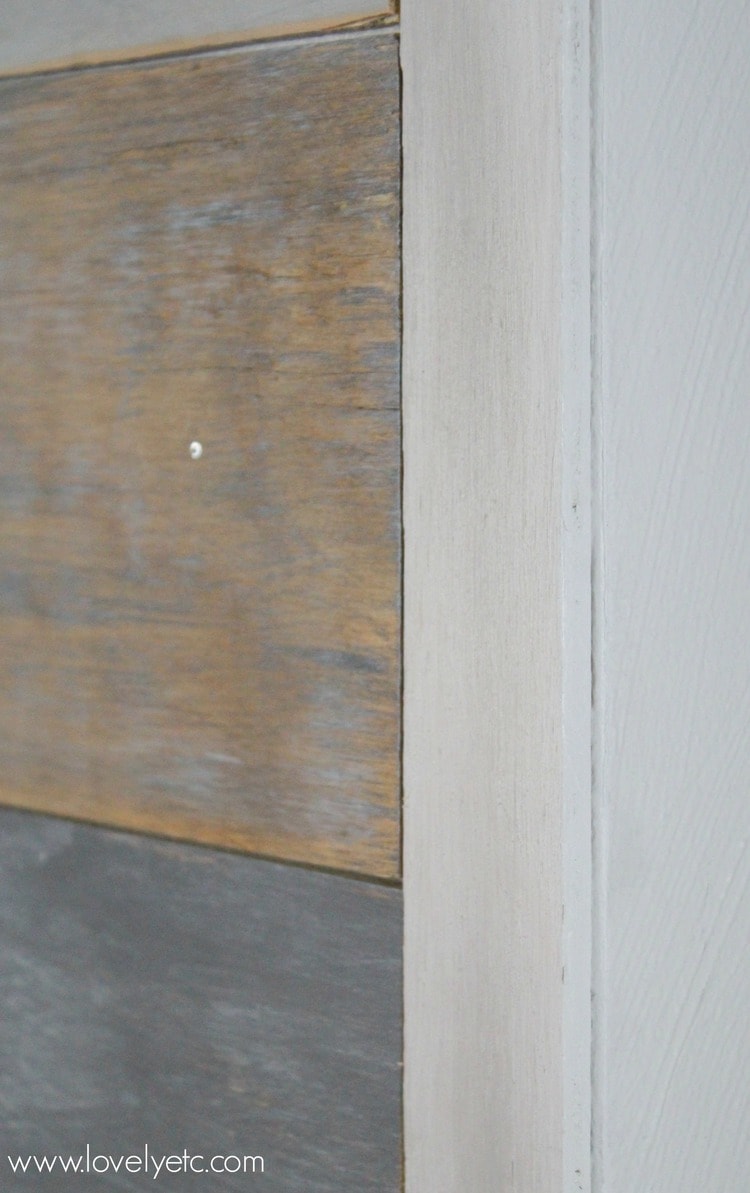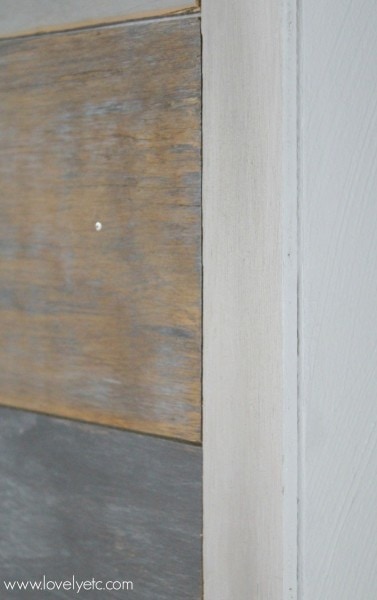 Then I used a stud finder to mark where the studs are in the wall.
I used a jigsaw to trim my boards to the right length while Mitch hung the boards.
You can use pretty much any kind of saw for these short straight cuts, or if you plan ahead well, you can have them cut to the correct length when you are at the store.
Because the plywood is so light, the planks were quite easy to hang.
We simply nailed them up with a finishing nail in each stud. (This worked out to three nails per board.)
This way, it is possible for us to remove the planks if we decide to change things up or put the house on the market in the future.
As we were hanging the planks, we used a few pennies between each board to keep the spacing between boards even.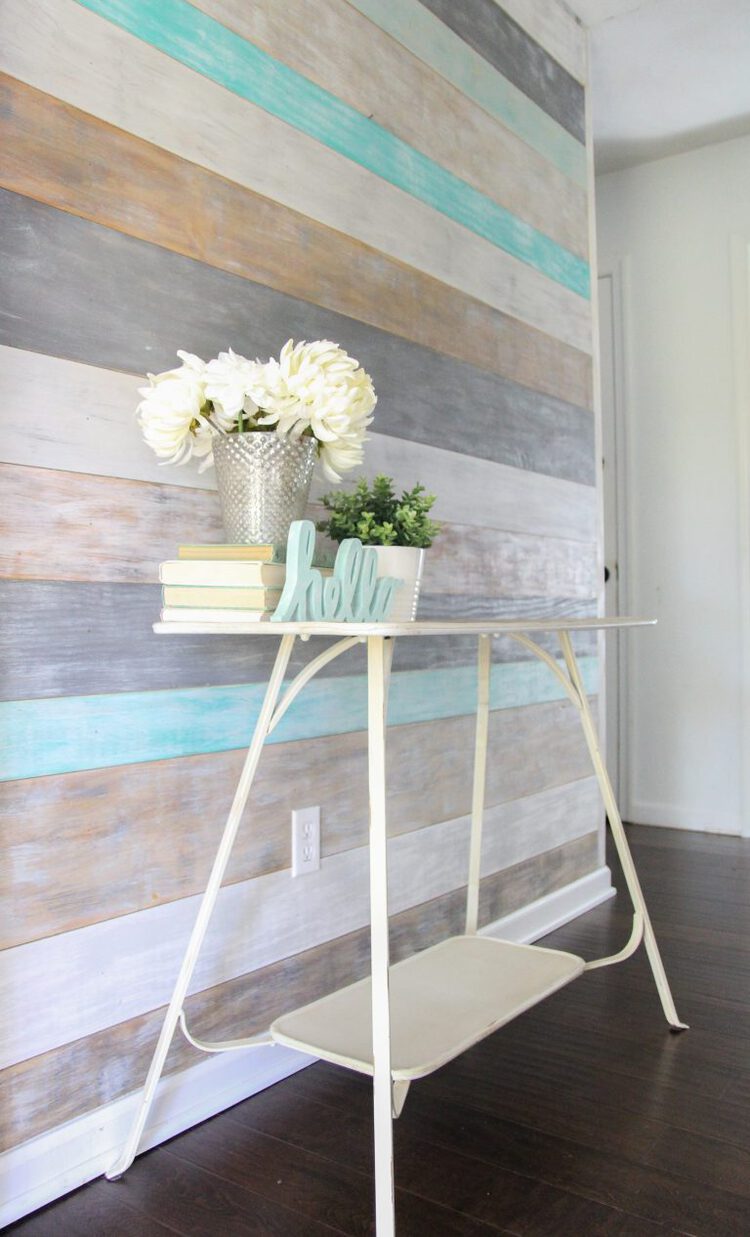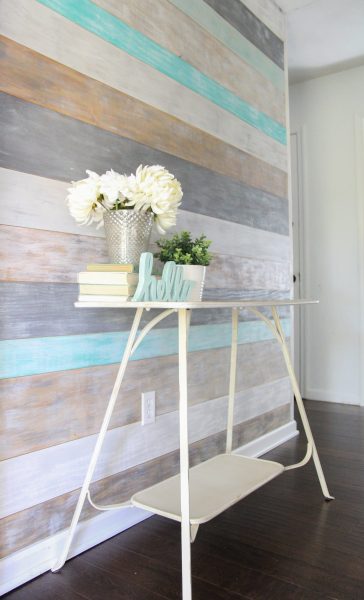 This wall seriously looks gorgeous no matter how you decorate it. Below is a picture of how it currently looks – swoon!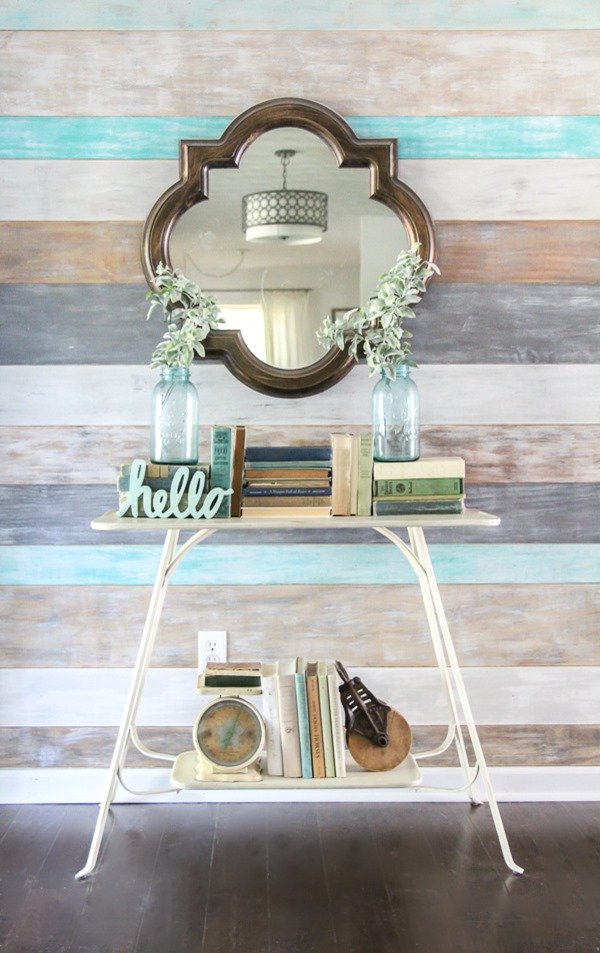 This is such a doable project for any DIYer, even if you are a beginner. It is inexpensive.
You don't need fancy tools. You don't need to find special reclaimed wood. And you don't really need any special skills.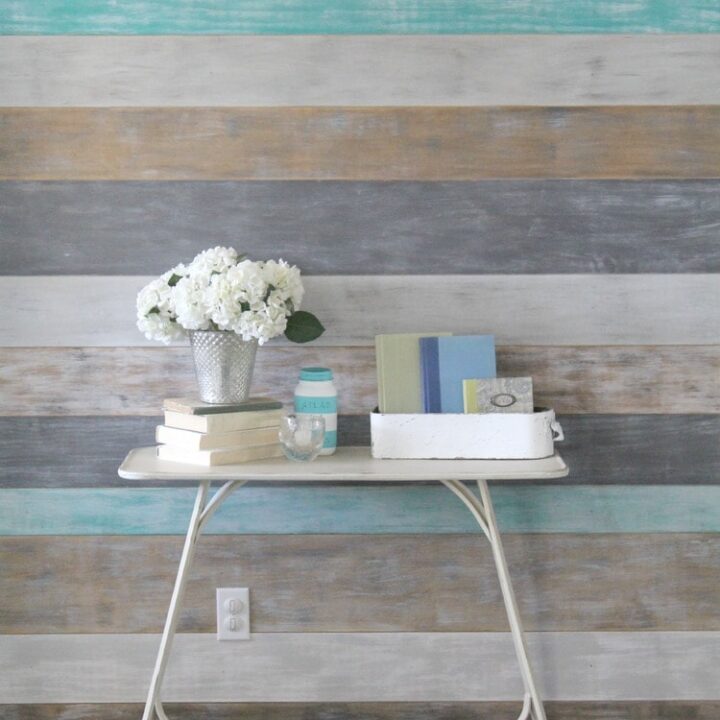 How to Make a Stunning DIY Plank Wall
Create the look of a gorgeous reclaimed wood wall – without the stress of finding and dealing with actual reclaimed wood!
Materials
2 1/4 inch plywood cut in 8 6" strips, 4 8" strips and 4 4" strips.
General Finishes paint - snow white, seagull gray, driftwood, and patina green
Minwax golden oak stain
Tools
Chip brushes
Hammer
Finishing nails
Jigsaw
Stud Finder
Instructions
Use a chip brush to paint each strip the color you want using a dry brush technique.
I used 4 colors: Snow White, Seagull Gray, Driftwood, Patina Green
Cut one of the four inch strips in half to make 2 two inch strips to use as molding.
Use a stud finder to mark where the studs are.
Hang each board using a hammer and finishing nails in each stud.
Use a jigsaw to trim any boards as needed.
Want to see more inexpensive wood projects? Here are a few of my favorites: