I wasn't sure this day would ever come, but finally, finally we're getting a new kitchen! Okay, not really. There is almost nothing actually new involved. But our kitchen is about to undergo a massive transformation and I am so, so excited!
(Let me just pause for a second. If you're wondering what happened to that bathroom makeover I started in the spring, it is this close to being done and I can't wait to share the finished room with you. But instead of just getting to work and finishing it, I decided it was a great time to start the kitchen. Because who doesn't love a shiny new project!)
This kitchen makeover is going to be a classic Lovely Etc. redo: lots of DIY, making do, and thrifting. And going right along with that is the fact that this makeover is going to be happening on a shoestring budget. As in teeny tiny. I'm planning for this entire kitchen to come in under $1000.
Seriously.
This is how our kitchen looked after we moved in.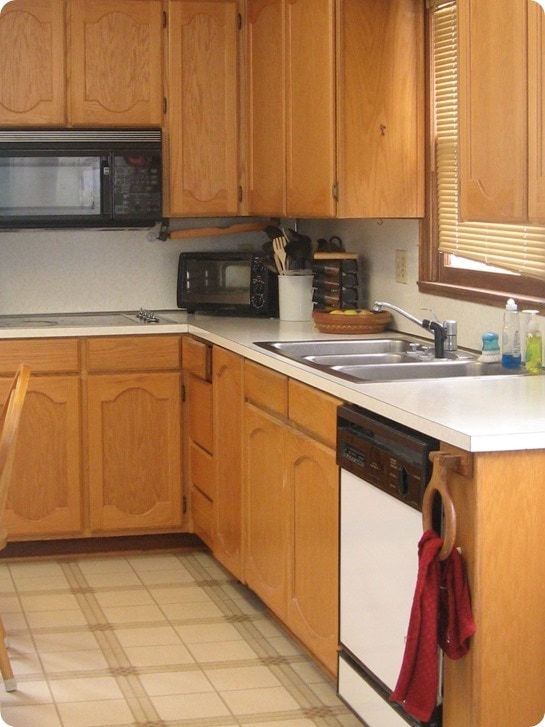 We added wood floors a few years ago which made a huge difference, but other than that, pretty much everything needs help. Cabinets, hardware, backsplash, counters, appliances, lighting, window treatments, the whole enchilada.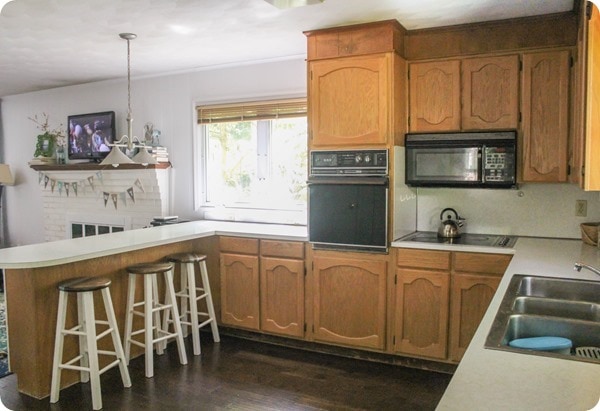 So how in the world am I going to make this happen?
Well, first of all, the layout of the kitchen isn't changing. Are there some changes that could potentially make the room better? Sure. But are there actual problems with the current layout? Nope. And while I know that most people approach a kitchen makeover as a chance to change anything and everything to be the absolute best possible, I feel like it's pretty silly to change something that isn't a problem. And it is even sillier to spend a ton of money to do it.
I'm going to be working with what I've got and making it beautiful. There will be lots and lots of paint involved. And I will be stalking Craigslist like it's my job.  And yes, that little country flourish over the window is finally going to go. Hallelujah!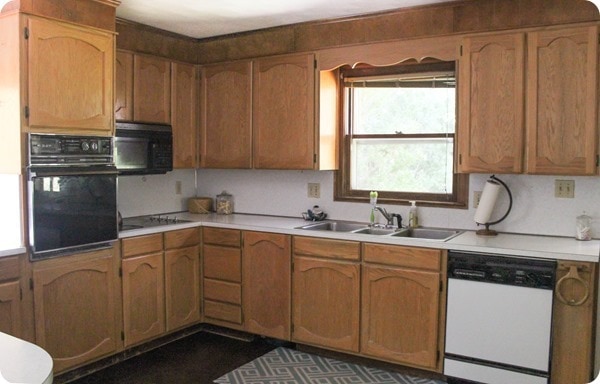 All of which means this isn't the kind of makeover where I can share a detailed plan right from the start.  When you're working on a shoestring budget and dependent on Craigslist, you can't know ahead of time exactly what you are going to find.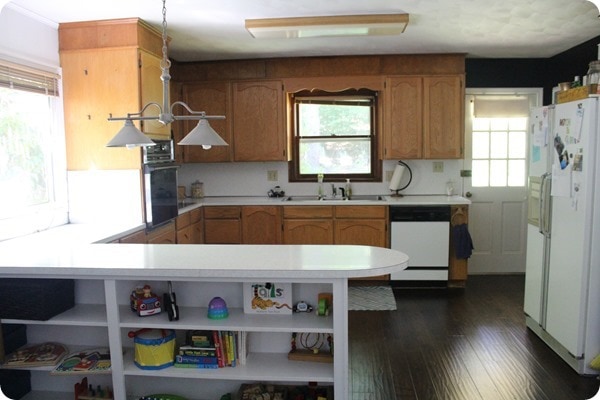 So I don't have a nifty moodboard to share. But I can tell you that what I am going for is light, bright and classic with a hint of fun. Did I mention I'm excited!
Do you have any kitchen makeover wisdom to share? I'm definitely up for hearing any money saving ideas you've got!