Painting our oak cabinets white is one of the most worthwhile DIY projects I have ever tackled. Seriously, one of the very best.
It certainly isn't the flashiest project I have done and it wasn't the fastest by a long shot. But the difference this one simple step has made in our home is unbelievable.
When I was deciding what process to use to paint my kitchen cabinets, I was focused on two things:
I wanted really beautiful, professional looking results.
And I wanted it to be as quick and painless as possible. In that order.
I've seen lots of tutorials for painting your cabinets the absolute fastest, easiest way possible and while I am all for that, I am a total perfectionist at heart. I knew I wouldn't be happy with anything less than a perfect paint job and I wasn't willing to save time if it meant less than perfect results.
And yes, that meant doing extra work to eliminate that oak wood grain. But even with my high expectations, I was able to eliminate a few steps by using the right paint and materials.
*Update: I've gotten tons of questions about how my painted cabinets have held up now that it has been over two and a half years since I painted them. I put together a full post sharing all of the details of how my painted oak cabinets look now along with plenty of pics right here. I would definitely recommend checking it out before tackling your own painted cabinets.*
This post contains affiliate links which means if you make a purchase after clicking a link I will earn a small commission but it won't cost you a penny more. Click here to see my full disclosure policy.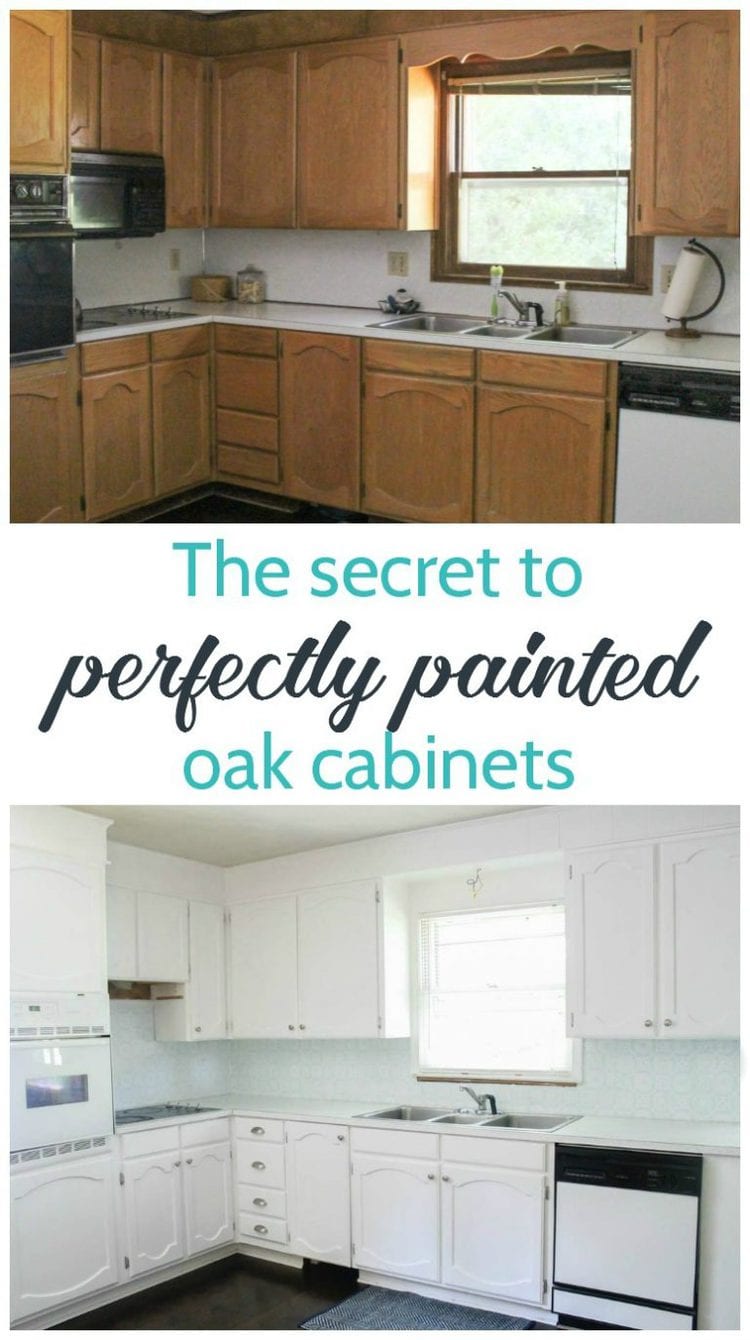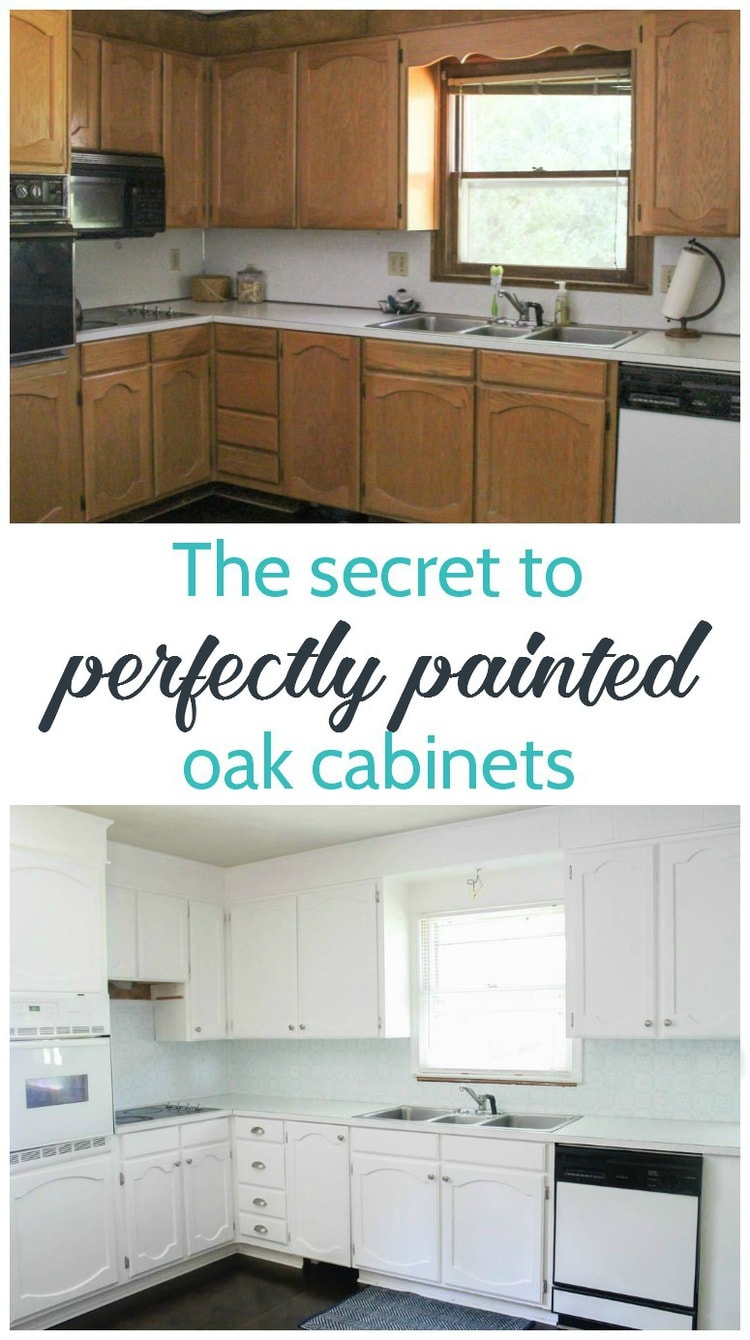 Okay, before I get into all the how-to stuff, let me take a moment to talk about oak cabinets and the wood grain debate.
Oak cabinets have the special distinction of having a very prominent wood grain. Most pine, maple, cherry etc. wood cabinets don't have this extra issue.
I am not just talking about the fact the cabinets look like wood, this grain is etched deep into the face of the cabinets. When you paint oak cabinets white, the grain texture remains very apparent.
This doesn't bother some people one bit. But as I said, I'm a total perfectionist and it bothers me. Instead of fresh classic white cabinets, to me, they look like dated oak cabinets that are trying to hide behind white paint.
So there was no question I had to take care of the wood grain before I could really start painting. This was by far the most time-intensive part of the whole project, but the final finish on my cabinets is flawless so it was totally worth it.
Here's a look at how my cabinets looked before painting. They were definitely in need of some help!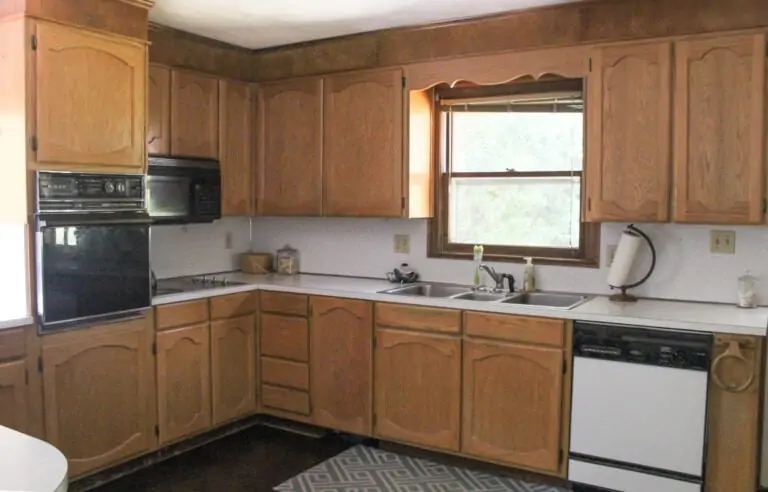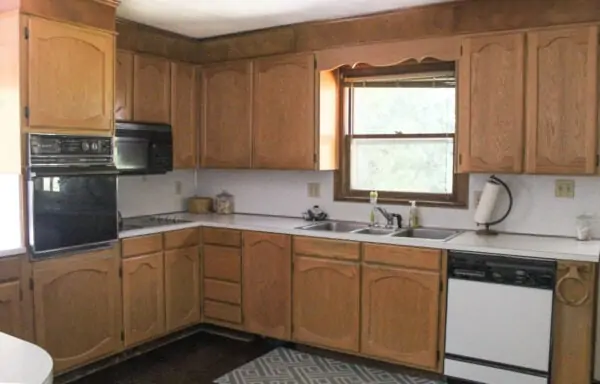 Materials for Painting Kitchen Cabinets White
Painting Oak Cabinets White
Step one: Remove the doors
Before you can really get started at all, you have to remove all of the cabinet doors and drawers.
Be sure to label each door as you remove it so you will know exactly where it goes. If you are reusing your hinges, be sure to label them as well.
I simply labeled a small baggie and stuck all of my hinges and screws in the baggie. This is important because even though cabinet doors may look the same, if they are put back in the wrong spot, they will not fit correctly.
(Trust me. I have a friend that did this and their cabinets that they worked so hard to paint looked awful because the doors were all misaligned.)
Step two: Clean the cabinets
As with most painting projects, preparing the surface for paint takes the majority of the time. But if you want your paint to last, it is vital.
Before doing anything else, your cabinets need to be very, very clean. Even though they look clean, cooking grease builds up over the years and paint most definitely does not like to stick to grease.
A lot of people use TSP to degrease their cabinets, but I read a tip that Dawn dish soap works just as well. And since I swear by Dawn for cleaning just about anything, that is what I went with.
I wiped my cabinets down with soapy water and then wiped them with a clean rag to remove any soapy residue.
I followed this up with DecoArt stain blocker. This helps with making sure any lingering grease and grime is sealed away, but more importantly, it keeps wood tannins from ruining your paint job.
Have you ever painted a piece of wood furniture white only to find the wood color seeping through your fresh white paint? These are wood tannins seeping through.
The first time I was painting a piece of furniture and this happened, I tried to cover it up with more and more layers of paint. This was a big mistake and did not work.
What I didn't know is that certain dark woods and red-toned woods have to be sealed before painting or the tannins will continue to leak through your paint no matter how many coats you add.
You can also accomplish the same this with a good oil-based primer – I'm a big fan of Zinsser oil-based primer.
If you choose to use primer rather than the stain sealer, I would wait to do it after the next step – spackling the wood grain.
(And if you want more info on using oil-based primers with water-based paints, I have a blog post that breaks down everything you need to know about primer.)
Step three: Deal with the wood grain
I did a lot of research and a bit of experimentation on the best way to deal with the oak wood grain.
The clear consensus was that spackle is the best way to eliminate wood grain. Yep, I'm talking about the same spackle you use to patch nail holes in drywall.
Use a flexible putty knife to apply a very, very thin layer of spackling over the surface of your cabinets. Give it a few minutes to dry and then sand all of the excess off using a very high grit sandpaper. (I got the best results from 320 grit.)
Once it is sanded, the spackle will only be left in the little crevices of the wood grain, leaving them smooth with the surface of the wood. When everything is sanded smooth, use a microfiber cloth to remove the sanding dust. Do not use a wet cloth, as the water will pull the spackle out of the wood!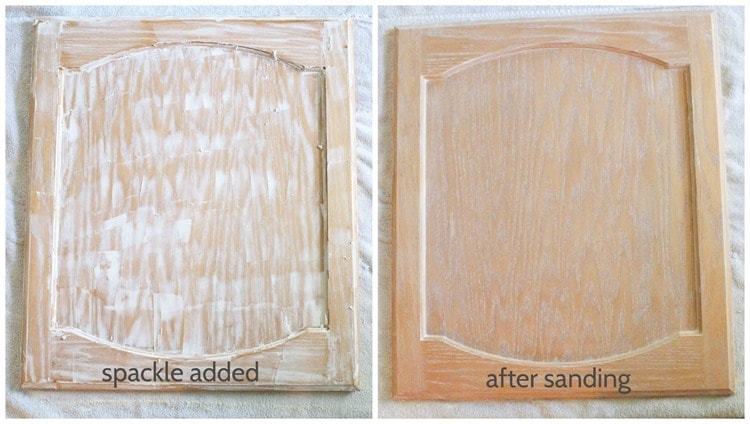 Personally, while I did paint the inside of my cabinet doors, I did not spackle them. I only did this step on the most prominent areas – the drawer fronts, cabinet doors, and cabinet boxes.
Because of this, it is really easy to see the difference between filling the wood grain and skipping it. Here are a few pictures that show how the wood grain looks painted to help you decide if it is something you want to worry about or not.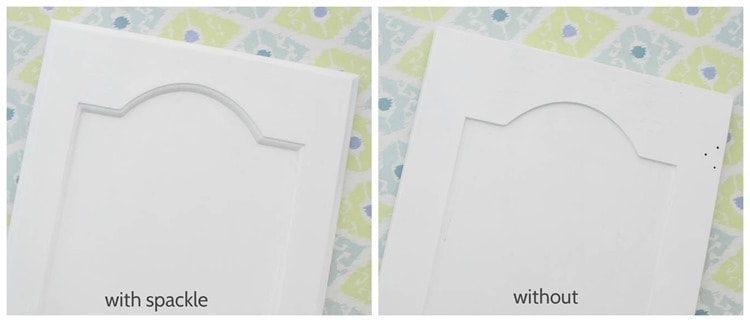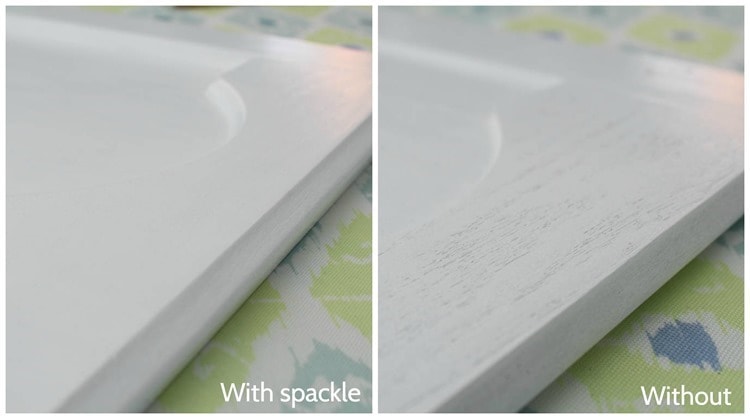 Step four: Paint
And finally, the last step is to actually paint.
I used a foam roller meant for painting smooth surfaces to paint the flat areas and I used these paintbrushes for getting into smaller areas.
After hundreds of painting projects, I've learned that the paintbrush you use matters. A lot.
I've turned into a bit of a paintbrush snob, so when I saw these DecoArt paintbrushes I wasn't even planning to use them at first. But I decided to give them a try, and I am so glad I did. The bristles are extra soft and are perfect for getting a very smooth finish. I will definitely be using these again in the future.
Okay, so here is the secret to getting an incredibly smooth finish on your cabinets without using a paint sprayer.
Foam rollers are great at giving a pretty smooth surface, but in my experience they tend to leave a bit of a speckled surface. The color is uniform, but the texture is similar to the surface of a football with tiny raised bubbles from the roller.
This isn't always a big deal, but I was going for perfection. I wanted cabinets that looked professional.
I painted the cabinets using the roller as usual. Then before the last coat of paint, I gently sanded everything using my 320 grit sandpaper again. This made the cabinet surface silky smooth.
Then I brushed on the last coat of paint using my super soft paintbrushes.
Yes, this added more time to the process yet again. But the cabinets look and felt amazingly smooth and beautiful.
And the best part? No top coat is needed. DecoArt satin enamels is an enamel paint which means it dries to a very hard finish. Which means you don't need to put anything over it for protection like other softer paints.
I was able to reattach my cabinet doors the same day I finished painting them, though I did try to be extra gentle with them for a few weeks just in case.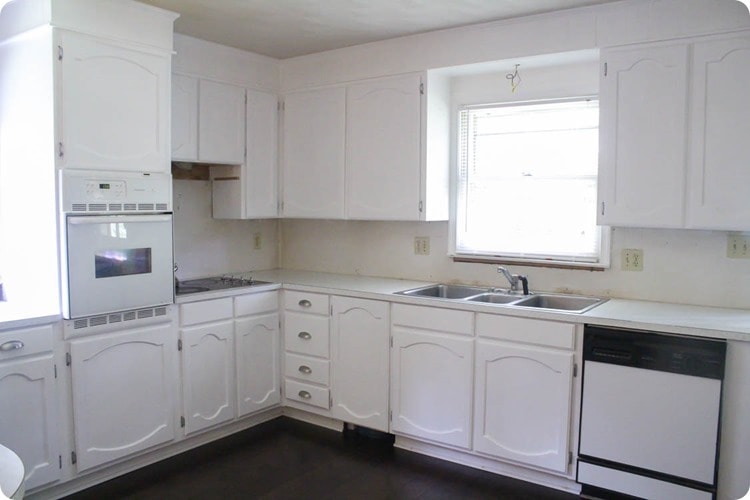 As you can see, we also finally removed that little flourish above the sink. Good riddance!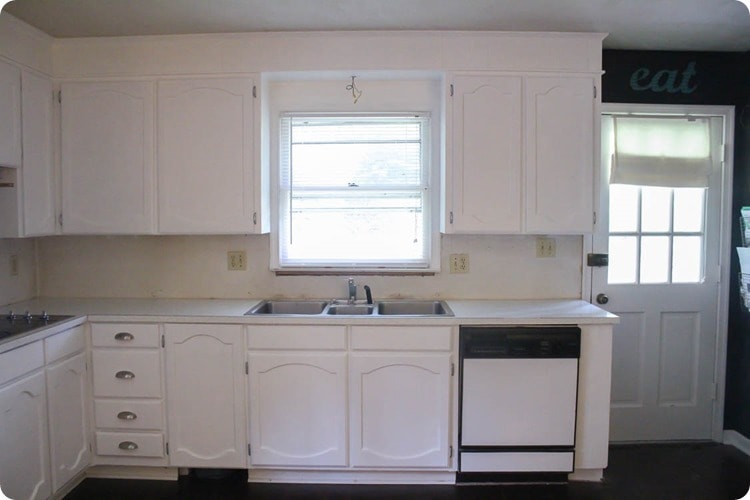 It is absolutely unbelievable what a difference painting our kitchen cabinets white made. Yes, it is time consuming. Yes, it is a pain to have your kitchen in chaos. But it is so very, very worth it in the end.
Even if we didn't change anything else – not the gold speckled laminate countertops, not the appliances from the 80s, nothing – painting the cabinets alone makes it feel like an entirely new kitchen. I know that sounds crazy, but I am completely serious.
And now with a few other budget DIY projects, our entire kitchen is transformed!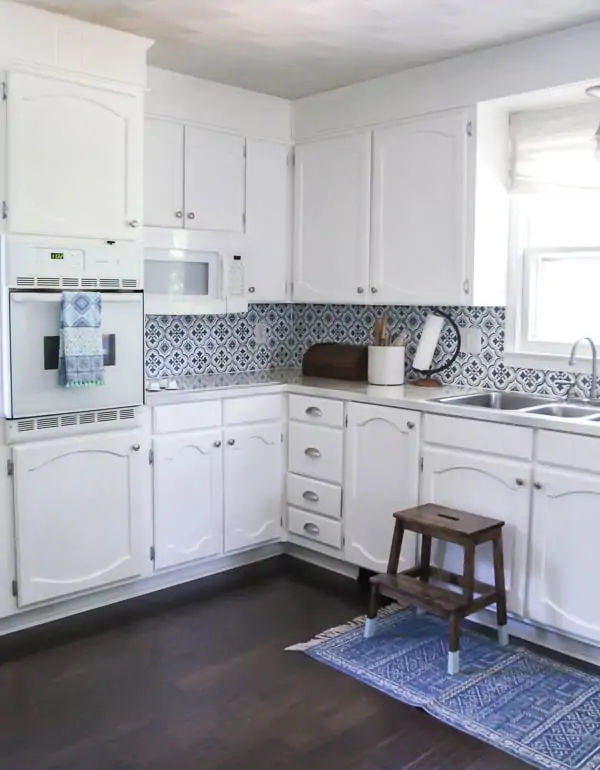 Take a look at this before and after – now that is a serious update!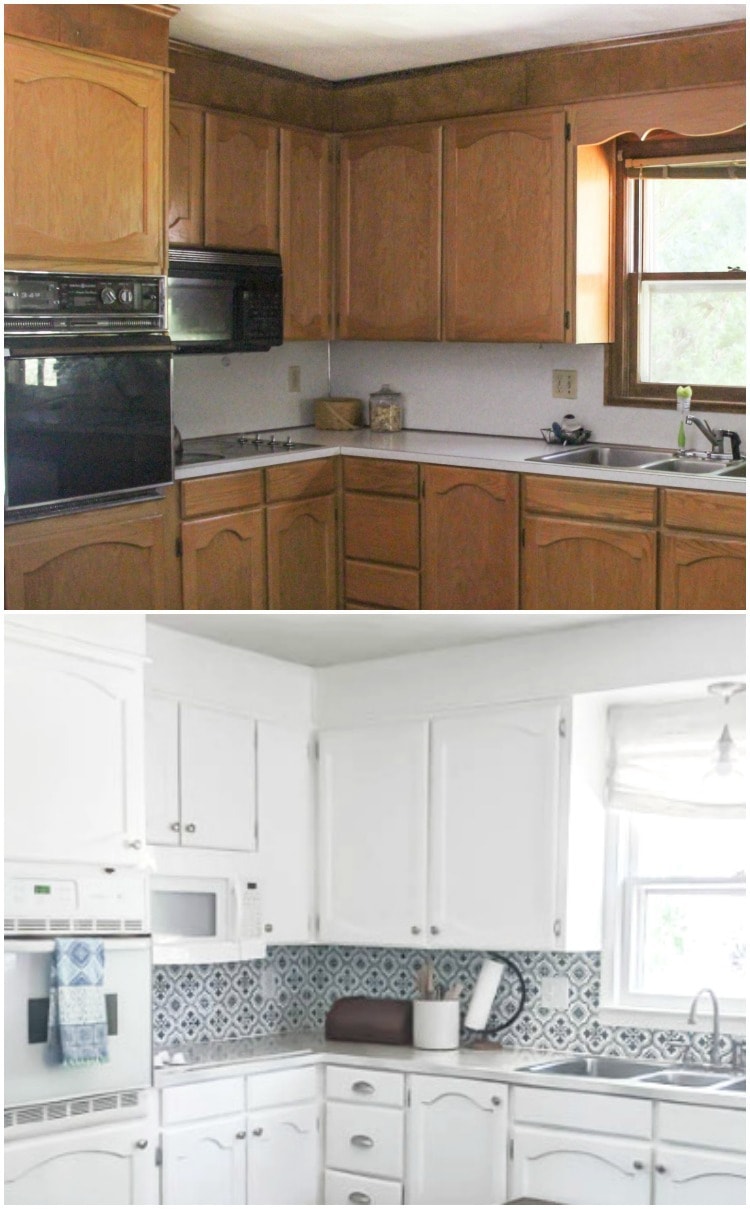 I also recently painted my oak bathroom cabinets using mostly the same method but a different type of paint that I like even more. I recommend heading over there next if you are considering tackling this project.
Painting Oak Cabinets
Prep Time:
1 hour
30 minutes
Total Time:
16 hours
30 minutes
This tutorial explains step by step how to paint oak cabinets white and achieve a perfectly smooth finish.
Materials
Instructions
Remove the cabinet doors and drawers. Label each door, drawer, and hinge as you remove them so you can easily put them back where they go. You can place the hinges and hardware for each door in a labeled plastic bag.
Clean your cabinet boxes, doors, and drawers well to remove any dust and grease.
Paint a coat of DecoArt Stain Blocker onto all of the bare wood surfaces. This will prevent the tannins in the wood from bleeding through your fresh paint and causing yellowing. (Or if you prefer, you can use an oil-based primer instead, but if you choose to use a primer, you will apply it after the next step.)
To smooth the heavy oak wood grain, use a putty knife to apply a very thin layer of spackle onto your cabinets. Once the spackling has dried, sand it smooth with 320 grit sandpaper.
If you are using primer instead of the Stain Blocker, apply it using a smooth foam paint roller.
Use a foam roller to paint your cabinet doors, drawer fronts, and cabinet boxes. You can use a paintbrush to paint smaller areas the roller can't reach. You will need at least two coats of paint, possibly more if you are painting with pure white paint.
To get a very smooth paint finish on your cabinets, sand each flat surface with 320 grit sandpaper before painting your final coat of paint. Then brush on the final coat of paint rather than using the roller.
Once your cabinets are completely dry, carefully reattach the cabinet doors, drawers, and hardware. Be extra gentle with your painted cabinets for the first few weeks until the paint is fully hardened.
Recommended Products
As an Amazon Associate and member of other affiliate programs, I earn from qualifying purchases.
More Budget Kitchen Makeover Inspiration
Be sure to head over and see the update on how our painted cabinets are holding up two years later as well as our final kitchen makeover reveal. We transformed our entire kitchen on a tiny budget with painted cabinets, painted countertops, a stenciled backsplash, and lots of other budget DIYs.
More budget kitchen DIY projects to check out:
Google Web Story: How to Paint Oak Kitchen Cabinets White
I'd love for you to pin this post on Pinterest!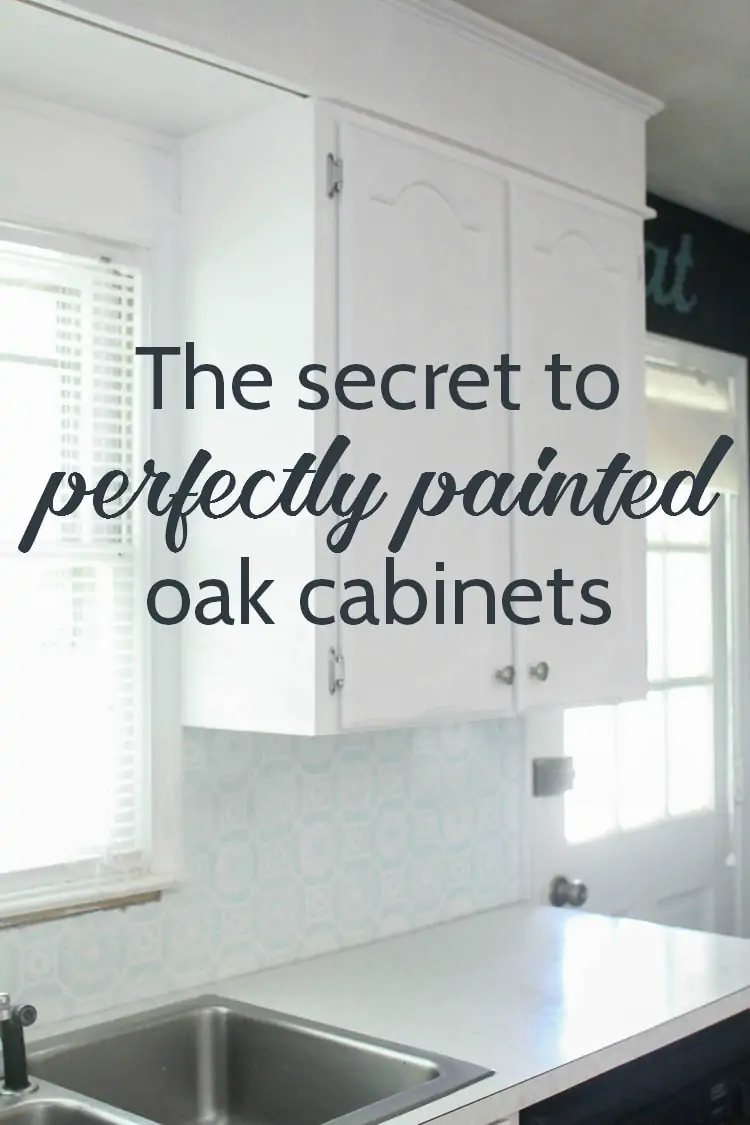 Google Web Story: Painting Oak Cabinets White